Idaho RVers Guide: Can't Miss Locations

Summer in Idaho is pretty perfect for RV camping. We've spent two summers camping our way across Idaho, one in our 40' motorhome, and one in our tiny campervan.
Both were great experiences, and I'll try to include advice here for any sized RV so that you can have a memorable adventure of your own in this great state.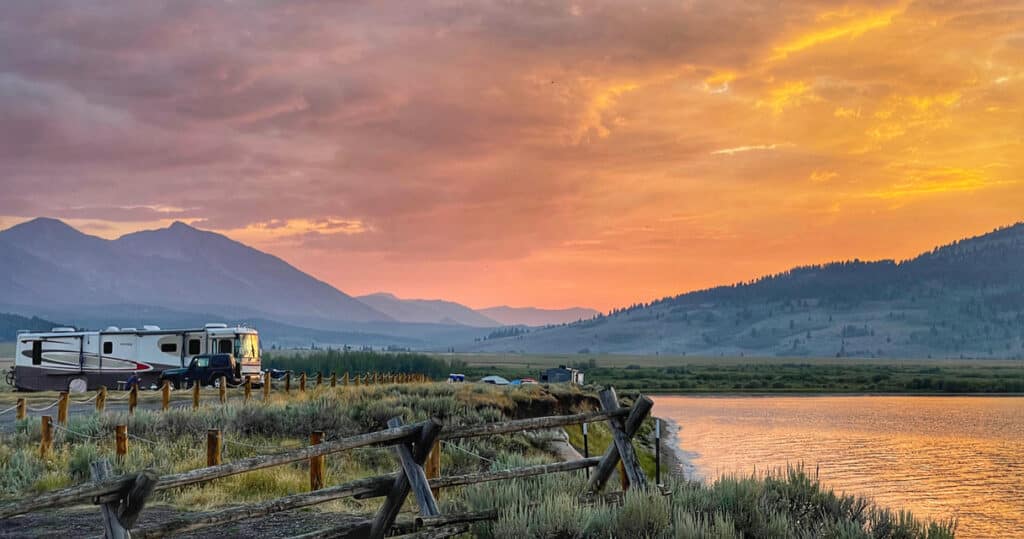 If you want to get out and experience the rugged natural beauty of Idaho in your RV, I hope this can be your guide. It's a big state with lots of ground to cover.
Probably the best way to start your RV trip planning is to pick some key points of interest and build your route around them.
Where to RV in Idaho?
Idaho is a very RV-friendly state thanks to the Idaho RV Fund, which funds facilities for the RV user.
From campground improvements to dump stations, the Department of Parks and Recreation manages a nearly 5 million dollar annual budget to increase RV access statewide.
The little blue placards for the Idaho RV Fund were a welcome sight across the state. They made it very easy to locate dump stations, places to fill with water, and even free overnight parking spots, all thanks to the Idaho RV Fund.
With that as the foundation, let's dive into some specific points of interest to help you build your trip plan.
I've broken it down by National Parks (and monuments), State Parks, and also cities to help create those anchor points in your itinerary. But wherever you choose to go, driving from one point to the next is a beautiful adventure of its own in Idaho.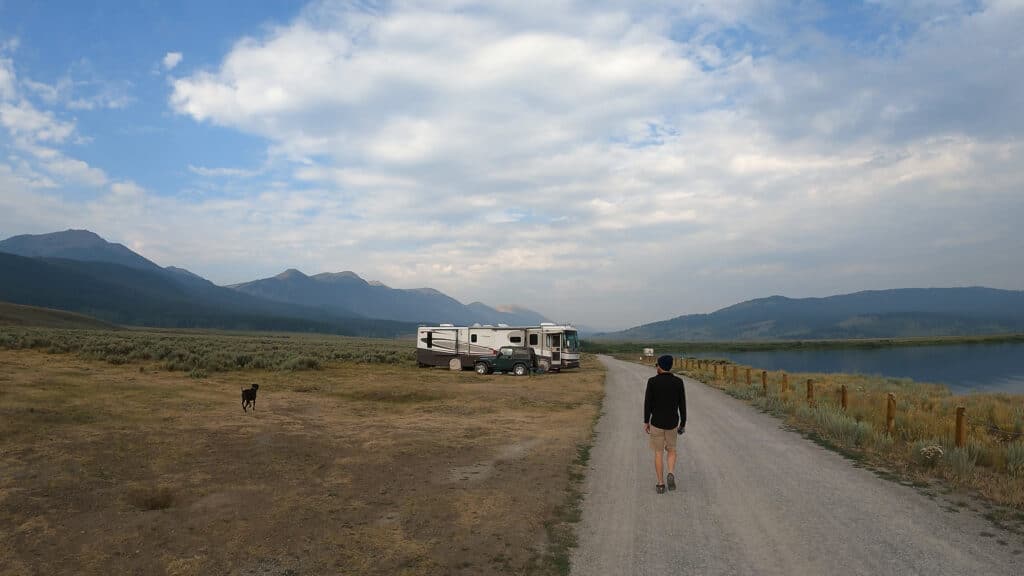 National Parks and Monuments in Idaho
Without a doubt, National Park Service locations have made up a majority of the highlights in our years of full-time RV travel. We are so grateful that we get to enjoy them everywhere we go, and Idaho is definitely no exception.
YELLOWSTONE AND GRAND TETON NATIONAL PARKS
Yellowstone and Grand Teton National Parks technically span into Idaho, though the main entrances to both parks are in other states: West Yellowstone, Montana, and Jackson, Wyoming.
That said, staying over the Idaho state line can be a great way to save some money and find less busy camping areas.
For visiting Yellowstone, we like to boondock in Island Park, ID near Henry's Lake or Big Springs.
For visiting Grand Teton, we like to stay in Driggs, ID. We've even stayed as far north as Ashton, ID at a beautiful family-run small campground called Jolley Camper RV & Cottages. They have amazing views of the Tetons from the West, and that alone makes it worth the price.
Both of these National Parks are absolute "can't miss" locations along your adventurous RV route through Idaho. In fact, they both made TREKKN's Rocky Mountain Trip Bucket List.
(If you've never seen the peaks of the Tetons for yourself, you are in for a real treat! One word: Breathtaking.)
But in addition to two major national parks, Idaho also boasts two pretty cool national monuments (Craters of the Moon and Hagerman Fossil Beds) and some amazing National Recreation Areas too (City of Rocks and Hells Canyon).
CRATERS OF THE MOON NATIONAL MONUMENT
As with many national monuments, Craters of the Moon feels like a mini National Park. It takes only a day to see most of the park, but it's absolutely worth the visit.
We stopped at Craters of the Moon en route from the Sun Valley / Hailey area to Salmon, and it was perfectly and conveniently "on the way".
The landscape is otherworldly and the persistent wildflowers are absolutely awe-inspiring. Definitely drive the loop road, visit the major cones, and go underground into a lava flow tunnel for the full experience.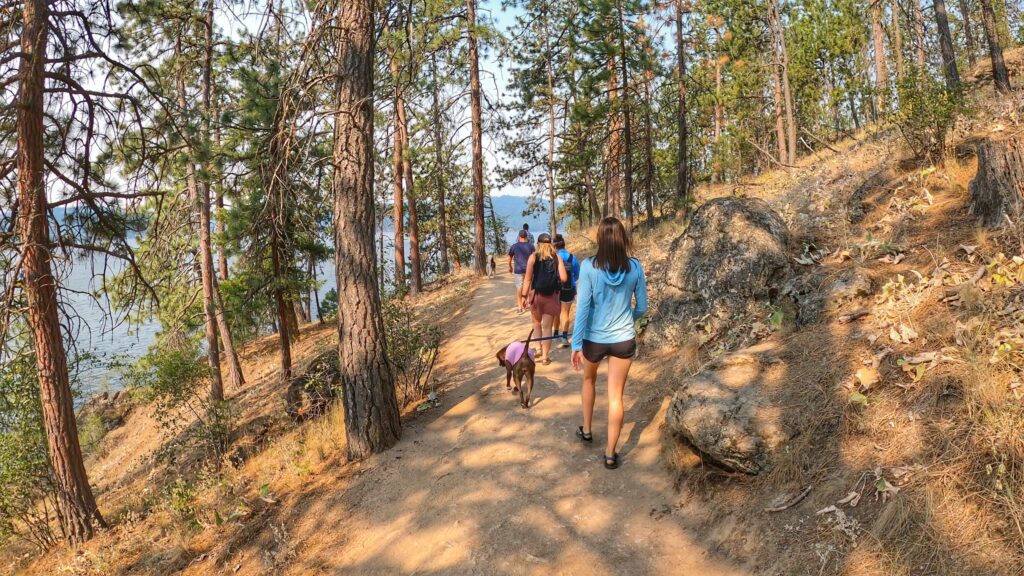 CITY OF ROCKS NATIONAL RESERVE
City of Rocks National Recreation Area is famous within the rock climbing community, and many of the people who visit the park are primarily there for the climbing.
That being said, it's a beautiful park for camping, hiking, and history even if you aren't a rock climber. We learned about the California Trail history and found it super interesting.
FYI: the California Trail was the same trail as the Oregon Trail until it reached Idaho, and then it split with a northern route to Oregon and a central route to California.
HAGERMAN FOSSIL BEDS NATIONAL MONUMENT
We haven't been to Hagerman Fossil Beds National Monument yet, but it's on our list. It's in the same location as Thousand Springs State Park.
There are active fossil excavation sites in the National Monument. Just be aware that the only fossils for visitors to see are in the Visitor Center, so start your visit there.
This whole area surrounding the town of Hagerman, affectionately known as Magic Valley, is packed with waterfalls, hot springs, and mineral pools. Plenty to explore, to say the least!
We visited Blue Heart Springs and Miracle & Banbury Hot Springs while we were in the area and just ran out of time to do it all. We'll be back!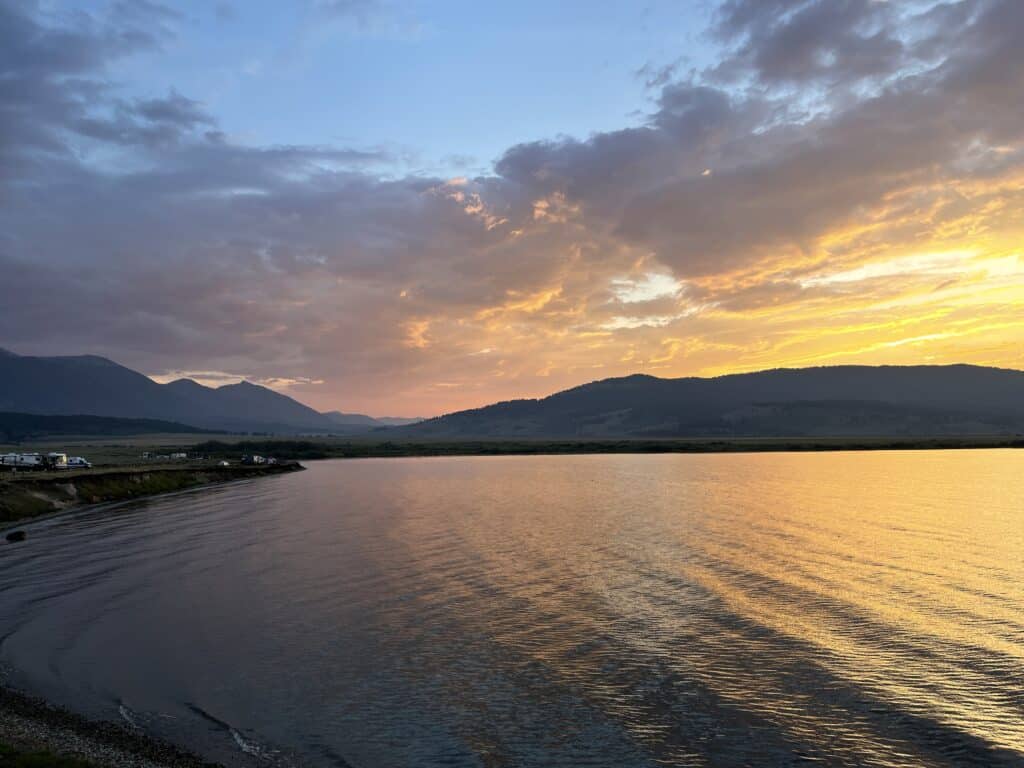 Idaho State Parks
There are 27 state parks in Idaho, so you're sure to find one that fits your needs and desired location.
Camping reservations are accepted starting 9 months in advance, and sites range from $31-37 per night depending on location.
Some parks do have walk-up sites available on a first-come first-served basis, but reservations are definitely recommended.
Let's take a closer look at just a few of the state parks with RV camping and great experiences offered.
HENRY'S LAKE STATE PARK
Henry's Lake State Park is the closest state park to Yellowstone National Park.
So if you prefer a booked campsite reservation for your trip to Yellowstone, without having to fight the National Park crowds, this state park has 75 electric and 8 full hook-up sites.
Plus, Henry's Lake itself is a beautiful, quiet place to be camping in your RV. The lake is popular for fishing, sup boarding, and kayaking.
There's also an excellent chance you'll spot a moose or three wandering through the open meadows just below the camping area. Bring your binoculars!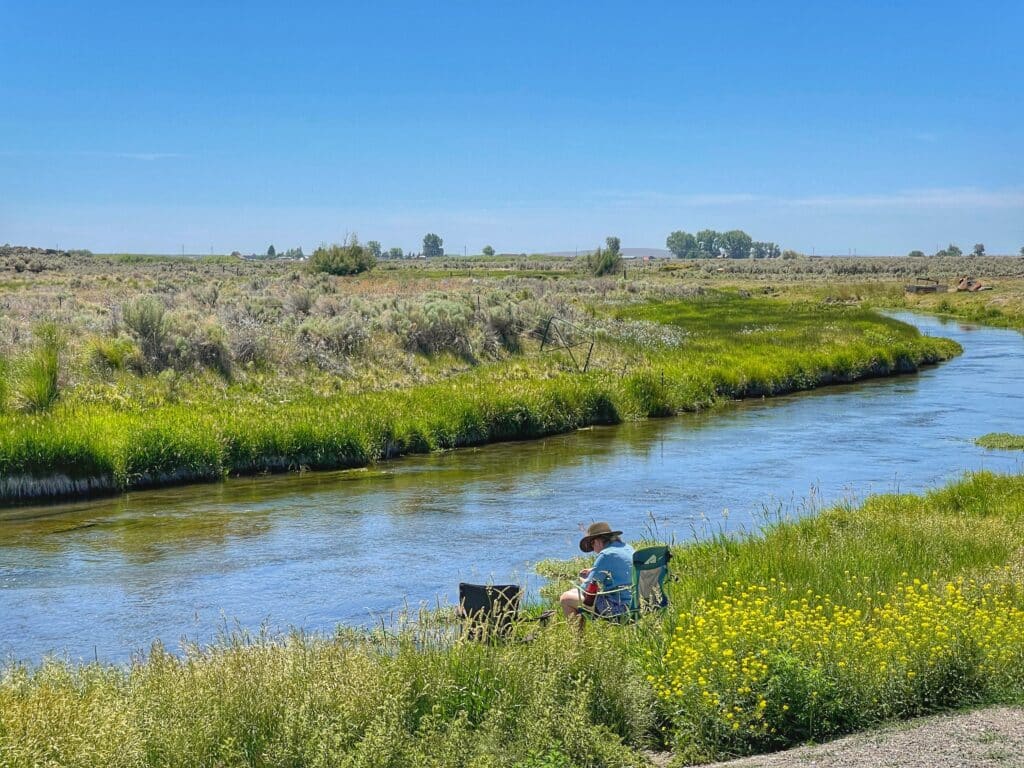 PONDEROSA STATE PARK
Directly north of Boise by just over two hours lies one of my favorite Idaho towns, McCall.
And nearby Ponderosa State Park is a great home base from which to explore McCall and the surrounding lakes and mountains. From hiking to mountain biking and even white water rafting, this outdoor town is sure to please.
The state park campground has 89 electric sites and 40 full hook-up sites that will not disappoint.
PRIEST RIVER STATE PARK
Lastly, just 30 miles south of the Canadian border are Priest Lake and Priest River State Park. There are 59 electric sites and 11 full hook-up sites.
We weren't able to get reservations for the state park when we were in Priest River last summer. But we did enjoy the nearby Priest River Campground provided by the Army Corp of Engineers.
The river and the lake are excellent for watersports in the summer months, so be sure to tote those kayaks along with you for this RV trip!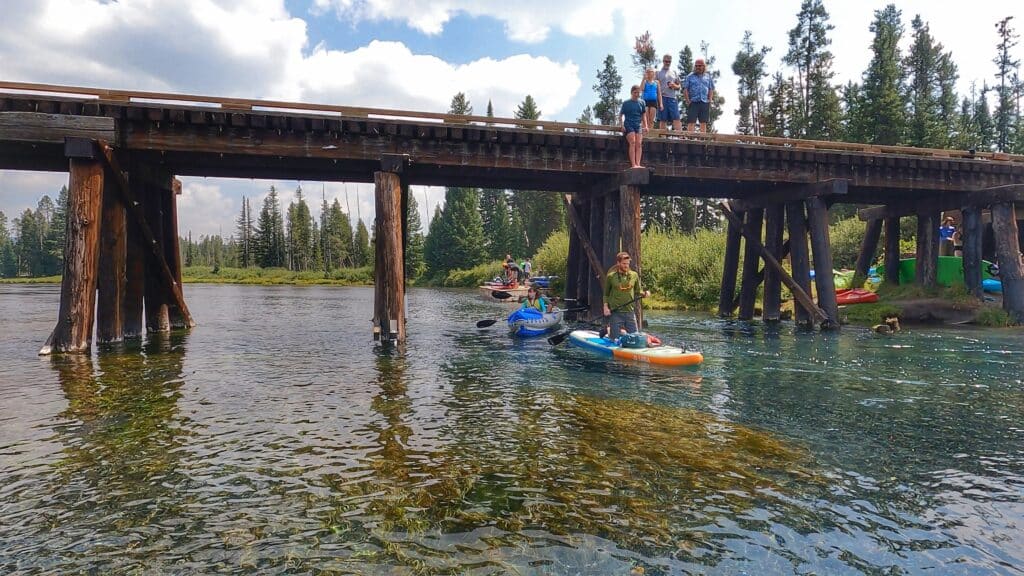 Top Idaho Cities to Visit in Your RV
COEUR D'ALENE
Coeur d'Alene is nestled between the beautiful National Forest and the stunning 30-mile Lake Coeur d'Alene.
The town is located up in the panhandle of Idaho, about 100 miles south of the Canadian border. And it's conveniently located directly east from Spokane, WA. The historic downtown is fun to take an afternoon stroll or go shopping.
We were visiting Coeur d'Alene with friends and couldn't find an RV park to accommodate all of our RVs. Instead, we opted to stay at a Boondockers Welcome in Hayden, ID, just north of Coeur d'Alene.
Thanks to our host, we discovered the joys of Hayden Lake. We felt like we got to live like a local by opting to go there instead for our watersports. Avoiding the touristy crowds is always a great option!
TWIN FALLS
A major tourist draw for the town of Twin Falls is Shoshone Falls Park. The park is owned by the city of Twin Falls and costs $5 per car to enter.
The lawn overlooking the falls is a beautiful place to have a picnic lunch or just relax for an afternoon.
We think the entry fee is worth a beautiful spot to park up for the afternoon. Day-use parking is only permitted for RVs. But they do have plenty of parking and 5 big-rig friendly pull-through spots available on first come, first served.

The Twin Falls County Fairgrounds is a great place to stay in your RV for access to Shoshone Falls and the city of Twin Falls. It's technically in Filer, ID but convenient enough to Twin Falls amenities as well.
We stayed during their annual Filer Days. Enjoying the festivities and parade is an added bonus if you can plan your trip in June.
The fairgrounds is about $10-12 per night for RVers, depending on how long you stay. There are discounts for a week and longer.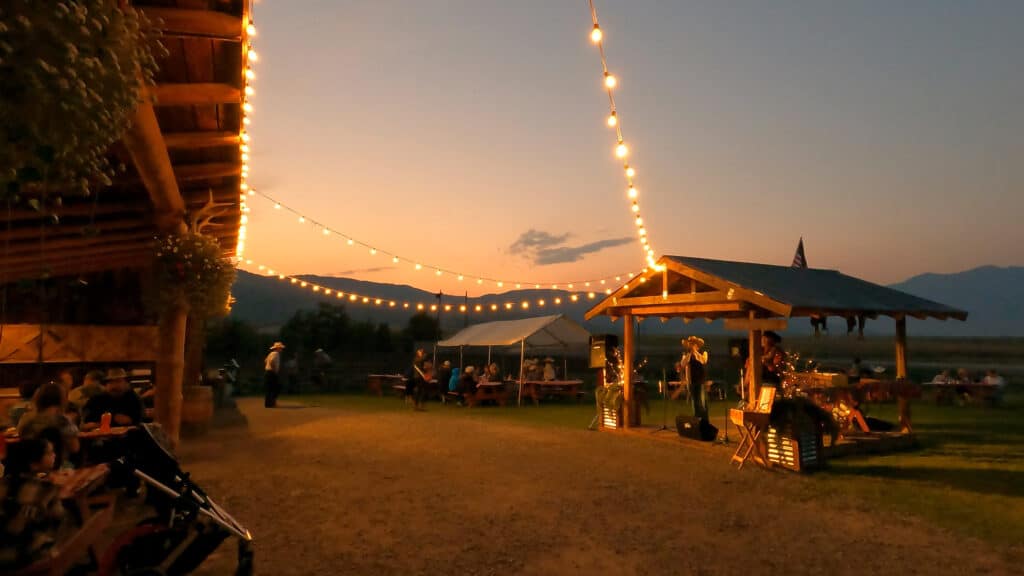 BOISE
Last but not least, Boise is the state capital of Idaho and home to Boise State University. I love a good college town, and Boise did not disappoint.
When I bought my very first travel trailer RV years ago, I actually lived in Boise for a couple of months. I stayed at the Boise Riverside RV Park and it was a fantastic introduction to the city.
Boise Riverside RV Park is located on the greenbelt along the river, and you can ride your bike all the way downtown. For me, this was a top feature of this Idaho RV park.
It also felt a bit more like a state park campground to me. There was plenty of green space, and room between RVs to feel some peace and quiet.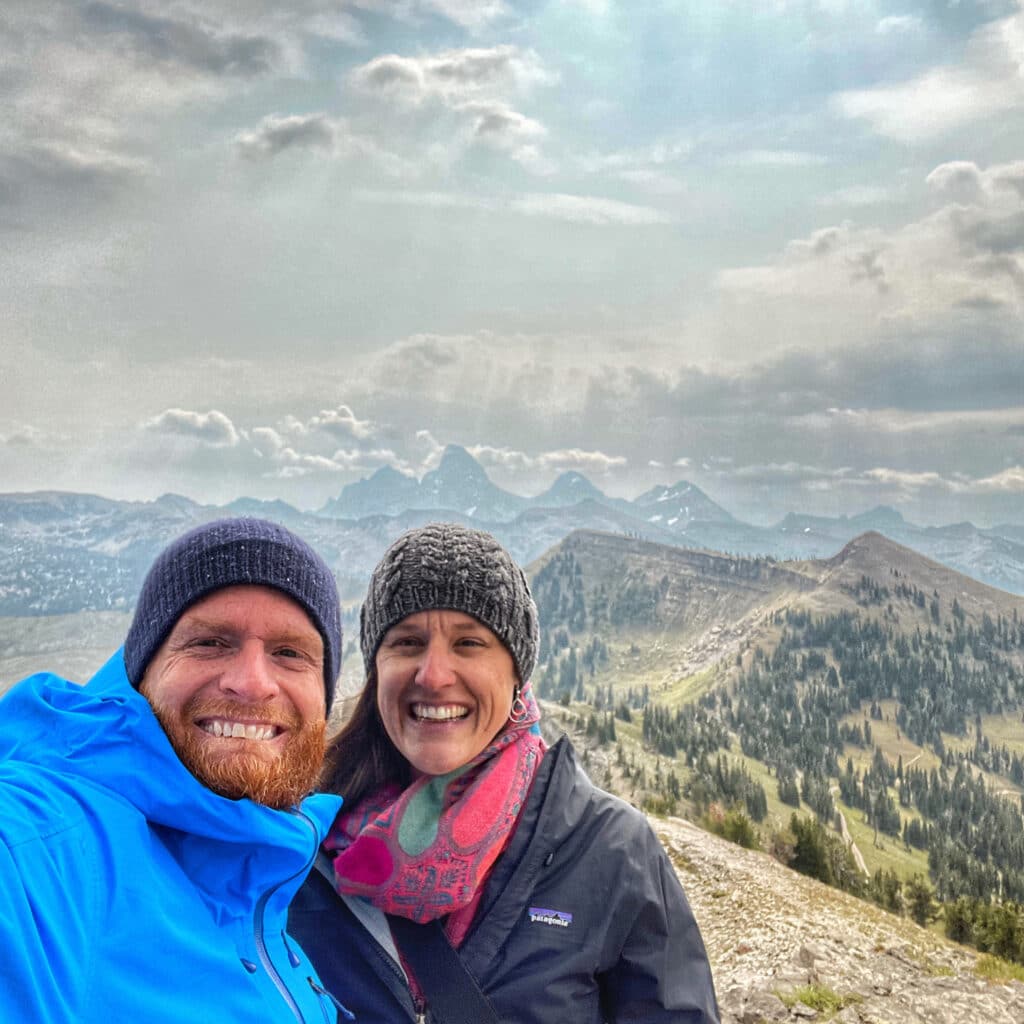 Are You Ready to Visit Idaho Next Spring or Summer?
I hope this RVers guide to Idaho has provided some useful information to help you plan your next RV trip to Idaho.
After seven years of full-time RV living, Idaho is one of my favorite destinations, and I always feel called back to it. It was also the biggest surprise of a destination for me.
I don't know if I just expected farmland and potatoes or what, but the rugged beauty, huge mountains, and endless rivers, springs, and waterfalls have completely won me over.
I can just about guarantee the same will happen to you. Go find out!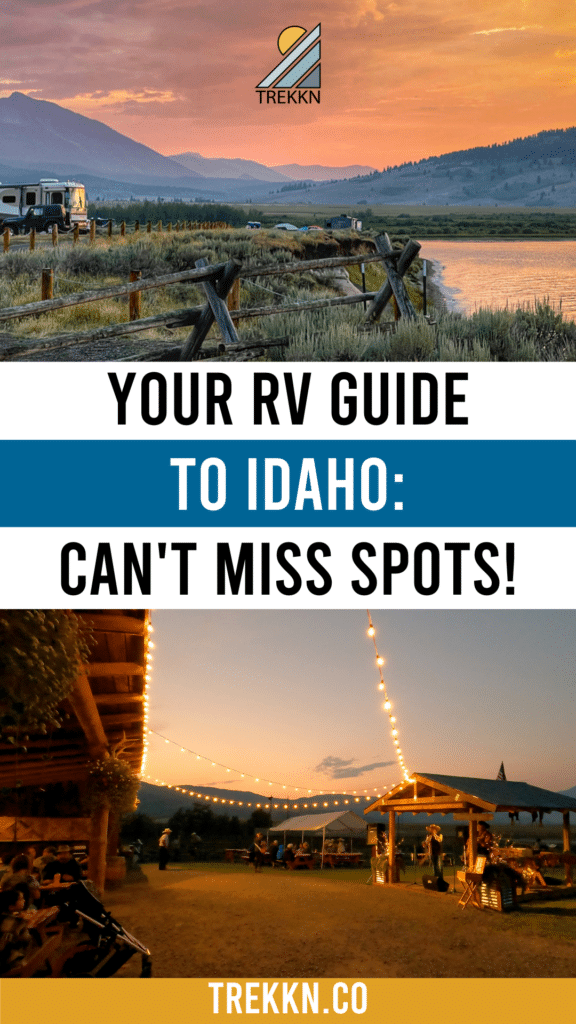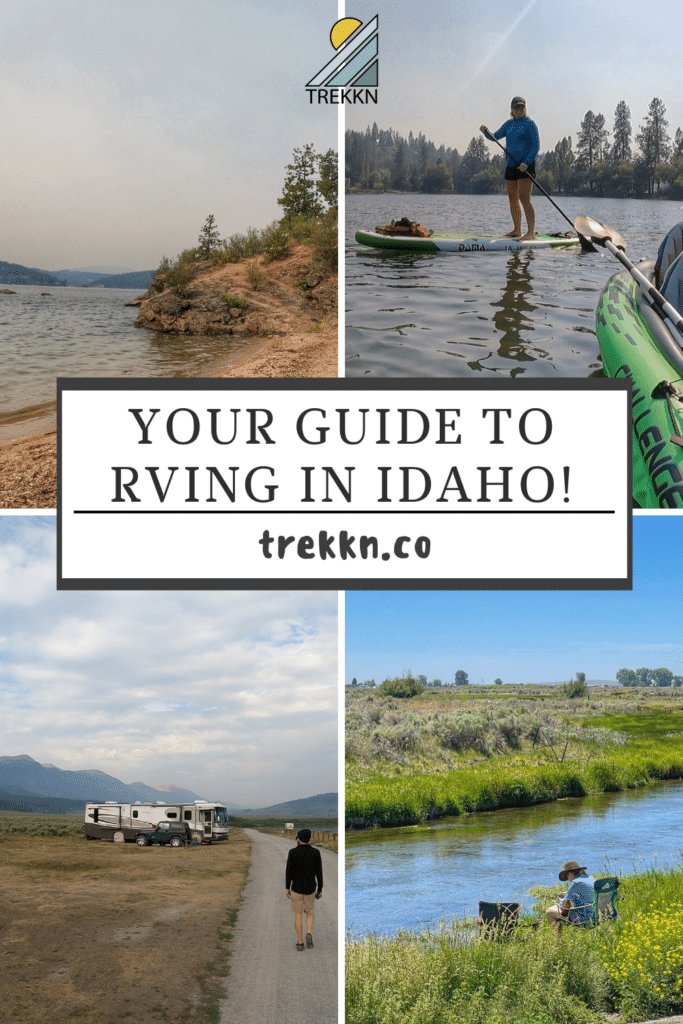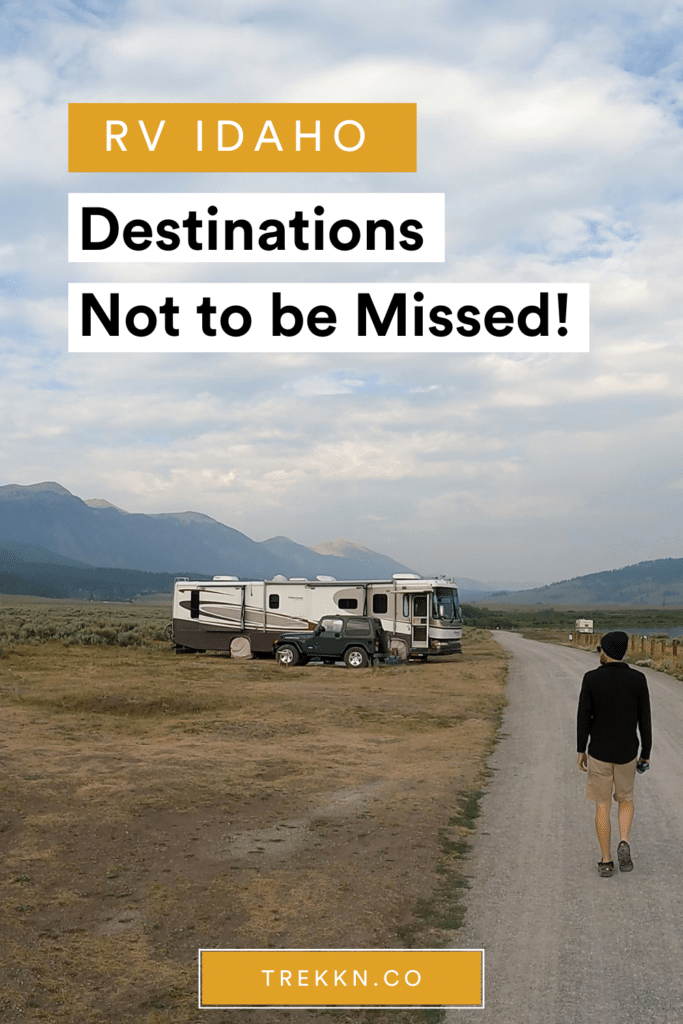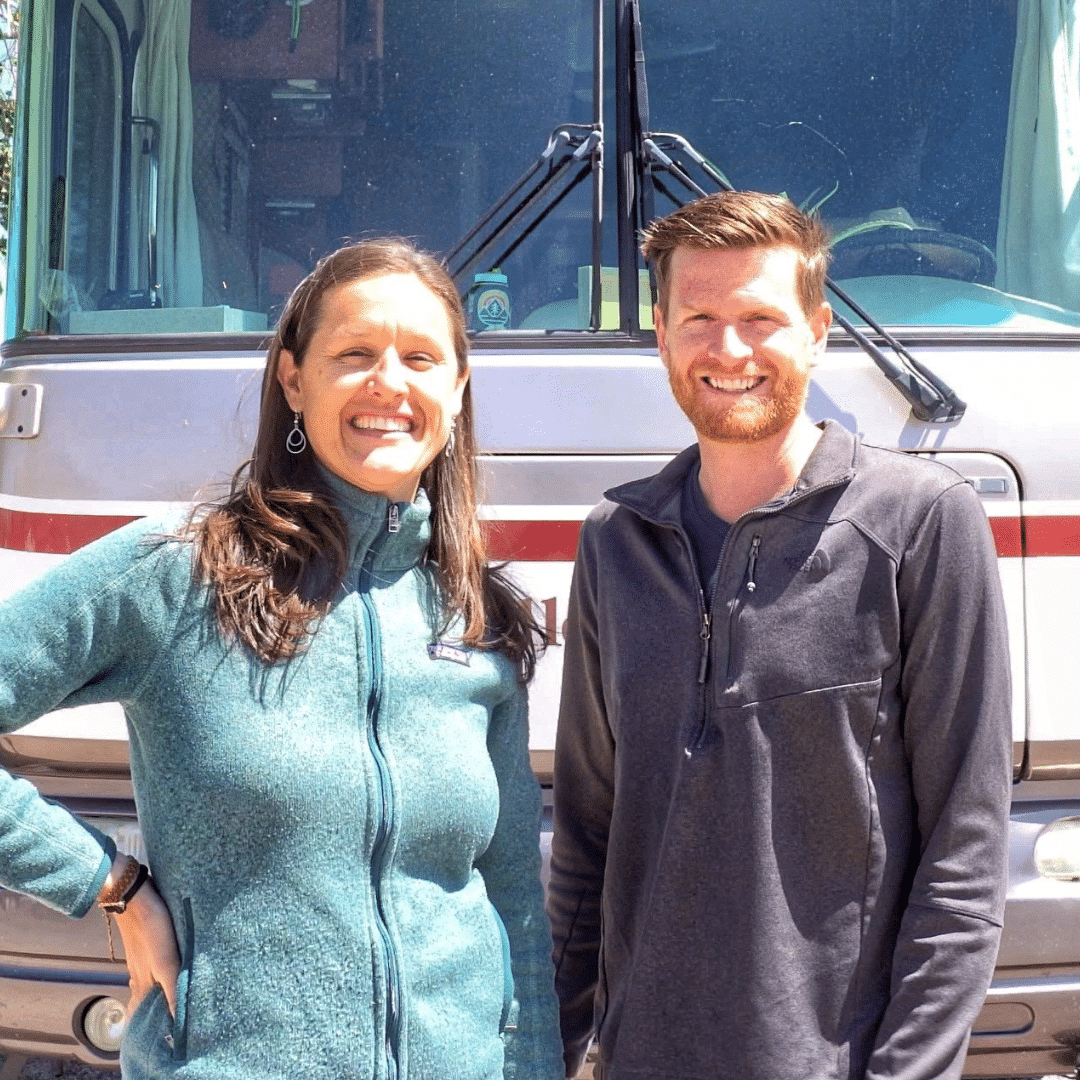 Kristen Bates lives & works from her RV, primarily boondocking off-grid. She owns and operates a women-led travel company, Legit Trips. Kristen loves to explore new places and inspire others to do the same. If she's not typing away on her laptop, she's off on an adventure- hiking, biking, or SUP boarding. You can follow her RV adventures @PerpetualMoves and learn more about her travel company at LegitTrips.com.