Are you wanting to explore as many of the 62 U.S. National Parks as possible? Print out your free National Parks Map (PDF) to use as a visual of where the parks are located so you can start making your travel plans.
Printable U.S. National Parks Map – 2 Sizes
We here at TREKKN are so happy our Printable List of National Parks as well as our RV Travel Planner have been such a big hit! Any role we can play in helping you get out and explore our U.S. National Parks makes us extremely happy.
But, one thing we've heard is you want a visual of where the National Parks are located. And we totally get that!
As we were planning our routes during our 17 month RV trip, having a map of the United States National Parks in front of us would have been very helpful, not to mention it would have made a fantastic RV decor item.
So, not only have we found some of the coolest National Parks Maps out there, but we also created our own! And it's yours free.
We've made two versions for you:
A Printable 11 x 14 National Parks Map that you can send off to your local print shop to use as a wall hanging
A Printable 8 x 10 National Parks Map which includes a separate page listing all of the parks
11 x 14 Printable
If you're touring the U.S. in your RV or are a weekend warrior, this National Parks map wall hanging would make a fantastic addition to your RV decor.
For our RV decor, I printed out a couple of pictures on card stock, purchased lightweight frames with plastic covers instead of glass and hung them up using command strips. This is just one of the many ways we made our RV feel like home.
If you don't own an RV and either road trip it or fly in to visit National Parks, you could print this out and hang it in your office or home. Use it as a visual reminder of your travel bucket list.
To instantly receive your free 11x 14 US National Parks Map printable, just click on the link or the photo below, save and then print.
TREKKN National Parks Map 11 x 14 Printable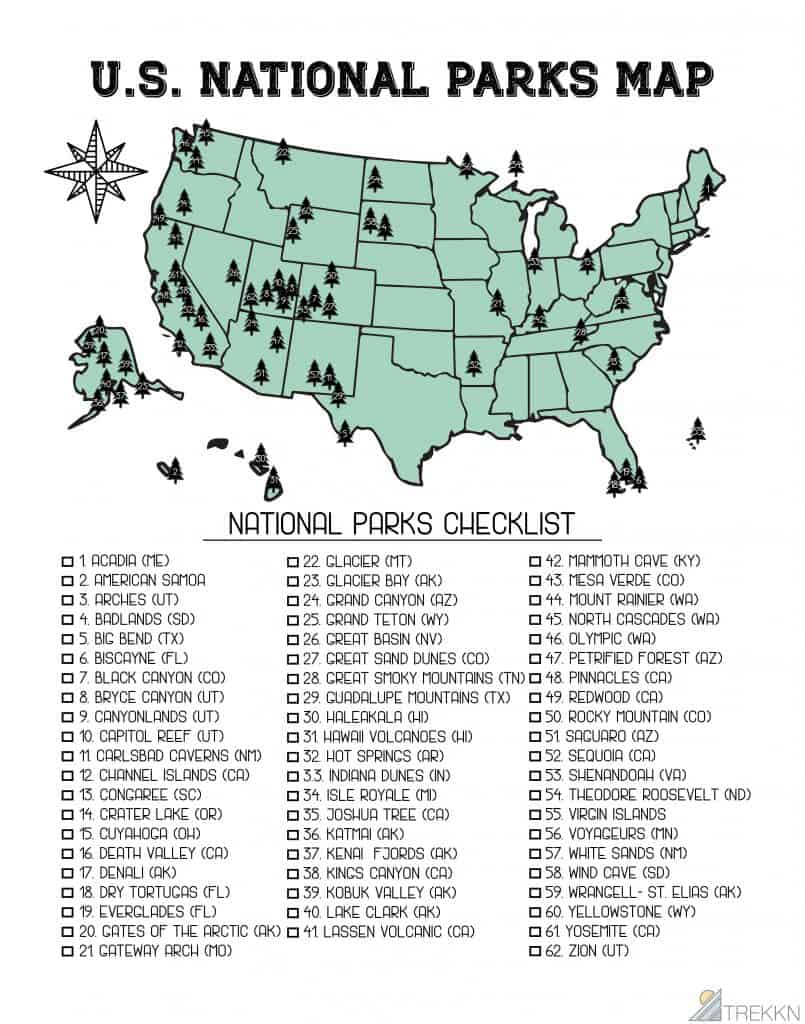 Here's what the 11×14 printed on a 16×20 poster size from Office Depot looks like framed and in our dining room.
8 x 10 Printable
In the TREKKN RV Travel Planner, we included our original printable list of National Parks. If you don't have a copy of the travel planner and you'd like one, just head on over to this link to grab it.
We created the 8 x 10 National Parks map for you to either use in your RV travel planner or for you to print out and have on hand as you're planning your family vacations.
To instantly receive your free 8 x 10 US National Parks Map printable, just click on the link or the photos below, save and then print!
TREKKN National Parks Map 8 x 10 Printable Map
We hope you enjoy these printables! If there are any other printables you would like to see here on TREKKN, please don't hesitate to let us know by either commenting on this post or contacting us.
National Park Subway Art
If you like this National Park Map, check out our National Park Subway Art Printable on the TREKKN Designs Shop. This would make a fantastic gift for your National Park loving friend or for you to show your love of our National Parks in your home, cabin or RV.
Maps for Purchase
In addition to your free printables, we also did some searching around for maps you could purchase such as scratch-off maps and maps you can get personalized. All of these maps have been updated for 2020 and include all 61 U.S. National Parks.
U.S. National Parks Maps
A list of U.S. National Park Maps, both scratch-off and push pin, for you to track your National Park travels. These make a great gift, addition to your home or office and are the perfect way to mark where you've been and a reminder of where you'd like to go.
PIN THIS
Julie Bonner is one-half of the TREKKN team. She specializes in helping you whip up delicious meals in your tiny RV kitchen, as well as RV organization tips and helping fellow RVers make their RV feel like home. Her favorite RVing spot is in Banff National Park in Canada where yes, the water really is that blue and the people really are that nice.