13 Ways to Make Your RV Feel More Like Home

Whether you're moving into your RV to experience full-time RV life or you're rolling out for an epic vacation, it's important to set up your space to feel more like home.
These 13 tips are simple and easy ways to make sure you create a space that's relaxing and enjoyable.
The day we signed the papers and officially made that Keystone travel trailer ours was such an exciting day, to say the least.
I'll never forget one of the employees who took us on a tour and explained how everything worked. He was saying things like…don't do this because it'll clog your toilet and don't do this because it could drain the battery and on and on.
The day we made it ours (minus our daughter who was at college)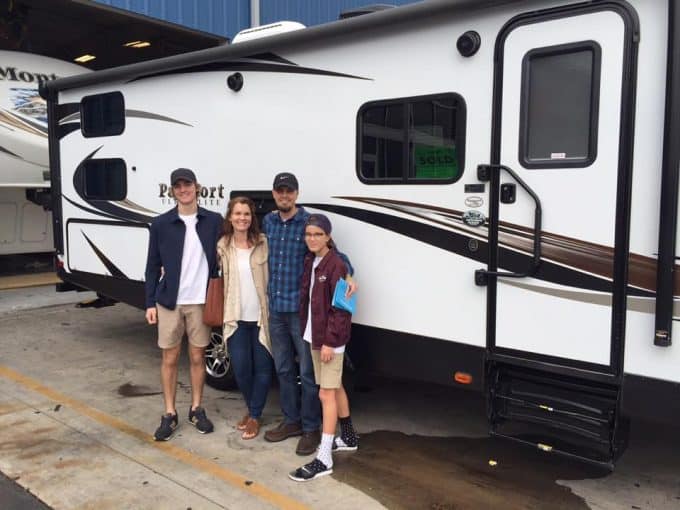 And I was trying to listen. Really, I was. But all I could think about was making it home. As he's talking about clogged toilets (which is kind of a big deal) I'm staring at the curtains and thinking how they have got to go.
As I explained in our RV hacks post, Todd and I are not renovation experts. We bought our travel trailer fresh off the lot.
Ripping out the dinette, painting the walls, and attempting to create some sort of workspace may sound exciting, but I knew it wasn't happening for many reasons.
We were only planning to travel for one year (oops, we went over), so I wanted to do the bare minimum to make it feel like home.
And it did feel like home.
The first time we all squeezed around the dinette.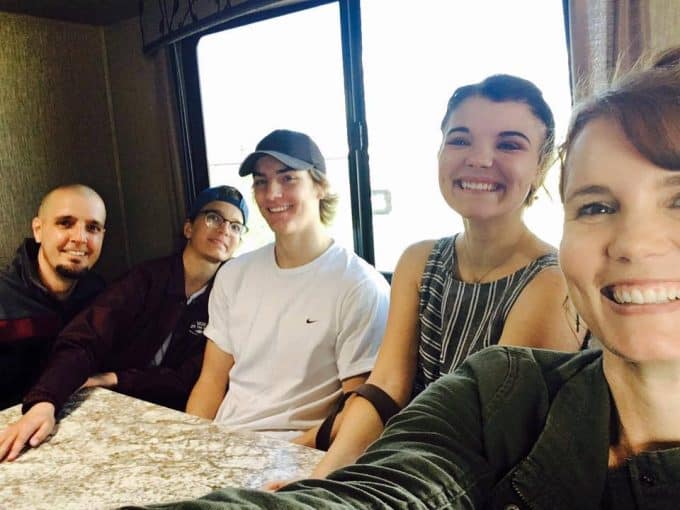 13 Ways to Make Your RV Feel More Like Home
#1 Change Out the Master Bedroom Mattress or Add a Topper
The first time Todd and I laid on our bed in the travel trailer, we knew we had a serious problem. It was hard as a rock. If we were going to get a decent night's sleep, we knew something had to change.
Why yes, that is a sloth stuffed animal on our bed – don't judge.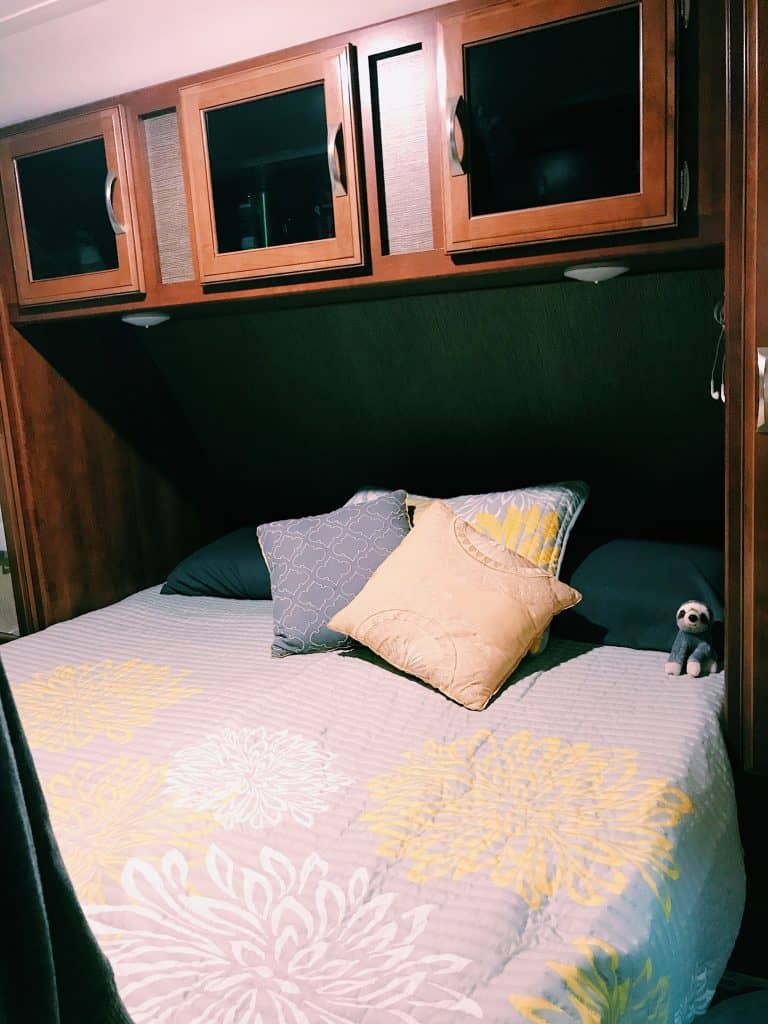 We had watched videos of other full-time RVers hauling their mattresses out of their homes to put into their RVs.
But ours was a California King mattress and there was no way in heck it was fitting in there. So we decided to take a chance.
Instead of spending hundreds of dollars on a new mattress, we bought this mattress topper.
That mattress topper ended up being one of our smartest purchases. We used it the entire 17 months of travel and it created a very cozy and comfortable bedroom space.
#2 Let Your Kids Decorate Their Space
This is probably a no brainer for most parents, but letting your kids personalize their space in the RV is incredibly important.
It gives them something familiar from home, which becomes crucial on the hard days that will inevitably come with full-time RVing.
Between constantly being in unfamiliar places while traveling and unexpected mishaps on the road, RV life can be very overwhelming.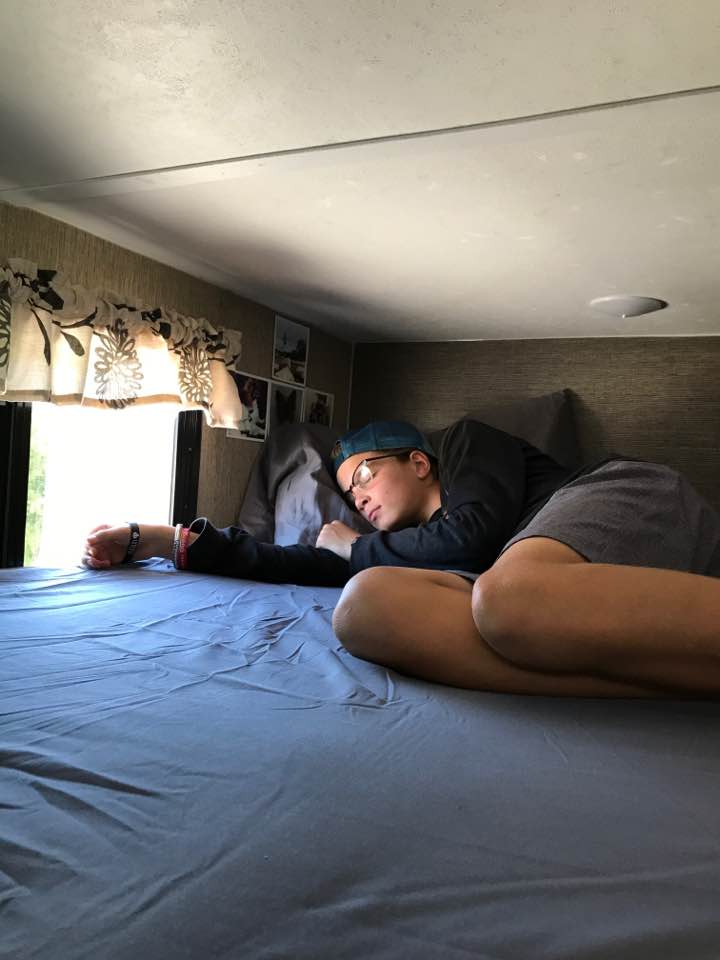 Since our sons traveled with us full-time, they got dibs on the bunks. It didn't take our youngest son long to start making his space his own by hanging pictures and hooks for his hats.
He also had a small plastic storage drawer unit he used for storing electronic chords, his wallet, and other small items he kept in his bunk.
And of course, everyone needs their favorite blanket and pillow.
Our daughter, who only traveled with us during her summer and winter breaks, used the dinette as her 'space'.
She made it her own by taping up pictures under the cushions that came off at night. We also hung command hooks in that area for her to use to hang necklaces, lanyards, etc.
#3 Add An Ottoman to Your Living Space
Next to the mattress topper, I'd say a storage ottoman is the second best item we purchased in order to make our travel trailer feel more like home.
Testing out the ottoman in the RV.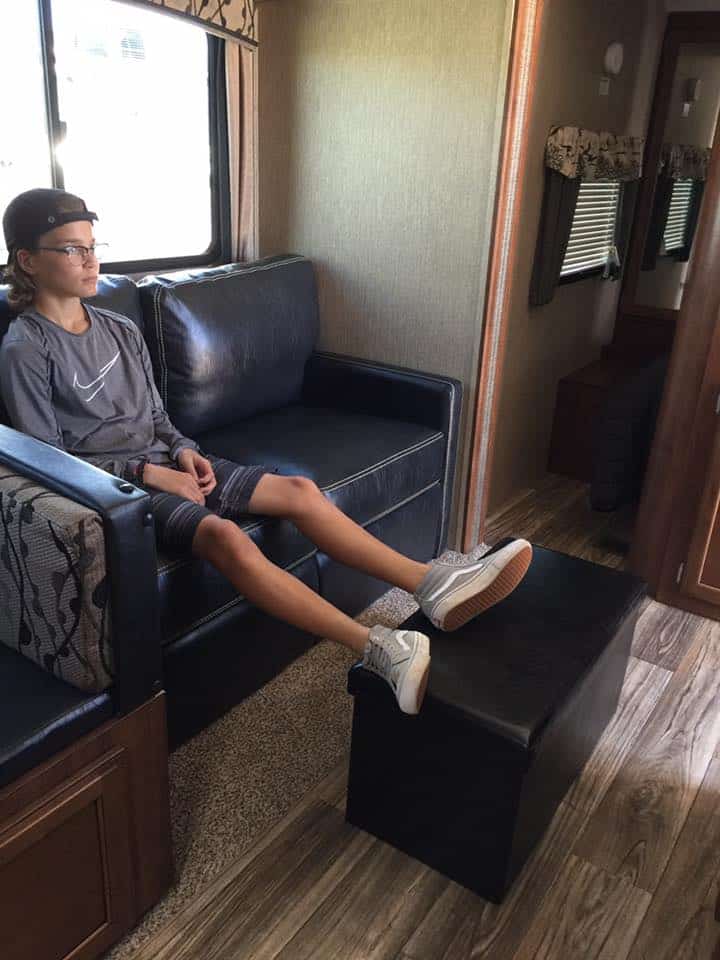 Storage space is obviously very limited in most, if not all, RVs so having another place to store our personal items was very much needed.
When our daughter was with us, she used this to store her clothes. When she wasn't with us, Todd used this for storing books, and later it became a perfect spot to put the Instant Pot.
Not only was it practical for storage reasons, but it also made the place look homier. Plus, since our couches didn't recline, it gave us a place to kick up our feet and relax.
#4 Add Throw Pillows, Blankets & A Rug Or Two
A few added throw pillows in the master bedroom and on the couch is such a simple way to make your RV feel more like home. I also purchased a faux furry rug to cover the ottoman and a metal tray for a place to set our drinks when we were hanging out on the couch.
Since we didn't paint our walls a lighter color, adding a few white pillows and the rug helped brighten the place up.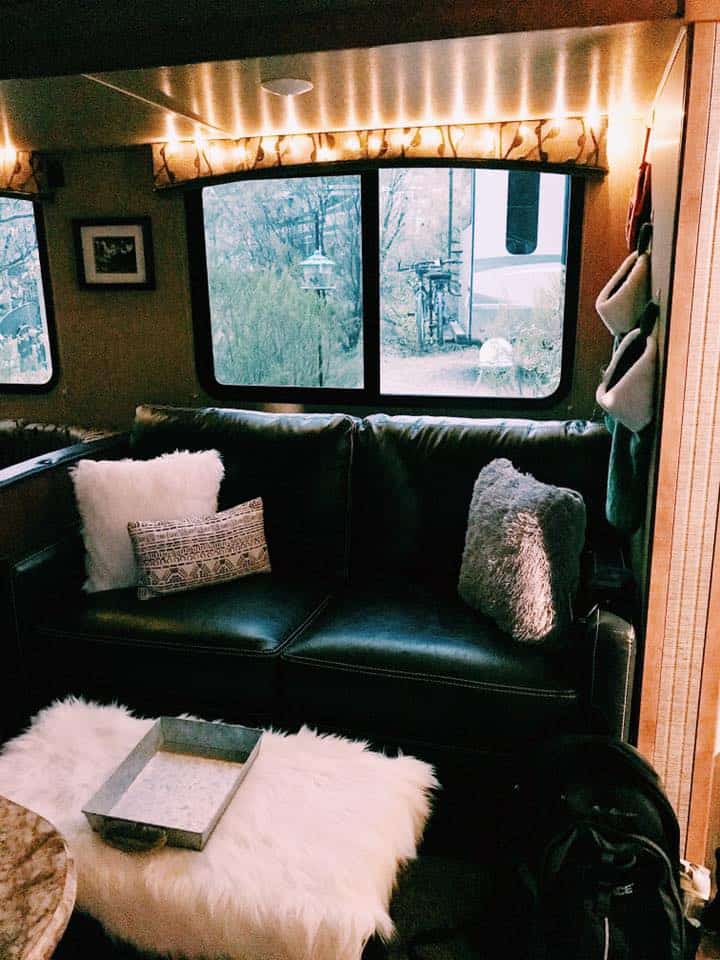 #5 Hang Wall Decor
Printable wall art for your RV is the easiest way to make your RV feel like home. Here are a few of our favorites from the TREKKN Designs Shop.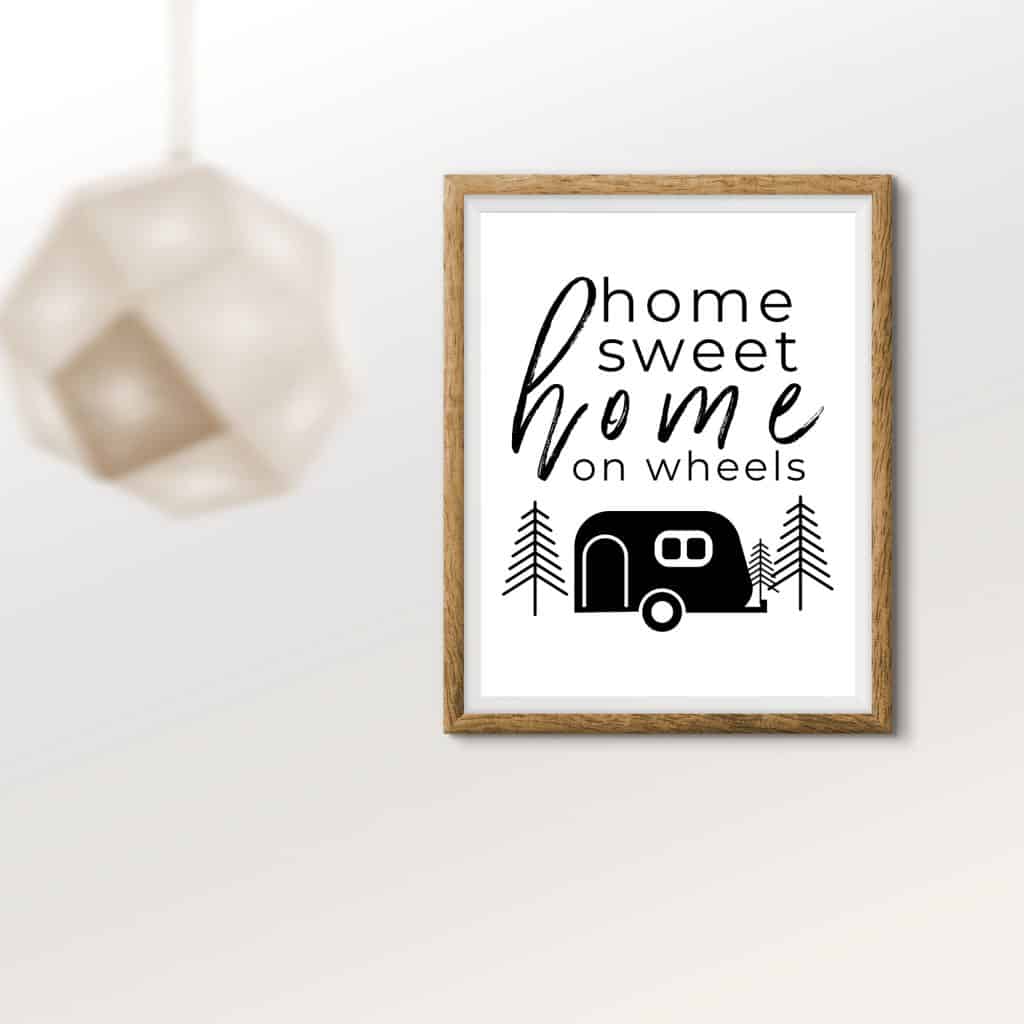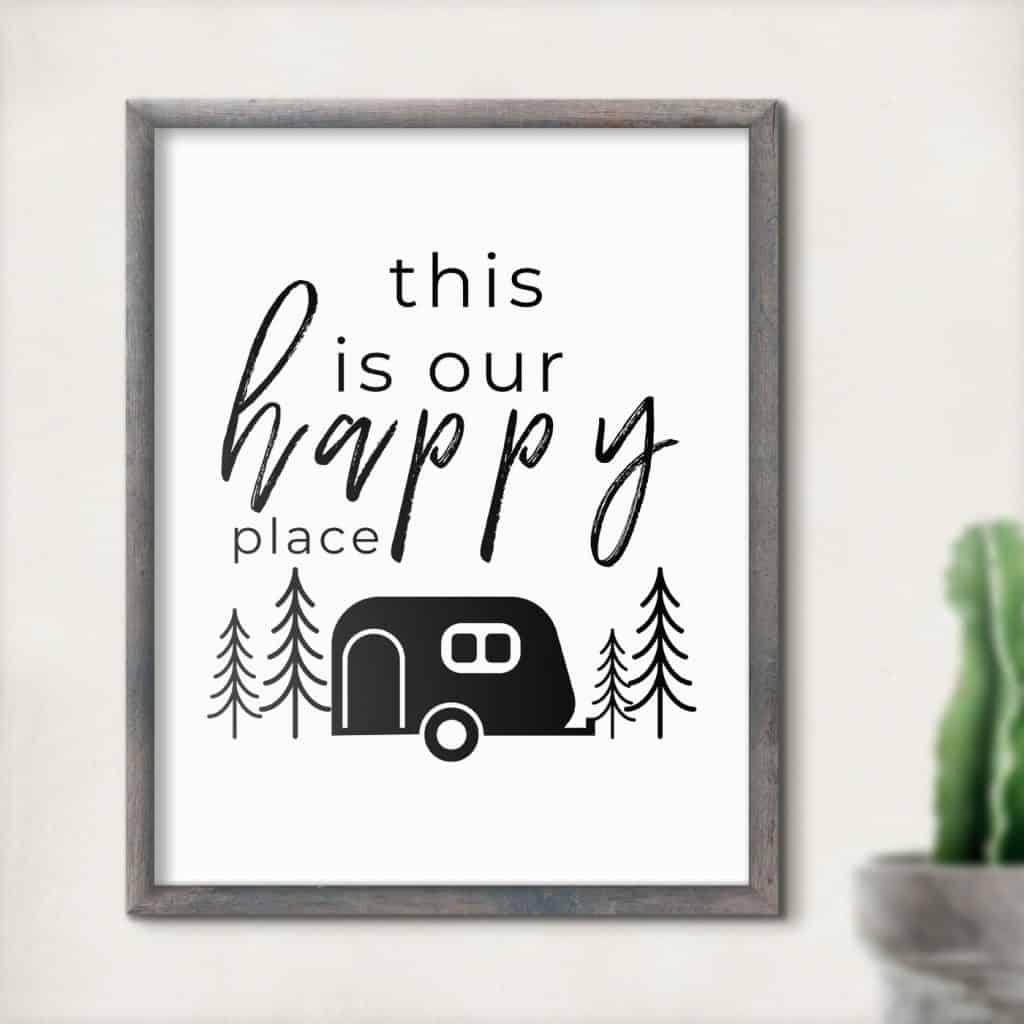 Our 'Home' Designs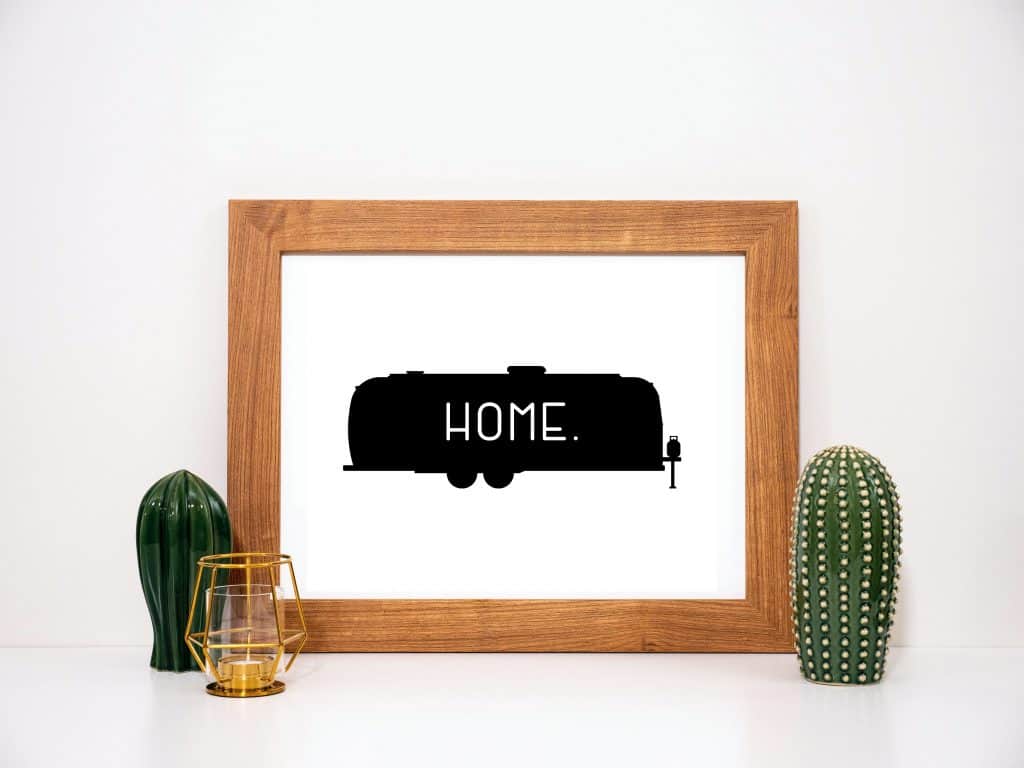 We quickly found out that adhesive, removable command strips were our friends if we wanted to hang any pictures up in the RV. We didn't have a lot of wall space, so just a few pictures did the trick.
For some inspiration on wall decor and just decorating your RV in general, be sure to check out our post on 7 RV tours you won't want to miss.
#6 Use an Oil Diffuser
Smells make a difference when it comes to making your place feel like home. At least to me, it does.
As I mentioned in this post, it doesn't take much for your RV to start smelling bad – whether you're living in it full-time or just traveling for a bit. Opening up a few windows, the door and using an oil diffuser helped to quickly get rid of any lingering smells.
Two of my favorite oils to use were eucalyptus during the day because it has such a fresh clean smell and lavender at night to help everyone relax.
#7 Bring Your Slippers & Other Home Comforts
One of my favorite things to do in the evenings when it started getting dark, was to make some tea, put on my slippers, kick up my feet on our ottoman and just sit in silence, appreciating the life I was living.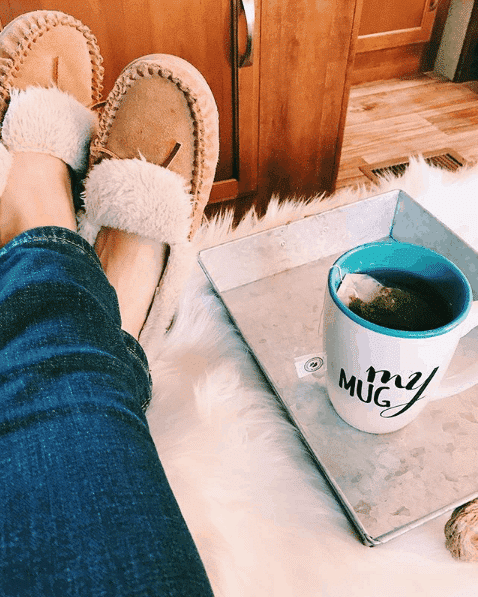 Having the comforts of home like something as simple as your favorite pair of slippers can turn your RV into a space you love to be in.
#8 Bring Your Favorite DVDs
With streaming services, we rarely watch DVDs when living a stationary life. Life on the road, however, can sometimes mean a lack of reliable internet. Plus, if you're like us, you were saving your data for work deliverables rather than streaming Netflix.
I loved movie nights in the RV, especially around the holidays, so I was very glad we brought a collection of our favorite DVDs with us.
#9 Replace Valances with Curtains
I think we can all agree that the valances in most RVs are just plain ugly. And so are the patterns usually. An easy way to remedy this problem is to take them down and replace them with curtains.
We did this in our master bedroom, replacing them with white curtains and it brightened up our room quite a bit.
If you've never taken down valances in an RV before, you might want to watch this video from Mountain Modern Life on the best way to remove them so you don't end up destroying the walls.
#10 Play Your Favorite Tunes
This may seem like a weird tip for some, but playing your favorite tunes in your RV can really make a difference in how the environment feels. Let me explain…
As we've mentioned before, full-time RVing can be a roller coaster of emotions. There will be hard days. Things will go wrong, things will break, it'll rain for a week straight and you'll be stuck inside.
One way we tried to diffuse a situation and keep our emotions in check was by playing music.
I also loved to play music when I was preparing dinner. Some of my fondest memories of full-time RVing are when I would open all the windows, the door, crank the music a little (not enough to annoy the neighbors of course 😉 ) and whip up something tasty for my family.
So if things get tense inside your small space, put on your favorite tunes. We played ours through the blue tooth features on our travel trailer stereo.
If yours doesn't have this, you can always purchase a blue tooth speaker. This speaker has a built in LED light that's perfect for the outdoors as well. Plus, it just looks cool!
Now that we're done with our year and a half of full-time RVing, there are certain songs we'll listen to that remind us of specific locations.
Those memories and those songs will be with us forever.
#11 Decorate with Plants
If you have the room for it, it's amazing what a plant or two can do for your space. Even a succulent on the counter or table can help liven up your RV.
If you're wondering what kinds of plants will do best in an RV, this article from RV Share about low-light plants should help.
#12 Expand Your Living Space to the Outdoors
Whether you're traveling full-time or on a summer excursion, having an outdoor space to enjoy and relax in is incredibly important.
For us, having that extra space outside was crucial in making sure we all got along. 🙂
We purchased a Gazelle Day Gazebo and used it as a second living space. This was one of the best purchases we made for our travels.
Not only did it provide another area for us to relax in, it also protected us from the bugs.
There were quite a few other items we had that made our second living space an area we enjoyed being in. You can see what our top favorite camping supplies for relaxed outdoor living are in this post.
#13 Keep It Neat and Organized
RV life gets messy. There's no doubt about that. But the amazing thing about living small is it takes a very little amount of time to clean and tidy up.
I'll never forget the first time we had people over after we moved into our travel trailer. We hadn't left Texas yet, so my parents came over for dinner at our campsite.
It took me maybe about 15 minutes to clean up and make things sparkle. I knew this minimalist way of living had its perks and this was one of them.
Keeping your RV neat and organized helps make this way of life more enjoyable. But doing that has its challenges.
Here are a few ways we made sure our 200 sq. foot space with five people living in it stayed tidy:
Don't bring a lot with you in the first place – we brought too much stuff with us when we started out and ended up getting rid of things as we traveled. It's amazing how this lifestyle makes you realize what you actually need and what you don't
Make sure everyone has their own space for their stuff that they're responsible for
Do a once a day clean up before it gets out of hand
Get creative with storage options – use every inch of space in your RV for storage solutions
---
I hope these tips about making your RV feel more like home helps you create a space you love being in.
One thing we realized about ourselves while living this lifestyle, is that it doesn't take much to make us feel happy and make our kids feel safe and secure. Home really can be where you park it.
PIN THIS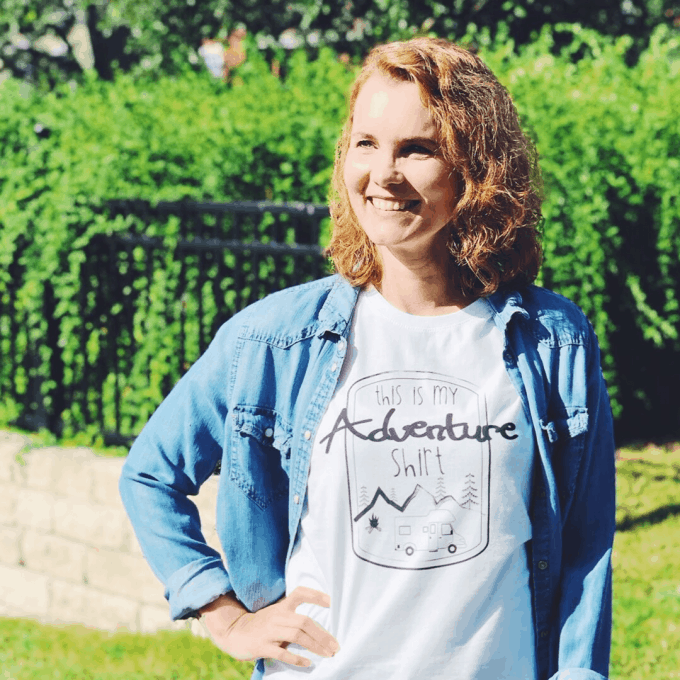 Julie specializes in helping you whip up delicious meals in your tiny RV kitchen, as well as RV organization tips and helping fellow RVers make their RV feel like home. Her favorite RVing spot is in Banff National Park in Canada where yes, the water really is that blue and the people really are that nice.