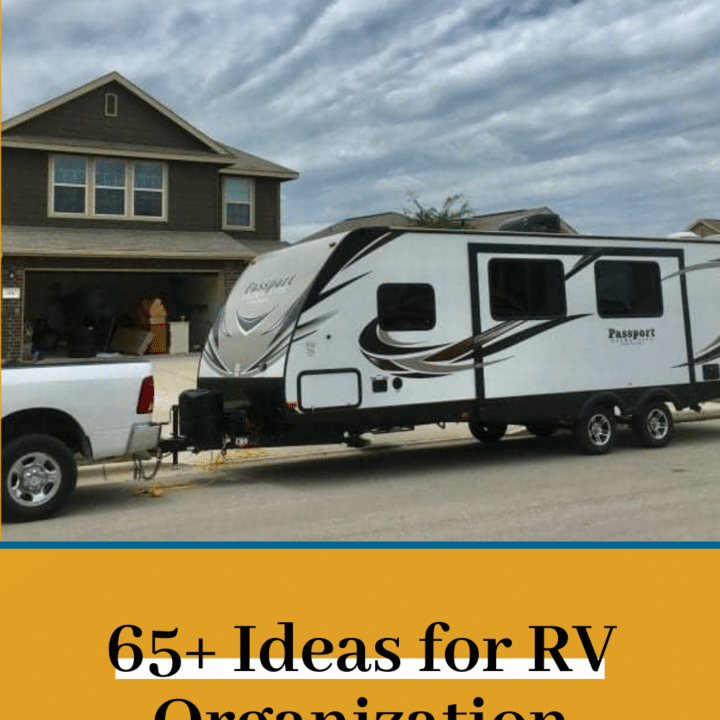 Equipping your home on wheels with RV organization accessories can be the difference between a space that works for you to one that drives you absolutely mad.
Check out this huge list of space-saving RV gadgets and RV organization hacks for RV living at its best!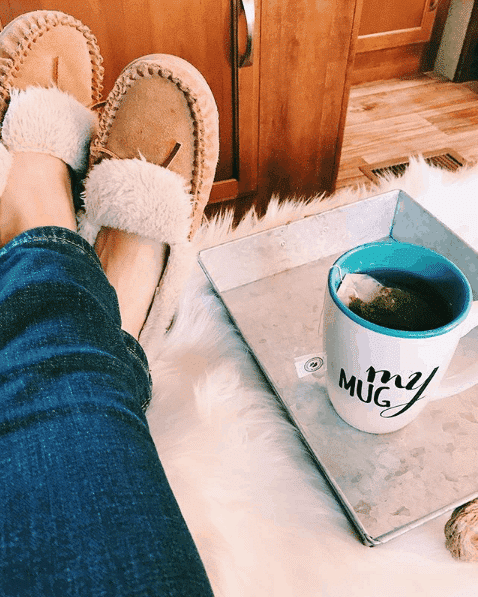 If there's one topic I could talk about endlessly, it's RV organization and the products/tips that helped make our 200 st. ft travel trailer work for five people.
The minute I stepped foot into our new home, I had organization on the brain. I could not wait to start figuring out how to make such a small space work and yes, start filling up my Amazon cart with space-saving RV accessories.
From collapsible measuring cups and dish drainers to baskets, hooks, and ottomans – we figured out quickly what products we needed to make the transition from a 2,000+ sq. foot house to a 200 sq. foot travel trailer work for us.
RV Organization Tips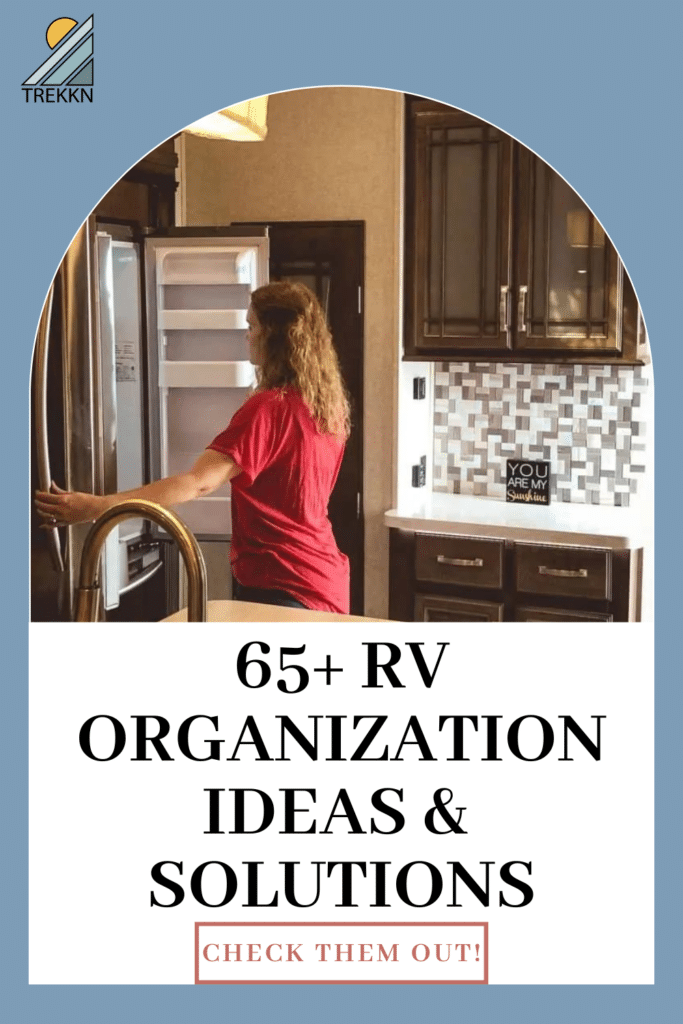 Before we get into the actual RV organization accessories and space-saving gadgets themselves, I thought it would be helpful to start off with some general organization tips.
Here are six tips that helped keep our space tidy, clutter-free, and liveable.
1. Bring fewer items into the RV than you think you need
I know this is easier said than done, believe me. Although we sold about 90% of our belongings, we still had a lot of stuff.
Things like keepsakes and home decor items I loved and didn't want to part with went into a small storage unit. But there were still so many items I needed to decide if they would come with us or not.
It didn't take us too long to figure out that we brought too much stuff with us. We ended up donating several things along the way on our travels.
For example, we purchased a collapsible wagon that we just knew we'd use like crazy. It took up quite a bit of space in the passthrough, but we figured it was worth it.
After a few months on the road, we ended up getting rid of the wagon because we could count on one hand the number of times we used it.
2. Bring items that have more than one function
For example, the couch in our travel trailer didn't recline, so we knew we needed to get an ottoman so we could kick our feet up. But the ottoman needed to serve more than just that purpose. It needed to be able to store things as well.
Another example is a bucket we stored under the kitchen sink. It held plastic containers and lids. But it was also used as a bucket to wash dishes when we didn't have water hookups at a campsite or were boondocking.
3. Make use of the wall space
One of the rules of organization whether you live in a house, apartment or RV is to look up when it comes to organization ideas. You'll quickly find out as you travel in your RV that every inch of space makes a difference.
Use the wall space for hanging hooks and baskets. Plus look for items that can be stuck to the wall, meaning they have an adhesive wall mount. Many RV walls can't handle screws, so adhesive-backed items are your best friend.
4. Use baskets to store like items together
Not only are baskets useful for keeping things from flying everywhere while traveling, but they can also help keep your space organized.
We used baskets in every 'room' of our RV, including under the bed for shoes, out-of-season clothes, and items we didn't need to get to every day.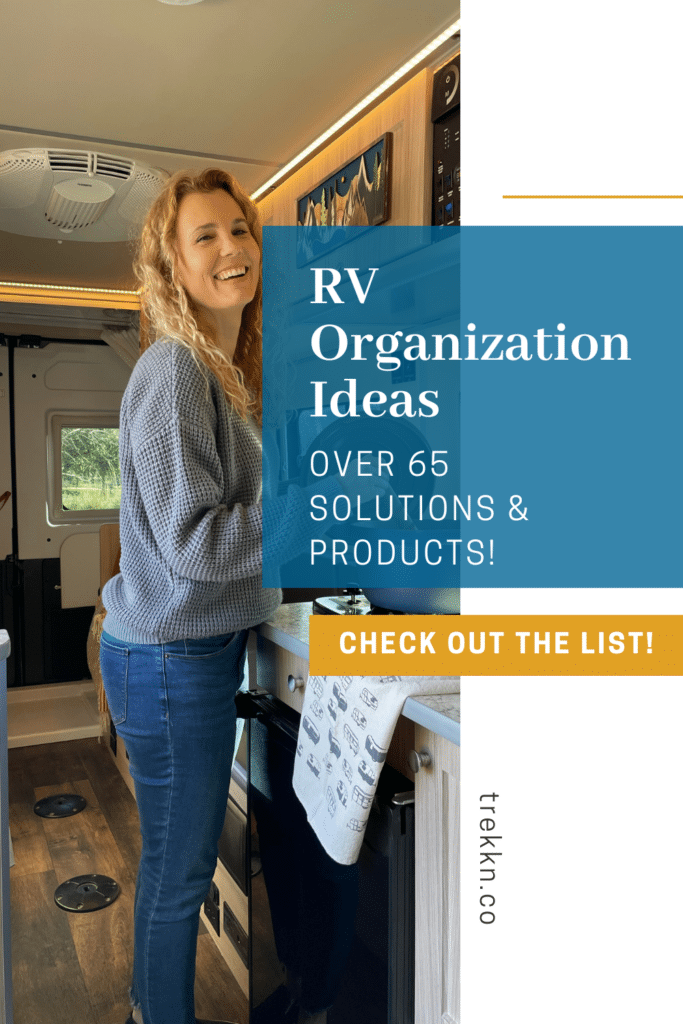 5. Do a quick clean-up in the morning and before bed
The great thing about living and traveling in such a small space is that it takes hardly any time to get things back to normal. Doing a quick cleanup both in the morning and before bed can keep your space from getting out of control.
6. Use move days as cleaning days
This may not work for everyone, but it worked well for us.
One move days, we divided up responsibilities. One or two of us stayed inside and would wipe everything down, sweep and get the rig ready for the next location. While the others got everything outside ready to hit the road.
This not only kept things clean and tidy, but it helped keep the travel trailer smelling fresh and clean.
Alright, now on to the RV organization ideas and products!
RV Organization Accessories for Every Room in Your RV
RV Kitchen Organization

Gadgets lay flat in a nesting position for convenient and space-saving storage. Perfect for RV kitchenettes and Camping adventures
5 Pc SET INCLUDES – Grater for Cheeses, Vegetables, Chocolate; Grinder for Garlic or Ginger; Pizza Cutter / Wheel for Pizzas and Flat Breads; Bottle Opener; Swivel Peeler for Vegetables

Sized to fit RV drawers: adjusts between 9″ and 13″ for an easy custom fit.
Innovative collapsible dish rack with arms that extend from 16-1/2″ to 26-3/4″ inches. Measures 16-1/2 by 12-1/4 inches. It collapses to ⅓ its original size for easy storage under the sink.
Keep order in the RV refrigerator and cupboards during travel. The RV refrigerator bar is spring-loaded and keeps things from shifting during travel.
It also helps keep a disaster from happening, like a jar of pesto flying out and splattering everything in sight. Yes, this happened.
Your Spice Grippers stay out of your way while managing to always be right where you need them. Secure adhesive lets you mount the strips to nearly anything.
Fits right on the RV kitchen sink, with a corner cut out for scraps.
Plates stay in place while traveling, keeping them from breaking. Made with non-slip backing.
Hidden organization and storage provide the perfect small-space solution for a kitchen, bathroom, laundry, boat, and RV.
Set of 4 assorted stackable and collapsible silicone containers – Includes one of each size for the best value: Small (10.5 oz), Medium (18 oz), Large (26 oz), and Extra Large (43 oz).
From storing dried foods to wet foods, leftovers to meal prep, and indoor to outdoor, this versatile set is the perfect solution for your different food storage needs.
Store up to 36 cans or a variety of size cans/jars.
This storage organizer fits spices, baking supplies, dry goods, and many other kitchen essentials; Use in the fridge to keep meats, cheeses, snack items, fruits, and vegetables organized and ready to go.
Perfect for wellness items, store vitamin bottles, medicine, aspirin, adhesive bandages, and first aid essentials; Works in refrigerator and freezer; Organize all of your kitchen essentials; Set of 4.
Neatly store and reuse plastic bags, while conserving space.
Keep items in the cupboards secure while traveling. Comes with four in a pack.
Attaches to refrigerator wire shelves to keep food in place while traveling.
The Stormate Collapsible Garbage Bag Holder can be used in RVs, boats, cars, and trucks, at home, or when you're camping.
Frees up valuable drawer and counter space. Holds 7 cooking and carving knives.
Red folding colander helps save valuable kitchen cabinet space.
Four measuring cups and four measuring spoons that collapse and save valuable space in your RV kitchen.
*Measure your sink before ordering.
Excellent space-saver multi-purpose heavy-duty over-the-sink dish drainer.
Not only does it provide remarkably simple efficient solutions to air-dry washed bowls, pots, fry pans, tableware, cookware, cutlery, and kitchen utensil gadgets, but also can be used as a vegetable colander and prep works platform over the sink.
*Measure your fridge before ordering
Keep your refrigerator clean and organized with these clear plastic bins. They are stackable and feature built-in, easy-grip side handles.
Conserve counter space with a mountable paper towel holder.
Store wooden spoons, spatulas, and utensils on the counter if you lack drawer space.
Make use of all the space in your cabinets with a shelf rack.
Folds up for easy storage. Place the mat on a cutting board or your kitchen counter to dry dishes.
This mixing bowl is durable, and sturdy has a non-slip base and collapses for easy storage.
Space-saving nesting design allows individual pieces to be stacked neatly together. Features four bowls, four measuring cups and one Tablespoon.
Store items under the kitchen cabinets with this mounted Anything Keeper organizer.
Revolving container maximizes storage space, especially in pantry cupboards and deep-base cabinets where items can be hard to reach.
The perfect storage solution for the kitchen and other rooms in your RV. This is mounted with screws and not adhesive.
Low profile storage rack is bi-laterally magnetic and will stick to fridges, range vent hoods, steel shelving, and any other ferromagnetic* surface in your kitchen. Each utensil nests securely into its own spot on the rack.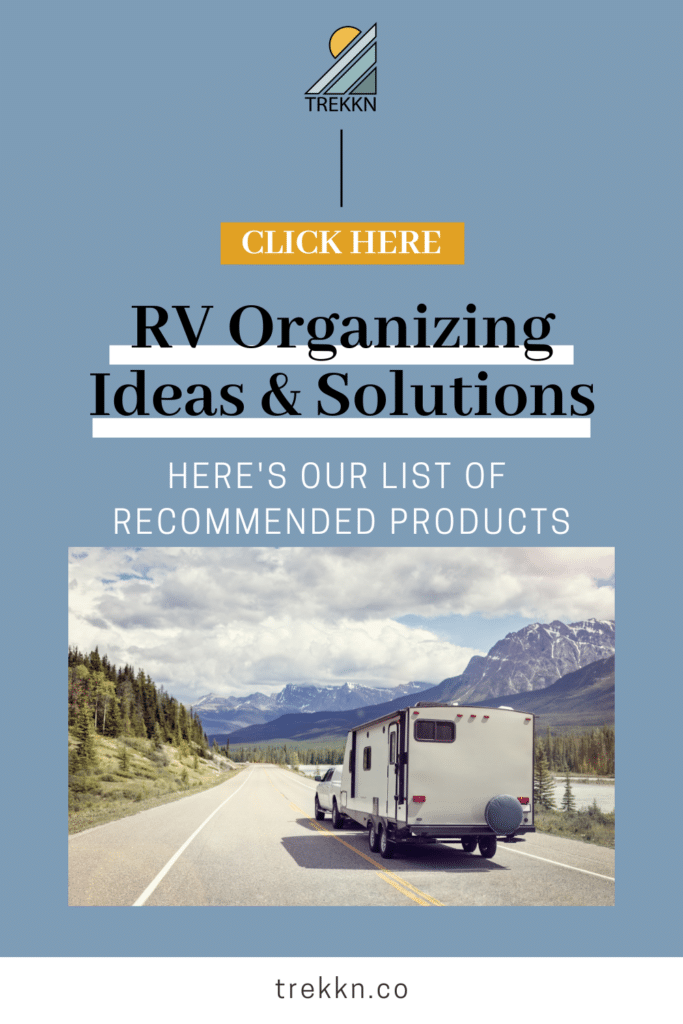 RV Bathroom Storage Products
Trying to figure out how to organize our RV bathroom for five people drove me nuts at first.
It was such a tiny space with very minimal storage. But as I learned with a lot of things when it comes to RV living, some things you just have to figure out as you go and that's how it was with the bathroom area.
What I thought would work as we began our trip didn't and I had to make some changes along the way.
A few things that ended up working best for us were:
Wall-mounted toothbrush holder – one of the best products I purchased for the RV bathroom. I recommend purchasing one that has something to cover the toothbrushes with so they're not out in the open
Keeping our hamper with dirty clothes in the bathtub – this kept the dirty clothes out of the main living space and tucked away
Using an over-the-door hook for towels and/or large 3M hooks for towels
Todd and I stored our bathroom items in our room in toiletry bags instead of in the bathroom. This not only freed up space in the bathroom, but it was handy when we didn't have hookups and had to use the campground's facilities. We would just grab our already packed bag and head to the bathroom to get ready in the morning and for bed at night
Here are some RV bathroom storage and organization products we recommend:
Hang this on the outside of your shower curtain to hold soaps and extra toiletries.
If your RV walls can handle it, this towel rack holder installed on the wall is a huge space saver. Wine racks also work well as storage for towels.
*Before you purchase anything like this, be sure to measure the space first.
These stackable drawers are perfect for space under the cabinet.
I stored my hairdryer in my closet, but if you don't have room for it, consider using the wall space in your bathroom.
We had something similar to this that fit perfectly under our medicine cabinet. We stored q-tips, cotton balls, etc in it, making it easy to access those items.
You may find that stackable bins work better under the cabinet than drawers. We used containers similar to these for the boys to store their extra toiletries in.
We had something almost identical to this one and it was a great purchase. I liked how the cups covered the toothbrushes and that we could store our toothpaste as well. This is mounted with a single adhesive strip.
Our travel trailer didn't come with a toilet paper holder and I've noticed that's pretty common. This one has an adhesive 3M sticky backing for hanging.
Hang this over the door or even possibly on your shower curtain rod to hold soaps and shampoos.
Something like this might work well for washcloths and extra bathroom supplies.
Use this to hang towels you use every day.
We quickly found out that suction cups did not work in our shower because of the material, but it might work for you. If so, using something like this caddy to store items inside the shower will free up much-needed space.
We got the most use out of Command items and most of them held up and stayed, even on move days.
If you have room in a corner of your bathroom, this tension pole caddy might be perfect for that space. No screws and no adhesive.
Hang an extra tension rod in the shower on the opposite wall to hang items from.
Install a small corner shelf between the mirror and sink if your RV bathroom is set up with the sink in a corner.
Dinette Storage Products
If your dinette has storage under the cushions, here are a few ways to utilize that area best.
*Always measure the door and storage space under the dinette before purchasing any products.
If the measurements work, these rolling plastic under-the-bed storage bins are the perfect way to keep that area organized while being able to easily access stuff.
If you don't want to use plastic tubs, these wooden storage bins on casters might work. Plus, they have cute chalkboard labels for you to write on.
Cloth containers are another way to go when it comes to under-the-dinette storage options. These come with plastic covers and different divider options.
RV Living Room Organization Products
Our living room consisted of a two-person couch and the entertainment area, so we didn't need much when it came to organization products because there was nowhere for them to go.
But, here are a few items that helped make that area more functional.
If you've watched our RV tour video then you know I have a slight obsession with storage ottomans, but for good reason. They're useful!
We used an ottoman in the living room to kick up our feet, as well as to store things like homeschool supplies, books, clothes, etc.
It's nice to have a place to store the remotes, reading glasses, etc by the couch.
This is actually something we didn't have but I think we would have used it frequently for eating/working. Plus, it folds up so it can store behind or beside the couch.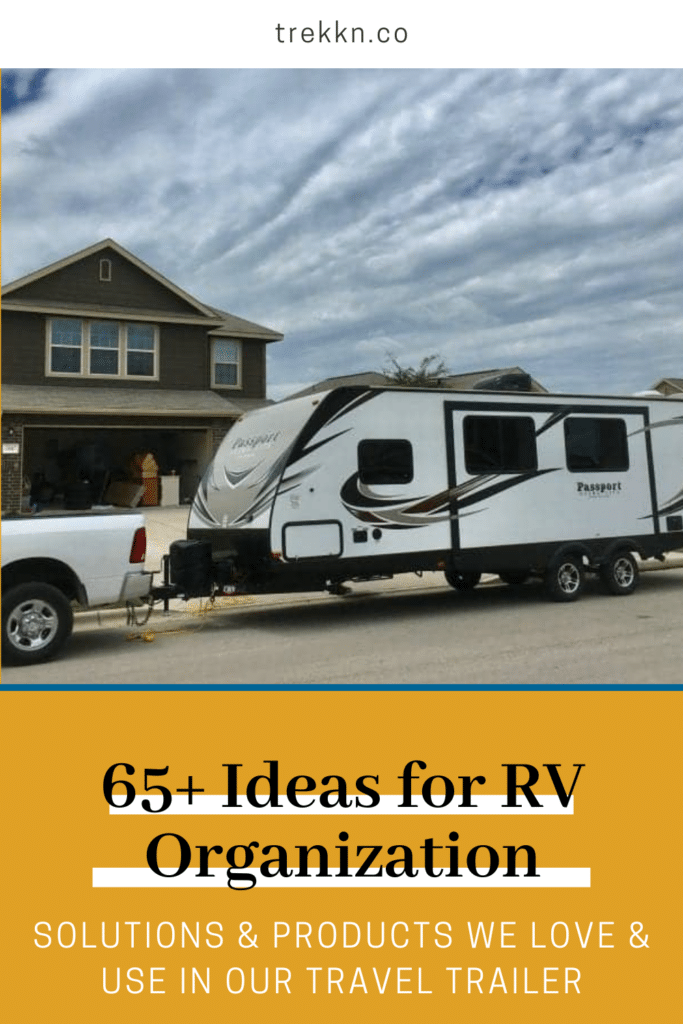 RV Bedroom Organization Ideas
Our bedroom is probably the area that drives me crazy the most. Part of it is because I have too many clothes and shoes. The other part of it is because, well, it's a small space that I not only sleep in but also work from.
I never got this space organized just like I wanted it, but here are some bedroom organization items that helped and some that I wish I would have purchased.
Closet space can definitely be a big issue if you're traveling with a family. Using space-saving hangers and hanging multiple items on one regular hanger helped free up some much-needed space.
I used cloth bins in my closet, as well as under the bed. In the closet, I stored shorts, jeans, sweatshirts…anything that didn't need to be hung up or was too bulky for hanging. Our closets are deep enough to use two cloth bins.
I used these under the bed to store out-of-season clothes, extra shoes, and office supplies.
We used one of these in the closet for one of our sons. It worked well to keep his clothes organized instead of stacking them in one pile.
These little stick on shelves can be used for your phone, jewelry, watch, or any small items you want to access easily. Mount them on the wall right beside your bed.
Wall mounted storage baskets are great for the bedroom. You can store remotes, charging cables, and other small items in them. I've also seen small succulents placed in a wire basket mounted to the wall.
I saw one of these installed by the bed in one RV and thought it was a great idea. When it wasn't in use, it was folded down and out of the way.
Slim storage baskets were the perfect size to store items in the cabinets above our bed. I stored things like socks, underwear, toiletries, and small office supplies in these.
I could have listed 3M hooks as an RV organization accessory in just about every room because we used them in just about every room.
In the bedroom, I used them for hats and scarves and Todd used them for hats and a headlamp for when he had to go deal with propane issues in the middle of the night. 🙂
These 3M broom grippers are perfect for holding flashlights. We had them on the wall right outside the bedroom door so they were easy to grab on our way out if we needed them.
3M hooks don't always look the nicest, so if you want hanging space that's a little more decorative, an expandable wall-mounted rack would look really cute.
If you have space and need extra storage, a small storage ottoman placed beside the bed might be useful. I used one in our bedroom to store my office supplies since I worked on the road.
It also came in handy as a place to sit to put on my shoes. Double bonus.
RV Entry Way Organization Ideas
One thing you'll quickly find out is that even in your RV you'll need a drop zone for keys, wallet, dog leashes, etc.
Here's a metal wall mount that features hooks for keys, a slot for mail, and a whiteboard for notes.
Here's one that doesn't require screws and is adhesive instead.
RV Shoe Storage Solutions
One thing big families who travel together in an RV have an issue with is the shoe situation. When you're traveling all over the country, in different seasons, you need shoes for several different occasions.
We had shoes for snow, shoes for hiking, shoes for dressing up (we had weddings/events we attended), shoes for summer, shoes for exercise, etc, etc, etc.
What ended up working best for us, was shoes that weren't being used at the moment were stored under our bed and/or the dinette.
Everyday shoes we needed easy access to were stored in a large plastic bin outside. When it rained, we just pushed the bin under the travel trailer.
Was it a perfect solution? No.
Did it work? Yes.
If you need more ideas, just do a quick search on Pinterest for "RV shoe storage ideas".
Some people cut up these shoe organizers and attach them to the sides of their beds in the master bedroom. You can see an example here.
How many of these RV organization accessories and ideas caught your eye? We truly hope this resource helps you to organize your RV so that it can be an enjoyable space to live and travel in.
If you have any organization ideas to share, please do! We are always looking for more ways to keep the RV organized.
PIN THIS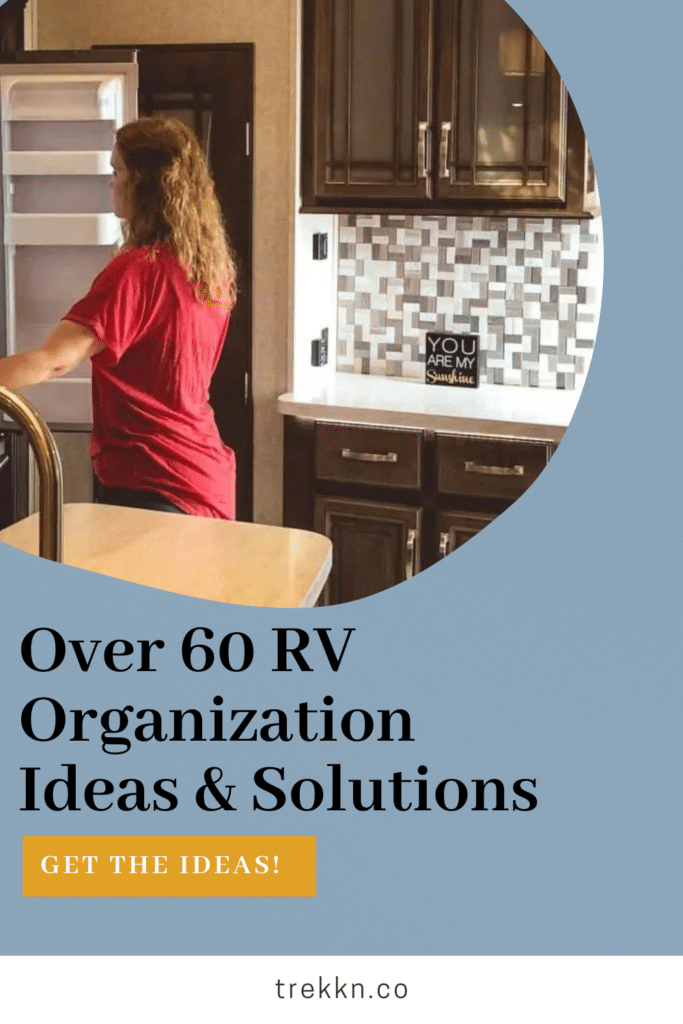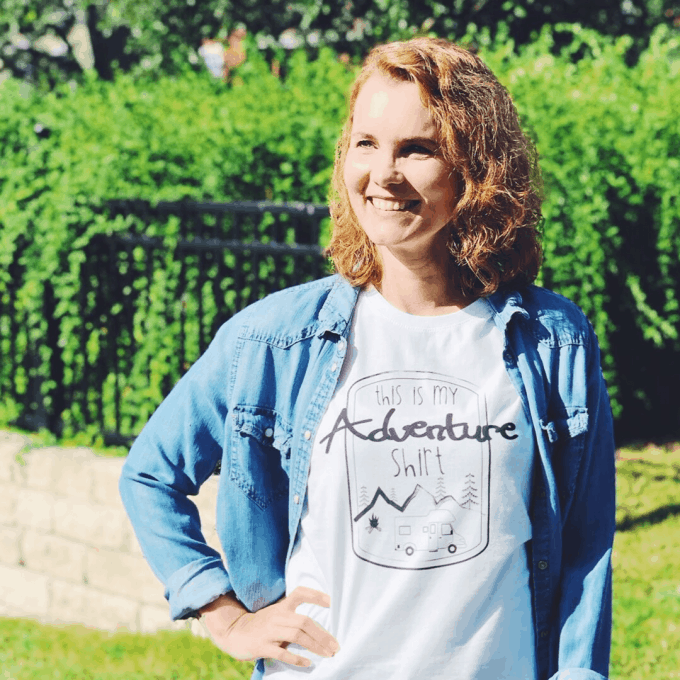 Julie Bonner is one-half of the TREKKN team. She specializes in helping you whip up delicious meals in your tiny RV kitchen, as well as RV organization tips and helping fellow RVers make their RV feel like home. Her favorite RVing spot is in Banff National Park in Canada where yes, the water really is that blue and the people really are that nice.