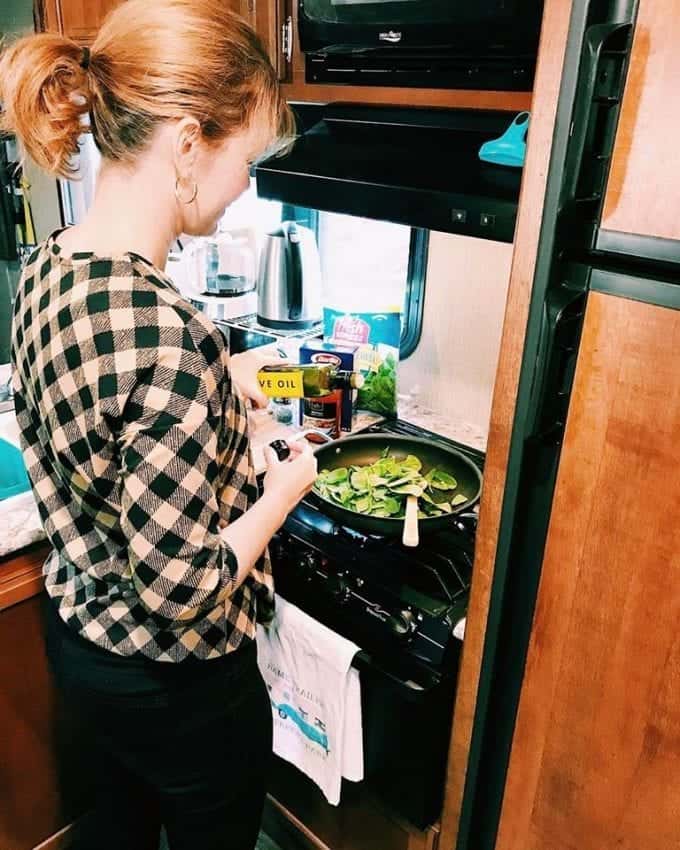 Are you considering full-time RV living? If so, research is key and can help make your launch day and the following weeks and months go a little bit smoother. Let's chat about the RV kitchen and my top 7 favorite RV kitchen essentials.
When we started our 100-day transition to full-time RV living, one concern of mine was kitchen essentials. I really enjoy cooking but had gotten used to preparing meals in my big kitchen filled to the brim with everything I could need and then some.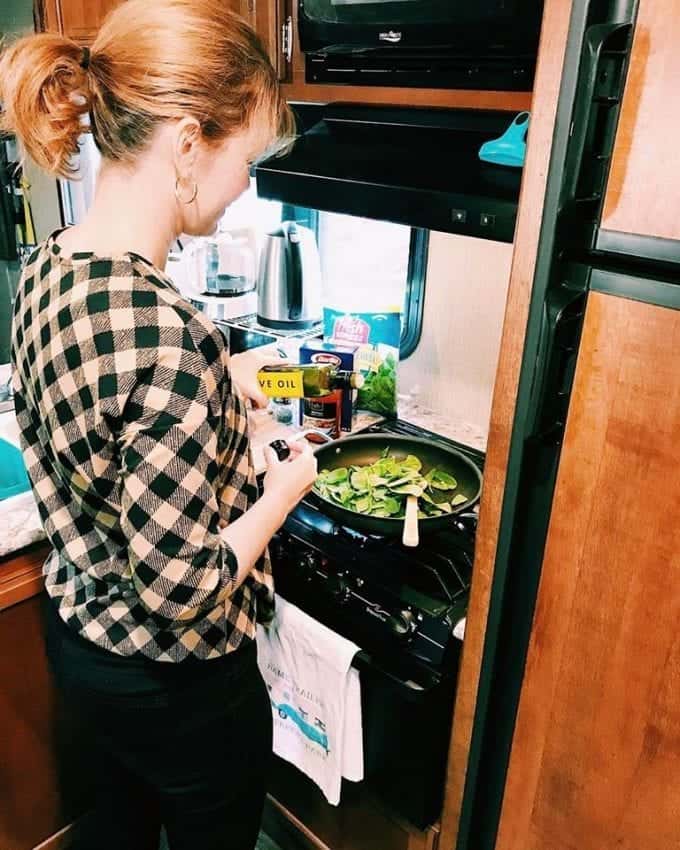 How in the world was I going to a) decide what to bring with me and b) cook with hardly any counter space?
Do you like this post? Here are a few of my favorite recipes I've prepared in our RV:
Well, I've been preparing meals in our RV kitchen for over a year now, and while I definitely have more to learn, I'd like to think I've gotten the hang of it. In fact, I actually really enjoy it when 5:30 rolls around and it's time to cook!
Here are my personal 7 RV kitchen essentials (sprinkled with some tips) that make mealtime a little less stressful.
For an exhaustive list of everything, I brought with me to set up my RV kitchen, check out my post all about RV Kitchen Accessories.
Full Time RV Living: My 7 Kitchen Essentials + Tips
Since we live in a 26ft. travel trailer, counter space is pretty laughable. Meaning, I literally laughed when we toured this model and I saw the kitchen.
But, I knew this leap we were taking was going to require sacrifices. One of those is space.
The small piece of counter space we do have is taken up by a coffee pot, kettle, and divided container for our silverware. This means there's pretty much zero space to work with when it comes to meal prep.
One item we bought that has been a lifesaver (er, meal saver) is a small folding laptop table. We store it behind our couch and I grab it for extra counter space at mealtime. It's been the perfect kitchen companion.
This is another item that has been extremely helpful with the lack of counter space.
When I'm not using the stove and/or oven, the large cutting board I purchased fits perfectly on top of the stove, creating another surface for meal prep.
When I am using the stove/oven, it fits perfectly over one side of the sink. Although the sink came with two covers, they are stored away and not exactly easy to get to. The cutting board is always there and easy to grab.
A silverware drawer is non-existent in the RV model we have, so I needed something to keep my utensils organized and where they would be easy to reach.
A utensil caddy has been perfect for our needs. I keep all of the everyday silverware in there, as well as cooking utensils like wooden spoons and spatulas. That way, they are super easy to get to while I'm cooking.
On our move days, the utensil caddy goes in a container on the floor along with all of the other items on the counter.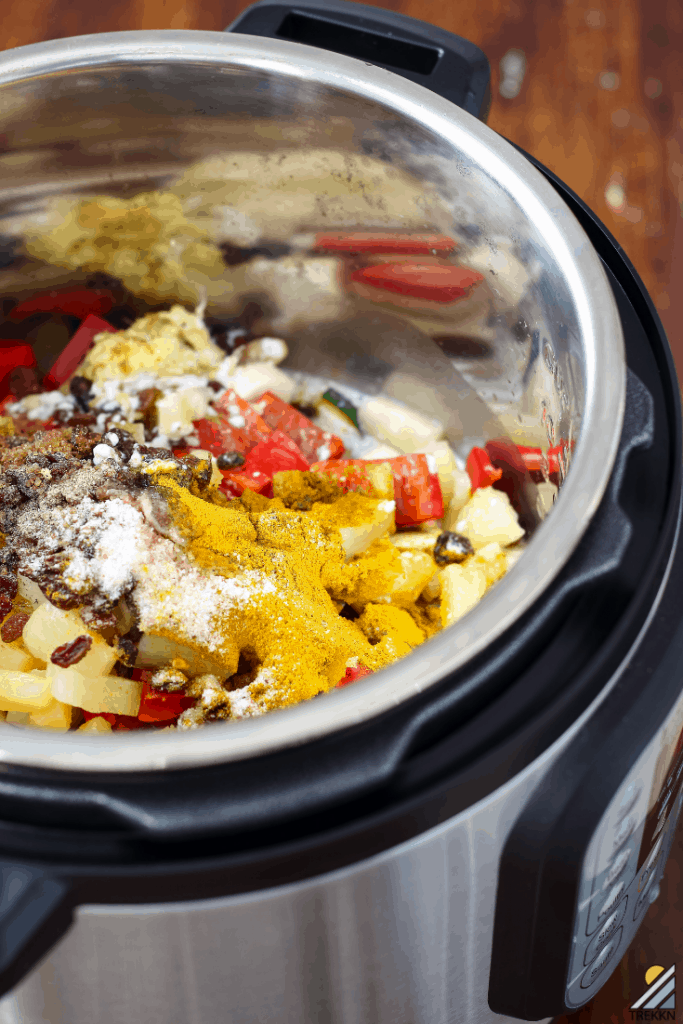 Let's just take a moment of silence to appreciate what the Instant Pot has done for my life.
****
****
I stayed away from the Instant Pot (or Instapot as I once thought it was called) craze for as long as possible. The kitchen in my sticks and bricks house was filled with gadgets I had to have.
Gadgets that would make my life easier. Gadgets that would help me put the best meals in the world on the table for my family. Gadgets that were essential to my existence.
You get the point, right?
I don't remember exactly what made me bite the bullet and purchase one, but boy am I glad I did!
I have used my Instant Pot for meals in our RV too many times to count. From these Quinoa Tacos to soups and cilantro lime rice, this is truly one of those gadgets that I am very happy I purchased.
Why is it essential?
It saves me time, cooking things way faster than on the stove
Using the oven heats up the RV really fast and that's miserable in the summer
It's only one pot I have to clean
Rice turns out perfect every time
Quinoa turns out perfect every time
Potato soup turns out perfect every time
You get the idea…
I'll never forget back in 2014 reading a post from Design Mom about two kitchen tools she used because of her time living in France. One of those was an electric tea kettle.
I immediately went out and bought my very first electric kettle. 🙂
And then she wrote a post in 2017 titled 'Americans: You're Doing Tea Wrong' where she talked about how residents of the UK were 'flabbergasted' that Americans don't use electric tea kettles. That post received over 120 comments! Apparently, electric kettle talk is a big deal.
Anyway, not selling our electric tea kettle in our garage sale and bringing it with us was a no-brainer. Why? All five of us use it daily! I can't imagine not having one now.
Here are two reasons it's been great for the RV:
It would take our microwave four times as long to heat up water, especially if we're at a park with bad electrical connections
Heating up water with a stove kettle uses up propane and propane is like liquid gold for us. The less propane I use, the better
Do you own one?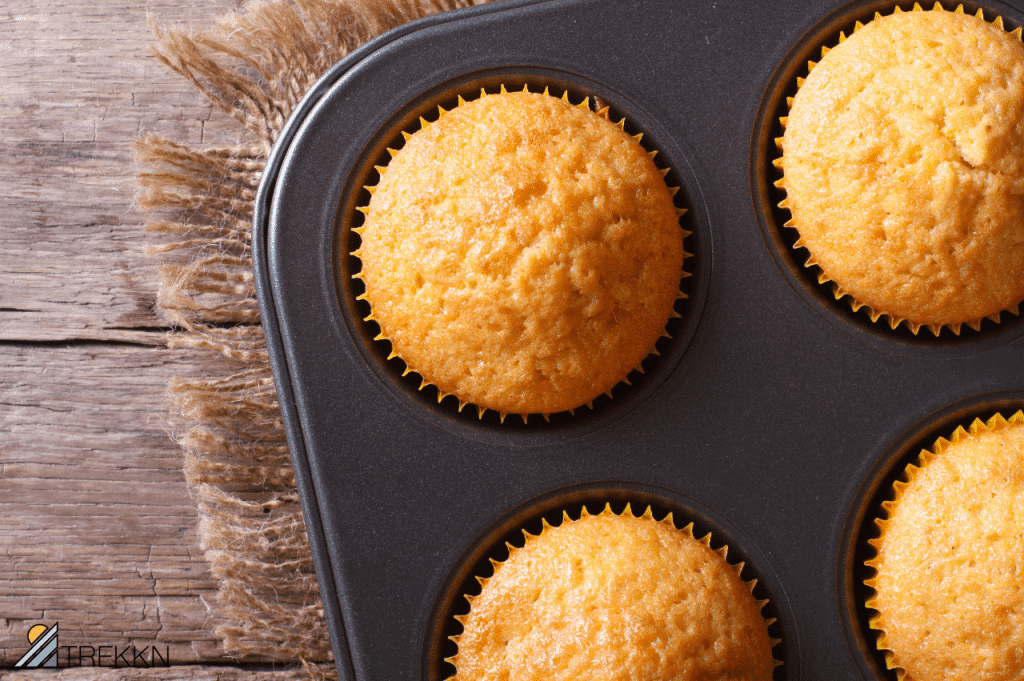 A muffin tin? Weird, right? Hear me out for a second.
After over a year on the road, I am still learning what my oven can and can't do.
Can'ts: (Yes, I know that's not a word.)
It can't roast a chicken, turkey or any other large bird
It can't cook more than one thing at a time because it's TINY
It can't cook thick cakes or bread all the way through without torching the bottom
Cans:
It can cook things in muffin form
It can burn things
It can still make me laugh when I open it and realize how TINY it is
Before we hit the road, I did find out that putting a pizza stone on the bottom shelf would help spread out the heat for a more even bake and that has proven to be very true. But, it's still different from my oven at home.
For several months I didn't do any baking, which is one of my favorite things to do. Sad.
After being told by my family they were missing muffins, I first made cornbread muffins (not exactly the muffins they were talking about) and they turned out great! A fantastic companion for my veggie chili.
Then I made muffins for our favorite breakfast for dinner meals.
Then I made cupcakes.
Then I made brownie muffins. Yes, I cooked brownies in a muffin tin. We then topped them with ice cream and chocolate syrup and had brownie sundae cupcakes. It.was.delicious.
Baking things in a muffin tin takes less time (aka less propane) and it cooks more evenly.
I almost didn't add the electric griddle to this list and then I realized just how much I use it. It does take up more space than I'd like, but it's worth it.
Not only can I cook a bunch of pancakes at once, but I also use it for the Morning Star Grillers my kids can't get enough of. I can cook 3 grillers and toast 3 buns for their dinner all at once.
***
I'm sure there are more essentials I'll think of along the way, but these seven have really helped with meal prep.
Are you a full-time RVer? If so, do you have any RV kitchen essentials to add to this list?
PIN THIS TO SAVE FOR LATER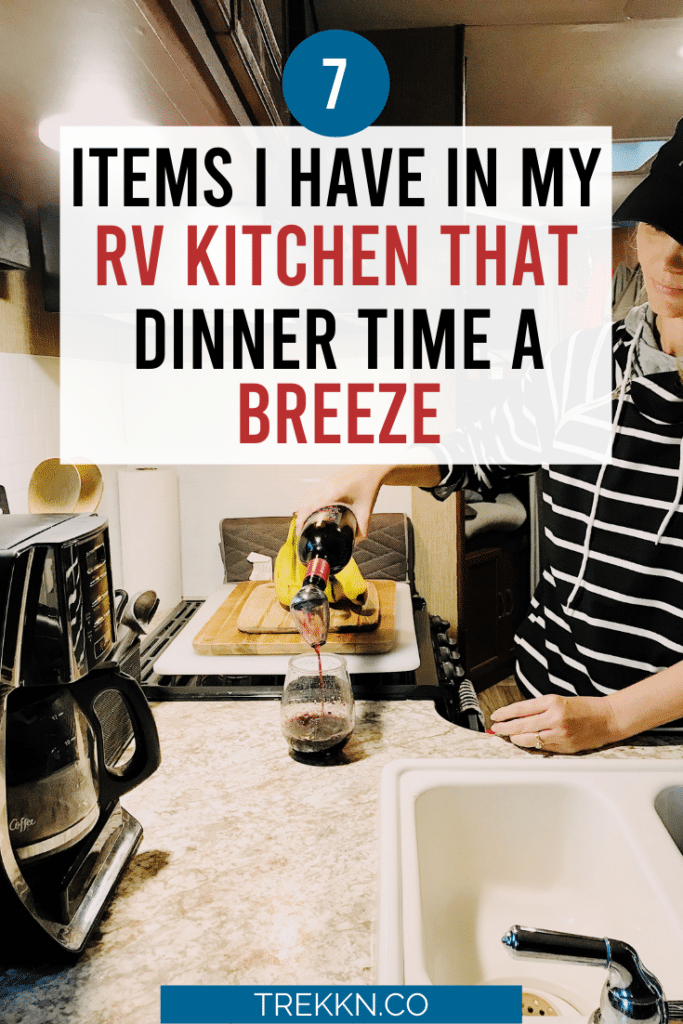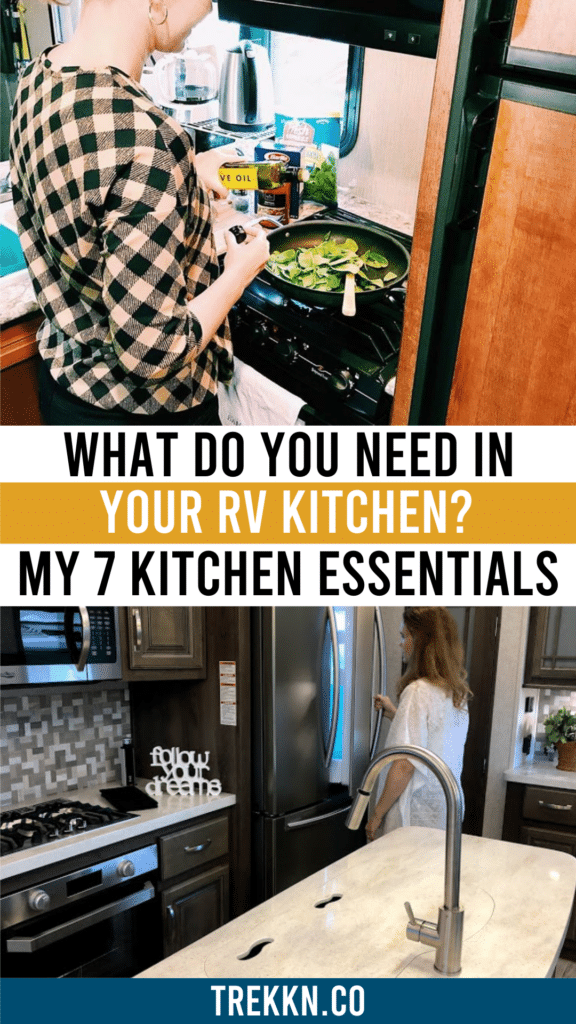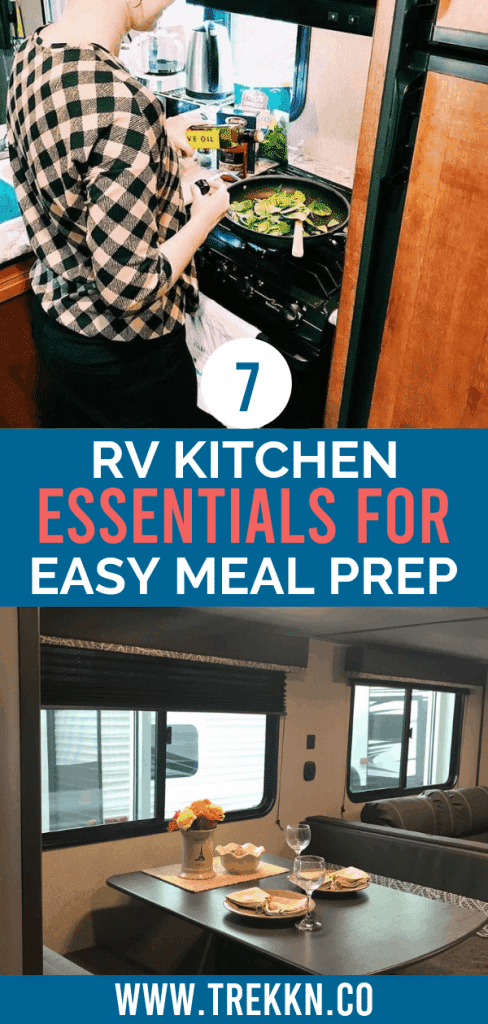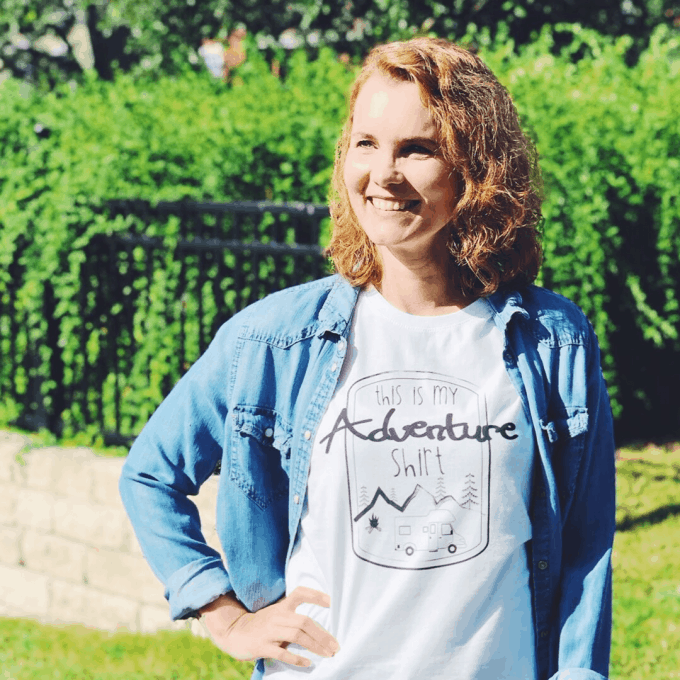 Julie Bonner is one-half of the TREKKN team. She specializes in helping you whip up delicious meals in your tiny RV kitchen, as well as RV organization tips and helping fellow RVers make their RV feel like home. Her favorite RVing spot is in Banff National Park in Canada where yes, the water really is that blue and the people really are that nice.