RV of the Month for May: 2020 Keystone Springdale 260BH Travel Trailer

If you are interested in the 2020 Keystone Springdale 260BH travel trailer or any other travel trailers or fifth wheels, you are in the perfect place right now! We are really excited to kick off our RV of the Month Tours as we partner with Crestview RV in Georgetown, TX to get you inside the latest travel trailers and fifth wheels on the market.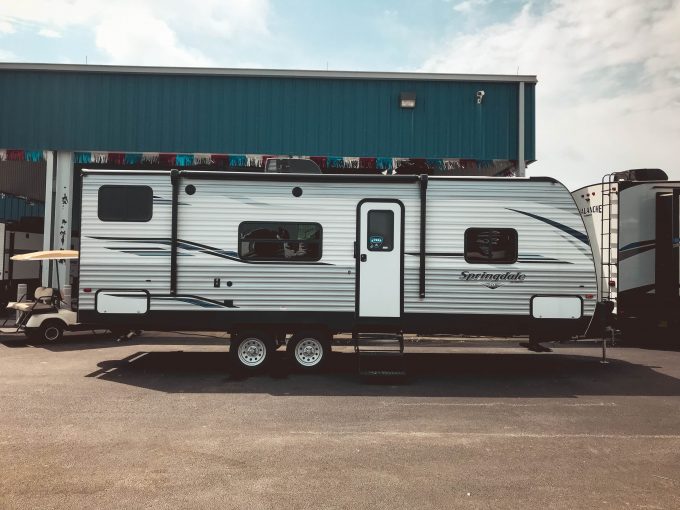 Back in 2017, we bought our first RV right here at Crestview RV and had a really positive experience. (It was a new Keystone Passport 2670BH, just in case you were curious. We did a video tour here.) So we thought it would be great to propose this arrangement to Crestview and try to get you an "insider look" at the hottest RVs on the planet without having to even set foot on the RV lot (yet). And they thought it was a great idea, so we are rocking and rolling with our first tour: the Springdale 260BH travel trailer by Keystone RV.
Believe me, we understand that this stage of the process can be very overwhelming as you consider an RV purchase…especially if it is your first time! Just a couple of years ago, that was us. We would have LOVED to see some more details like this on some of the models we were considering. And now, you get to enjoy that convenience.
2020 Keystone Springdale 260BH Travel Trailer Overview
We went into a lot of detail in our video tour of this model, which you can take a look at right here:
But we also wanted to give you the written version of the highlights for those of you who may not enjoy the video option as much. So let's dive in to this model that is widely known as "the #1 selling bunkhouse" on the market today.
Here are some answers to questions you most likely have rolling around in your head at this point about this popular travel trailer model.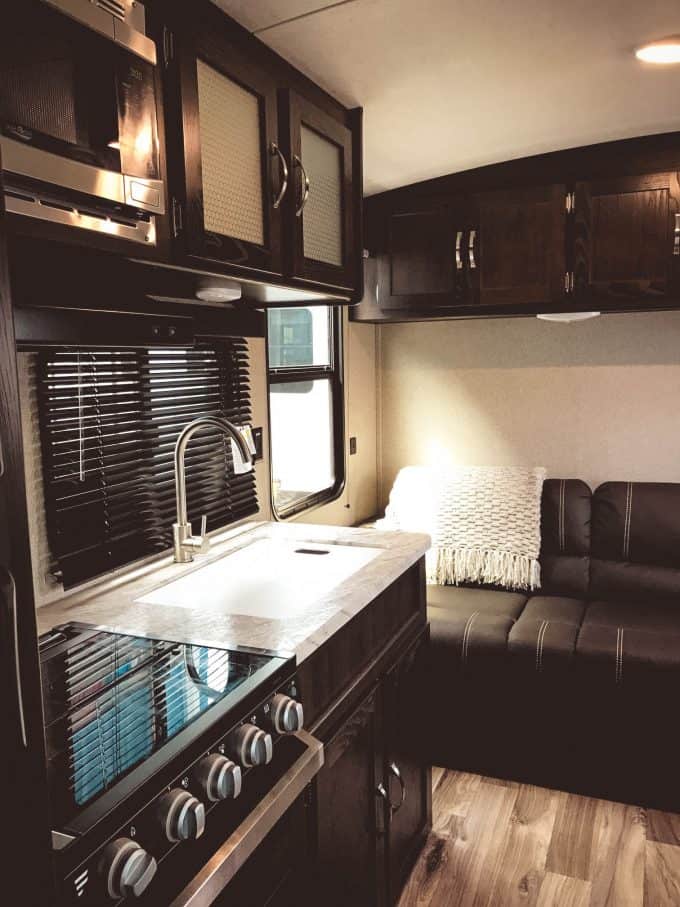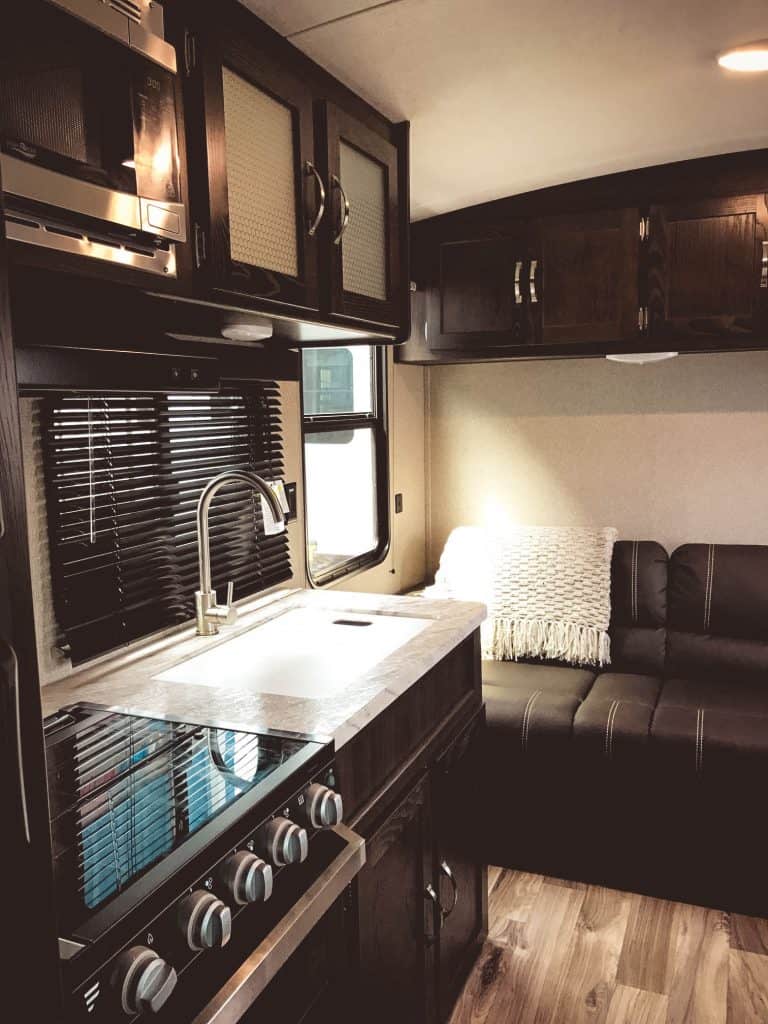 How many people does this unit sleep?
The Springdale 260BH includes a queen bed in the master bedroom, two double-sized bunk beds (very spacious) in the bunkhouse, a convertible dinette and a jackknife sofa. This means that if you are dealing with "full-sized humans", you can probably sleep five comfortably. If you have little kiddos involved, you could probably get away with six or seven (depending on whether you have violent sleepers or not).
How many slides does it have?
Actually, this unit does not have any slides at all. That's one of the things that keeps this model so affordable even though it is 26-feet of living space. It has plenty of great features for you to enjoy, there's no doubt about that, but the extra wide space that a slide provides is not one of them.
Honestly, I know that slides are nice, but I feel like they can become a major headache if something goes wrong…which is not terribly uncommon. So the fact that there is no slide on this unit is just a blessing in disguise because you can get out and adventure all you want without having that extra worry on your mind.
How many bathrooms does it have?
You probably knew the answer to this one already, but there is just one full bathroom in this rig. It has a unique setup, however, with the bathroom sink separate from the shower and toilet. In our opinion, this is a nice little feature that makes the space more usable for a family. Not as much knocking on the bathroom door or just waiting around, taking longer for everyone to get ready to go. We think you'll like that feature as well.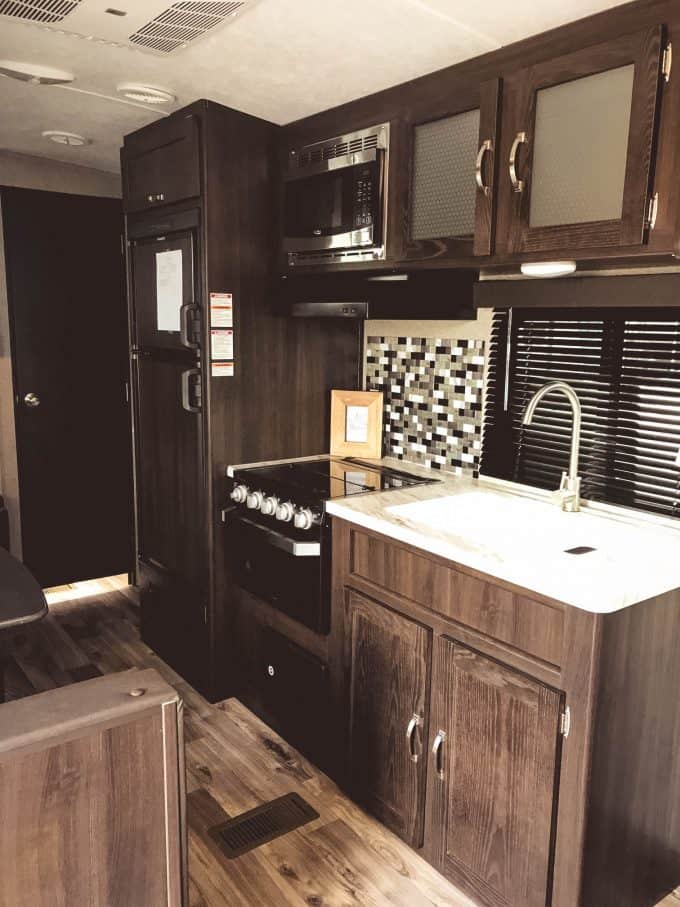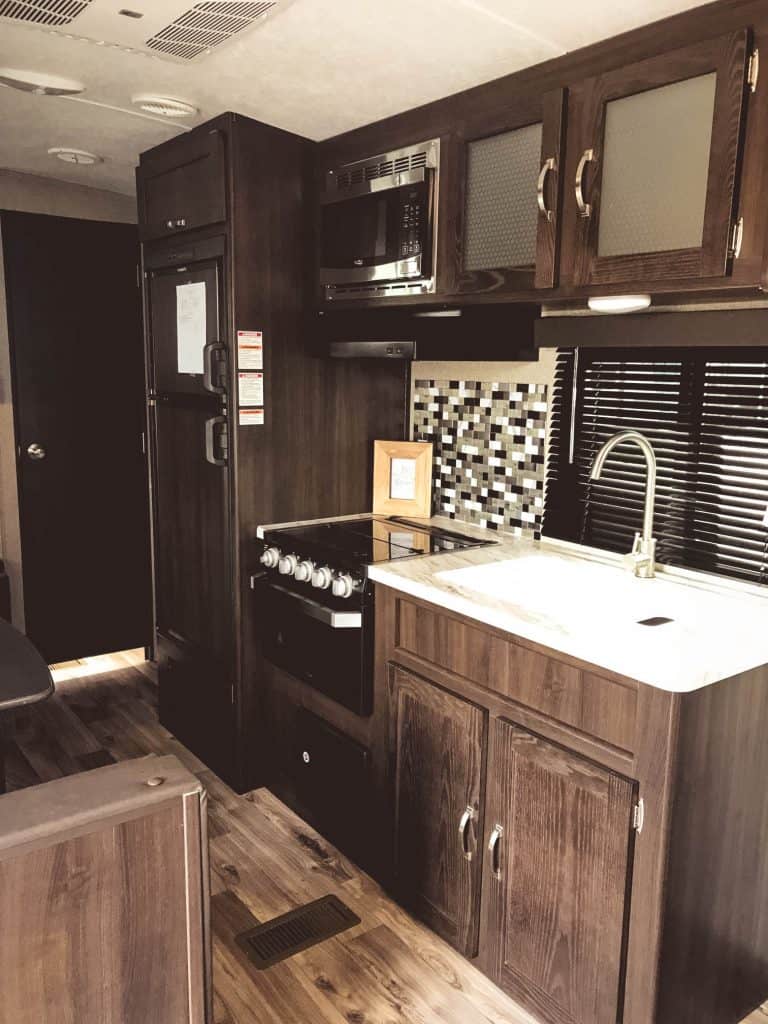 Does it have a power tongue jack?
For some of you, I know that the power tongue jack is a must. You have absolutely no interest in hand cranking that tongue to get everything level, and I can't blame you.
So the good news is that it does have a power tongue jack, which I feel is pretty rare at this $15K price point.
We lasted 17 months on the road with a hand crank on the tongue…but that's only because my two boys did most of the cranking. I probably would have upgraded if it was just me dealing with that. But you would be sitting pretty with this unit.
Is this a lightweight travel trailer?
I'll be honest with you: I'm not sure if there are specific parameters for what qualifies as a "lightweight travel trailer", but in my book this one is definitely lightweight with a dry weight of 5,219 lbs and a hitch weight of only 510 lbs.
Now, that doesn't mean that you are going to get away with towing this rig with a 1/2 ton truck. But it probably is feasible with some of the beefier 1/2 tons out there. As always, do your due diligence on this point BEFORE you buy. You don't want to be "that guy" (or gal) with the horror story about a truck that won't pull the brand new travel trailer. (I've seen one too many of those stories.)
Does it have a backup camera included?
When it comes to overall safety in a travel trailer, I feel that a backup camera is one of the essential ingredients that many folks ignore. If I hadn't had my two boys to watch each corner of the rig for me while backing, I would definitely have invested in one during our travels.
With this Keystone travel trailer, you get "half way" there because it is wired for a quick install backup camera. But the camera itself is not included at this price.
What kind of manufacturer warranty is included?
Keystone RV offers both a 1-year limited base warranty on any defects on the travel trailer as well as a 3-year limited structural warranty. For specifics, please visit Keystone RV's website.
What is the sales price for this model?
According to Crestview's website, the MSRP on this travel trailer is $25,147. Their current sale price, however, is $14,995. Not too shabby, my friend.
What about the rest of the specs?
There are plenty of details to consider when shopping for a new RV, there's no doubt about that. But instead of trying to type all of that up and bore you to tears, here is a graphic of the full specs from Crestview's website (*note* that it does say 1 slide here…but there is not a slide, as I mentioned above):
And there you have the low-down on the Keystone Springdale 260BH Travel Trailer
We really hope that this information, and the tour video itself, are helpful for you in your purchase decision. As I said, I know that it can feel overwhelming and this is just one way to try and help you through the tough spots and the indecision that can settle in.
If you do have any other questions for us, just comment below and we will get back to you quickly. Here's to more adventure!
PIN THIS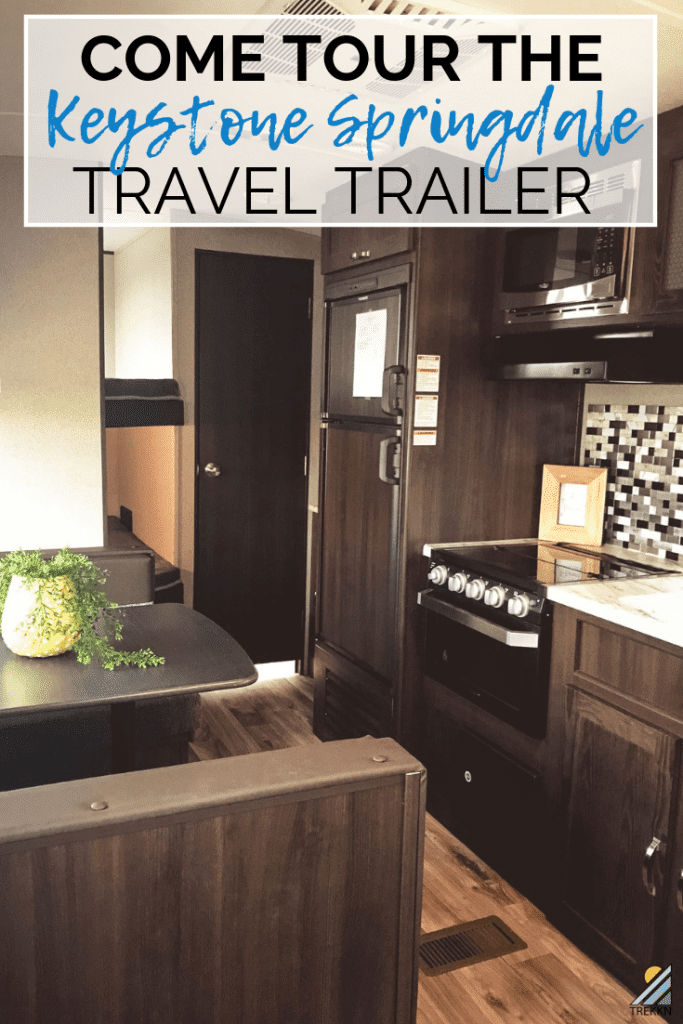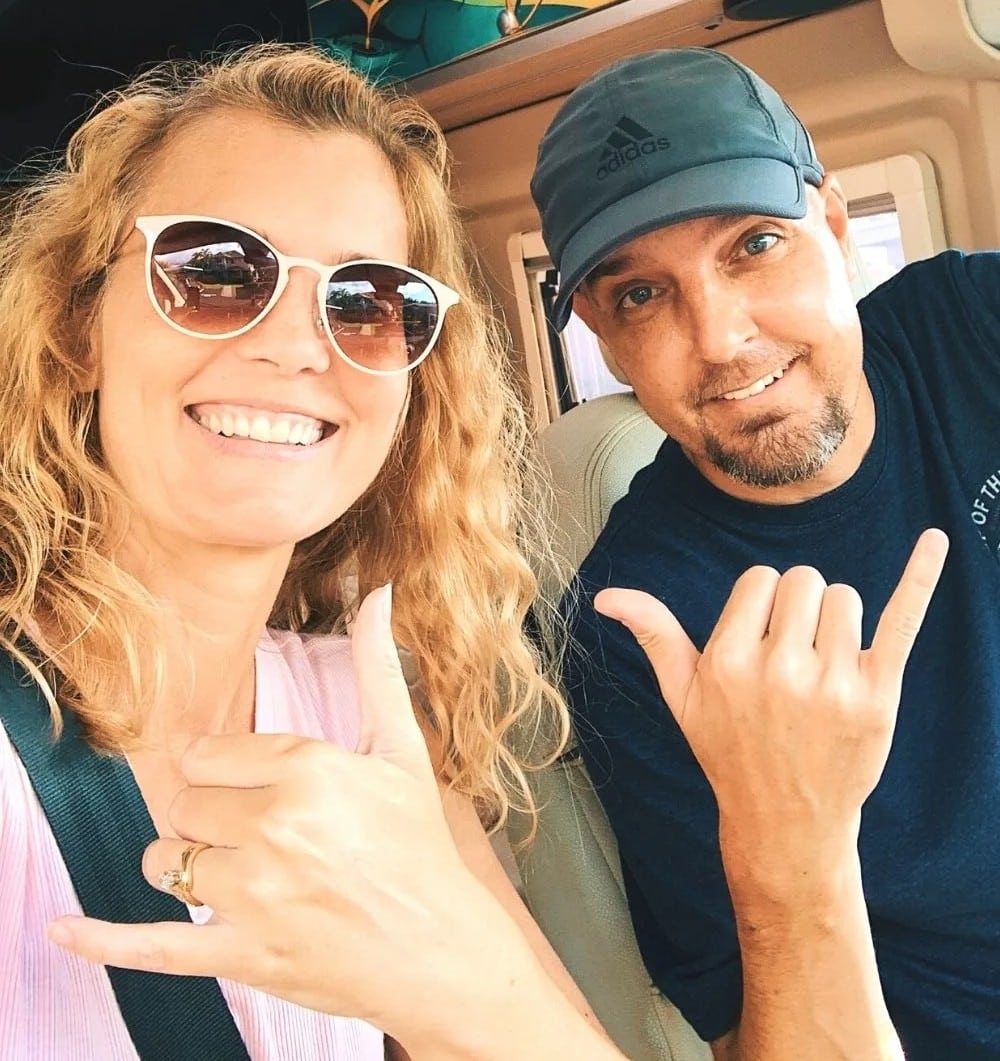 Todd loves a competitive game of table tennis, a breathtaking hike, and exploring new places. He lived and traveled in an RV with his family as they traveled throughout much of the US and parts of Canada. Todd has extensive knowledge about RV travel, safety, and accessories and has shared many of his stories here on TREKKN. When he's not busy launching and building small businesses, you may find him staring at pictures of Glacier National Park (probably his favorite spot on earth).