Things to Do on Your National Park Weekend Getaway

Are you planning any National Parks road trips this summer or a National Park weekend getaway? If so, keep reading for tips and ideas of how to best spend your weekend in some of the most beautiful places in the USA.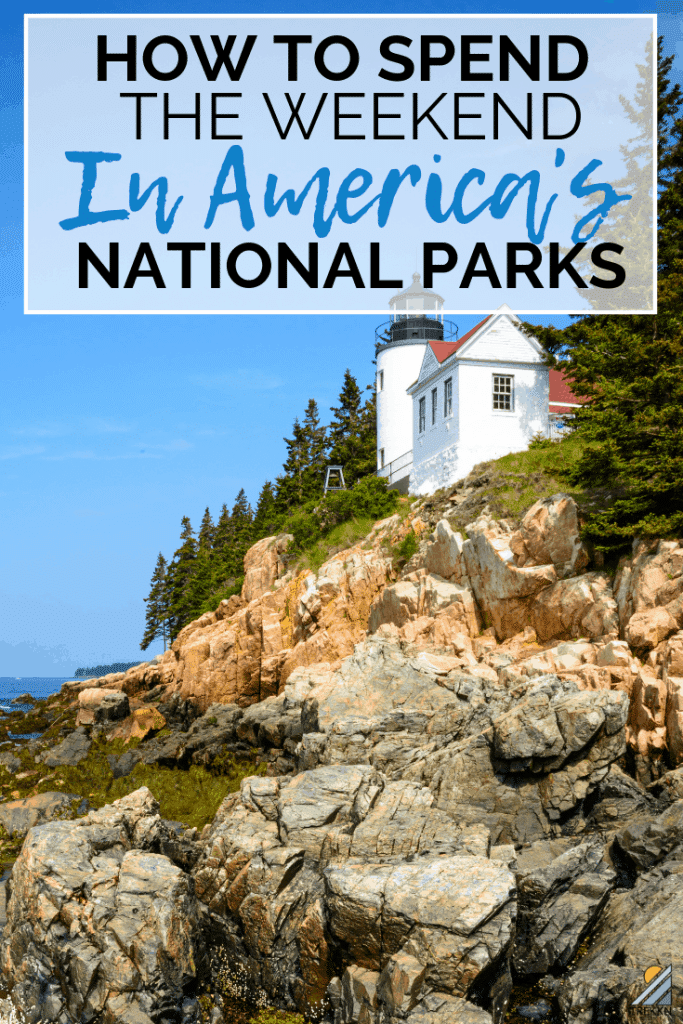 One question we receive a lot here at TREKKN is how to best spend your time in a certain National Park if you only have a day or two or if you're going on a National Park weekend getaway. You want to make sure you hit the top spots and make the most of your time and we totally get that!
On our first trip to Yosemite, we planned it in correlation with a trip to San Francisco. So that meant a couple of days in the park and a couple of days in the city. We're finding out this kind of vacation planning is fairly common, so we want to make sure you have the information you're looking for when planning your trip.
We asked some fellow travel bloggers how they would spend time in one of their favorite National Parks if they only had a weekend. Get ready to take some notes because they've got the scoop you're looking for!
How Many National Parks are there?
If you're trying to decide which National Park to visit next, you have quite the selection. We now have 61 official National Parks, after adding Gateway Arch in Missouri in 2018 and Indiana Dunes in Indiana in 2019.
You can download a printable National Parks checklist here. Or, if you'd like our RV Travel Planner which includes the checklist, plus 30+ other pages to help organize your RV trip, you can get that here.
How to Spend the Weekend In…
From Yellowstone and the Florida Everglades to Dry Tortugas and Zion, here's how to spend the weekend in some of America's National Parks.
Yellowstone National Park, Wyoming
Contributed by: Christina from Explore Now or Never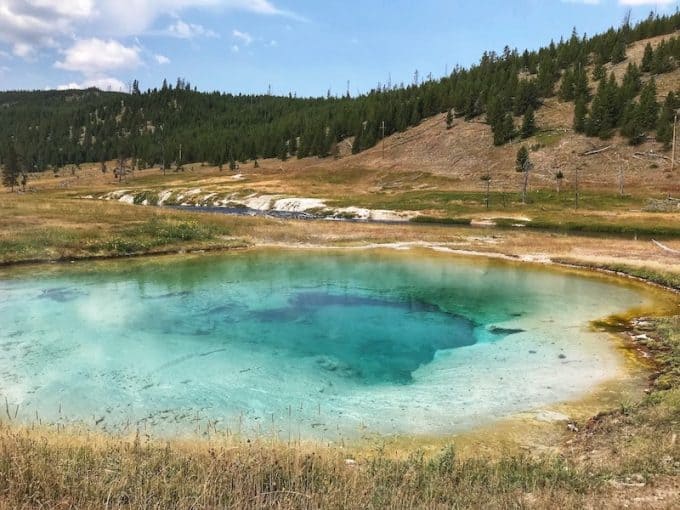 With a weekend in Yellowstone, I recommend heading immediately to see the incredible geysers and hot springs in the park! While Old Faithful may be the most famous geyser, North Geyser Basin sports some pretty impressive geothermal features. And an easy two-mile trail makes it easy to loop around the Porcelain Basin here. Head next to the nearby Grand Prismatic Spring. It's the largest hot spring in the USA!
The very center of this hot spring is a vivid blue, with outer rings of orange, green, and yellow pigments. It's simply stunning. Finish up your first day with a stop at Old Faithful, which erupts every 35 to 120 minutes. Then swing by the historic and beautiful Old Faithful Inn for a cool drink or evening meal. (Make reservations ahead for dinner or prepare to be disappointed.)
On your second day in Yellowstone, get an early start to miss the crowds and enjoy primetime wildlife viewing. Lamar Valley is the place to spot grizzlies, bald eagles, osprey, deer, and coyote. Then see the unbelievable Grand Canyon of Yellowstone. Formed by a series of lava flows 600,000 years ago, this magnificent canyon is about 20 miles long. Stop at Upper Falls Point for the best view of the Upper Falls; then head to the South Rim for a short, but challenging hike on Uncle Tom's Trail to see the Lower Falls.
Follow Explore Now or Never on Pinterest
---
Everglades National Park, Florida
Contributed by: Craig from Curious Craig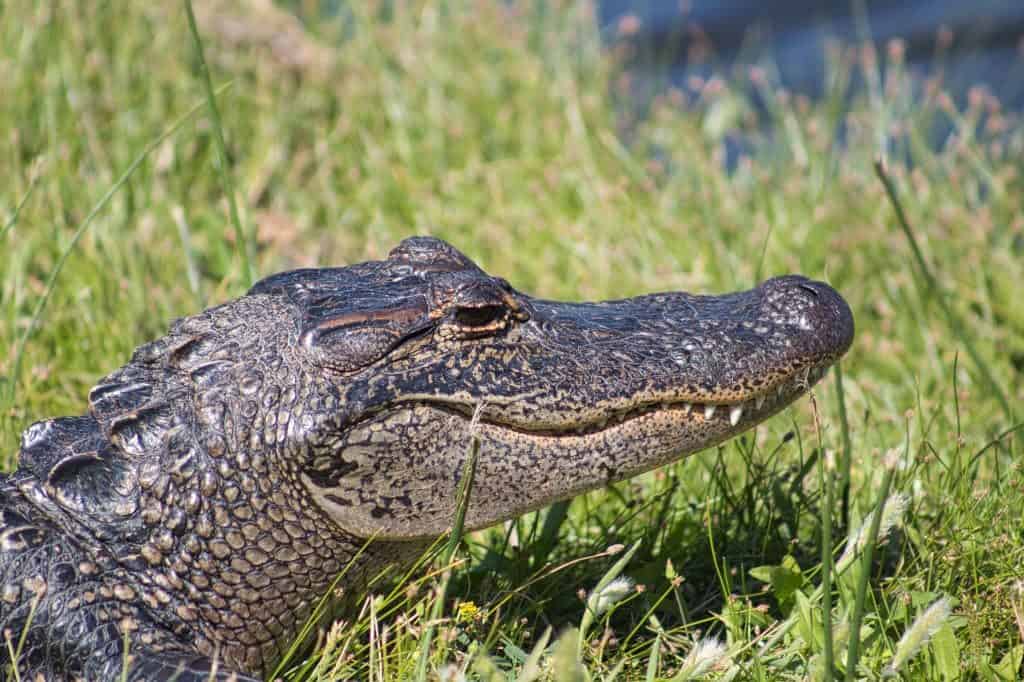 Begin a day in the Everglades, by checking out Robert is Here. At parks entrance, on State Hwy 9336. Is a fruit stand and so much more. Pick up some fruit and sandwiches from the grill. Grab a fresh fruit smoothie and a $3 bag of animal feed and head out back. Here you'll find chickens, turkey, emus, turtles and one rude goat anxious to help you free yourself from the huge bag of food.
Take an Air Boat Ride.
The east side of the Tamiami trail (HWY 41) is a little touristy with more development primarily of air-boat operators, and alligator shows. The southside of the trail offers more commercial venues whereas the north side offers smaller boats operated by the Miccosukee and Seminoles Indian tribes. To see gators, you'll want to visit the Everglades Safari Park. The admission includes the 35-minute boat ride and an alligator show afterward. If just wanting to ride a boat, I suggest supporting the local tribes and chose the smaller boats and forego the alligator show.
Bike Shark Valley loop:
Bring your own bike or rent one nearby. The 15-mile loop is one unforgettable ride. Besides the usual abundance of birds and plants, you will also see many alligators along this stretch. While a little unsettling at first, the gators really don't pay you much mind. The observation tower at the turn around point offers a 360-degree view of the Everglades as far as the eye can see. Enjoy the view, the flat roads, and pray you don't have a flat. For the faint of heart, a guided tram tour is also available for the loop.
Follow Curious Craig on Pinterest
---
Saguaro National Park, Arizona
Contributed by: Leigh from Campfires and Concierges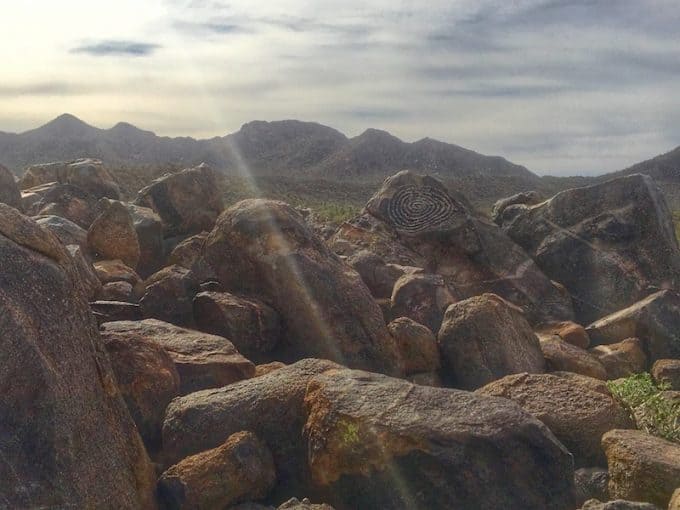 Saguaro National Park is the perfect National Park for a weekend visit.
There are actually two units, which sit on the east and west side of the city of Tucson. The East side of the park is the Rincon Mountain District.
Start your day at the Rincon Mountain Visitor Center to get a park map and learn about desert ecology. Then plan about an hour or two to drive along the eight-mile Cactus Forest Loop Drive. There are many places to pull off the road and take pictures of the surrounding landscape.
After your scenic drive, take Speedway Boulevard to the north side of the park, where you'll find the Douglas Springs Trailhead. Take the Garwood Dam trail for an easy four-mile loop hike with commanding views of the surrounding mountain ranges.
On your second day, head to the West side of Saguaro National Park, the Tucson Mountain District. Start this day at the Red Hills Visitor Center and explore the short Cactus Garden Trail.
Make sure you visit the Signal Hill petroglyphs. They are only a short hike from the picnic area, but are really special and have a great backdrop of mountains. A nice hike on this side of the park is the Brown Mountain Loop, a 2.5-mile loop that leaves from the Gilbert Ray campground.
Although it's not technically in the national park, you cannot visit this area without spending time at the Arizona Sonora Desert Museum. It's one of the top things to do in Tucson. On your way back to Tucson, be sure to stop along Gates Pass to watch the sunset.
Follow Campfires and Concierges on Instagram
---
Grand Canyon National Park, Arizona
Contributed by: James from Travel Collecting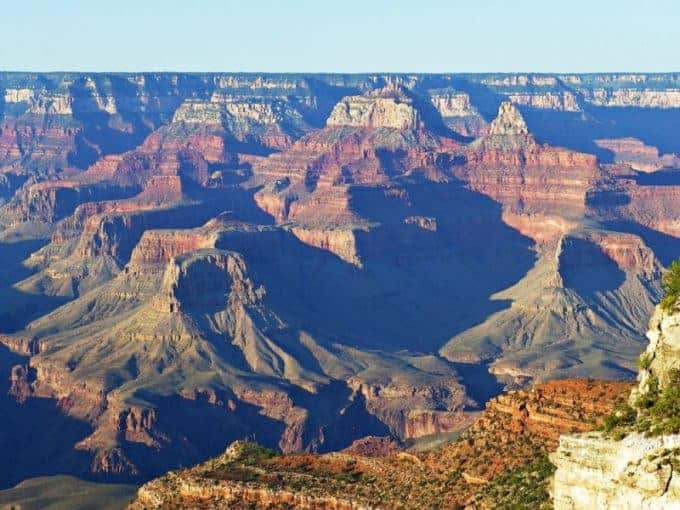 Grand Canyon National Park is famous for a reason. The first time you see the Grand Canyon spread below you, it will literally take your breath away.
The most common access is via the South Rim, and this will give you the best choices for experiencing the canyon in a weekend. In the middle is Grand Canyon Village, where all of the services and accommodations are.
At one end of the rim road is Yavapai Point, where there is also an interesting Geology Museum that explains all about how the canyon was formed and describes each of the layers. There are multiple lookouts on the other side of Grand Canyon Village, ending in Hermit's Rest. There are free shuttle buses to take you around.
While the views from above are spectacular, nothing beats going down into the canyon. The Bright Angel Trail goes from the rim to the river, but on your weekend trip, hiking as far as 1.5-mile rest house or 3-mile rest house (the distances are obvious!) will give you a good taste of what it's like to be in the canyon. The switchbacks are steep, so this is for those with some level of fitness. If you want to devote one full day to this, then go another 1.5 miles to Indian Garden before turning back.
Back up at the rim, round out your weekend trip with short visits to Kolb Studio Museum, Lookout Studio, Hopi House and the History Room at Bright Angel Lodge and learn about the human history of the canyon. If you have a little time left over, a three-hour, four-mile mule ride through woods to the edge of the canyon is another great experience to have.
You'll be busy but will experience the best of the Grand Canyon in a weekend. Of course, if you want to have a more leisurely pace, you can pick and choose any of these things to do.
Follow Travel Collecting on Pinterest
---
Grand Teton National Park, Wyoming
Contributed by: Megan from Red Around the World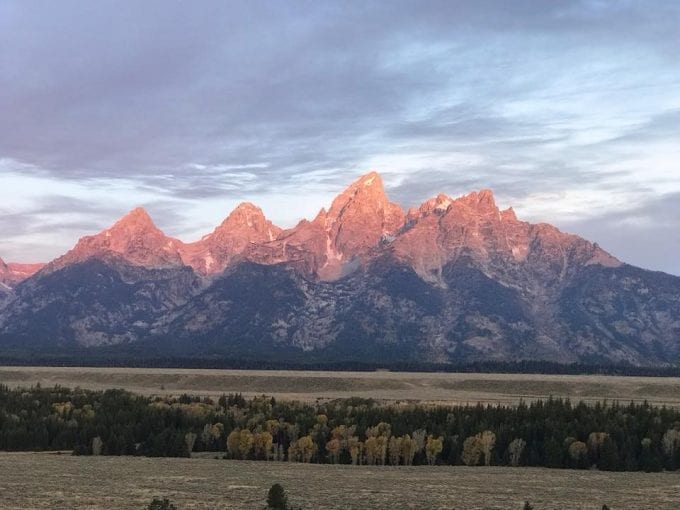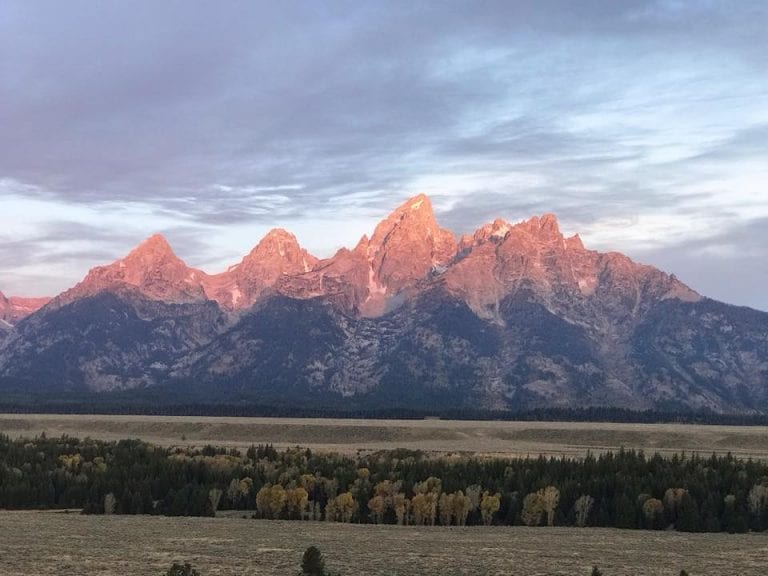 Jackson Hole might be my favorite little city out west. It's got charm, it's got delicious food, it's got wildlife, and it's got some of the best scenery in the US. It would be easy to live here forever and not see everything, but in a weekend, you can still see quite a bit.
If you're not camping, you'll want to stay in Jackson. The Rustic Inn is my favorite hotel, but it's not the most budget-friendly. There are plenty of budget options, too, though. The best part of Jackson, though, is Grand Teton National Park.
If seeing wildlife is really important to you, consider doing one of the wildlife safaris. They will take you to the best areas to spot wildlife at the best times. They're not always budget-friendly, depending on the tour, but you can always drive around look for wildlife on your own. The best time to look for wildlife is going to be around sunrise, so plan for an early day.
There are tons of hikes in Grand Teton National Park to keep you busy, but one of the best is the hike to Hidden Falls from String Lake. This trail takes you along the edge of String Lake over to the sprawling Jenny Lake before heading back into the woods more before finally reaching the thundering falls.
Cascade Canyon, Cunningham Cabin, and Taggart Lake Loop are other must-do hikes in the park that are all reasonable distances. Make sure you drive the whole scenic drive in the park but don't skip the main highway, either. Stop at the Snake River Overlook, go kayaking on Jackson Lake for a new perspective, and maybe pop into Yellowstone if you've got time.
The Gros Ventre area is great for spotting wildlife, plus there is an awesome campground there. If you want a great lunch, consider Kelly on the Gros Ventre for giant, delicious sandwiches. If you're visiting in the summer, remember to bring bear spray. Take a drive from Moose Junction to Teton Village and keep an eye out for, you guessed it, moose.
Like Red Around the World on Facebook
---
Dry Tortugas National Park, Florida
Contributed by: Halef and Michael from The Round the World Guys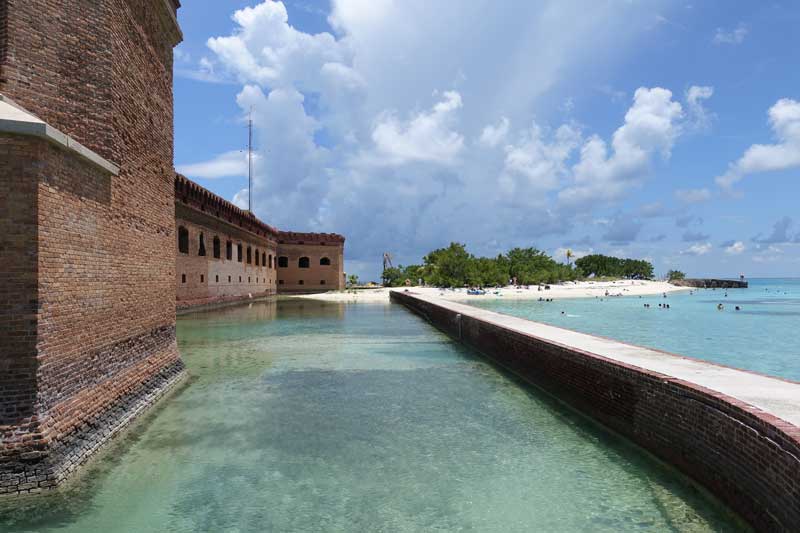 One of the most unique National Parks (and it's a bit challenging and expensive to visit) is Dry Tortugas National Park. Located about 80 miles southwest of Key West, Florida, Dry Tortugas is one of the most remote National Parks. Getting to Dry Tortugas is very limited and expensive – you can either hop onto the Yankee Freedom ferry, or a chartered plane to fly to this island chain.
It is also possible to do some "primitive camping" here, but most visitors only do a day trip to Dry Tortugas from Key West. There is limited space and it's first-come, first-served. If you camo, you have to be prepared with your own food, water and necessities. There will be no electricity or running water, and there is no store to purchase anything.
Once you get to Dry Tortugas, you'll find that it is simply a beautiful place. Snorkeling and beach activities are the two most attractive things to do in Dry Tortugas, as well as joining a guided tour through Ft. Jefferson. You can also plan to bring your own kayak, or arrange a scuba diving trip to Dry Tortugas through a liveaboard program in Key West.
Follow The Round the World Guys on YouTube
---
Zion National Park, Utah
Contributed by: Jessica from One Girl, Whole World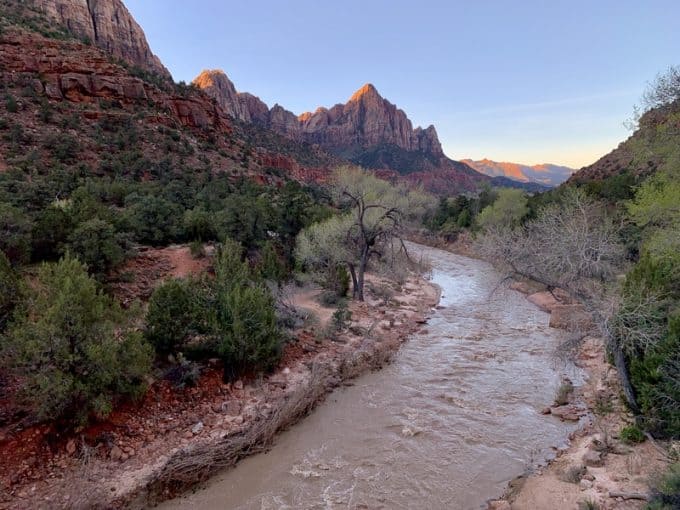 Zion is one of those national parks where you can see and do SO much in a short amount of time. Yes, some hiking is recommended, but it's also a wonderful experience even if you're not a crazy hiker.
One of the best things you can do as soon as you arrive at the park is to take the shuttle route round-trip. There are 9 stops one-way, and the entire loop will take about an hour and 20 minutes. This provides a good sense of orientation and lets you see which stops you'd like to come back and explore more. Hop on and off as the whim strikes to snap pictures and explore.
If you are wanting to tackle one of the major hikes, like The Narrows or Angel's Landing, you'll need to reserve at least a half day and possibly more for each—and know that weather may impact feasibility. Otherwise, there are several easy or moderate hikes that take anywhere for three minutes (seriously, Court of the Patriarchs) to a few hours. I recommend the Pa'rus Trail for great views of the Watchman, and the beautiful Riverside Walk that takes you along the water right up to the mouth of The Narrows. One thing that doesn't get as much hype is the drive through the eastern side of the park, through an epically long tunnel and then out the other side to very different rock formations and colors than the more well-known parts of Zion.
You're spoiled for choice within the park when it comes to great photography spots. One of my favorites was standing at Canyon Junction Bridge and photographing the Watchman. It's great any time of day, but sunrise is particularly good. The Court of the Patriarchs view is another great photography spot during the mid-afternoon on a sunny day, and the various scenery along Riverside Walk will give you some gorgeous photos. No matter where you go, even just a day or two in Zion will amaze you!
Follow One Girl, Whole World on Instagram
---
Olympic National Park, Washington
Contributed by: Lisa from My Snapshot Traveler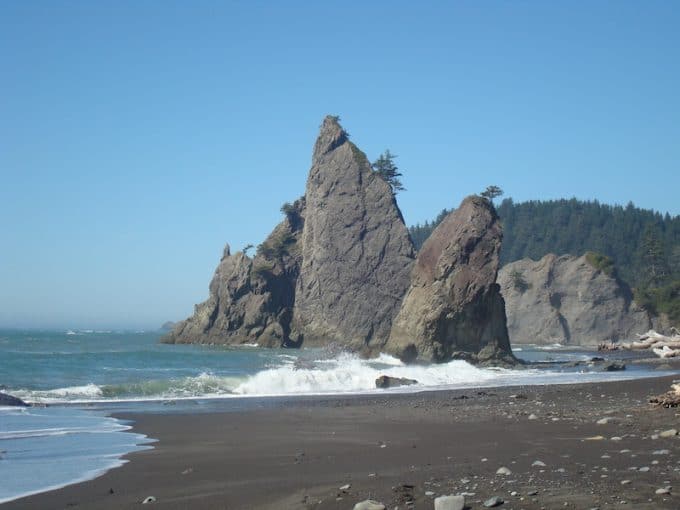 Nestled on the Olympic Peninsula in Washington State you'll find the gorgeous Olympic National Park. From evergreen forests to sandy beaches, this diverse 900,000-acre park offers a little something for everyone. For a quick weekend getaway, here are the top things to do while visiting Olympic National:
Sol Duc Hot Springs
For those traveling from the Seattle area, Sol Duc Hot Springs is about a three-hour journey, which includes a picturesque ferry ride across Puget Sound. Accommodations at the resort include rustic cabins, multi-room suites, or the adjacent campground. Guests can soak in the mineral pools, hike the "Lovers Lane" loop, or simple take in the beauty of the towering forest. As a bonus, Sol Duc is a good central location, which allows visitors to make day-trips to other locations in the park.
Rialto Beach
An hour away from Sol Duc Hot Springs is Rialto Beach. A popular destination during the summer months, this gorgeous beach is a perfect location to stick your toes in the sand and unwind. It's also home to Hole in the Wall, which is a natural stone arch on the northwest corner of the beach. For the best views and pictures, visitors can take a two-mile trek along the waterfront to see it up close.
Hurricane Ridge
Hurricane Ridge, a 90-minute drive from Sol Duc, is one the most popular places within the Olympic National Park. This mountainous region offers year-round activities for visitors from skiing and snowboarding in the winter to hiking and picnics in the warm summer months. However, the best part of Hurricane Ridge is the scenery of snow-capped peaks and lush valleys.
Although there is much more to see and experience, these three locations will give you a taste of what the Olympic National Park has to offer.
Follow My Snapshot Traveler on Instagram
---
Acadia National Park, Maine
Contributed by: Michelle from The Wandering Queen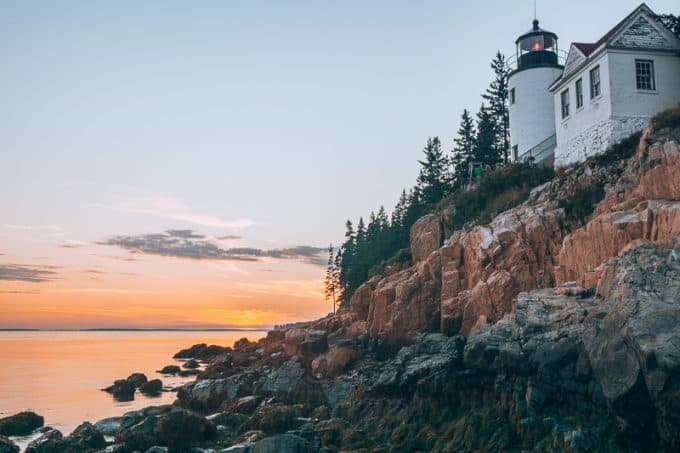 Acadia National Park is the only National Park located in the state of Maine. Acadia is a perfect summer weekend getaway trip for anyone that lives in Boston. The national park has outstanding hikes, glorious landscapes, great food, and an excellent atmosphere.
One of the best things to do in Acadia National Park is to watch the sunrise on top of Cadillac Mountain. The mountain peak has one of the first views of the sunrise in the continental USA from October through March. Everyone flocks to see this sunrise and for a good reason, because it is absolutely stunning.
Another great thing to do in Acadia is to hike the famous Precipice Trail. This trail is a truly unique hike as you have to climb up exposed metal "ladders" to get to the top of the mountain. The views are breathtaking, and the trail is pretty entertaining.
Another fun activity is to watch the beautiful sunset at Bass Harbor Lighthouse. So many people flock to view this sunset every day. It is a small area so it can feel a bit claustrophobic. I also recommend getting there an hour early to get a prime spot.
There is so much to do in this national park, and the atmosphere truly is intoxicating. It is a great national park to visit during the weekend.
Follow The Wandering Queen on Instagram
---
Rocky Mountain National Park, Colorado
Contributed by: Jess & Ron from Unearth The Voyage
There is so much to do in Rocky Mountain National Park, you could spend an entire week and not see it all! Although, if you only have a weekend- here is my recommendation on how to spend your time.
The number one thing you should take the time to do while in Rocky Mountain National Park is drive Trail Ridge Road. Trail Ridge Road is the highest paved road at any national park in the country! The views are gorgeous and the feeling of being up 12,000 FT is quite breathtaking.
Another thing you should definitely do while in RMNP for the weekend is to go on a couple of short hikes. Some of the most popular day hikes are the 2-mile hike to Dream, Nymph and Emerald Lake. They are popular for a reason!
If you are looking for another awesome day hike in Rocky Mountain National Park that is a bit more challenging- check out Sky Pond!
Another great thing to do during your weekend in the park is to go looking for wildlife. RMNP is full of elk, deer, and bighorn sheep. It's not guaranteed you will see any wildlife, but if you drive around during sunset and look in the valleys- you will most likely see some elk grazing nearby!
My last suggestion on how to spend your weekend is to rent a campsite and camp inside the park! There is no better place to camp than inside National Parks and the camping sites in Rocky Mountain are just gorgeous! Make sure you reserve them early because they fill up really fast and far in advance!
Follow Unearth The Voyage on Instagram
---
Joshua Tree National Park, California
Contributed by: Nadine from Le Long Weekend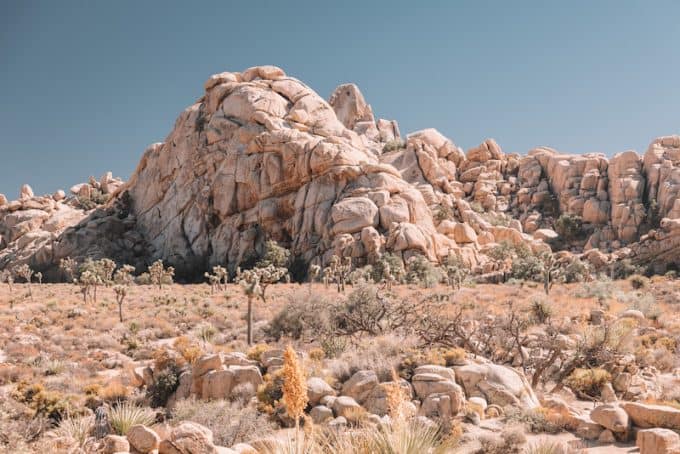 A full weekend is ample time to discover the Joshua Tree National Park.
Although it's a large park that spans two different deserts, it's well laid out and the trail maps allow you to see the best of the park in a fairly short time frame.
I'd recommend starting your first day at the visitor's center in the Joshua Tree township. This is where you can buy your ticket to the park and get a handy trail map.
From here you could continue on to the Hidden Valley Trail – it's an easy 1-mile loop, but take your time to look around and it could easily take 1-2 hours to complete. Then continue to the Barker Dam Trail, which is just a little longer and takes you through some fascinating landscapes.
After these two walks, you should drive up to the Keys View lookout that has incredible views over the Coachella Valley and Mount San Jacinto in the distance.
Especially if you're visiting Joshua Tree with kids, this may be enough for one day.
The following day you could come back to complete the Skull Rock Nature Trail, which is 1.7 miles and takes you past the most spectacular looking rock formations –including the aptly named 'Jumbo Rocks' and a rock that looks like a skull (although to me it looked more like an ape's head!). Make sure to also visit the Cholla Cactus Garden with its short but very scenic trail.
Like Le Long Weekend on Facebook
---
Whether you only get a weekend or an entire week in our gorgeous National Parks, we hope these ideas will help you make the most of your time there.
For more info on National Parks, be sure to check out TREKKN's National Parks category where we share features on parks you might not have heard of, top 10 tips for getting the most out of the parks, info on specific hikes and so much more.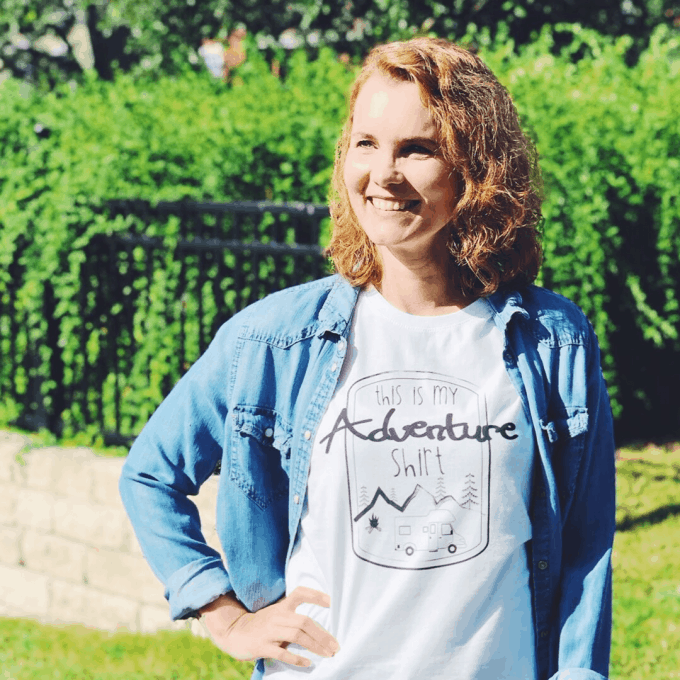 Julie specializes in helping you whip up delicious meals in your tiny RV kitchen, as well as RV organization tips and helping fellow RVers make their RV feel like home. Her favorite RVing spot is in Banff National Park in Canada where yes, the water really is that blue and the people really are that nice.