This post may contain some affiliate links for your convenience, and we may be compensated by the company if you make a purchase through one of these links. Click here to read our full disclosure policy.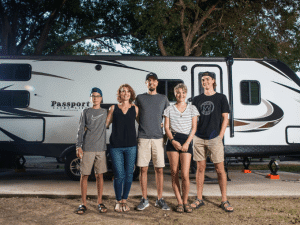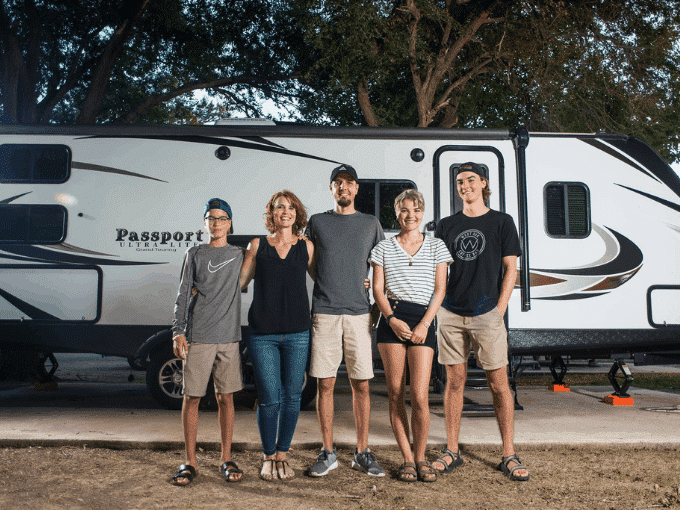 Are you considering and researching all you can about RV rentals? Yes? Then you are in the right spot! If you haven't noticed, we kind of dig RVing as a way to not only live life but also to vacation in a completely new way.
You see, we were full-time RVers for 17 months and fell in love with the lifestyle. But for various reasons, it was time to hang up our wheel chocks and remain stationary for a while. So now we're RV vacationers and we're ok with that. (For now.)
We're also RV vacationers who are in between rigs, but we still want to RV. This is where RV rentals, as well as camper van rentals, come in.
Rent An RV From Outdoorsy
We recently met with the team at Outdoorsy, the best RV rental company on the planet, because we found out they were local. Yep, they're based right here in Austin, TX and we just knew we had to meet the team. When visiting their website, we got such a great vibe from the company and we felt that same vibe when we met the crew face-to-face at their offices.
Outdoorsy is an innovative, pioneering company that wants to connect you with the outdoors and experiential travel, and so do we.
Before we get into all of the nitty-gritty of things like why renting an RV is a good idea, RV rental prices, and the types of different RVs to rent, let's start off with something fun. Searching for your first (or next) RV rental!
Go ahead. Search away. Have some fun. We'll be here when you're done.
RV Rentals Near You
Use the search bar to type in your destination city
Use the buttons below the search bar to choose dates, vehicle type (like travel trailer, camper van, motorhome, etc) and length
Click Here to Search RV Rentals
Was that fun? We hope your search gave you a good idea of what is available in your area or an area you're planning to vacation in soon.
Why Rent an RV?
Purchasing an RV is one of the biggest investments you'll make in your life, most likely with your house being the first. I recently read that the average person spends 2 – 3 years shopping for an RV before they actually purchase. Again, it's a big investment and not something people spend money on without some serious planning.
Here are a few reasons why renting an RV just makes sense:
1. It allows you to try before you buy
Since purchasing an RV is such a big decision, trying out this form of travel can help give you a taste of RVing ahead of time. Whether you're wanting to jump into RV living and hit the road full-time, spend your weekends exploring your town or take epic summer vacations, renting an RV before you buy can a) clue you in to if you even like the lifestyle and b) help you decide what kind of rig fits you best before you purchase.
2. No Maintenance, No Storage Fees, No Stress
While we agree owning an RV is pretty awesome, if you're only able to get away on vacation a handful of times a year, renting vs. owning can help save you the stress (and cost) that owning an RV can sometimes include.
If you own, you have storage fees
If you own, you have maintenance fees
If you rent, you pay to use the RV, not to store it
If you rent, you pay a small cleaning fee and let someone else maintain it
3. You can bring your pets
Unless it states otherwise, you can bring your beloved furry friend with you on your RV trip. How great is that?
Traveling can be stressful for pets, especially if it involves flying or staying at a hotel. Plus, most hotels charge you big time fees for bringing Fido along.
We met so many dogs (and cats) on our RV travels who loved RVing. Your pet will truly be a part of your family vacation, instead of having to board them or leave them with someone at home.
4. It's your house on wheels
Traveling can be exhausting and you don't always know what you're going to get. You hope your hotel will be quiet and comfortable. You cross your fingers your flight doesn't have any delays. You just really want this vacation to be relaxing and worth it, am I right?
With RVing, it's a home on wheels. You can pack those special things that help make a vacation, a vacation. Like, maybe six bottles of wine or that special blanket or a different bathing suit for every day of your vacay. Whatever floats your boat!
Depending on the RV you rent, you can have all the comforts of home – a refrigerator, comfortable bed and linens, kitchen necessities, a TV, shower, toilet, etc.
Trust us when we say you'll be sad to hand over the keys at the end of your trip.
5. Location, Location, Location
Picture this…
You're in the Florida Keys. You can see the water from your RV. There's a restaurant, a bar, a hot tub, a pool and oh, an ocean, right down that paved pathway. After a day of enjoying the water and working on your tan, you walk a few yards back to your home on wheels, sit outside and soak in the beautiful sunset.
Sound too good to be true?
It's not! In fact, this was our RV vacation experience in the Florida Keys and it was magical.
RVing allows you to be near the beach, hiking and biking trails, gorgeous National Parks, lakes and more.
6. It can save you money
Can RVing really save you money on a vacation? It can. Here's how, as explained by Outdoorsy.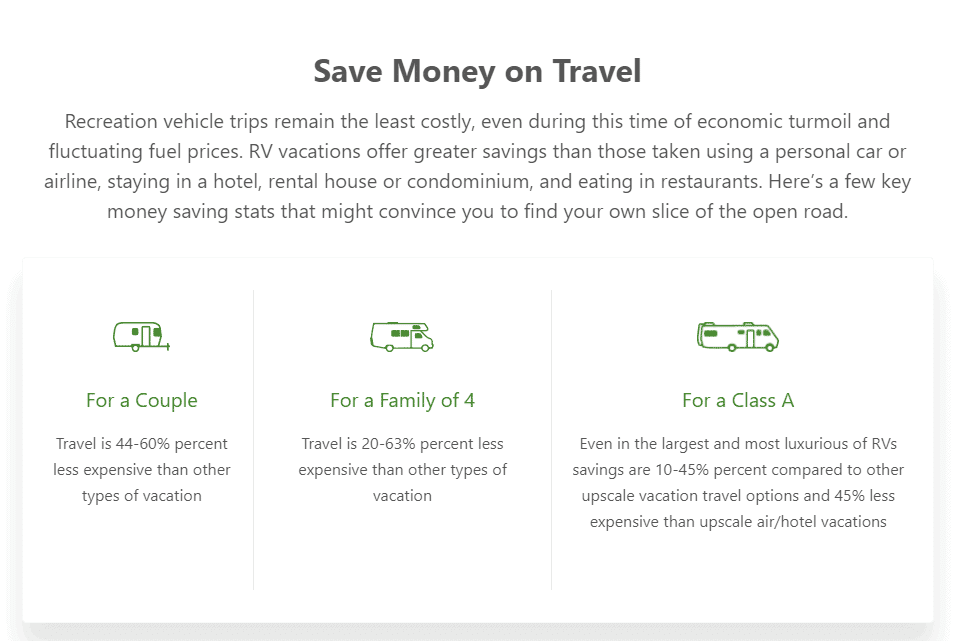 How can it be less expensive?
You eat out less and can cook more of your meals
You can bring snacks with you, which can add up quickly while traveling
You spend less on activities if you stay at an all-inclusive RV park
Speaking of costs…
What are the RV Rental Prices?
Most likely you're curious about RV rental cost. The answer? It depends on what you rent.
Generally speaking, the smaller you go, the less expensive it will be. The one exception would be Camper Van rentals. Those can sometimes be more expensive than travel trailers and fifth wheels.
Here are a few sample RV rental prices near Austin. Of course rental prices are subject to change depending on demand, time of year, and other factors. But, this to give you a general idea.
You can also do your own search closer to where you live to get a better sense of available options.
2019 Forest River Salem Travel Trailer – $99 a night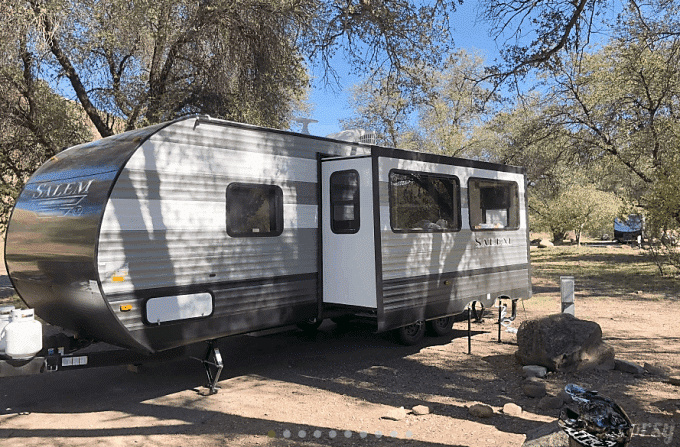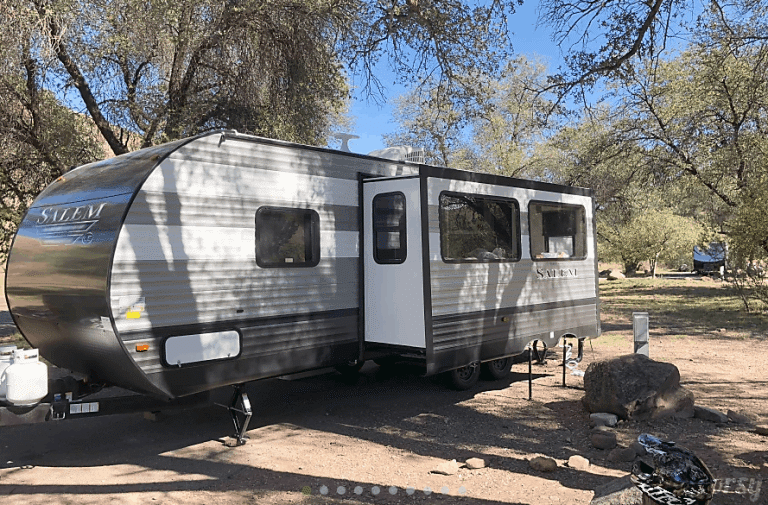 This travel trailer rental sleeps 6. Here are a few of the features:
Double Bed Bunks
Upgraded Shaw Linoleum
Walk-In Pantry
Power Awning
Furrion Stove Top
40" Flat Screen
Large Fridge/Freezer
Bluetooth stereo and outdoor speakers
2018 Casita – $115 a night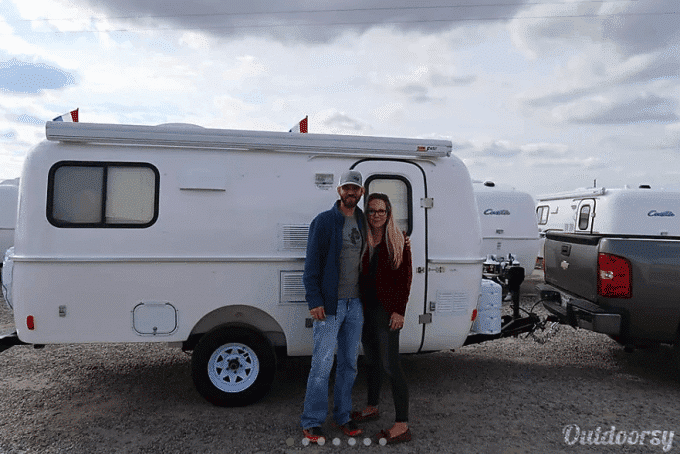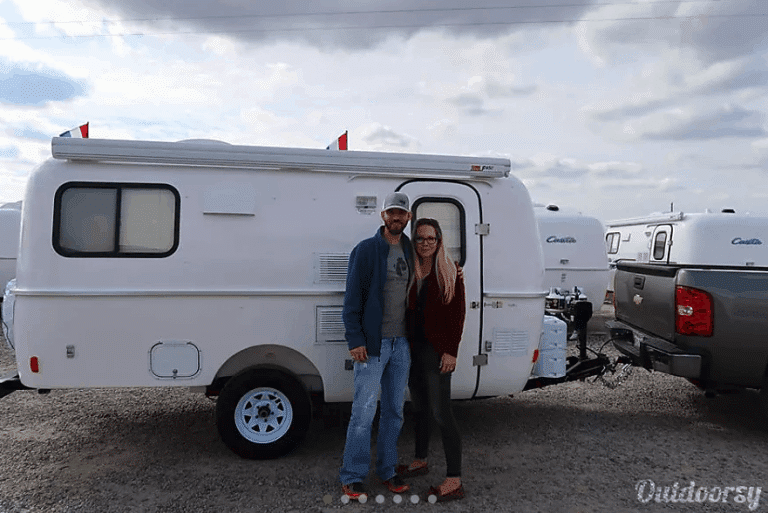 This Casita sleeps four, has a small kitchen and bathroom and is perfect for the low maintenance adventurer.
2014 Airstream Interstate Class B – $225 a night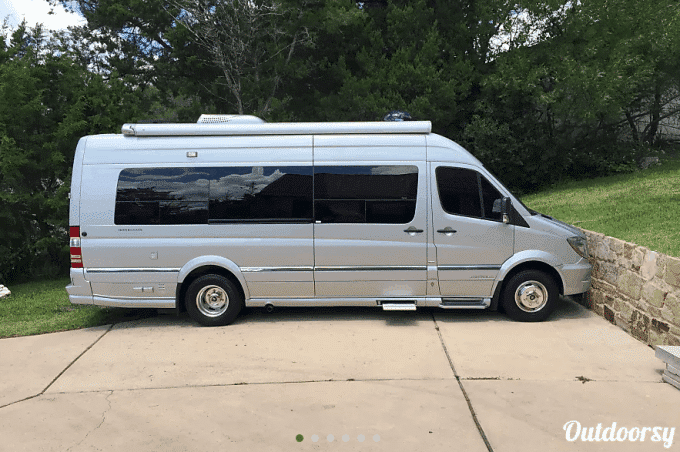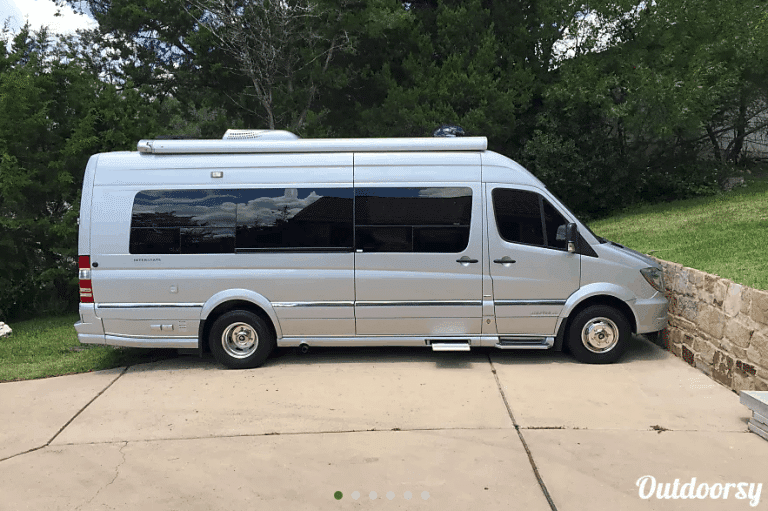 Sleeps 2
Super clean Airstream Interstate Ext Lounge. In-Motion HD Dish Tv, DVD.
2017 Winnebago Minnie Winnie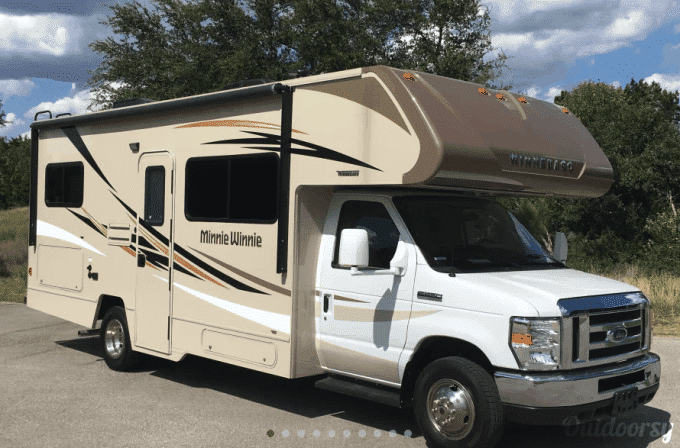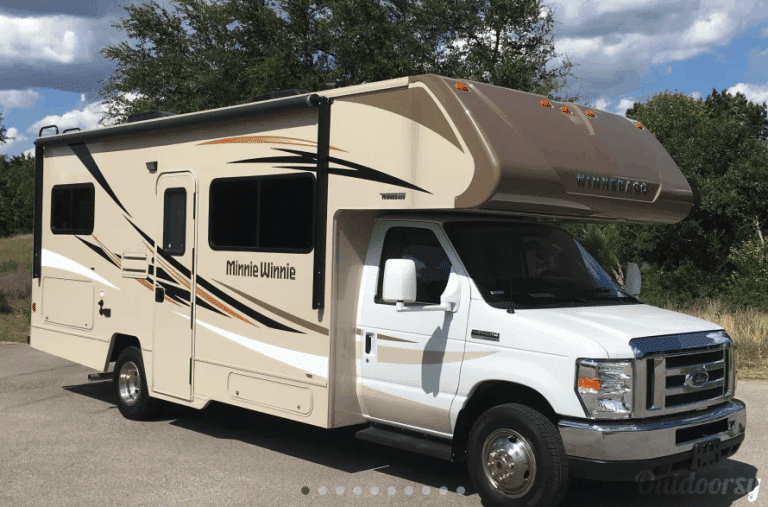 This Class C 2017 Minnie Winnie has a great floor plan and can easily accommodate 6 adults.
2017 Thor Motorhome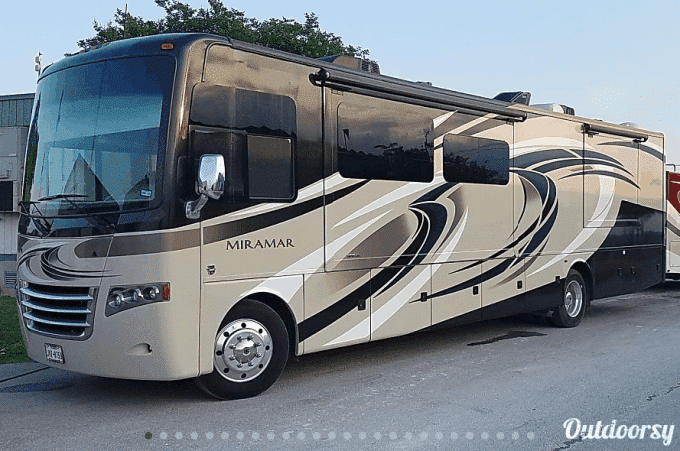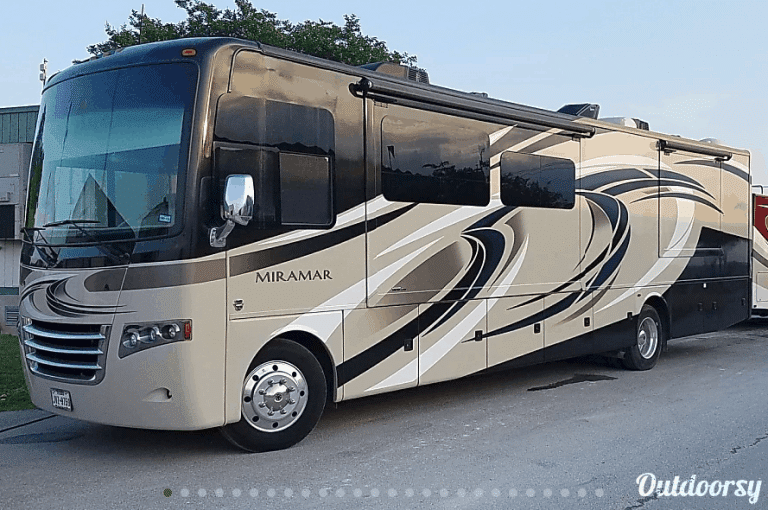 This is luxury on wheels!
2 FULL Size Bathrooms! Bunkhouse Unit – sleeps up to 9. It features a king size bed, queen over the cab bed, double sleeper couch, double sleeper dinette, two twin bunks and five (yes, five) TVs.
You could split this rental with family and/or friends and have one heck of a fun trip.
Can you rent an RV for a week?
Yep! You sure can.
When you click on an RV rental, scroll down the page a bit and you'll see what the nightly, weekly and monthly rental prices are. Plus the number of minimum nights required to rent.
Types of RV Rentals
If all this talk of travel trailers, fifth wheels, and class A, B and C motorhomes is making your head spin because you have no idea what we're talking about, no worries.
That was me a couple of years ago. But thankfully after living in a travel trailer for a year and a half, and meeting fellow owners, as well as touring all the different units, I kind of know what I'm talking about now.
Here's the breakdown of what's what and a few terms:
Towable – You tow it behind a vehicle
Driveable – You drive the unit and some can tow a car behind them
Camper Van (Driveable) – A van equipped for sleeping. Some units are built to camp in and some are modified, which uses the term conversion van
Travel Trailer (Towable) – Towed behind a vehicle and attaches to the bumper of the towing vehicle with a ball-and-coupler hitch
Fifth Wheel (or 5th Wheel) (Towable) – Towed behind a vehicle like a travel trailer but instead connects to the bed of a truck using a jaw hitch
Class A Motorhome – (Driveable) These are the largest of the 'Class' motorhomes and have the same basic build as an 18-wheeler. They normally have a minimum of two slideouts (often three or four).
Class B Motorhome – (Driveable) These are basically an oversized van and can overlap with campervans. They do have a bathroom, kitchen and living area but are typically very small.
Class C Motorhome – (Driveable) These are between Class A and B and are most easily recognized by the over-the-cab sleeping area.
If you are looking for more information and details on RV travel such as campground memberships, cooking tips, and RV accessories, visit our RV Travel Resources page.
Top RV Vacation Destinations & Types of Rentals
Are you wondering where to go on your RV vacation? Here are a few places to consider, with links to the top RV rentals in that destination: (We're constantly updating this list, so keep checking back!)
Top RV Vacation Destinations
Alaska
California
Colorado
Florida
Texas
RV Rental Types
Alright, are you ready to rent an RV? We hope you feel educated, equipped and most of all…EXCITED about trying out RV travel. We want you to fall in love with this way of seeing the country as much as we have.
Get started today!
Click Here to Search RV Rentals