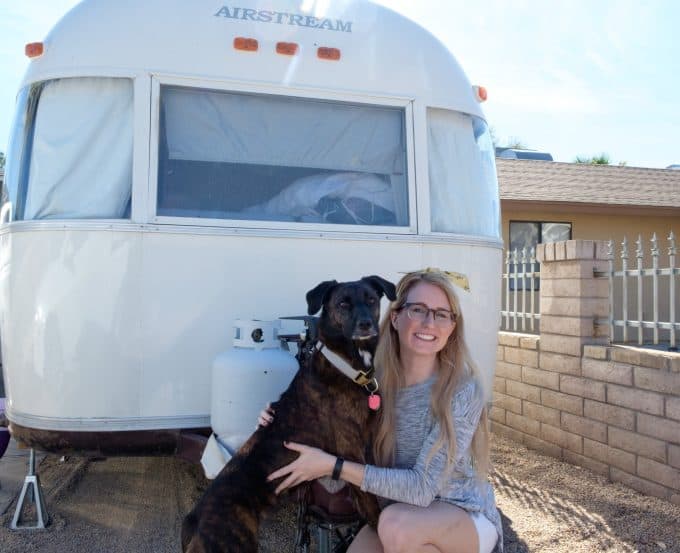 So you're ready to hit the open road with your furry, four-legged companion? There's a little more to RVing with dogs than just hopping in and setting your GPS for your next location.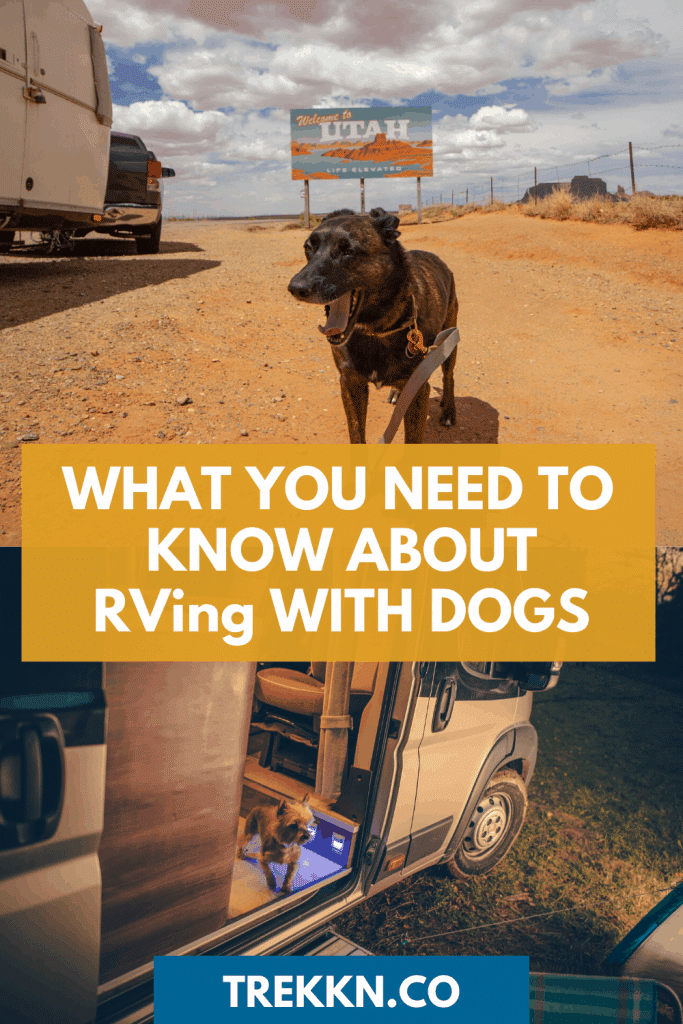 I've spent the last three years traveling with my dog, Rory. I've learned a lot about what it takes (and what it breaks!) to travel with a pet. You can easily make any drive with your dog, but living in an RV, sightseeing, and everything that comes with that can be tricky. It's much better to have a roadmap of what to do (and not do) when you're on the road with dogs.
RVing with Dogs: A Comprehensive Guide for Your Travels
I'm going to share everything you need to bring your pup along on your next RV trip. I'll also cover how to keep your dog safe and where to go when you're ready to hit the road.
To start us off, I want to go over a list of things that I always have when I travel with Rory. These items have kept us happily traveling and less stressed over the last few years.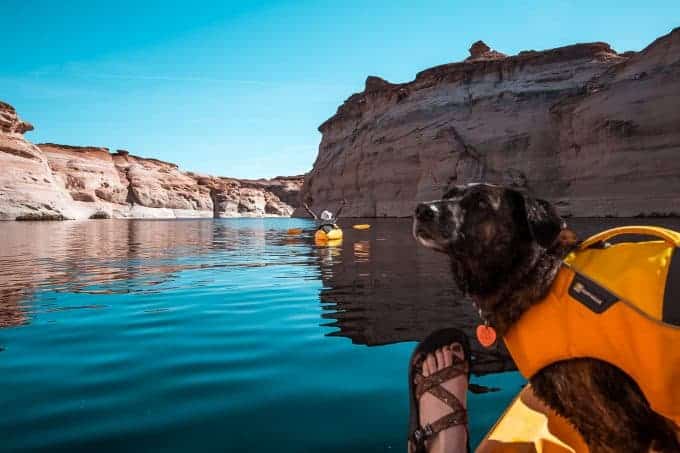 The Basic RV Dog Necessities Checklist
I know most people think my dog is spoiled. Maybe…but there really are some essentials you'll need to pack with you every time you RV with your dog. Here are a few of the basic things we can't live without:
Foldable/collapsible dog bowls: In addition to saving space and being easy to put away in your RV, these bowls are easy to bring along with you for a day of hiking or sightseeing. You just can't be without them. Click here to see dog bowls on Amazon.
Harness and leash: You always need a leash handy (usually 6 feet or less in length) in RV parks, state parks, and the like. Harnesses make it easy to clip your pup in and out. They also offer you some peace of mind as most have grips and handles for when you're visiting new areas with your pup. The last thing you want is for your dog to slip away from you and end up in a dangerous situation. Click here to see harness and leash sets on Amazon.
Dog waste bags: Probably one of the more important things to have in your RV at all times is a collection of waste pick up bags. You should always pick up after your pet, no matter where you are. You want to leave every place you visit better than you found it. Remember to leave no trace! Click here to see dog waste bags on Amazon.
Collapsible kennel: There will be times when you have to leave your pet in the RV when you head out for an adventure. You can be sure they won't like it, but having a kennel to place them in will keep them safe and will. Finding a kennel that collapses and allows you to easily store it out of the way is essential. Click here to see collapsible dog kennels on Amazon.
Vaccination and other vet records: If you plan on traveling across the country into another country like Canada or Mexico, you'll need vaccination records in case local authorities or border security ask to see them. If you're unsure about what vaccinations are needed or what laws you must abide by in different states or countries as you RV, call your local vet or a vet in the area you're visiting to learn more.
Now that you have everything you need to get on the road with your pup, let's talk about keeping your dog safe while RVing.
How to Keep Your Dog Safe While RVing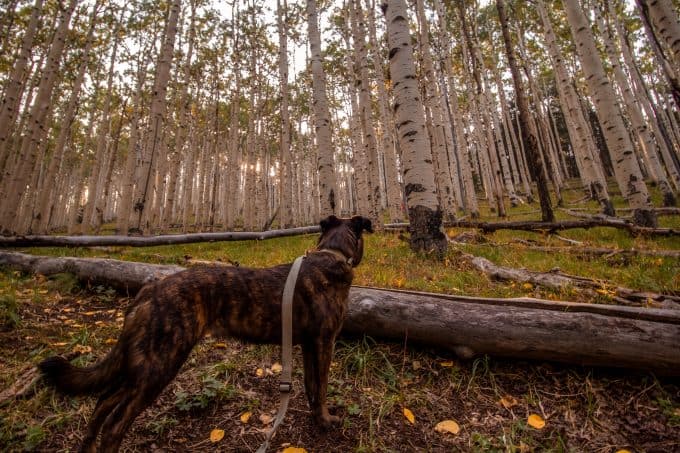 Any time you take your pets with you when RVing, you should always consider their safety and the safety of others first. Keeping your pet safe means you're more likely to keep others and their pets safe, too. New places, people, and adventures can stress your dog more than you'd expect.
1 – Always consider your dog's (and your own) limitations
Not all dogs are ready to hike 12 miles in a day on their first RVing trip. Some aren't too keen on riding in the car on a good day, so taking them on a road trip in your big rig can give them even more anxiety.
To learn more about how your dog reacts in the RV or while out and about in new places, start small. Have your pup join you while you relax outside your home in your RV instead of jumping right to long-distance trips. If you want to hike long trails into the backcountry with your pup, do laps around your neighborhood for a few weeks first.
At the end of the day, your dog's limitations can make or break your trip. Be sure you know how they will react in most scenarios. This will help you avoid having to change your plans or causing undue stress on your pet.
2 – Check with your RV Park, state park, and other camping sites to determine the rules and regulations for pets at your next location
Before you take off to your next destination, it's always best to check if dogs are allowed in the area. Contact the local ranger station, as well as the RV park or campground you want to stay at to avoid wasting time and money on places that don't allow pets!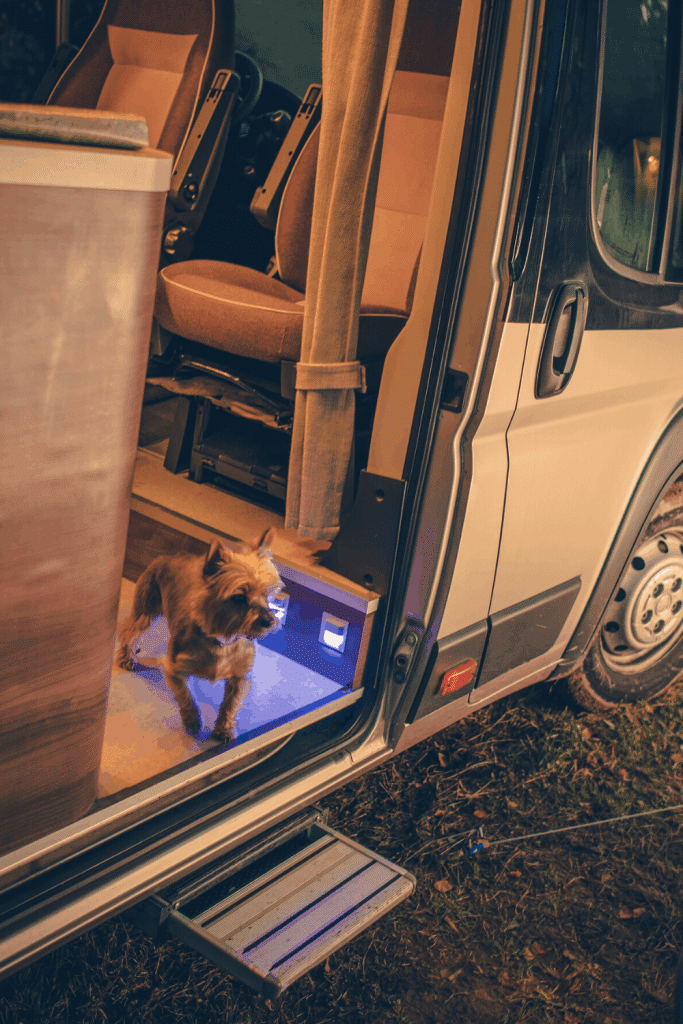 3 – Always have a Plan B when the weather or place you visit isn't ideal for dogs
It happens to us at least once a trip. There are always places or changes in the weather that aren't ideal for bringing your pup along with you. Whether it's too hot outside to leave your dog safely in your rig or we find a restaurant we want to eat at that doesn't allow dogs on the patio, there will be hiccups in RVing with your dog that aren't what you expect.
When things don't go as planned, you'll still have a pup in tow so be careful about changing your plans. Sure, many times if you're hooked up to shore power you can turn on the A/C and hop out for a bite to eat while the dog naps in the RV. But to me, it's not always worth the risk as electrical issues can happen, too, that could result in the A/C turning off or even catching fire if you're gone for too long.
For me, I always have two places picked out when we go out to eat in case the first one isn't as friendly as they claim to be online. If the weather changes, our plans change, too, so we don't risk burning Rory's paw pads in the extreme heat.
RVing with pets means taking their health, wellbeing, and safety into consideration. It isn't always easy, so remember this before taking off on your next trip.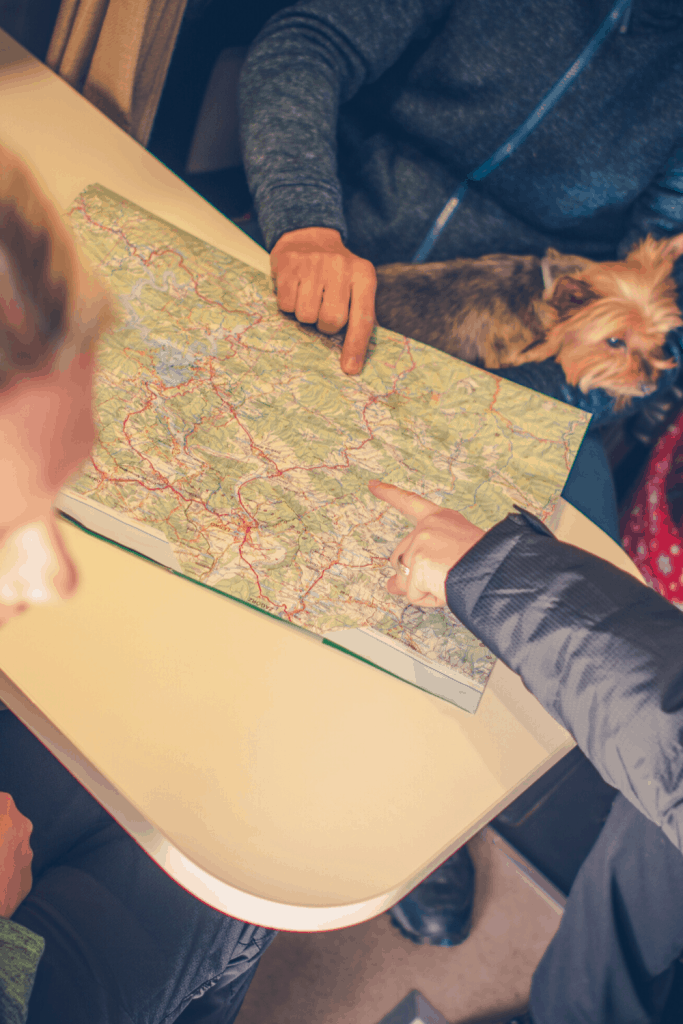 4 – Always be respectful of others while RVing with your dog
Last but not least, always be respectful of others when you RV with your dog. Whether you're at a campground or out on the trail, you should always consider the noise made and the friendliness of your dog before taking your pet with you.
When you're traveling with your dog, you can't always guarantee that other pets will behave appropriately. You can also can't assume other RVers will be respectful of your pup. The best thing you can do when traveling with your dog is to keep them on a leash when outside of your rig. In addition, always keep your distance from other people and their pets while walking around populated areas.
It may sound like a lot to worry about, but it's better to be safe than sorry. An injury to you, your dog, or others can ruin a trip quickly. Always be a responsible pet owner when you RV and you'll set yourself up for success.
Best Places for RVing with Dogs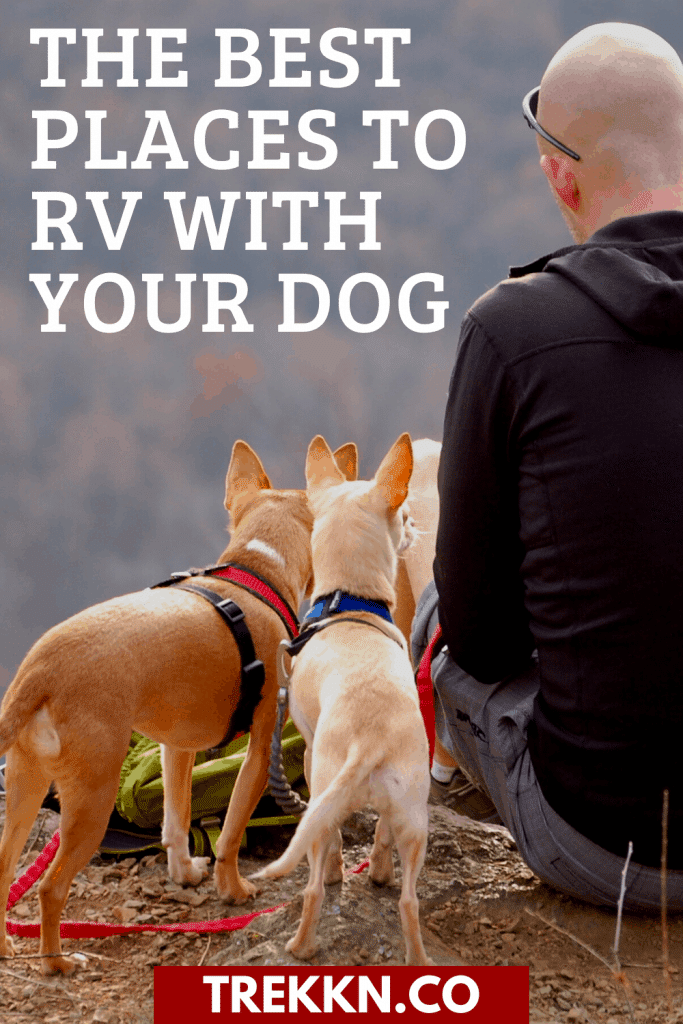 Now that you know how to keep your dog safe while RVing, you can start planning a trip with your best furry friend. Here are some of the better places to visit when you decide to RV with your dog.
Dog-friendly RV Parks
National Monuments
Remember, you should always verify with local outdoor authorities and campground staff before bringing your pup along with you. Rules and regulations change so it's important to do your due diligence to avoid getting turned away or receiving a fine.
Some of my favorite places to visit when RVing with my dog are:
Flagstaff (Arizona): If you've got a pooch that loves hiking, they will be in heaven exploring the forests and peaks of Flagstaff.
White Sands National Park (New Mexico): Dogs are allowed on a leash and there's nothing better than running through the sand dunes with your best furiend.
Lake Powell (Utah/Arizona Border): Kayak, camp, and adventure with your furry friend here on a leash!
Mount Lemmon (Tucson, AZ): Though most trails on Mount Lemmon aren't dog friendly, you can bring your pets to camp and RV up the mountain in campgrounds. Don't forget to stop at the Cookie Cabin!
International UFO Museum (Roswell, NM): Visit the International UFO Museum in Roswell to learn about all things alien and introduce your pup to some out-of-this-world friends. Dogs are allowed inside.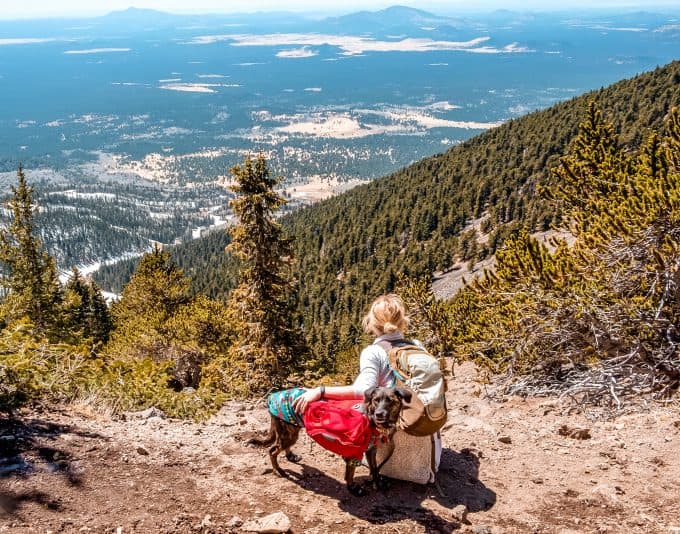 Those are just a few in the west to help you plan your next trip! If you're not sure where to start or are nowhere near any of those suggestions, start planning your trips based on the weather. Follow good (not too hot, not too cold) weather patterns to have the best chance of having a great trip with your dog.
Hit the Road with Your Pup
Once you've found a dog-friendly place to visit and set up camp, the only thing left to do is hit the road with your pup! If you hit the road prepared, know how to keep your pet safe, and take the time to plan out your pit stops and sights along the way, you'll have a much easier time traveling with your dog.
Just like with kids, you always have to be prepared for the unexpected. And yes, you must be willing to make some sacrifices along the way.
When it's all said and done though, traveling with my dog, Rory, is much more enjoyable than traveling without her. Now she's seen more than most pets ever will and we've shared many memories that would have been lackluster without her in tow.
I will always treasure the amazing adventures we have had together. I know you will feel the same about your dog as well.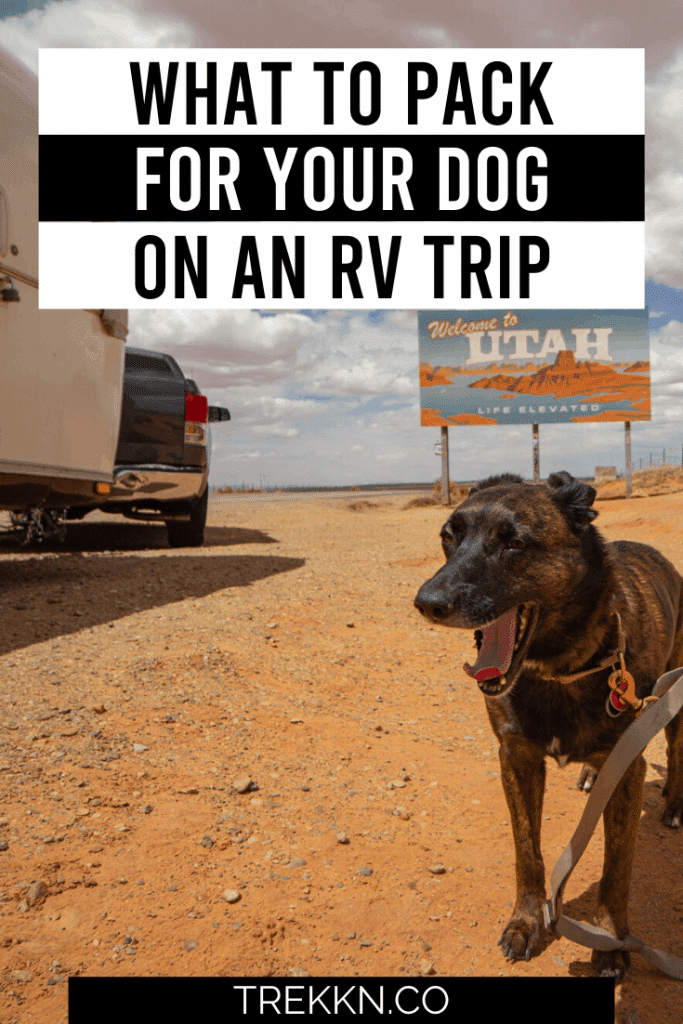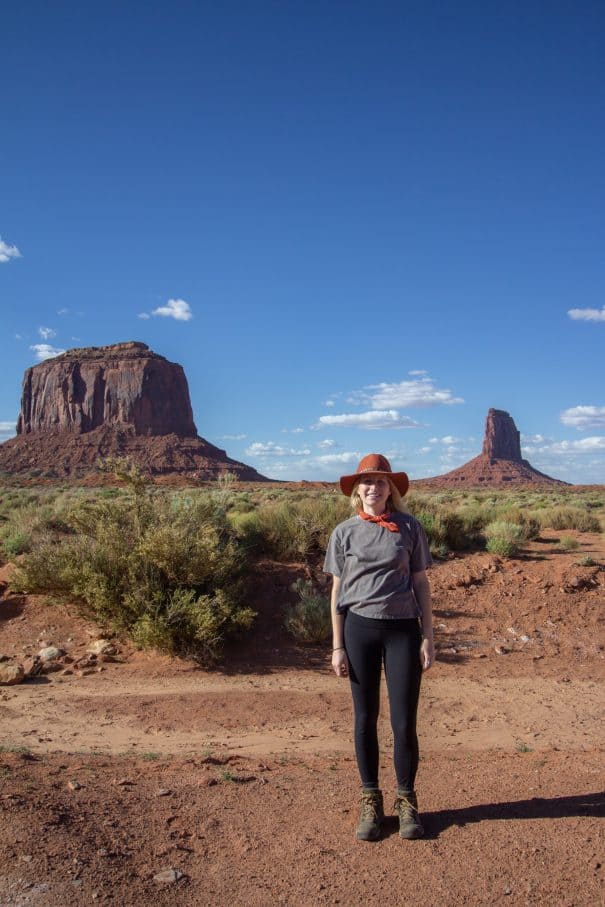 Erin Maxson is rooted in South Dakota, but wanders every chance she gets to see the beauty that nature holds. From hiking to climbing, there's not an adventure she'll turn down.
After renovating her 1976 Airstream Argosy, Erin knows the ins and outs of living life on the road and trailer maintenance.
Whether she's on the road with her dog and partner or at home curled up with a good book, Erin is always planning her next adventure because life is meant to be lived outdoors.