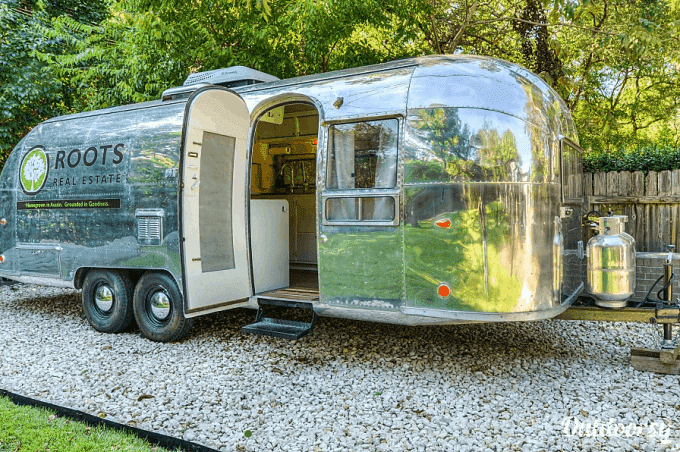 Can you rent an Airstream trailer for an epic vacation? You sure can! We've got the scoop on an Airstream rental near you including how much it costs, the different models available to rent and more.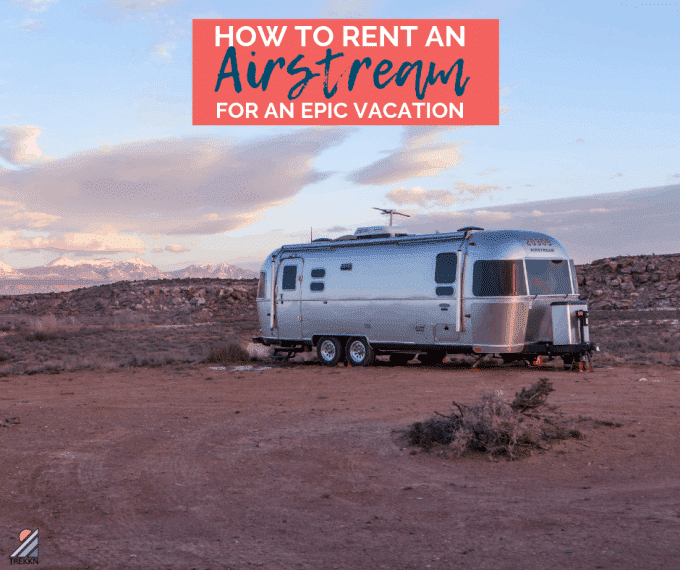 Airstreams are Just Cool
Let me start off with a confession. Every time Todd and I would see an Airstream pull into an RV park, we were a tad bit jealous. On one of the first nights of our full-time RVing journey, we were parked right next to an Airstream Basecamp. The owner was nice enough to give us a tour and we were instantly wowed by this little travel trailer.
We also have a few friends who own Airstreams and they too have given us tours of their rigs.
**Quick Side Note: We've been through the RV Rental process more than once, and we've learned a thing or two. If you're interested in making your first RV rental an enjoyable and pain-free experience, we highly recommend you check out some of our other RV rental resources on the site also:
And now, back to our originally scheduled programming.**
Airstreams are just cool…there's no doubt about it.
They're so cool even NASA used them. Have you seen Apollo 11? It was so fun to see the RVs of the people who drove to witness the launch of the space shuttle. But not only that, we noticed it was an Airstream that took the astronauts to the launch pad.
What You Need to Know About Airstream Rentals
From where to rent an Airstream and how much it costs, to popular Airstream rental destinations to rent one and the different models available, we've got the info you're looking for.
Where to Rent an Airstream
Where is the best place to rent an Airstream from? Outdoorsy! They are the #1 Airstream rental company and for good reason.
The Outdoorsy offices are located right in our backyard of Austin, TX. We had the chance to meet with the team, as well as pet all of the cute pups running around their offices. Not only are they extremely passionate about RVing, but also about providing the best rental service to their customers – both people listing their RVs for rent and those renting one.
Outdoorsy is an innovative, pioneering company that wants to connect you with the outdoors and experiential travel, and so do we.
How to Rent an Airstream
Airstream Trailer rental is super easy. Just head over to Outdoorsy.com, type in 'Airstream' into the keyword slot on the left side and start your search. You can also set the location and date for your RV rental search.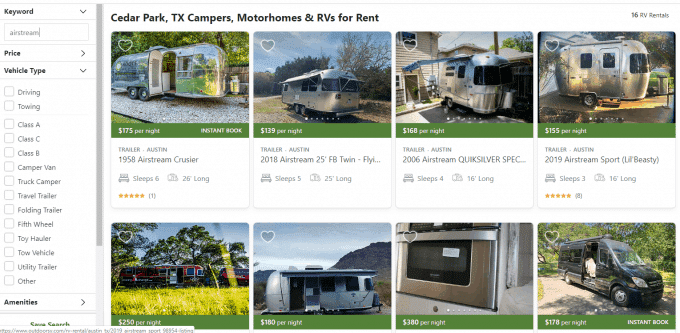 Once you find a rental that catches your eye, click on it and read all of the details. Here are a few details to look for:
Are they pet-friendly and if so, is there an extra cost?
What amenities does the rental come with? (Like kitchen items, outdoor chairs, grill, etc)
Do they deliver?
Are you allowed to tow it if you want to and if so, what's required to tow? (hitch ball, etc)
What are the rules?
What are the extra fees?
Why Rent an Airstream?
On our RV Rentals page, we dove into all of the reasons renting an RV is a really good idea. A few reasons we gave are:
It allows you to try before you buy
You can (sometimes) bring your pets
No maintenance or storage fees (maintaining and storing an RV can add up!)
You can enjoy the comforts of a home on wheels
It can save you money on travel
As far as why you might want to specifically rent an Airstream, all of the above reasons apply.
What better way to experience what it's like to travel and stay in an Airstream than by renting one. You might find that an Airstream is exactly the RV you want to buy or you might find that while they are seriously cool, it's just not for you. Whether you need more room than they offer or there are some luxury items an Airstream doesn't have.
How Much Does It Cost to Rent an Airstream?
It's hard to put a specific price on what it cost to rent an Airstream. You have to factor in the location you're renting from, the model you're renting and if there are any extra fees.
In my quick search of Airstream rentals in our area, they ranged in price from $103 to $380 per night.
The best way to find out how much it will cost you is to a) read our article on RV rental prices and b) do some searching on Outdoorsy until you find one for a price you feel comfortable with.
The Different Airstream Models to Rent
One search for Airstream rentals in my area and I could see that there are so many different models available to rent. From vintage to brand new, from towable to driveable Airstreams.
Check out these rental examples, plus a couple of video tours.
*Note: All of these rentals are located in Austin, TX
Vintage Airstream Rentals
1958 Airstream Cruiser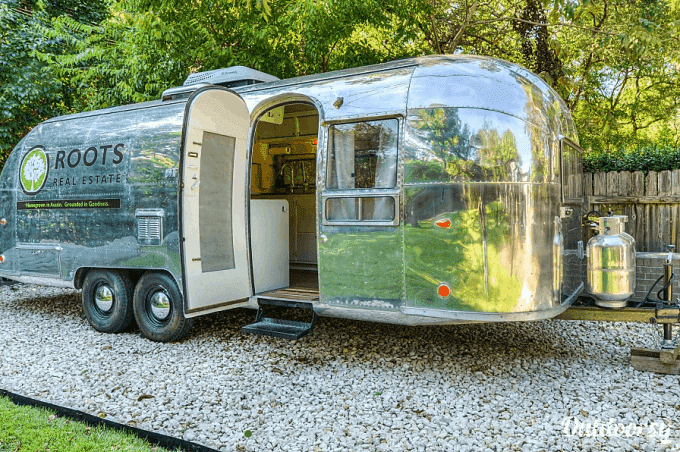 This vintage beauty used to be named Leon and is from New Orleans. But after a five-month restoration process, Leon became Leona. Why? Because look how pretty she is!
Take a peek inside.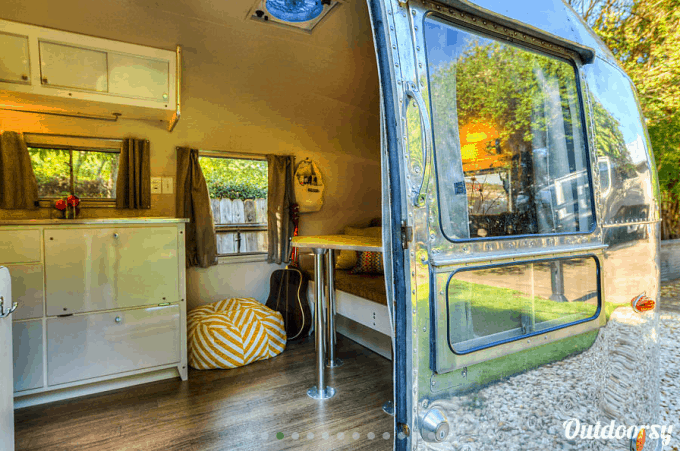 To search for Airstream trailers to rent in your area, you can just click here (we made it easy for you).
1979 Airstream Argosy Minuet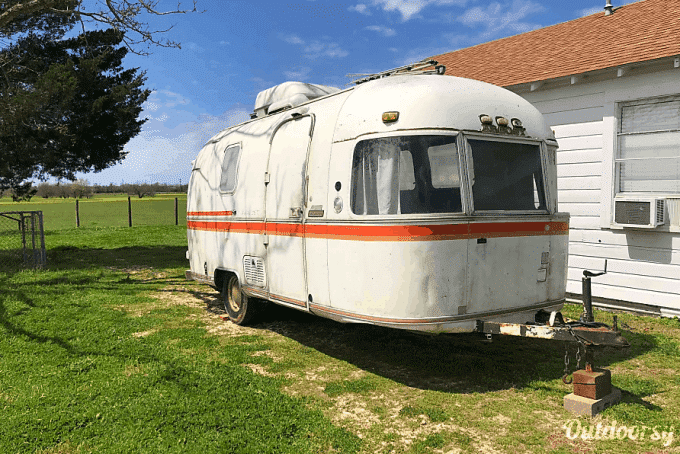 This Airstream only sleeps two and is 20′ long, but believe it or not, she does have a bathroom. (We did a fun post all about small campers with bathrooms you might want to check out here.)
To search for Airstream trailers to rent in your area, you can just click here (we made it easy for you).
1999 Airstream Land Yacht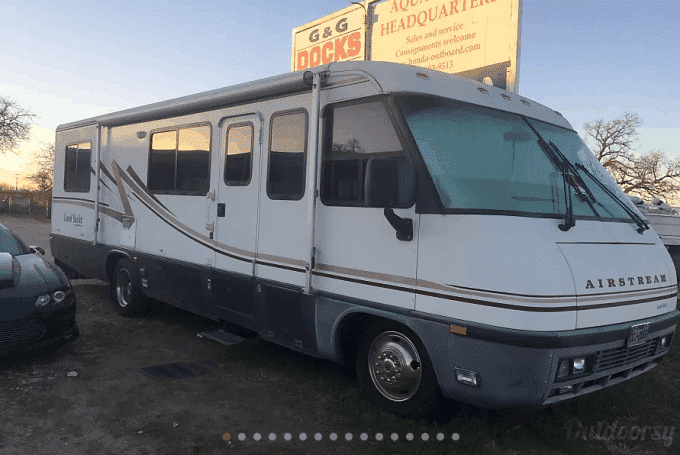 This gal is vintage inside and out. We saw a couple of these Land Yachts during our travels and it was always fun when we spotted one.
Take a peek inside.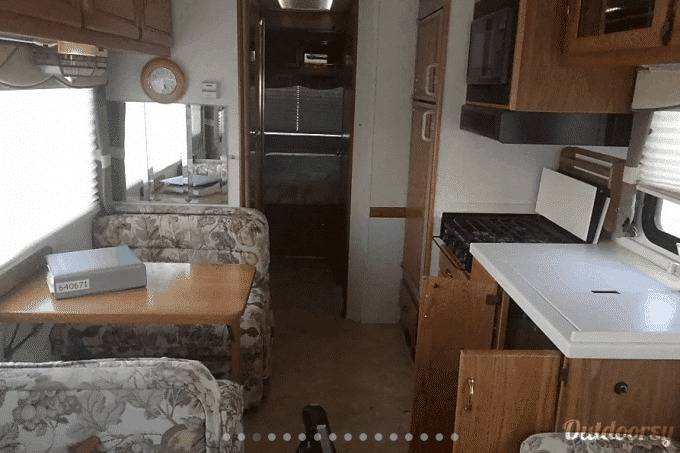 To search for Class A Airstream rigs to rent in your area, you can just click here (we made it easy for you).
Small Airstream Rentals
2019 Airstream Sport (Lil'Beasty)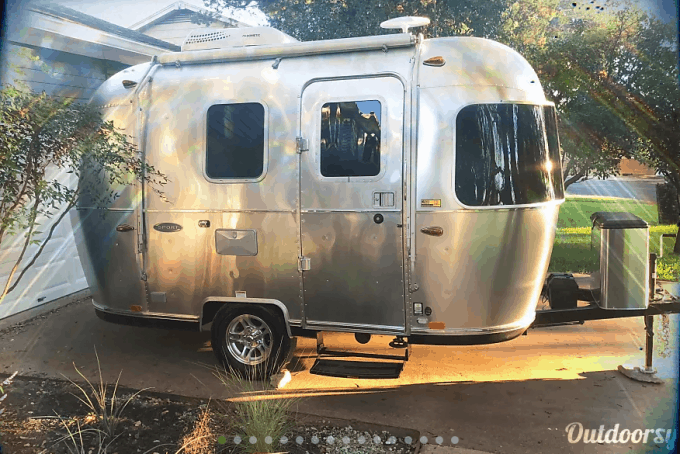 This little guy sleeps 3, two adults in the bed (a little smaller than a queen) and a small child can sleep on the kitchen table that folds to make a bed. This RV can be delivered to your camping spot if you don't want to tow it.
Take a peek inside.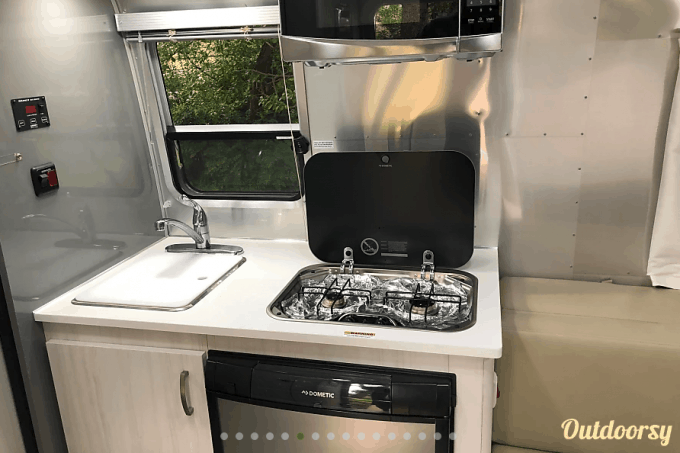 Here's a video tour of the 2019 Airstream Sport.
To search for Airstream trailers to rent in your area, you can just click here (we made it easy for you).
Driveable Airstream Rental
2014 Airstream Interstate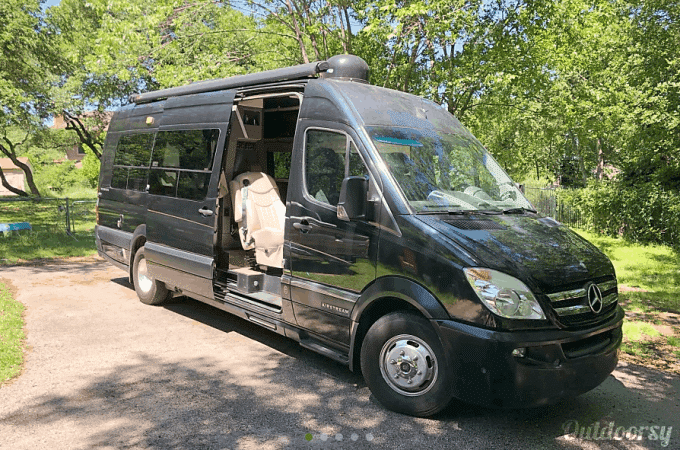 Do you want to see what it's like to drive, travel in and rent an Airstream Interstate? How fun would this be?!
This Airstream rental includes snacks, silverware, plates, coffee, tea, a 6 person tent, 2 chairs with built-in drink coolers, and a hammock. It's all gassed up and ready for an adventure!
Take a peek inside, as well as watch a video the owner of this rental shot.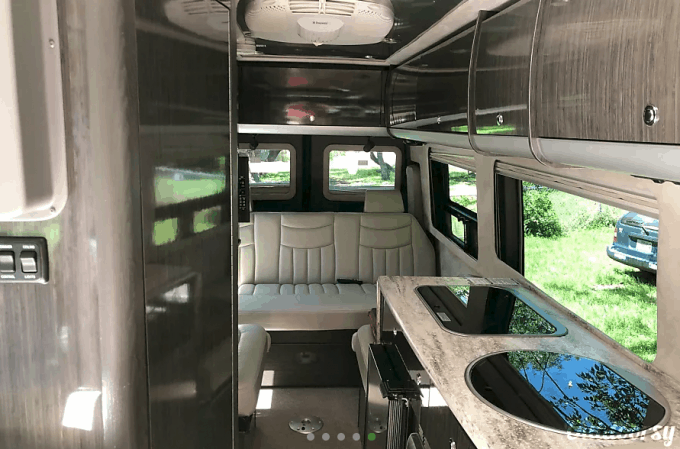 GoRV Adventures from Aaron Hix on Vimeo.
To search for Class B Airstreams to rent in your area, you can just click here (we made it easy for you).
As you can see, there's quite the selection of Airstream rentals available. Now just imagine taking off in one for a vacation you'll never forget! I'm ready and definitely see an Airstream rental in my future.
Popular Airstream Rental Cities
Search Airstream rentals in some of these popular cities to RV in:
Are You Ready to Rent an Airstream for an Epic Vacation?
We hope we've given you enough information to find an Airstream rental near you so you and your family can have one epic vacation. It might even help you find the Airstream of your dreams!
As always, let us know if you have any questions about renting an RV.
PIN THIS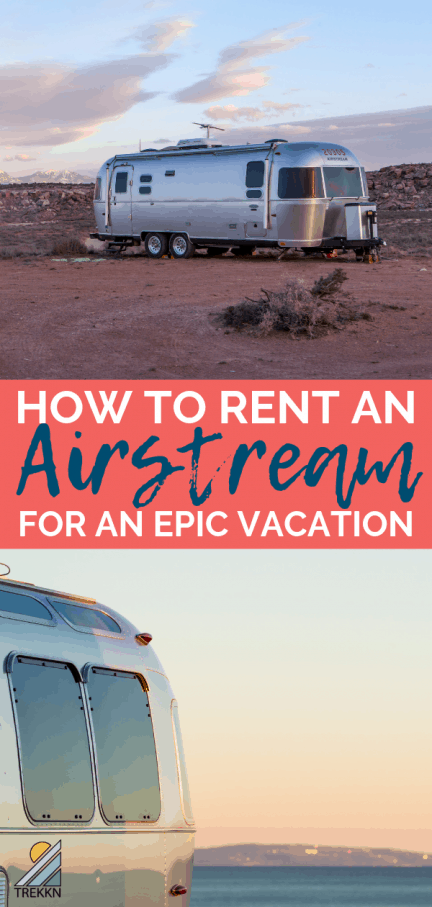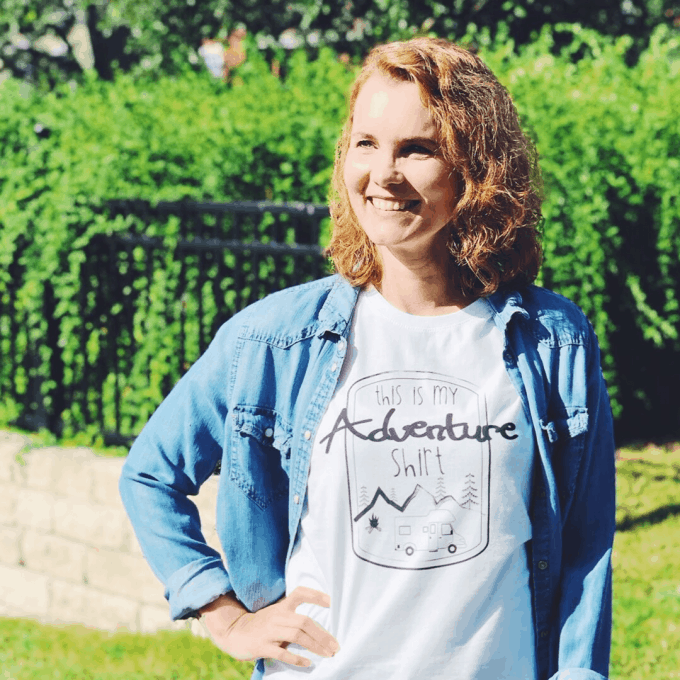 Julie Bonner is one-half of the TREKKN team. She specializes in helping you whip up delicious meals in your tiny RV kitchen, as well as RV organization tips and helping fellow RVers make their RV feel like home. Her favorite RVing spot is in Banff National Park in Canada where yes, the water really is that blue and the people really are that nice.