Top 10 RV Rentals in Los Angeles, CA in 2021 (Plus a Coupon Code!)

Are you looking for the best RV rentals for an epic California trip? We've got you covered!
RVing in the Los Angeles area is fun. How do we know? Because we've done it and we can't wait to get back there again.
To help you plan your trip, we've rounded up the best RV rentals Los Angeles, CA has, courtesy of our go-to RV rental company, Outdoorsy. We've met the Outdoorsy team personally and know they're the real deal. Their office is located in our backyard of Austin, TX.
You'll be well taken care of, as they put safety as their top priority. They provide industry-leading insurance protection, 24/7 roadside assistance, a dedicated support team and more.
*USE THE COUPON CODE TREKKN AT CHECKOUT FOR $40 OFF YOUR LOS ANGELES RV RENTAL*
10 RV Rentals in Los Angeles, CA Worth Checking Out
If you're looking for something easy to navigate and low-key, the following Campervan rentals in Los Angeles might be the perfect choice for you.
1.Shadowfax, Lord of Vans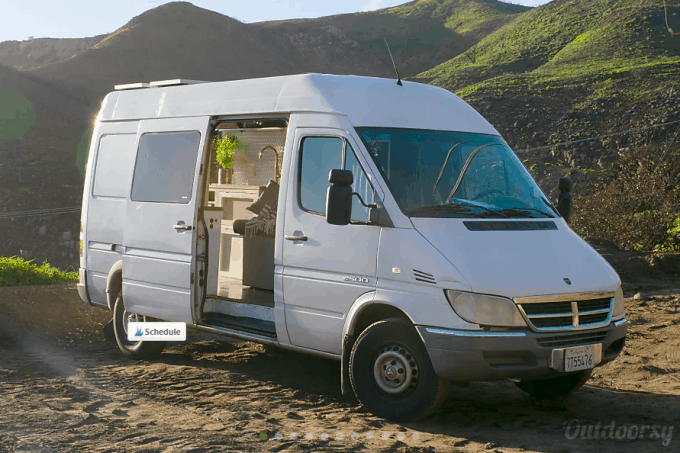 About this Campervan:
Sleeps 2
Comes with solar panels
Features a queen sized bed, sink, stovetop, fridge, ceiling fan
There is plenty of cabinets and shelf space, and there's extra storage under the bed
Take a peek inside, plus a gorgeous view!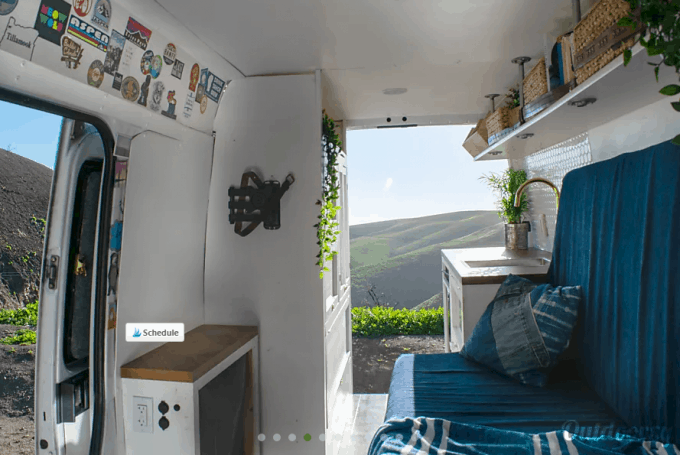 ---
2. 1984 Volkswagen Westfalia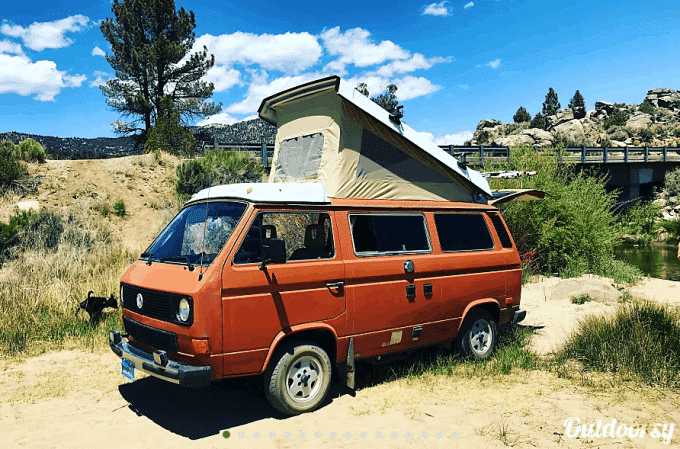 About this campervan:
Sleeps 4
With room for 4 and 2 beds this Westfalia is great to take to Joshua Tree , Big Bear and tons of other spots close to LA
comes stocked with Cooking and Dining Supplys as well as Blankets , Pillows and a sleeping bag
Updated Dometic fridge
Take a peek inside: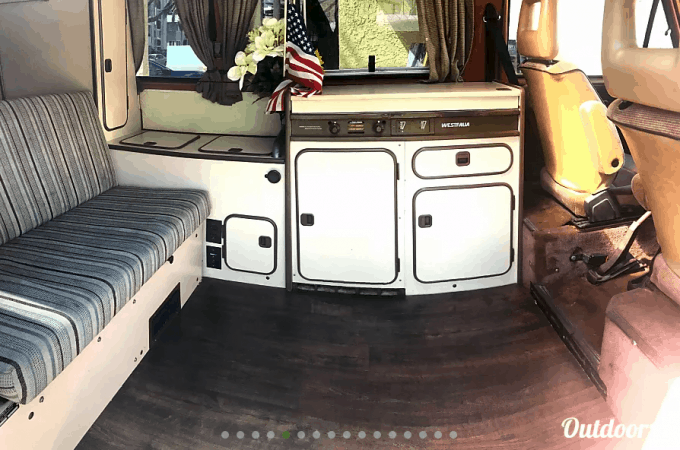 ---
3. Great Adventure Van with Offroad Tires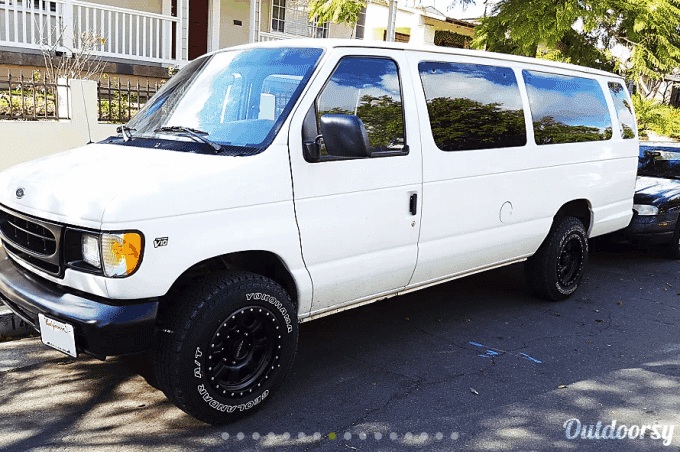 About this van:
Sleeps 2
Offroad wheels for any terrain
Inside is spacious and clean with a comfy futon bed
Comes with amenities such as Camping Tent, Cooking Stove, Cooler, Umbrella
This could be you! 🙂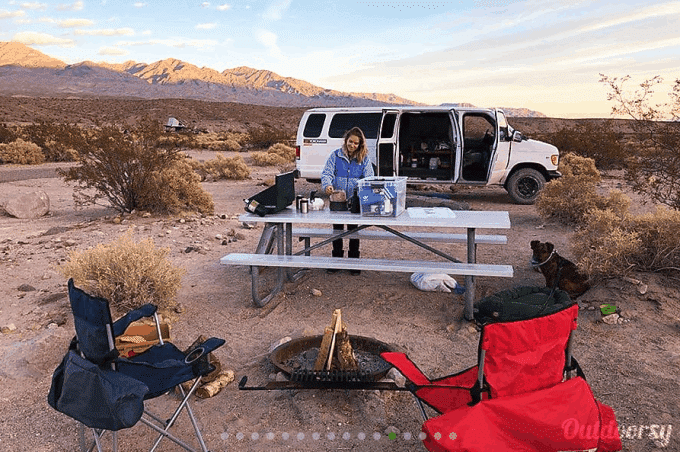 ---
If you want something bigger, these Class C motorhome rentals in Los Angeles will give you the space you need.
4. Fleetwood Ford Tioga 23ft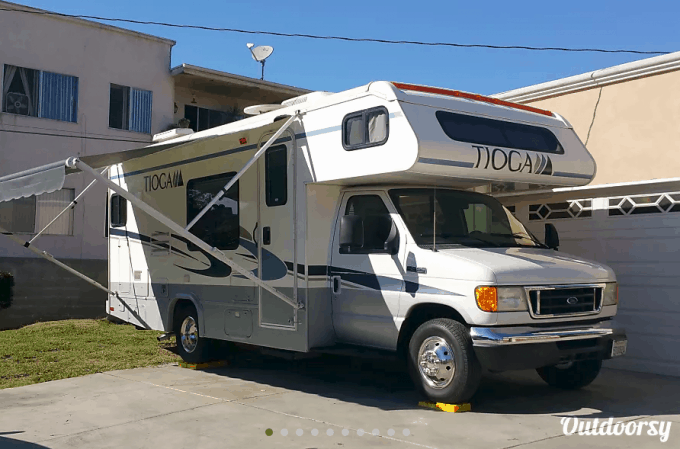 About this motorhome:
Sleeps 6
Easy to drive RV
Because of its size, you can park it almost anywhere
Features a 32″ TV with a DVD player and other amenities
Take a peek inside: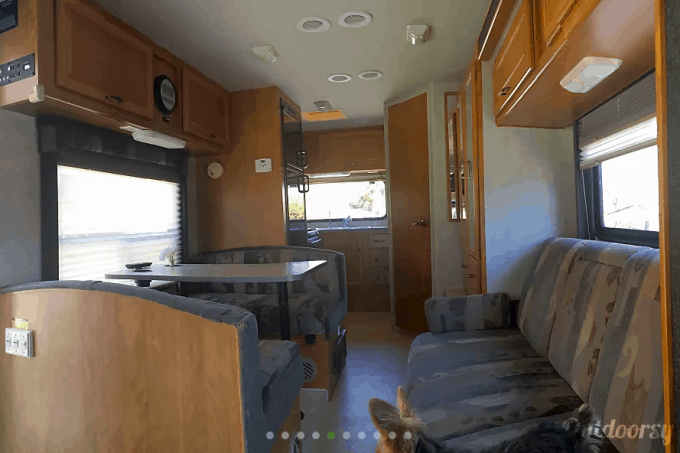 ---
5. 2019 Mercedes Winnebago 24J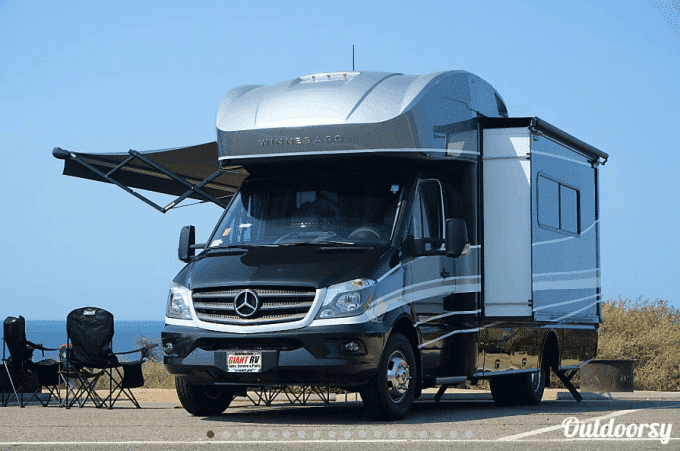 About this motorhome:
Sleeps 5
This Mercedes Winnebago RV is the ultimate in luxury travel
Features a slide-out room, bed, bathroom with toilet, sink, and shower, microwave & convection oven, stovetop and so much more
Owners have created a step by step instruction manual with tons of pictures and even created instructional videos
Take a peek inside this beauty: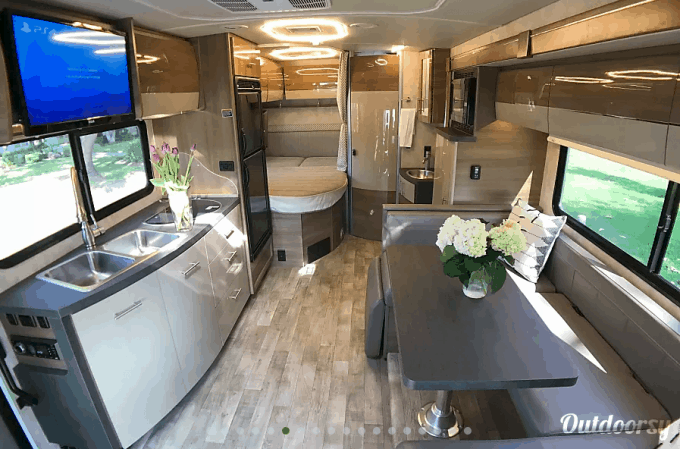 ---
6. 2018 Dynamax Corp Isata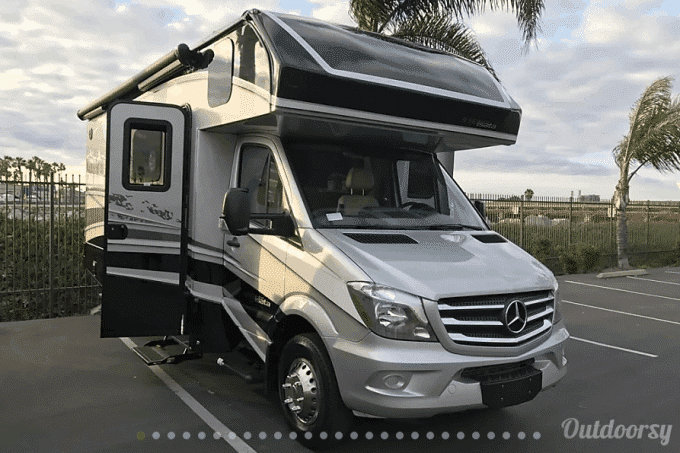 About this motorhome rental:
Sleeps 6
A great size RV to take anywhere!
Pet-friendly
Several 5-star reviews from previous renters
This is where you can enjoy a few meals on the road: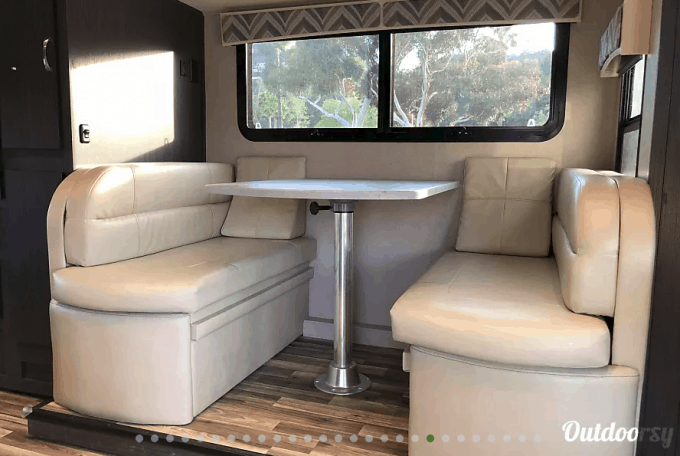 ---
Here are a couple of class B RV rentals in Los Angeles.
7. 2019 Winnebago Revel Sprinter 4X4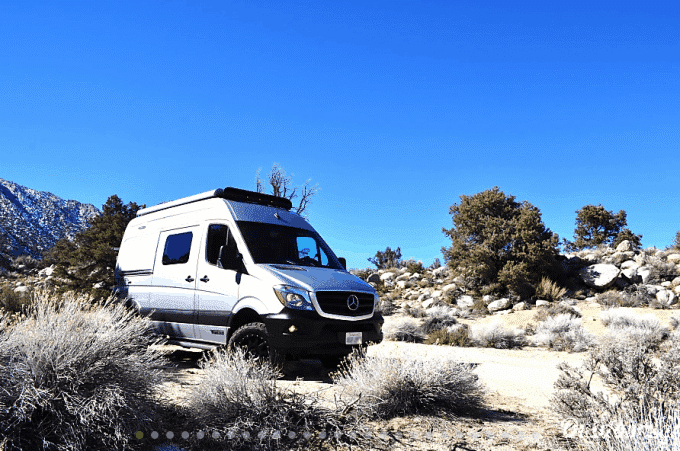 About this RV rental:
Sleeps 2, but seats 4
Has a shower, toilet, kitchen (sink with induction cook top)
Solar panel system on roof
Here's a shot with the awning out: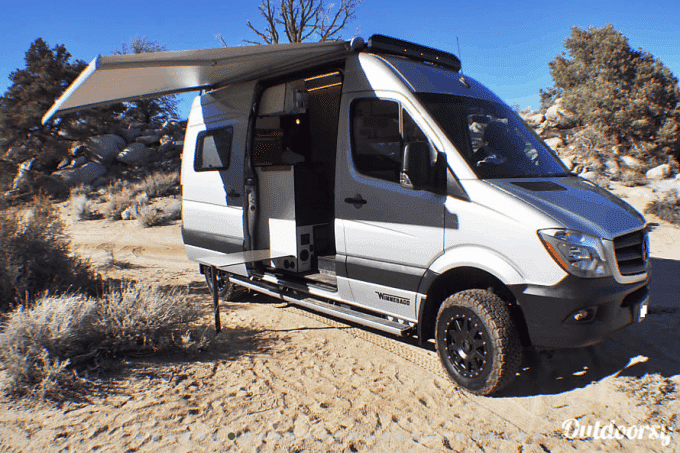 ---
8. 2016 Roadtrek Agile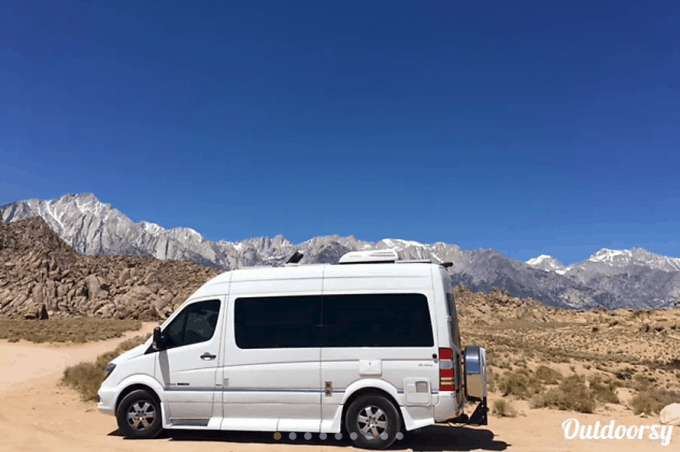 About this Class B rental:
Sleeps 2
Off the grid camping with solar panels
Is street legal
Take a peek inside: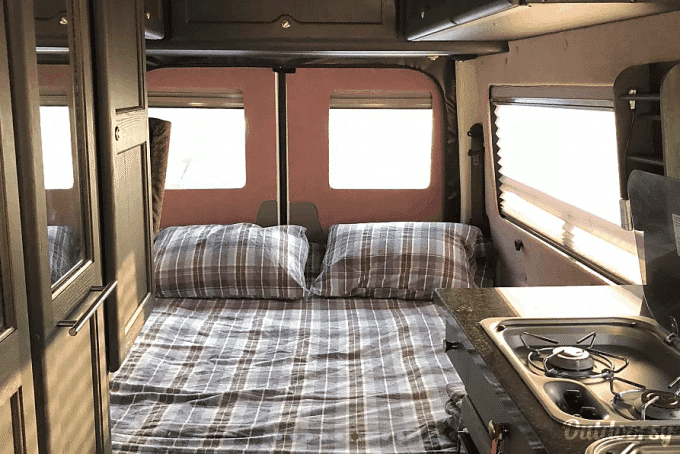 ---
Here are a couple of Class A motorhome rentals in Los Angeles. These will give you plenty of room for your family and/or friends.
9. 2012 Thor Motor Coach Hurricane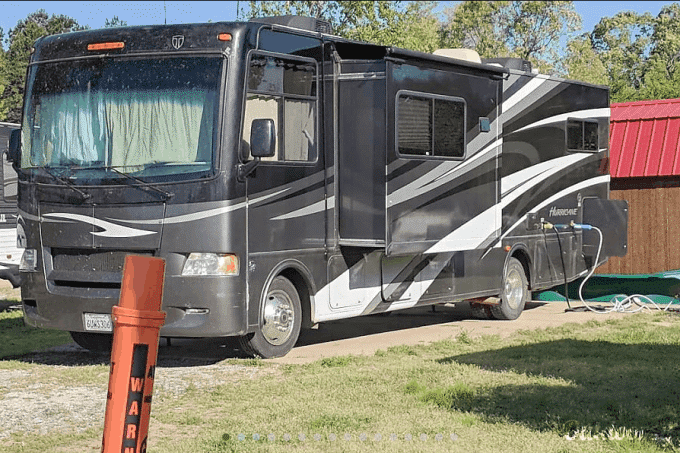 About this motorhome rental:
Sleeps 6
Features a queen bed, two bunk bed and a pullout couch with air mattress
Custom built mattresses for the queen and bunk beds for a restful sleep
Has solar panels and an extra set of house batteries for endless power while boondocked
Here's the main living area: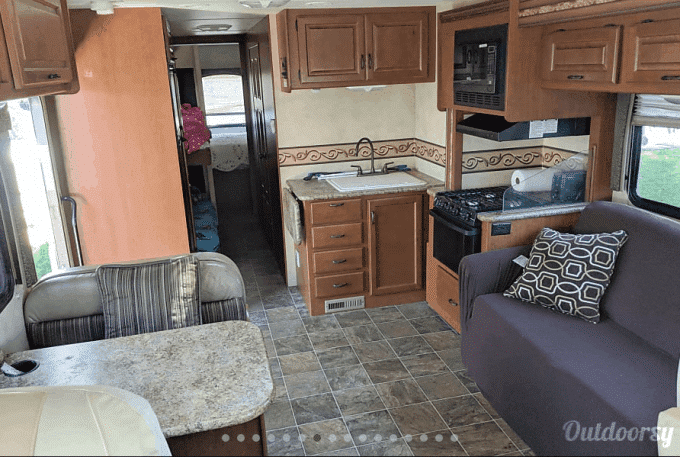 ---
10. 2004 Itasca Sunrise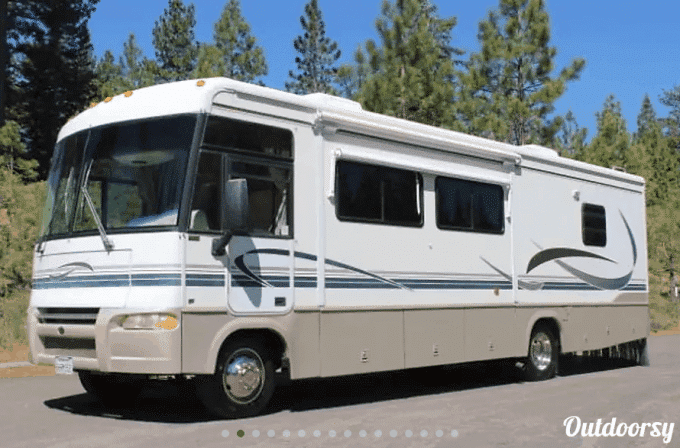 About this RV:
Sleeps 4
Comfy bed with memory foam mattress
Comes with outdoor chairs, cook ware, bedding, fully stocked
Can sleep 6; 4 adults and 2 smaller (kids) in dinette if needed
Take a peek at the floorplan: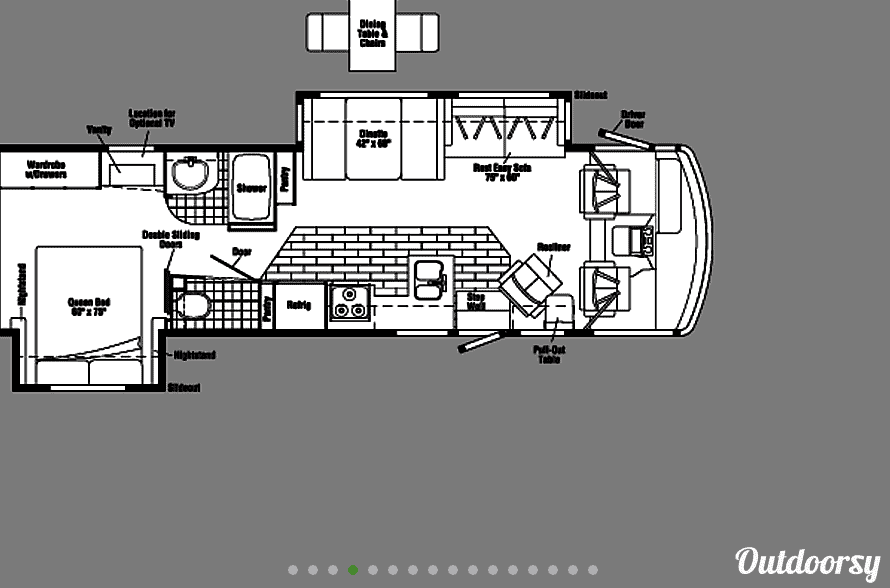 ---
Would you like to do more searching for your perfect Los Angeles, California RV rental? Use the search bar below to filter by the date, RV type, and length.
---
Things to do in Los Angeles, California
We've RV'd extensively in California and Los Angeles has been a stopping place for us both via RV and other forms of transportation. We have family there, so we get to L.A. as much as we can!
Here are a few things to do in Los Angeles:
1. Eat at Randy's Donuts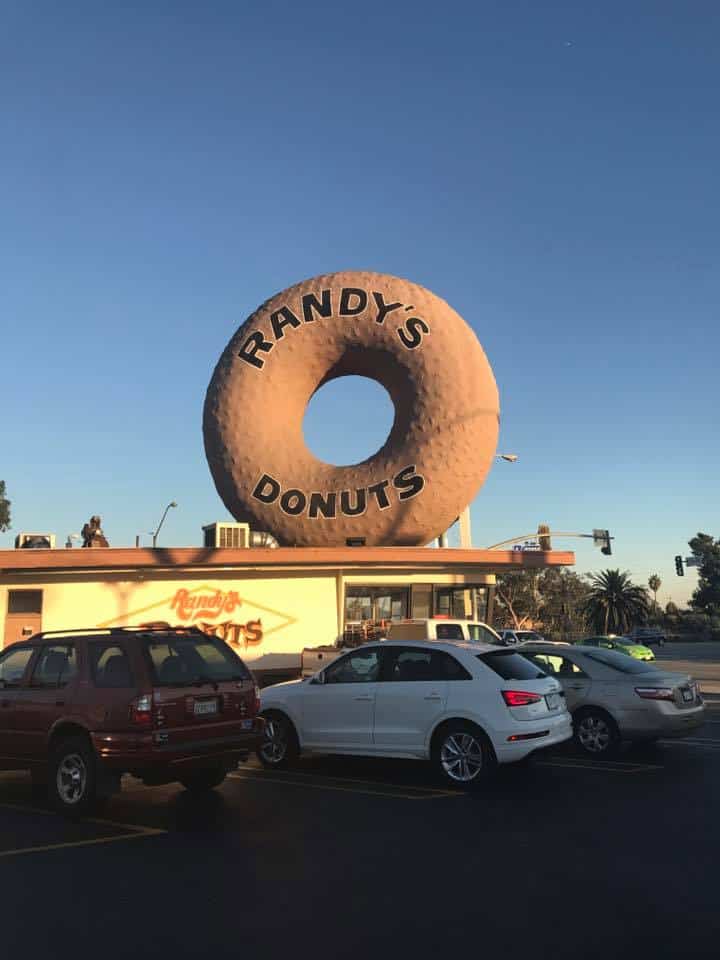 Not only is Randy's Donuts a bakery and landmark building built in the 1950s, but it has also made numerous television and film appearances including Iron Man 2. Oh, and the donuts are tasty!
2. Hike to the Hollywood Sign
I mean, you could drive, but hiking is better.
3. Take a surfing lesson at Venice Beach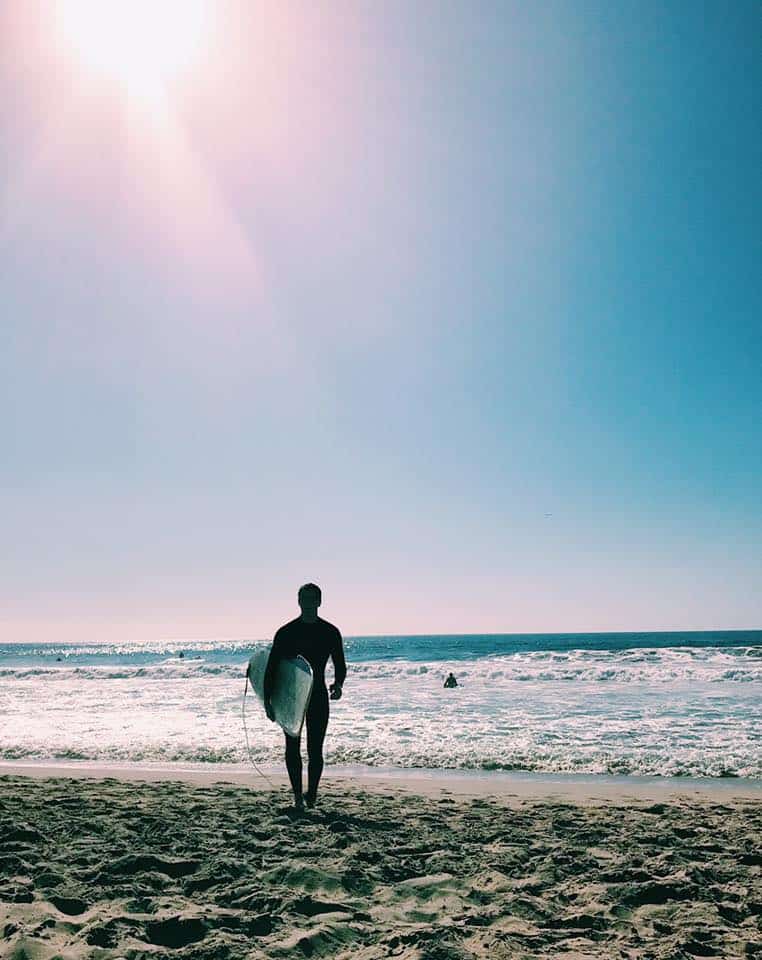 We lucked out because our nephew grew up in L.A. and surfs quite regularly. So our boys had private lessons from a family member.
You can take lessons from one of the top rated surf schools in Venice Beach starting around $149 per session.
4. Check out the Venice Beach skate park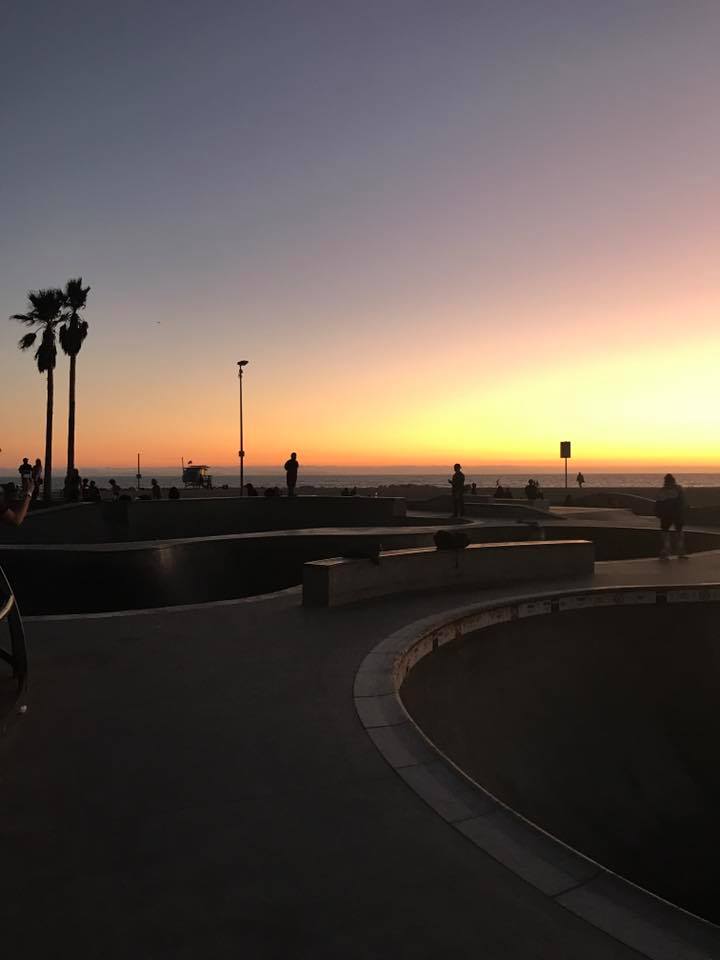 We had a blast standing around at the Venice Beach skate park and watching everyone. If you have someone who enjoys skateboarding in your family, bring a board and let them skate in one of the most famous skate parks around.
Side note: It can be a little intimidating because there is always a lot of people there both skating and observing.
5. Hang out with celebrities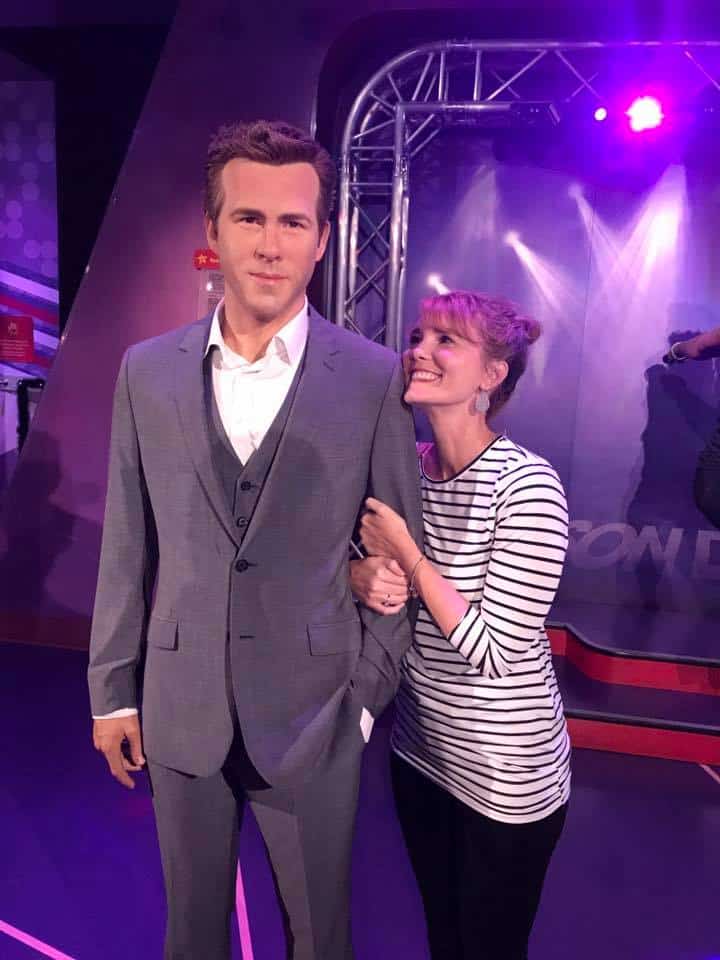 Ryan Reynolds and I had the chance to hang out for a while in L.A.
Sure, it was his wax figure from Madame Tussaud's but you can tell from the picture above we both had fun. 😉
Reportedly celebrities have been known to stand and act like a wax figure, only to come alive and scare visitors. Maybe you'll get lucky on your visit. (Or unlucky, however you want to look at it.)
We haven't been to the one in California, but the one in Florida was absolutely amazing!
7. Visit the Griffith Observatory
This observatory is owned and operated by the City of Los Angeles and offers planetarium, exhibits, public telescopes, cafe, bookstore, and the best views of the Los Angeles basin. Admission is free.
8. Do some shopping at The Grove
The Grove features shops, restaurants and maybe even a star sighting or two.
9. Catch an Event at the Staples Center
There's always something going on at the Staples Center, including sporting events and concerts.
10. Visit Griffith Park
This is the largest municipal park and urban wilderness area in the United States, covering more than 4,107 acres of natural terrain. Plan to spend the whole day here visiting the Griffith Observatory, The Gene Autry Western Museum and doing tons of hiking and walking adventures.
We hope you have an amazing RV vacation in Los Angeles, California!
---
Are you looking to explore more fantastic RV destinations? Check out the following RV rentals and tips on what to do once you get there.
We've RV'd from coast to coast and love sharing where we explored and what we did while there.
RV Vacation Destinations
Alaska
California
Colorado
Texas
Pin this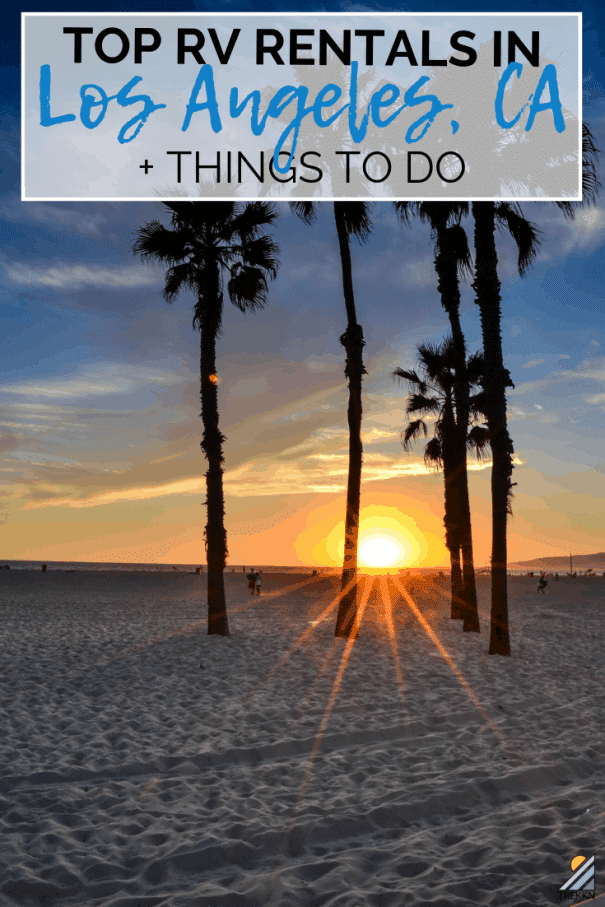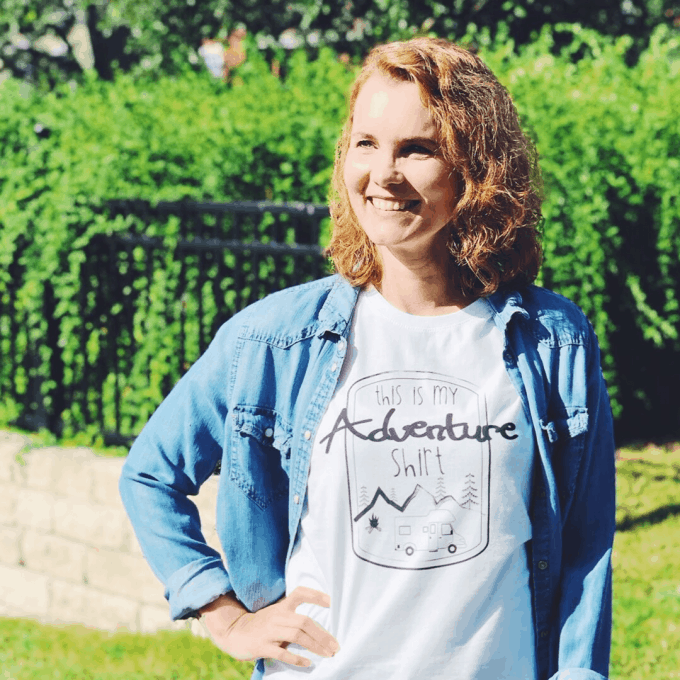 Julie specializes in helping you whip up delicious meals in your tiny RV kitchen, as well as RV organization tips and helping fellow RVers make their RV feel like home. Her favorite RVing spot is in Banff National Park in Canada where yes, the water really is that blue and the people really are that nice.