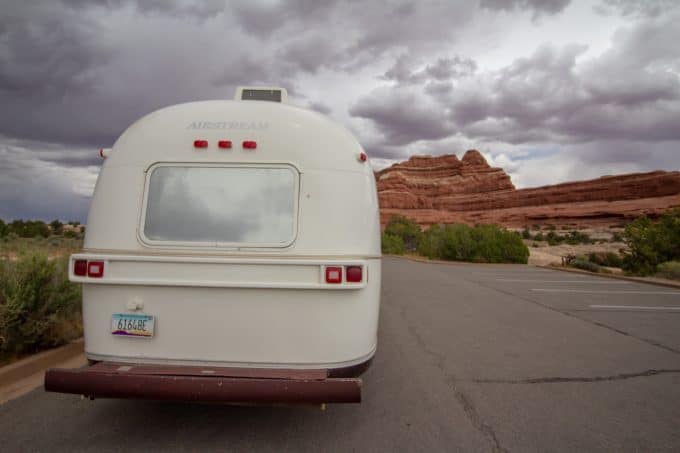 When you find yourself near Moab, the call to visit Canyonlands National Park is one you can't ignore. Even though this national park is more for the overlander or off-road adventurer, there are still things to see and do if you're RVing through the area.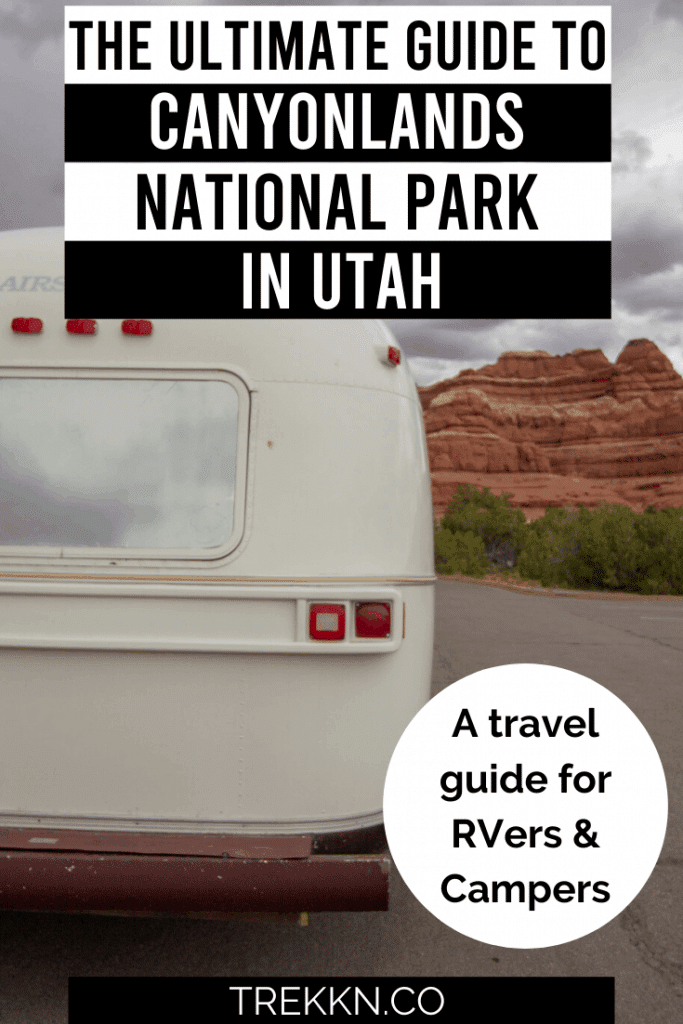 Some Quick Facts About Canyonlands
Open 24 hours, 7 days a week
Best times to visit: Spring & Fall
Consists of 3 Districts: Island in the Sky, The Needles, and Maze
Largest national park in Utah
Divided by the Green and Colorado Rivers
Pet-friendly options are limited
Canyonlands is one of the most beautiful national parks in the U.S., but it's also one of the most primitive. When you're out amongst the canyons, you will need to be able to take care of yourself and come prepared with all the essentials.
Canyonlands is truly a place where you can experience the solace and beauty of the desert without any distractions. What more could you ask for?
The Ultimate Guide to Canyonlands National Park for RVers
Our Agenda
During our trip, we decided to visit the Needles district as it was the closest entrance to the park as we drove up from Monument Valley a few hours south of the park.
At the time we visited the park, we had our dog, Rory, with us so we didn't get to drive down into the canyon (as pets are not allowed even inside vehicles on unpaved trails or roads). But we did see quite a few things around the park that didn't require 4×4 clearance.
We stopped in to visit the Visitors Center where I grabbed a handful of souvenirs (including an amazing book called End of Night by Paul Bogard), asked the Park Ranger for a little more information (be aware that there are no pet-friendly options, outside of the campgrounds and paved lots in the Needles district), drove down the road to take in the views at various pull-outs and trails, and witnessed the desert weather turn from sunshine to downpour in the distance.
Throughout this guide, I will add notes here and there of the things we've learned while visiting Canyonlands to help you decide which district is the one for you!
What to Know About Canyonlands
Canyonlands offers over 300,000 acres of wilderness to explore, but you won't be able to visit all of it at one time without having to drive several miles in between each district. Because the Green and Colorado rivers divide the park, you cannot cross from one district and into another.
So pick your districts wisely to use your time most efficiently! Or make several trips and spend several days in each spot to really discover Canyonlands' deepest nooks, crannies, and secrets.
WEATHER ALERT: Like most places in the high desert, the weather can change in an instant. As soon as we exited the Visitors Center (roughly 20 minutes spent indoors), the sky changed from blue to a dark and tumultuous gray in the distance. Be prepared for wind, rain, and sunshine…all on the same day!
Why Visit Canyonlands?
There really is something for everyone at Canyonlands National Park. From rafting to horseback riding, you can experience the canyon above, below, and on the water. If you're RVing with toy haulers, mountain bikes, or climbing gear, there are places throughout the park you should explore.
Backpack: Backcountry camping is allowed with a permit. Sites are categorized as sites and zones. At-large sites must be one mile from any road and at least 300 feet from any archaeological, historical, or water site.
Hike: Must hike trails include Mesa Arch, Gooseberry Canyon, Druid Arch, Confluence Overlook, and more!
Bike: White Rim Road is the perfect place to spend a day or two mountain biking through the desert.
Climb: You can shimmy up the sandstone towers in the Island of the Sky district if you're into rock climbing. No permit is needed to climb, but a permit may be needed if you wander off too far. Check with a Park Ranger to learn more.
Boat or Raft: If you're interested in packrafting or boating down the Green or Colorado rivers, you will have to launch just outside of the park and float on down. You'll need a permit though, so be sure to go with a local, registered guide or pick up your own permit before you get started.
Horseback Ride: Horses are welcome to journey with you through Canyonlands though they need a permit for some areas like Lavender Canyon and Salt Creek areas.
Stargaze: Almost anywhere in Canyonlands is perfect for stargazing. Lay back, relax, and wait for the stars to come out and greet you.
Tent or RV Camp: There are only 2 campgrounds in the park: The Needles (29 sites, no hookups, potable water available seasonally, 28 ft max for RVs and trailers) & Island in the Sky (12 sites, no hookups, no potable water, 28 ft max for RVs and trailers) districts.
Canyonlands Districts
Island in the Sky
We tend to avoid the crowds, so we didn't visit the most popular district in the park, Island in the Sky. Roughly 40 miles from the town of Moab, most visitors flock to this section of the park as it offers spectacular views from every angle, hiking trails, and 4×4 roads down into the canyon that are as breathtaking, if not more so, than the views from the top of the canyon.
Information & Camping
The Visitors Center here is open 7 days a week Spring through Fall and 5 days a week in the winter. At the Visitors Center, you can purchase backcountry permits, souvenirs, and learn more about the park.
Island in the Sky offers 12 campsites that are first-come, first-served and are limited to 7 day stays. These campsites do not offer electric hookups and do not have access to WiFi or cell service. There isn't any lodging or water available in this district either, so if you want to be living luxuriously you should top off all of your supplies and fuel in Moab or any of the surrounding towns. At Island in the Sky, RVs and trailers must be shorter than 28 feet to set up camp at the campground.
Pup Talk: If you have pets with you, Island in the Sky is your best bet if you need to let your furry friends stretch their legs. All pets must be leashed at all times, but you can walk your four-legged pals around the campground, paved lots, and on Potash and Shafer Road Canyon road.
What to See & Do at Island in the Sky
Island in the Sky is a popular place to visit for RVers and National Park lovers alike because it offers so much in one district. From hiking to biking, there's plenty to do and see if you spend a few days at Canyonlands.
Mesa Arch Trail
Mesa Arch is one of the most popular hiking trails in Canyonlands. This arch is often where you can find photographers hanging out before sunrise because it offers one of the most beautiful views in the entire park. A little over a half-mile of walking and you'll find yourself in front of Mesa Arch overlooking the canyon.
White Rim Road
White Rim Road is a 100-mile loop that is open for offroading, biking, and hiking. If you choose to travel by vehicle, you can circle the entire road in 2-3 days, while biking will take you an extra day or two. You must have a day or overnight permit, no matter how you travel on the White Rim Road as the road is unpaved and the weather conditions can change instantly, making the route impassable.
All that said, the White Rim Road is not something to miss as it takes you below Island of the Sky and down into the canyon for the best views. This is your chance to get dwarfed by those canyon walls!
The Needles District
The Needles district rounds off the southeast corner of Canyonlands and features the famous Needles hike. A little further out of the way from Moab, the Needles district is the second most-visited district in Canyonlands.
Information & Camping
The Needles visitor center is open daily from spring to fall and offers a few more amenities than Island in the Sky. With WiFi and water accommodations, you can reset and recharge when you stop by for park information. Ranger programs are hosted most nights March through October, so be sure to ask for details if you plan to stay the night.
The Needles Campground hosts 29 campsites, 26 individuals and 3 group sites. You can reserve campsites in the spring and fall, but other times of the year it's first-come, first-served. Each site comes with a campfire set up and access to restrooms and picnic tables. Like Island in the Sky campgrounds, 28 feet or less is recommended though there are a few spots for longer vehicles. Call ahead of time to check with the Visitors Center to learn more.
Things to Do in the Needles District
Just like Island in the Sky, you can see and do just as much in the Needles district. Some of the best parts of this district are right off the paved roads, while others require a little more offroading ability and experience.
Pothole Point
Pothole Point is a neat little area that showcases just how wonderful nature (and years of erosion) can be. This gigantic rock formation is covered in "potholes," which are the result of uneven erosion over the years.
On rainy days, like the day we visited, the potholes fill up with water and come to life with little desert water creatures, like tadpole shrimp. We didn't see any little guys, but a Park Ranger will tell you that little tiny eggs live under the dirt that spring to life when the rain pours down. Do your best not to walk in the potholes, whether they're wet or dry, to avoid hurting the micro-ecosystems these little critters belong to. But feel free to take a peek and see what's swimming in them before moving on.
Pothole Point is a great place to take in the views of the canyon, too, so be sure to stop and linger here for a while. We witnessed the desert sky unleash a downpour in the distance as the wind blew past us. We left with sand between our teeth, but I smiled the whole way back into town.
Needles Trails
Visiting the Needles can be done on foot or in a vehicle. With 50+ miles of road to travel and 60 miles of trails, you can have the adventure of a lifetime no matter how you travel. You'll need a permit for day or overnight use, so don't forget to stop at the Visitors Center to grab one before heading out.
Elephant Hill
All roads are 4×4, high-clearance trails that only allow vehicles, trailers, and motorbikes under 21 feet in length to travel through. Elephant Hill is probably the most well-known 4×4 road in the Needles district and is home to some of the most adventurous (and treacherous) trails for mountain bikers and overlanders.
Druid Arch
The trail to Druid Arch is roughly 11 miles, but it offers an amazing view of the park as you look through the arch. This uniquely angular arch is one you don't want to miss while exploring Canyonlands because you won't be able to find one like it anywhere else, not even in Arches National Park which is just north of Moab.
We didn't have time to trek 11 miles into the canyon, but next time we visit this arch is first on our list!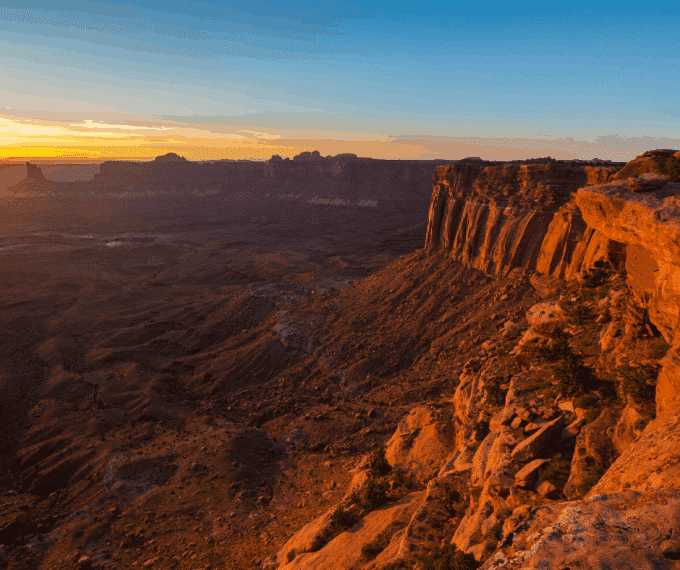 Maze District
Last, but not least is the Maze district. The Maze is the least accessible district in Canyonlands due to how remote and rough the roads are there. This is not the most ideal place to visit in Canyonlands with an RV or trailer, but it may be worth visiting sometime if you are well-prepared for offroading, self-sufficiency, and self-rescue if necessary.
There is no place to set up camp with an RV here either, so your best bet is to camp in Island of the Sky or the Needles campgrounds and drive out to the Maze separately for a daytime excursion.
We're always up for some Type 2 fun and we hope to visit the Maze next time we wander through Canyonlands. I say Type 2 fun because Canyonlands National Park recommends bringing 25+ feet of rope to help you lower and raise your pack over high points as you traverse the backcountry. What's cooler than creating a rope system to help you move your things through narrow, high places? My mom might say everything, but what's life without a little challenge?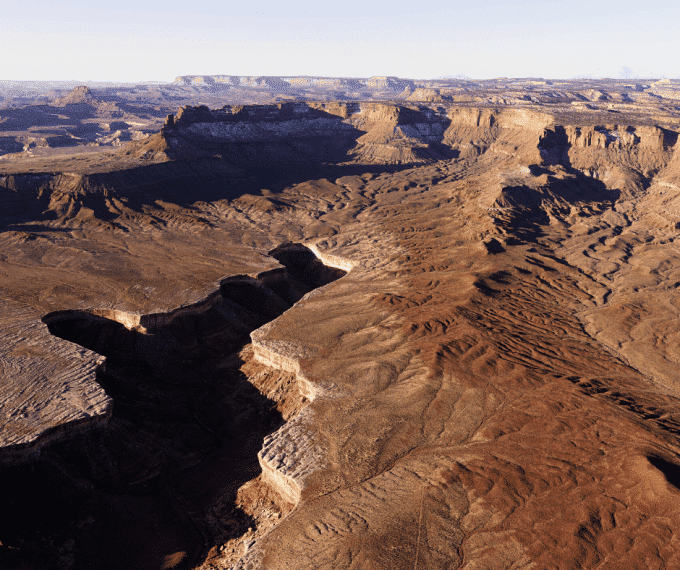 Horseshoe Canyon
We can't forget to add Horseshoe Canyon to the list of things to see and do at Canyonlands. This part of the park is disconnected from the other three districts and offers more than just hiking. This area is known for its Native American rock art. If you choose to add this stop to your list on your way into or out of the Maze or Island of the Sky districts, you should:
Hike to see the Great Gallery: A seven-mile hike to see life-size petroglyphs and pictographs up close and personal.
Take a Ranger Guided hike: Learn the history behind the Native Americans who took up rock art in the area to tell their stories.
Witness the trees and scenery: Besides the rock art, the views Horseshoe Canyon offers are much different than the ones deep inside Canyonlands. For the flower-lovers, the cottonwoods and wildflowers that bloom inside this canyon throughout Spring and Fall are worth stopping for.
The Lessons We Learned During Our First Visit

Bringing a Pet is Too Complicated (For Us)
Now that we've been through the Needles district, we've learned that bringing the dog with us just isn't feasible. At some national parks, bringing a pet is doable, but we got the vibe that the Park Rangers had to deal with pets more often than they'd like (and they weren't super friendly about it.)
We love bringing Rory with us to hike, but for our next trip we hope to rent a few motorbikes, pack it up, and ride it out in the canyon for a few nights. Rory will just have to stay home. But don't worry, we'll bring home a souvenir for her from the gift shop!
Check the Weather
Just because the weather is going to be nice in Moab doesn't mean it will be when you get into Canyonlands. Always check the weather before descending down into the canyon because we could have easily found ourselves in a sticky situation if we had gone below the rim the day we visited.
Why We Love Canyonlands
Even though we didn't get to see as much of the park as we wanted because we had the dog with us, we can't imagine a better place to find ourselves lost. Canyonlands is truly a beautiful expanse of desert that is relatively untouched and you can see it just by walking a 100 yards from the Visitors Center.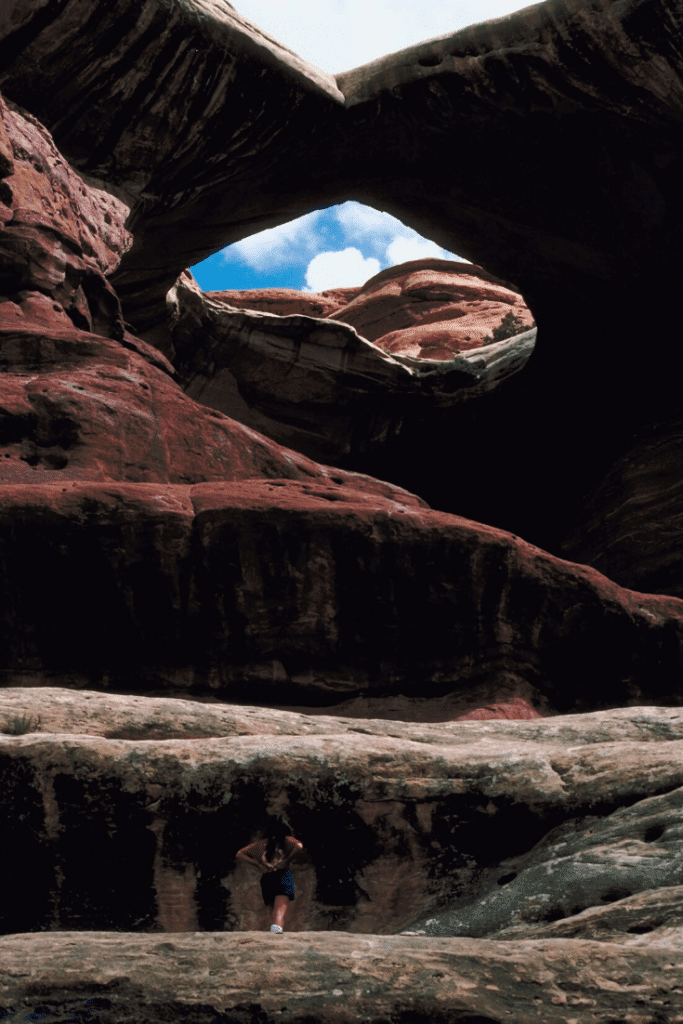 This park goes unnoticed by many National Park tourists because it requires preparedness, effort, and permits for most activities. But for us, we want the challenge of a difficult hike, a strenuous rock climb, and rushing whitewater rafting trip. This park is truly a remarkable place for views but also for challenging yourself and leaning into the desert silence.
When you're out in the park, you truly understand how powerful and beautiful nature can be. Just by witnessing the sunset, the massive red pillars of arches, and the rush of the rivers, you feel at home even if you're far away. And to us, that's what's most important.
You Can't Go Wrong with the Desert
The desert is a place where many go to reconnect with the wildness we miss out on every day. This National Park is truly one you can't miss while traveling through Utah because it offers so much more than just a great view.
From its history to its long list of available outdoor activities, Canyonlands is a place where an adventurer of any skill level can enjoy the solace of a place so different from the roads and cities we frequently travel as RVers. Visit Canyonlands and see for yourself how easily it recharges and refills you in ways you could never expect.
"What makes the desert beautiful is that somewhere it hides a well." — Antoine de Saint-Exupery
If you enjoyed this post, here are a few more guides to our incredible U.S. National Parks:
PIN THIS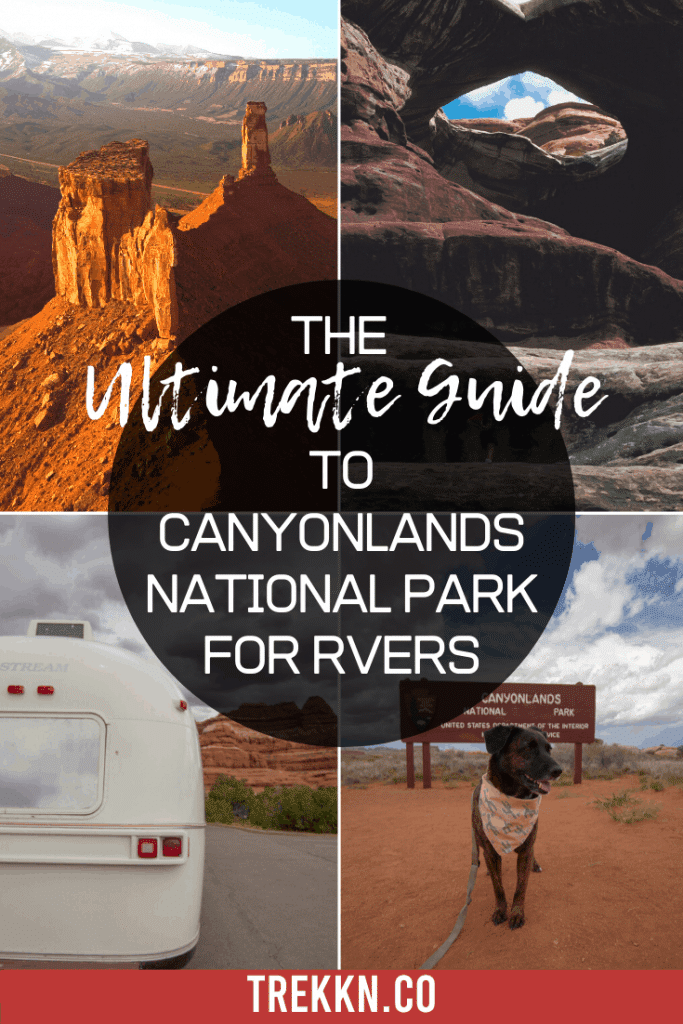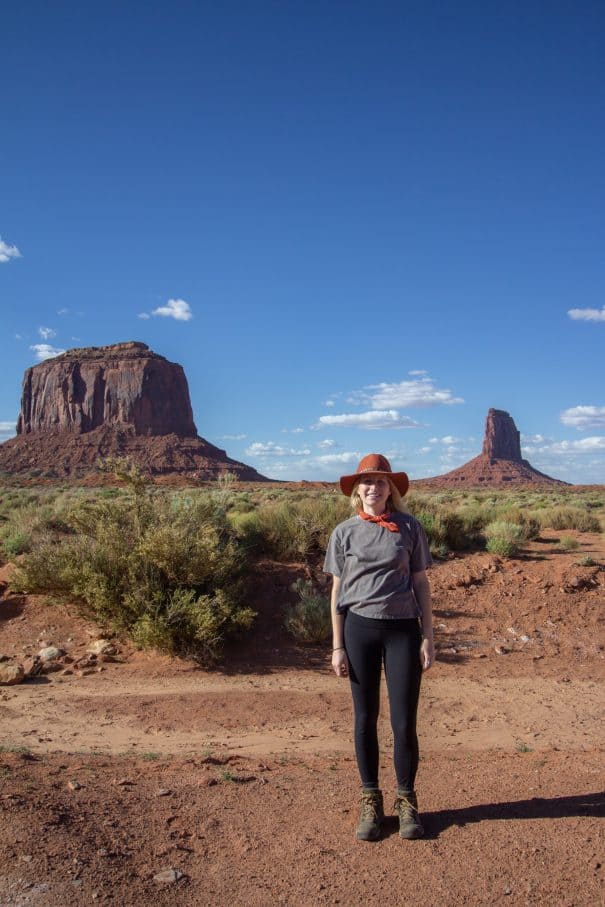 Erin Maxson is rooted in South Dakota, but wanders every chance she gets to see the beauty that nature holds. From hiking to climbing, there's not an adventure she'll turn down.
After renovating her 1976 Airstream Argosy, Erin knows the ins and outs of living life on the road and trailer maintenance.
Whether she's on the road with her dog and partner or at home curled up with a good book, Erin is always planning her next adventure because life is meant to be lived outdoors.