We've been a little busy around here lately creating printable RV decor for our new TREKKN shop.
We've received such amazing feedback on our National Park printables (map and checklist), plus printables is one way I easily decorated our travel trailer, so we decided to create some designs of our own.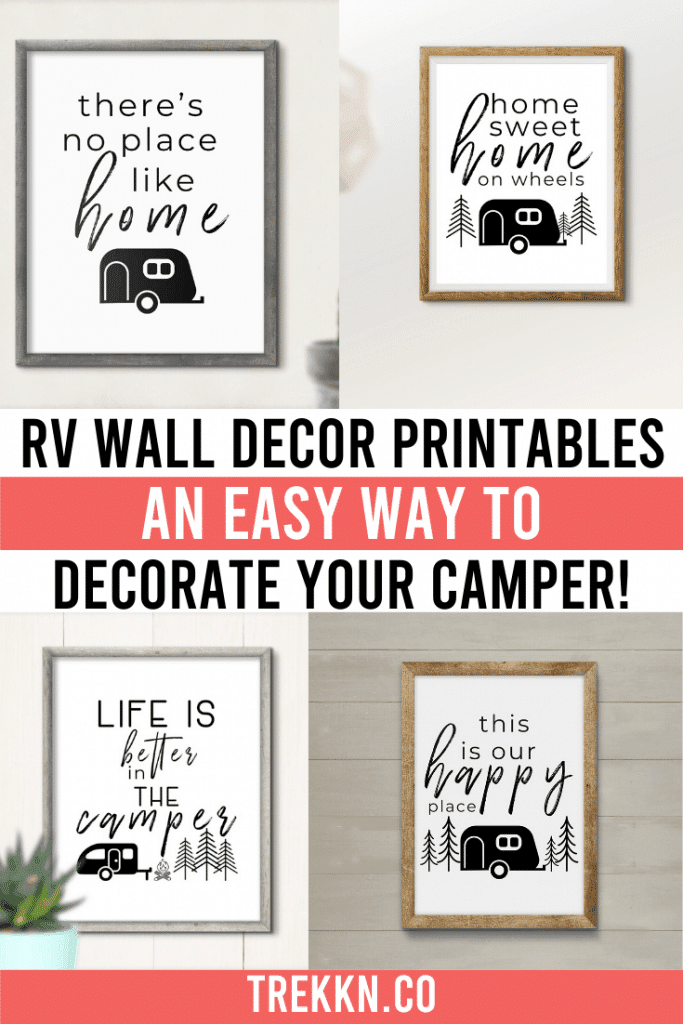 It really is the easiest way to decorate your camper interior. Just print and frame!
Here are a few of our favorite decor printables from the shop. We would love it if you let us know what you think of these, plus any designs you'd like to be added. We're taking requests!
Printable RV Decor for Your Camper Interior
My RV Is Home Printables
You'll notice a theme with a lot of these printables and that's the word "Home".
Our most popular article here on TREKKN is How to Make Your RV Feel More Like Home. Making our travel trailer feel like a home was important to us and it seems to have resonated with you all. And we love that.
We also sold a lot of our Airstream and Fifth Wheel Home shirts over the holidays.
We strongly feel that whether you travel full-time in your RV or load it up for epic weekend trips, it should feel like a home. It's your cozy escape from the daily grind.
Check out some of our RV printable decor favorites.
There's No Place Like Home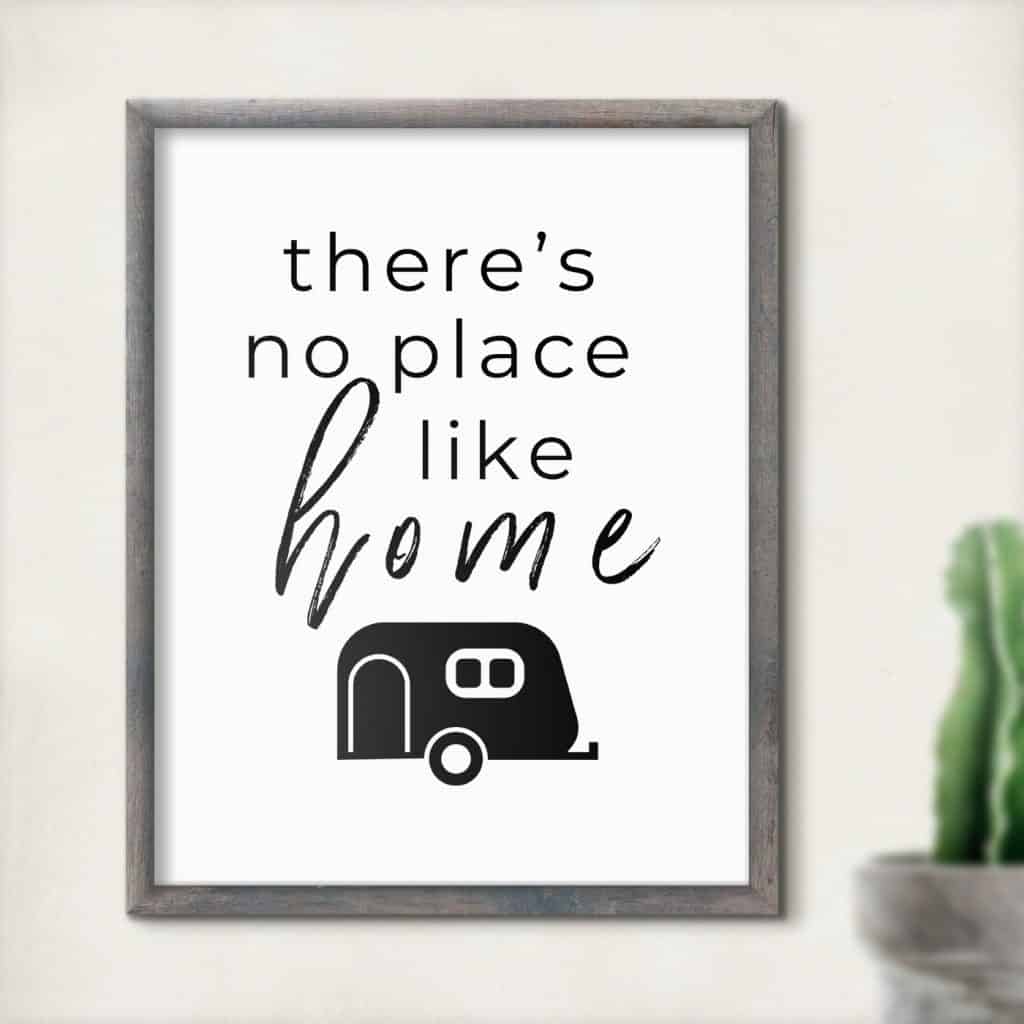 During our full-time RV travels, we would sometimes stay in an Airbnb. Once we had to when our pipes froze because we thought RVing in the winter in Colorado sounded like a great idea. (It did end up being great because we got to spend the holidays with family AND we learned a thing or two about winter RVing.)
We also did it a couple of other times to give the five of us some breathing room.
But every time we stayed at an Airbnb and then came back to the RV, we would walk in and say 'There's No Place Like Home' and it felt so good to be back.
Click Here to See This Printable
Home Sweet Home On Wheels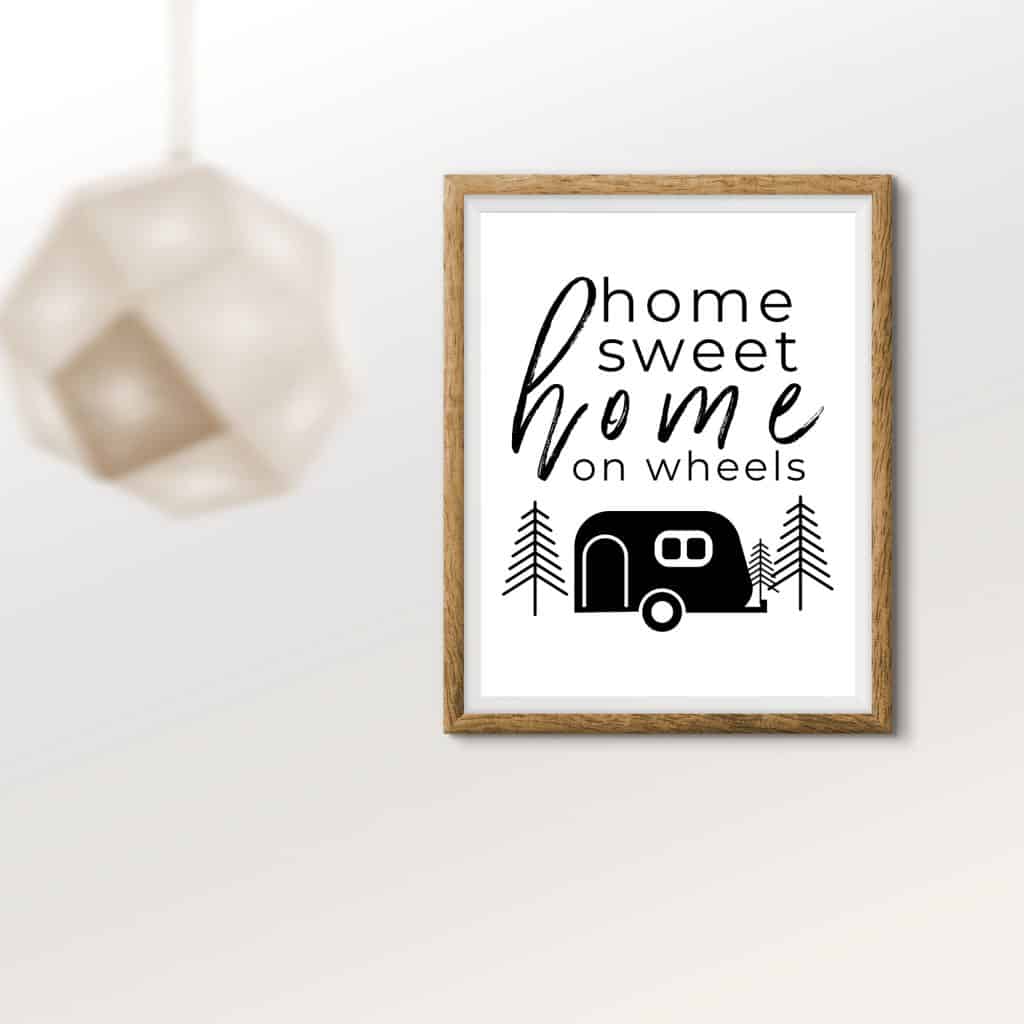 Is your RV your Home Sweet Home…On Wheels? Ours too.
Click Here to See This Printable
This Is Our Happy Place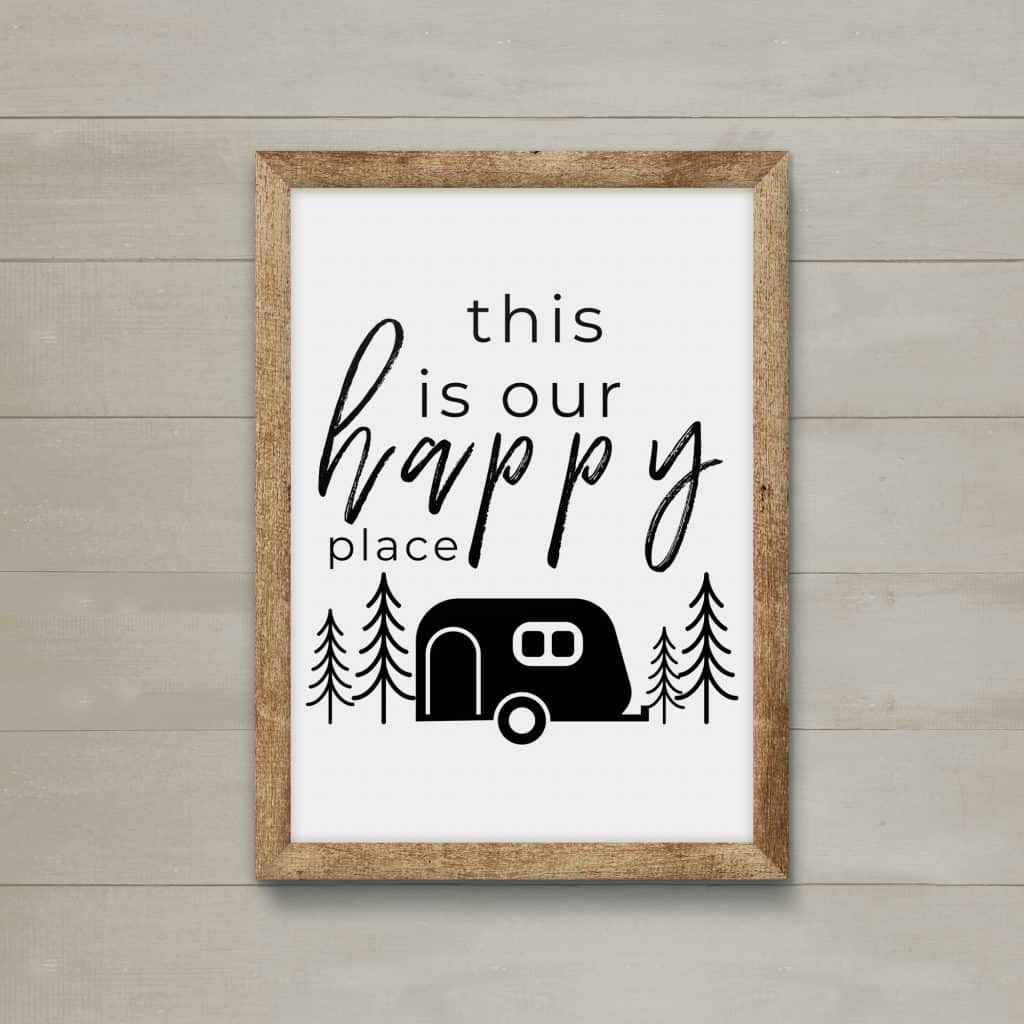 If your camper is your happy place, this wall art is for you.
Click Here to See This Printable
Life Is Better In The Camper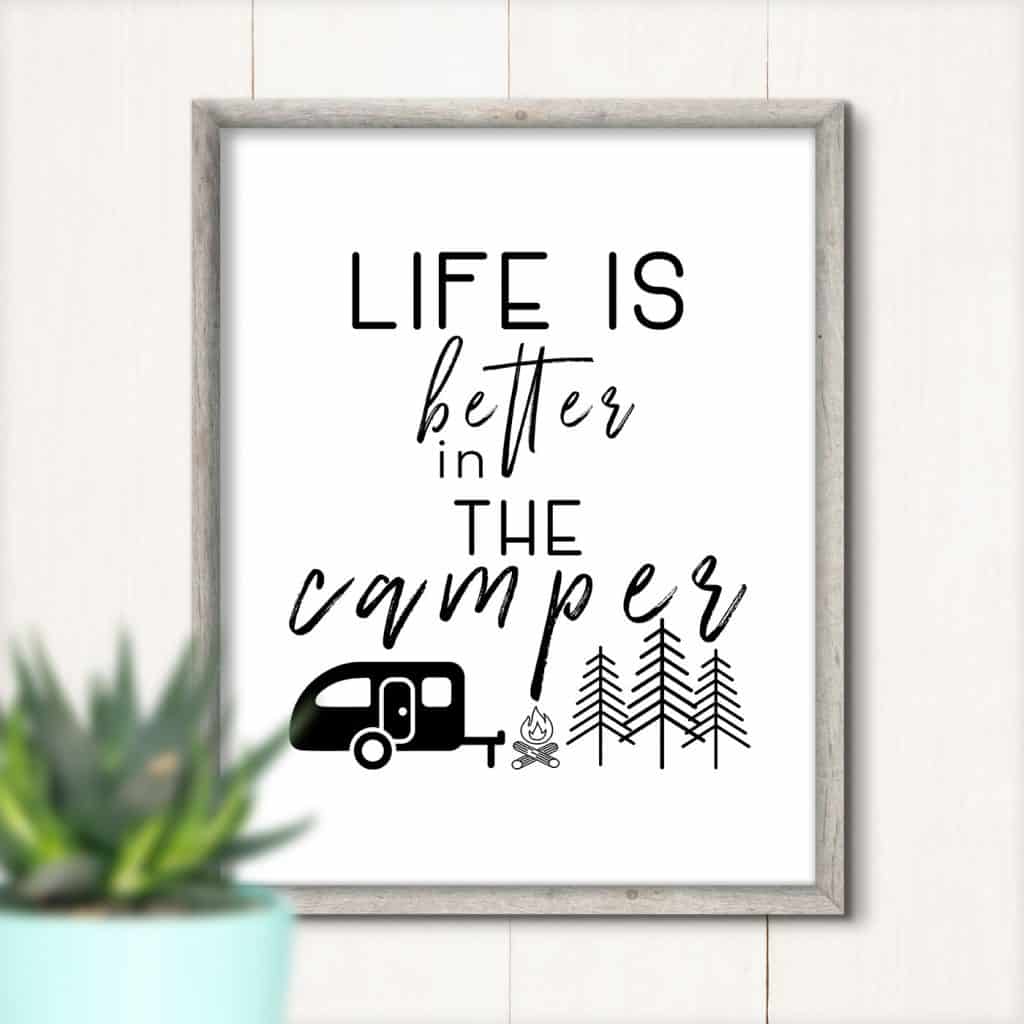 If you repeat this mantra to yourself while at work…this printable is for you.
Click Here to See This Printable
Home. Printables
We have four different versions of our Home. printables:
Camper
Airstream
Fifth Wheel
Travel Trailer
And of these four versions, we've included an outlined one and a black one.
Camper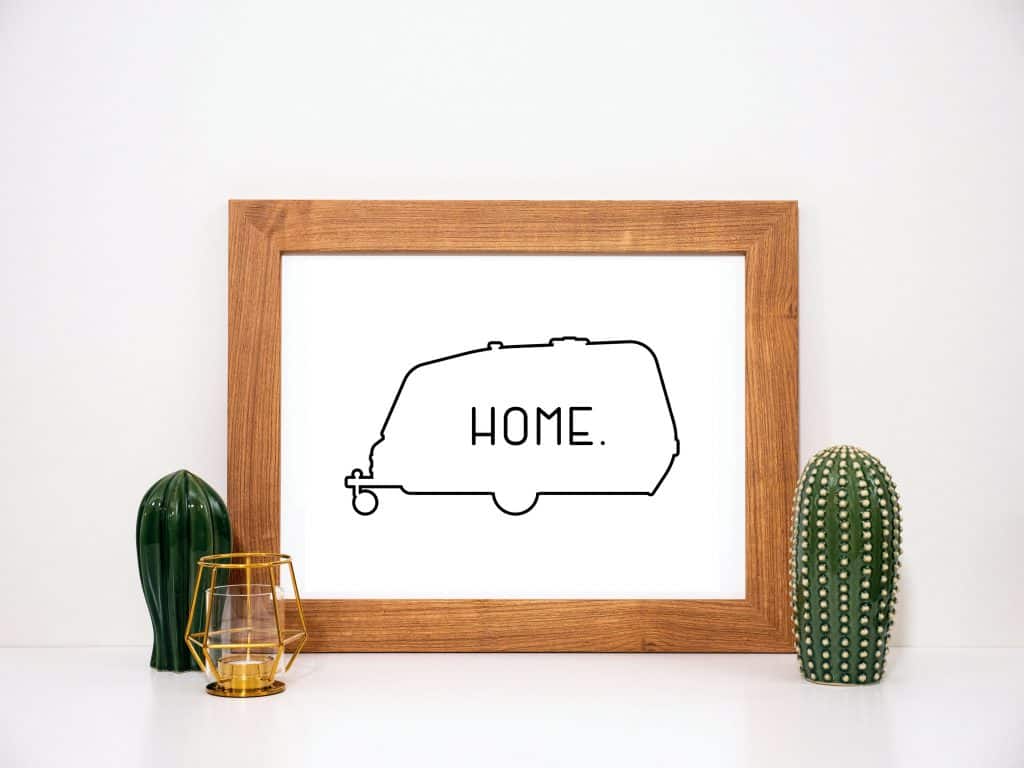 Click Here to See The Two Versions
Airstream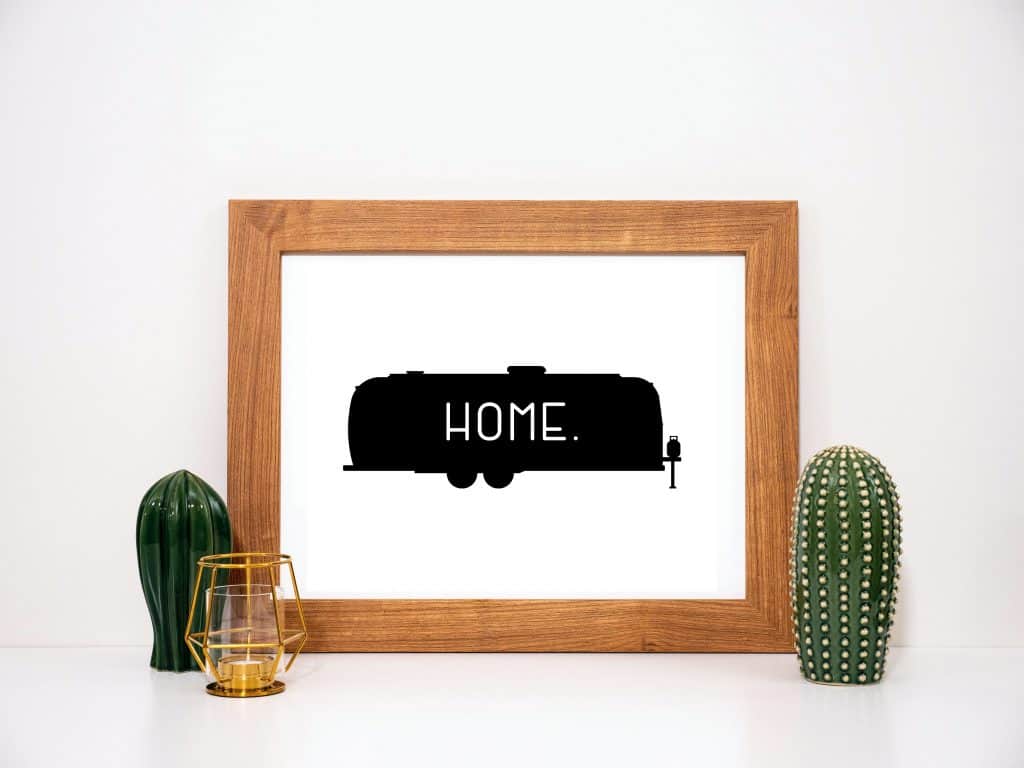 Click Here to See the Two Versions
Travel Trailer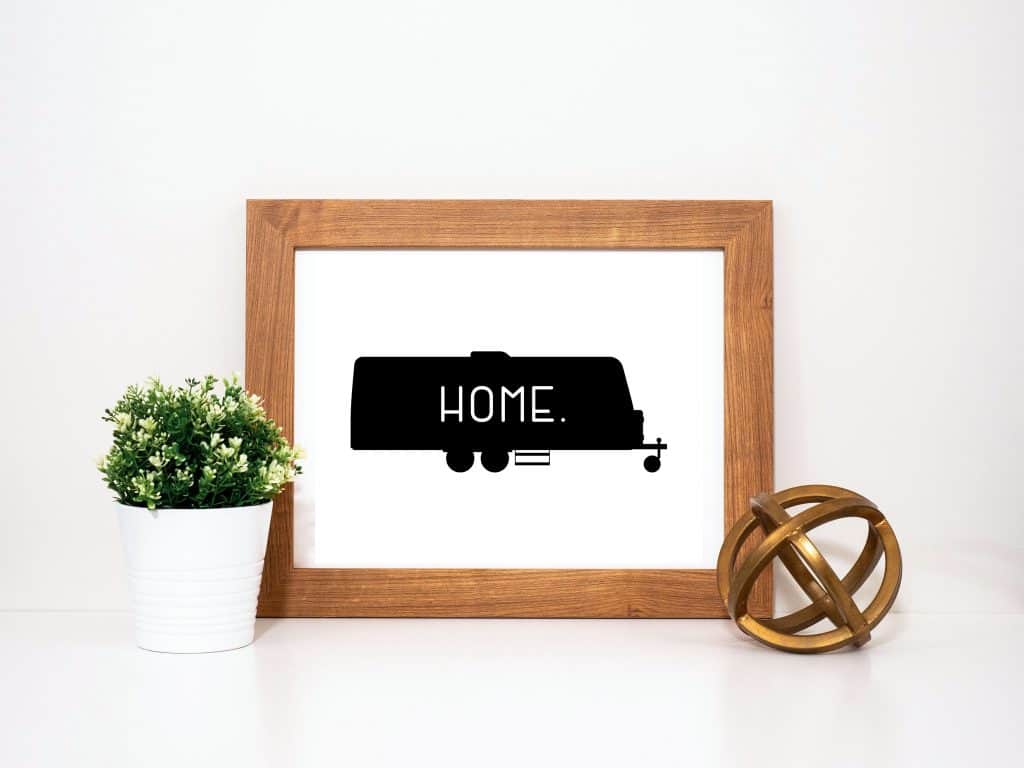 Click Here to See the Two Versions
Fifth Wheel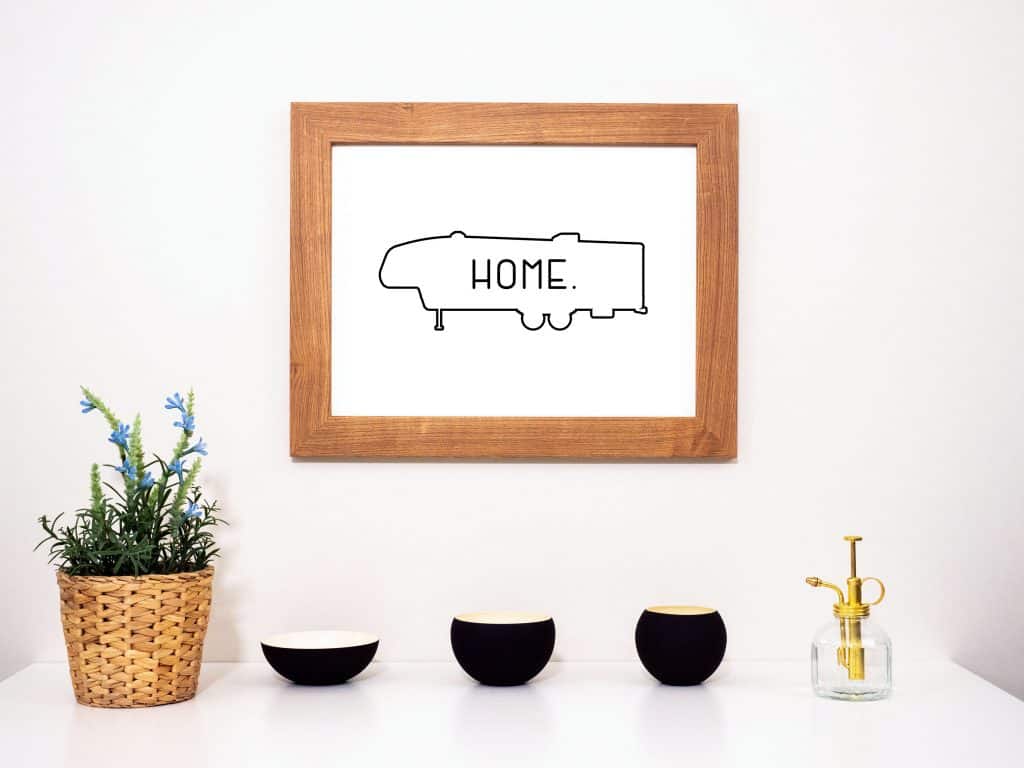 Click Here to See the Two Versions
Home. It's Where You Park It
We also added "It's Where You Park It" to the Home. series. (Yeah, we know the saying goes Home Is Where You Park It but we thought we'd mix things up a bit. I mean, why not?)
Camper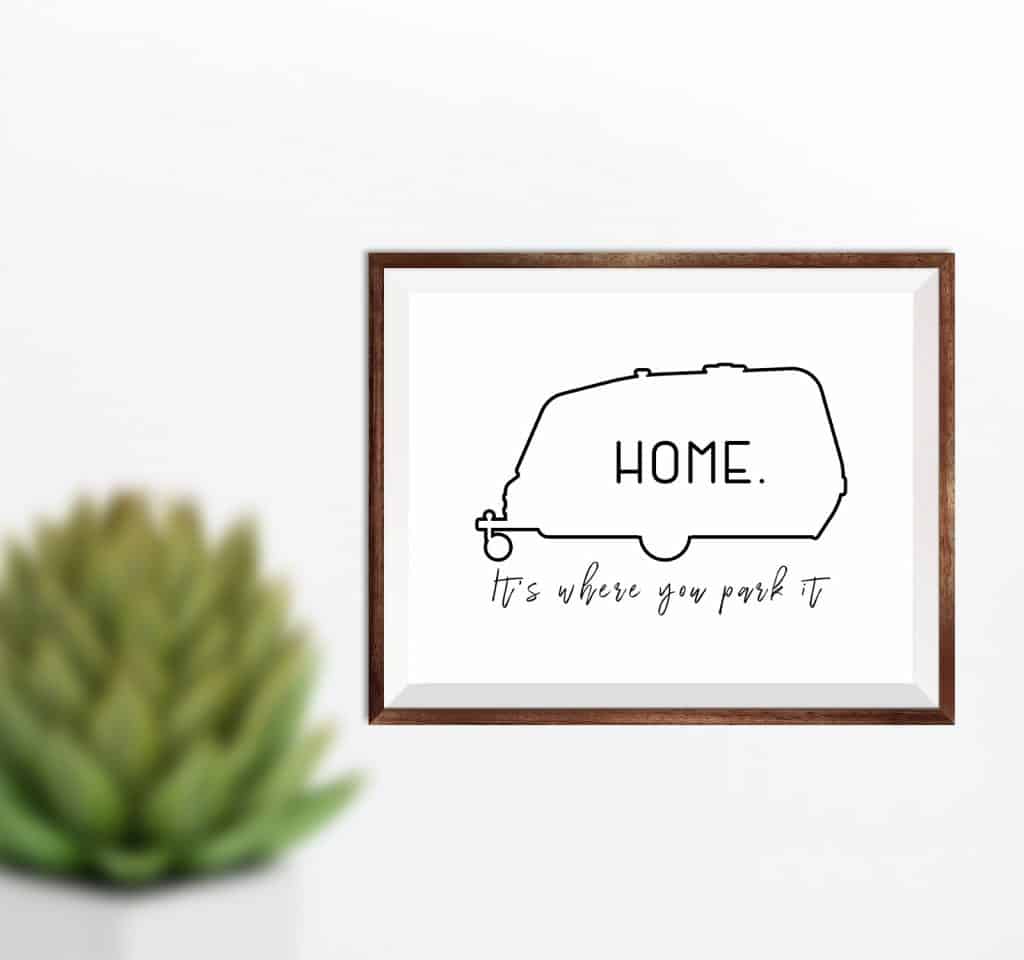 Airstream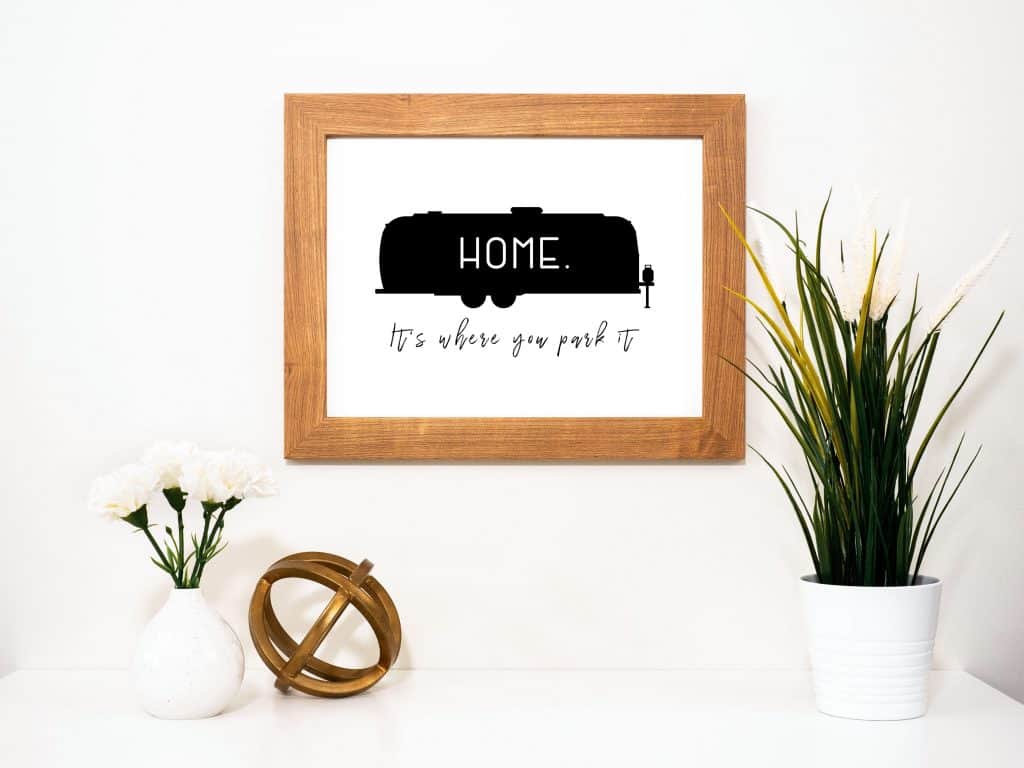 Travel Trailer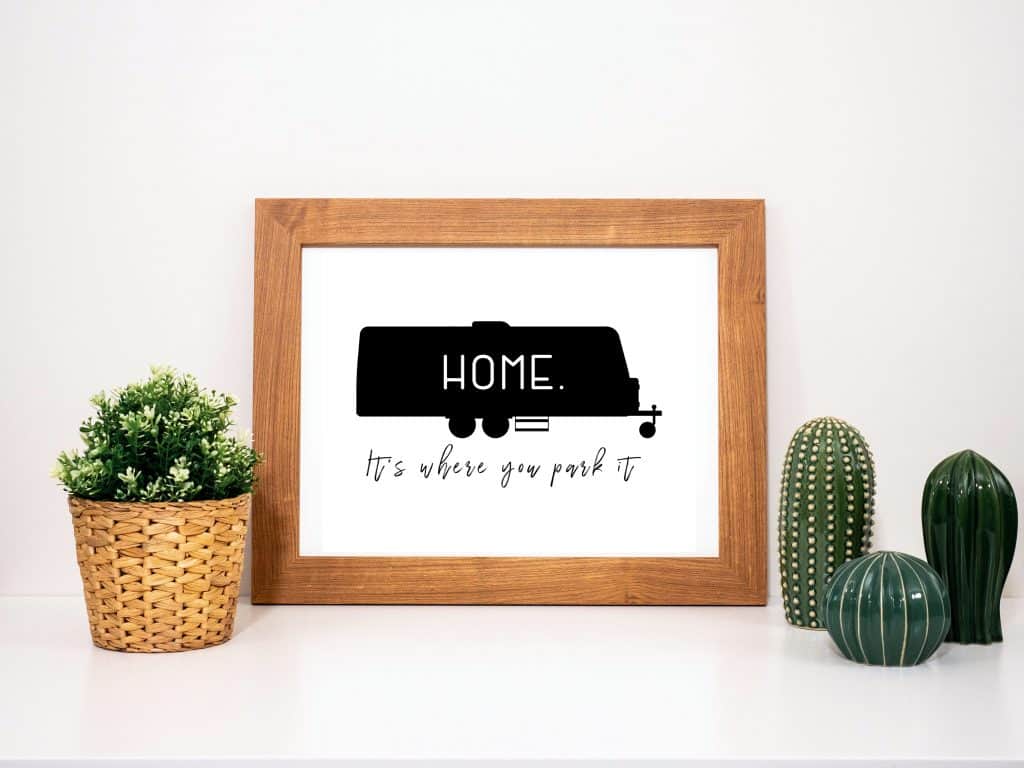 Fifth Wheel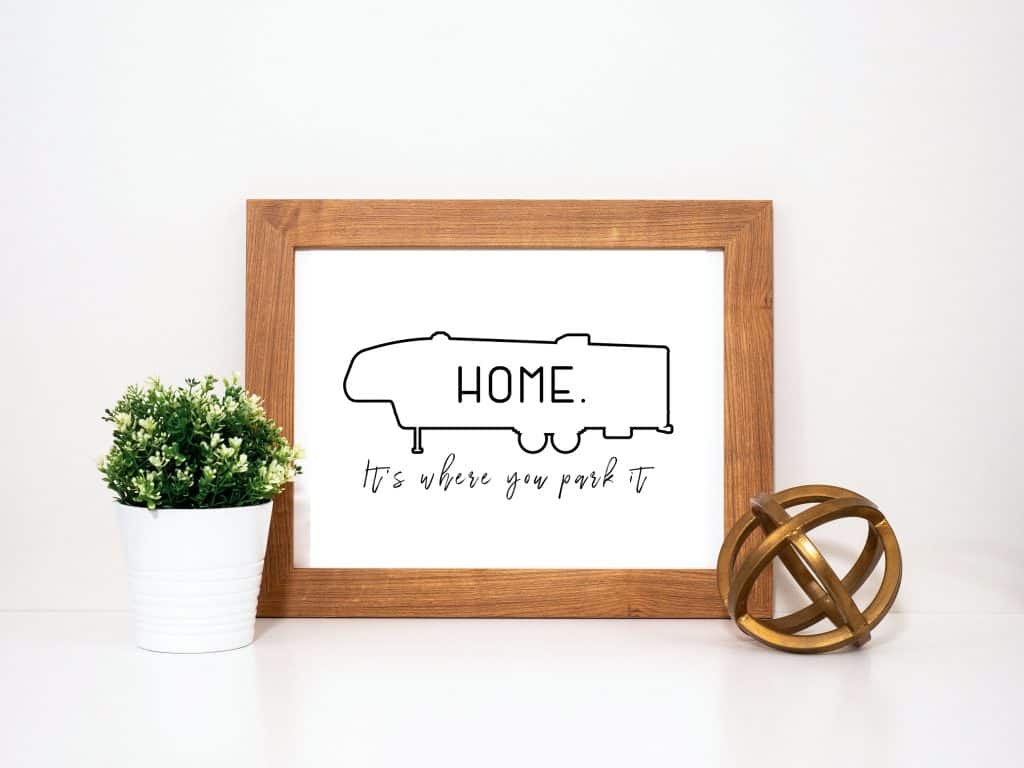 We hope these RV decor printables add a bit of warmth, character, and coziness to your home on wheels. Visit the TREKKN Printables Shop here and keep checking back because we're always adding new ones.
PIN THIS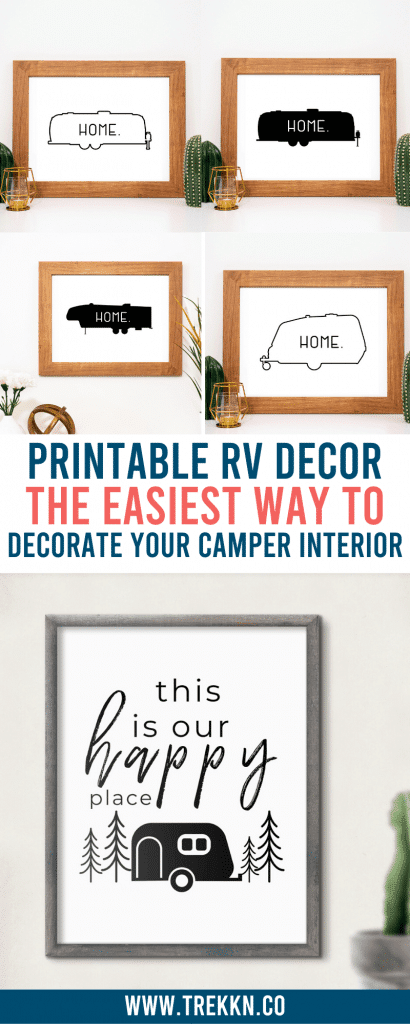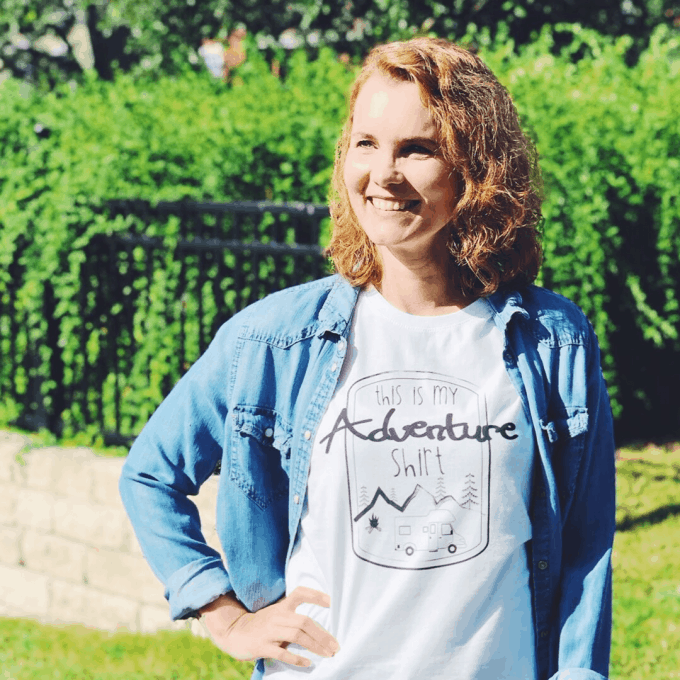 Julie Bonner is one-half of the TREKKN team. She specializes in helping you whip up delicious meals in your tiny RV kitchen, as well as RV organization tips and helping fellow RVers make their RV feel like home. Her favorite RVing spot is in Banff National Park in Canada where yes, the water really is that blue and the people really are that nice.