Your Rocky Mountains Trip Bucket List: 5 Spots to See ASAP

If I had to name one region of this amazing world that has impacted me more than any other, it would have to be the Rocky Mountains.
My deep connection to this region started waaaay back in 1996. My wife and I honeymooned in Estes Park, Colorado and explored Rocky Mountain National Park, soaking in all of the area's grandeur for a full week while staying in a small cabin. What an amazing memory!
But that was just the start of my love affair with this unrivaled mountain range. I've got plenty more to talk about, so let's not waste any time jumping into this Rocky Mountains Trip Bucket List!
Your Rocky Mountains Trip Bucket List: 5 Spots to See ASAP
With my enthusiasm and experiences, it might be tough for me to limit this bucket list to five spots. But I am going to do my absolute best (with maybe a bonus spot at the end) so I don't completely overwhelm you.
Bucket List Spot #1: Rocky Mountain National Park, Colorado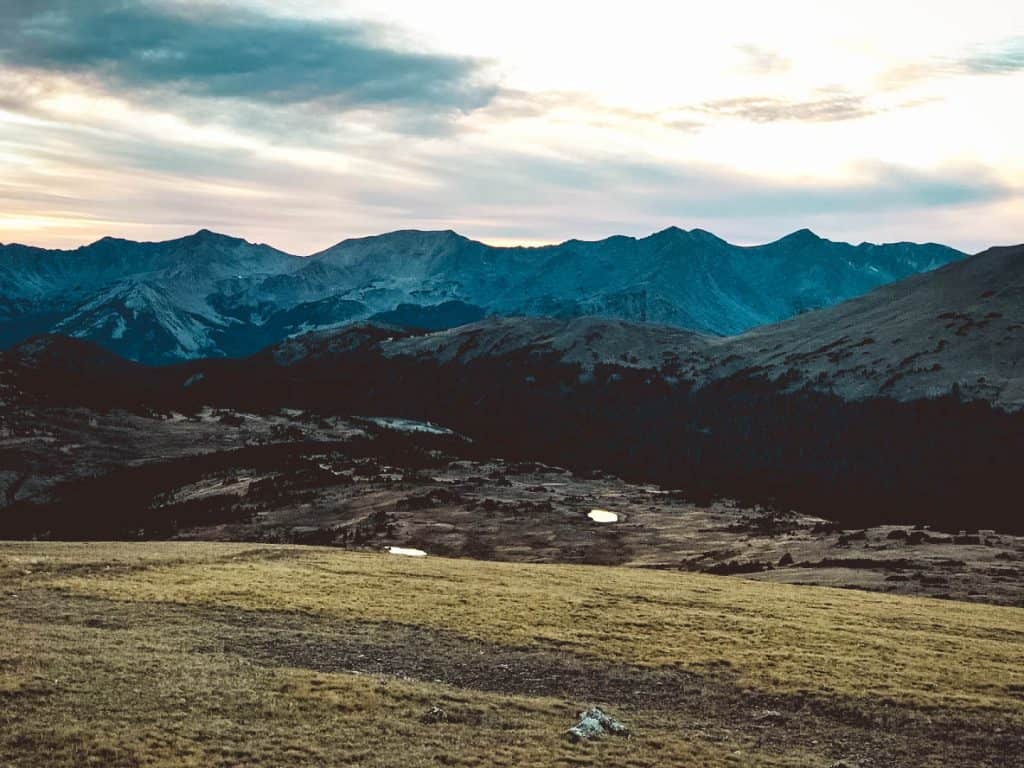 I bet you didn't see this one coming, right? Yeah, big surprise.
This spot has to lead off the list since it was my introduction to this region…a "kickstart to the soul" kind of introduction, if you know what I mean.
For years, I had dreamed of getting to Colorado and finding all of the treasures hidden there. Other than one short stop in Durango as a kid, I had not had the privilege.
So when I had the chance to plan this "trip of a lifetime" for our honeymoon, I knew exactly what that trip would look like. (Confession: If Julie had planned it, it would have involved a beach…but don't worry, because I've converted her to a mountain girl now. Mostly. Only took 22+ years.)
We both immediately fell in love with Estes Park, a quintessential mountain town on the doorstep of Rocky Mountain National Park. As we drove our rental car through the streets of Estes, we occasionally had to yield to herds of elk wandering the streets. Before we even entered the national park, we were blown away.
An Unforgettable Autumn Visit to RMNP for Our Young Family
Fast forward about 13 years and we found ourselves living in Littleton, Colorado with our three kids, only about a two hour drive from the national park. It was October, the leaves were aglow with Autumn colors and Julie and I decided it was time to really introduce our kids to the wonders of the Rockies. That short day trip was simply epic.
We didn't even realize it when we decided to make the trip, but we showed up at the park right at the peak of elk rutting season, and boy were those big fellas putting on a show! Males squaring off just 25 yards from us, determined to be victorious and impress the ladies. We simply couldn't stop talking about that amazing trip for many months afterward.
Our family has made multiple trips back to the park since then, our most recent in late September 2018 near the end of our full-time RVing adventure. Every single visit has been mind-blowing, soul-shaking, and just all around astounding.
You just cannot go wrong with a visit to Rocky Mountain National Park in the summer or autumn. Just be aware that a summer visit will absolutely be far more crowded, and Estes Park can get a little complicated to navigate with that huge influx of visitors. Especially pulling a travel trailer behind you down those tiny streets! Still worth it 100%, but it requires a bit more patience and planning.
Bucket List Spot #2: Grand Teton National Park, Wyoming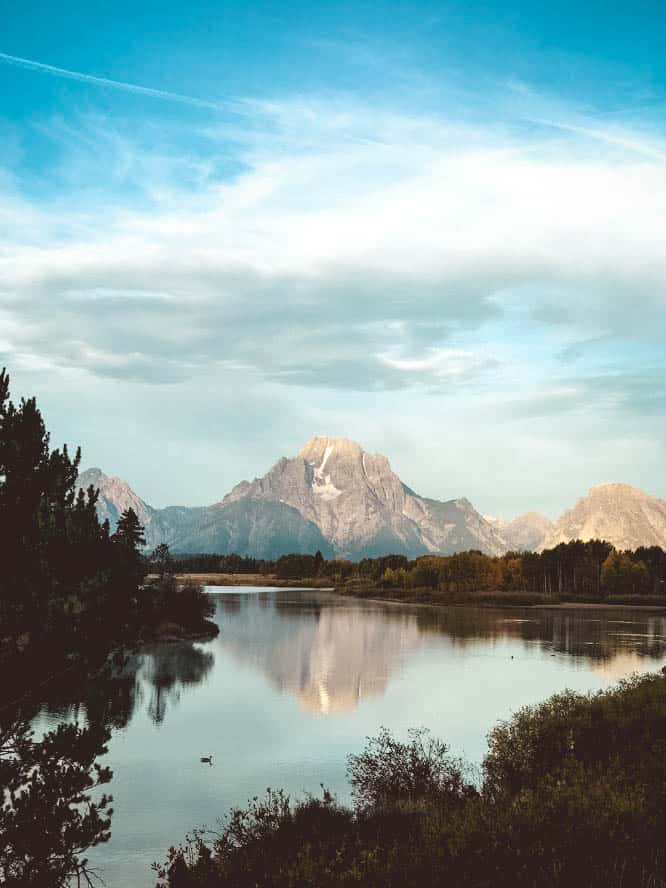 As we traveled in our RV in 2017-18, we ended up making two separate trips to the glorious Tetons of Wyoming.
Our first trip to Grand Teton National Park in the summer of 2017 was a shorter one than we might have preferred. We only had three nights in the area, and on top of that we ended up at an RV park (in Dubois, WY) that was a full hour+ from any major stop within the park that we would want to explore.
Needless to say, we ended up doing a bit more driving in our beefy RAM 2500 long bed truck than I would have preferred…but hey, I'm the one that planned and booked the whole thing. No one to blame but myself. And my desire to keep expenses manageable.
And besides, it was a beautiful drive to say the least. I will never forget when we came up over a rise in the road and got our first glimpse of that majestic, jagged range. There was a collective roar of awe and excitement in that truck that you just can't beat. Such a stunning view!
What makes these perfect peaks so unique?
Do you know why the Tetons are so visually stunning? Because there are no foothills leading up to them! They just erupt out of the earth and head skyward without any warning. This makes them clearly stand out in our memories from any other mountain range we experienced in our travels.
That first experience in 2017 was good enough to bring us back for another five days in the fall of 2018, and this time we snagged a camping spot inside the park. That visit included some epic photographs and unforgettable hiking experiences (including being pursued by a bull moose on the trail!). Treasured family memories for sure.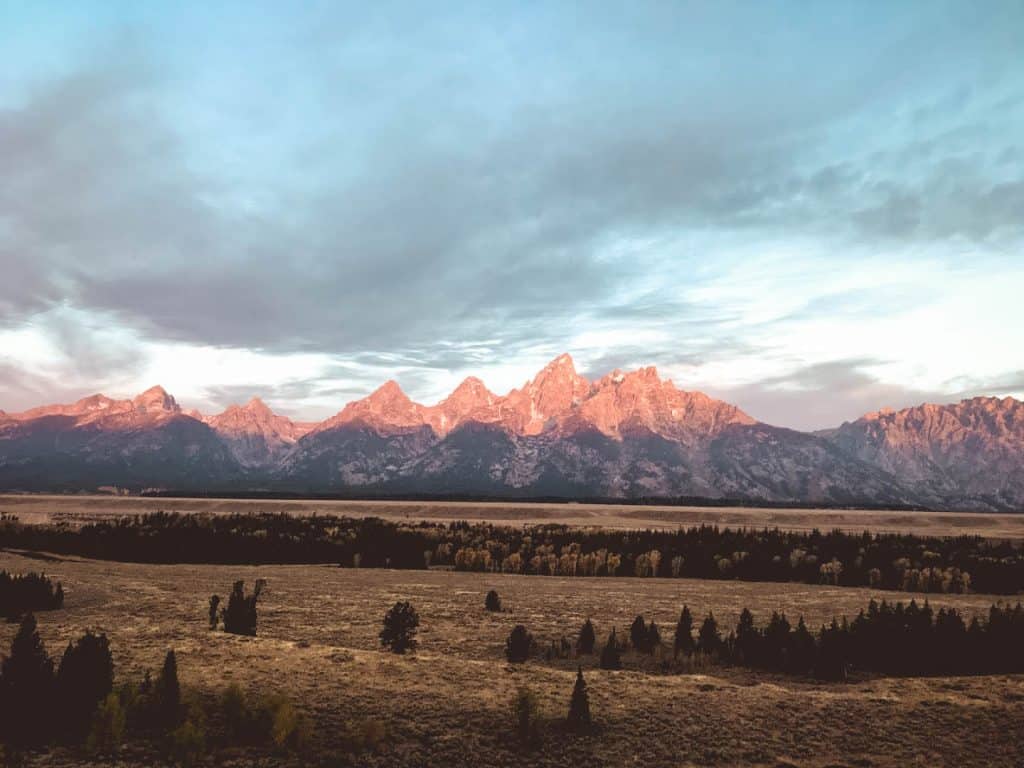 Don't miss your chance to experience the jaw-dropping drama of Grand Teton National Park as soon as you can! This was my oldest son's top pick for favorite RVing spot out of all the stops we made. Take his word for it, my friend. It will make your Rocky Mountains trip absolutely unforgettable.
*Side note: You can't visit this park without taking a stroll down the streets of picturesque Jackson, WY (just south of the park) and soaking up the vibe. Just take a look at what Julie had to say about this fantastic spot, and take her advice to eat at Hand Fire Pizza as well during your visit. Pizza to die for made right in front of your eyes.
Bucket List Spot #3: Yellowstone National Park, Wyoming (also Idaho and Montana)
You might not be aware that Yellowstone and Grand Teton are neighbors (and BFFs). You drive straight from one park into the other without leaving a national park. As far as I know, that's the only spot in the nation where this situation exists. So it's kind of a "2-for-1" deal to add to your Rocky Mountains trip bucket list.
Yellowstone is probably the most well-known, and most iconic, national park of them all. Is there anyone that doesn't know about Old Faithful? I kind of doubt it. (By the way, it's not really as "faithful" as you might have heard. Arrive with a measure of patience because it has a mind of its own.)
But oh my cow, if you think that Old Faithful is going to be the highlight of your trip to Yellowstone National Park, think again. Just take a look at Grand Prismatic Spring and you might begin to understand what's in store for you in this massive national park.
Unlike any other national park that we visited, Yellowstone simply feels other-worldly. At times we literally felt like we were exploring the exotic surface of some alien planet! With geysers and steam shooting off all around you, it's easy to lose yourself in what feels like the latest sci-fi film or something. That alone makes it a unique and worthwhile experience.
It's a Bison Jam!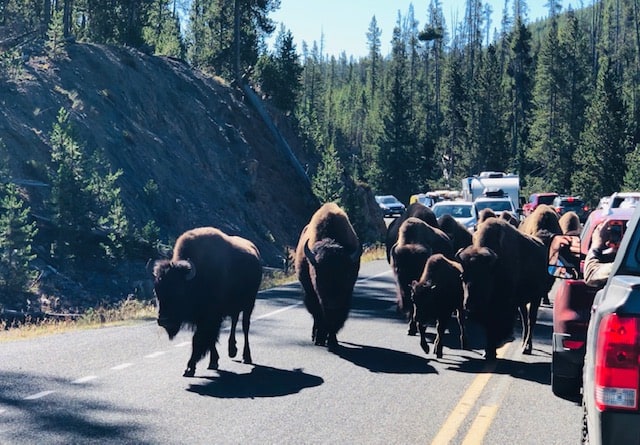 Add in loads and loads of wildlife and you have a recipe for wonder and amazement. I can say without a doubt that we saw far more wildlife (primarily elk and bison) during our last visit to Yellowstone than at any other stop during our travels. At one point, we were literally in a bison traffic jam!
The herd of bison just took over the road as their personal migration path (which it is) and lazily strolled against the flow of (stopped) traffic, walking between vehicles and literally just inches from the side of our truck. It was absolutely unbelievable and exhilarating! Try not to smile when that happens to you.
Are you sold yet? If not, I can't help you. But the bottom line is: Take this 2-for-1 deal and explore Grand Teton along with Yellowstone for your next Rocky Mountain adventure.
Bucket List Spot #4: Glacier National Park, Montana
During the Grand Teton section above, I mentioned that that park was #1 on my oldest son's list of favorite spots. Well, I have seen some amazing stuff, including the Tetons, but nothing has been able to knock Glacier National Park out of the #1 spot in my mind.
Again, we got the chance to visit this "Crown of the Continent" (a very appropriate nickname) twice during our travels: First in the summer of 2017 when we spent a week exploring, and again in the fall of 2018 for a full two weeks. And now, I want to spend every fall for the rest of my life in Glacier National Park.
Fall is my favorite season to begin with, but after experiencing the turning of the leaves during our early September visit to Glacier, my appreciation for autumn and this park went to a whole new level.
The National Park Service gives such a great verbal snapshot of what you will experience in this location:
Come and experience Glacier's pristine forests, alpine meadows, rugged mountains, and spectacular lakes. With over 700 miles of trails, Glacier is a hiker's paradise for adventurous visitors seeking wilderness and solitude. Relive the days of old through historic chalets, lodges, and the famous Going-to-the-Sun Road.
Where to stay?
During our two visits, we stayed in three different RV parks. One was located near the West entrance of the park (in Coram) and two near the East entrance (in St Mary). While they were all good experiences that you can read more about here, I would absolutely choose the very simple and unassuming Heart of Glacier RV Park for my dollar. It had everything we needed, nothing we didn't, a very peaceful setting and a location near the park that you cannot beat. Literally a 2-3 minute drive from the East entrance of Glacier, so the name of the RV park is not a stretch.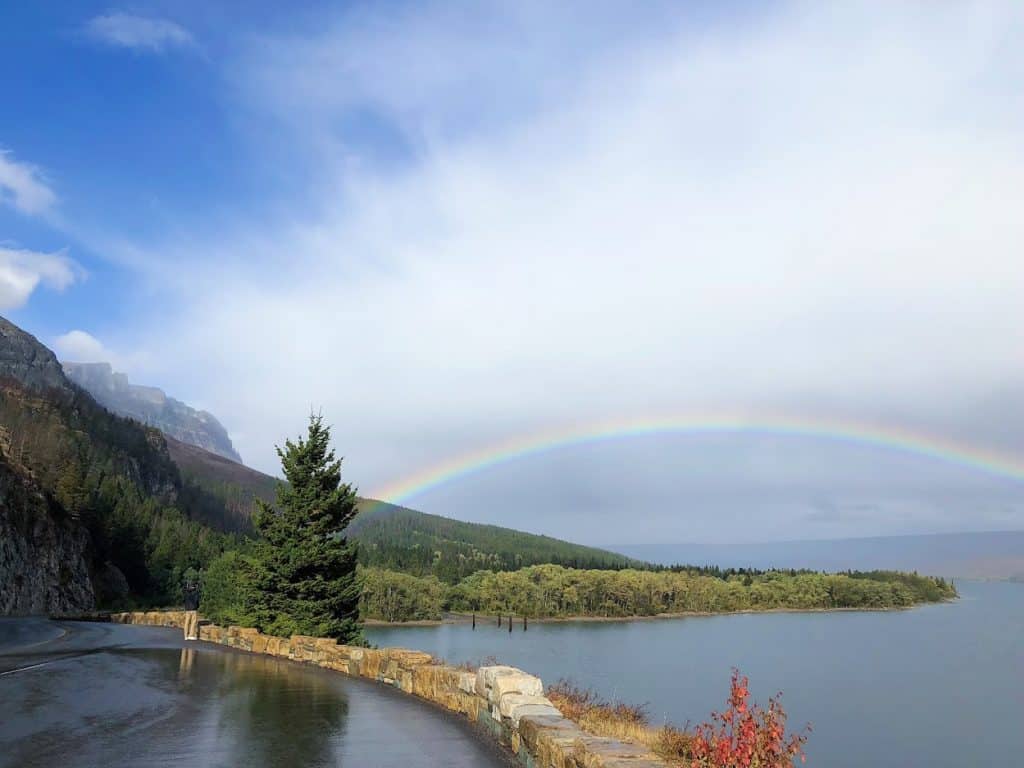 Glacier National Park is it, my friend. The pinnacle of the national park experience in my book, and my book is getting pretty thick.
If you want to go deeper and understand why we love this place so much, be sure to check out everything we have to say about Glacier in these other posts on the site:
Bucket List Spot #5: Banff National Park, Alberta (Canada)
For this last spot, we are going to step outside of the United States for a minute and head north of the border into a Canadian wonderland. We feel it will be good for international relations. Oh, and it was far too spectacular to leave out of any list about the Rocky Mountains.
After experiencing spots 1-4 in a 6-week stretch in the summer of 2017 (insane, right?), we knew that we couldn't allow that pesky border to stop us from seeing one more epic location in the Canadian Rockies: Banff National Park.
*Side note: Before we left on this adventure, we decided it would be worthwhile to obtain passports for everyone in the family so that our border crossing experiences with the RV could run as smoothly as possible. Click here to read all about our RV border crossings into Canada and what you can learn from our experience. Needless to say, we have no regrets about that decision to spend the extra money on passports.*
Banff is one of those places where you look at the pictures and say to yourself, "It can't look that incredible in person, right? Surely someone just doctored these pictures up and the real experience might be a let-down." I had some of those thoughts in my mind going in. And they were rapidly decimated once we set foot in the park.
The color of the water in Lake Louise and Moraine Lake is just beyond words. The pictures actually do capture it well, but there is nothing like laying eyes on it in person for the first time. I am certain I spent most of my time at these two lakes just shaking my head in disbelief at the beauty and perfection before me.
Two Unforgettable Experiences in This Paradise
Our week spent in this area, staying at a fantastic RV park outside of Calgary and also spending a few nights at an Airbnb on the edge of the park, were just outstanding. (You absolutely have to spend some time in Calgary on your trip. It's about 90 minutes or so from the park.) But there were two experiences that stand out for me.
First, we decided to splurge and take a ride on the Lake Louise Summer Gondola, complete with a gourmet lunch at Whitehorn Bistro at the top (with a view to DIE for). On the ride up, we had a grizzly mom and two cubs just below us that we got to enjoy watching for a bit. The whole experience was just surreal and we were simply in awe of this magical place.
Second, my two boys and I decided to set out on a hike to experience a remote tea house within the park. That Plain of the Six Glaciers hike, and the teahouse experience at the top, is absolutely one of my most treasured memories of our time on the road. Such an incredibly unique experience that you would be hard-pressed to find in many other locations.
Find Gratitude and Wonder On Your Rocky Mountains trip
My family and I got to experience every single one of these locations in the span of about four weeks during the summer of 2017. It's the stuff dreams are made of, and I cannot begin to describe to you the level of gratitude that I feel for the experiences we have been able to have together, the beauty we have witnessed and breathed in.
As I write this, I have my oldest child, Hannah, finishing up her junior year of college a few hours away. My oldest son, Josiah, is leaving for a job in Alaska in two days. Life marches on, children grow and mature and begin their own lives. But we will always have these memories of our times together in this continent's most awe-inspiring locations.
We want at least a taste of that for you. I hope this crazy-long post has inspired you to make it a reality to visit at least one of these Rocky Mountains trip bucket list stops as soon as you can. You will never regret the forever memories you make.
PIN THIS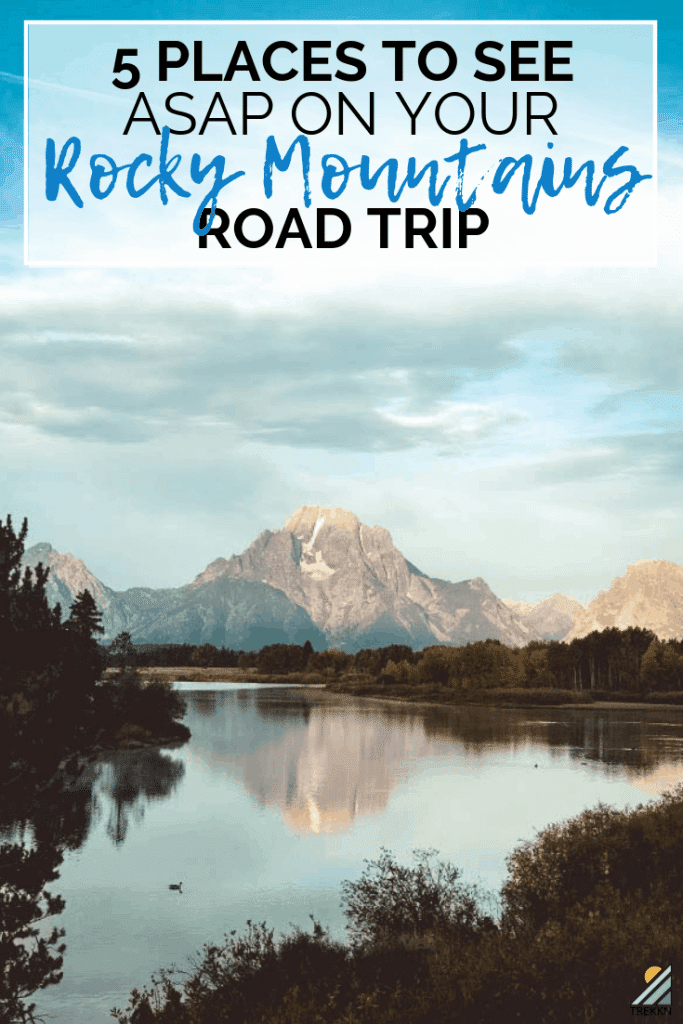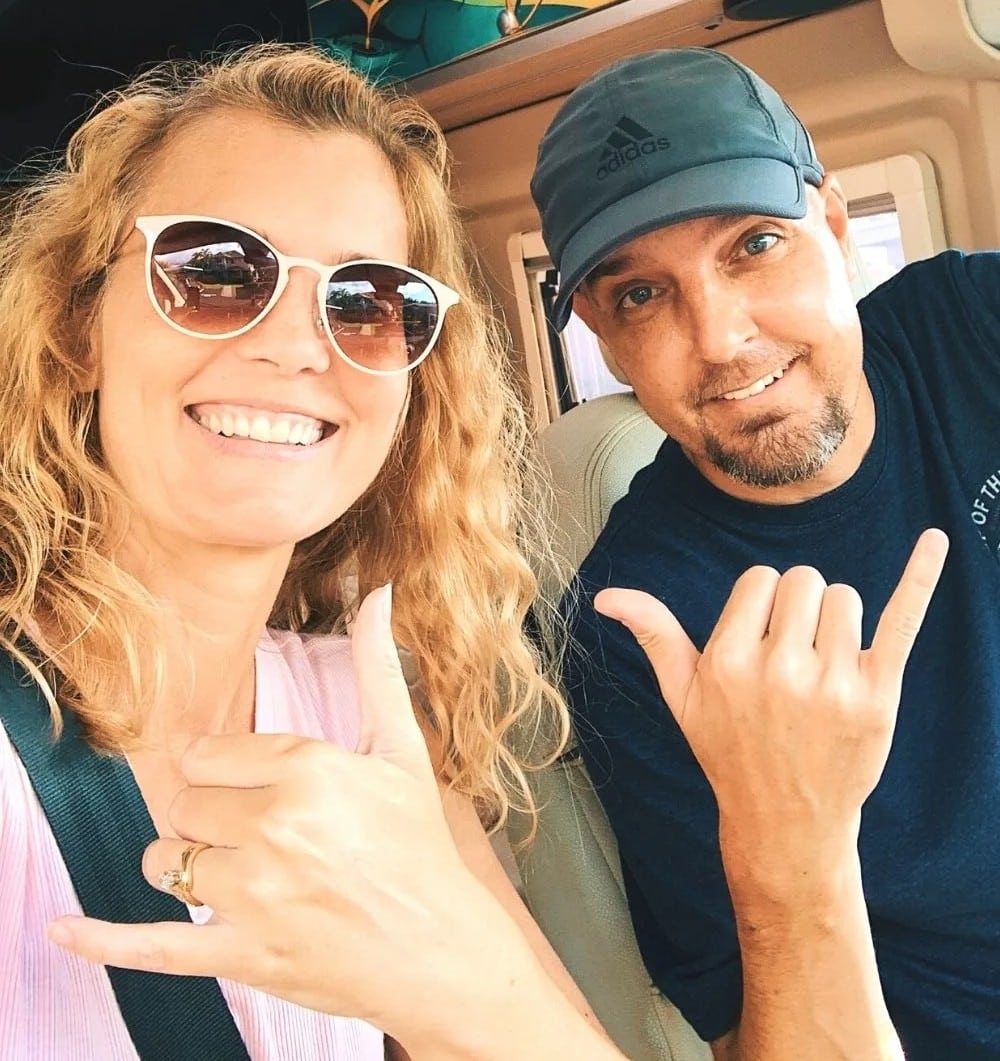 Todd loves a competitive game of table tennis, a breathtaking hike, and exploring new places. He lived and traveled in an RV with his family as they traveled throughout much of the US and parts of Canada. Todd has extensive knowledge about RV travel, safety, and accessories and has shared many of his stories here on TREKKN. When he's not busy launching and building small businesses, you may find him staring at pictures of Glacier National Park (probably his favorite spot on earth).