Okay, so it took us a bit longer than expected to get Part 2 of this series out into the world, expanding Your Ultimate Guide To RV Living. Life has a way of throwing some curveballs at you and getting you off track. Have you noticed?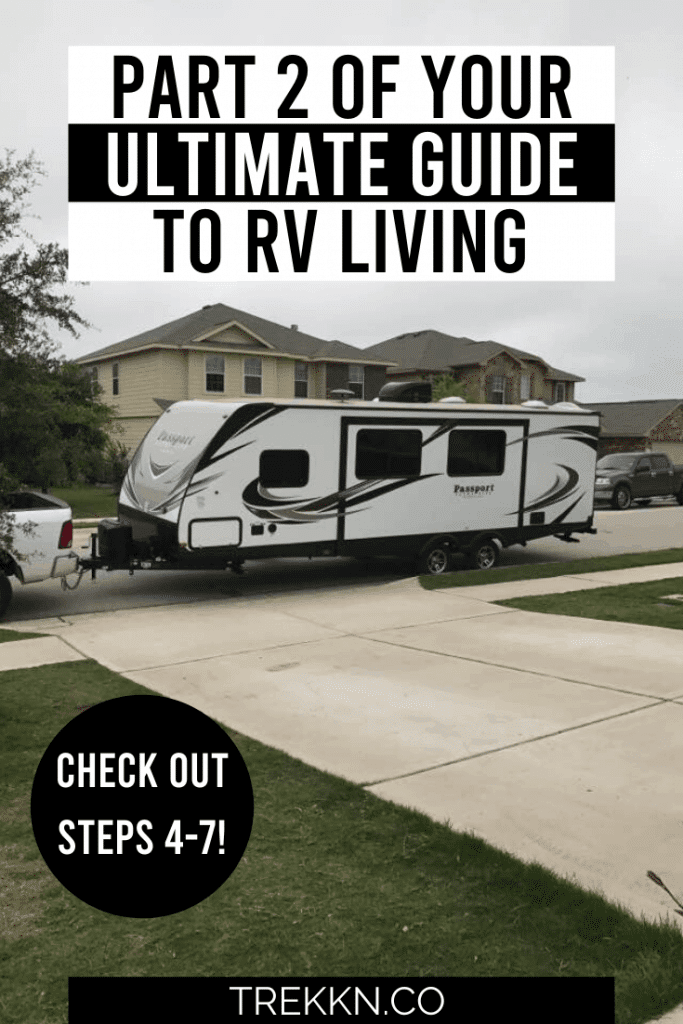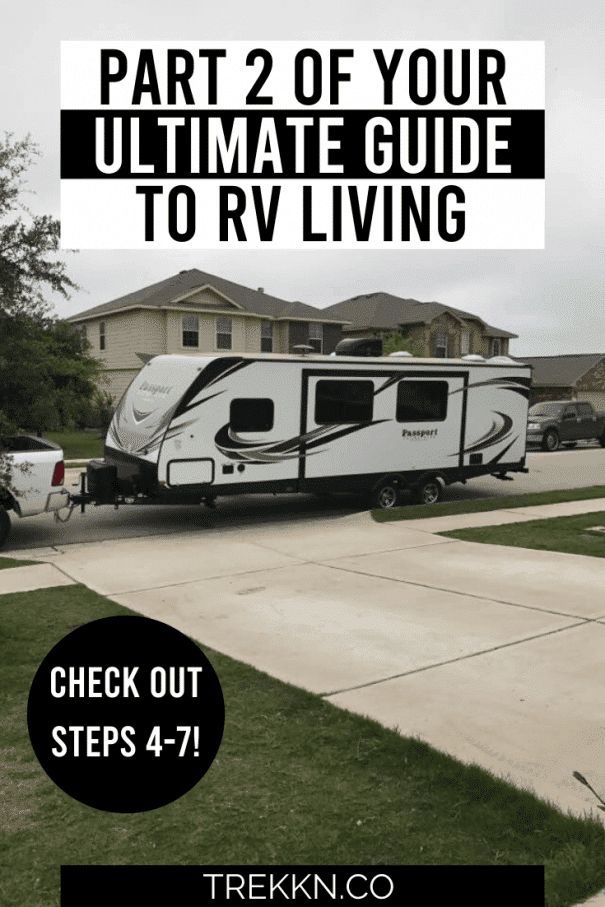 But the important thing here is that it did happen! After starting off with Part 1 that covered the first three steps of transitioning to full-time RV living, this installment will cover the next four steps:
Step 4: Shopping For & Purchasing An RV
Step 5: Getting the House Ready to Sell
Step 6: Finances – Remote Income & Cutting Costs on the Road
Step 7: Shopping For & Purchasing A Tow Vehicle
Now, this is a great deal of ground to cover in a single post, so it could get pretty lengthy. But I can promise it will help you move forward and start to get your ducks in a row, whatever this process looks like for you.
Your Ultimate Guide to RV Living – Part 2
Step 4: Shopping For & Purchasing An RV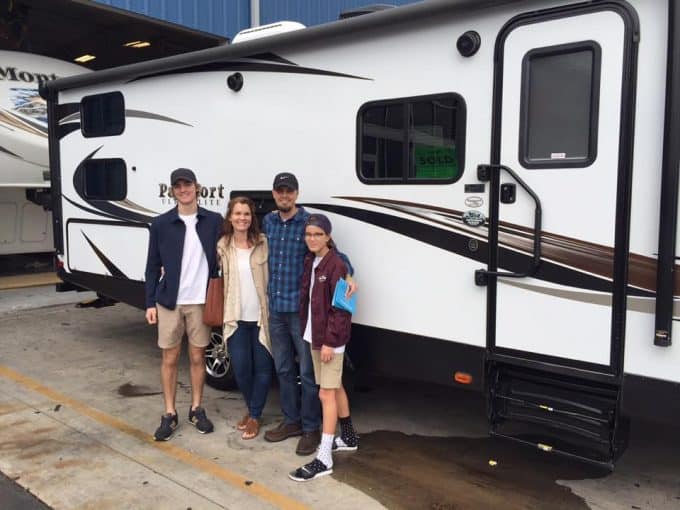 *If you want to see more of the financial details behind purchasing, and later selling, our RV and tow vehicle, check out this beefy post we put together recently. And if you are curious why I immediately spent $600 to add something to my brand new RV, take a look at this important post I wrote that could save you some serious heartache and money.*
Of all the steps we worked our way through during this process of transitioning to full-time RV living, this step was easily the most emotionally exhausting. (Physically exhausting comes in on the next step: Getting the House Ready to Sell.)
It's not very hard to understand why this took such a toll on the emotions. Consider these tidbits:
We had never owned an RV, or even really considered owning an RV, prior to this moment. Absolutely everything was new and overwhelming.
I didn't know what I didn't know. I was terrified of not having all of the relevant information, not seeing the big picture, and of ultimately choosing the wrong RV option and regretting it.
We were undertaking this major purchase without knowing how the rest of the pieces of this crazy puzzle would come together (selling the house, buying an adequate tow vehicle, etc.).
We did not have any idea of what our exit strategy looked like when we were done with full-time RVing, whether we would even choose to keep the RV when our big journey was over. Whenever that would be.
I could point out plenty of other smaller details about this process that would help you understand exactly why I was emotionally exhausted. But these four points above account for the bulk of the exhaustion. I'm sure you can understand how this situation could wear on a fella.
A Few Key Pointers for Your RV Shopping Experience
And maybe you find yourself in a very similar position right now, bringing you to this post. If so, maybe I can give you a few pointers to help you take the next step forward with at least a little more confidence and a little less exhaustion.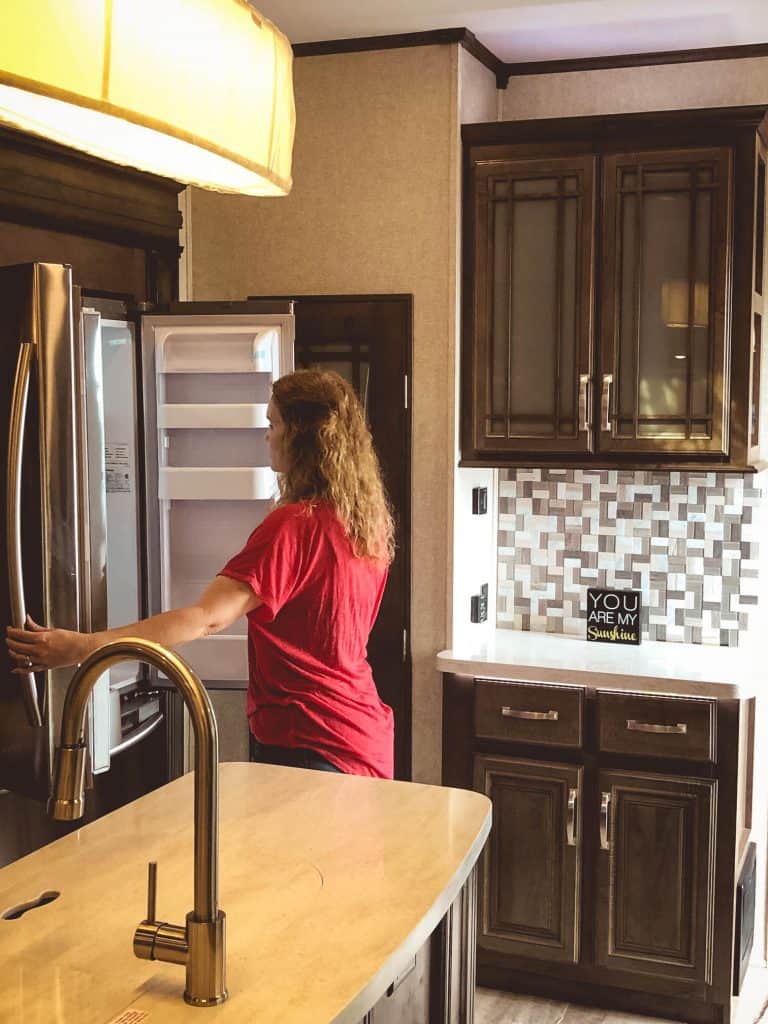 Understand the Challenges of Financing the Purchase of a "Luxury" Item
We went into this experience knowing that we would not be paying cash for our RV. Sure, we had some cash set aside, but it was in the "down payment" range, not in the "buy with cash" range. We discussed our situation early on with our RV salesperson and got some solid guidance that we want to pass on.
If you are going to be financing the purchase of an RV of some sort and then a vehicle to tow the RV, or to tow behind the RV, be sure to take care of the RV purchase first.
Regardless of whether you see your RV as a luxury item, the financial institution absolutely will. This means that it is a very different process from a standard vehicle purchase. Completely different lending guidelines, credit requirements, down payment requirements, etc.
Narrow Your Search Down ASAP to Either Towable or Driveable RVs
You've got to take baby steps through this process, folks. And the more logical and organized those steps can be, the better. So the first baby step is to decide what type of RV is going to make the most sense for your situation.
Obviously, this involves considering different facets of your situation: family size, finances, willingness to deal with smaller spaces, amount of debt you are willing to take on, etc. When we dealt with this baby step, we quickly realized that a towable RV was the only thing that made sense for our situation.
Towables, and especially travel trailers, have much lower purchase prices overall than anything in the towable category. And since this is a luxury purchase, we knew we needed to keep that price tag as low as possible to keep ourselves in a good situation financially.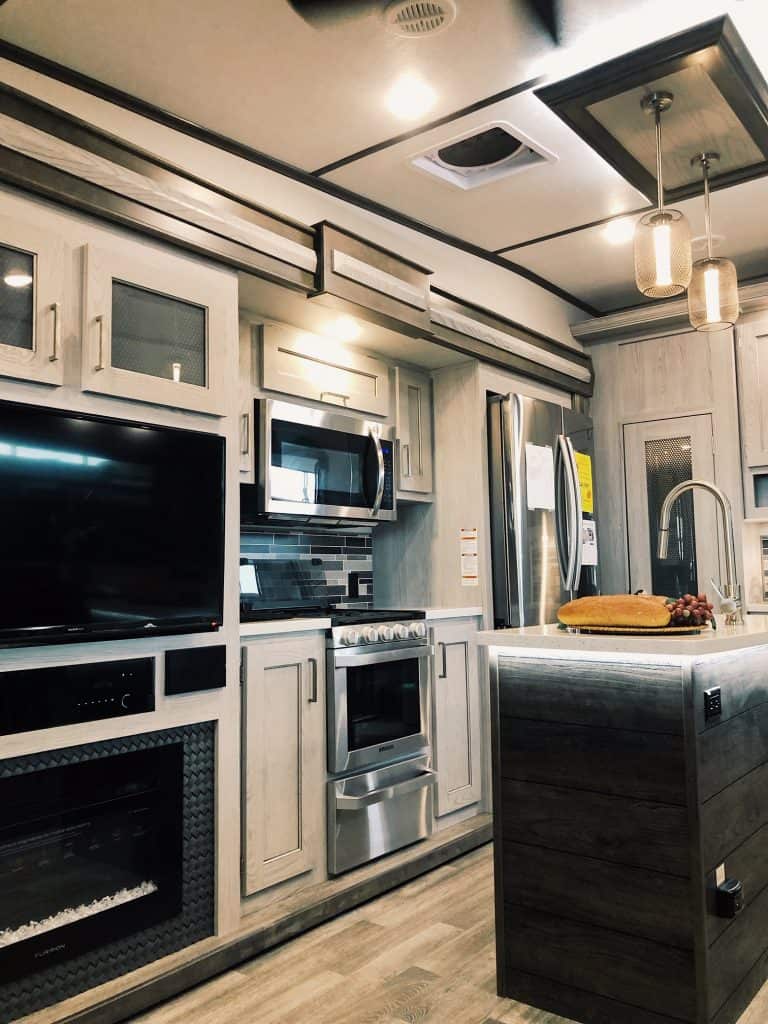 Decide Early On Which "Creature Comforts" Are Absolute Must-Haves and Which Ones Would Just Be Nice
When I talk about "creature comforts", I'm also referring to the overall living space that you are willing to adapt to. In our situation, we were willing to sacrifice quite a bit in terms of both space and convenience in order to make this crazy dream a reality.
We ended up in a 26-foot travel trailer (less than 200 sq ft of living space) with one bathroom with five of us along for the ride for months at a time. Was it tight? Yup. Was it a challenge? You bet. Did it sometimes test our patience? Duh.
But was that sacrifice worth it for us in order to have some financial peace of mind and still have the experience of a lifetime? Absofrigginlutely.
Each person, each family, is different. Be honest with yourself and with your family about what you feel you must have to survive, but please don't be afraid to push your comfort zones here. We definitely pushed ours with our smaller RV, and we don't regret it one bit. If you aren't ready to push your comfort zones, you may need to stop and consider why you are attracted to this lifestyle in the first place. Believe me, it's all about invading those comfort zones!
But how could we possibly regret it after everything we saw, everything we experienced, all the family memories we made?
(You might be interested in my post about why you need less RV than you think. You might agree with it, you might not. But at least it will help you to keep thinking through all of the perspectives and angles you should consider as you work your way through this process.)
Step 5: Getting the House Ready to Sell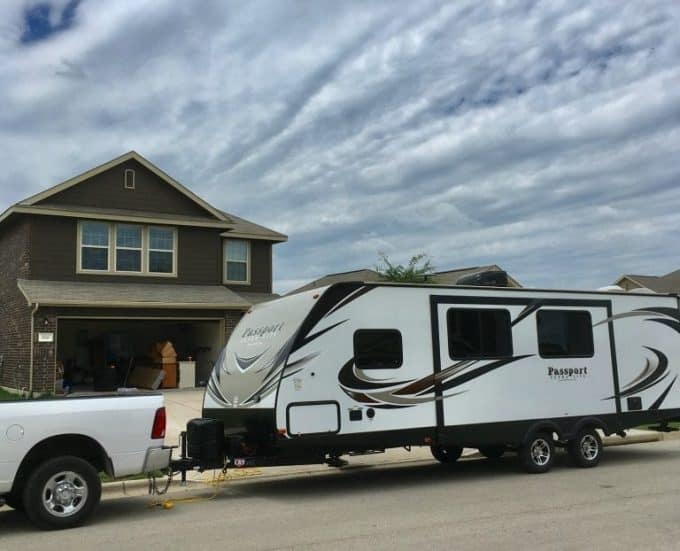 If Step 4 was the most emotionally exhausting, then Step 5 was absolutely the most physically exhausting. Oh. My. Gosh.
I'm not a guy who has done a ton of manual labor in my life. I do most of my heavy lifting with my brain…and my fingers on the keyboard. So you can imagine that taking on the heavy lifting of preparing our house for sale was quite a shock to the system (and to my back, as this post details).
Now, I want to point out that we had purchased our home brand new just 3 1/2 years earlier. So it's not like I had any major renovations or upgrades to take care of here. And it's a good thing since it all had to happen in 5-6 weeks! No, this was primarily about two main tasks:
Processing through all of the stuff we had accumulated and needed to get rid of (or move to a storage space)
General sprucing up, painting, deep cleaning, replacing some carpet, etc.
Sure, when I put it into two simple bullet points like that, it doesn't look like much. But did you know that a family of five can accumulate a bunch of (heavy) stuff in 20+ years? I know, shocking. They can also create a remarkable amount of "grunge" together, even in a brand new home.
So I did have my work cut out for me, and while my wife did the lion's share of the income creation work with her established blog during this period, my 12-year old son and I really took the lead on getting our home ready to sell. (He was homeschooled at this point, so he had some flexibility that allowed him to pitch in big time. And boy did it help!)
My Biggest Piece of Advice For This Step: Start NOW
Here's the deal: We had made quite a few moves in the 15 years prior to this point. With every move, we had always felt that we were "ruthless" in getting rid of unnecessary clutter. So we kind of prided ourselves on not being "pack rats", on not hanging on to stuff just because.
It was quite any eye-opening experience, then, to really get down the nitty-gritty of processing through our piles o' crap. It seemed that our possessions had almost doubled in the nearly four years we had lived in this home! Remarkable, and daunting.
So what's my biggest piece of advice for you? Start dealing with your piles o' crap today, not tomorrow!
You have more stuff than you think. You are more connected to it than you would like to admit. Letting go of it will be both emotionally and physically exhausting. So give yourself as much time as possible to work through that process and not feel rushed on top of everything else.
Use These 3 Important Questions to Filter Your Possessions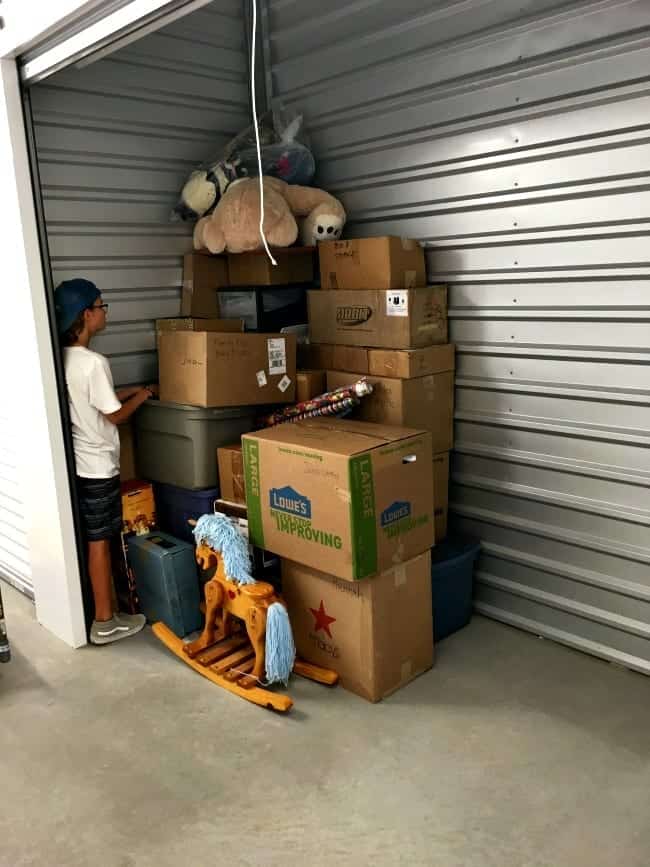 If you choose to face down your mountain of possessions without any tools to help you filter them, to decide what goes and what stays, you will be disappointed. And very, very frustrated.
You need a framework to operate with here, to pull you forward through this daunting process, or you might give up before you really get started. So here are three questions to use, that act as filters for your stuff, to determine what you keep and what you give up:
Have I touched this item in the last six months?
Can I replace this item for less than $20 and within 20 minutes of my home (or through a quick online order)?
Does this item bring joy into my life?
These questions will be very helpful for you whether you are preparing to RV full-time or not. They will help you see things more clearly and make hard decisions not quite so hard. They will reduce the "decision fatigue" that inevitably comes with this process and breathe new life back into this critical step.
Understand that these questions are really just a starting point when you are talking about transitioning to life in an RV. Because there is one more primary question that you can't skip before a decision is made: Will it fit in my RV?
(Note: If you are still on the fence about full-time RV living as you read through this info, you should take a look at my post that deals with the question, "Is full-time RV living right for YOU?" In that post, there are links to my 39-page ebook of the same title. It helps you honestly tackle this giant question and find the answer that is only right for YOU. And that's all that matters, right?)
Step 6: Finances – Remote Income & Cutting Costs on the Road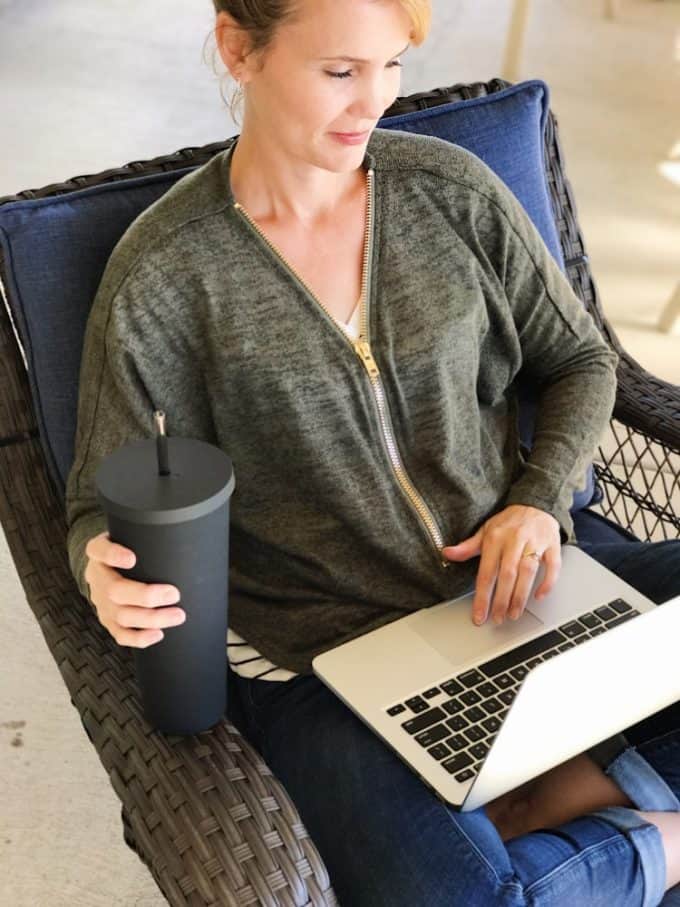 Ah, money. Always enjoyable to talk about, especially when it's coupled with words like "household budget". Ewww. I know.
But let me tell you why I think this is such an important step to cover: Because for us, full-time RV living ended up costing us more than we had planned for or expected. Luckily, we had enough cash reserves to make it work, and we had created remote income streams that kept us going, but that doesn't mean it wasn't a bit stressful at times. More stressful than it could have been, for sure.
If I had to guess, I would say that "additional stress" is not one of the factors that is pulling you toward full-time RV living. No, you are hoping for just the opposite. You want to escape the grind, slow down, relax a little, adventure a lot and stress less! And if that's the case, you have to deal with this financial thing ahead of time…or pay the price.
Do You Need to Create Remote Income?
If you don't find yourself in the retirement stage of life right now, and you want to do this crazy full-time RVing thing while you are still "feeling young", then creating some remote income might be at the top of your 'to do' list right now. And in case you hadn't figured it out yet, there are thousands of possibilities for making money remotely. It can be utterly overwhelming.
The key thing to understand, however, is that not all of those possibilities are going to be a great fit for YOU. For instance, if writing does not come pretty naturally to you and you haven't built up those muscles in your current work or on the side, choosing to start a blog like we did is probably not your best move. This effort requires writing thousands of words per week to really get the ball rolling, on top of all of the marketing and promoting, etc.. And that's easier said than done.
But maybe you have a background in retail or in marketing and the idea of starting something in the eCommerce realm feels like a far better fit. Well, even there you have so many options for how you will set up that online income creation effort. The possibilities and opportunities are literally endless in almost any niche of remote income creation that you begin to explore.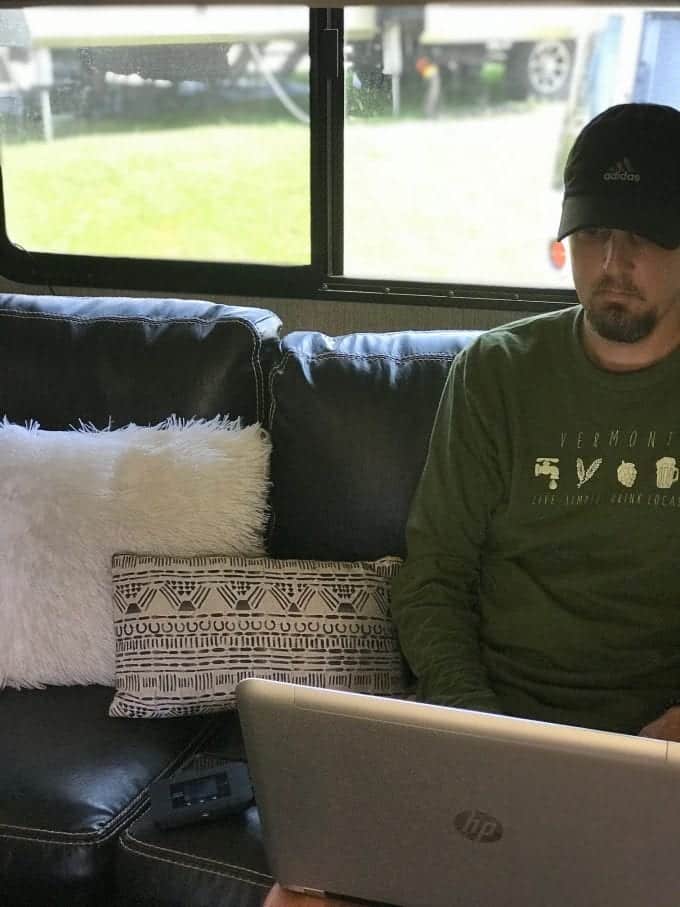 We have been operating in the world of online income creation for a very long time. Believe it or not, we started our first eCommerce site in 2002. (Spoiler alert: It made about $150 total.)
So when we say that we have tried it all…well, it's not too far from the truth given more than 17 years of trial and (much) error. I'd say we've tried too many different things, as a matter of fact, and not done so great at the "consistent and persistent" side of the online income equation. Still learning that lesson, no doubt.
But the bottom line is that we have learned one very important lesson from all of that experimenting: Find someone you trust who has already been where you want to go and become an expert! Then follow their system and guidance precisely instead of tweaking to fit you from the very beginning.
Enter Camille Attel and her Remote Work 101 Online Course. (Actually, she also has a great blog called More Than A Wheelin' with tons of free info about finding remote work and creating income, along with some great info for RVers in general. It's a good place to start to get to know her.)
My wife, Julie, was able to meet Camille at a blogging conference a couple of years ago and get to know her a little bit.
Camille and her husband are full-time RVers who have been exactly where you are, trying to figure out how to make this life on the road work long-term. They knew they wanted more than their stationary, "stable" jobs were offering them, but they didn't know how to get it.
Through their journey of education and experimentation, they have become the experts in their niche and the go-to folks for all things Remote Income.
You owe it to yourself to take a look at all that they offer if remote income is a major priority for you. No one will tell you that creating that income is easy. We will tell you that it is absolutely possible, and Camille can point you in the right direction.
Income is Good…But What About Saving Money on the Road?
Yes, more money helps. But only if you can find ways to also save some money, to keep that income from just flying out the back door!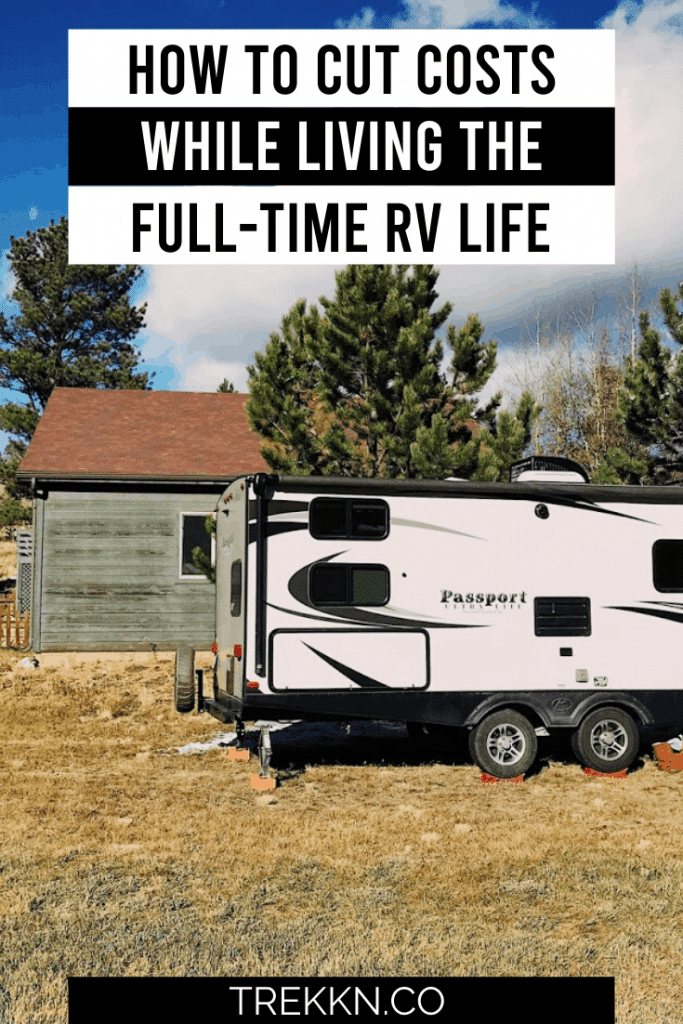 Instead of going into a great deal of detail here, I am going to simply point you to a lengthy post I wrote that covers Five Ways to Cut Costs While Full-Time RVing. But I will give you the quick rundown of what I cover in that post, so you know if it might be of value to you at this point:
FIND THE RIGHT RV PARK AND CAMPGROUND MEMBERSHIPS
TAKE ADVANTAGE OF ANY FUEL SAVINGS YOU POSSIBLY CAN
TAKE MEASURES TO AVOID A TIRE BLOWOUT DISASTER
SLOW YOUR ROLL, PEEPS! (TRAVELING AT A SLOWER PACE)
EQUIP YOUR RIG FOR MAJOR BOONDOCKING OPPORTUNITIES
Between increasing your remote income and decreasing your overall costs while traveling, you will maximize your enjoyment and reduce your financial stress as much as possible. To me, that is the perfect combination when you are looking to re-invent your life and go against the flow.
Really take some time to dig into everything covered in our cost-cutting post. As much as we might want to deny it, the financial side of things will have a major impact on your full-time RVing experience. I want the absolute best experience possible for you, so dive in and make some amazing things happen!
Step 7: Shopping For & Purchasing A Tow Vehicle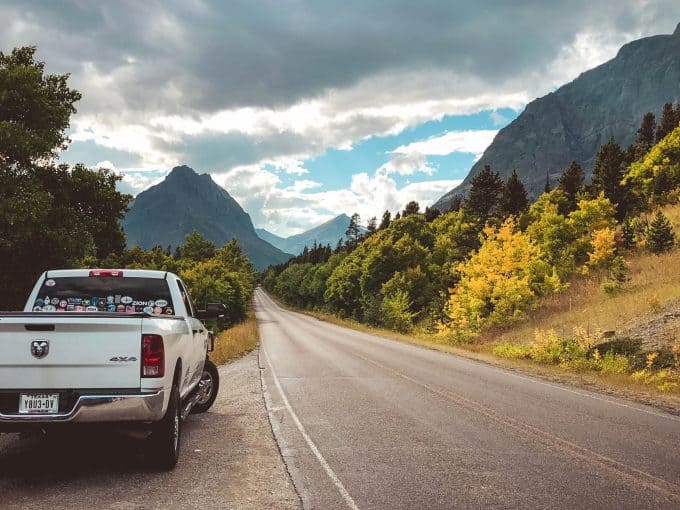 *If you want to see more of the financial details behind purchasing, and later selling, our RV and tow vehicle, check out this beefy post we put together recently.*
You might think that after surviving the RV purchasing process, the task of purchasing a regular old tow vehicle for that RV (26-foot travel trailer) would be far quicker and easier in comparison.
In my case at least, you would be wrong. Very, very wrong.
Because here's a big shocker: I had never owned a truck before either!! Not even a friggin' SUV, for crying out loud. I had always been much more on the practical side, the "sedan and minivan" type of dude.
That's right, I was just as clueless in this arena as I was with the RVs. Yay me! So the pile of questions I had to work through and answer felt monumental and disorienting once again:
Are there any half-ton trucks that can safely tow 7,000 pounds around the continent? Or is a 3/4 ton truck the only option?
Do I listen to these people in the forums telling me to go with a 1-ton truck "just in case" I want to upgrade my RV to a larger model later?
Is a diesel truck the smartest way to go? Or is that just overkill for 7,000 pounds?
If I go with a Ford diesel, which engines do I need to completely avoid because of major problems historically?
Or should I spend the money to "bulletproof" an older Ford diesel engine?
Can I even find a diesel truck close to my price range that I can feel confident in?
If I buy a gas truck, will I get eaten alive when I trade or sell due to more rapid depreciation than diesels?
What is the minimum axle ratio I need to be safe?
How can I be sure I won't exceed the truck's GVWR (Gross Vehicle Weight Rating) with the travel trailer's loaded pin weight?
Without my truck-owning friends (thanks Jay and Bob!), YouTube and some RVer online forums, I would never have navigated all of these acronyms and new terminology and survived this period. For nearly eight weeks, as we prepared the house to sell, negotiated with potential buyers and waited for the closing, I nearly researched and shopped myself to death.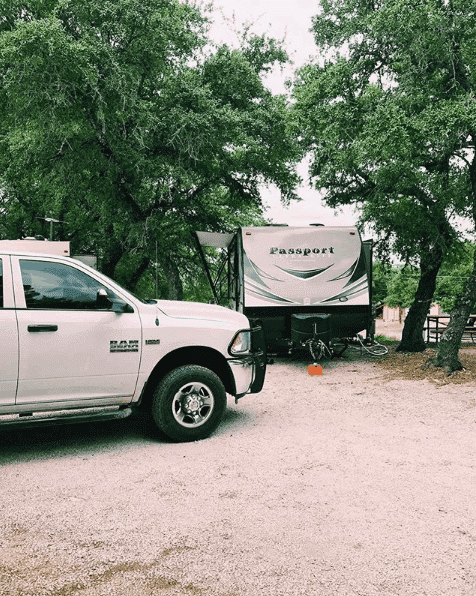 New Truck? Not An Option.
I figured out pretty quickly that buying a new truck was not an option at today's eye-popping prices. I would have been very lucky to stay under $45K for a properly equipped new rig, and that was simply too rich for my practical blood.
So not only did I need to figure out and understand the specs for the truck, I had to try and make sure that I wasn't getting "hung out to dry" with a lemon of a used truck! The pressure of this decision sometimes felt like it was just too much to bear with the safety of my family and the hopes for a smooth journey hanging in the balance. But, we pressed on.
Pulling the Trigger and Praying
Once the house had finally closed in early May 2017 and we had the proceeds from the sale, the moment of truth arrived. After all of my stressing and shopping, I ended up finding (what I believed was) the right truck just about two miles from our home: A 2013 RAM 2500 Tradesman 4×4 Long Bed with 5.7L Hemi engine.
She had a bit under 36,000 miles on her, enough room to accommodate all five of us in the family (though not in absolute comfort and style), and came in just under $27,000 (plus the extended warranty I purchased). I felt quite pleased with this truck and was SO ready to get out there and actually tow my RV that had been sitting in the storage lot for two months! I only had about three weeks to get the hang of it before we hit the road.
And how did Benny the Truck end up performing for us on our long journey? Absolutely beautifully! While towing my home 35,000+ miles, Benny required one $700 engine repair (not covered by the warranty I purchased…dang), a new windshield and some new tires. Basically, I could not have been more pleased with his performance. (And yes, I miss him a bit…just not his obvious lack of fuel efficiency.)
What Will Your Truck Purchasing Experience Look Like?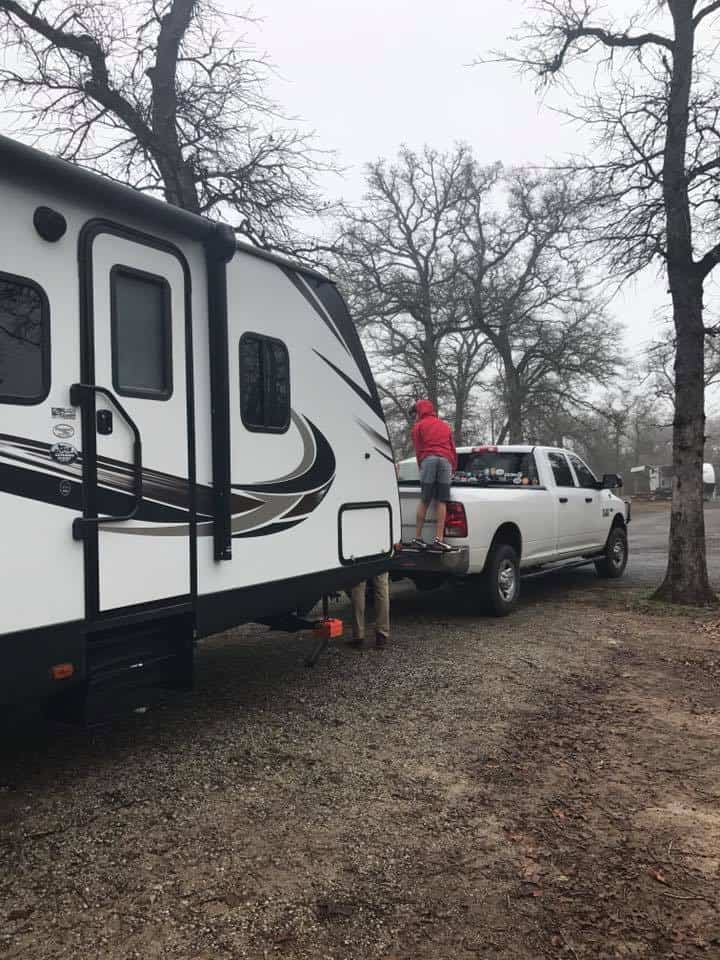 I've laid all of these details of our experience out there to try and help you understand that this is a very important decision. You should take your time to make the best one you possibly can. That will require some time and some "brain damage", especially if you are new to the world of trucks and towing like I was.
But at the end of the day, you will still have questions and uncertainties about your decision. You will never be guaranteed to avoid problems, so you just have to choose to dive in, hope for the absolute best and trust that you can weather any storm that may come on this front.
*And if you are buying used, I personally recommend eating the extra cost of that extended warranty now instead of the potentially staggering cost of a new engine or transmission during your travels. Even though our warranty didn't end up saving me a dime, it gave me priceless peace of mind for about $30 per month.*
Feeling More Prepared to Dive Into Full-Time RV Living?
I've gone to great lengths here, and honestly, on every other post, I have written on this site, to use our real-world experiences with full-time RVing to add value and perspective that will serve you well. I truly hope you have found that this post, and this entire Ultimate Guide to RV Living, has helped you move forward smartly in your preparation for the RV lifestyle.
In Part 3 of the Ultimate Guide to RV Living, we cover steps 8-11:
Step 8: Buying ALL THE THINGS for That New Home on Wheels
Step 9: Moving In
Step 10: RVing Practice Run
Step 11: Saying Goodbye and Officially Launching Into the RV Life!
We are here to help you RV with confidence! Of course, that doesn't mean we have all of the answers, because each situation is different. But we do have the experience that you can learn from as you put together your own plan for the ultimate adventure.
Be sure to ask any questions you still have in the comments below. We will be more than happy to answer and provide you with further guidance because we want the absolute best for you and your RV adventure!
PIN THIS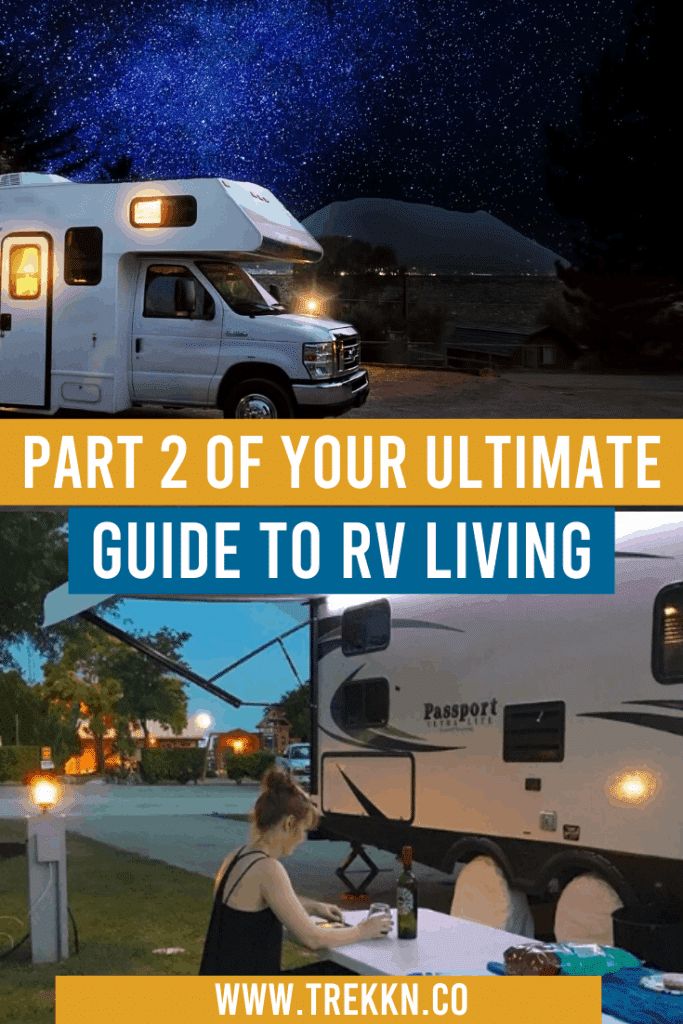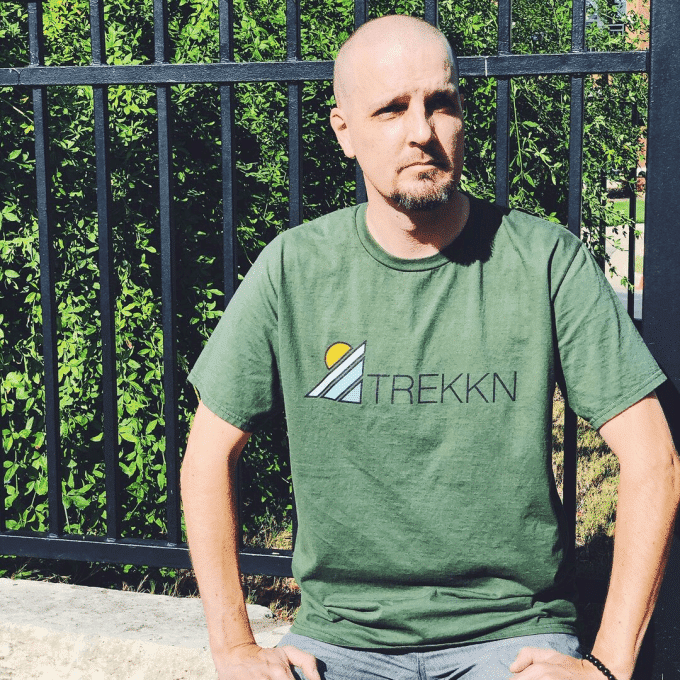 Todd Bonner is the slightly quieter half of the dynamic TREKKN duo. He spends most of his time sharing information about RV travel and safety, RV accessories and tips, and the National Parks he has visited and still desperately craves. When he's not busy working on TREKKN, you will often find him staring at breathtaking pictures of Glacier National Park, probably his favorite spot on earth.
Last Updated on