If you are ready to tackle Part 3 of our Ultimate Guide to RV Living, chances are you're pretty serious about this full-time RVing thing! We have covered so much already, and I'm glad to see you are making progress in your efforts to understand and embrace this unique lifestyle.
In Part 1, we covered the first three steps of the guide (Finding Your Why, Important Conversations, and Decluttering), and in Part 2 we took on steps 4-7 (Purchasing an RV, Getting the House Ready to Sell, Finances on the Road, and Purchasing a Tow Vehicle).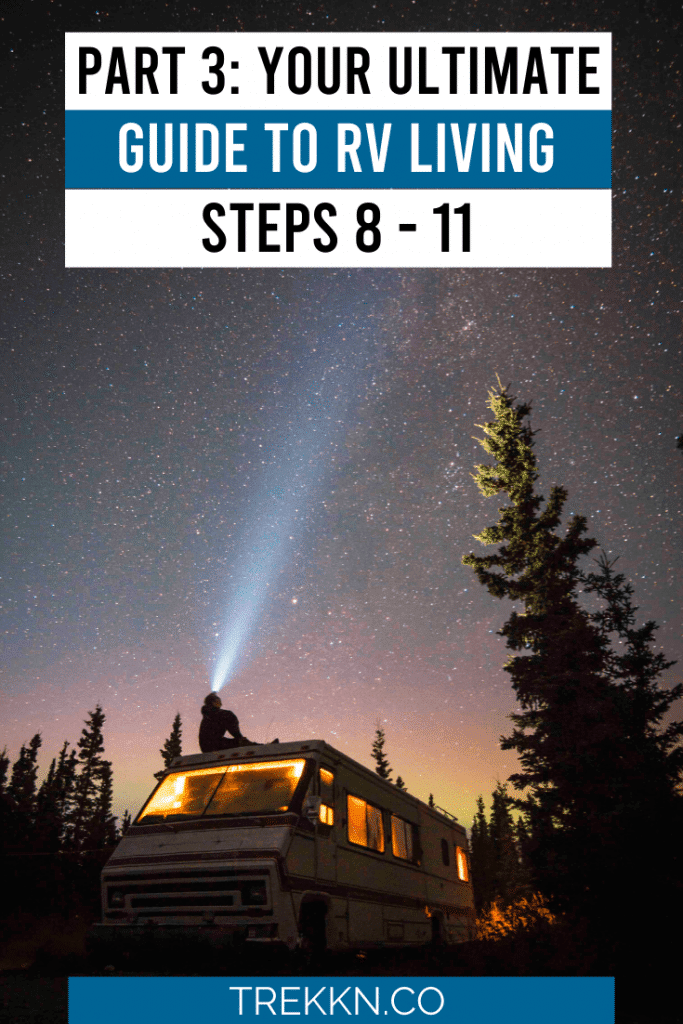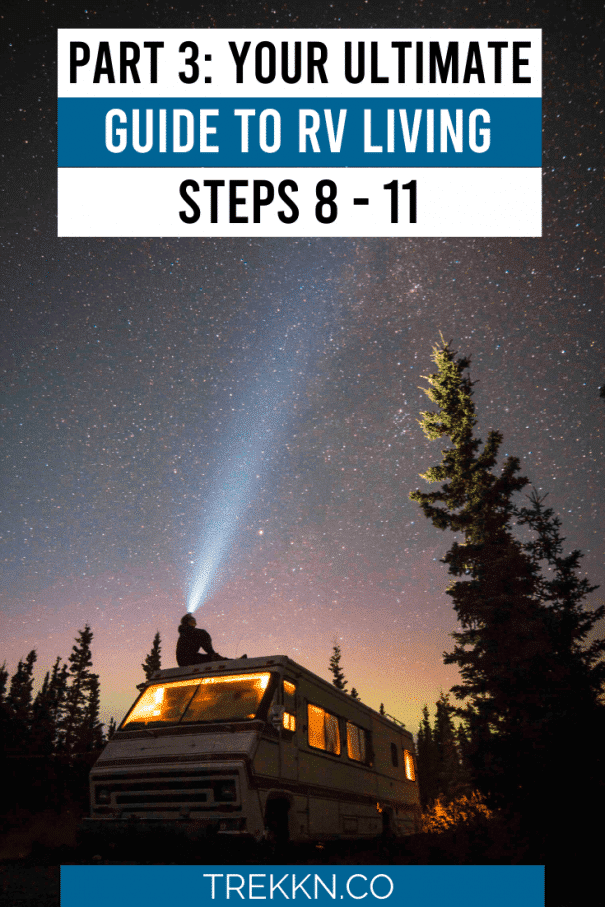 Now, we are ready to wrap things up and put a nice bow on them by covering the final four steps of the Ultimate Guide to RV Living:
Step 8: Buying ALL THE THINGS for That New Home on Wheels
Step 9: Moving In
Step 10: RVing Practice Run
Step 11: Saying Goodbye and Officially Launching Into the RV Life!
I hope you're ready for this, because things are getting real now. Let's polish this guide off and get you prepared to hit the road!
Your Ultimate Guide to RV Living – Part 3
Step 8: Buying ALL THE THINGS for That New Home on Wheels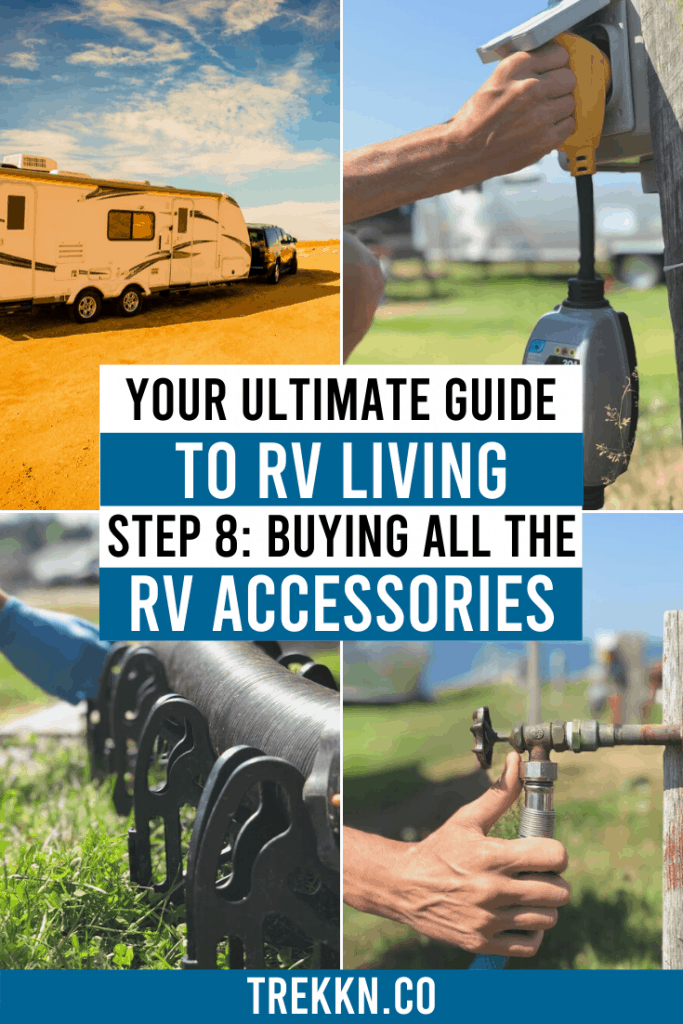 This step can be kind of easy to overlook initially with all the craziness of the first 7 steps. I mean, you've done the "hard stuff", right? You've purchased your RV and your tow vehicle (if necessary). You've gone through all of that research, made all of those difficult decisions and spent all that money to get to this point. You'd probably love it if you could just hit the road NOW.
But that would be a mistake that you would quickly regret. As I covered in this lengthy RV accessories post, your RV is still very incomplete and needs a host of supporting characters to make this RV living film into a real blockbuster.
Start With Essential Accessories: Sewer, Water, Electric
You wouldn't move into a new home if you didn't feel confident that you could flush the toilet, turn on the lights or get a glass of water from the tap, would you? Nope, me neither. These are the non-negotiables of modern living for most of us, and that's no different in an RV.
Ensuring that you are equipped to properly connect your RV's utilities to a fairly wide range of configurations at campgrounds and RV parks is an absolute must. Consider these possible scenarios, all of which we encountered in our travels:
You get the idea here. The number of scenarios you are likely to encounter in your travels require some planning ahead of time to reduce your stress and your overall costs.
Take a look at my Must-Have RV Accessories post to get yourself ready to roll. You will be SO glad you did, trust me.
Safety Before Convenience
What's the first thing you want to do after buying a brand new travel trailer? Well, you want to spend $600 on brand new tires to replace the brand new tires already on there, right?
No. Not if you are sane, at least. But that's exactly what I chose to do immediately after purchasing my travel trailer. Why? Because I was determined for my family and I to have the safest full-time RVing experience we possibly could, and those tires were exactly where that effort had to start. (Read that full post about my brand new tires to get the full picture behind my decision.)
Listen, when it comes to RV accessories, safety has to come before convenience. For me, that effort started with the new tires.
But almost immediately after purchasing the new tires, I also made the difficult decision to invest more money in a quality Tire Pressure Monitoring System. I know, I know, they are expensive. I can't argue with that. But when you consider that it is helping you protect those brand new tires, your RV itself and the quality of your overall RVing experience, it just makes sense.
I made these decisions because I made safety my top priority during our travels. Believe me, after traveling 40,000+ miles without a single tire issue, I have absolutely no regrets!
Take a minute to read my post about the five reasons you should purchase a TPMS today and then follow it up with a look at several other safety items I strongly recommend for your RV travels.
Get Hitched!
Maybe this goes without saying, but you should absolutely, positively not even think about hitting the road full-time in a travel trailer without purchasing a quality weight distribution hitch. These hitches, which normally include sway control components as well, ensure that the weight of your setup (truck and travel trailer) is more evenly distributed throughout.
The combination of an evenly distributed load and sway control are essential to providing you with a safe and comfortable towing experience. And when you are going to be towing for thousands and thousands of miles, that is absolutely a no-brainer! Take a close look at the option that we chose for our RV travels, and would absolutely choose again: the Equal-i-zer 4-point Sway Control Hitch.
(As a side note, I actually located a very gently used Equal-i-zer hitch on Craigslist that I was able to purchase for less than half of the cost of a new one. I then had it professionally installed, which I would also recommend even though it wasn't cheap!)
When you choose to put safety first on the road, it allows you to enjoy every single aspect of your adventure…instead of being sidelined by a major incident. Think about it, and make the right decision for you.
Step 9: Moving In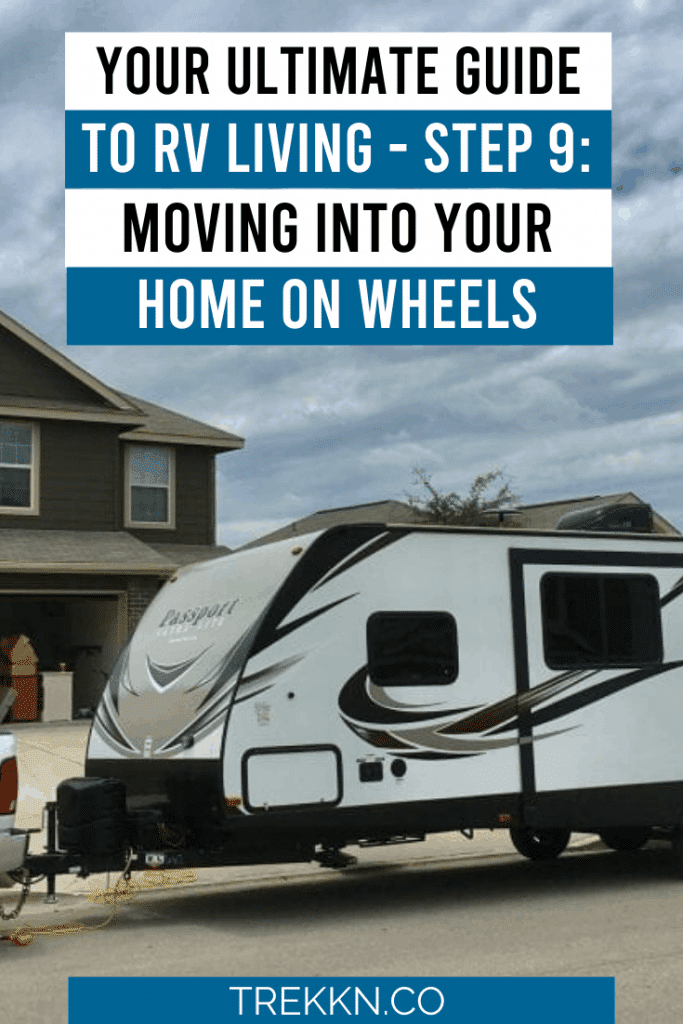 Moving. Isn't it just grand? Doesn't that word just make you feel all warm and fuzzy inside? Yeah, right.
I know better than most the 'joys' of moving since I have easily lived in more than 30 locations in my adult life. No, I don't even know how that is possible.
But here's the really good news: Since you have already worked through the "Decluttering" step from Part 1 of this guide, you've already done most of the work actually required to make the RV move-in process go off without a hitch! (No pun intended…and you do need a hitch. See section above.)
Now, that's not to say that you will know for sure that everything you have kept aside (not stored, sold or donated) is actually going to fit into your RV. You might have some surprises at this stage and realize that you were a bit overly optimistic about how much you could fit into this limited space.
Take a deep breath and roll with it, make the adjustments necessary, and I can almost guarantee you that you won't miss whatever it is you have to leave behind. You'd be absolutely amazed what you can easily learn to do without! And almost anything you choose to leave behind can be easily replaced, if necessary, during your travels.
Guesswork Won't Cut It When It Comes to a Safe Load on the Road
We can't talk about moving into your RV without covering some of the basics of how to load your RV properly to ensure that you stay in control on the road. These tips we will cover apply most specifically to towable RVs, and we will obviously convey the lessons we learned as travel trailer owners. So be sure to take some time to research safe loading practices for whatever type of RV you find yourself in for your adventures.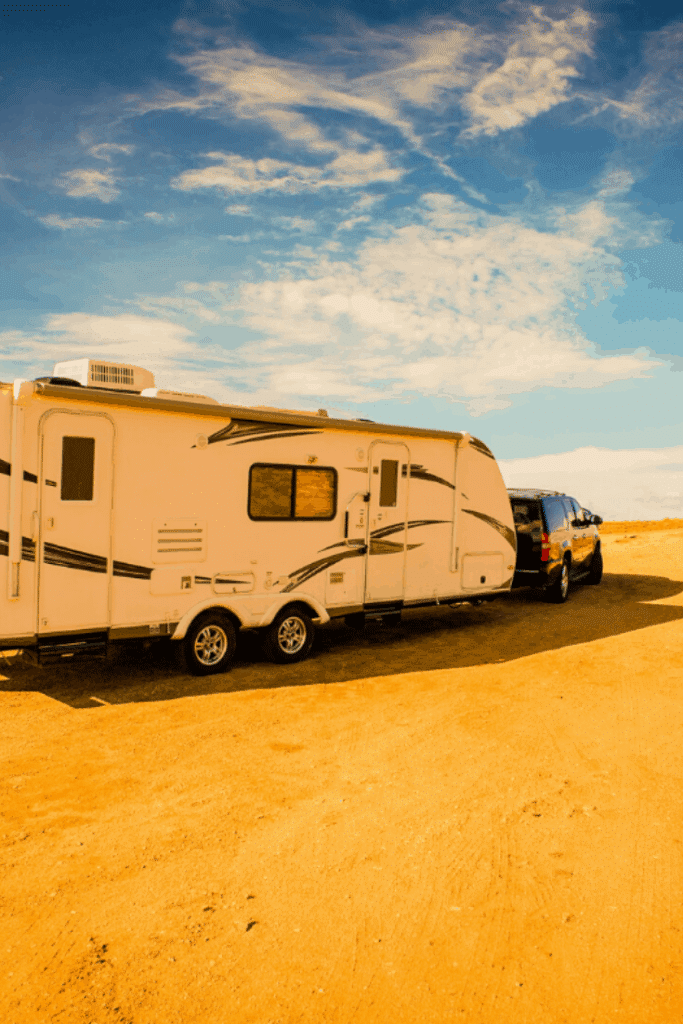 When it comes to loading a towable RV for travel, proper weight distribution is key. And no, that weight distribution hitch is not going to do all of the work for you here. There are a couple pieces of advice you should heed during the loading process, and throughout your travels, that will help to keep you safely moving down the highway:
The heaviest portion of your load should be as close to the axle as possible, or slightly toward the front of your towable RV. But overall, you should shoot for 60% of weight in front of the axle and maximum 40% behind the axle. If you end up with too much weight at the back, you will sacrifice a dangerous amount of control, as this video clearly demonstrates for you. (And their Weigh Safe product deserves some serious consideration as well.) Here is a full explanation taken from the video description:
"Proper trailer tongue weight improves the vehicle and trailer towing experience by improving performance. Not enough tongue weight or force on the hitch/tow ball causes an increase in trailer sway from side to side, making it difficult to control. Conversely, too much tongue weight or force on the hitch/tow ball could overload the rear tires of the towing vehicle, pushing the rear end of the vehicle around. This could also negatively affect the vehicle handling. Performance is impaired as you might not be able to go around corners and curves properly, and your vehicle may not stop quickly enough when you press the brake pedal."
Even though it might be a bit of a hassle, spending the time and money to regularly weigh your setup on a certified scale (normally found at larger truck stops) will help ensure that you have not overloaded your RV setup or improperly distributed the weight. "Weight creep", the tendency to slowly add more weight to your RV, is real! Make sure you monitor your weight regularly to avoid a disaster which can easily be caused by overloading.
Paying attention to how your load is balanced out from side to side is also very important. If your RV is leaning to one side or the other because of improper loading, it will also cause a decrease in stability and handling. Check the tilt of your RV before taking off each travel day, because this shift can also happen slowly and can be hard to notice.
Step 10: RVing Practice Run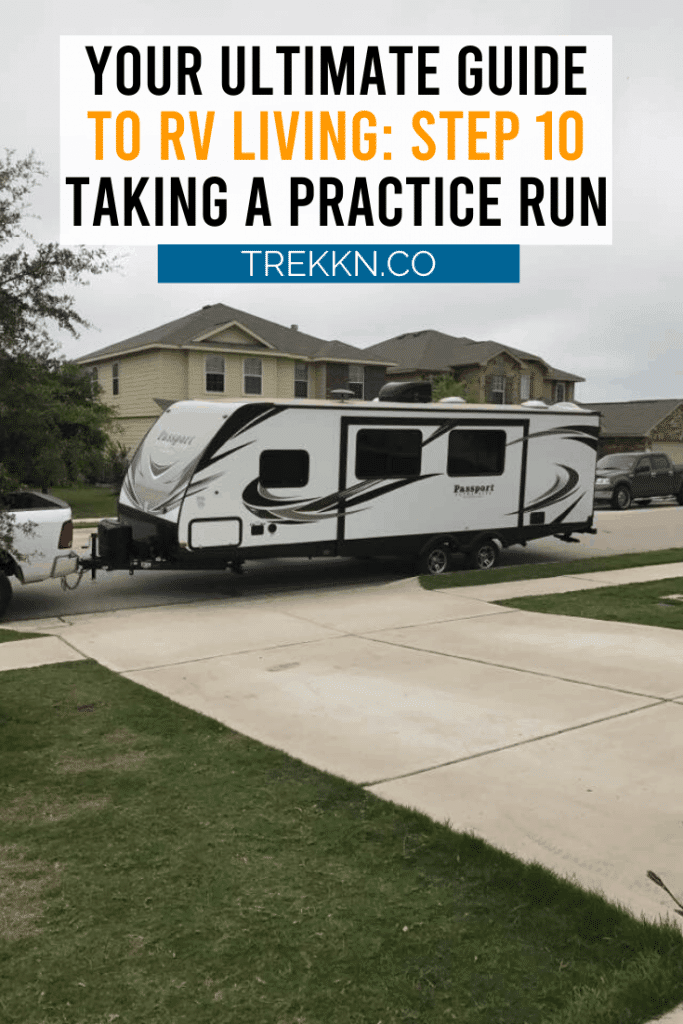 I'm not going to lie to you here: Making the decision to stay close to home for a few weeks and get your feet wet as a new RVer can be a big challenge. (If you aren't an RV newbie, you'll have to decide whether a practice run as a full-timer makes sense for you.)
Just think about it: You've spent months and months decluttering, communicating with friends and family, downsizing, selling a house (possibly), buying an RV and tow vehicle. The stage has been set, you are ready to roll…and you still have to stay within a couple hours of your home and support network?
Ugh. I mean, you just want to get out there and see the world, right? You just can't wait a minute longer! Or can you?
It's Still An Adventure…Just A Limited One
I get it, really. Honestly, I'm not sure that we would have really done a proper "practice run" for several weeks if we didn't have the built-in need to stick around for a family wedding in our hometown. It worked out perfectly, as a matter of fact. We stayed within about two hours of our friends and family in the Austin area for the first month and then really hit the road and headed north into Colorado after the wedding.
During that month, we had plenty of excitement and adventure at three or four different campgrounds; it was just of a bit warmer variety than we would have preferred. We were aching for that "mountain chill" up in Colorado and beyond, but it honestly just made it all that much more satisfying when we finally did escape the heat up in those higher elevations.
And if something had gone terribly wrong in those first weeks? If I had damaged my RV while backing it in somewhere? (Probably my greatest fear, and I came far too close to it once.) We had friends, family, and the dealership we purchased the RV from just a short drive away to manage the entire (unfortunate) situation.
Essentially, as brand new RVers it offered us some much-needed peace of mind as we launched into this completely new world and got ourselves acclimated to its unique rhythm, requirements and rules.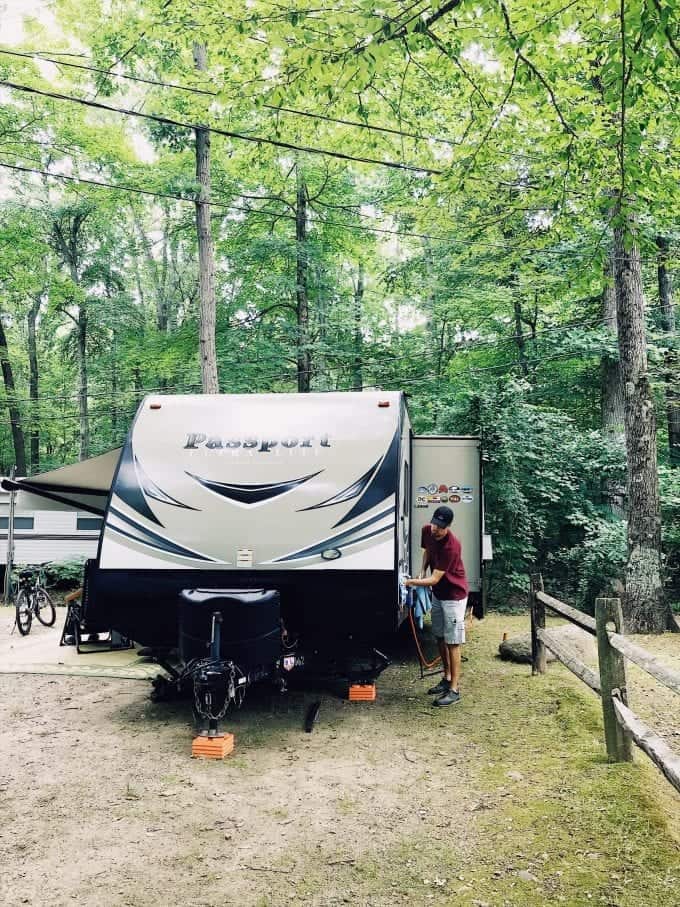 Let's Decompress, Shall We?
And for me personally, it was a period to decompress, to recalibrate after the constant pressure of preparation that I had carried for the last few months. That was a welcome relief! (Side note: This was also a period to recover physically for me after my back completely gave out on me right as we moved into the RV. That was a real joy, let me tell you.)
My advice? Limit your travels for that first month of RVing so that you will allow yourself the best start possible to your RVing adventure. There's plenty of time to see everything you want to see; it's not going anywhere. So make the smartest choice and plan your practice run as you head out. (Hint: It will probably give your loved ones, the ones who think you've lost your mind, a little extra peace of mind as well. It's a nice parting gift to give them!)
Step 11: Saying Goodbye and Officially Launching Into the RV Life!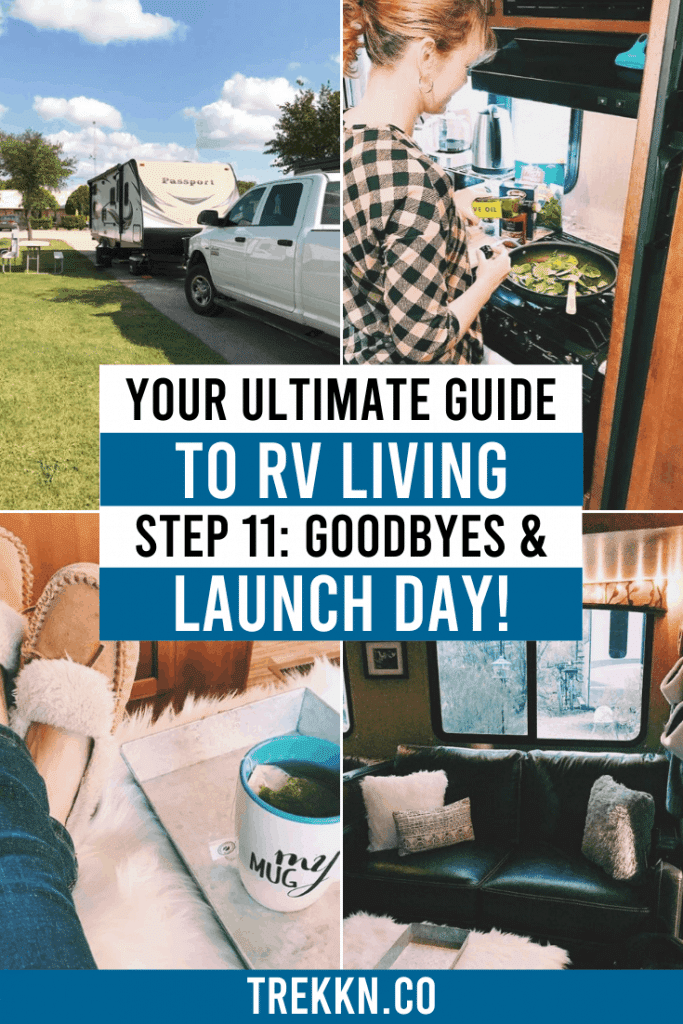 Can you believe it?! After all those steps and all those words to help prepare you for this huge step, it's actually time to LAUNCH! I'm not sure the astronauts feel much more excitement than a full-time RVer on launch day. At least that was definitely our experience.
So many butterflies, so many hopes and dreams, so many bucket list items dancing around in your head! Oh, and still some remaining questions and fears (you can read about our biggest fears before hitting the road right here). No, they do not all completely evaporate during your practice run, but they definitely become more manageable before you hit the open road. There is absolutely no doubt about that.
Step Back and Appreciate What You Have Already Done
But before you hit the open road, take an evening to sit around the fire with your loved ones and relive some of the highlights of this amazing process you have already gone through to get to this point. Talk about the moments where you really thought this was never going to happen, talk about the possessions that you didn't think you could part with, remember the fears that you had to overcome, the doubts that plagued you, the obstacles that stood in your way, the people that disagreed with this decision.
Just take a few minutes to appreciate the fact that you are here, you have grown during this process and you will never be the same even if you don't check a single item off of your bucket list.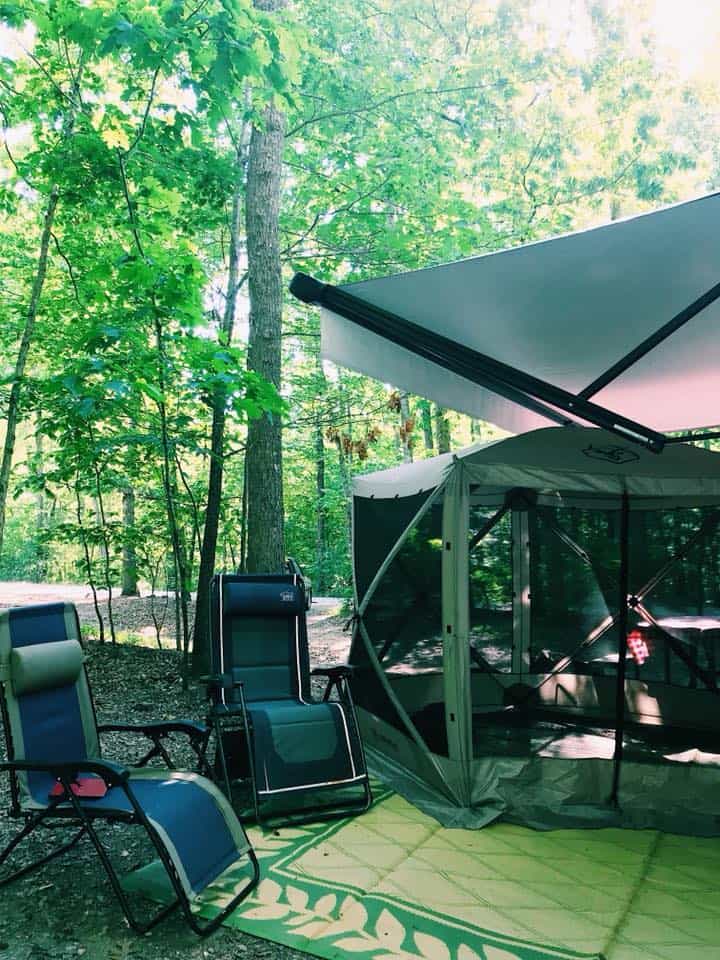 You have made a choice that felt right for you, even though it was terrifying and tough and maybe unpopular. That's important, and for you it may just be a major turning point in your life that will change the entire course of your life from this point forward. Not because you are living in an RV, but because you chose boldness, you chose the unknown, you chose uncertainty over "safety". You chose to take a risk and LIVE.
And that, my friend, that has a way of shaping you in ways you probably can't quite grasp right now.
Make Some Plans to Stay In Touch With the Ones You Love
If you have close friends and family that you will be leaving behind during your travels, folks that you really want to be sure you stay in touch with and share your experiences on the road, consider committing to a scheduled check-in with them.
Whether it's by phone, video chat, or other means, putting something on your schedule will help ensure that you don't inadvertently neglect the relationships that matter the most to you in the midst of the excitement (and possibly occasional stress or struggle) of life on the road is your best bet. The days have a way of blending together out there, so anything you can schedule would be a wise move.
Final Goodbyes
Now, it's time to hug some necks and probably shed a few tears as you say goodbye to those closest to you. It will absolutely be a mixture of emotions, and it might get a little messy, but I'm betting that it won't slow you down too much.
Because you've got this, you're ready, and the entire continent really is your oyster now as you set off on the adventure of a lifetime!
Just remind them (and yourself) that this isn't a forever thing. This is an adventure thing that will allow you to return home if needed, and when the time comes.
Let the Good Times ROLL!
We wish you nothing but the safest and most fulfilling adventures during your RV travels. And we are confident that on the other side of all of this, whenever that may be for you, you will look back with pride and extreme gratitude on all that you have accomplished, all that you have experienced, all that you have learned about yourself.
Because this opportunity is a gift. Don't ever forget that.
PIN THIS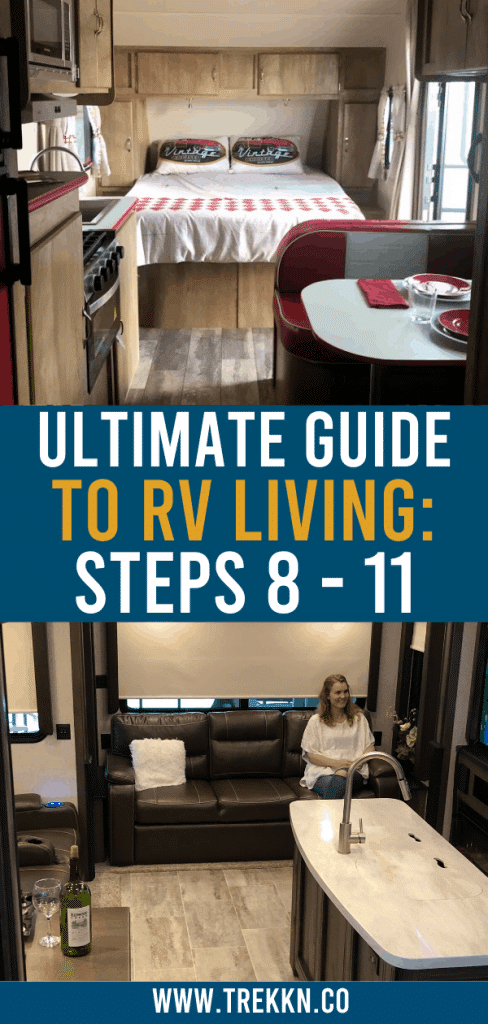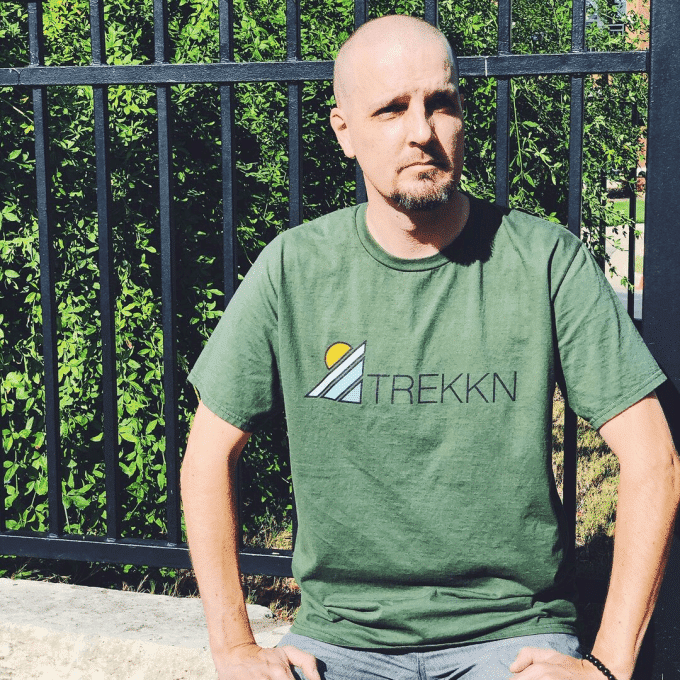 Todd Bonner is the slightly quieter half of the dynamic TREKKN duo. He spends most of his time sharing information about RV travel and safety, RV accessories and tips, and the National Parks he has visited and still desperately craves. When he's not busy working on TREKKN, you will often find him staring at breathtaking pictures of Glacier National Park, probably his favorite spot on earth.
Last Updated on