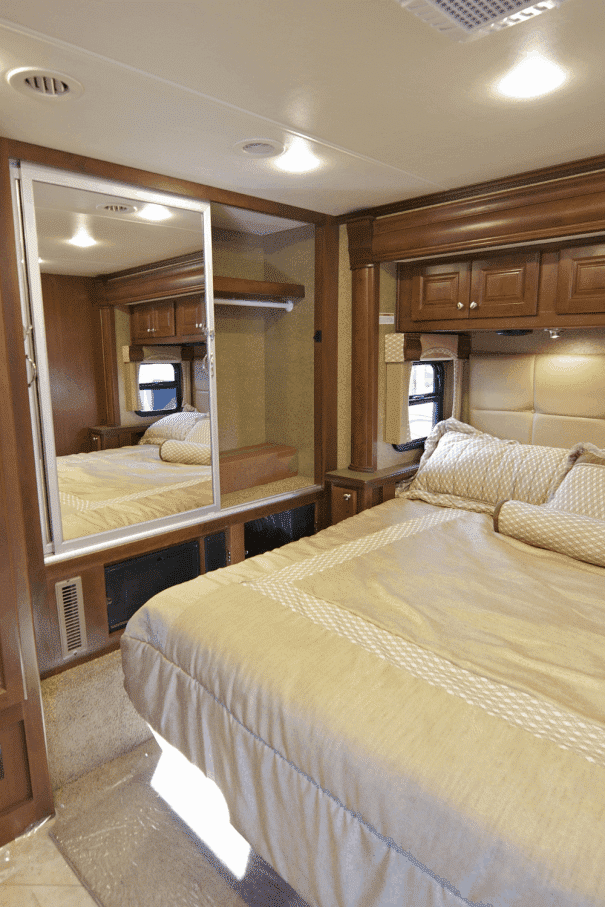 RV life has a lot going for it. It's not a surprise that it continues to grow in popularity as singles, couples and families heed the call of the open road and embark on full-time RV living adventures by the hundreds and thousands.
But as we have detailed extensively, RV life is not all roses and rainbows. It comes with its own unique set of challenges: from winter struggles, to fears you must face, it can make you wonder if it's worth it.
One part of the struggle that we have not discussed quite as extensively is the daily grind of dealing with your stuff. Of finding a place for everything (or just getting rid of it) so that you don't feel like you're going over the edge. And we did pretty good with this struggle overall, but we look back now and realize that we really missed the boat in the bedside storage category.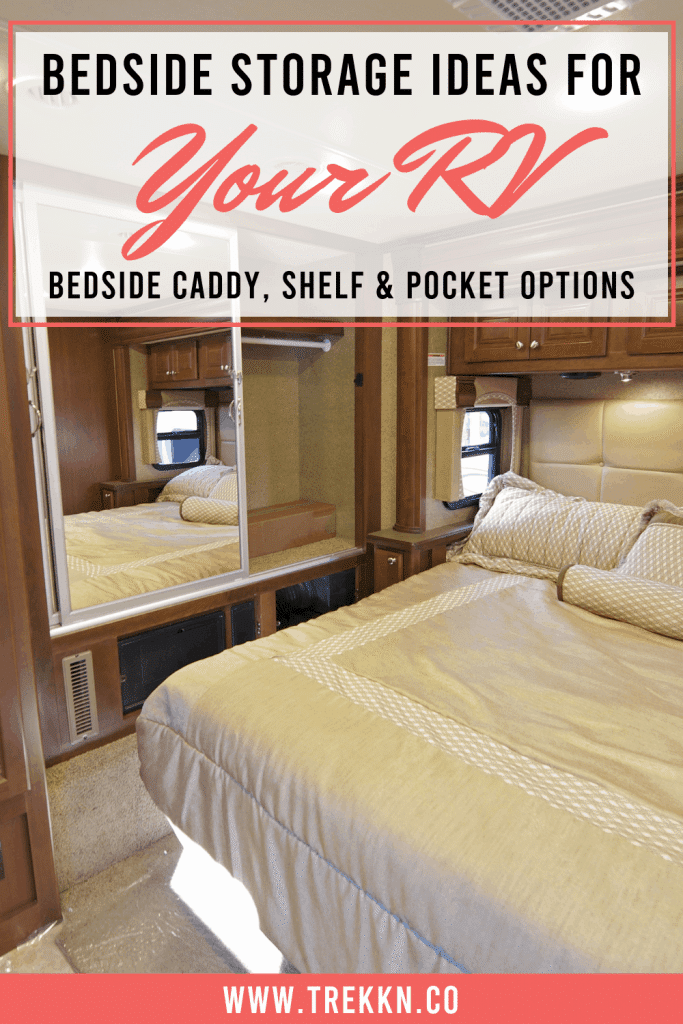 Bedside Storage Ideas for Your RV: Bedside Caddy, Shelf and Pocket Options
RV storage ideas can be kind of challenging to discuss because every RV is so unique. Every setup and floor plan is different. Oh, and each individual has their own particular triggers, pet peeves and preferences also. In this category, one size most definitely does not fit all folks.
Because of this reality, the best way I can see to tackle this issue is by breaking bedside storage down into three sub-categories: Bedside Caddy options, Bedside Shelf options and Bedside Pocket options. Odds are that at least one of these alternatives will be the right fit for you and your situation.
And when you find the right solution, you will be miles ahead of us. Because the truth is that for some reason we did not even truly seek out any bedside storage options during our travels.
Instead, we just kind of gutted it out and assumed that our ongoing bedside mess was just "part of the struggle". Did I know that a bedside caddy was even a thing? Nope…not until last month as a matter of fact.
Your life is about to get infinitely better as I lay out the truth of the bedside storage options available to you in the age of the internet. Prepare to be amazed…
Bedside Caddy Options
So, here's the first thing that you need to know about the bedside caddy category: Many of the options out there simply will not work in most RV setups.
What you will find is that quite a few of the choices out there are specifically tailored for the college dorm room crowd.
Take this option above: Whenever you see this 3-strap design, you can know immediately that it is designed to strap on to a bunk bed (or hospital bed) rail. If you happen to have kids in bunk beds in your RV, and those bunks happen to have rails (not very common), then this might be the right type of design for you. But I think the chances are pretty slim.
From looking at a LOT of RVs over the past few years, my best guess is that a bedside caddy design like you see above is going to be your best bet for a good fit. Of course, I can't guarantee that. But if you have the typical design with a wooden platform and then the mattress sitting directly on top of that, this design that secures the flap of the caddy underneath the mattress does seem to make the most sense.
This particular design above gives you enough space in the caddy to easily hold your tablet, phone, book, magazine, headphones and plenty more. At the same time, it's compact and slim design will ensure it doesn't get in the way too much in your less-than-spacious quarters. (This one might even handle a lightweight 13-inch laptop, like a Mac Book or a Chrome Book if you need that functionality.)
With its two mesh pockets inside the large compartment, located closest to the bed, it allows you to keep your essentials as handy as possible while in bed.
Now, here's one last option in the bedside caddy category that is really for the "I need everything I own right here and right now" crowd (no judgment):
This option will hold just about everything you could possibly need. Yes, it is targeted toward the college dorm crowd, but it has the same "flap under the mattress" design that we discussed above. So it might work just as well.
My guess is that something this large might get to be a real hassle in a smaller RV space, and could lean out away from the bed when it is loaded down with items. So just consider that possibility before making a purchase.
We all know that in the RV living space, less can often be more. This situation is probably no different.
Bedside Shelf Options
As I said earlier, there are so many different RV configurations and floor plans out there that I don't want to avoid covering this option with the possibility that it could be exactly what you need.
This particular bedside shelf option is all the rage on Amazon right now. This was a crowd-funded project on Kickstarter.com that then moved over to Amazon for immediate sales, and it really seems to have taken off.
They offer several different styles, but for most RVs the "Slide" option is going to work best because of the flat base that is most common. And here is one other variation on the slide option that raises the shelf up to the top of your mattress, allowing you to place your laptop on it for watching movies, etc.:
If you have a bit more space on the sides of your bed and really like not having to dig into pockets to find your things, this bedside shelf approach might be the perfect fit for you. Or there is this very low-profile adhesive shelf option you might want to consider as well:
And here is one final variation of this shelf product that is more compact, but still provides quite a bit of storage space and anchors snugly under the mattress:
It's a bit on the pricey side at $44.99, but if it works for you and solves your bedtime struggles, then in my book it is well worth the price!
If you fall into the "minimalist" crowd and are just looking for something to hold the bare essentials (phone, glasses, pen, earbuds), you could either consider one of these small shelf options above, or you might also consider a smaller bedside pocket that can also hang on the wall.
Bedside Pocket Options
Let's assume for the moment that you just don't like the idea of having something on the side of your bed, stuck underneath your mattress. Maybe you're concerned that you will bump it in the night, or kick it and destroy it getting out of bed for the (inevitable) middle-of-the-night bathroom run. Yeah, I feel ya.
If you have some empty wall space right next to your bed that would make your items very easily accessible, then a hanging bedside pocket organizer like this might be the answer. This is a very cost-effective option if you want to pinch those pennies and still get a quality product.
It is really up to you whether you want to try using an adhesive hook option for hanging a pocket organizer like this on the wall. My personal opinion is that if you are just holding your phone, glasses, pen and notebook, and maybe earbuds in the organizer, then an adhesive hook option that holds 5 pounds might work just fine. This is assuming you have a smooth,non-porous surface to attach the adhesive to, of course.
If you are not overly concerned about putting a small hole in the surface, however, then the most secure option would definitely be a small hook that screws into the wall. Just so you know, I wouldn't screw or nail anything into my travel trailer's walls. We used adhesive hooks extensively and were very pleased overall with the results…and with no damage to the RV. But you do you.
And last but not least, here is a bit more decorative take on the bedside pocket organizer if this design seems to be the best fit for your situation. You won't have any problem finding a pattern and color scheme that fits your particular preferences. A few extra minutes surfing around Amazon and you should find everything you could ever hope for. I mean, it is Amazon after all.
Which of These Bedside Storage Ideas Will Work Best for You?
We have covered quite a few different options here that you should consider for your RV or tiny living space. Any of them will provide you with the organization and accessibility you are looking for…it's just a matter of how they fit your particular living situation and preference.
If there is another option in this bedside storage arena that we have not covered, feel free to educate us in the comments below.
Let us know what has worked the best for your RV or tiny living situation and why. We love to keep learning as much as we can about the options out there for staying organized and stress-free in small spaces. Because heaven knows it isn't always easy with how much we love our stuff.
PIN THIS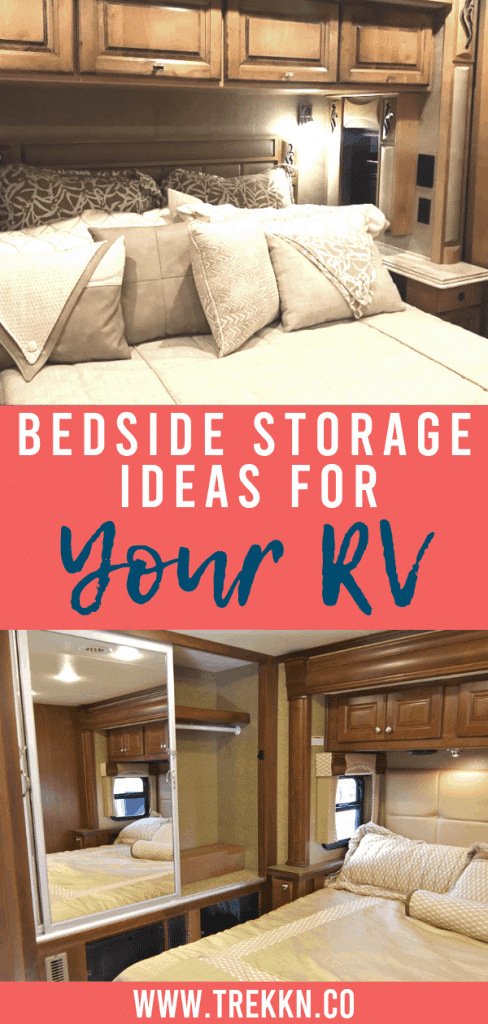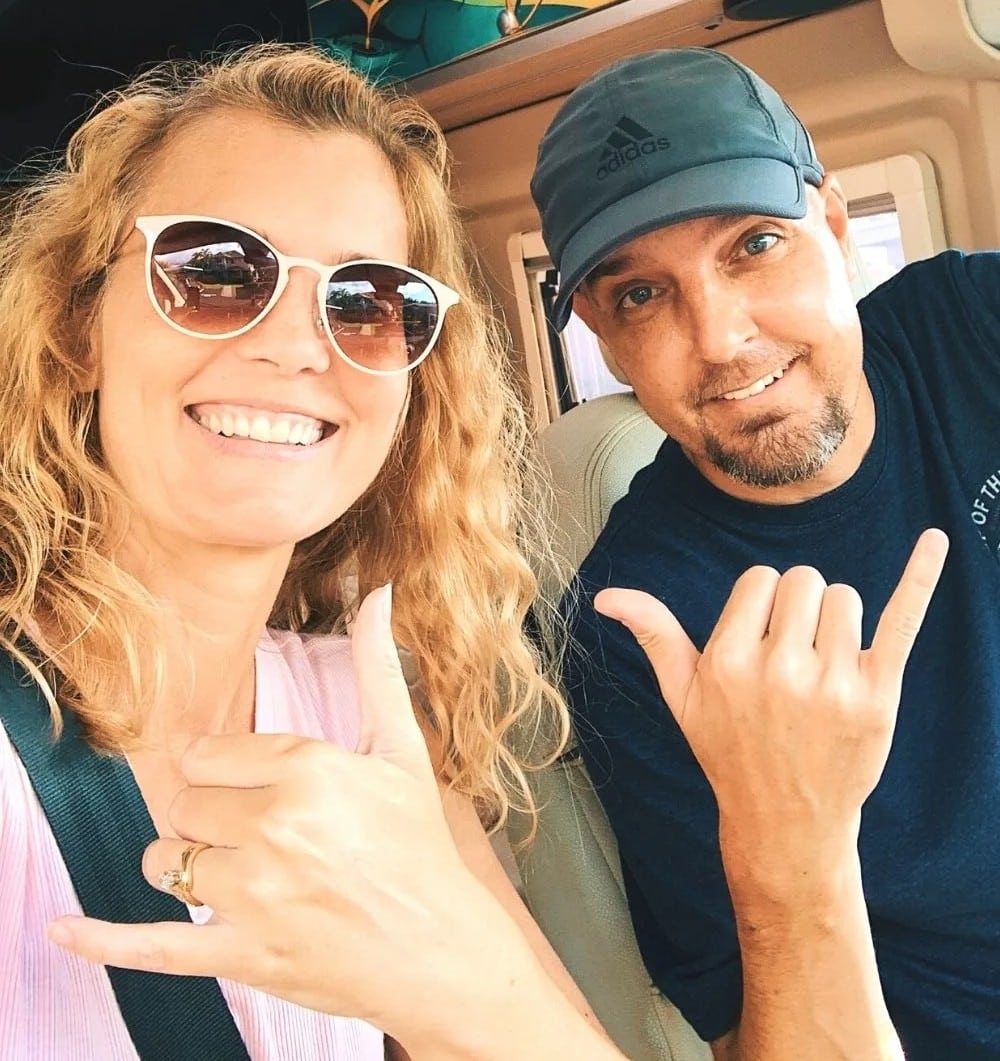 Todd Bonner loves a competitive game of table tennis, a breathtaking hike and simply exploring new places. He spends most of his time sharing information about RV travel and safety, RV accessories and tips, and the National Parks he has visited and still desperately craves. When he's not busy working on TREKKN, you will often find him staring at pictures of Glacier National Park (probably his favorite spot on earth) or creating new products for Clever Camper Company.