15 Instant Pot Soup Recipes with Only Five Ingredients

Inside: These 15 Instant Pot Soup Recipes are perfect for dinner in your RV when the weather is cold and you need something to warm your insides. The magic in these easy soup recipes is they only require five ingredients!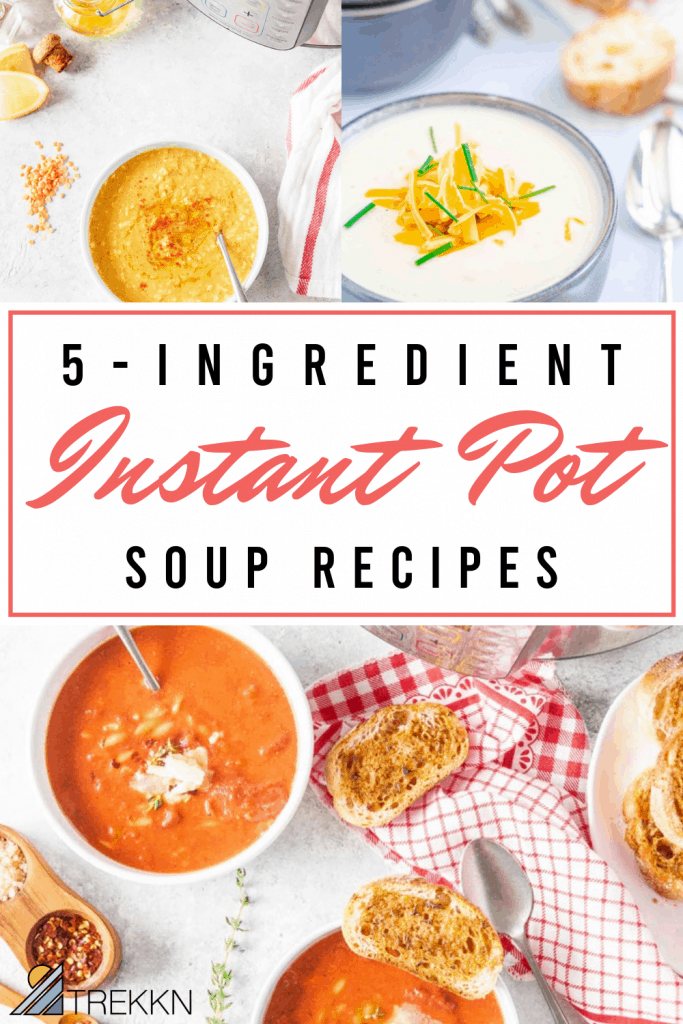 If this is your first fall and winter season to go RVing, welcome to the most wonderful time of the year! The temps are fantastic, the campgrounds are less full, the days are a little shorter and you find yourself curling up with a good book more than in the summer months.
The fall and winter RV lifestyle is the best.
The RV Lifestyle in Fall and Winter
We've done quite a bit of RV camping when the temperatures drop and it's time to turn on the heater. We've learned some hard winter RV living lessons, as well as soaked in every minute of gorgeous fall camping in places like Glacier National Park.
One of my favorite things to do when the temperatures start to drop is to break out the Instant Pot for some soup.
There's something special about eating a bowl of soup in the comfort of your RV while watching it lightly snow outside. We've also experienced enjoying a bowl of warm goodness while listening to the elk calls in Rocky Mountain National Park.
What I'm saying is…soup and the RV lifestyle pair well together.
Why 5 ingredients or less?
There are three reasons we're featuring recipes with just a few ingredients: lack of space in your RV kitchen, lack of grocery choices while traveling and because simplicity is awesome.
Because let's face it, the RV lifestyle is enjoyed more when you whole-heartedly embrace simplicity. That's one reason we chose this lifestyle, am I right?
It's nice to have recipes in your arsenal that don't require a long list of ingredients because that aligns with what RV living is all about.
When I would plan our menu while traveling to our next destination (this is how I meal planned and grocery shopped efficiently while RVing full-time), if a recipe had a long list of ingredients, it was a no for me.
*Side note about five ingredients: There are some recipes listed below that if you count things like salt, pepper, olive oil, water and a few spices add up to more than five ingredients. When I say five ingredients, I mean the main part of the soup and am not counting the ingredients most of us have on hand all the time.
Why the Instant Pot?
The Instant Pot made it onto my list of 7 RV kitchen essentials and for good reason.
Why is it essential?

It saves me time, cooking things way faster than on the stove or with a crockpot
Using the oven heats up the RV really fast and that's miserable in the summer
It uses electricity instead of our precious propane in the colder months
It's only one pot I have to clean
Rice turns out perfect every time
Quinoa turns out perfect every time
Potato soup turns out perfect every time
Some RVers prefer using a crockpot and there's nothing wrong with that. A crockpot might just work best for you!
I stayed away from team Instant Pot for a long time because I just didn't get it. Plus, it seemed like a terrifying kitchen gadget that if I did one little thing wrong, it would blow up our home.
But I finally gave in and bought one, used it a few times and to make a long story short…became hooked on this way of cooking. Especially when it comes to RV cooking.
So, without further ado, I hope you find an Instant Pot soup recipe or two your family will enjoy.
P.S. Know that I included a stew and a few chili recipes in this list. Although they may not be "soup" by a hard definition, I included them because they are warm, served in a bowl, eaten with a spoon and can be slurped…just like soup. 😉
15 Instant Pot Soup Recipes
Instant Pot Tomato Orzo Soup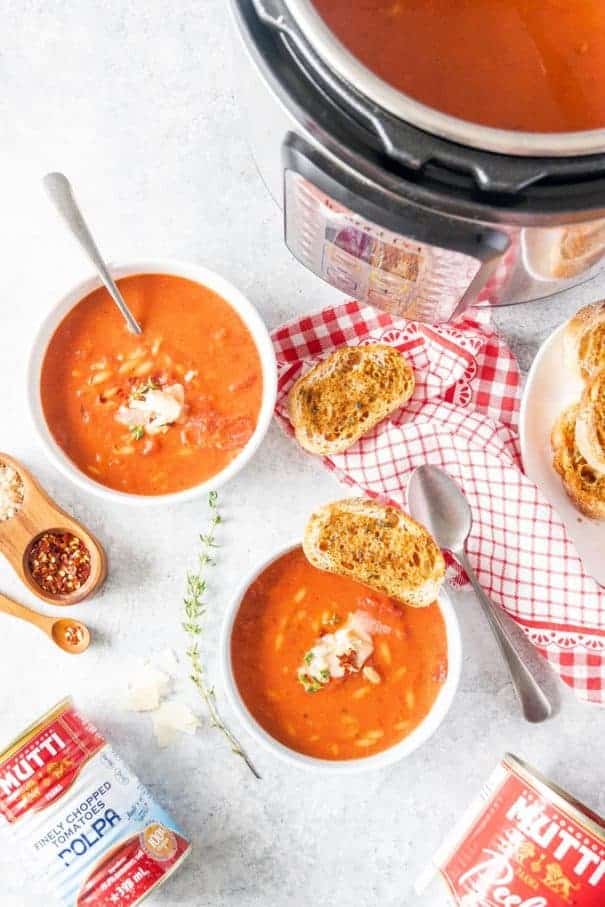 "Instant Pot Tomato Orzo Soup is wonderfully filling and savoury. It is really easy to make and has minimal ingredients that are easily found in your pantry! The flavours are clean and bright and perfect for cool evenings." – Imagelicious
Get the recipe here.
Instant Pot Tomato Tortellini Soup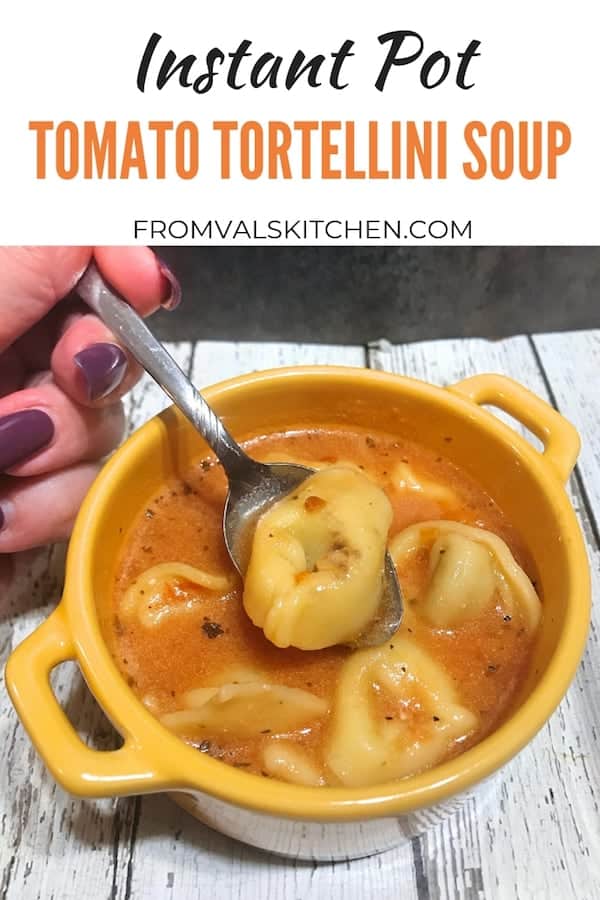 "Instant Pot Tomato Tortellini Soup is a simple soup that works well paired with sandwiches or standing on its own. The recipe takes about 30 minutes to make and calls for only 6 ingredients." – From Val's Kitchen
Get the recipe here.
Instant Pot Carrot Ginger Soup
"Fully loaded with lots of fresh carrots and fresh ginger. The perfect comfort soup cooked in the Instant Pot Pressure Cooker. Even better, this makes the best healthy Instant Pot Freezer Meal that you have ever tried!" – Recipe This
Get the recipe here.
Instant Pot Broccoli Cheese Soup
"But, one way I can buy back some time for myself is to make simple dinners. Things like this 5 ingredient broccoli cheese soup in my pressure cooker is where it's at!" – Kitschen Cat
Get the recipe here.
Instant Pot Cheater Beef Stew
"If you're looking for the easiest beef stew recipe you may have found it! This recipe is made quickly in your Instant Pot and requires little to no prep and only 5 ingredients. No sauteing, chopping or browning. And best of all it tastes great!" – 365 Days of Slow + Pressure Cooking
Get the recipe here.
5-Ingredient Carnitas Soup
"This 5-Ingredient Carnitas Soup recipe is quick and easy to make, and it's the perfect use for leftover carnitas! Stove-top, Instant Pot, and Slow Cooker instructions are all included." – Gimme Some Oven
Get the recipe here.
Taco Ranch Chicken Chili
"This Taco Ranch White Chicken Chili is made with just 5 ingredients in a slow cooker or instant pot!" – The Novice Chef
Get the recipe here.
Quick Onion Soup
"So when I wanted to make a weeknight-friendly quick onion soup recipe, I decided it would be a good test for the Instant Pot. And it worked wonderfully, only needing 10 minutes under pressure to make a flavorful onion soup, no babysitting needed." – Meatified
Get the recipe here.
Instant Pot Soup: Zucchini & Tomato Soup
"This Instant Pot soup recipes is so yummy and cooks up in under 15-minutes. The best part is it's a vegan instant pot recipe!" – The Classy Chapter
Get the recipe here.
5-Ingredient Instant Pot Black Bean Soup
"It's amazing when you come up with a recipe that takes almost no effort at all. This Instant Pot Black Bean Soup is one of those recipes. It is so fast to make and incredibly delicious. It will quickly become one of your absolute favorites." – Treasured Mom
Get the recipe here.
5-Ingredient Easy White Chicken Chili
"In addition to only calling for a handful (get it, a handful) of ingredients, this easy white chicken chili recipe also can be made and on the table in just 15 minutes." – Gimme Some Oven
Get the recipe here.
Instant Pot Cauliflower Soup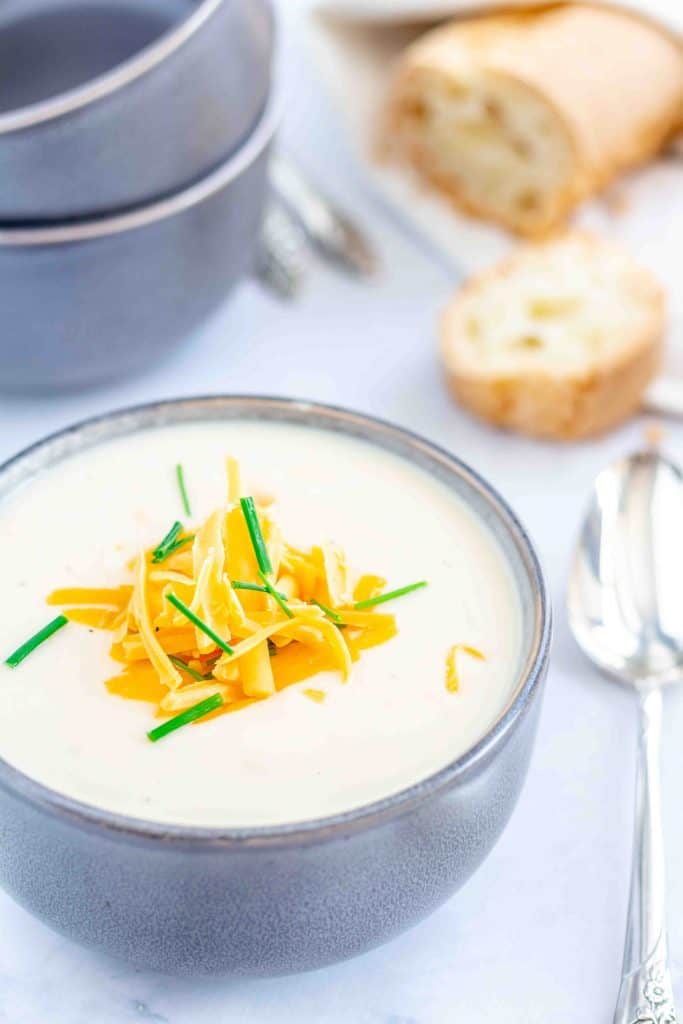 "This Instant Pot Cauliflower Soup is QUICK, EASY, and hands-off thanks to the Instant Pot. Make it in under 30 minutes! Naturally gluten-free." – Life After Wheat
Get the recipe here.
Thai Curry Zucchini Soup
"Thai curry zucchini soup is a breeze in the Instant Pot and so very tasty! You can make it in the slow cooker too. Best of all you only need 5 ingredients to make this rich and flavorful low carb soup." – My Life Cookbook
Get the recipe here.
Lemon Lentil Soup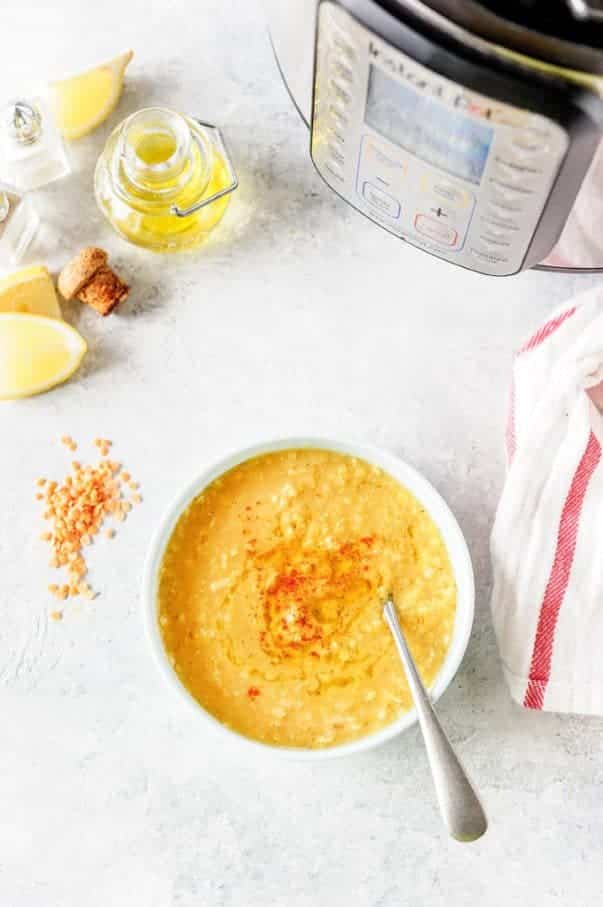 "You can cook this Lemon Lentil Soup on the stove top or in Instant Pot. The soup is really fast and easy to make. The result is delicious, refreshing, healthy, and tasty Lemon Lentil Soup. It is also naturally gluten-free and vegan." – Imagelicious
Get the recipe here.
5-Ingredient Black Bean and Sweet Potato Chili
"5-Ingredient Black Bean & Sweet Potato Chili is simple to prepare, totally nourishing, and absolutely delicious. Just throw a few ingredients it in the slow cooker or pressure cooker, and dinner is ready!" – Real Food Whole Life
Get the recipe here.
I don't know about you, but I've definitely added a few Instant Pot soup recipes to my list! And with only 5-ingredients and cooked up in an Instant Pot, dinner this fall and winter will be easy peasy.
PIN THIS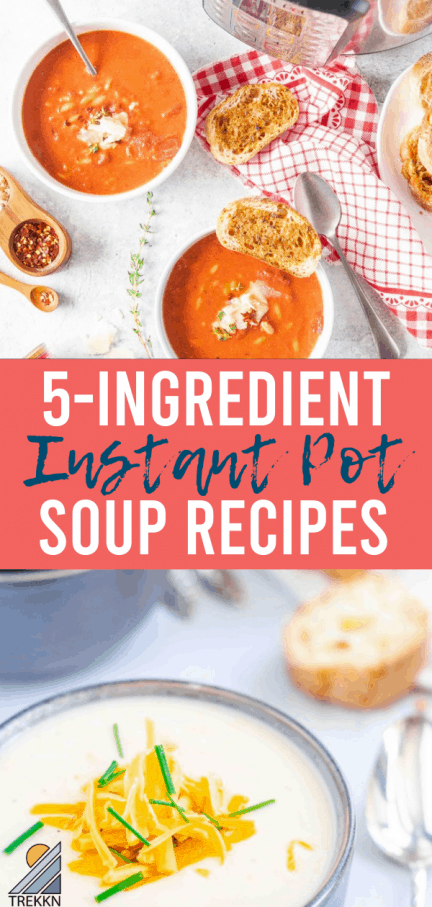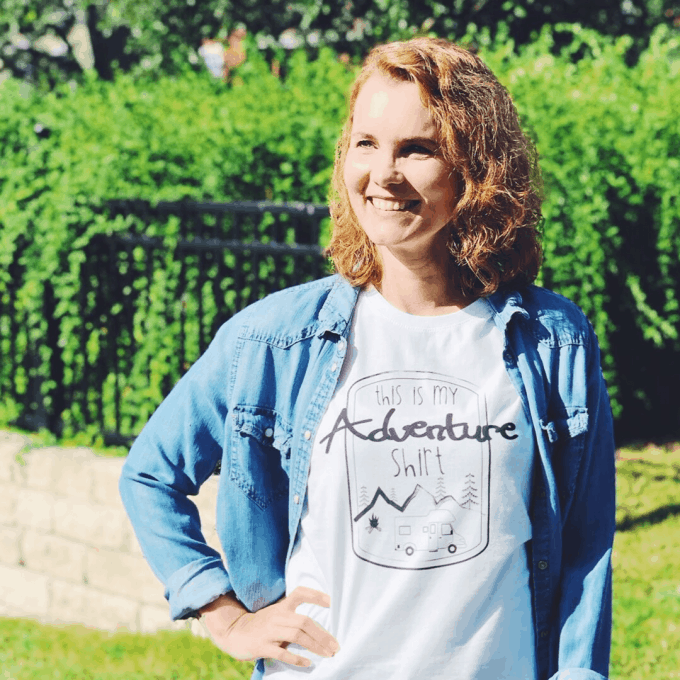 Julie specializes in helping you whip up delicious meals in your tiny RV kitchen, as well as RV organization tips and helping fellow RVers make their RV feel like home. Her favorite RVing spot is in Banff National Park in Canada where yes, the water really is that blue and the people really are that nice.