Last Updated on
We have the scoop on the best portable propane fire pit for all of your incredible camping trips. Get ready for roasting marshmallows and soaking in those lovely nights outside by the campfire with family and friends.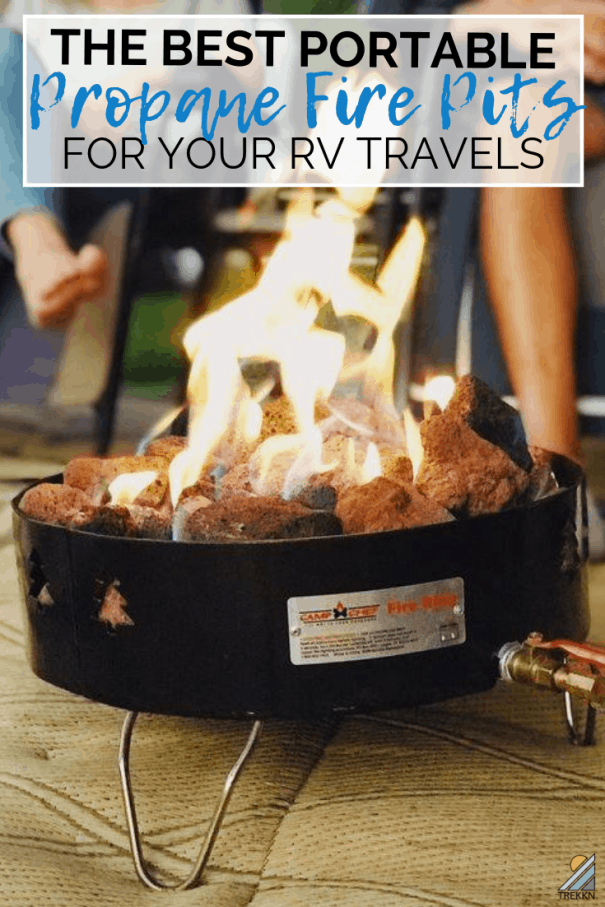 If you asked me what one of my favorite accessories for RV camping in the great outdoors is, I would definitely say our propane fire pit.
Some friends of ours in San Diego gave it to us as a gift while we were visiting them. After sitting in front of their fire pit night after night for patio time (as we liked to call it) we knew we needed one for our travels.
That's one of the reasons why we mention this product in our gifts for RV owners guide. It was a gift we used time and time again.
Why a Portable Propane Fire Pit Came in Handy
Purchasing a propane fire pit never really crossed our minds as something we thought we needed before we started RVing. We just figured we would a) use the campgrounds' fire pits and b) would prefer a 'real fire' over a propane one.
There are a few reasons why our nights by the fire became less and less as we traveled north up to Canada and then down through Washington, Oregon and California:
Fire bans
The farther north we went, the more fire bans we encountered. We just so happened to be traveling north during the 2017 summer of fires, one of the worst fire seasons the west coast had seen. The smoke followed us from Banff National Park in Canada all the way through our travels to California.
Needless to say, we didn't spend many nights around the campfire.
But even with a fire ban, some campgrounds allowed you to use your propane fire pit. Although in all honesty, I'm not sure we would have used it because seeing the devastation of those fires was pretty brutal.
But, if there is a fire ban and it's a mild one, you might be glad you have a propane fire pit to enjoy a few nights fireside.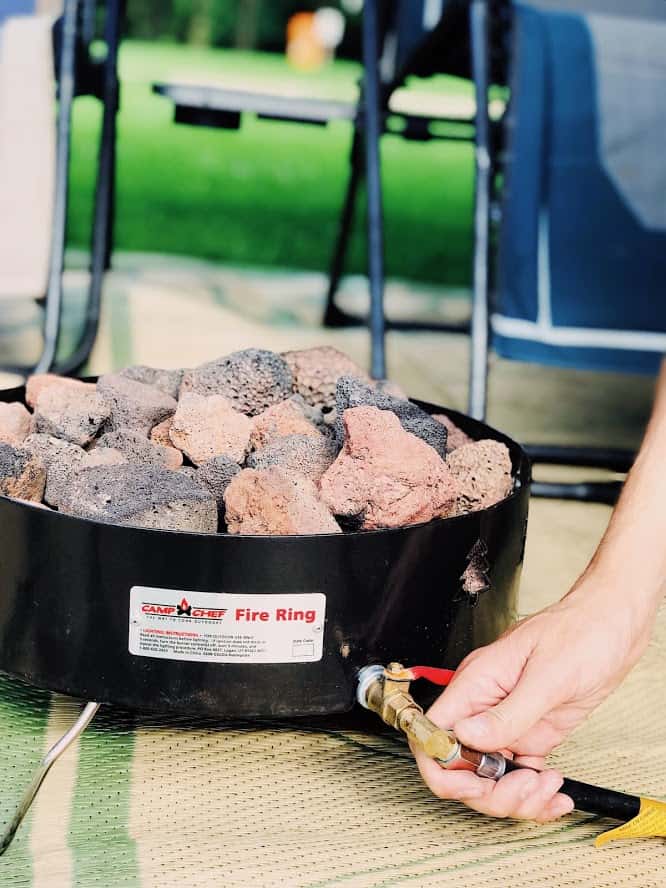 Tracking down firewood can be a pain
Not all campgrounds sell firewood, so it's up to you to track it down. I remember visiting many grocery stores asking about firewood and either they were out or they didn't sell it.
When you can't bring firewood across state lines
Not only was tracking down firewood a pain sometimes, but there were the times we had a nice bundle of firewood and we weren't allowed to bring it across state lines.
Regulations vary by state, so be sure to check what the laws are when crossing state lines. Don'tMoveFirewood.org has a handy map which shares regulations for each state and how you can be a responsible firewood user.
You don't want to smell like smoke all the time
I love the smell of campfires, but I don't enjoy smelling like it all the time.
After traveling for a bit, we quickly realized that everything we owned would soon smell like campfire smoke 24/7.
It's a good way to meet people
You might be saying 'what?!' to this one, but there's something about starting up a fire and inviting people over that helps make the conversations flow easier. We met a lot of people on the road who became lifelong friends, just by simply inviting them (or they invited us) over for a campfire.
Are Propane Fire Pits Worth It? Here are Some Benefits
You might be asking yourself if investing in a portable propane fire pit is even worth it. We think it is. Here are a few things to consider:
You can use it both at home and while camping
You won't have to deal with the smoke blowing in your face and eyes
You're in control of the flame
You can instantly turn it off; not having to wait around for the fire to die down
Starting a fire is a breeze; aka immediate fire gratification 🙂
You can have a fire anytime and anywhere with the convenience of a propane fire pit
Propane is easy to track down and purchase
Propane fire pits require very little cleaning
Wood attracts pests, propane fire pits don't
You can cook over it; yes, you can make s' mores over a propane fire pit or even dutch oven cooking
Since we RV with a travel trailer, which runs the heat and refrigerator off of propane, we always had a propane tank available to light up our fire pit. It ended up being so much more convenient than a traditional campfire.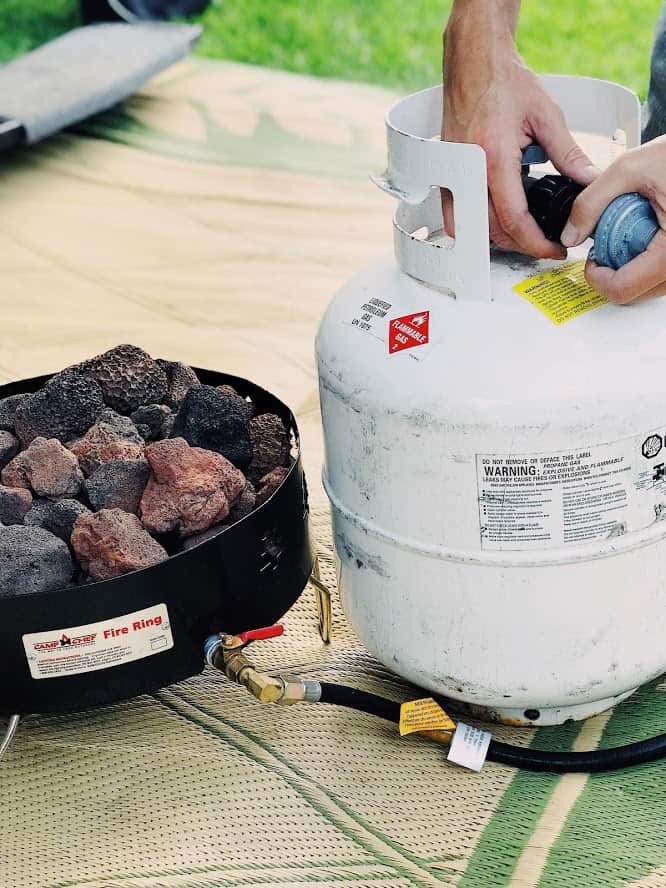 How Long Does a Propane Fire Pit Last?
How long your propane fire pit can burn for depends on the btu/h of the burner. A 20lb tank has approximately 430,000 btu/h worth of gas and can lasts 4 to 4 1/2 hours at a moderate gas output.
Use this propane burn calculator to determine how long your propane tank will last.
Choosing the Best Portable Propane Fire Pit for You
When it comes to choosing the best fire pit for you, there are several different factors to consider:
Style
There are several different styles of propane fire pits and it really all boils down to your personal preference. Do you want round or square? Do you want black, copper or steel color? Do you want it to have cut out designs on the side and to be visually appealing?
Features
Some fire pits include extra features like a carrying case and roasting sticks, while others you'll have to pay extra for those. Just like the style, it's all about preference.
Cost
If cost is a factor in your decision making, you can get a good one for under $100, with most of the models averaging between $100 to $150.
Be sure to watch both the beginning of summer and end of summer sales.
Weight & Size
If you're RVing or camping, weight and size is obviously going to be a factor. Plus, how many people you'll need it for.
Our portable propane fire pit was the perfect size for fitting nicely in the bed of our truck. It was also just the right size for our family, plus a couple of extra people to sit around.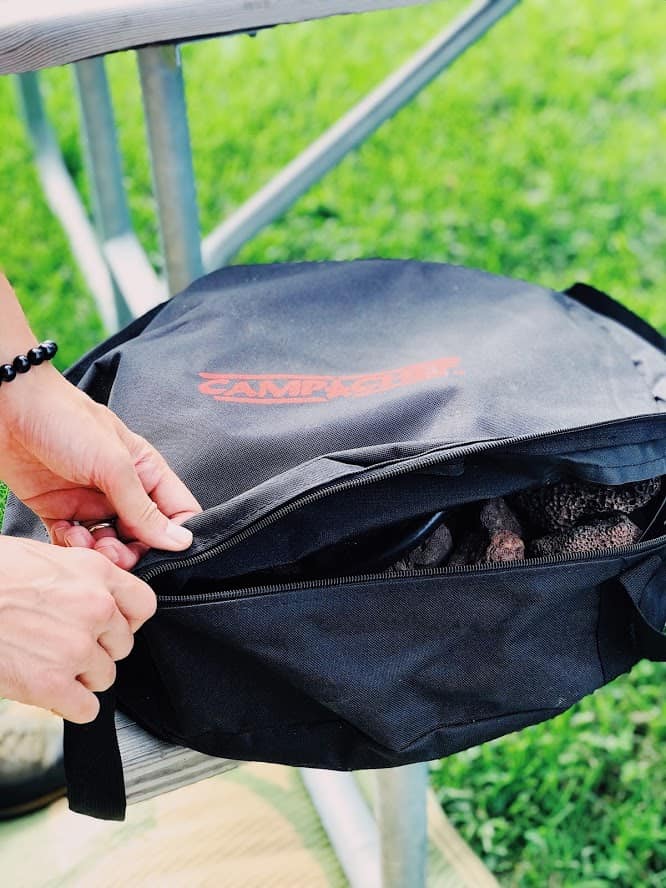 Propane Fire Pit Safety Tips
Before we move on to the different models and choices of propane fire pits, we have to talk about safety.
Choose a safe place to use it
Most camping spots are fairly small, but the farther away from your RV or tent you can place the fire pit, the better. You should also keep it away from an area with trees, foliage, and tall grass.
Keep it out of the rain
If it starts to rain, make sure you have a dry place to safely move it to.
Be careful moving it
Propane fire pits can get incredibly hot, so be careful not to burn yourself if you move it shortly after use. It's best to let it cool down completely.
Keep an eye on kids and pets
Make sure the kids don't get too close or throw sticks or other objects into the fire to accelerate the flames. Let them know they can't throw paper or anything into the fire pit like we all tend to do with a real campfire.
Check for leaks
Always check your hose for cracks or damage before hooking up the propane tank. Regular maintenance checks are necessary for both the care of your fire pit and the safety of those using it.
Follow the manufacturer's instructions
Read those instructions for the safety of you and others!
The Best Portable Propane Fire Pits
Without further ado, here are some of the best portable propane fire pits, starting with our top pick.
This is our top pick because it's the one that was gifted to us, traveled with us all over North America and gave us many good memories from around the campfire with family and friends.
Description: This fire pit is very compact with foldable legs, making it the perfect one for RV travel. It didn't take up much space at all, as well as came with a carrying bag for easy storage and transport. It also includes two roasting sticks for marshmallows galore, 12 lb. bag of lava rock, regulator and 5 ft hose.
Also, the little tree cutouts were perfect for us, since we spent many nights camping amongst the trees, our personal preference.
Weight: 23 pounds
Dimensions: 15″ diameter, 7″ tall
---
Description: The Outland brand has quite a few different sizes to choose, from the 19″ Standard Firebowl to the 24″ Mega Firebowl.
All sizes have a btu/hr of 58,000.
A cover and carry kit is included with the purchase of Premium Firebowl. The carrying bag is sold separately.
Weight: Ranges from 22 lbs to 34 lbs
Dimensions: From 19 x 19 x 11 in. to 24 x 24 x 13 in.
---
This is the same brand and similar to our top pick, with a few different features.
Description: This model includes 4 extendable roasting sticks, carry bag, regulator and 5′ hose, and propane tank support stand. It has a safety shut-off valve and comes with 12 lbs. of lava rock disperse and radiate heat.
Weight: 32.3 pounds
Dimensions: 19″ diameter firepit and 13″ tall
---
This is another firepit that features foldable legs, making it more compact for RV travel. Camco is a brand we know well and trust, as we've purchased tons of Camco RV accessories.
Description: The folding legs elevate fire tray, or lay flat for storage. It includes a storage cover, 12 lb pack of lava rocks and minimal assembly is required. It also includes an 8′ propane hose with an adjustable regulator for use with standard LP gas cylinders.
Weight: 23.6 pounds
Dimensions: The fire tray is 14.5-inch diameter
---
This is a very lightweight and small propane fire pit that's perfect for a couple who are RVing or camping. Its compact size makes it incredibly convenient and easy to bring along on your travels.
Description: Features a realistic log set (instead of lava rocks), sturdy lid and security latches, 8′ propane hose for use with standard LP gas cylinders, and adjustable regulator with a maximum output of 65,000 BTU/HR.
Weight: 15.04 pounds
Dimensions: 9.8 x 13 x 13 inches
Check out this video review of the Little Red Campfire from Wanderlust or Bust. (P.S. We love his shirt! 🙂 )
---
We sincerely hope all of the information we shared with you on the best portable propane fire pits will help you make the right choice when it comes to a purchase.
We loved having a fire pit ready and waiting for whenever we wanted a fire. We have so many great memories of sitting by the fire either in complete silence and soaking in our surroundings or with friends we were getting to know.
Enjoy your travels with your fire pit! 🙂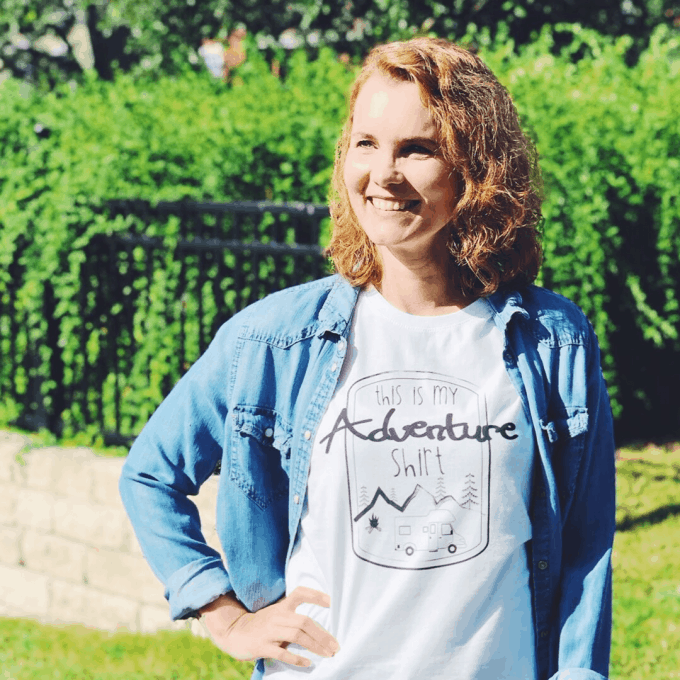 Julie Bonner is one-half of the TREKKN team. She specializes in helping you whip up delicious meals in your tiny RV kitchen, as well as RV organization tips and helping fellow RVers make their RV feel like home. Her favorite RVing spot is in Banff National Park in Canada where yes, the water really is that blue and the people really are that nice.