Your Guide to RV Camping in Sedona, Arizona

Whether you seek enchanting hiking trails, mesmerizing sunsets, or rejuvenating experiences in the heart of the desert, RV camping in Sedona, Arizona presents an unparalleled opportunity to immerse yourself in the beauty of this desert oasis.
Discover the best RV parks, explore the stunning landscapes, and embark on unforgettable adventures as you uncover the secrets of Sedona's natural wonders.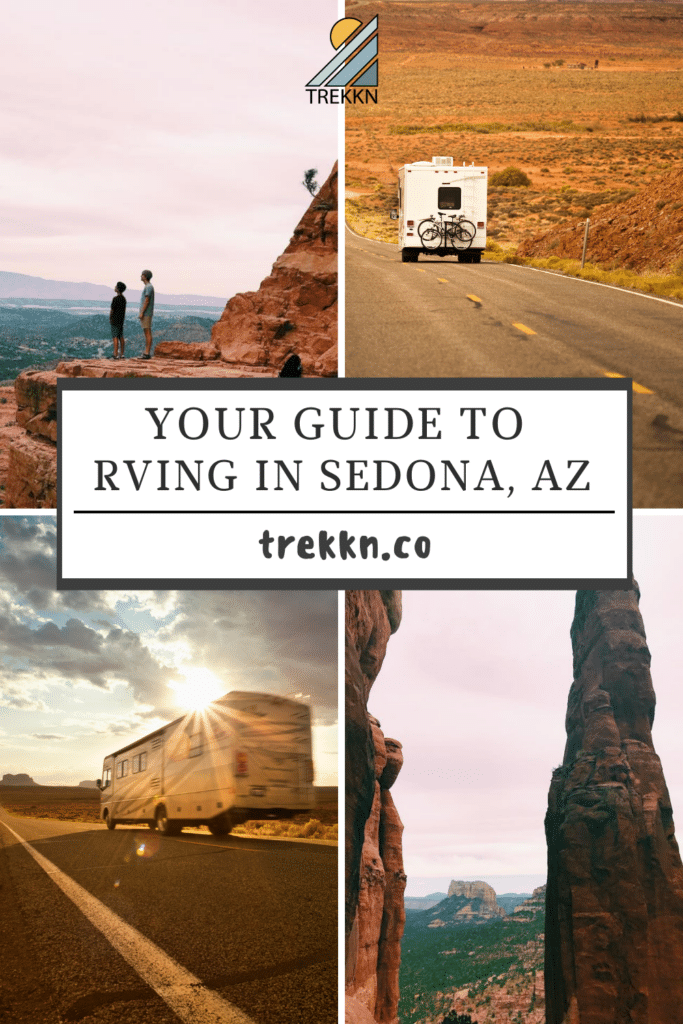 People come from all over the world to visit Sedona, Arizona, and for good reason: those red sandstone cliffs are truly awe-inspiring.
I sometimes wonder if Sedona should have been made a National Park. The population was very small for a long time, with only 150 residents by the 1950s. But the fact that it isn't a Nationa Park, is part of what's so interesting about it.
There's a bustling downtown surrounded by magnificent red rock scenery in every direction. The natural beauty is all around, and it's a joy just to hike, bike, or even walk in and around Sedona.
The area is also said to have special energy vortexes and thus draws energy healers and mystics alike to bathe in the magic of the place. You'll find crystal shops and aura readers on every corner of downtown.
Is Sedona AZ Worth Visiting?
If I haven't already shown my cards here, Sedona is one of my favorite places and I think it's absolutely worth visiting. It's about two hours north of Phoenix and less than one hour from Flagstaff.
And if you're driving from Phoenix to Flagstaff, Sedona is the perfect stopover along the way. Most places this magical are much farther from major cities, so Sedona is pretty convenient.
Give Sedona at least a few days if you can. You'll want at least a couple of half-days to wander around town and soak in all the uniqueness of Sedona's downtown.
You'll want to hit up at least one or two hiking trails, and maybe visit an energy vortex. Plus, there are two nearby Arizona State Parks that are worth a day trip from Sedona, too.
I recommend doing at least one spiritual activity or other guided tour so that you have an opportunity to interact with and learn from the unique people who call Sedona home.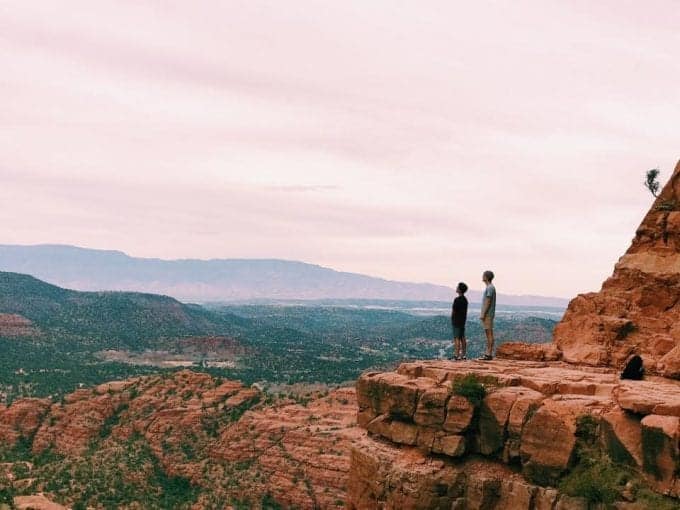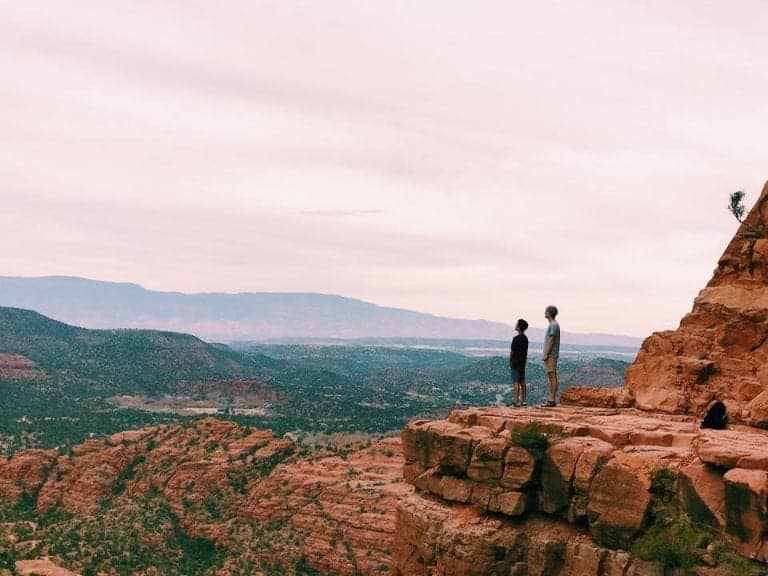 Sedona Attractions
Apart from just sitting and staring at the mesmerizing scenery, Sedona does have plenty to offer in terms of attractions and activities.
HIKING
There are several great options for hiking in Sedona, so take a look and find the one that is the right fit for you!
Cathedral Rock Hiking Trail: This steep climb rewards you with stunning views of the iconic red rock formations. Cathedral Rock is also one of the most well-known vortexes in Sedona. The energy is said to be felt right at the trailhead, so if you want to experience a Sedona vortex, you don't even need to complete the steep climb. This vortex is strong and said to inspire growth and transformation.
Devil's Bridge Hiking Trail: This popular trail leads to the largest natural sandstone arch in the Sedona area. It's a 1.8-mile round-trip hike with 400 feet of elevation gain, so it's accessible by novice hikers.
Bell Rock Hiking Trail: The Bell Rock trail is well-maintained and easy to follow (unlike some other desert hikes). This is also another vortex site, where the energy is said to be balanced and healing.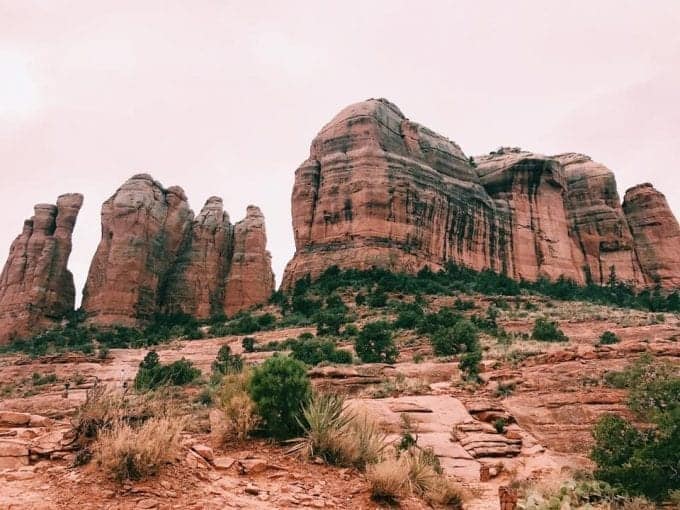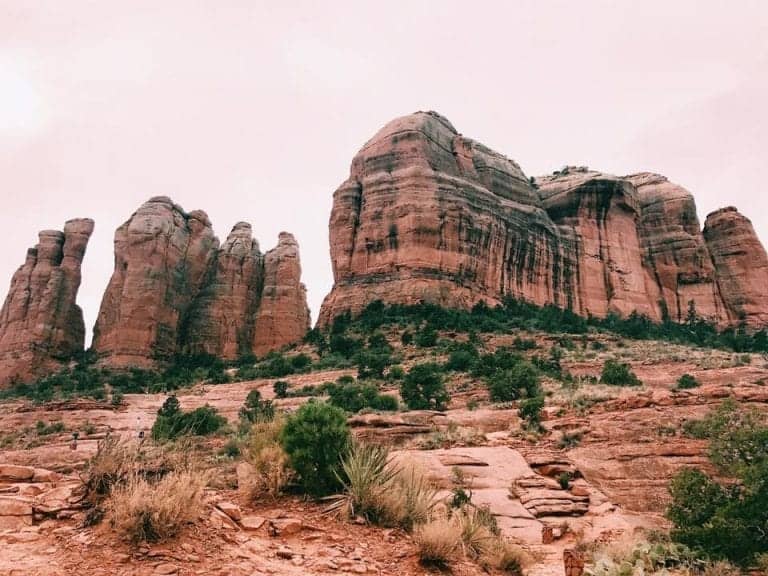 STATE PARKS
Each of these Arizona State Parks are day-use only and do not allow RV or tent camping. That said, they are beautiful and worth a visit. Park entry costs $7 for adults and $4 for kids.
Red Rock State Park is a day-use-only park with exhibits, picnic areas, and wildlife viewing. It's also an official Monarch Butterfly way station for migrating butterflies to rest and take shelter (during certain periods of the year). This 286-acre nature preserve has a well-developed trail system that caters to hikers of all abilities.

Slide Rock State Park was originally a homestead and an apple farm. You can view historic cabins, and of course, slide down the namesake natural rock waterslide on a hot day. The slide is 80 feet long with a seven percent decline and algae on the rocks help make it slippery. There are only a few very short hiking trails in this park.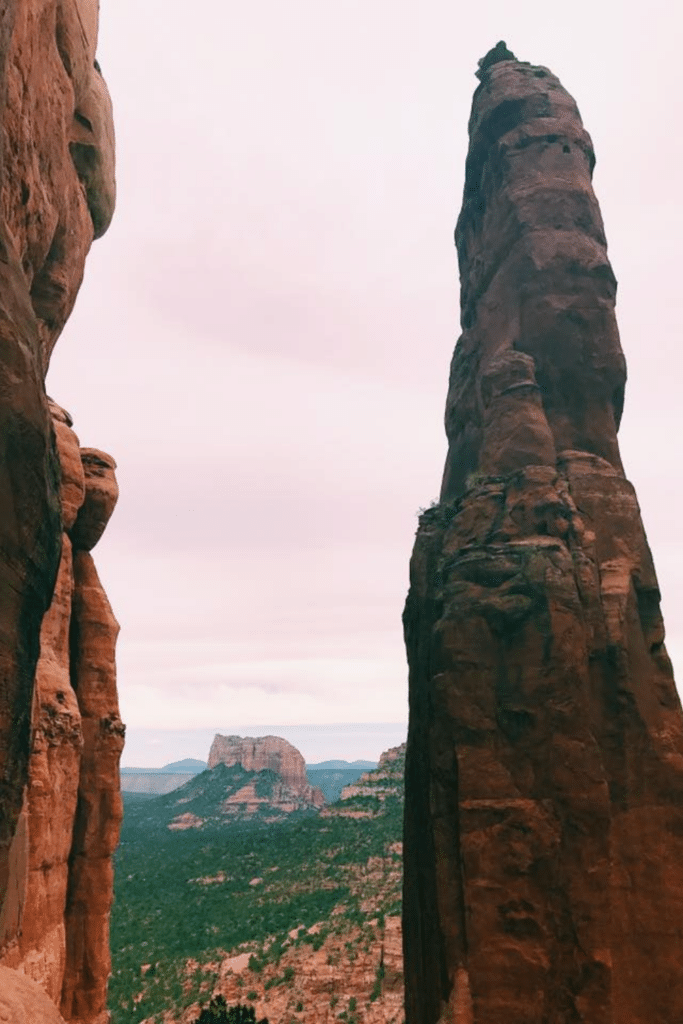 SPIRITUAL ACTIVITIES
The energy vortexes are probably what originally attracted so many spiritual practitioners to the Sedona area. Two of the main vortexes are listed above in the hiking trails section.
Today you can have your aura painted, your palms read, or your fortune told. Here are some of my favorite spiritual activities in Sedona:
Amitabha Stupa and Peace Park is a Buddhist temple and spiritual destination for prayer and meditation. The Peace Park is welcoming of all faiths and is open to the public every day for free (though there are donation boxes near the entrance).
Mystical Bazaar is self-proclaimed as "Sedona's premier metaphysical gift store." They offer psychic readings, aura photos, and energy healing. And their extensive gift store will help you stock up on supplies to keep the healing going at home.
JEEP TOURS
Jeeping and RVing go together, right? Jeep tours have become a popular way to explore the Sedona landscape.
Pink Jeep Tours is certainly the most well-known operator in the area. Leave the off-roading to the experts, but still go and have all the fun and enjoy the stunning views. Try the Broken Arrow Tour or the Scenic Rim Tour. You can't miss their signature pink Jeeps all over the roads while visiting Sedona.
Earth Wisdom Tours offers a Ride the Vortex tour which allows you to experience the magic of the vortex energy from the comfort of an open-air jeep driven on paved roads. Your guide will teach you how to experience the vortex energy. Their private tours range from $110-$150 per person, depending on the number of guests.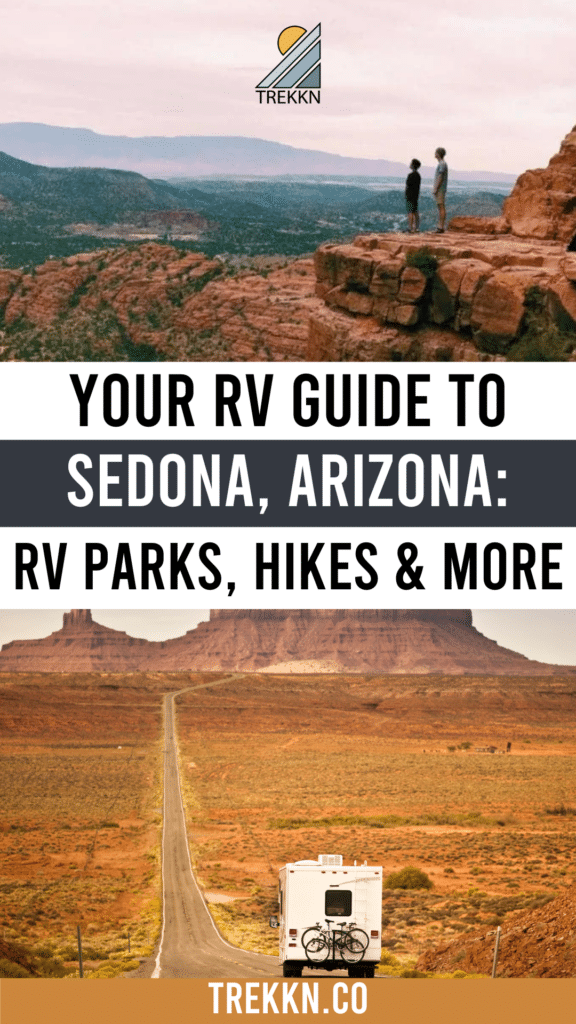 RV Camping in Sedona, Arizona: Where to Stay
Sedona RV Parks
Sedona is an excellent year-round destination for RVers. Though rare, it can drop below freezing in Sedona's coldest winter months, so an inch or two of snow is possible, though it usually melts quickly.
You may see beautiful snow-capped cliffs but rarely experience snow on the ground in town for more than a few days.
The worst part about Sedona as an RV destination is the lack of campgrounds within the city limits. This is understandable due to the protected natural areas and lack of wide open spaces for development. There is really only one RV park in downtown Sedona (see below).
RANCHO SEDONA RV PARK
Rancho Sedona RV Park is amazing, and they accommodate RVs up to 45 feet in length. Just be sure to make your reservations early, as it often is completely full. From here you can walk a quarter mile to downtown restaurants and shops. Their sites are spacious, set on ten wooded acres along Oak Creek.
They offer full hookups and all the amenities you'd expect from a quality RV park. They're even pet friendly!
SEDONA VIEW RV RESORT
Sedona View RV Resort is not at all in Sedona, so the name is a bit misleading. But, the location does offer scenic views of the red rock in the distance. It's about a 30-minute drive to Sedona from Sedona View RV Resort.
So as long as you know that going in, I can't knock this place for anything else. The park is fairly new with modern amenities. We especially like that they have fiber-optic wifi.
DISTANT DRUMS RV RESORT
Distant Drums RV Resort is located in Verde Valley, about 20 miles south of Sedona. It takes about 35 minutes to drive to Sedona from there.
That said, it's still a convenient location for exploring the area if being close to downtown Sedona is not the most important factor for you. Distant Drums offers full hookups, a pool, and a hot tub.
Fortunately, there are also two excellent National Forest Service campgrounds that we enjoy near Sedona. These two are actually both closer to downtown Sedona than Sedona View and Distant Drums RV resorts.
CAVE SPRING CAMPGROUND
Cave Spring Campground is located in the Coconino National Forest, in Oak Creek Canyon. This popular campground has plenty of shade and a cool creek, making it busy even in the summer.
There are 84 campsites with picnic tables, fire rings, and grills. There are showers, restrooms, and drinking water available. RVs up to 36 feet in length will fit.
The cost is 26 dollars per night. Several hiking trails are accessible from the campground. All this, just 13 miles from Sedona.
PINE FLAT CAMPGROUND
Pine Flat Campground is basically in the same area as Cave Spring. Thus, it is also a popular spot for camping near Sedona. This campground has plenty of shady trees and swimming in the stream.
This National Forest campground has 56 sites but only 18 can be reserved in advance. You'll find basic amenities like restrooms and picnic tables. The cost is 26 dollars per night.
Is Sedona RV Friendly?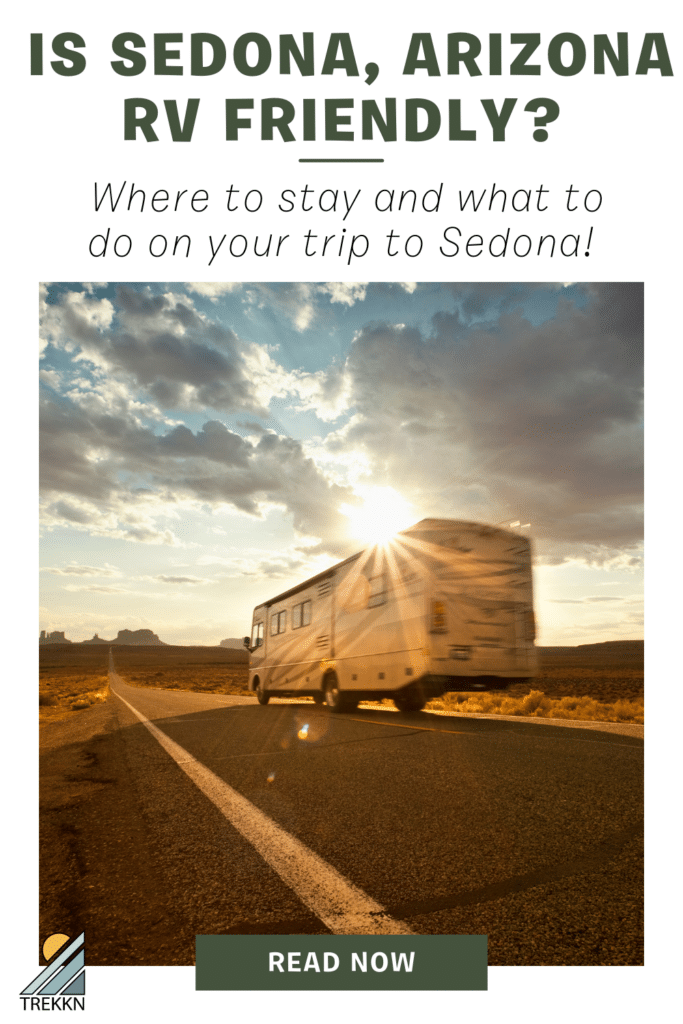 So now that you're feeling inspired to plan a trip to Sedona, awesome! Just one more thing, a word of caution from someone who drives a large RV: Sedona's scenic drives and many tourist spots will be difficult to navigate with a large RV.
There are narrow, winding roads and some steep grades. Also, parking is often very limited at trailheads and especially downtown. And my personal favorite, there are a dozen roundabouts on the road driving into Sedona which can be quite challenging to navigate in a larger vehicle.
If you're in a campervan or large truck, you'll have no problem. If you're in a motorhome or towing a trailer, just make sure to use your RV GPS and plan your route and activities in advance.
With that, I know you'll have a great time in Sedona as you soak in all the unique atmosphere and energy it has to offer. Enjoy!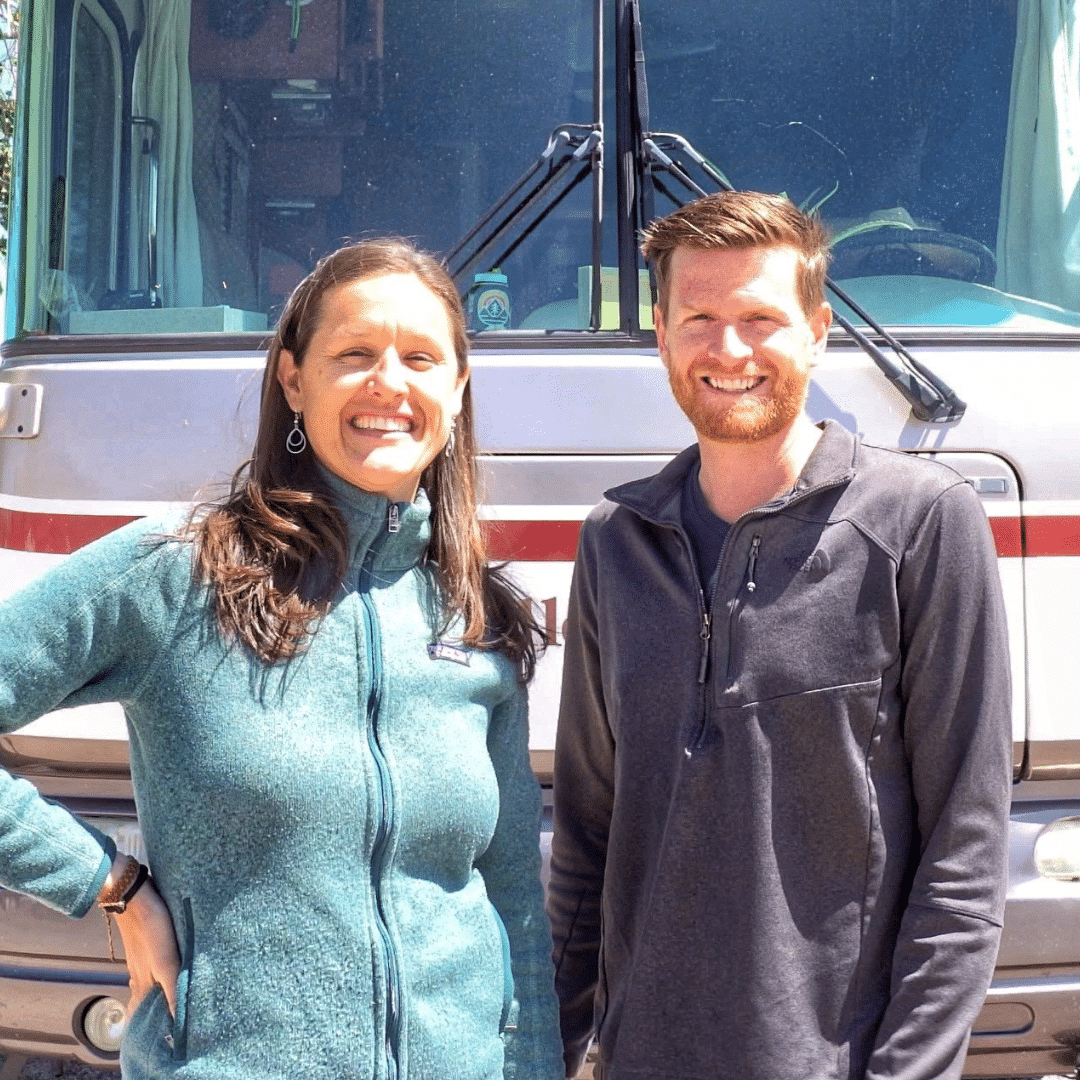 Kristen Bates lives & works from her RV, primarily boondocking off-grid. She owns and operates a women-led travel company, Legit Trips. Kristen loves to explore new places and inspire others to do the same. If she's not typing away on her laptop, she's off on an adventure- hiking, biking, or SUP boarding. You can follow her RV adventures @PerpetualMoves and learn more about her travel company at LegitTrips.com.