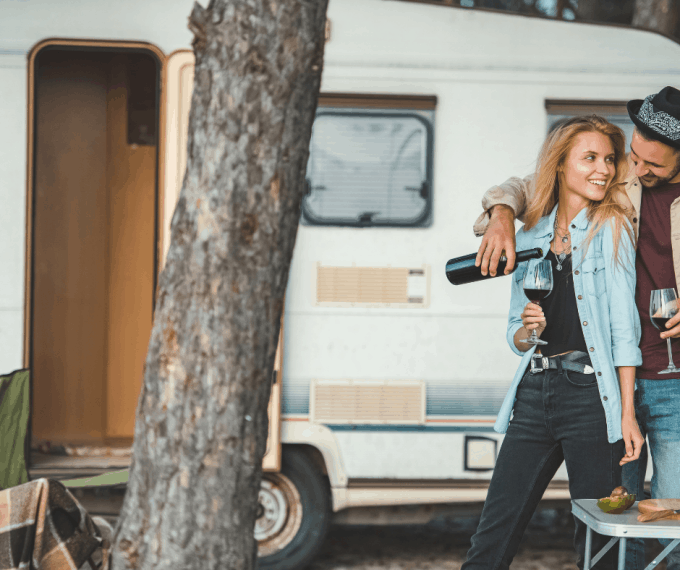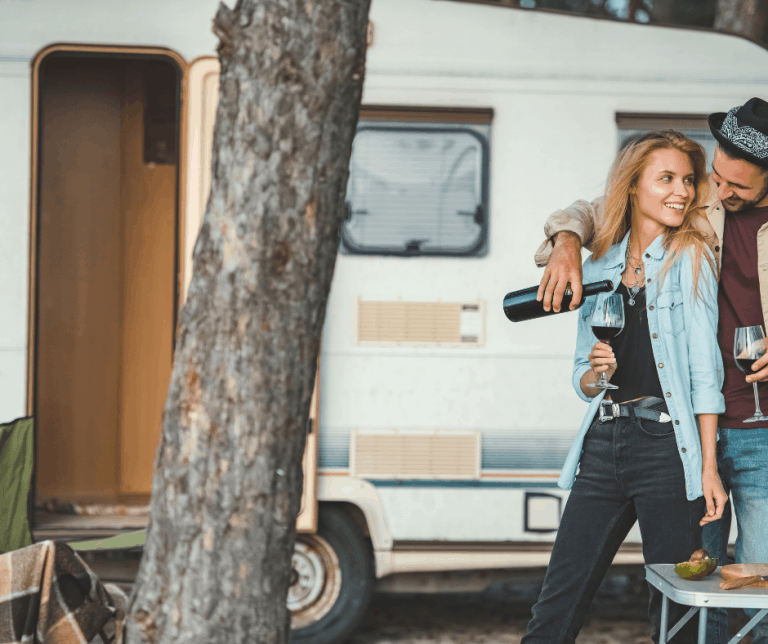 If you're thinking an RV trip is a great way to take a family vacation, you'd be right. But most likely your first question is…how much does it cost to rent an RV?
Let me start off by saying if you're new to RVing and new to renting an RV, things can get a little confusing. We know because we've been at that confused state of mind.
But we're here to break down RV rental prices for you step by step because we would love for everyone (who wants to that is) to experience this way of travel.
We did it for a year and a half and are so incredibly thankful for those memories. We have many more trips in our future and I can't wait!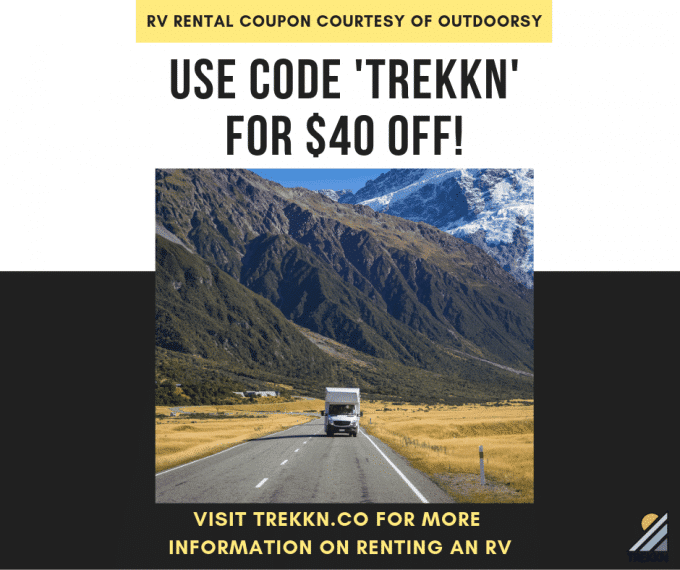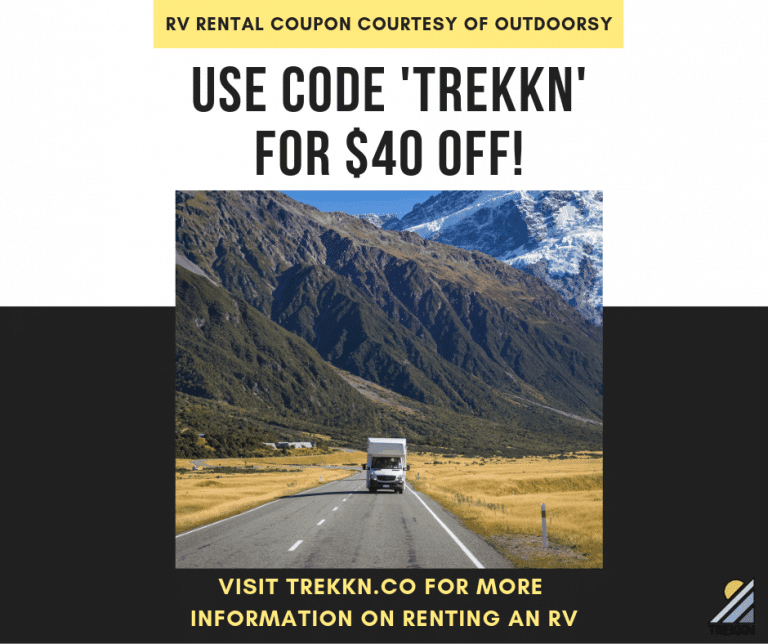 How Much Does It Cost to Rent an RV in 2021?
Here are the *average prices of renting an RV we found while doing a little research booking our first RV to rent: (we wrote up a review of our first RV rental experience here.)
Class A RV Rental Prices: $150 – $275 a night
Class B RV Rental Prices: $100 – $200 a night
Class C RV Rental Prices: $150 – $250 a night
Fifth Wheel Rental Prices: $125 – $200 a night
Travel Trailer Rental Prices: $80 – $125 a night
Campervan Rental Prices: $100 – $150 a night
*These prices were gathered from rental company Outdoorsy and are only estimated rental costs. As you'll see below, there are a lot of things that come into play when renting an RV which can make the price higher or lower.
The other easy answer to this question is, it depends. There are a lot of factors to consider, like:
What type of RV you want
When your trip is
The number of miles you're planning on driving on your road trip
Gas costs
RV park costs
If you'll dry camp
Etc, etc, etc
Are you still with me?
Good.
I don't want to overwhelm you. I just want you to be as educated as possible, so you'll feel confident in renting an RV. By the time you finish reading this, you'll be booking your trip!
Average Rental Prices for the Different Types of RVs
The first thing to consider when it comes to RV rental prices is the type of rig you end up renting. We cover all of the different RVs (Class A, B, C, travel trailer, toy haulers etc) in our RV rentals article.
If you're not familiar with what the different types of RVs are, I highly recommend reading that article.
To give you an estimate of RV rental prices, here's a handy dandy chart we created. These prices were gathered from Outdoorsy and no other rental companies. *These are only estimates and depend on your rental location.
Other RV Rental Fees and Costs to Consider
Renting the RV is your first expense, but there are additional fees and additional costs involved that you should be aware of. The last thing you want to happen is to be ill-prepared.
Rental Insurance
Unfortunately, things beyond your control can sometimes happen while traveling, and RV travel is no different. From traffic accidents to weather incidents, having good insurance to back you up is important.
Outdoorsy puts a big emphasis on protecting both the RV owner and RV renter. By renting through them, you know you'll be protected. Find out more information about rental insurance here.
One of the great things about renting an RV with Outdoorsy is they offer insurance for FREE when you rent through them. Just another one of the many advantages of renting an RV with Outdoorsy!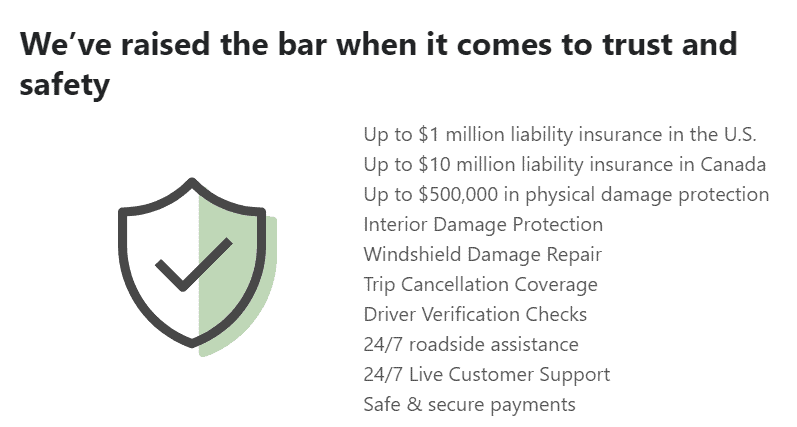 via Outdoorsy
Travel Insurance
Although travel insurance isn't mandatory, it can protect you when unexpected things happen. Travel insurance covers things such as: Trip Cancellation, Trip Interruption, and Emergency Assistance and Transportation.
Find out more information about travel insurance here.
Set-Up/Delivery Fee
Some RV owners will deliver your rental to the campground and even set it up for you. If you're renting a towable RV and you don't have a tow vehicle or are not comfortable towing, this small fee is well worth it.
Just imagine showing up to the campground and your home on wheels is set-up, ready and waiting for you.
Some RV owners only rent this way, so keep that in mind when searching for your perfect RV rental.
If you're flying into a destination and renting a small drivable, some owners will deliver to the airport. (I noticed this in some of the Alaska RV rentals.) Just remember to read the fine print and ask the owner questions about delivery.
Taxes
Taxes will be included in the total rent price, which you'll see upfront.
Mileage
Some rentals offer unlimited mileage, while others will charge. The ones that charge have different rules that apply. Meaning, one rental I checked on, 100 miles a day was included with a $0.55/per mile of additional mileage charge after 100 miles.
Always check on how many miles your route is, so you can get a good estimate on what your costs will be.
Generator
If you plan on doing some dry camping, aka boondocking, you'll need a generator as a power source.
Just like the mileage, generator use charges vary by owner. Some may be unlimited use for no charge, while others offer 4 hours a day plus something like $3.00/per hour of additional usage.
Propane
If you are camping in cold weather, you might need propane as a heat source. Propane can also be used to heat the water, use the stove, etc. Look under 'amenities' to see if propane is included in the rental.
Cleaning/Dumping fees
Some owners will charge you a cleaning fee if you don't bring the RV back cleaned inside.
Also, if you don't want to mess with dumping the tanks, some will also take care of this for you, for a small fee. Look under 'Add-ons' for this information.
Security Deposit
You may have to pay a refundable security deposit (up to $500). Be sure to check with the RV owner upfront about this.
Gas
Don't forget to calculate gas costs into your RV trip.
Campground Fees
We'll get into campground fees and how to save more in a bit, but just know you'll need to calculate this into your costs.
RV Rental Price Example
We thought it would be helpful to give you a real-world rental example with a few different RV options. We live in the Austin, TX area and one of the popular RV camping locations is Inks Lake.
From our location to Inks Lake, it's about 47 miles one-way.
Here are three different rental examples, which include just the basics: rental x 6 nights, taxes & fees, delivery (if applicable), mileage, clean-up (if applicable) and any extras we want.
Austin to Inks Lake: June 30th – July 6th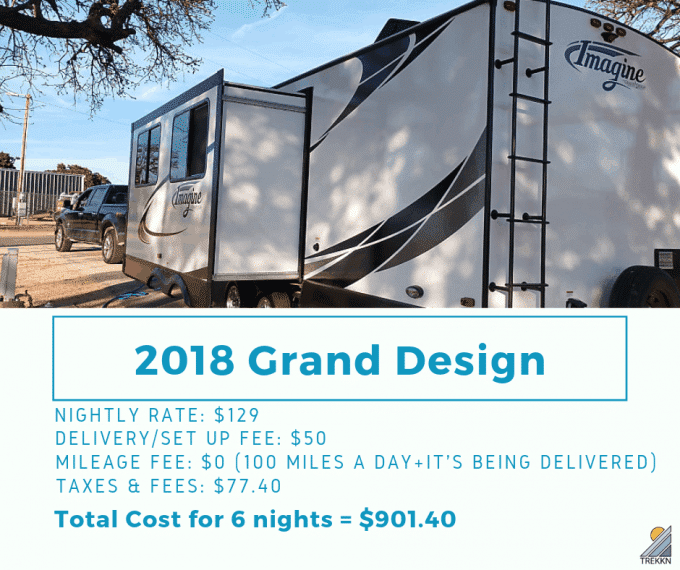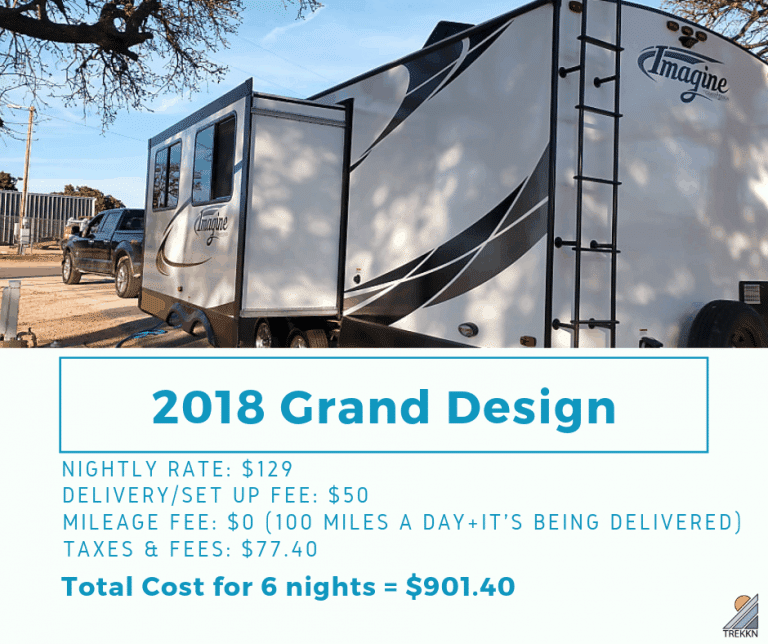 How much it cost to rent a 2018 Grand Design Travel Trailer:
Nightly rate: $129
Delivery/Set-Up fee: $50
Mileage Fee: $0 (100 miles a day + it's being delivered)
Taxes & Fees: $77.40
Total cost for 6 nights: $901.40
Things to note:
Opting to have it delivered is an extra $50 for a 3+ day rental and $100 for a 2-day rental
Since we're having it delivered and because our trip is under the 100 miles a day limit, there are no mileage fees
Since we know how to dump the tanks, we don't need them to do it, which is an extra $50 fee
We factored in that we would not need the generator, which is an extra $20 a day fee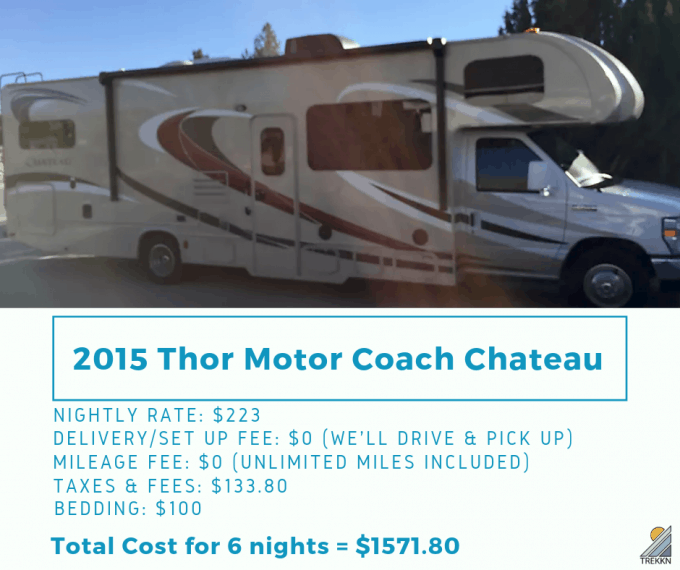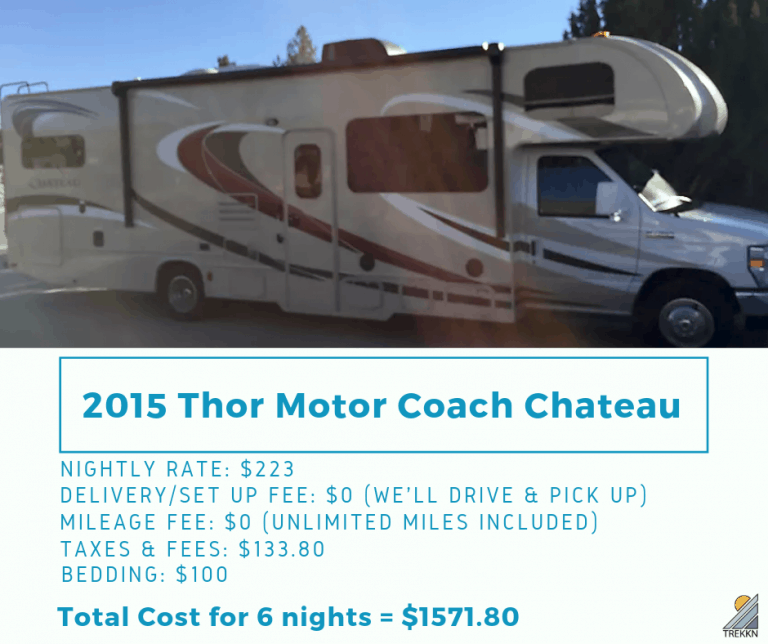 How much it cost to rent a 2015 Thor Motor Coach Chateau:
Nightly rate: $223
Delivery/Set-up Fee: $0 (We'll drive & pick up)
Mileage fee: $0 (Unlimited miles included)
Taxes and fees: $133.80
Bedding: $100
Total cost for 6 nights: $1571.80
Things to note:
There is no delivery/set-up fee because we'll pick up and drive it ourselves
This rental includes unlimited miles & unlimited generator hours
We'll clean it/dump tanks ourselves, so no fee
We opted to add-on bedding for $100 which includes linens and pillows (no blankets included)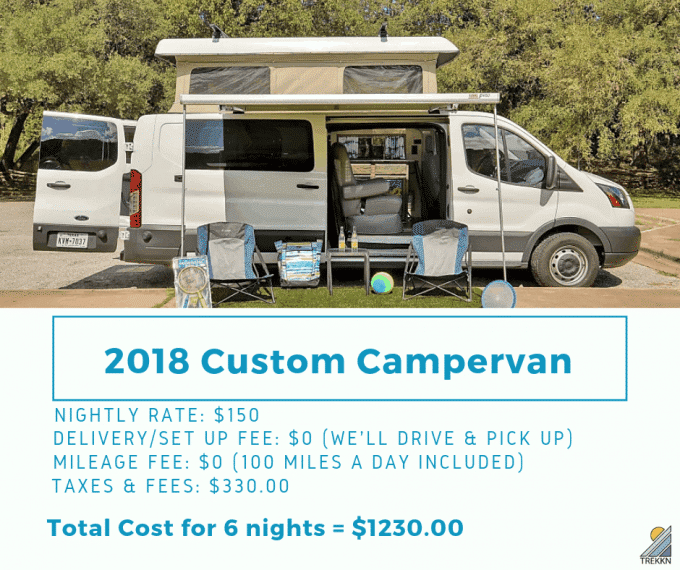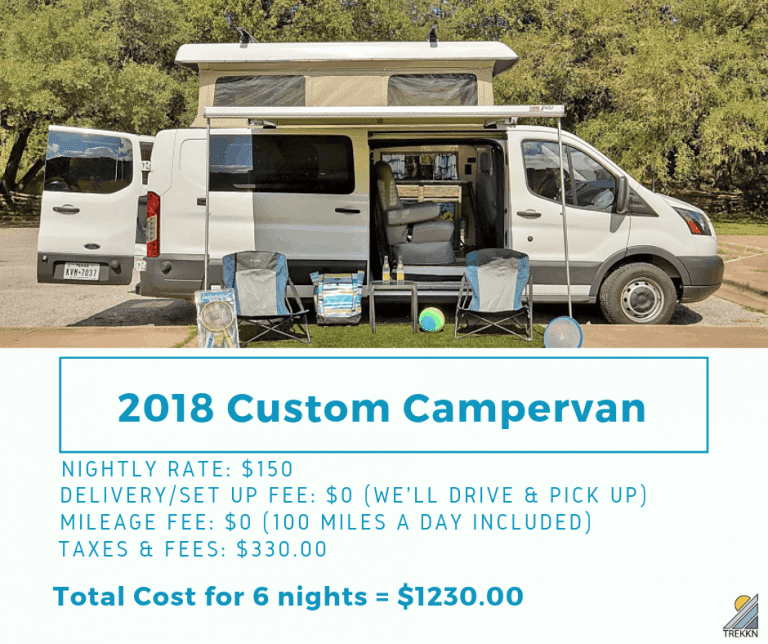 How much it cost to rent a 2018 Campervan:
Nightly rate: $150
Delivery/set-up fee: $0 (we'll drive and pick up)
Mileage fee: $0 (100 miles a day included)
Taxes and fees: $330.00
Total cost for 6 nights: $1230.00
Things to note:
The taxes and fees include $50 required pet cleaning, $90 tax and $190 service fee
We don't own any pets, so this is something I would ask the owner about
I put $0 for the mileage because 100 miles a day is included and we wouldn't go over that
I hope those RV rental price examples give you a good snapshot of what it might cost to rent an RV through Outdoorsy.
Is Renting an RV Cheaper Than a Hotel Room?
The quick answer to this question is…it definitely can be. But, there are different factors to consider.
Here's how Outdoorsy breaks it down.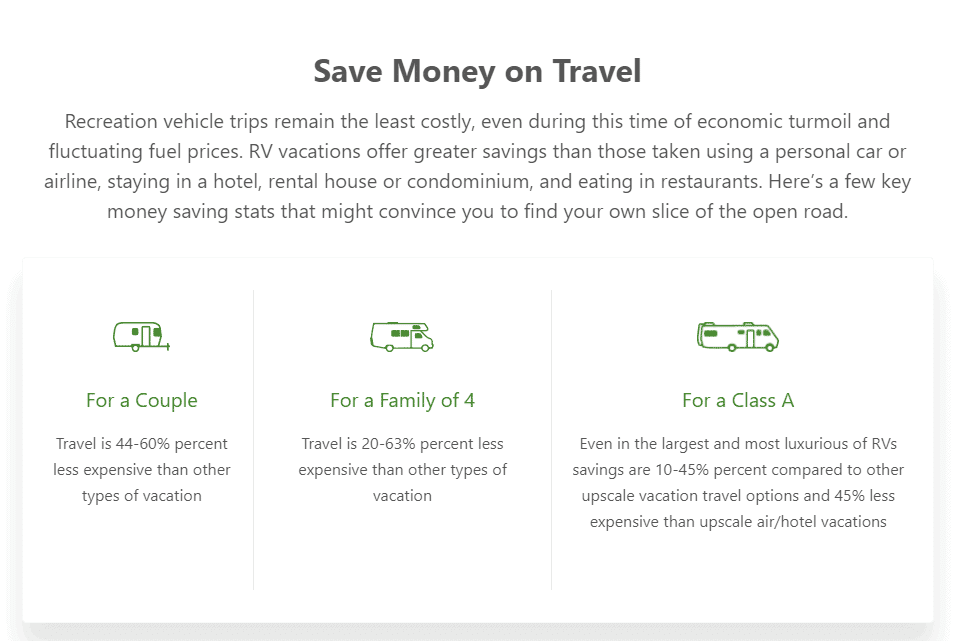 The average price for a hotel these days is around $134 a night for the basics. If you want a luxury hotel, a condo or a house, the price goes up from there.
How to Save Money on Your Rental & RV Trip
There are plenty of ways to save money on your RV rental and RV trip. Here are a few of them:
Look for coupon codes
When planning a vacation, you want the best deals you can find and using coupon codes can help.
And we just so happen to have a $40 coupon code for your RV rental with Outdoorsy. 😉
Use coupon code TREKKN at checkout or just click this link and it will automatically apply your code.
Rent for longer & ask for a discount
When you're shopping around for rentals, you'll notice that the longer you rent, the cheaper it is. You'll get a better deal for a week rental, rather than just a few days.
Also, if you're wanting to do a long-term rental for a month, ask the owner directly if they'll give you an even better discount. It doesn't hurt to ask! This guarantees them rental money for the month, so some may be open to giving you a nice discount, as opposed to their RV sitting there making $0.
Consider Boondocking
Campground fees can definitely add up, which is one thing that makes boondocking so appealing. If you're not familiar with the term and you want to know more about this way of RVing, check out our in-depth post here.
Use Campground Memberships
Campground memberships are more for campers who RV quite a bit or are planning a long excursion. We saved a TON of money using campground memberships and discount clubs like Good Sam, Passport America, Thousand Trails, Harvest Hosts and more.
Todd wrote up an excellent post here all about saving money with campground memberships.
Gas Discounts
Whether you're towing a trailer/fifth wheel or renting a driveable, you'll most likely have significant gas costs. Our Good Sam membership not only gave us discounts at some campgrounds but also on gas at Pilot and Flying J stations.
Another option for savings is a fuel credit card.
This post on cutting costs while full-time RVing also has some applicable tips for an RV trip. And you can take a peek at Todd's top 21 tips for living in an RV without going broke right here.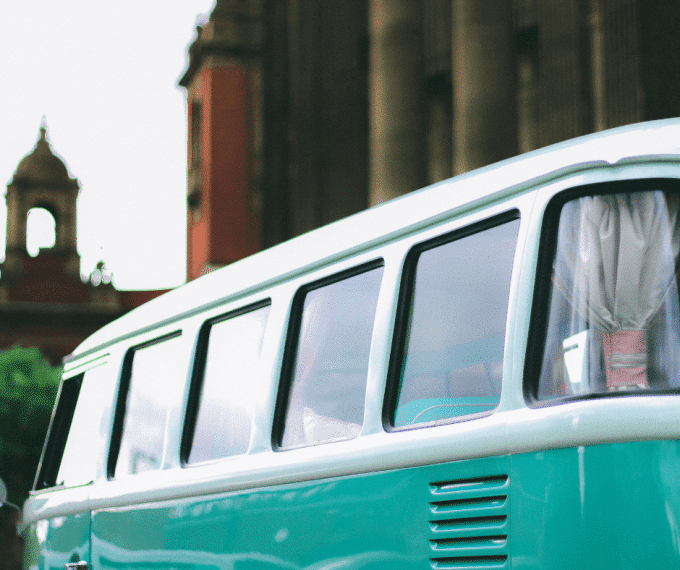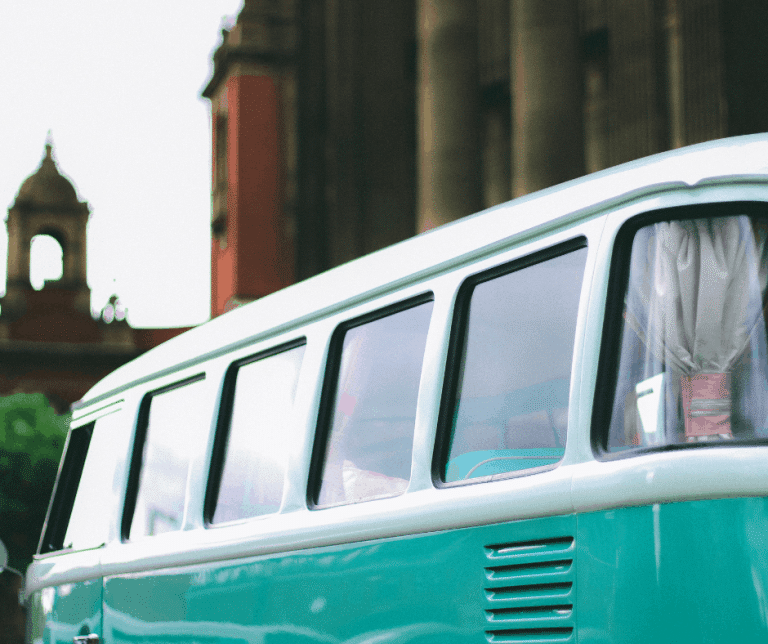 Bring Your Own Stuff
Some of the RV owners will rent you things like bedding, camping chairs, a grill, ice chest, etc for an extra fee. But if you have your own, bring them and save some money!
Cook Your Own Meals
One of the best things about RVing, is it truly is a house on wheels. If you rent something that includes a refrigerator, stove, and oven, you can save loads of money by hitting up the grocery store and cooking your own meals on the road.
One thing to check and ask the RV owner about is what cooking items they provide.
Do All The Free Activities You Can
From hiking, exploring and enjoying the campground amenities, there are plenty of free activities to keep you and the kids busy.
One of our favorite campgrounds in Florida had everything we needed right there. We didn't even have to leave! They had a pool, hot tub, the ocean, a restaurant, a bar, walking trails, and a marina.
Some of our most favorite stays in National Parks included tons of hiking. We would hike all morning, come home for lunch, eat, then nap and then wrap up our day by the campfire.
A couple of times while staying outside of Washington D.C., we rode the subway in and visited all of their free museums we could fit into our schedule.
So what I'm saying is, there are loads and loads of free things to do.
Tips for Making Sure You Have a Great Rental Experience
We want you to have the best RV rental experience you can. Here are a few things to consider:
Make Sure You're Renting the Right RV for You
What I mean by this is two-fold: make sure it's something you're comfortable driving and also that it has enough room for everyone.
If you've never driven a large vehicle before, renting a large Class A for your first RV rental experience may not be the best choice. Talk about stressful! The last thing you want is to be stressed on your vacation.
Read the Rental Reviews
Reviews are there for a reason. Make sure you glance through them for any red flags, like last minute cancellations or an owner that was hard to communicate with. Unfortunately, bad experiences like that can happen.
Read the Fine Print
Make sure you read through the entire listing so you know what the owners provide, what extra fees there are, if the rig is pet-friendly, etc.
Ask the Owner Questions
If you have a question, ask! It's better to know everything you want to know up-front so there are no surprises.
In addition, asking a few questions gives you a chance to get a better feel for the owner's demeanor, willingness to help, and overall responsiveness. If it's obvious to you that a few questions are annoying to the owner and you are getting short, unhelpful responses, it may just be time to move on and keep searching.
The owner has just as much of an impact (if not more) on your RV rental experience as the RV itself!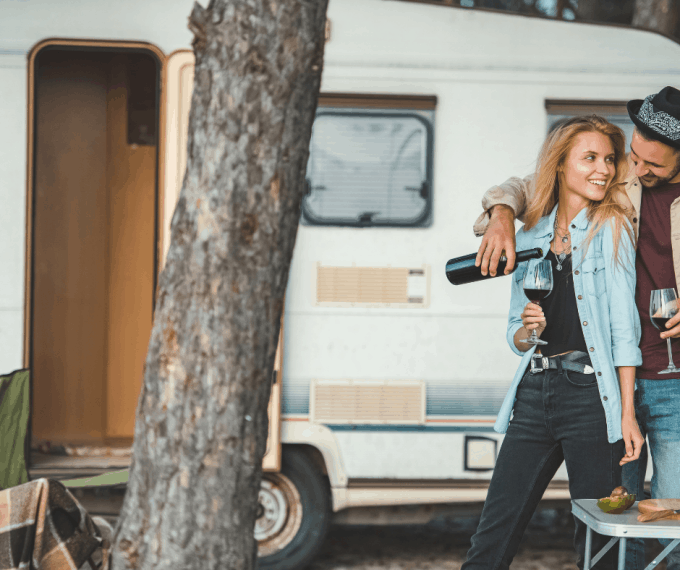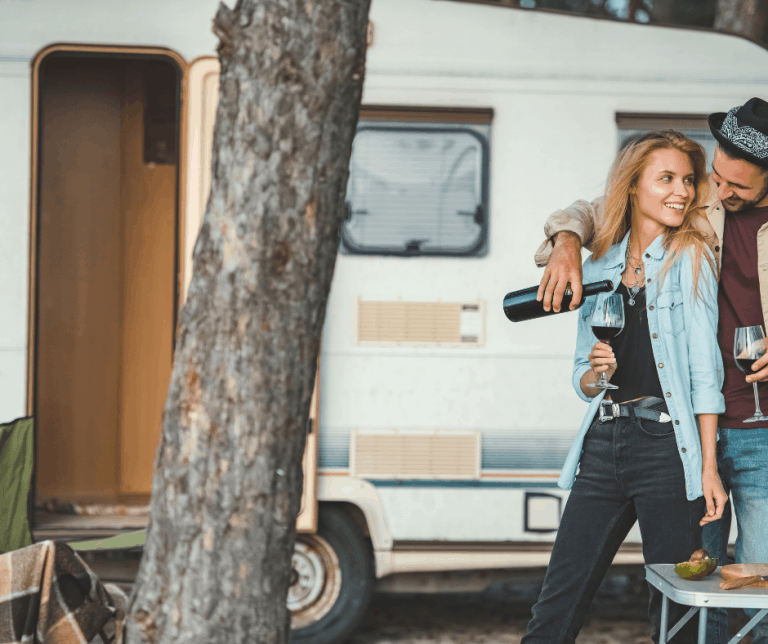 Educate Yourself
Some of the RV owners provide a manual or even YouTube videos for you to watch so you can educate yourself on RV basics like set-up and tear-down. A little education can go a long way, making sure you have the best RV trip possible.
Book Your Campground In Advance
If you're RVing during high season, you don't want to leave it to chance that the RV parks will have room. RVing is more popular than ever and those campgrounds fill up fast!
Plan Your Route Ahead of Time
Check out your route and make sure you know what roads you're taking. This is helpful for a number of reasons:
On the east coast, there are some roads RVs aren't allowed on because of very low bridges
Some routes might be better for RV travel than others
If you're traveling a long distance, it's good to know how many hours a day you'll be traveling and where you're stopping
Being prepared and in the know is less stressful on everyone
One good resource is RV Trip Wizard. It's an all-encompassing RV trip planner for $39 a year. If you're not happy with it, they offer a 30-day money-back guarantee.
Bring Some Comfort Items from Home
RV travel is amazing for so many reasons, but one of those is you can have a few comforts from home with you. Whether that's your favorite blanket, pillow or whatever else to help you get a good night's sleep, you can bring it along. Remember, it's a home on wheels.
Are You Ready to Rent an RV Now?
Alright, are you ready to rent that RV now?! We truly hope this article helped clear up any confusion you have about how much it costs to rent an RV, plus all of the other little things there is to know about this form of travel. RV rental is becoming popular and for good reason!
So get out there and do some adventuring by RV!
Let us know if you have any questions. We're here to help.
Top RV Vacation Destinations
Are you wondering where to go on your RV vacation? Here are a few places to consider, with links to the top RV rentals in that destination: (We're constantly updating this list, so keep checking back!)
Alaska

California

Colorado

Texas
PIN THIS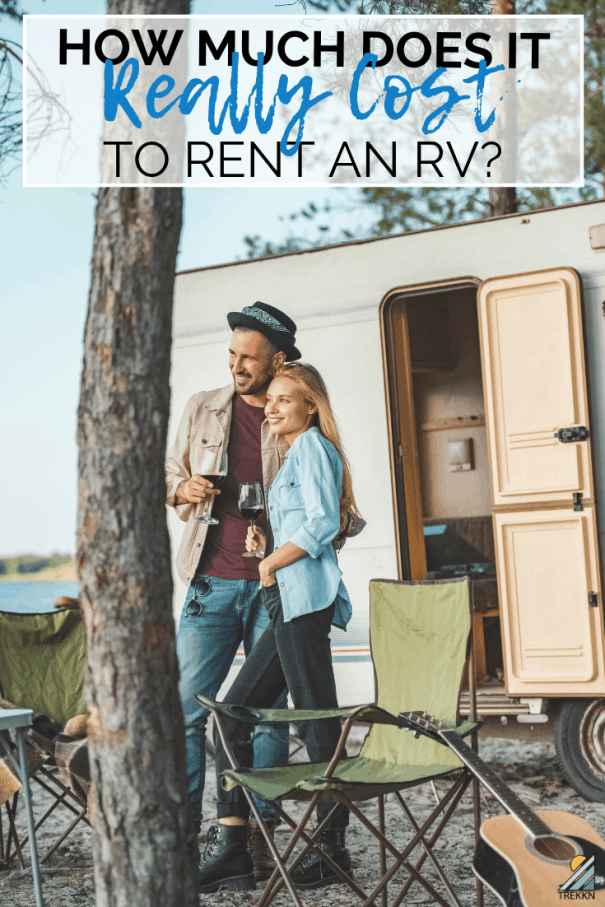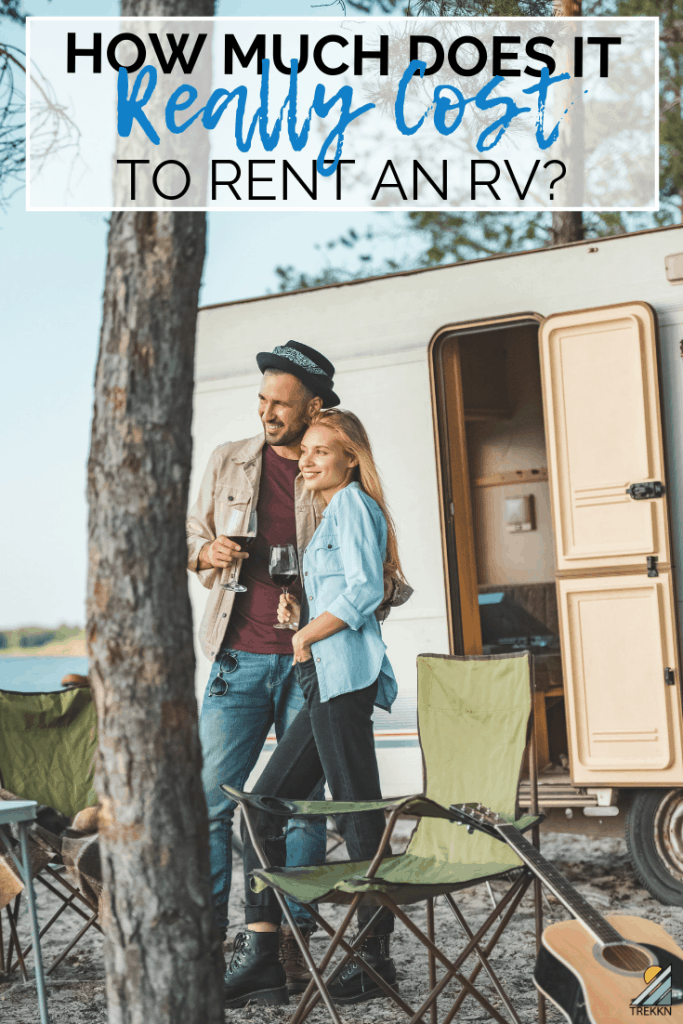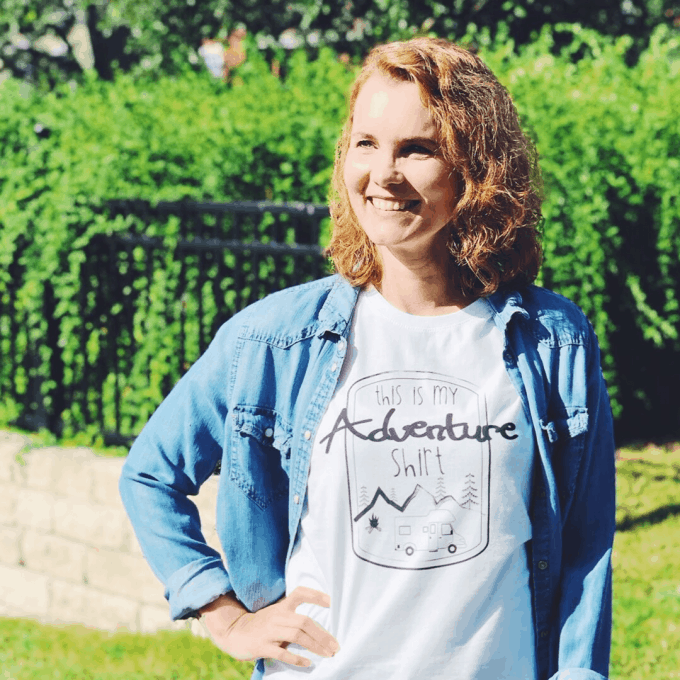 Julie Bonner is one-half of the TREKKN team. She specializes in helping you whip up delicious meals in your tiny RV kitchen, as well as RV organization tips and helping fellow RVers make their RV feel like home. Her favorite RVing spot is in Banff National Park in Canada where yes, the water really is that blue and the people really are that nice.