Last Updated on
Are you on the search for the best RV folding ladders so you can reach that RV roof of yours? Look no further. We're sharing our top pick, plus other options so you can find the perfect RV ladder option for you.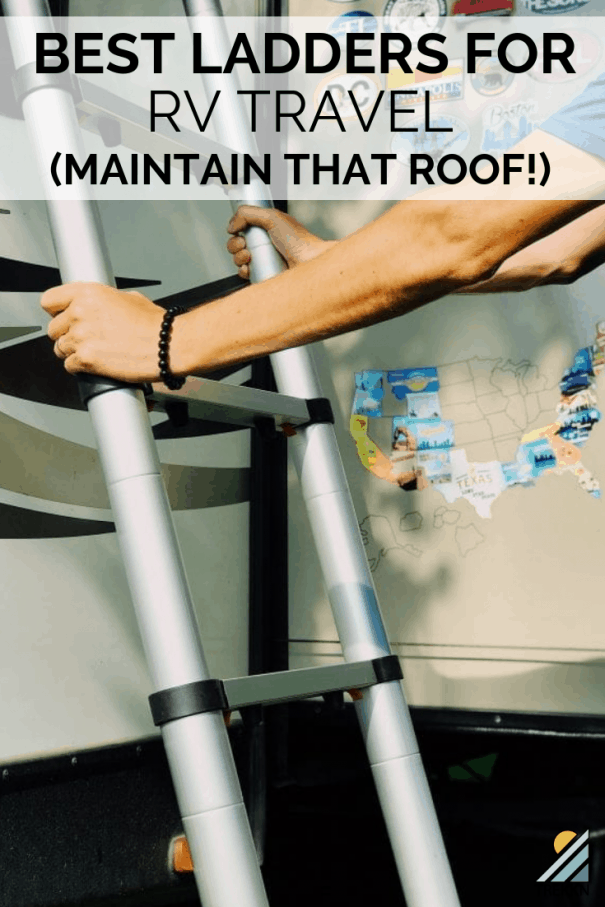 RV Maintenance and Ladders Go Hand in Hand
It didn't take long after we embarked on our RV trip for Todd to realize he needed a ladder for a few RV maintenance tasks. But which ladder was the big question?
It's incredibly important to keep an eye on the roof of your RV. From making sure all the seals are good to go to regularly removing any debris that has built up, regular RV roof maintenance can help keep some major problems from happening down the road. (Can you say L-E-A-K?)
Another task the ladder came in handy for was cleaning off the slides before pulling them in for a travel day. We camped under trees quite often and those trees dumped a lot of leaves, acorns and other things. You definitely do not want to leave that debris on your slides. Keeping the slides clean and well serviced is just one of the many ways to make sure you're keeping up with RV maintenance and taking great care of your rig.
Your RV Folding Ladder Guide
Not all RVs come with a ladder attached so you can access the roof. I'll admit we were a tad bit jealous a time or two watching owners of large class A's walk up the ladder, step on their roof and take care of what needed to be done. If we were to try and walk on the roof of our travel trailer, well, I can only imagine the damage that might cause because it did not have a walkable roof.
But just because the roof was not walkable didn't mean we could get away with not inspecting it and cleaning it regularly. We just had to get a little more creative with our approach.
So the search for a ladder began. But not just any ladder! There were a few things we had to consider:
The ladder had to be lightweight
There were two reasons we needed the ladder we were going to purchase to be lightweight.
First, we were always trying to keep our cargo weight as low as possible. And the more you RV, the more stuff you accumulate. (Such is life…even on the road.) A ladder was an RVing essential for us, but it had to be as light as possible.
Second, the ladder needed to be easy to move around our travel trailer so we could reach all parts of the roof. The one we ended up purchasing could easily be moved by our teenage son.
The ladder had to fold or collapse as small as possible
Not only is weight an issue while traveling by RV, but so is space. And space is probably the more pressing issue on a daily basis. We had one pass-through storage compartment on our travel trailer, plus the bed of our truck for storage (we had a nice truck bed cover that served us very well). That was it.
Since we were traveling full-time with four (sometimes five) full-sized people, you can only imagine how much stuff we had. So that ladder needed to easily fit in the pass-through or in the bed of the truck.
The ladder had to be tall enough to reach the roof
This is kind of a given, but we wanted to point it out to make sure we're covering our bases here.
It's important to make sure you know the height of your roof. Travel trailers tend to be shorter (10-11 ft), while motorhomes and 5th wheels roof's are higher (13-14 ft). Just measure the height of your roof to be safe so you'll know you're purchasing a ladder that will safely and comfortably reach and still provide you with plenty of stability.
The ladder needed to be durable
Was it possible to find a ladder that was lightweight, collapsible and durable? We wondered if that even existed, but we're happy to report – it does.
We knew the ladder we purchased would be used a lot and we wanted it to last. Obviously, we took a good, hard look at customer reviews related to durability and quality construction before making a purchase decision.
Two Types of Portable Ladders for Your RV to Consider
Although we called this buying guide the best "RV folding ladders", there are actually two different kinds of ladders to consider for your RV: the RV folding ladders and telescoping ladders. They both fall under the collapsible ladder category, but they are bit different.
A folding ladder is just what it sounds like. It folds flat.
A telescoping ladder slides in and out, with overlapping sections.
The type of portable ladder you need will depend on your rig size, storage, and just personal preference. We did see many RVs with a standard 8 or 10-ft aluminum ladder strapped to the back of their rig. So that's always an option to consider.
Best RV Folding Ladders for 2020
Alright, let's cover the ladders, shall we? Starting with our top pick and the one that traveled all over the United States and Canada with us.
TREKKN's #1 Portable RV Ladder Choice…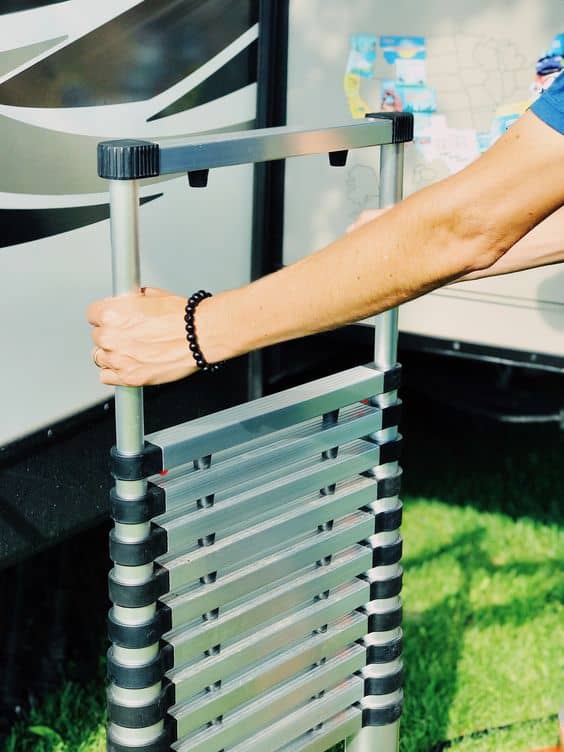 Description: This telescopic ladder by OxGord extends to a height of 12.5 ft, has a safety locking feature, non-slip foot grips, and comes with a carrying bag that kept it well-protected and in good condition after 17 months on the road.
Weight: Weighs 24 pounds, can hold up to 250 pounds (although one of the descriptions on Amazon says 330 pounds), and it can be used at an angle of 75 degrees.

Why we loved this telescoping ladder:
This was the perfect ladder for our travel trailer maintenance needs and almost daily use on our 17 months of full-time travel. It easily fit into our travel trailer pass-through and was lightweight enough not to be a burden. We placed it flat on the bottom in the pass-through storage so that multiple other items could be placed on top of it, maximizing our available storage space.
The safety locking feature never failed us, plus it was easy to extend and collapse, and we simply could not have been more satisfied with the purchase.
On Amazon, it has 4+ stars on more than 400 reviews.
---
Description: This folding ladder features anti-slip rungs and strong, lightweight anodized aluminum that resists corrosion. The rubberized anti-skid feet helps hold the ladder in place without marring the side of your RV.
This is a double sided ladder you can go up either side.
Weight: Weighs 22 pounds, can hold up to 225 pounds.
Dimensions: Folds to just 3 1/2 inches, by 4 1/2 inches by 75 inches long.
---
Description: This ladder is constructed of a special alloy that makes it 20 percent lighter than comparable ladders. It has so many innovative features including the dual-pin hinge and the easy-to-use Rock Locks for quick adjustment.
The Little Giant Velocity ladder can be used in many different configurations:
A-frame
Extension
Staircase
90-degree ladder
With Velocity Trestle Brackets (sold separately) to form a trestle-and-plank scaffolding system
This ladder comes in several different sizes: 13, 17, 22, and 26-foot.
The following weight and dimensions are for the 17-foot version.
Weight: The 17-foot version reaches a full 15 feet, weighs 30.5 and can hold up to 300 pounds.
Dimensions: 8 x 24 x 55 in
---
Description: This is the #1 selling telescoping ladder on Amazon, with over 80% of the reviewers giving it 4+ stars.
This ladder features easy one button retraction, is crafted from high-quality aluminum alloy, lightweight and easy to carry. It expands and retracts safely, meaning no pinched fingers.
It comes in two sizes: 12.5 ft and 15.5 ft.
The following weight and dimensions are for the 12.5 ft.
Weight: It weighs 25.4 pounds and can hold up to 330 pounds.
---
If you RV full-time like we did, we would highly recommend one of the telescoping ladders for ease of use and its space-saving capabilities. It's definitely one of the best purchases we made when it came to being able to perform maintenance tasks on those hard to reach areas.
RV travel can be unpredictable! Roofs leak, tires blow, and bad weather comes out of nowhere. So having a few products on hand to help with maintenance is important.
As you know, RVs aren't cheap, so it's important we take extra good care of them so they'll stand the test of time. Purchasing a portable ladder for your RV is an investment you'll be thankful you made.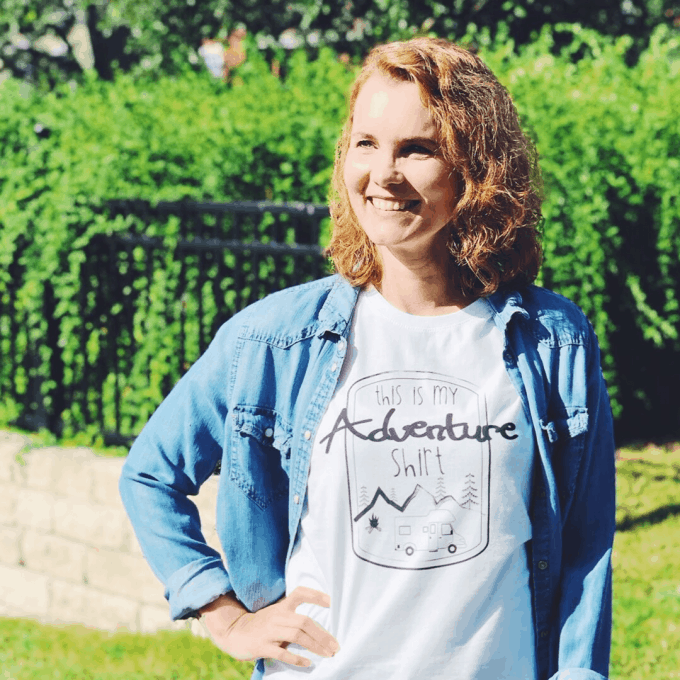 Julie Bonner is one-half of the TREKKN team. She specializes in helping you whip up delicious meals in your tiny RV kitchen, as well as RV organization tips and helping fellow RVers make their RV feel like home. Her favorite RVing spot is in Banff National Park in Canada where yes, the water really is that blue and the people really are that nice.