9 Travel Trailer Mistakes to Avoid During Planning and Setup

We were newbies at setting up our travel trailer once upon a time, but we learned a thing or two about how to set up our travel trailer over the last few years we had her.
To help you avoid making the same travel trailer mistakes while other veteran haulers standby and shake their heads, we've come up with a list of things to avoid. This list includes things to avoid doing when traveling with a travel trailer and also (most importantly) what to do instead.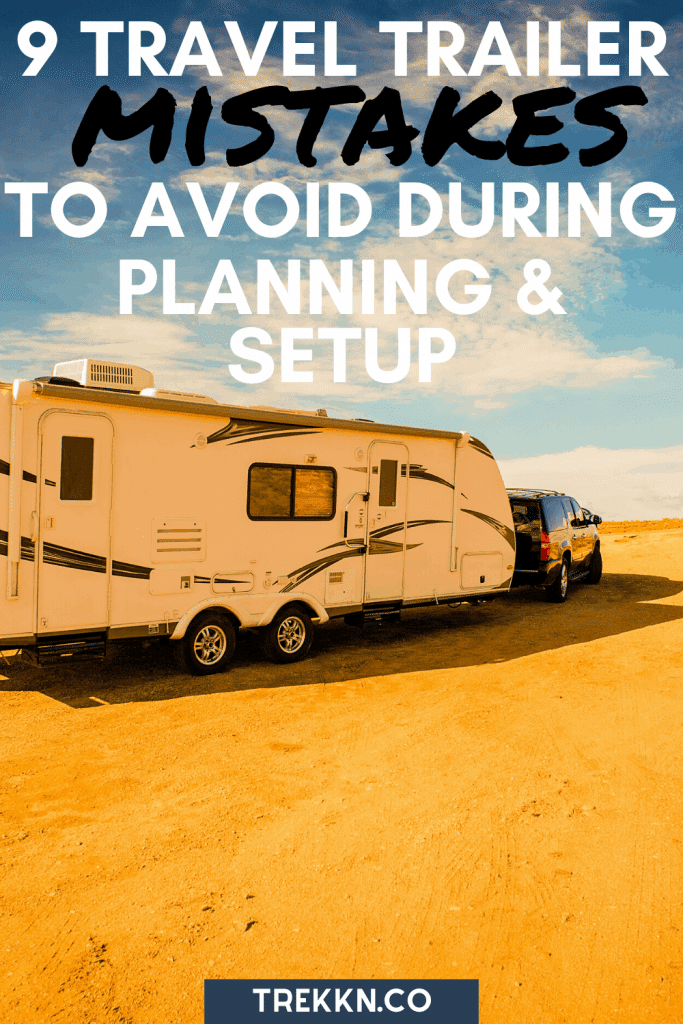 9 Travel Trailer Mistakes to Avoid During Planning and Setup
When you're finally ready to take your travel trailer on its first adventure, there are a few things you should keep in mind. Here are some of the mistakes we may or may not have experienced as first-time haulers.
Not Reserving a Campsite Ahead of Time
Especially during the busy season, it's important to reserve a campsite ahead of time to avoid not having a place to sleep. Depending on the size of your trailer, usually 35 ft or more, you'll always want to call ahead as the bigger spaces are often taken by larger RVs like Class As or fifth wheels.
You'll need to take into consideration the length of your towing vehicle and trailer when reserving a spot to avoid having to park elsewhere while your trailer stays at the campsite. That can be very inconvenient and you should avoid it if at all possible.
Pulling Into a Campground After Dark
When you are traveling with a travel trailer, planning is everything. One of the biggest mistakes you can make is to travel after dark and arrive at your RV park or campground in the pitch black of night. I guarantee you that the vast majority of incidents with travel trailers occur after dark.
In the middle of the day, it's hard enough to keep your eye on everything to be sure you don't hit something. But trying to do that in the dark exponentially increases the likelihood of a bad outcome. Things hide really well in campgrounds. Don't help them out and make your situation worse by trying to navigate around them after dark.
I know it's not always possible to avoid this scenario, but with some decent planning (and a little bit of discipline to get out of bed on time?) you can easily avoid most of these headache-inducing situations.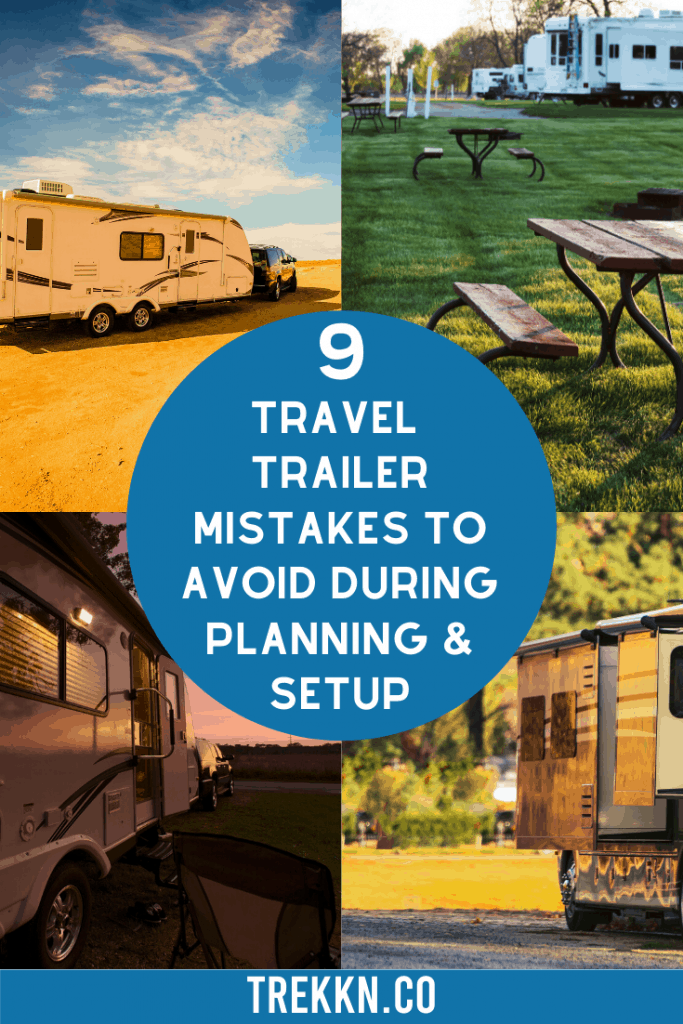 Pulling Into a Campground the Wrong Way
Most campgrounds have relatively the same setup, but it can sometimes be confusing when you stumble into a campground late at night or if you've never been there before. Most campgrounds today offer more pull-through sites versus back-in sites which is ideal for new haulers, but there is a system in place to avoid you having to back your trailer down a one-way.
When you check-in to a campground, be sure to look over the map they've given you. Most roads to RV/trailer sites are one-way. If you go the wrong way, you often will know by the way other RVs and trailers are set up at the sites around you, but it can be easy to do if there aren't many rigs parked on your row.
Be sure you know what direction you need to pull in to avoid backing all the way out and trying again or setting up your trailer only to find out that the hookups are on the wrong side. (That one hurts.)
Backing Into a Spot for the Very First Time at the Campground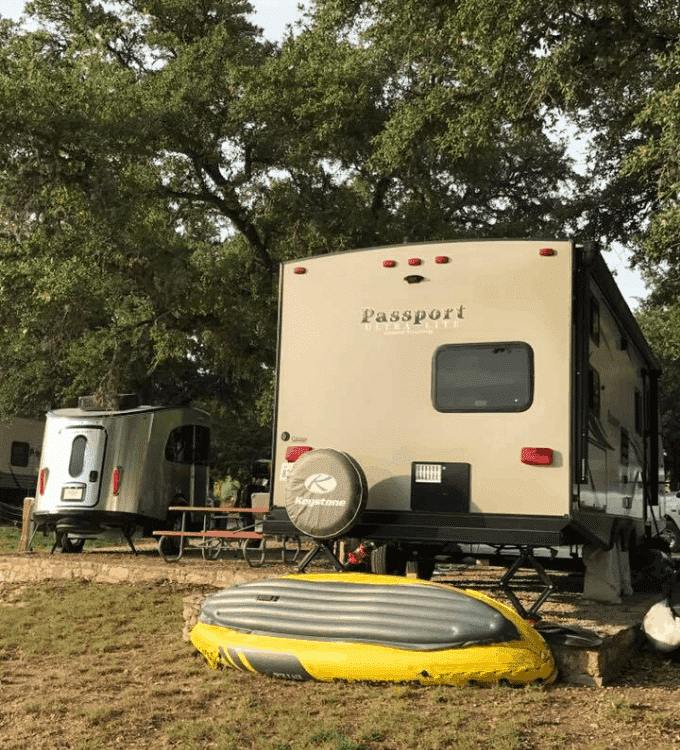 Ah, yes. You're so excited you just can't wait to take your new travel trailer on its first trip! You make your way to the nearest campground and realize that you have to back-in your trailer for the very first time. Oh…no.
It may seem like an easy task, but I assure you that trying to learn how to back-in a trailer for the first time at the campsite is no walk in the park. Instead of hitting the nearest campground, take some time to practice backing your trailer into your driveway or pull it to your local grocery store parking lot and back into empty parking spots when the place is mostly empty.
The last thing you want to do is hold up the line at a campground because you're learning how to back-in your trailer on the spot. It takes time, patience, and preferably even a second (or third) person to help you get backed in just right.
Not Taking the Time to Level Out Your Trailer
Unlike RVs, trailers require a little more patience when setting up camp. There have been a few occasions where I've dropped the trailer down from the truck without looking at the level before beginning to unpack.
You might think leveling out your trailer, in general, isn't that important. But you'll notice after one night's sleep that even the slightest upward or downward tick can leave you with a headache.
Obviously not every campsite will be level, so you'll want your trailer to do the work. Most electric hitches offer some kind of small level on them, but if you want to get down to the nitty-gritty, bring a level with you and place it inside the trailer while you raise and lower it to the right level.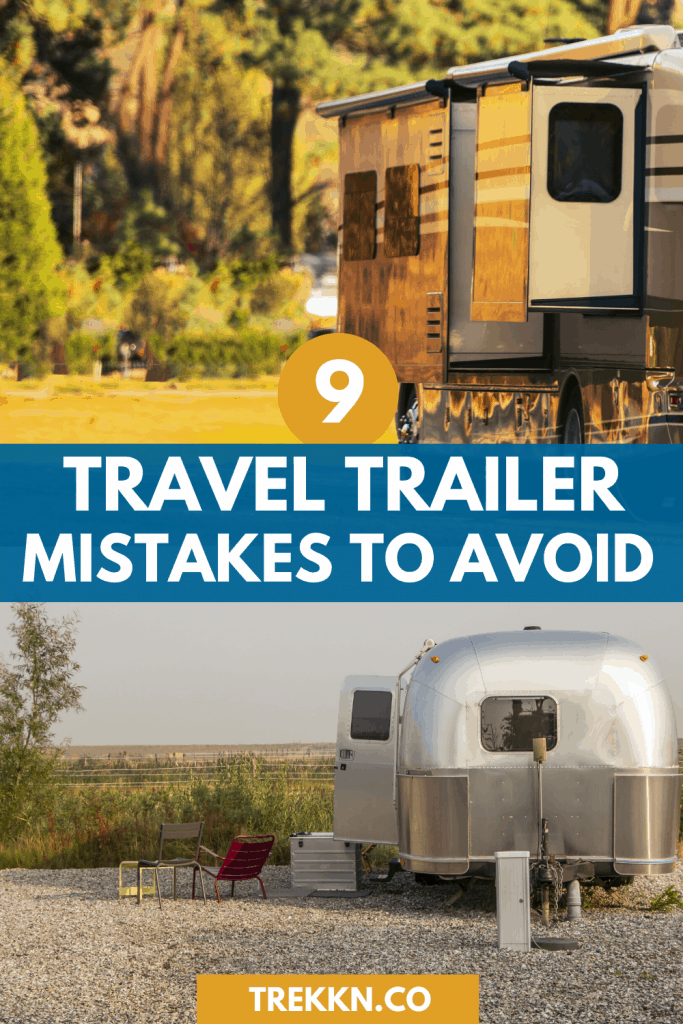 Disconnecting Your Trailer Before You Double Check Your Connection Locations
Do you want to know what's worse than pulling into a campground or RV park after dark? I'll tell you: Pulling in and disconnecting your trailer only to realize that you can't reach your sewer, water or electric connections.
Pulling in late, feeling exhausted and stressed out, and trying to get situated properly is plenty of hassle by itself. But be sure that you take the extra step to ensure your equipment (hoses, cords, etc.) can properly reach their destinations before unhooking!
Yes, it's probably happened to all of us, but you should take every possible step to keep it from happening to you any more than necessary. (Hint: There's a checklist below that will come in handy for this!)
Forgetting that Pesky Awning
Although we didn't have an awning on our trailer, we've heard enough horror stories about forgetting your awning before hitting the road. Awnings aren't cheap, but they're easy to forget about when you're ready to get moving.
The easiest way to remember your awning is to create a checklist on your phone or in a notebook for every time you leave the campground. Don't have your own checklist? Scroll down below to see ours.
Driving Away without Disconnecting
You've probably seen the photos on the internet of cars driving away from a gas station with a gas pump sticking out the side. Well, driving away from the campground without disconnecting your shore power and dump lines can lead to the same result.
Before you pack up and ship out, you should always take the time to check your connections. Make sure you won't be driving away with an electric box in tow or spewing out your black water tank as you drive down the road. We've come close to doing this a time or two, so even though it may sound like common sense, make sure to put it on your camp breakdown checklist to avoid losing your lines or causing damage to the campsite.
Not Securing Your Belongings Before Lift-Off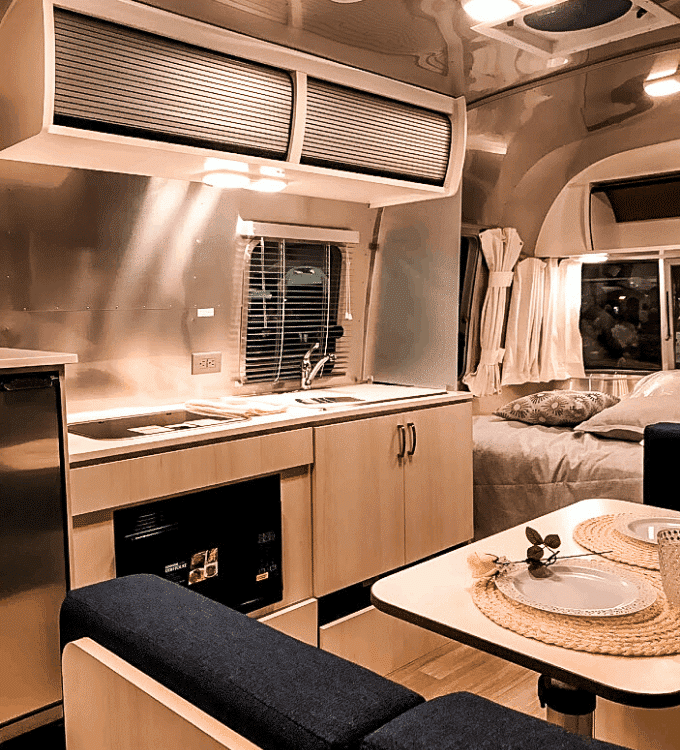 If you haven't hauled a trailer before, you might be surprised to find out that things inside the trailer don't stay put very easily. You might think that cabinetry and drawers won't bounce around with enough stuff in them, but there's still a high chance that some things that you take with you on your trips could go flying while you're driving down the highway.
Knowing what comes loose and what stuff is most likely to jumble around isn't something you know inherently. It usually takes several trips to fully understand what will stay put without any tie-downs and what areas need to be tightly secured before hitting the dusty trail.
We used bungee cords and little hooks that we installed around problem areas that were always bouncing open and closed while we traveled. I've seen other people use velcro for small items, as well as sliding locks to keep cabinets and drawers closed, too.
Now that you have a good idea of the mistakes that most people make as new travel trailer owners, let's give you our full set up and break down checklists that you can use for your own adventures.
Checklist for Setting Up Camp
Always check the map before proceeding down any campground roads. Watch for one-way roads which are common.

Back-in or pull-through your campsite accordingly.

Choose a level spot (or as level a spot as possible) to park your trailer and use trailer levelers to get it just right.

Secure your wheels with chocks (stabilizers optional).

Check to be sure you can reach all hookups (sewer, water, electric) with your equipment.

Unhitch your towing vehicle and park in front of or behind your trailer (depending on your site).

Clean up any messes that may have happened inside the trailer (even straps and bungee cords come loose occasionally).

Set up camp with chairs, awning, and a couple of adult beverages (if that's your thing)!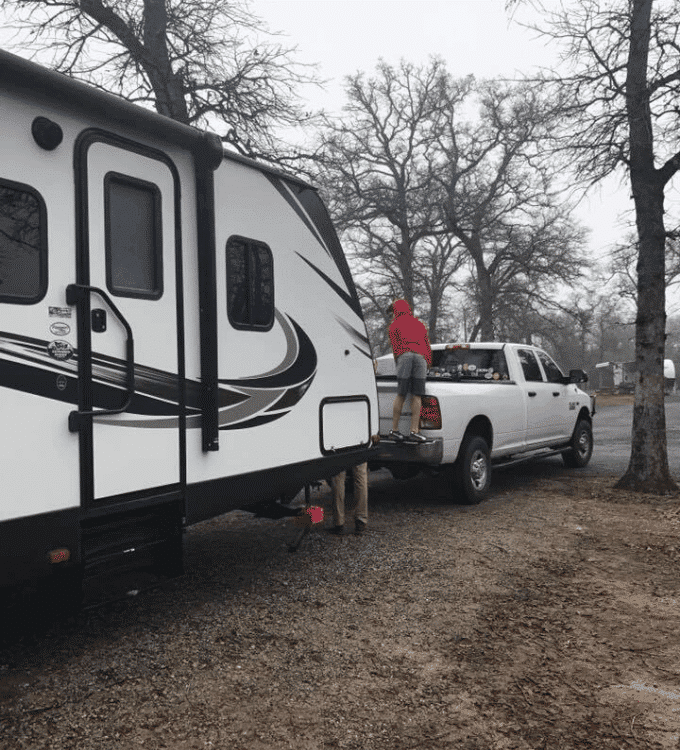 Checklist for Breaking Down Camp
Secure the cabinets and any other loose items inside the trailer.

Turn off all electricity, water, etc.,

Dump any gray or black water at the dump station if no dump access was provided at the campsite.

Partially fill the fresh water tank if water is available and store away the water hose after.

Discard any trash properly.

Be sure you've disconnected and stored away any shore power or dump lines.

Remember to pull in the awning (if you have one).

Check your tire pressure and tread.

Remove any stabilizers from under the trailer and stow away.

Lock up all outside compartments.

Stow away the entry step for travel.

Hook up your towing vehicle to your trailer to check the trailer brake lights, flashers, and turn signals.

Set emergency brake on towing vehicle.

Ensure your chains are crossed and not dragging on the road beneath you.

Remove chocks and/or levelers from wheels.

Double-check the campsite to ensure you haven't left any gear, chairs, etc., behind. (Make sure kids and pets are also along for the ride, please.)

Hit the road!
Learn from the Travel Trailer Mistakes of Other RVers
It's easy to say that if I and all other RVers had known all the mistakes we could make that we wouldn't have made them. But in all honesty, pulling a travel trailer takes some time to get used to. With all things, knowing about the mistakes you can make ahead of time can help you prevent them and create better habits. (And the checklist will help.)
The best way to avoid making small mistakes that could cause damage to your rig is to take the time to look inside and outside of your trailer before heading out anywhere. Just like Santa does with his list, we recommend you check it twice!
By knowing how your trailer works, practicing your travel trailer hauling and parking skills, and remembering to check off your list before you take a trip and after you leave the campground, you can avoid costly and unnecessary repairs and headaches.
Do yourself a favor and save some time by learning all you can about your trailer before you head off on your next adventure. Trust us (and all the other RVers) when we say it's absolutely for the best and worth that little bit of extra time!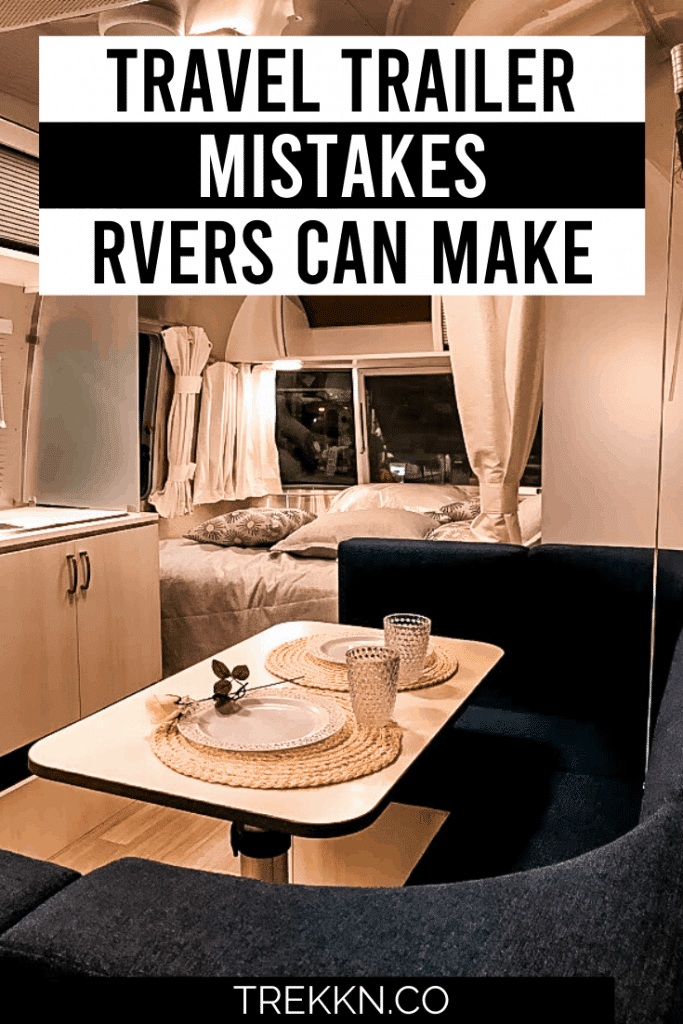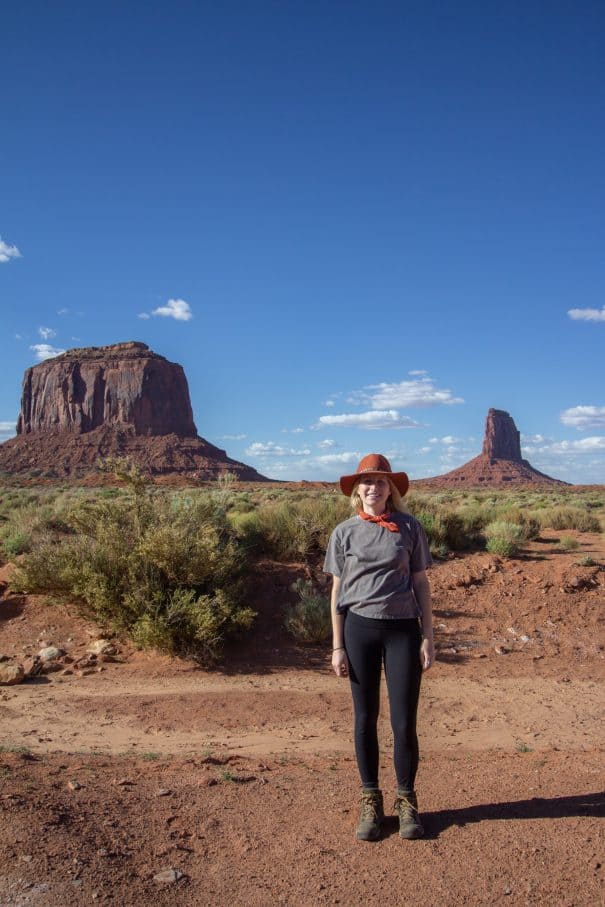 Erin is rooted in South Dakota, but wanders every chance she gets to see the beauty that nature holds. From hiking to climbing, there's not an adventure she'll turn down.
After renovating her 1976 Airstream Argosy, Erin knows the ins and outs of living life on the road and trailer maintenance.
Whether she's on the road with her dog and partner or at home curled up with a good book, Erin is always planning her next adventure because life is meant to be lived outdoors.