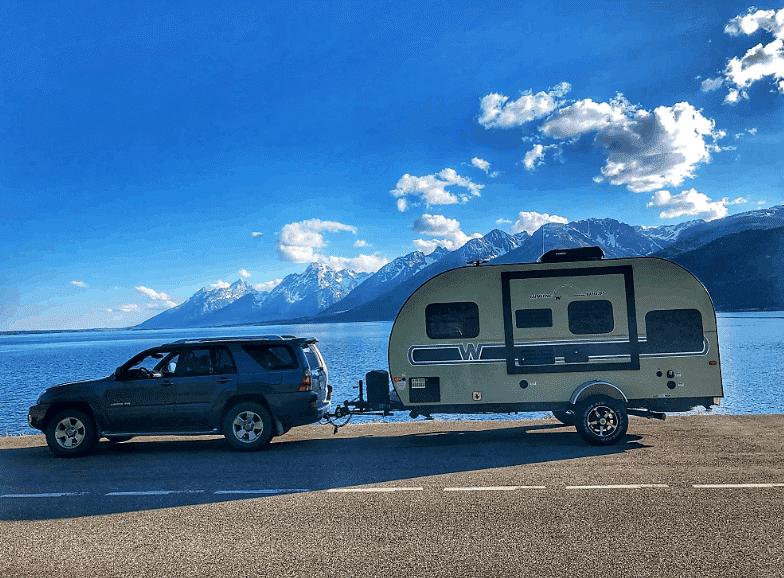 We know from experience that tent camping doesn't offer the same amenities and comfort as a trailer or RV. But that's pretty common sense. That's why we suggest looking into a camping trailer rental when you don't want to pitch a tent but really need some distance from the crowds.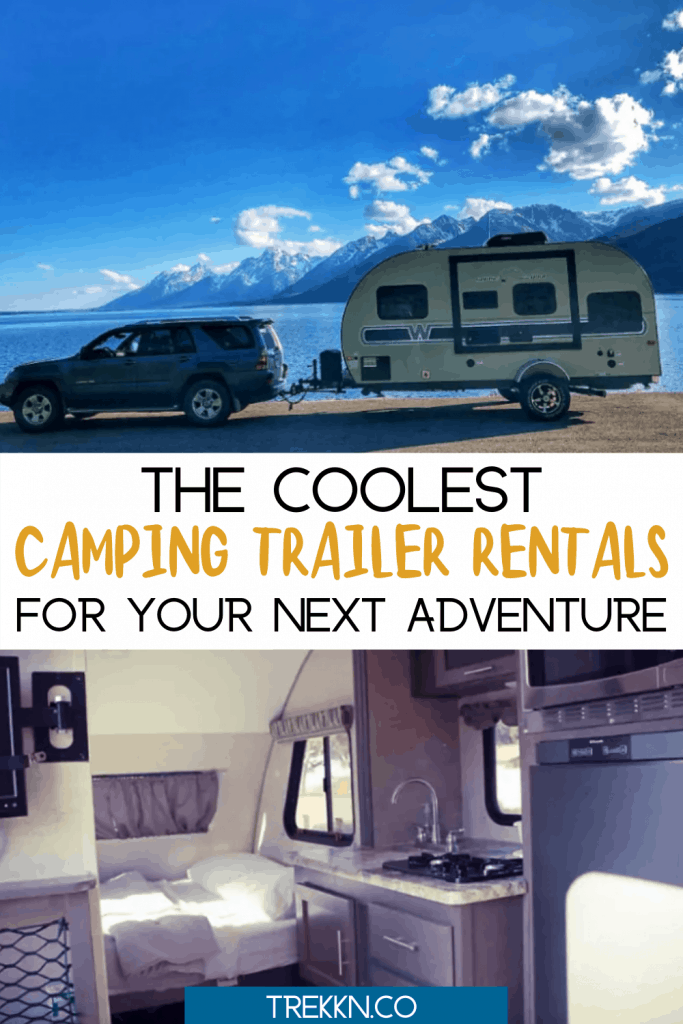 When you want extra comfort but still want the ruggedness it takes to get into the wilderness, there are camping trailers made for almost any adventure. Whether you're taking a few days away with your significant other or bringing the whole family, you can make a weekend or week away in a camping trailer rental just a truly outdoorsy experience.
(Pssstt…be sure to take a look at my post about trailer setup mistakes to avoid before you head out on your excursion!)
You can take a look at our top picks below, or you can just head to Outdoorsy.com on your own and search for the perfect camping trailer for your getaway dreams.
So why exactly would you consider renting a camping trailer instead of choosing a "typical" getaway? Let's talk about that.
Why Rent a Camping Trailer?
Renting a camping trailer not only allows you to sleep comfortably but also brings more amenities and adventure to every trip. Camping trailers are made to take on rougher terrain and often have an adventurer's taste in decor (minimal, yet efficient). This allows you to bring what you need and nothing else, avoiding the mess that comes with overpacking in large trailers for extended vacations. Trust us, we know all about that.
Here's why we love camping trailers:
Most are small but mighty: They offer just what you need to be comfortable after a long day of hiking or mountain biking.

Many are off-road capable: Unlike most trailers, camping trailers can take on forest roads pretty easily compared to most other RVs and trailers who have to strap everything down and cross their fingers hoping to steer clear of washboard roads.

They fit any adventure: Whether you want to camp solo or bring friends and family, camping trailer rentals are perfect for any adventure. Whether you're spending most of your time at camp or getting lost in the backcountry, you can go just about anywhere with anyone without spending an arm and a leg to get there.
Alright, alright. I know you're dying to see what camping trailer rentals we've found for you so here they are. There are numerous trailer rentals out there that are just as worthy, but these 6 rentals caught our eye. Let's see why!
Top Camping Trailer Rental Picks for Your Next Adventure
Some of the best camping trailer rentals online right now are:
The Hiker Trailer
If you're passing through Colorado or making a trip to nearby states, you'll find that this tiny 5×8 trailer packs more in than meets the eye. In this lightweight trailer, you'll have plenty of room to store gear inside and out. In the back, you have shelves and storage space for any clothes or gear you may need. On top, there's a roof rack for extra gear if you're really trying to get out and adventure.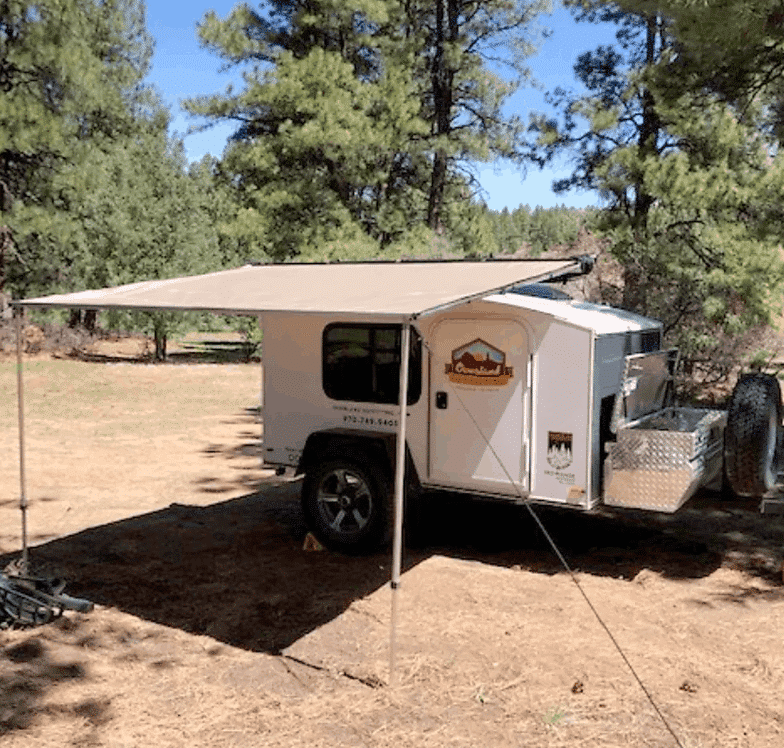 Now let's talk a little bit about the specs and what you need to know before you rent The Hiker:
It only sleeps 2 people which makes for a great weekend getaway for Mom and Dad or even a couples vacation. The bed is an extra-large full-size mattress so be prepared to get cozy with one another!

It can be easily towed by almost any vehicle. All it requires is a Class II hitch to hit the road with this trailer. You'll also need a 4-pole light connection to connect your tail lights.

This rig comes with a 35kWh solar battery and 50-watt solar charger to keep your devices charged and ready for a day out and about.
Here are a few more things we love about this camper trailer setup that make it worth renting:
Outdoor camping kitchen
From pots and pans to a propane stove, this camper trailer rental comes with everything you need to have a fun weekend away in the woods.
Utility box
The utility box has everything you need to stay safe on the roads in case of a flat tire or any other roadside assistance needs. The propane canister and camp stove stow away here also.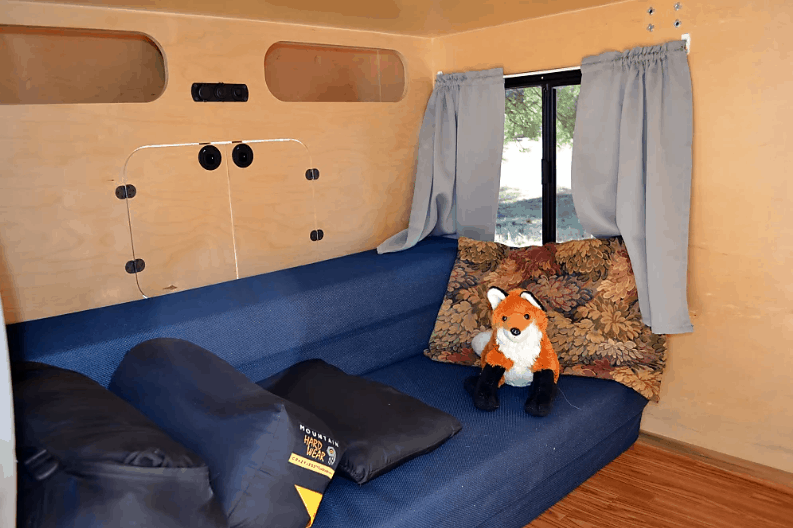 Comfy & cozy interior
Though this trailer is small, it feels roomy as the mattress can fold up to act as a couch when the bed is not needed. You'll also have 12v and USB power to charge up your phones and other devices, too. Just like a home away from home!
It's pet friendly
You can bring your furry friends aboard to explore and adventure with you at no extra charge.
The Winnie Drop
The Winnie Drop is a great camping trailer rental in the Wyoming and Montana area. This 2018 Winnebago is perfect for a trip to the Tetons or Yellowstone National Park. A little bigger than The Hiker trailer listed above, this camper trailer has all the amenities you need while also allowing you to get outside and enjoy a nice dinner with family or friends. This trailer comes loaded with everything you need to make a Midwest road trip even better.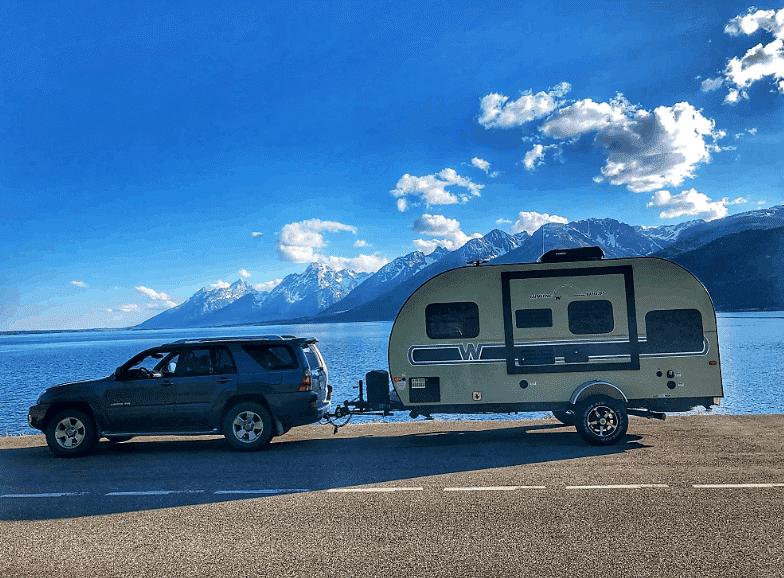 Let's dive into the specs to get a better idea of what this camper trailer rental offers:
This 18-foot trailer sleeps 4 people inside with two bunk beds and one dinette-to-queen-size-bed.

A kitchen slide allows you to make food inside the trailer. An outdoor kitchen with an awning provides ample room for BBQ style hangouts, too.

If you want power, you'll have to find a 30amp hookup nearby to run the A/C, fridge, and TV. If you're visiting Montana and Wyoming in the spring or fall, you may not need the A/C at all! No generator is included in this listing but feel free to bring one along.

The dry weight of this rig is 2,800 lbs and it has a GVW (gross vehicle weight) of 3,500 lbs. This trailer is fairly light and can be pulled by most SUVs and trucks.

To get her on the road, you'll have access to electric trailer brakes and an equalizing hitch if you so choose. You'll need a 7-pin trailer plug adapter to hook up the trailer to your vehicle.
What else do we love about this trailer rental?
Amenities on amenities (and the Essentials, too!)
This trailer offers more amenities than most camping trailers. From indoor/outdoor speakers to a TV, you can experience the outdoors as comfy and cozy as possible. You'll also have access to camping chairs, an awning, pots, and pans…basically everything you need to get camping!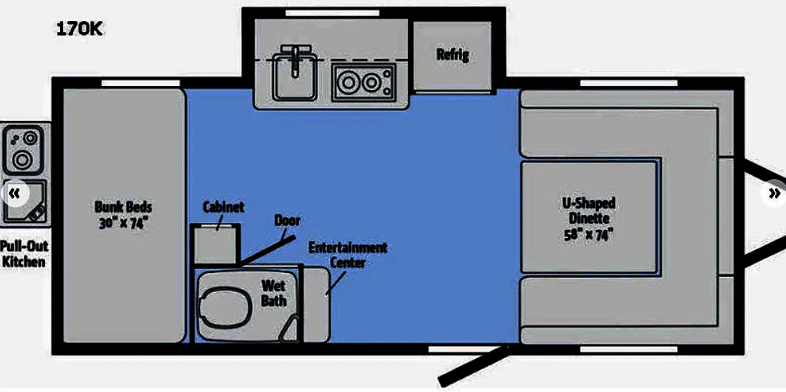 Wet bath & Outside Shower
Unlike most camping and off-road trailers, this particular listing has a wet bath. You can pop in to take a shower or take advantage of not having to use the outdoors as a restroom. There's also an outdoor shower available, too!
Enough room for the whole family
This listing offers enough room for the whole family to spread out and get comfortable. Whether you're bringing the kids with you or having friends tag along, there's enough room and creature comforts to make any trip a good one.
The R-Pod
Forest River's R-Pod offers plenty of room to sleep, eat, and enjoy the great outdoors. Much like the Winnie Drop, the R-Pod has a slide-out kitchen-area to make room for a wrap-around dinette-to-bed, refrigerator, and cabinet area. If you're traveling to or through the California area, this family camping trailer can accommodate your next adventure with ease.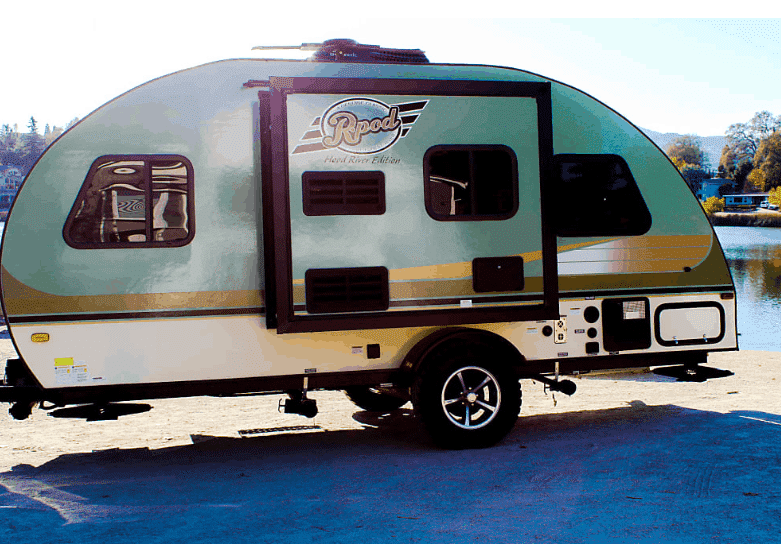 It's time to dive into the specs to see what the R-Pod has for its renters:
At 19 feet long, this trailer sleeps 4 comfortably. With beds on either end, kids and adults alike can stretch out for a good night's sleep.

Storage bins underneath the beds and beneath the trailer make it easy to carry extra gear without crowding the interior.

At roughly 2,700 lbs dry, this trailer is the perfect hauler for SUVs and trucks.
The R-Pod also offers:
Outdoor Games
If you find it hard to keep the kiddos entertained while on vacation, this trailer comes packed with games – like cornhole – that are fun for the whole family.
Generator Rental
Don't have a generator but want to use the refrigerator and microwave? You can rent a generator for an additional fee and hit the road.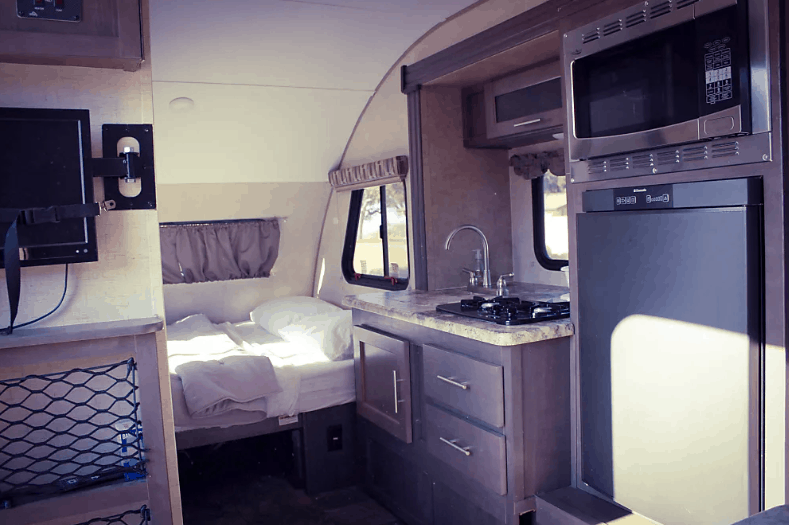 Pet and Festival Friendly
California is a beautiful state that offers plenty of events and activities. This camping trailer is pet and festival-friendly making this the perfect rental for Burning Man or traveling with your furry companions.
The Ultimate Offroad Teardrop
If you're looking for the ultimate offroad trailer experience, look no further than this Arizona-based teardrop. Despite its offroad nature, the inside of this trailer offers a cozy space to curl up and relax in. If you're into getting lost in the wilderness or strive to brave rough terrain, this trailer is perfect for you.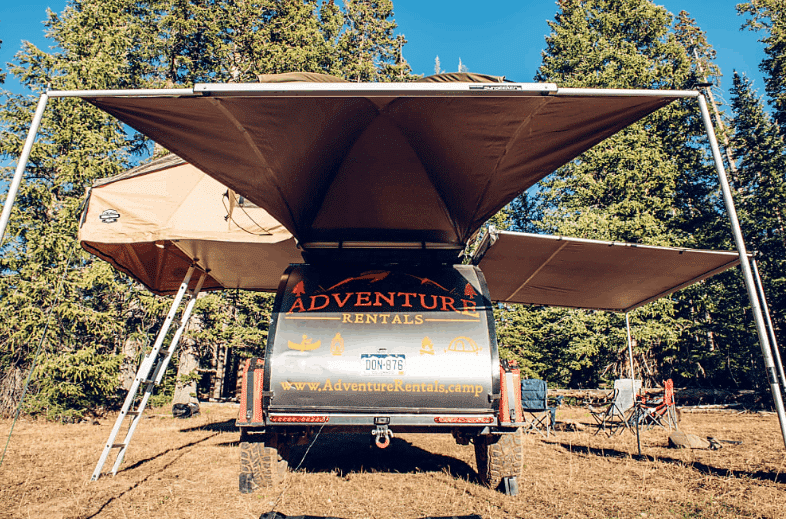 Let's look at the specifications to see just how awesome this camping trailer is:
This 5×9 teardrop is the perfect size for two adults, but also offers a variety of upgrades to bring extra friends and family members with you, too.

Equipped with high-clearance, 33" all-terrain tires, and an axle-less suspension, you'll easily overcome offroad obstacles and washboard roads.

Throughout the cabin, you'll find a handful of 12v USB plugs to keep everything charged through a 7-pin wiring harness as you adventure.
What other amenities make this camping trailer rental even better?
Pop-Up Tent Add-Ons
If you're interested in bringing more than two people on this trip, the pop-up tent add-ons sleep an additional 3 adults. You can choose from rear vehicle-mounted or trailer-mounted, or both to bring everyone along on your adventure.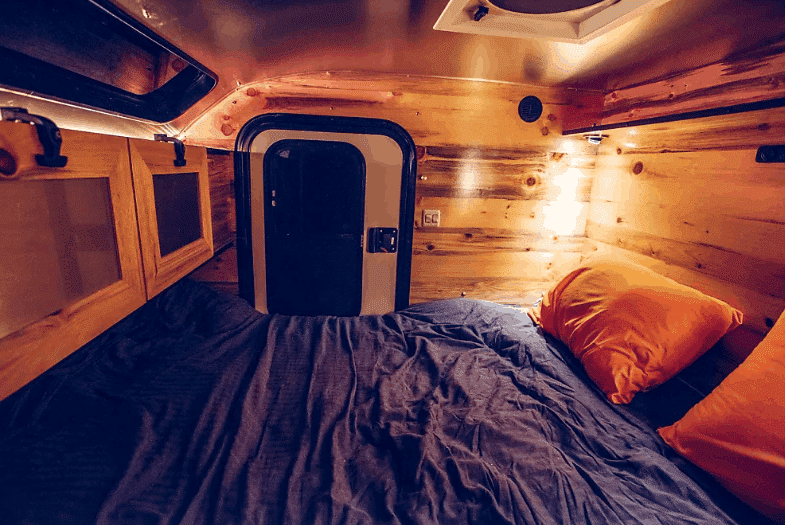 Awning Room Add-On
Need some extra shade or privacy? Try the awning room add-on to set up your camping chairs and food away from other campers or bugs.
All the Essentials and Amenities
This rental offers a few amenities and essentials that others don't. These include an RTIC cooler, dishes for a family of 4, LED lights inside and out, a tow hitch, and much more.
Ready to Hit the Road?
So you've seen a few of the best of the best camping trailer rental options out there. But there are plenty to more to explore at Outdoorsy.com . Whoever said you can't have your cake and eat it too obviously hasn't seen one of these trailers. From offroading capabilities to creature comforts, you can have the best of both worlds whenever you set out in search of dirt roads and backcountry camp spots.
Finding yourself lost in a camping trailer rental like these may make you want to stay out in the wilderness forever and never come back. We get it. There's no judgment here. (We'll be right there with you.)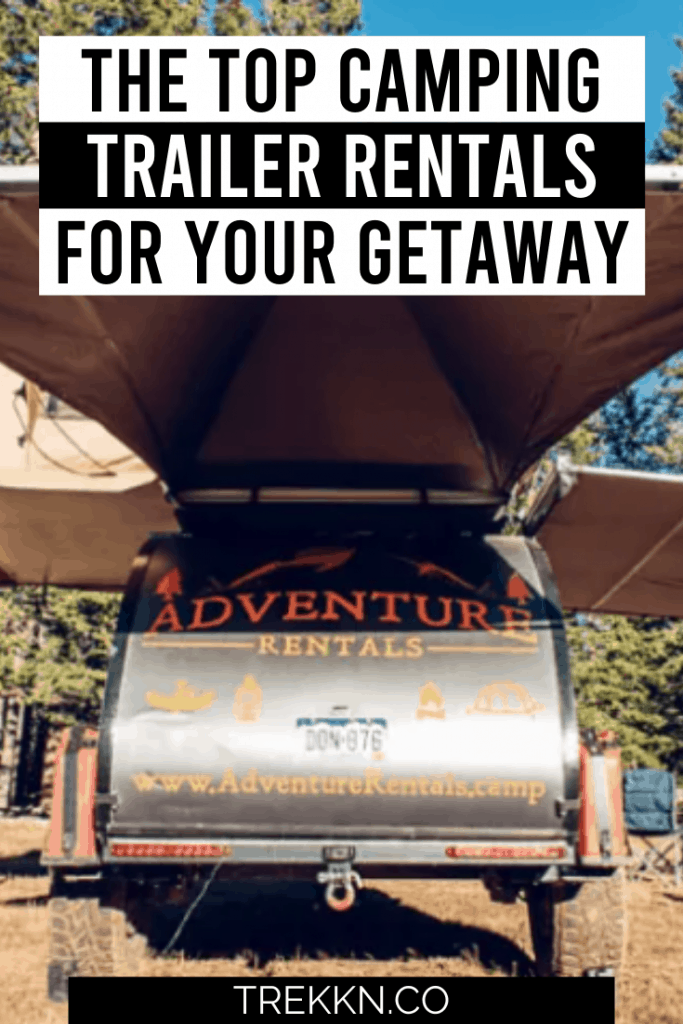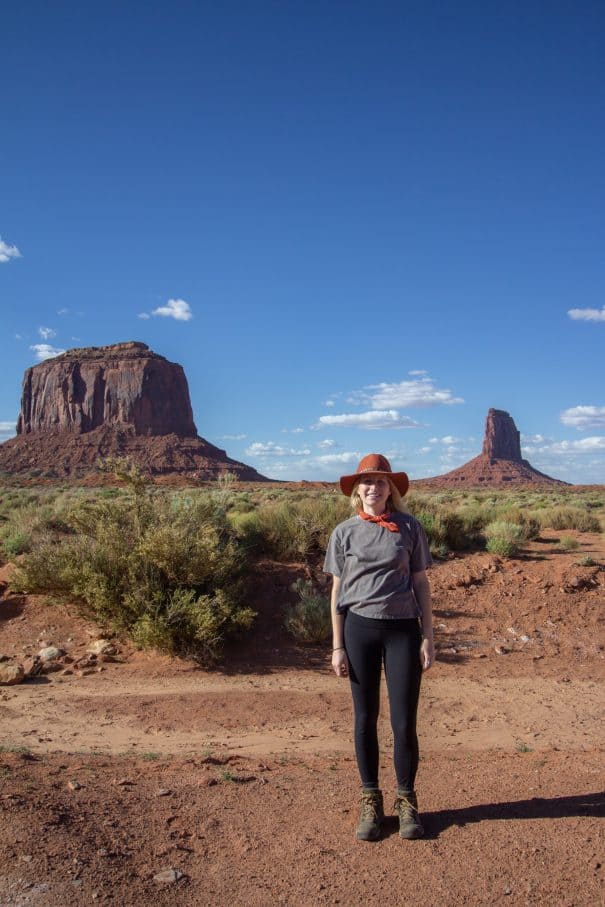 Erin Maxson is rooted in South Dakota, but wanders every chance she gets to see the beauty that nature holds. From hiking to climbing, there's not an adventure she'll turn down.
After renovating her 1976 Airstream Argosy, Erin knows the ins and outs of living life on the road and trailer maintenance.
Whether she's on the road with her dog and partner or at home curled up with a good book, Erin is always planning her next adventure because life is meant to be lived outdoors.