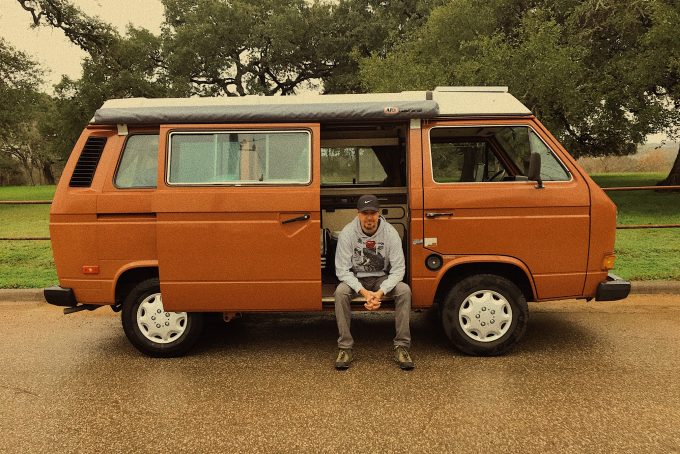 What's it like to rent a campervan for the weekend? We're breaking down all the pros and cons of this way of travel in our ongoing RV rental series.
Welcome to the first article in our RV rental series which we shared all about here.
We've officially started our hands-on search for our next RV purchase by renting the coolest campervan we could find in our area. This beauty comes from Tin Can Travel Co. that we found on Outdoorsy.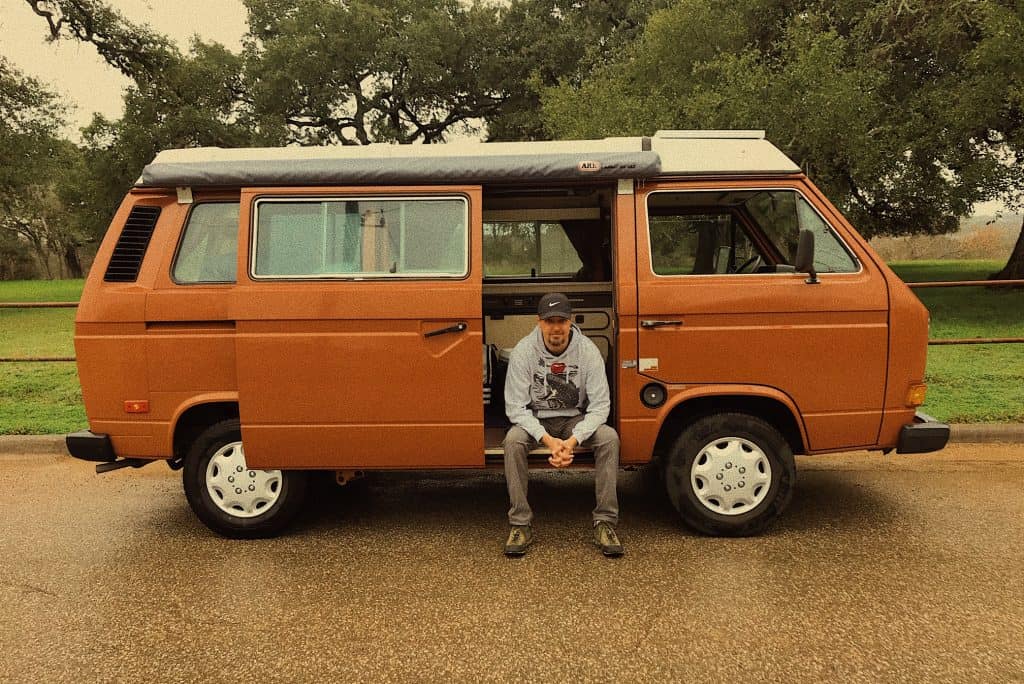 *Discount is automatically applied
We've fallen in love with renting RVs, so we have quite a few articles about it here on TREKKN. Here are a few of our favorites that we hope will help you navigate the RV rental market:
You can see all of our articles about renting an RV here.
So, why did we start this RV purchase search with a campervan rental? A few reasons really:
Campervans have always intrigued us
We wanted a taste of van life to see if it might work for us; either for full-time travel again or extended trips
Our 16-year-old has wanted us to rent a campervan for quite sometime
This particular one is a cool piece of nostalgia from our childhood – just look at it!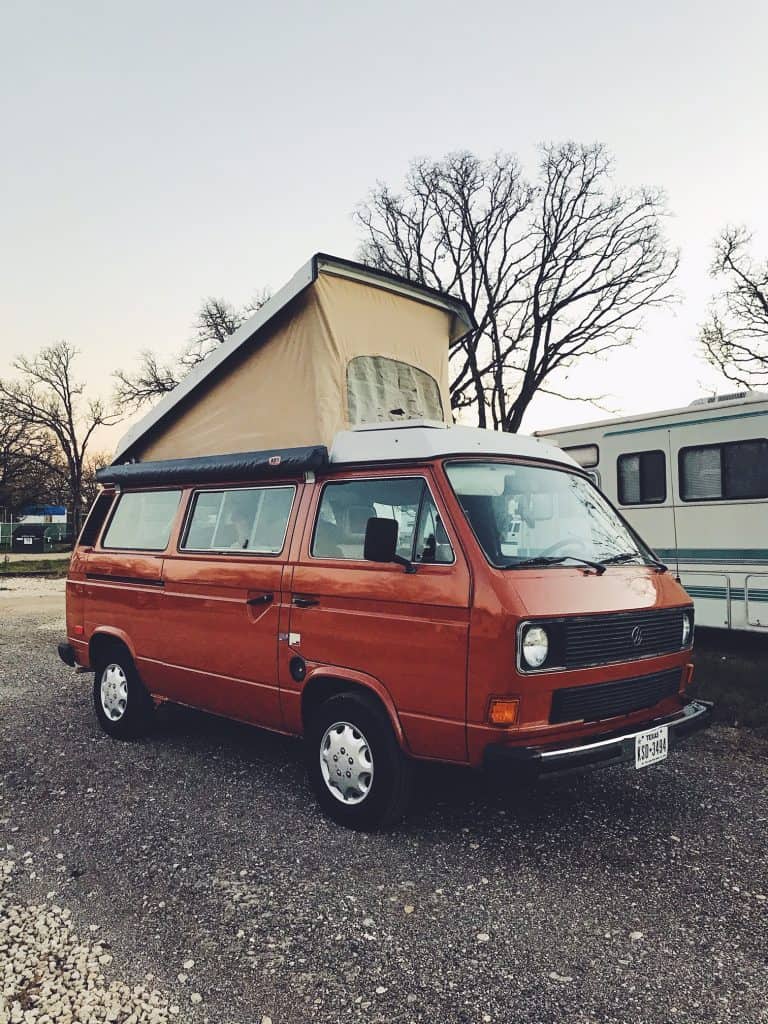 What's It Like to Rent a Campervan for the Weekend? The Pros and Cons
The Pros
It's Easy to Drive
After driving a long bed truck and a 26-foot travel trailer around the U.S. and Canada for 17 months, Todd was really looking forward to trying out a much smaller setup.
And here's the truth: if you can drive a car, you can drive a campervan. The same can not be said of a large motorhome, fifth wheel or travel trailer. That takes some practice and experience…and it will get your heart pumping for sure.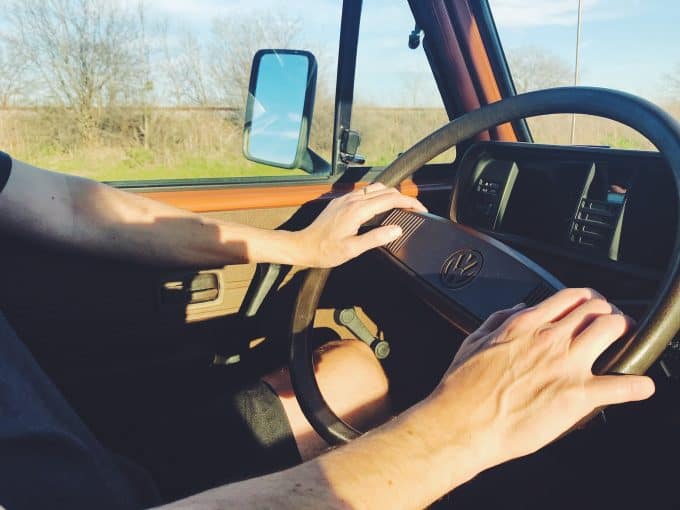 It's Easy to Park
Parking a large RV can be tricky whether you're looking for a place to stop for groceries or grabbing a bite to eat. There are also many RV parks where it can be interesting (especially if you're new to RVing) to fit in the space provided.
But with a campervan? Easy peasy.
When we checked into the RV park we were staying in with the campervan, the guy told Todd the spot was a pull-through. When we were traveling in our travel trailer, a pull-through was like hitting the RV park jackpot because it meant avoiding the sometimes stressful experience of backing the RV.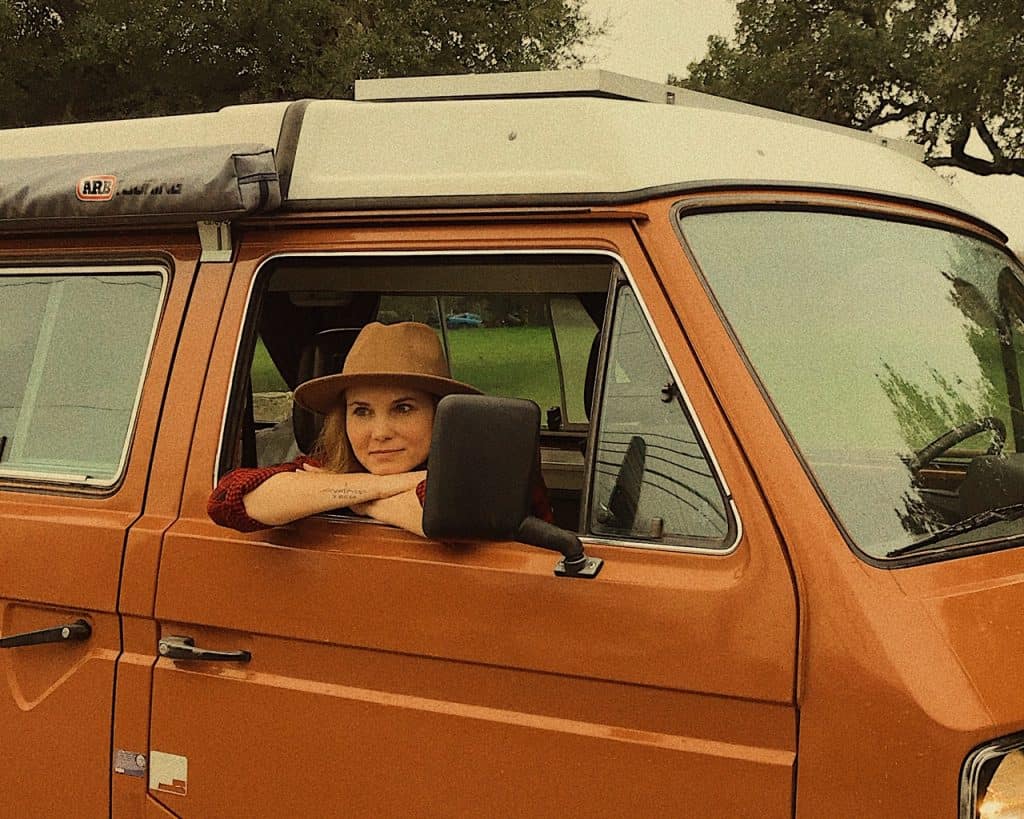 But when we were told we had a pull-through spot for the campervan, we got a good laugh out of that. It did make things as easy as they could possibly be.
You Can Fit Anywhere
A common question we get from new RVers is about the RV length limits for National Parks, and RV parks and campgrounds within the National Parks.
Doing just a bit of research, you'll quickly find out that National Parks have restrictions when it comes to RV length. They differ by park and range widely. Plus, there are some roads within National Parks that you're not even allowed to drive your RV on. (I'm looking at you Going-to-the-Sun Road in Glacier NP. Todd shared with Cheapism.com about this challenging, and thrilling, road.)
But when you're in a campervan, none of these issues with length are a problem. Our campervan was 16 feet long, and that's obviously nowhere close to any length limit.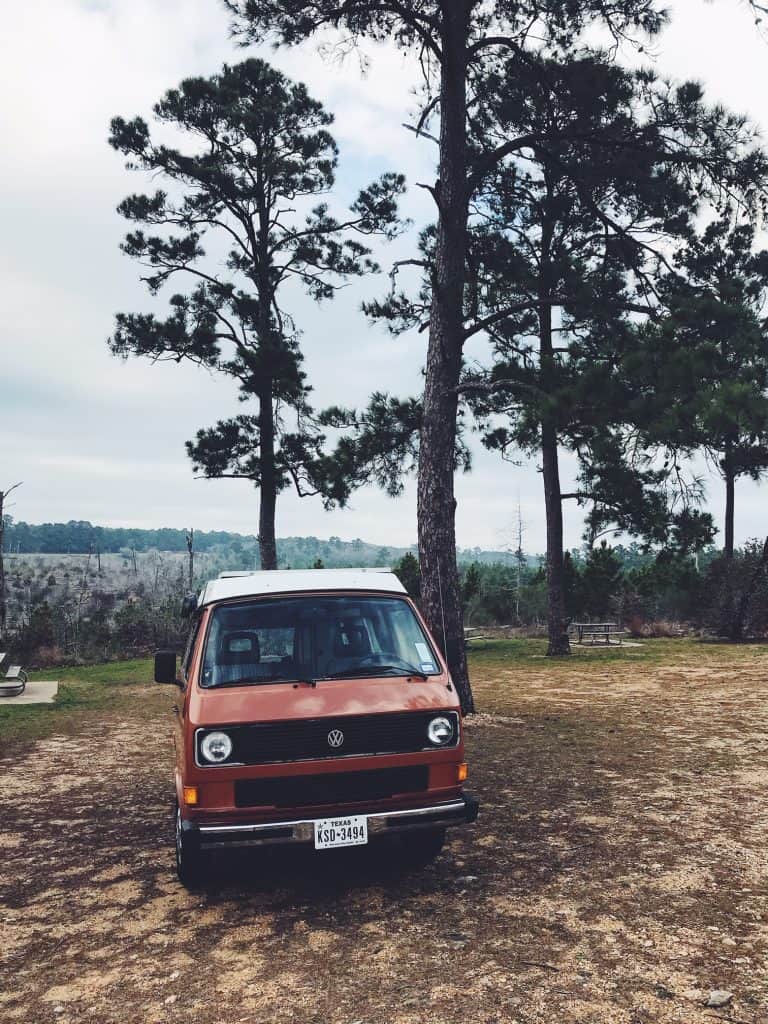 You Can't Bring Much With You
This actually might be a con for some, but for us, it was definitely a pro.
The smaller your RV rental, the less stuff you can bring. And the less stuff you can bring, the smaller your packing list is. And the smaller your packing list is, the less you have to worry about. In other words, simplicity reigns supreme.
A common question from RV newbies is, "What do I need to pack for an RV trip?" And when you are traveling in a motorhome, fifth wheel or travel trailer, that list can get very, very long.
But when you're traveling in a campervan, a long packing list just isn't necessary. Nor is it advised.
So if you're looking for a camping trip that is pretty minimal with low stress and mess, renting a campervan is a good way to go.
The Cons
It Doesn't Have a Bathroom
This is probably TMI, but I quickly figured out that if I'm on an extended camping trip, and definitely if I'm full-time RVing, I need a bathroom.
How did I find this out? When I had to walk to the bathroom at the RV park at 3 in the morning the first night and then at 5 in the morning the next night.
I was tired. It was cold. I was in my pajamas. And I woke up Todd and our son both times getting up.
I have read many articles on van life about travelers who actually prefer not having a bathroom in their campervan. It is less to worry about as far as clean-up and problems that can arise. But for me personally, a bathroom is a must.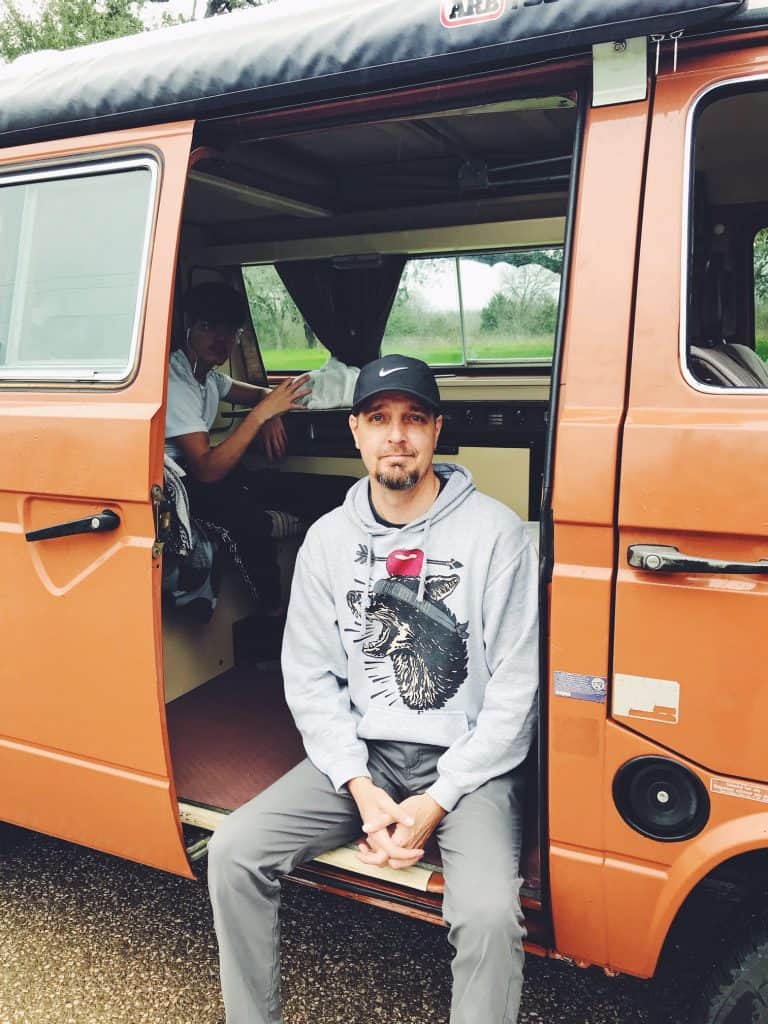 You Have to Pack Up Your Campsite Every Time You Leave
One of my favorite things to do when it comes to RV travel is getting to our campsite and setting up. In our travel trailer, that meant getting the kitchen back in functioning order, as well as setting up our outdoor space.
With five of us traveling, that outdoor space was a sanity saver. You can see what some of our favorite products for outdoor living are in this post Todd wrote here.
But in a campervan, whether you need to head to the store, get out and do some sightseeing or grab a bite to eat, you have to pack up everything.
Now, I listed this under the cons, but honestly, it wasn't a big deal during our weekend away. We didn't bring much with us, so we didn't have much to pack up.
Also, I have seen at the many RV parks we've stayed at, that some people have just left their outdoor chairs and other items in their spot if they were just leaving for a short time. In most parks, this is relatively low risk and can save you some hassle. I have to advise, however, that you obviously do so at your own risk.
You Have to Move Things Around When It's Time to Sleep
The campervan we rented featured a pop-top with a bed that was slightly bigger than a twin and a small "sofa" below that turned into a fullish sized bed.
Our son slept in the pop-top, which he absolutely loved. Seriously, it's such a cool design and he could look through the skylight at night. Todd and I slept on the converted bed below.
We quickly found out that in order to move around in the mornings, we had to convert the bed back to a sofa, which for this particular campervan design meant moving everything from the front area (that we had moved the night before so we could sleep) to the back area.
We did a lot of shuffling of our stuff during that weekend, which if we were doing that for an extended period of time could get a little annoying after a while.
I'd definitely be doing some research for campervan hacks and organizing solutions to help that process go smoother if we ever go on a longer trip.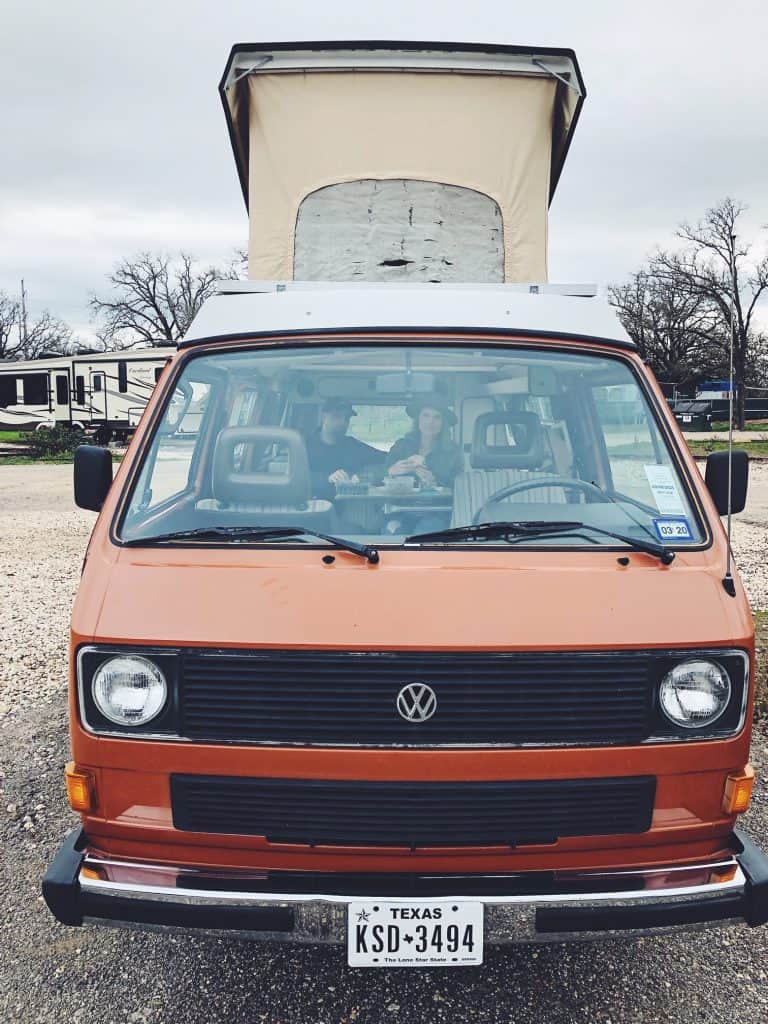 Some RV Parks Won't Allow Older Campervans/RVs
The RV park we stayed at on our trip to Bastrop, TX said it didn't allow RVs older than a certain date to stay there. So we called and asked about it and they said that rule was only enforced for folks who were staying there long-term (months), but for just a weekend we were fine.
You'll definitely run into RV parks, usually the RV resorts, that won't allow an older RV/campervan for any period of time. Just make sure you call and/or read the fine print to make sure you're good to go before rolling up for the night.
Things to Think About That Are Neither Pros nor Cons
Here are a few things to think about if you're wanting to rent a campervan that we feel don't fall into the pros or cons list, but are just facts to keep in mind.
Kitchen Size
Obviously, the kitchen in a campervan like the one we rented is very small, which means it doesn't come with a ton of kitchen amenities to cook with. Most campervan owners will provide the basics like plates, cups, bowls, utensils, a skillet, and a pot. In our case, we were lucky that we brought along a spatula for flipping our quesadillas.
Ours also had a kettle and french press, which was perfect for our mornings. I felt like such a hipster heating up water for our french press coffee while living the van life. (I just felt our kids' eyes roll as I typed that sentence.)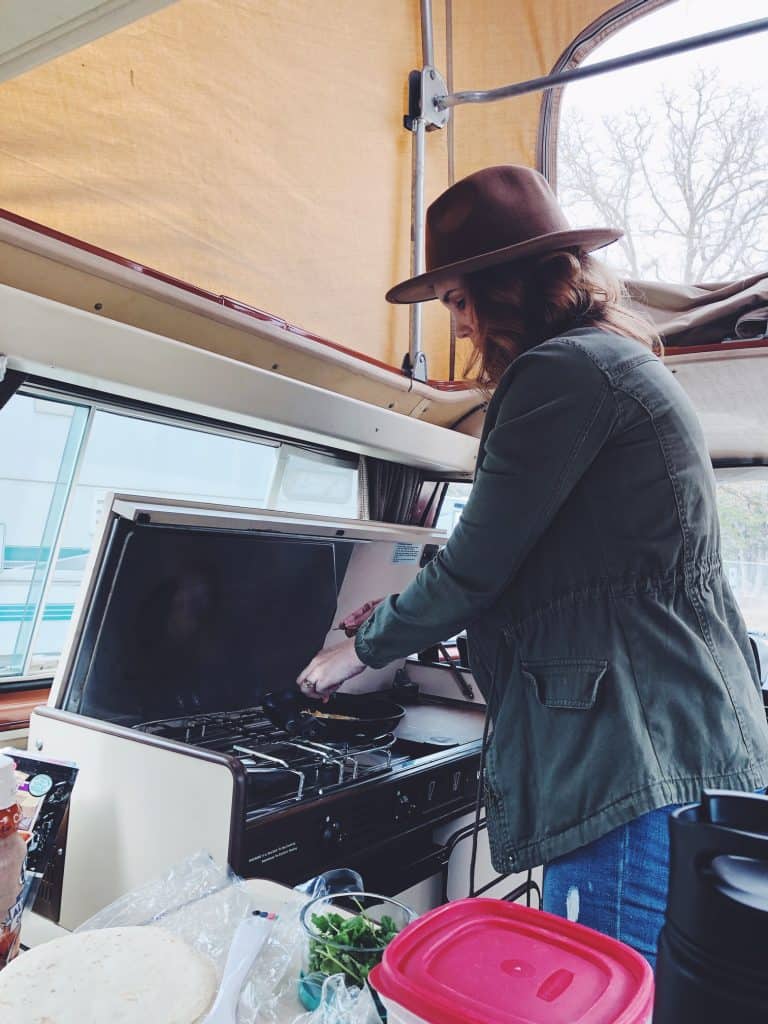 It did have a stove top with two propane burners and it worked really well. We made coffee in the mornings and prepared quesadillas one afternoon for lunch. Since we knew we'd be eating out a couple of times on our trip, we didn't bring much food and we didn't need many kitchen accessories. Or an oven. Or a microwave.
Also, the refrigerator stayed very cold but was only the size of the smallest dorm fridges you've probably seen. It couldn't hold a half gallon of milk or orange juice (standing up). So it's best to keep the total volume and individual sizes of your food items small.
But if you'd like to save money on your campervan trip and do most of the cooking yourself, just take into account the kitchen area. Most likely you'll do quite a bit of cooking outside (some owners will provide a small grill for an extra cost or you can bring your own) and have more of the camping experience as opposed to the glamping experience of cooking a lot of your meals in the RV.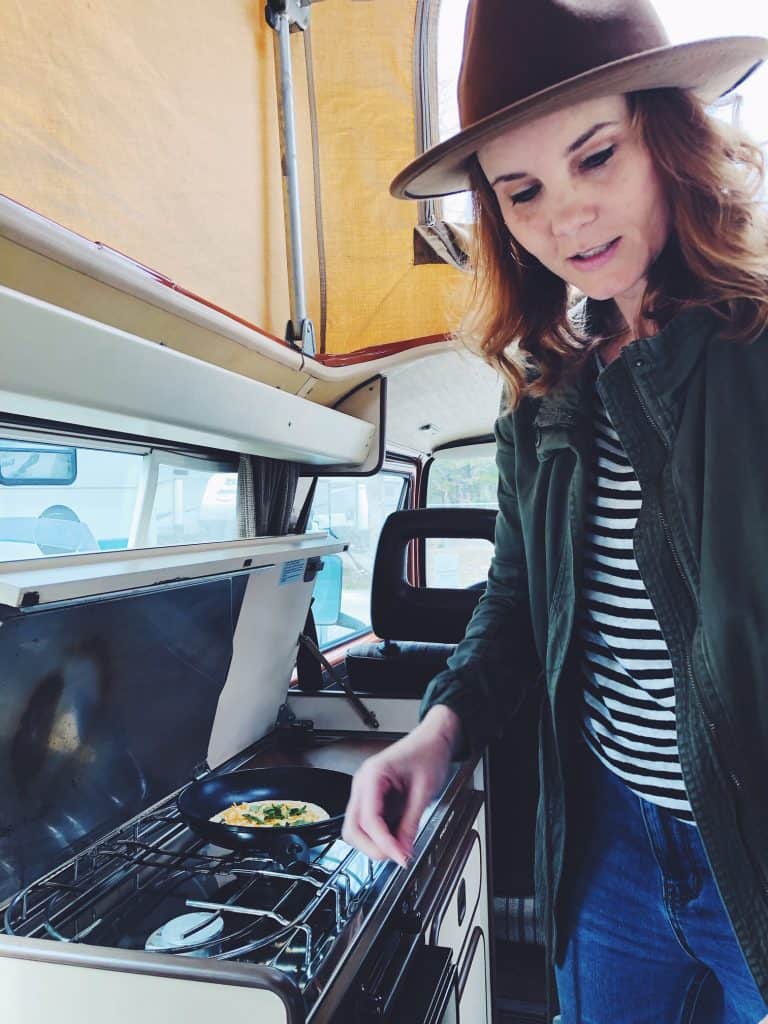 Campervan Rental Cost
How much does it cost to rent a campervan?
Here's a breakdown of the rental cost, including gas and RV park costs:
Total campervan cost for two nights: $389.90 (Plus two days before the trip there was a $500 security deposit which was refunded upon return of the vehicle in good condition.)
Gas: $25.00
RV Park: $70.00 for two nights
Total: $484.90
Was Renting a Campervan Cheaper Than Staying in a Hotel?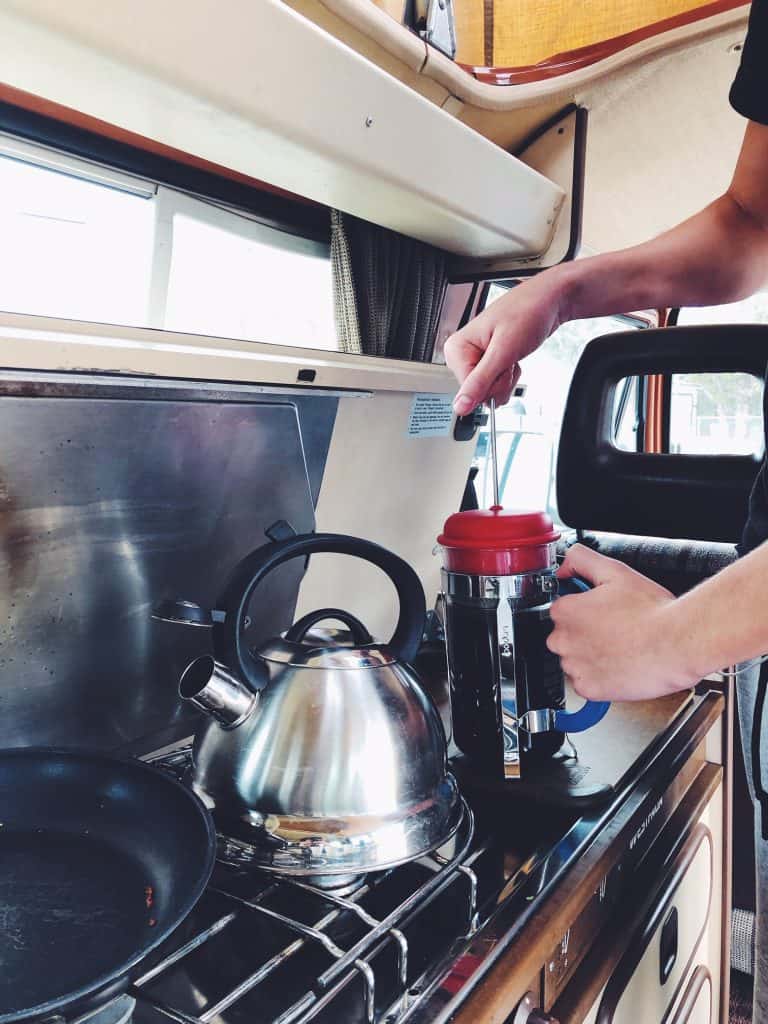 We spent a total of $484.90 on our trip, not including food.
A quick search for hotels in the area we were staying in (Bastrop, TX) brought up options that ranged in price from $70 a night for a Super 8 motel to $259 a night for a resort and spa.
Another quick search for Airbnbs in the area ranged in price from $39 a night to $235 a night.
For the $39 a night Airbnb, with taxes and fees, the entire cost for the weekend would have been around $234 (there was a $120 cleaning fee). For the $235 a night option, the total cost would be around $618.
So, answering the question of whether it is cheaper to rent a campervan, the answer is it depends. Most likely you're renting a campervan for the experience, not for the luxury. If you wanted a resort and spa experience for your trip then obviously a campervan isn't the way to go. 😉 But I think you knew that already.
Are You Ready to Rent a Camper Van?
So, what do you think? Does our experience intrigue you and make you want to rent a camper van for the weekend?
If a camper van isn't your thing, there are tons of other rental options from popups and teardrops to fifth wheels and Class As. Click here to search for RV rentals in your area and to receive $40 off.
Stay tuned to see what we end up renting next!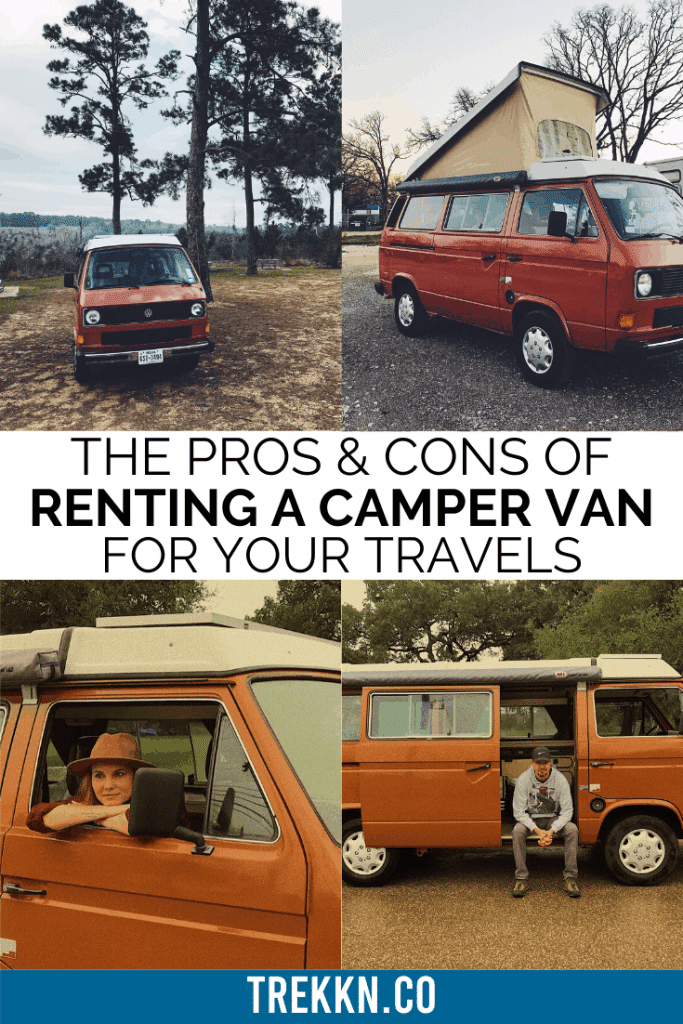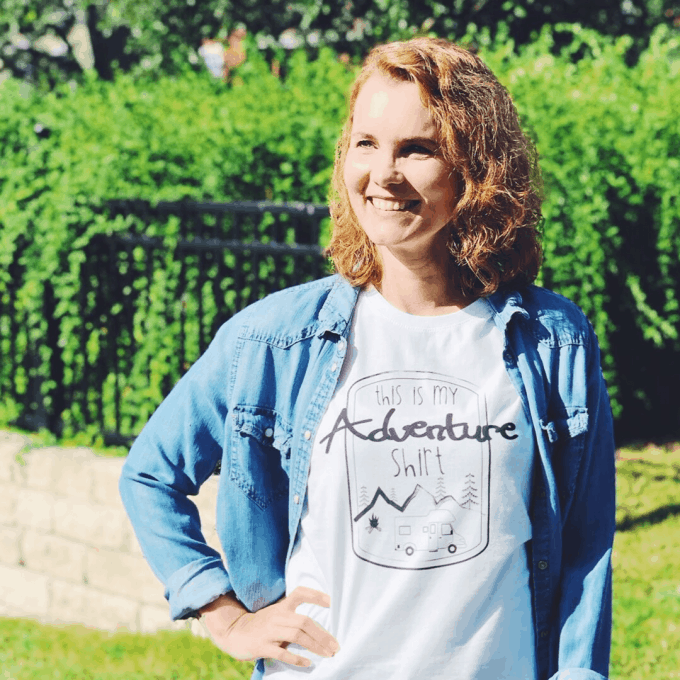 Julie Bonner is one-half of the TREKKN team. She specializes in helping you whip up delicious meals in your tiny RV kitchen, as well as RV organization tips and helping fellow RVers make their RV feel like home. Her favorite RVing spot is in Banff National Park in Canada where yes, the water really is that blue and the people really are that nice.