Top 5 Hawaii Campervan Rentals under $175

You should know that going the Hawaii Campervan Rentals route won't make for the "poshest" Hawaii vacation experience…but it will make for the most adventurous and memorable! Read on to get the details.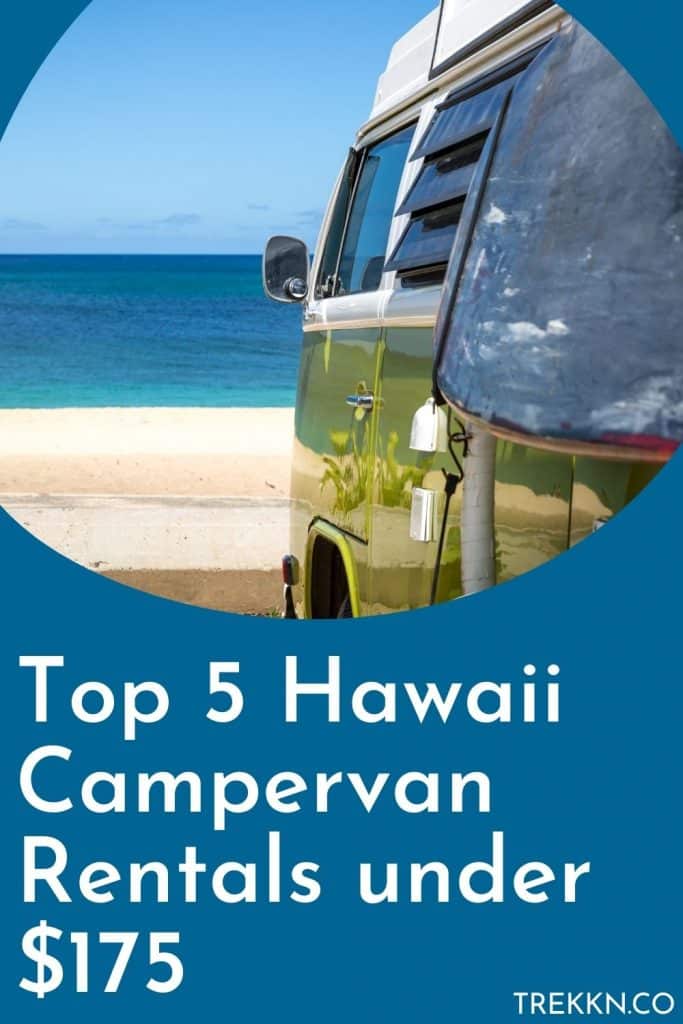 The dream of visiting the beautiful islands of Hawaii is a fairly common dream you hear about. Heck, my wife and I had a dream for years of vacationing in Hawaii before, or on, our 25th anniversary.
Instead, we moved to the Big Island of Hawaii in 2020, nine months before our 25th. So…that worked out unexpectedly well.
But like I said, a common dream.
What is less common, however, is the dream of visiting Hawaii not to stay in a posh resort and be pampered for a week or two, but to experience the freedom of the open road and the thrill of an "up close and personal" adventure in stunning landscapes and a fascinating culture.
(You can read about our own campervan rental adventure with Outdoorsy back in Texas in 2020 to get a feel for what the experience is like.)
If you happen to be that "road less traveled" type of person who would prefer to see a side of Hawaii that very few will ever see, these Hawaii campervan rentals under $175 per night were selected especially for you. I hope you enjoy our choices!
A Few Points to Set Your Expectations about Hawaii Campervan Rentals
If you're new to campervans in general, I want to start out by setting a few expectations about what you will find in your search for a campervan rental…especially on the small and isolated islands of Hawaii.
Toilets
When it comes to toilets and campervans, it is going to be hit or miss. A small minority of campervans overall will contain some type of toilet. Sometimes that is a cassette toilet in the smaller campervan options, and sometimes you will find a flushing toilet with connected black tank similar to a typical RV setup.
So if a toilet in your campervan is a non-negotiable, you are going to have some fairly slim pickins. And as you might expect, those pickins are only going to get slimmer on the Hawaiian islands. You will have your work cut out for you, but don't let that stop you! This isn't meant to discourage you, just prepare you.
Showers
Now, showers are a different animal…but that doesn't mean they are easier to locate in your campervan rental. No, you are going to have a significantly harder time finding a shower than you will finding a toilet.
In fact, as I write this, there are only SIX campervans on any Hawaiian island available to rent with inside showers. The good news is that several of these are under our limit of $175 per night, so that's a plus!
Yeah, kind of a needle-in-a-haystack kind of scenario here. But keep your chin up as you dive into your search. It will be worth it!
And as a general rule, if it has an inside shower it is most likely going to have an inside toilet to go along with it. So use that "More Filters" option across the top of the Outdoorsy RV search page and choose "Inside Shower" as your search criteria.
Rental Options Vary Greatly By Island
Hawaii offers some pretty remarkable campervan options, in my humble opinion, and you'll see the best of them below as we dive into our Top 5.
But, when you really take a closer look at these options, the best selection of them are without a doubt on two islands: Oahu and Maui.
We do have a few campervan rentals here on the Big Island worth looking at for sure, but the selection is so much wider on Oahu and Maui that it hardly compares.
So the bottom line is that, as much as I love the Big Island, and as great as it is to have such a large area (4,000 square miles, about the same as Connecticut) and range of climates and landscapes to explore (really, it's astounding), it may not provide you with enough viable options to make a campervan rental feel feasible.
Obviously, this depends somewhat on your requirements for features and amenities. If you're up for "whatever", then it may just work out beautifully!
Keep Your Eye on Additional Fees
What looks like a great deal at first sight may have some hidden "landmines" in the way of additional fees that some owners tack on to every rental. It pays to pay attention, and that's no different when it comes to Hawaii campervan rentals.
I have come across some campervan rentals where the owner adds a fee equal to an additional night on top of the standard rates…on top of a cleaning fee!. For me, that kind of thing is pretty much a deal breaker. Yes, I want a great experience in the right vehicle, but I don't want to be taken to the cleaners either.
If you find the "perfect" campervan that you just fall in love with and it has fees like this added on, you can always consider messaging the owner to see if they are willing to budge on their fees.
As my oldest brother taught me many years ago, one of his "rules of life": If you don't ask, the answer is always no!
(And be sure to check out TREKKN's top 7 tips for saving money on an RV rental if you want to make your Hawaii adventure as budget-friendly as possible.)
Pay Attention to Class B Category
Terminology can trip each of us up sometimes and make us miss out on opportunities. I don't want that to happen to you.
So here's the lowdown: There is a blurred line between "campervans" and "Class B" RVs in the RV rental industry. You will find that many campervans (and even trucks and SUVs set up for camping adventures) will be classified as "Class B" even though they are not.
If there is one consistent distinguishing factor between campervans and Class Bs it is that Class Bs will typically have a flushing toilet and inside shower (in the form of a wet bath). A "true" campervan normally will not have either of these, but will often have a simple inside kitchen setup to simplify meal prep.
The takeaway is to be sure to include both campervans and Class Bs in your RV rental searches to be sure you don't miss out on a great rental opportunity.
Now, enough of the groundwork…let's dive in and take a look at some truly stellar Hawaii campervan rentals under $175.
Hawaii Campervan Rentals Under $175 Per Day
Since it is the most popular island for a visit, we will start off our "Campervan Tour" with a couple of rental options on the beautiful island of Oahu. (That's the one with Honolulu, Waikiki, Pearl Harbor, North Shore…all of those familiar places. Just in case you weren't sure.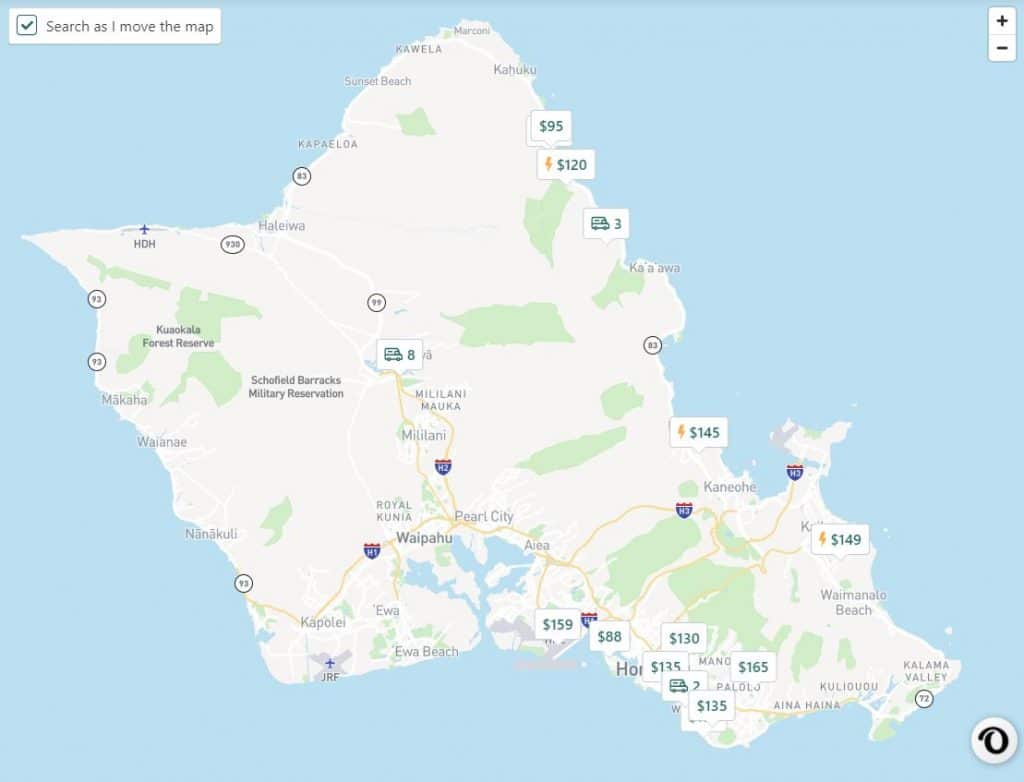 Oahu: 2015 Ford Transit in Honolulu
Sure, you want the full island experience, able to venture wherever your heart desires at the drop of a hat. But come on…a little comfort and style sure isn't going to hurt!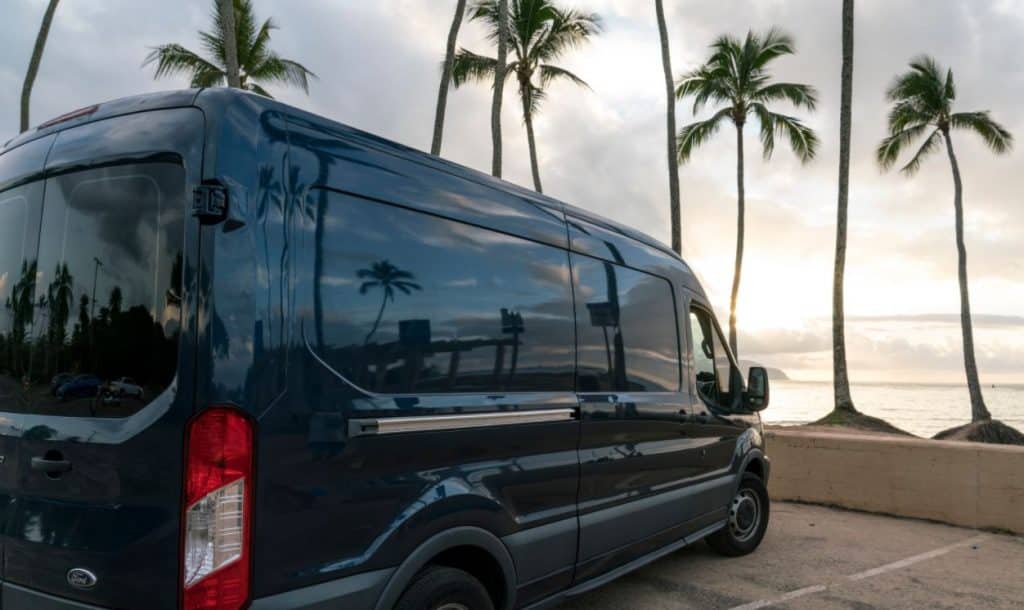 That's exactly the combination you get with this superbly finished 2015 Ford Transit campervan located in the Honolulu area.
Here are a few of the features and amenities you will enjoy with this Hawaii campervan rental:
Sleeps 2
Air conditioner
Backup camera
Refrigerator
Stove
Kitchen sink
5 gal fresh water and gray water tanks
Solar power
Generator and inverter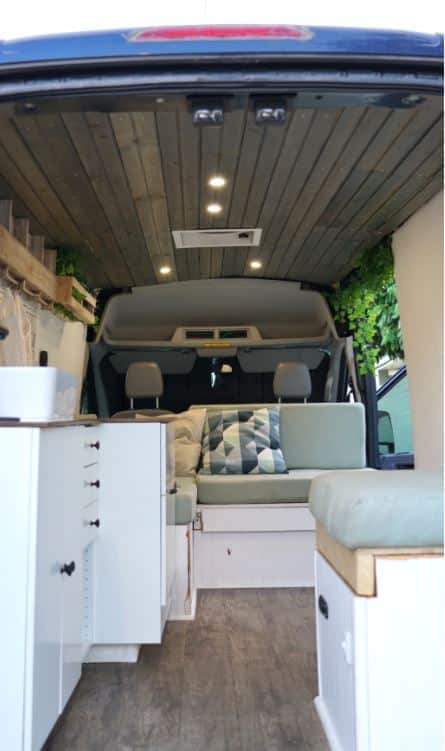 That's right, it has a LOT of the comforts of home in this tiny little adventure pod. Makes me want to hit the road…like right now!
As I mentioned above in the Class B section, since this is an actual campervan configuration, you will not be able to enjoy the convenient toilet and shower options in this beauty. But hey, that just adds to the adventure, right?
And come on, at $115 per night, you just really can't go wrong with this great option.
Oahu: 1985 Volkswagen Westfalia on the North Shore
Maybe that first one isn't quite your style. I get it. The first campervan that we rented was a 1984 VW Westfalia almost identical to this one, and it fulfilled a longtime dream of mine to experience one of these beauties for myself.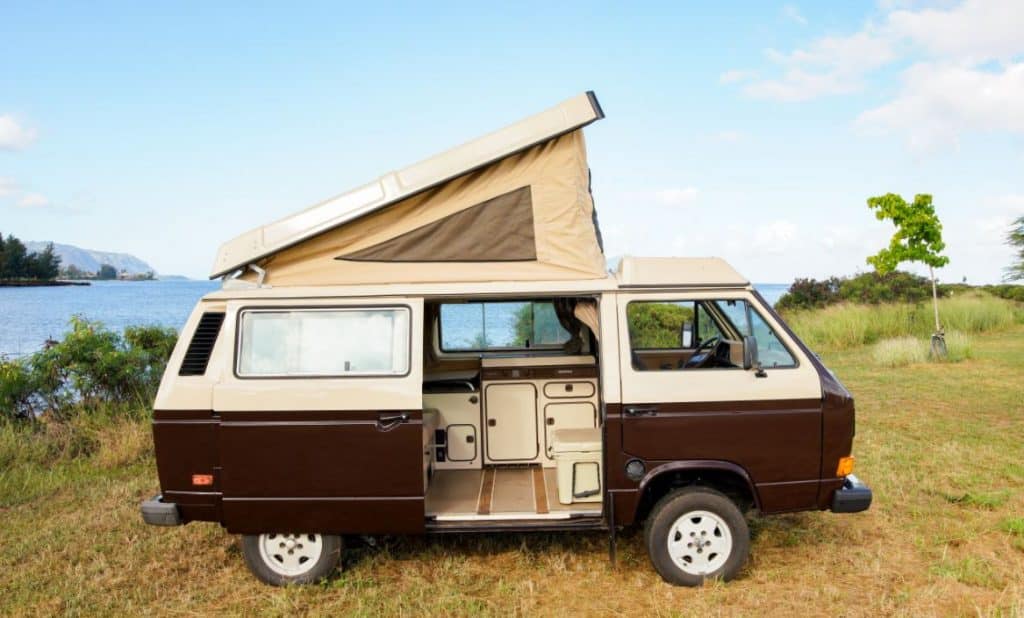 In addition, this rental will keep you out of the crazy traffic and hustle of Honolulu. It's tucked away nicely up on the north shore of the island. Big waves, small roads. That's the vibe up here.
Sure, you will be without a few of the bells and whistles you will find on a 2015 rig…but the vibe of this one makes up for all of that. Trust me.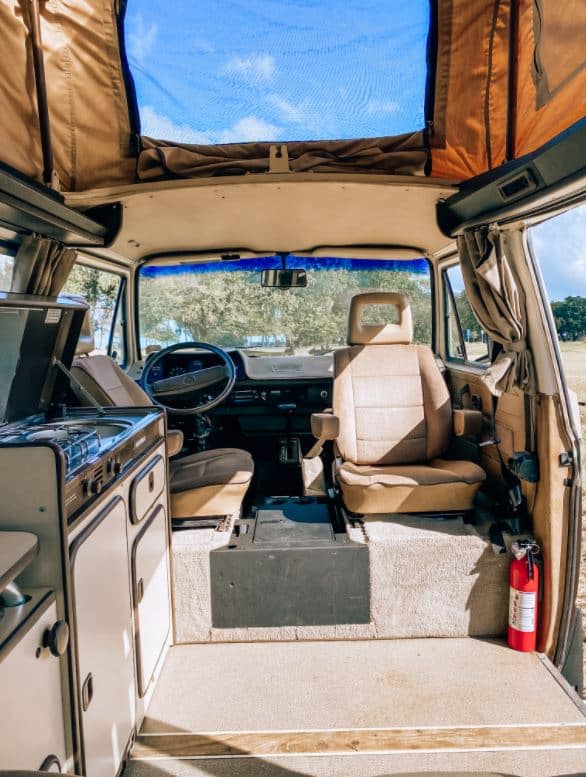 Take a look at a few features and amenities you can still enjoy with this humble little gem of a campervan rental:
Sleeps 4 (2 of them would probably need to be kiddos)
4 seatbelts
11 gal freshwater tank
Pop top that sleeps 2 (and looks cool)
Swivel dining table
Kitchen sink
Stove
You'll notice there is no fridge in this one, but they include a nice ice chest that will get you through a few days at least. A small price to pay for the coolness factor.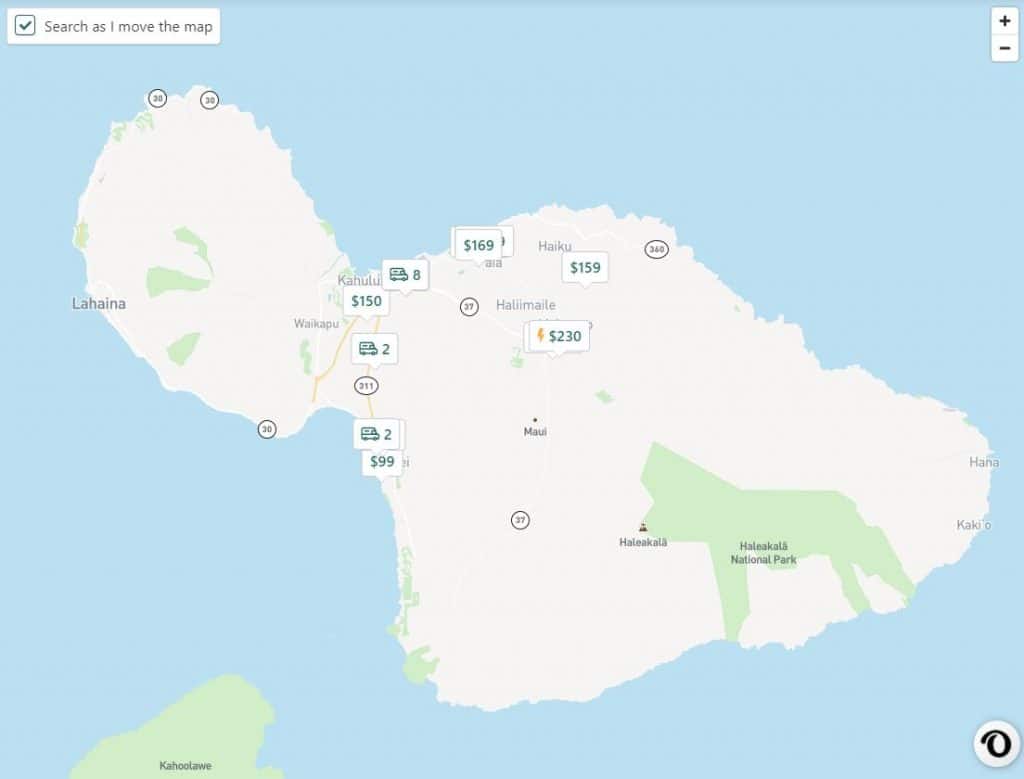 Alright, now let's switch gears and explore a couple of nice options on the beautiful and slower-paced island of Maui. There is nothing not to love here!
Maui: 2015 Dodge Sprinter in Kahului
As far as overall finishes go, I think this one sits at the top of our heap so far. Just wait till you take a peek at the sharp kitchen down below and the super comfy looking bed! Yeah, this one could definitely keep me happy.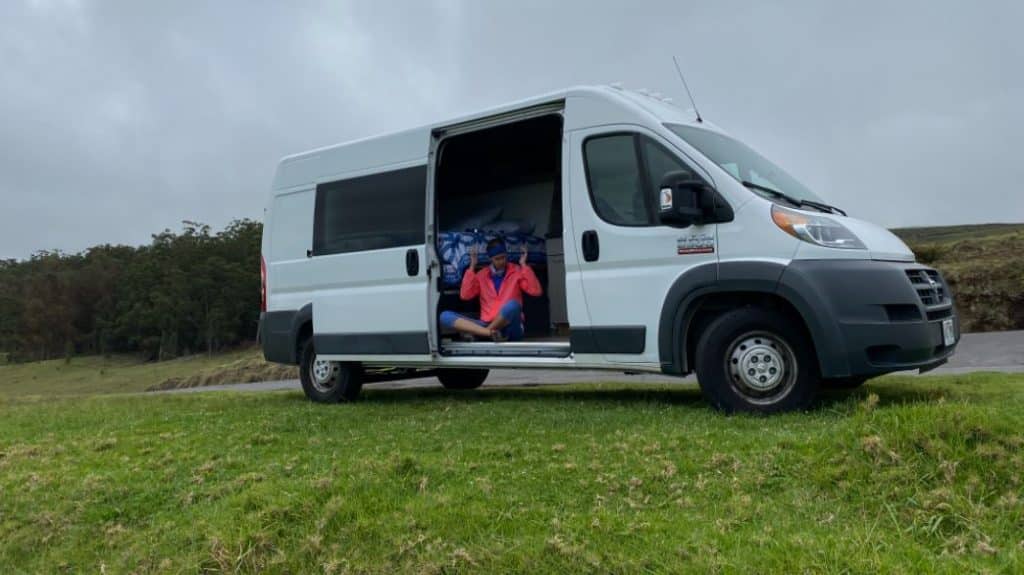 This campervan might have a fairly unassuming, unimpressive exterior…but who are you trying to impress? Seriously, this is about having the best adventure you can, and maybe part of that is being able to "fly under the radar" and not have folks asking to take a peek at your setup all the time. Impressive is a double-edged sword, just sayin'.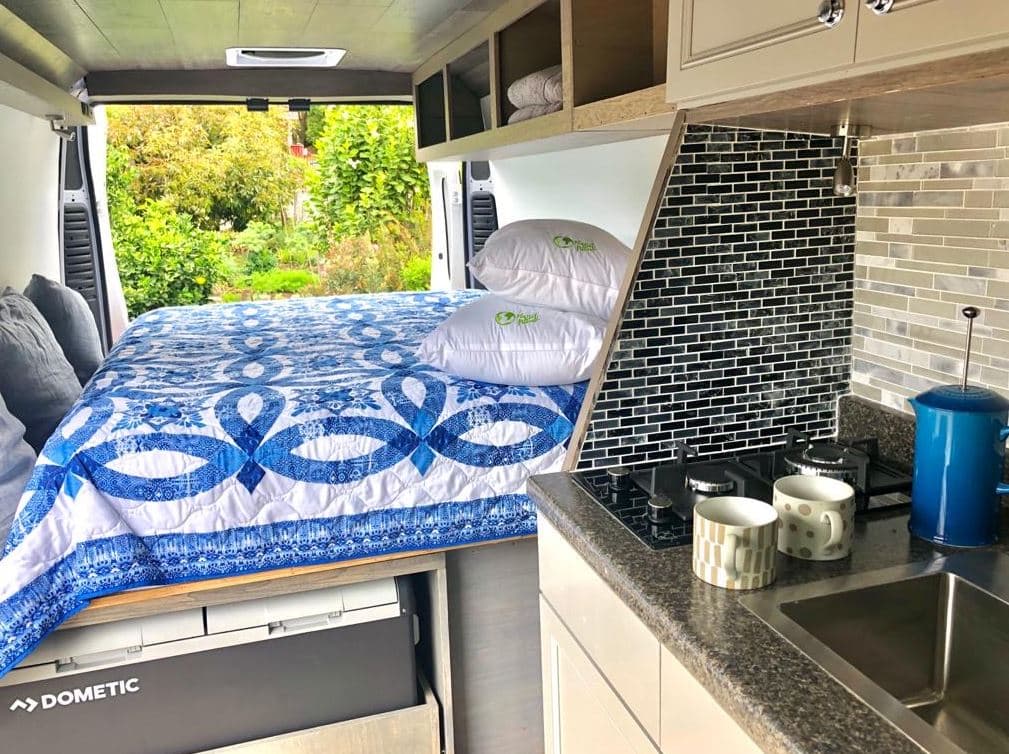 Let's see what she actually offers on the inside so you can decide if it's the right fit for you:
Sleeps 2 (and 2 seatbelts)
Air conditioner
Diesel engine
Luxurious bed
Kitchen sink
Stove
Dometic portable refrigerator (in the images at least!)
30 gal fresh water tank
Toilet (Possibly cassette toilet? Not in images.)
Wait, a 30-gal fresh water tank? Yup, that's what I said. That's not a feature you will find every day in a campervan of this size. Pretty sweet, if you ask me.
And if you have that handy feature on top of an included toilet and portable Dometic refrigerator, you are seriously ready to roll! Overall, I think I'm the most impressed with this rig, so you'd better book it before I do. For only $129 per day, this one is looking like a no-brainer.
Maui: 2018 Ford Transit XL Hi-Top in Kihei
If you're interested in a rental on the west side of the island in the Kihei area, this next option may be perfect for you. This 2018 campervan model comes with a ton of extras at no additional charge, giving you the best opportunity to explore every corner of this stunning island.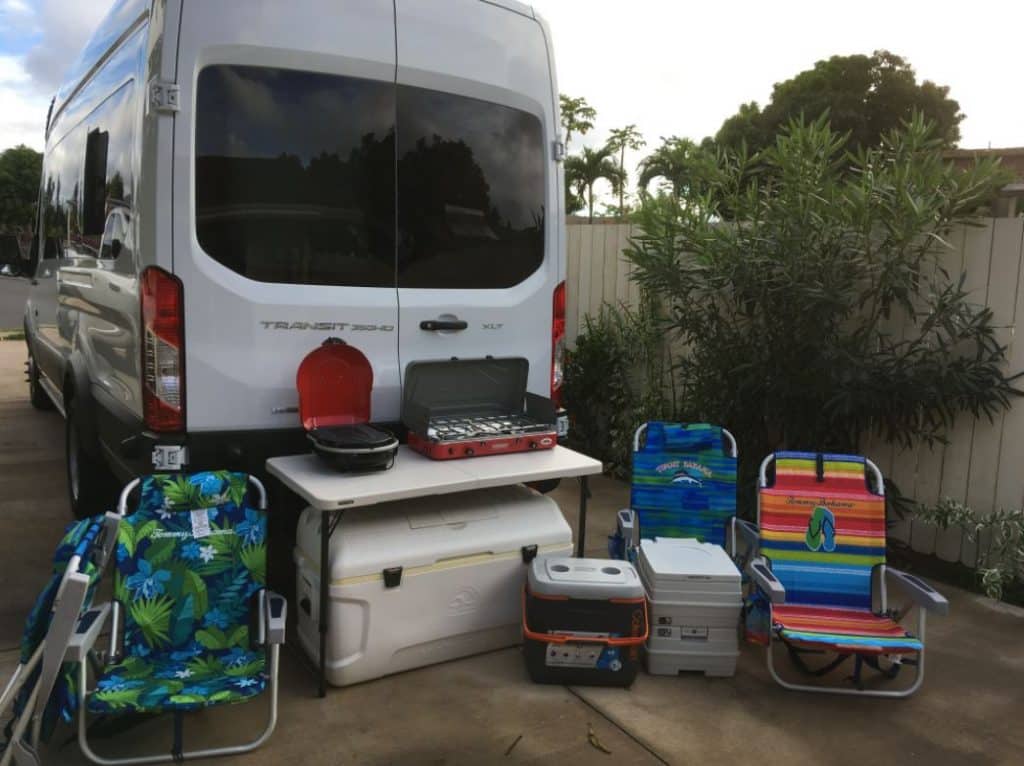 Look, this campervan may not have the highest end finishes or be quite as pretty as our previous option, but there's more than meets the eye here.
Let's take a look at the details of this highly functional hidden gem: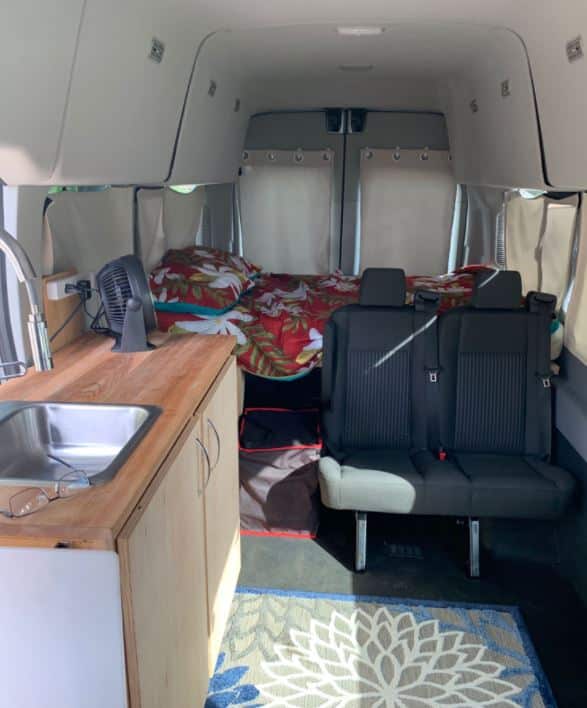 Sleeps 3 (4 seatbelts)
4 person camping tent
Bed sheets and sleeping bags included (for a summit trip!)
Diesel engine
Camping table
Large ice chest
Large shade canopy (the sun is no joke here)
Propane burner (for cooking)
Honestly? This is the best equipped of all the Hawaii campervan rentals I have come across so far! And you get all of the extras included! If your goal is to be comfortable in your natural surroundings and really soak it all in, well it's just not going to get any better than this.
And did I mention the prices drops from $160/day to $125/day if you book it for a full week? If you needed another selling point, there you have it.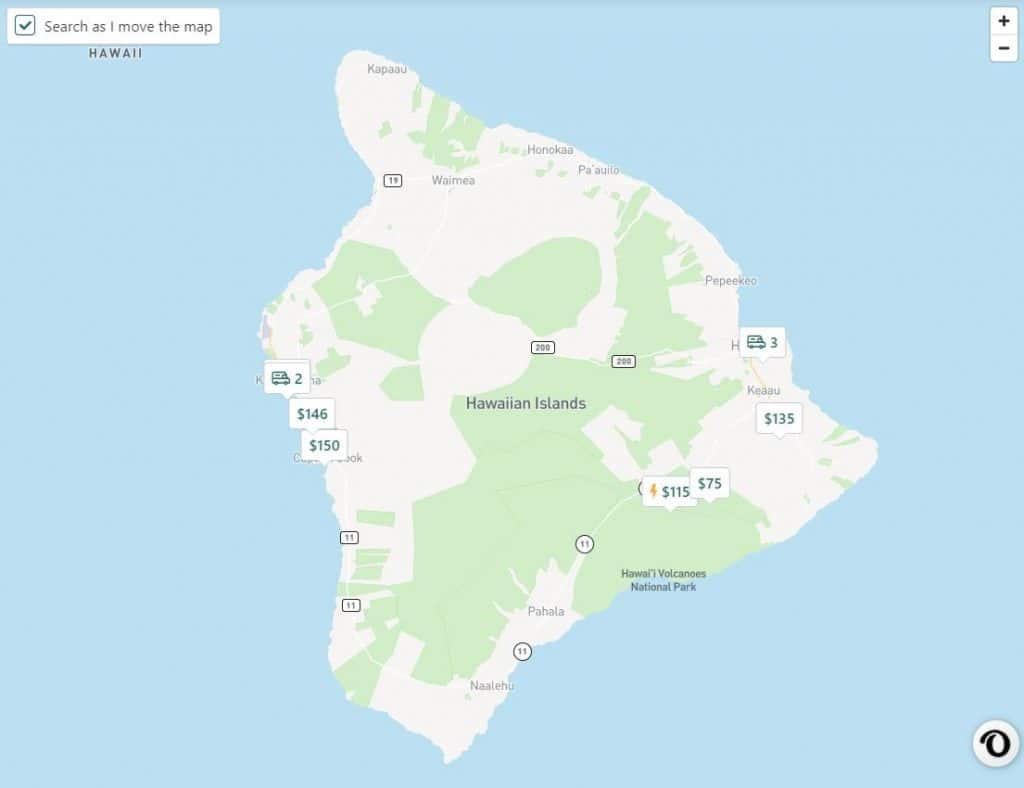 And last, but certainly not least, we are going to take a look at one of our Hawaii Campervan Rentals on the Big (and beautiful) Island! As I mentioned, this is where we currently live (Kailua Kona), so I may be just a little bit biased…but that doesn't mean I'm wrong.
I did also mention that this island offers far fewer rental options than the first two islands we covered. In fact, for under $175 per night you will find exactly 11 campervans (or Class B) options on the island. But…one of those options is this classic adventure capsule below.
Big Island: 1999 Volkswagen Westfalia
When you think campervans, it's almost impossible not to think first about the iconic VW Westy! These bad boys have been around for about as many decades as I have (okay, maybe more) and embody the ethos of good times and adventures.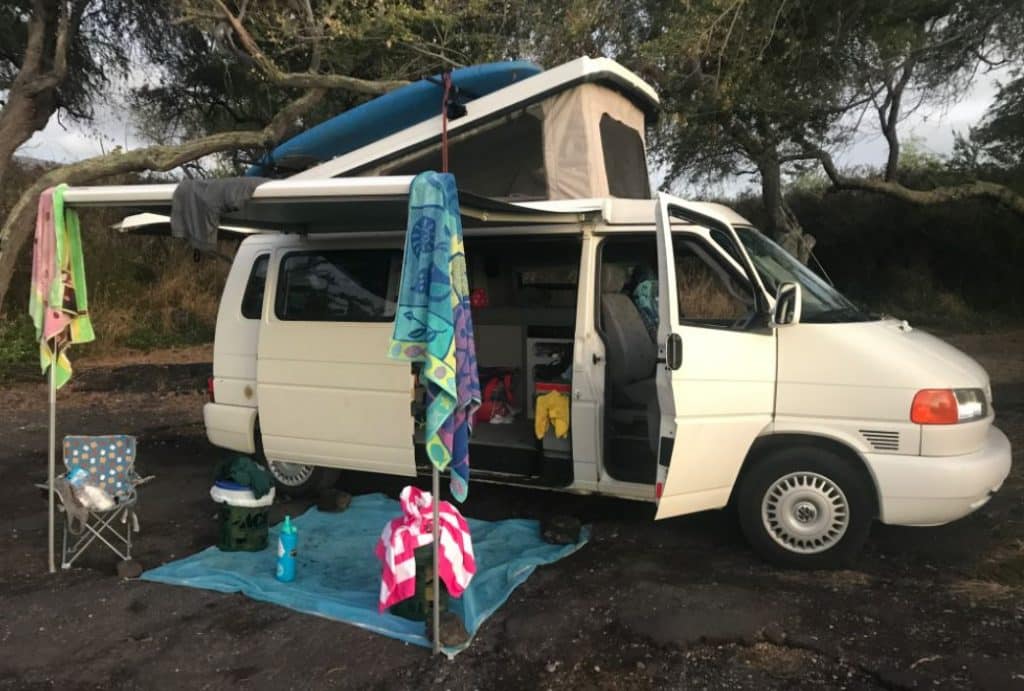 Well, this campervan rental option is no different. Adventure definitely awaits you when you hit the road to explore the Big Island and its many treasures in this humble vehicle.
Want to see everything it offers the Hawaiian adventurer?
Sleeps 4 (4 seatbelts)
Unlimited mileage (nice…this is the Big Island, after all)
12 gal fresh water tank with 8 gal gray water tank
Dining table
Kitchen sink
Refrigerator
Stove
Kayaks with roof rack (additional charge)
And to top it all off, you can also take advantage of a 10% discount ($135/night instead of $150/night) when you book for a full week. Not too shabby.
Which of These Hawaii Campervan Rentals is Right Up Your Alley?
Yup, we've given you plenty to think about here. Three islands, five campervan rental options, TONS of adventure right at your fingertips. Honestly, you can't really go wrong with this one; no matter which choice you make, you will win and come home with more amazing memories than you can shake a stick at.
Do yourself a favor: Book your Hawaii Campervan Rental today before all of the good ones are gone!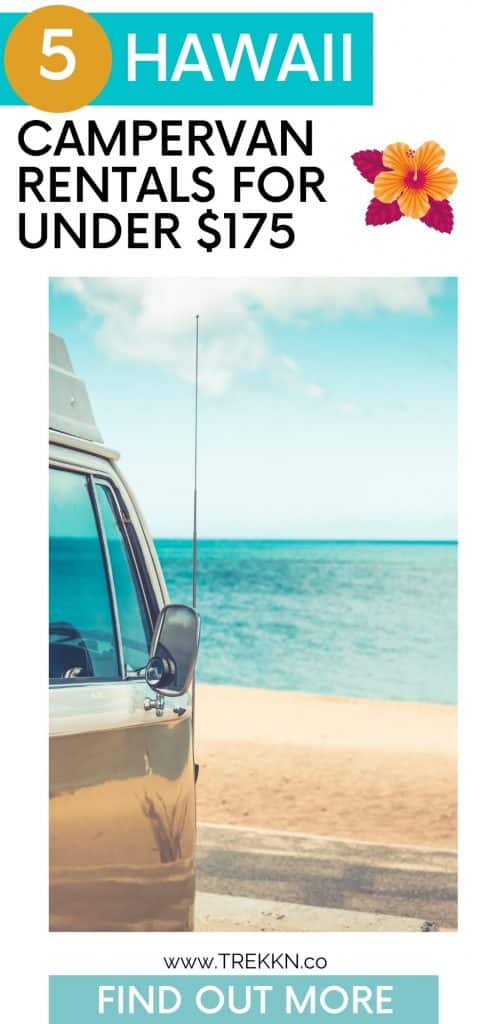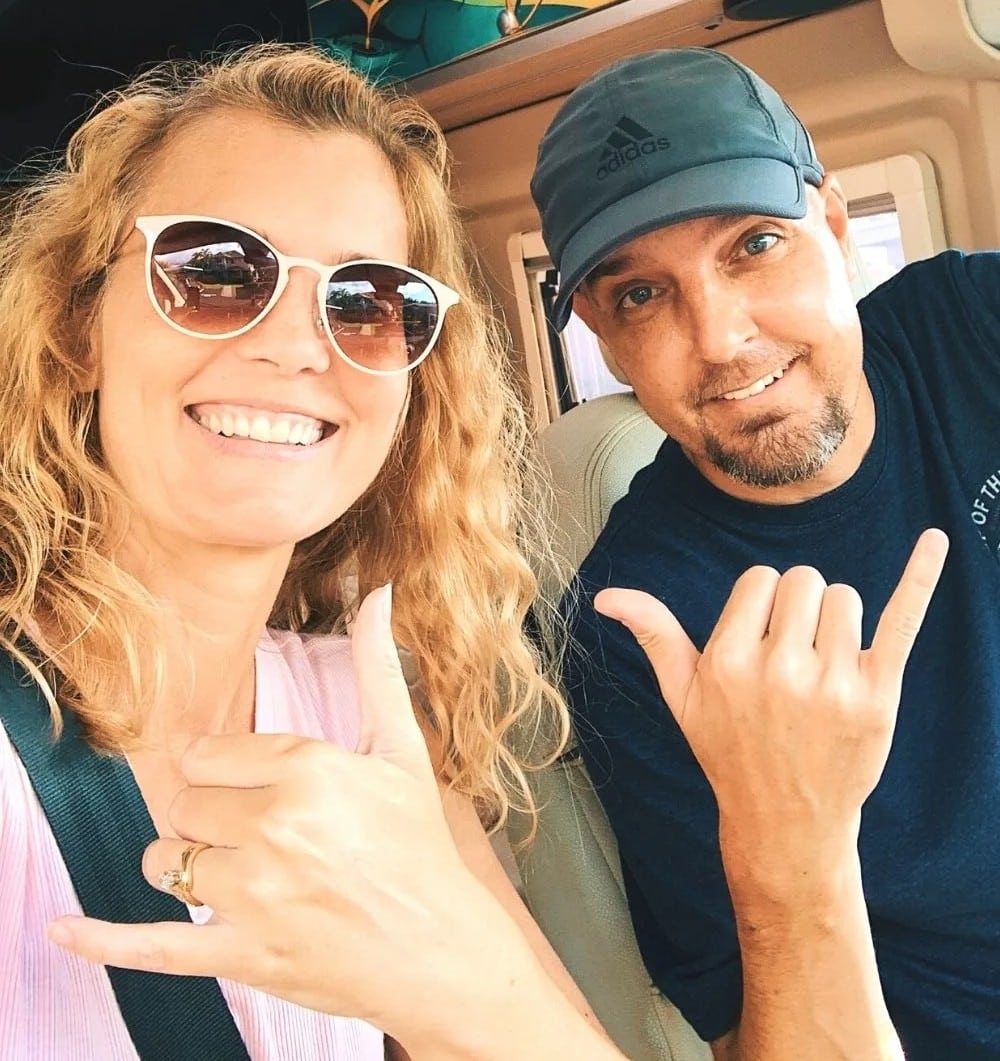 Todd loves a competitive game of table tennis, a breathtaking hike, and exploring new places. He lived and traveled in an RV with his family as they traveled throughout much of the US and parts of Canada. Todd has extensive knowledge about RV travel, safety, and accessories and has shared many of his stories here on TREKKN. When he's not busy launching and building small businesses, you may find him staring at pictures of Glacier National Park (probably his favorite spot on earth).