10 Tips for Finding RV Community on the Road

Discover a vibrant full-time RV community and its unique lifestyle. It's all about freedom, exploration, and strong connections.
If you're considering living in your RV for all or part of the year, you might be worried about how to fend off loneliness.
Your feelings are common. It's a top concern for many people who consider full-time RV living. However, you may find comfort knowing the opposite is generally true.
In our experience, we are never alone.
I'm sure you could be alone if you wanted. But, there's really no reason you should ever be lonely on the road. It's fairly simple to find an RV community. Today we will share some tips on how to do just that.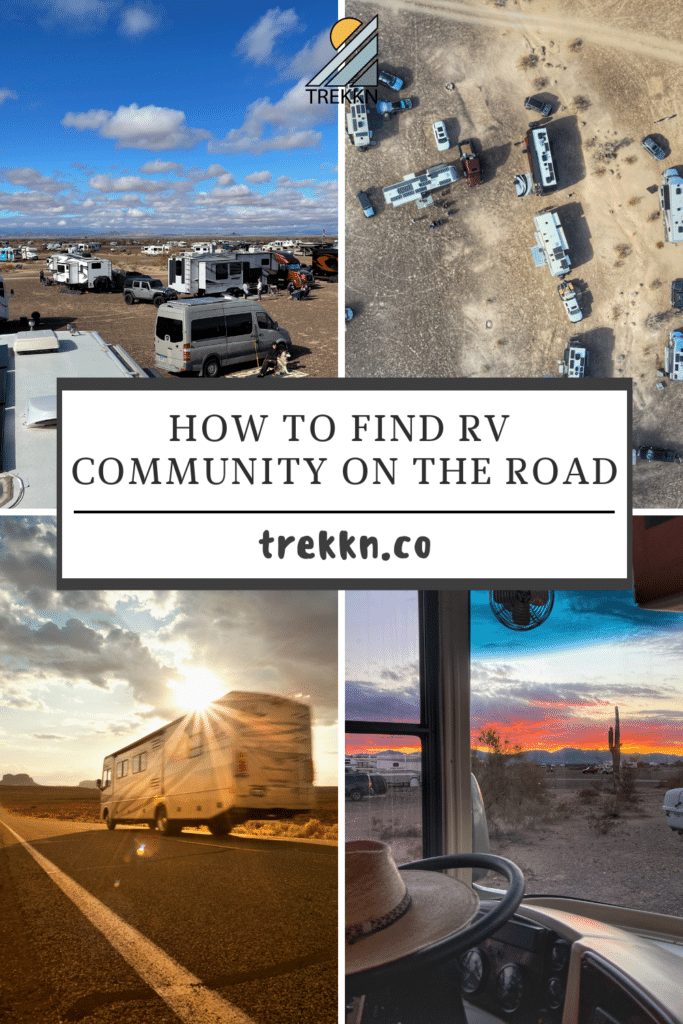 RVers Have Something in Common
We find that the very nature of camping opens people up to being more social. Perhaps the underlying reason is we all have at least one big thing in common.
Campers choose an outdoor lifestyle.
So when you're staying at a campground and you walk around the park, it's natural to stop and say hello to your neighbors.
Or if you're out boondocking off-grid, there's not too much else to do than hang out with other RV boondockers.
Plus, people generally don't have a long list of commitments that they're running to and from when they're out RVing. They're less busy and thus, they're more available to socialize.
We spend more quality time with our RV friends than we ever did with our house-based friends. The bonds of friendship are some of the strongest we've ever had.
To start, you already have something in common, you must love to travel, or maybe you've both chosen an alternative lifestyle. Maybe it's because you rely on each other not only for community, but also roadside assistance, troubleshooting, and border crossings?
Once you have your RV community, hug those people tight, because they are keepers and will likely be in your life for many, many years to come.
How Do You Find Your RV Travel Tribe?
As with anything in life, like attracts like. You can find an RV community based on a variety of interests or commonalities.
Are you traveling with your family? Do you like to boondock? Are you an Airstream owner?
Search online with the words "RV event" plus something you love, like "yoga," and see what results you get. It will probably lead you toward a club or gathering that's right for you.
Let's explore some of the best ways to find community on the road: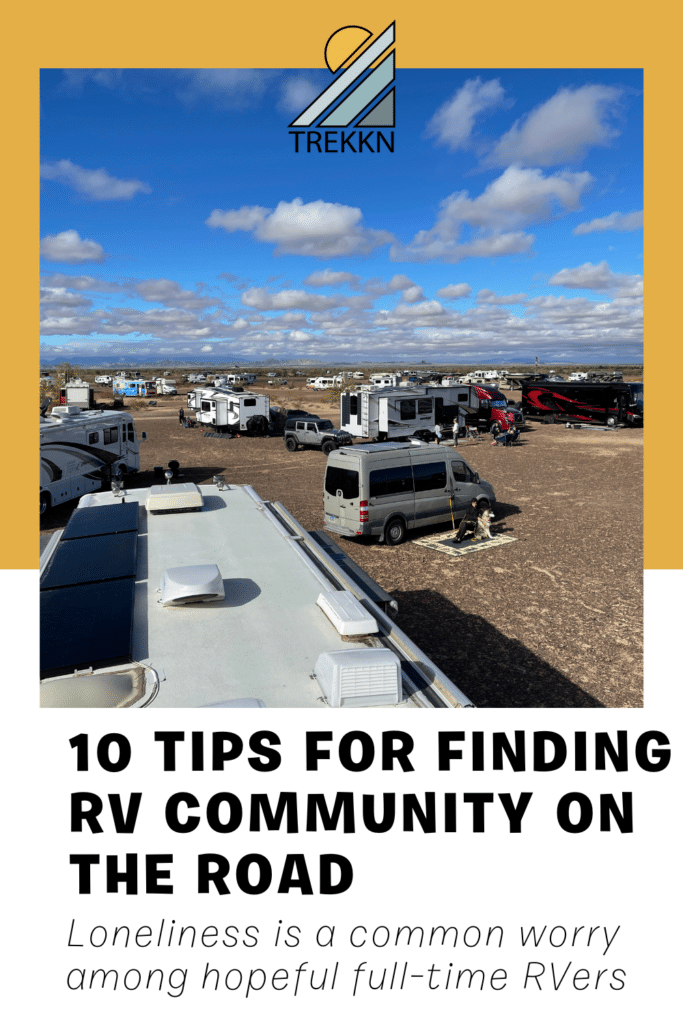 ESCAPEES & XSCAPERS RV CLUBS
If you're looking for a social outlet, Escapees and Xscapers have you covered. Escapees is a club and community for retirement-aged RVers, and Xscapers leans more toward working-aged RVers.
The clubs are connected. Meaning, Xscapers is a division of Escapees RV Club. Both welcome members of any age.
Xscapers events are generally in the evening or weekends as most members are working throughout the weekday. Escapees RV Club typically offers a more full calendar of day-time events.
Both clubs offer events all around the country, which are paid-for, rally-style RV gatherings.
They also offer more localized meetups coordinated by community members, which are generally free. The latter "birds of a feather" meetups are designed to bring RVers who share passions and hobbies together.
We go to one or two Xscapers events each year and always meet great people who become close friends. It's also a great way to anchor in some time with old friends. You all can plan to attend one of the events so you know you'll cross paths at some point during the season.
When you arrive at these fun RV gatherings, the volunteers always say, "welcome home," which is a perfect greeting. Seeing old friends and meeting new friends definitely makes it feel like home while on the road.
There are many other RV clubs that offer similar services to Escapees, like mail forwarding, RV park discounts, and RV insurance and product discounts. But none of them host social events on the scale of Escapees.
So if a social club is what you're looking for, take a moment to check out what Escapees RV Club and Xscapers has to offer.
FULLTIME FAMILIES
As the name implies, Fulltime Families is an RV community for families traveling with children. They offer all kinds of resources for RVing with children, and they also host in-person events.
Like many of the RV clubs, the events are mostly in the Western half of the country, and they host about 6-7 rallies per year. They have enough locations and dates to choose from, so that you should find something to fit your schedule.
We don't have kids but have traveled with many full-time RVers who do. I've only ever heard good things about Fulltime Families, so if that fits your interests, check it out.
Though I will say that most of the RVing families we know also attend other events in addition to Fulltime Families events.
BRAND SPECIFIC RV RALLIES
The next most popular type of event we hear people talking about (positively) is brand-specific rallies for their type of RV. If you own a Grand Design RV or maybe an Airstream trailer, you'll likely be invited to rallies with other owners.
Grand Design is famous for bringing their technicians to their rallies and offering mobile support during the event.
Winnebago hosts an annual Grand National Rally for both Winnebago owners and fans of the RV brand.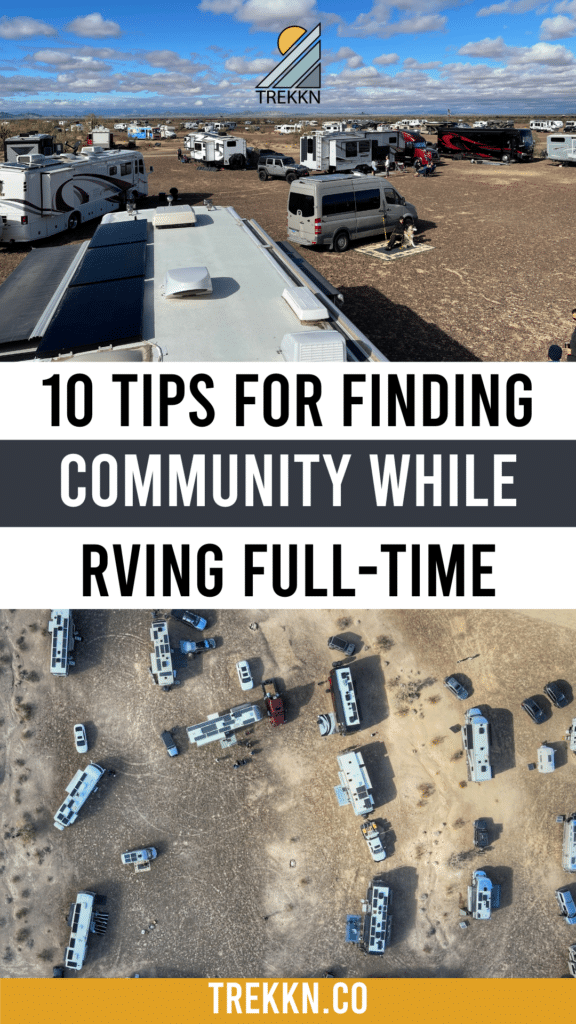 VISIT FAMILY
In this day and age, most of our families are spread out across the country. We love using our RV as a way to visit family.
It's nice to park your house in the driveway of family members. For us, it feels like we can stay longer than we normally would otherwise because we're not imposing as much.
Plus, we can have our work and our pets with us, allowing us to visit longer. It seems like a win-win to us!
BOONDOCKERS WELCOME
We love staying at Boondockers Welcome properties. If your RV is set up for camping off-grid, you may like it, too.
Hosts are generally RVers themselves and interested in meeting other campers. Therefore, choosing a Boondockers Welcome stay can be a great way to build your network of other RVers.
Whether you come back to visit your host on their property again or plan to meet them down the road, it's a great way to socialize and create new friendships.
SOCIAL MEDIA
Many of our best friends on the road are people we met through social media. Following other people's adventures online can help you identify RVers with whom you have common interests.
We've had great success reaching out on Instagram or Youtube to connect with other RVers, and then turning those online relationships into real-life friendships.
Whoever plans your RV itineraries likely spends a lot of time on social media, following other RVers to see what they're doing. Sometimes "friendly stalking" leads to the discovery that you're in the same place at the same time.
There's nothing cooler than an impromptu meetup with a new nomadic friend! You'll get addicted, for sure.
FACEBOOK GROUPS
While this may fall under the social media category, Facebook groups deserve their own section on this list. There are so many Facebook groups for RVing that you can definitely find one that fits your niche.
We recommend starting with specific searches. For example, search for a group based on a type of vehicle such as travel trailer, 5th wheel, or camper van. Or try groups based on interests, whether that include hiking with dogs or RVers who love live music.
You can also find specific lifestyle groups such as RVers who travel solo, as a couple, or with the entire family.
We're in a Facebook group for RV Content Creators. We get to connect with other RVers. And we also get to discuss creating and publishing great content that's helpful and relevant for RVers.
Facebook groups are a free and easy way to meet and stay connected with an RV community.
Many of these online groups extend to real-life interactions as well. We went to a professional development RV event called RV Entrepreneur, for people who own their own businesses working from their RVs or serving the RV community. That's a super specific niche and we met a lot of good people!
GO TO QUARTZSITE IN FEBRUARY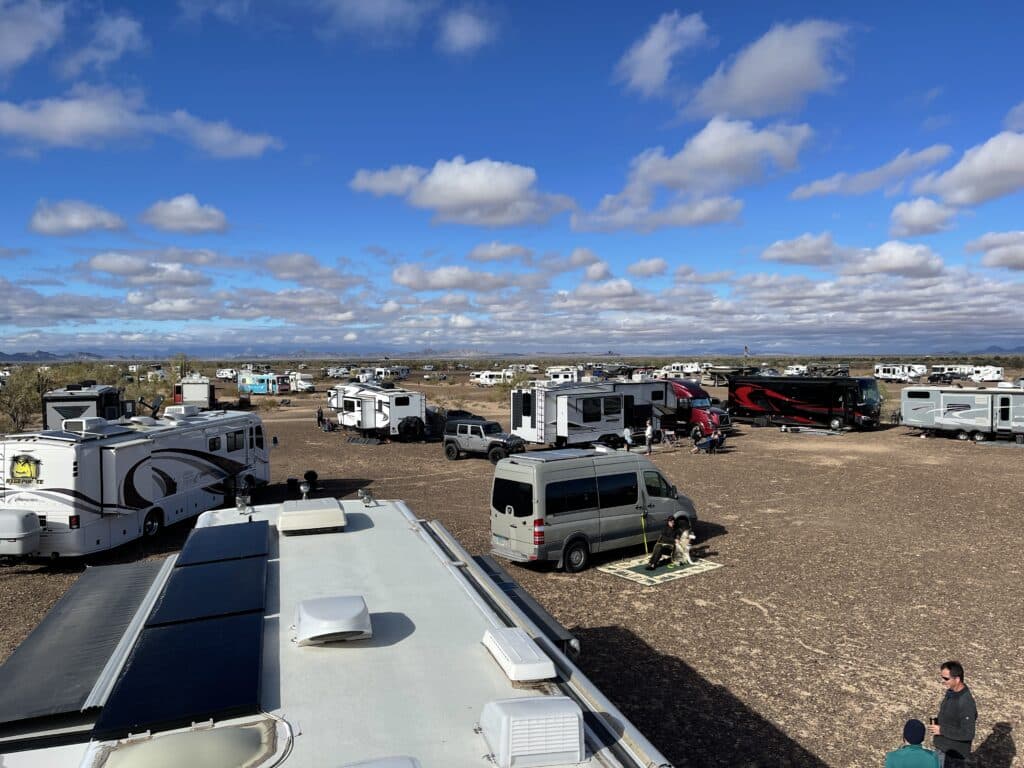 Quartzsite is the RV mecca of the US and every winter, it welcomes the world's largest gathering of RVs.
Not only will you be thoroughly entertained, but you are also bound to meet some new RV friends (because literally everyone there is an RVer).
There are lots of sub-group meetups that happen during the height of the Quartzsite boom every year. You'll see casitas all parked in a circle together, and it's adorable.
Whatever you're interested in, there's definitely a group for you to join and camp within Quartzsite.
How Do You Maintain Friendships on the Road?
I'd like to wrap this up with two ways to maintain friendships on the road. Because finding your people is only half the battle. Then, you need to maintain those friendships.
Our favorite way to stay connected with our nomadic family is to enable location sharing on our Google maps. This way, we can see where everyone is at any given time, and we'll never be those proverbial ships passing in the night.
Next, we choose anchor points in our schedule with our closest friends. For example, a group of us always have a big campsite Thanksgiving celebration together.
We'll say something like, "Thanksgiving in the Southwest again next year?" And even if we don't know exactly when or where, we'll all plan to make it happen and be sure we're headed in the right direction.
Winter in Quartzsite is good for this, as well as attending Escapees/Xscapers events. Especially in Winter, we find ourselves with more social opportunities than we know what to do with.
So, if you want to have a community on the road, put in the effort and stick with it, and you'll never be lonely on the road. Happy trails and connections!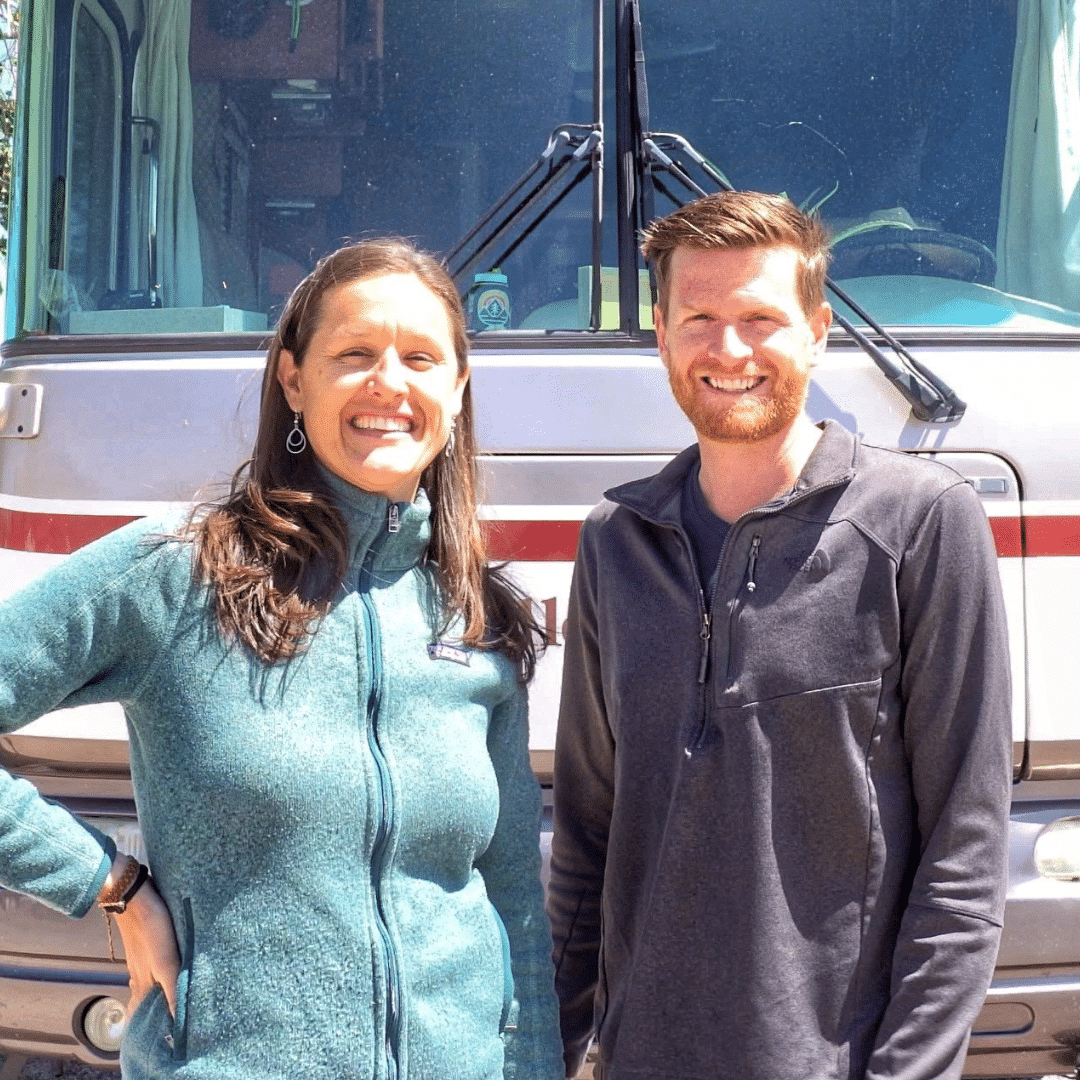 Kristen Bates lives & works from her RV, primarily boondocking off-grid. She owns and operates a women-led travel company, Legit Trips. Kristen loves to explore new places and inspire others to do the same. If she's not typing away on her laptop, she's off on an adventure- hiking, biking, or SUP boarding. You can follow her RV adventures @PerpetualMoves and learn more about her travel company at LegitTrips.com.