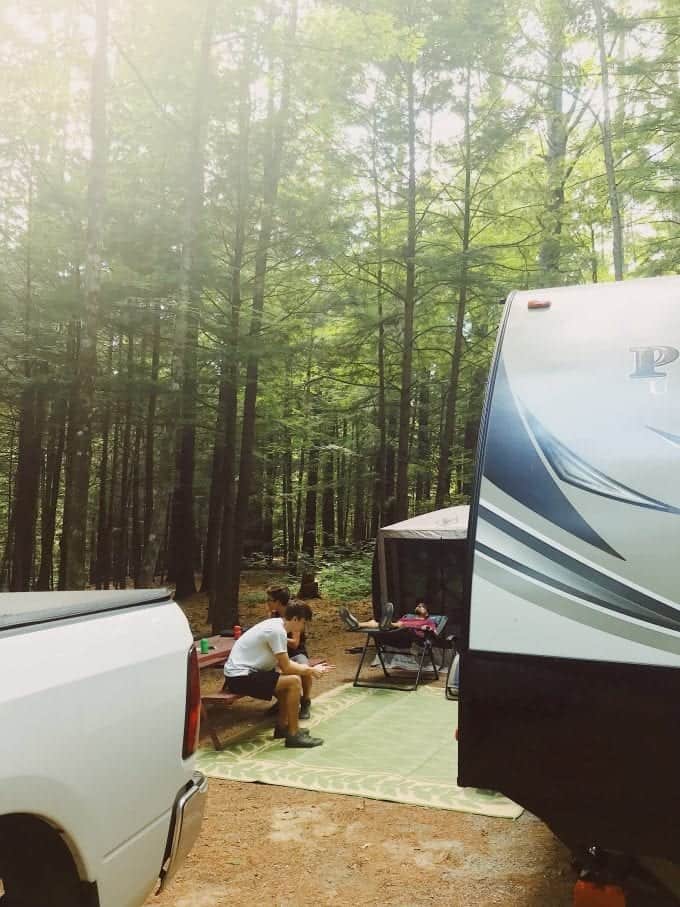 Are you thinking about packing it all up, moving into an RV and hitting the road full-time? If so, congrats! You're about to embark on a journey of a lifetime. Full-time RV life is a great way to travel, grow closer to your family and make memories you'll look back on and smile.
All the Questions
But before you embark on this journey of a lifetime, you'll have questions. And lots of them.
Some of our questions were answered via Full-time RV life YouTube channels (have you subscribed to ours yet – you can do so right here), some were answered by reading blogs and other questions were left unanswered because you just have to learn the answers to those questions on the road.
What I really, really wanted was to sit down face to face with fellow full-timers, ask them some questions and just hear first-hand what this life is really like.
Meeting Our First Full-Time RV Family
A few weeks before we launched, I messaged a full-time RVer that I saw (thanks to Instagram) was in the Austin, TX area. I asked if they would mind meeting up with us for dinner and she said yes! So we met Eric, Brittany and their adorable son Caspian from RV Wanderlust at The Soup Peddler (if you're ever in Austin, do yourself a favor and go eat there).
It was so fun getting to know them, hearing about their travels and life on the road. They gave us some fantastic advice and shed some light on some of our most burning questions.
One of Our Biggest Questions
One of our biggest questions was what does a typical day look like on the road and how/when do you get work done?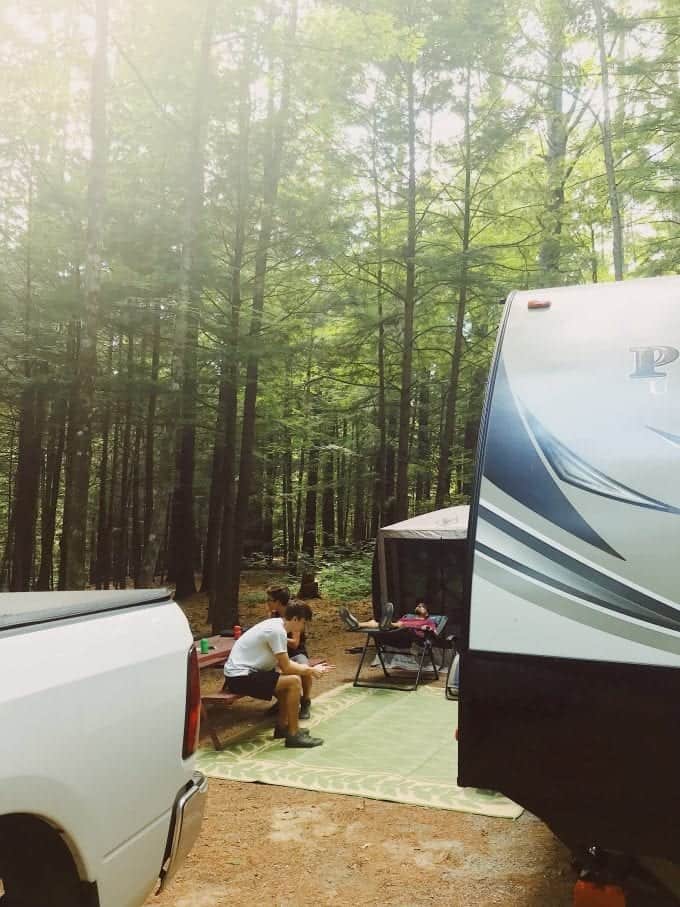 Travel days wear us out, which means we're worthless the rest of the day
Yes, we're traveling to some amazing places and living a life I had no idea was possible until a couple of years ago, but work/regular life still has to happen.
Eric and Brittany told us two things:
They work from 7 a.m. to 12 p.m. and then explore in the afternoon and evenings
They typically stay in one place for two weeks and only travel about 250 miles to their next destination
In other words, they moved slow and it has worked really well for them.
We've taken their advice of working from 7 – 12 when we can. But we've definitely been traveling entirely too fast, which is a common mistake I hear full-time RV newbies make. We just want to see ALL THE THINGS!
After the summer is over, we're hoping to slow way down.
What Does Our Typical Day Look Like?
So what does a typical day look like?
Well, for us, that's kind of hard to answer. (That's just what you wanted to hear, right?)
For example, as I'm writing this post, it's 4:39 p.m. I usually never do any work at this time of the day because my brain is mush. But you see, I had an eye exam this morning, in a town an hour away. That eye exam turned into half the day gone because, after my eye exam, I had to wait for my glasses. (I can see the words on the computer so much better now in case you're wondering. Being able to see if pretty cool.)
We didn't arrive home until almost 2:00 and it's raining today, which means a nap (duh). So here I am working at…4:43 p.m.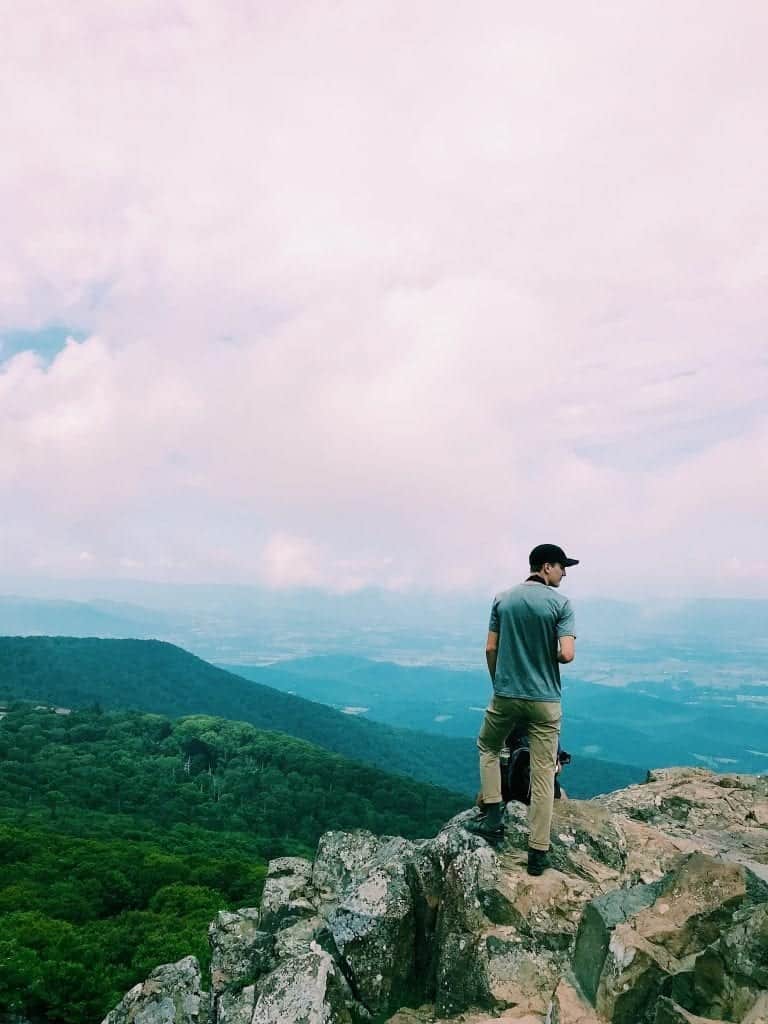 So what does tomorrow look like?
Well, we want to go hiking and in order to beat the crowds and the heat, we get up early. So again, not a 'typical' day.
There Really Is No Typical Day
So what I'm saying is, for us, there is no typical day. Do I sometimes miss the routine of living in a house? Yes. Without a doubt, I do.
But man are we learning how to go with the flow because if we didn't, we'd go crazy and be irritated with each other all the time.
Although there are some RVers who are doing way better at routine than we are, I imagine they would still tell you they use the word 'routine' loosely. You never know what to expect when it comes to full-time RV living and that's part of the beauty of it.
Did this somewhat rambling post about a typical day scare you off from this lifestyle? I hope not. Just know that if you enjoy routine and thrive on it, your best bet is to travel slow and also embrace the fact that sometimes that routine will be wadded up and thrown in your face. Because…life.
PIN THIS TO SAVE FOR LATER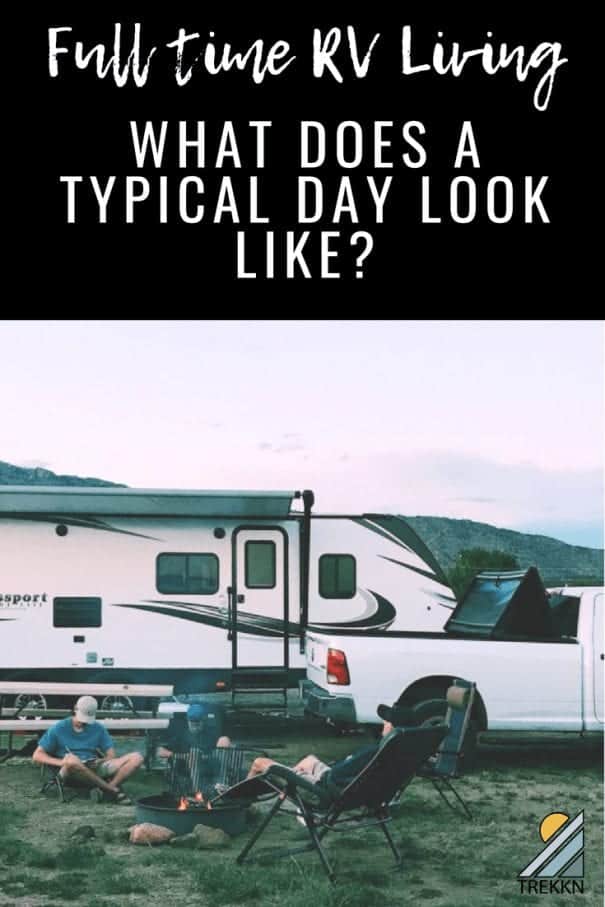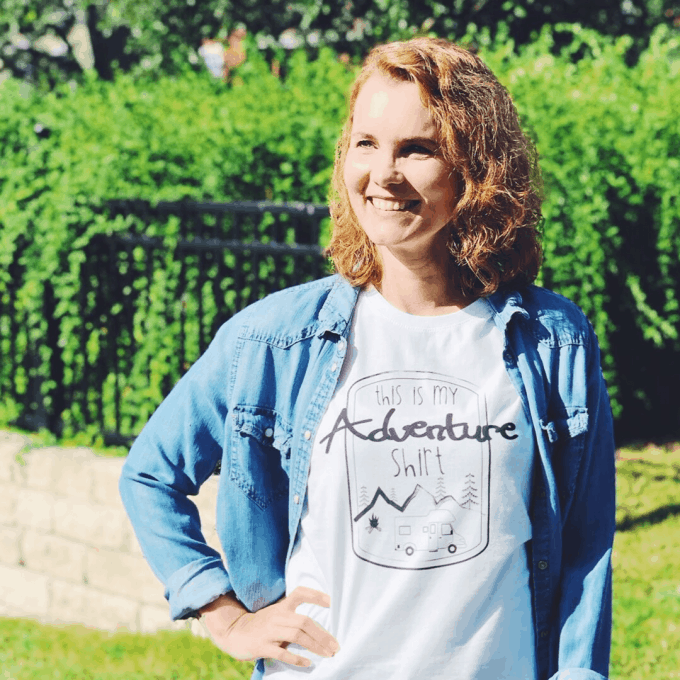 Julie Bonner is one-half of the TREKKN team. She specializes in helping you whip up delicious meals in your tiny RV kitchen, as well as RV organization tips and helping fellow RVers make their RV feel like home. Her favorite RVing spot is in Banff National Park in Canada where yes, the water really is that blue and the people really are that nice.