5 Arizona Boondocking Spots You Can't Miss

We launched our RV journey years ago from Phoenix, Arizona. At that time, we were unfortunately constrained to RV park life because of our setup. Our rig lacked the necessities for boondocking.
Note: Be sure to take a look at our Best RVs for Boondocking post before you make decisions about which RV to choose!
We enjoyed exploring outside of Arizona for a while. As soon as our solar system was installed, we returned to the famous wide-open desert boondocking spots in our home state.
Arizona is widely known as one of the most accessible places to boondock for any size RV. There are lots of public lands, level ground, and abundant sunshine for solar energy.
We've been boondocking in Arizona every winter for a few years now, and so we have naturally compiled a top-five list of our favorite boondocking spots.
What is the best time of year for Arizona boondocking?
The obvious answer is Winter. It's that time of year when it's not very nice in the rest of the country, so all the full-time RVers and snowbirds flock south for a warmer climate. If only it were that simple. It's not.
Arizona has a surprising diversity of elevation across the state. And with elevation comes extreme changes in weather. With elevations ranging from sea level to over 7,000 feet, you could probably comfortably boondock around Arizona all year long.
So, in our list of boondocking spots you can't miss below, we'll include the elevation and best time to visit each specific area.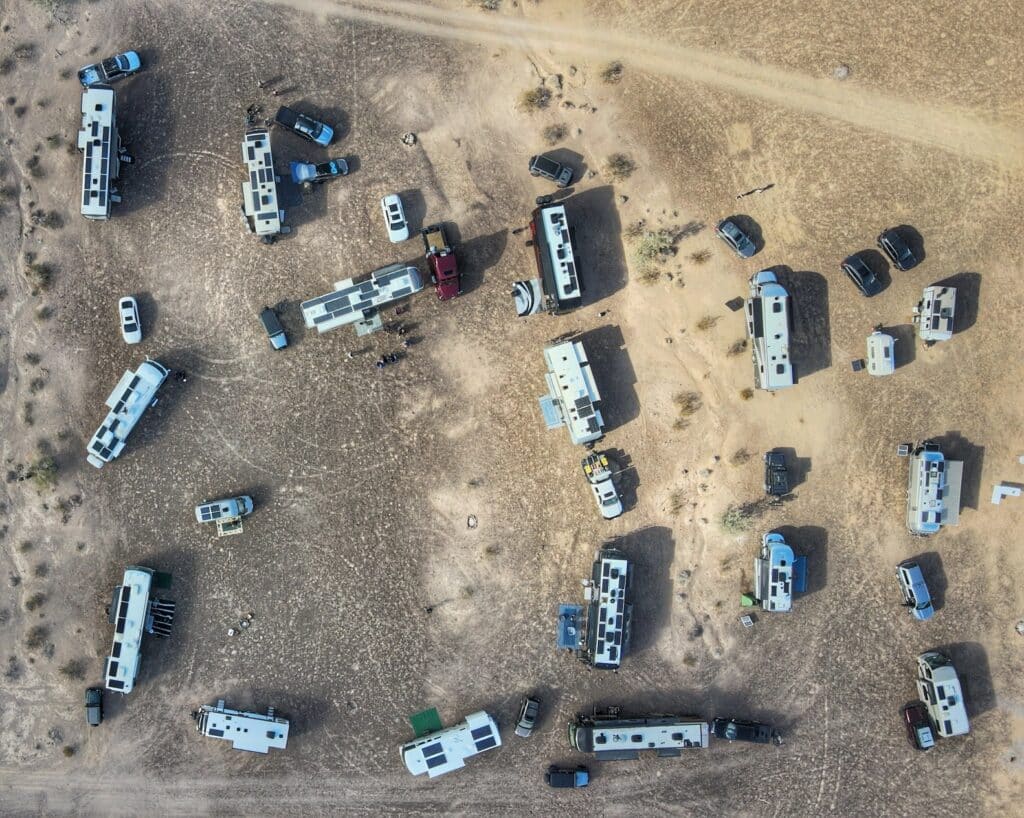 Quartzsite
Quartzsite is an RV mecca. If you're an RVer, you must take a pilgrimage to Quartzsite, AZ. The elevation of this wide-open desert is under 1,000 feet. Accordingly, it's best to visit between November and February.
All of the RV events and happenings occur around the end of January each year, and that is prime time in Quartzsite.
There are five total free BLM dry-camping areas in Quartzsite:
Each of these areas is wide open, big-rig-friendly, and has good cell coverage. They all have 14-day stay limits within a 28-day period.
Choose Dome Rock Mountain for easy highway access and proximity to the town. Scadden Wash is the closest to town and the only site that's easy walking or biking distances to some services.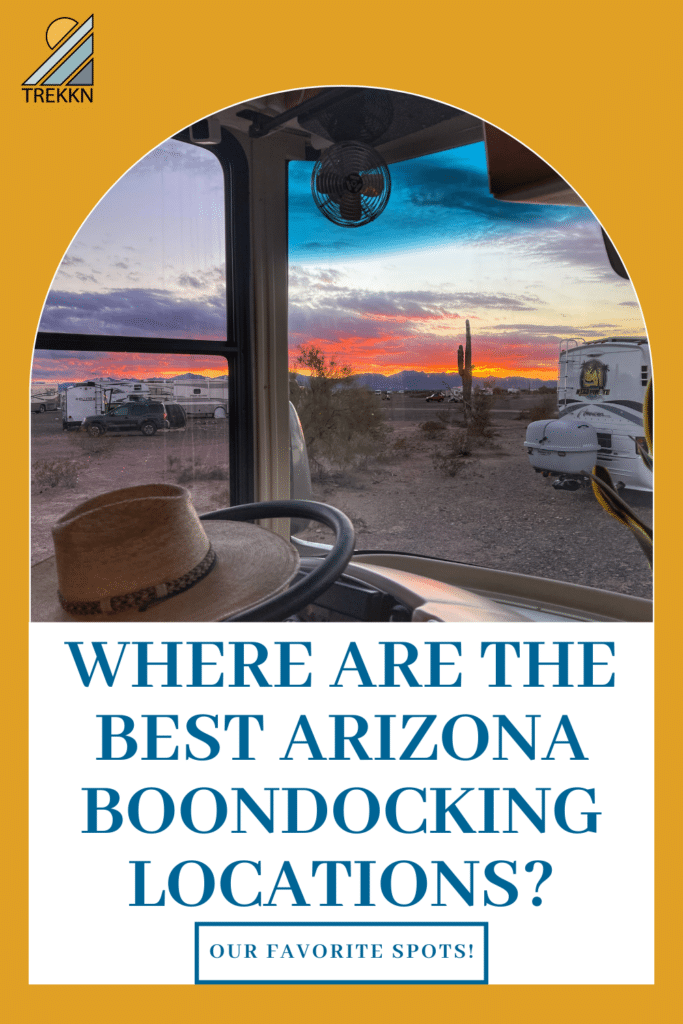 Hi-Jolly and Plomosa Road are on the North side of town. Hi-Jolly can be quite the party and a bit packed because it's closer to town than Plomosa. Choose Plomosa Road if you're traveling with a big group or want some more space to spread out.
Lastly, Road Runner is on the South side of town and has fairly easy access if you're planning to visit the swap meets and the Quartzsite RV show.
Go spend some time in Quartzsite if you want to experience all of the quirk and weirdness of a temporary RV pop-up town. It's amazing to see different types of people that are drawn to the RV lifestyle and the many different ways there are to live or camp in an RV. There's really no other place like it.
Yuma
Yuma is located in Southwest Arizona near the border with both California and Mexico. We like Yuma because the town is big enough to have some amenities, from a natural grocery store to a Best Buy.
It's also the "Sunniest City on Earth," according to the Guinness Book of World Records, which definitely doesn't hurt when your home is solar-powered.
We've camped at Mittry Lake Wildlife Area and American Girl Mine Road Dispersed Camping. Mittry Lake is at 131 feet elevation, and American Girl Mine is at 459 feet elevation. Therefore, both a best visited in the Winter season.
It can get quite hot down there in the Summer. Please note: American Girl Mine (affectionately known in the RV community as AGM) is technically in California, but it's only 20 minutes away from Yuma.
We enjoy RV camping in and around Yuma because of the amenities (they have an In N Out burgers location) but also because of its proximity to Mexico.
It's easy to walk across the border into Los Algodones and get some cheap dental work done or just have a day immersed in a totally different culture. This is a great choice for an extended Winter stay.
Go hang out in Yuma for a while if you want abundant sunshine, camping within proximity of a good-sized town, and easy access to visit Mexico.
There are lots of wide open spaces to enjoy, some great hiking trails, and you can even kayak the Colorado River.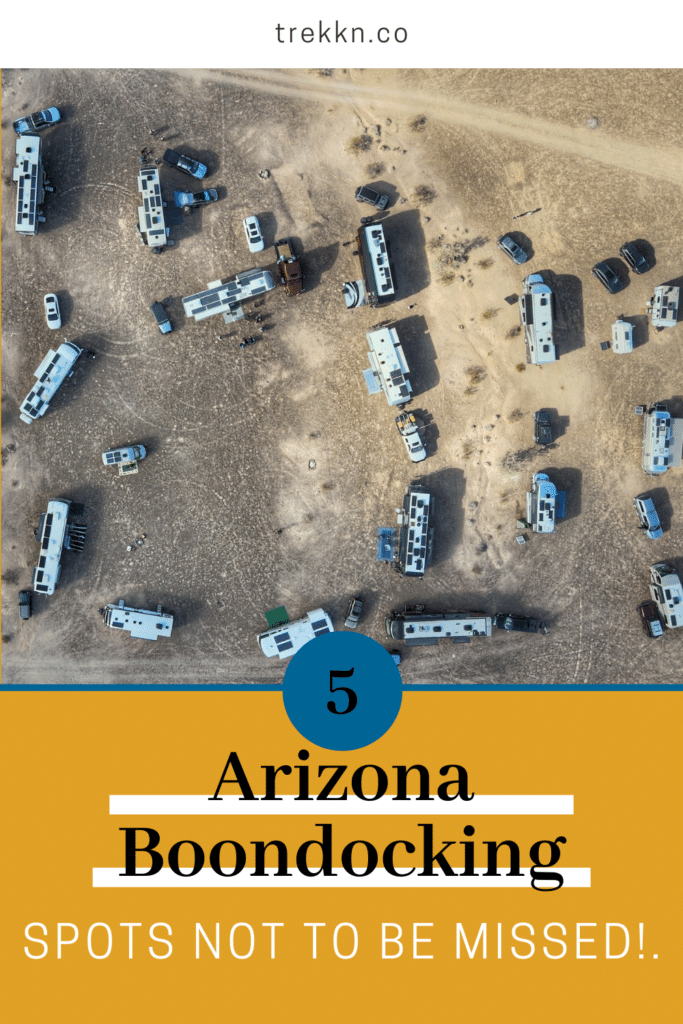 Lake Havasu City
Lake Havasu City was one of our first destinations in our RV. We had no idea what we were getting ourselves into.
This town knows how to party! It's even self-proclaimed as "Arizona's Playground." There are plenty of bars and restaurants and lots of fast boats and jet skis speeding across this huge lake.
Because of the lake, it's really a year-round destination, but for boondocking, we'd recommend visiting between October and April.
There are State Parks and RV parks all along the Colorado River, to the North and South of the city. But mixed in between them are some very popular boondocking spots on BLM and State Trust Land.
Some of the sites can be tight for larger rigs, and the cell signal can be challenging in many areas. But if you can find a spot that works for your RV, the area will reward you with sunny skies, warm water to play on, and endless entertainment options.
We like the State Trust land that is closest to town. Note that the area is probably best suited for smaller rigs with decent clearance. We've tried to get in there a couple of times and had concerns about dragging our underbelly with all of the dips and bumps.
It's the furthest from town, but we've camped at The Steps dispersed camping for easy in and out with our big forty-foot motorhome. The views are great from the top of the hill, too.
You can basically just drive North or South from Lake Havasu, and you'll find boondocking spots in both directions. Look for a pull-off that is safe for your RV, and find yourself a patch of dirt to park on.
The boondocking areas can be crowded and are not always the most scenic, but the surrounding Lake Havasu area has a lot to offer.
If you're looking for a more exciting RV camping experience in Arizona, Lake Havasu is probably just what you need.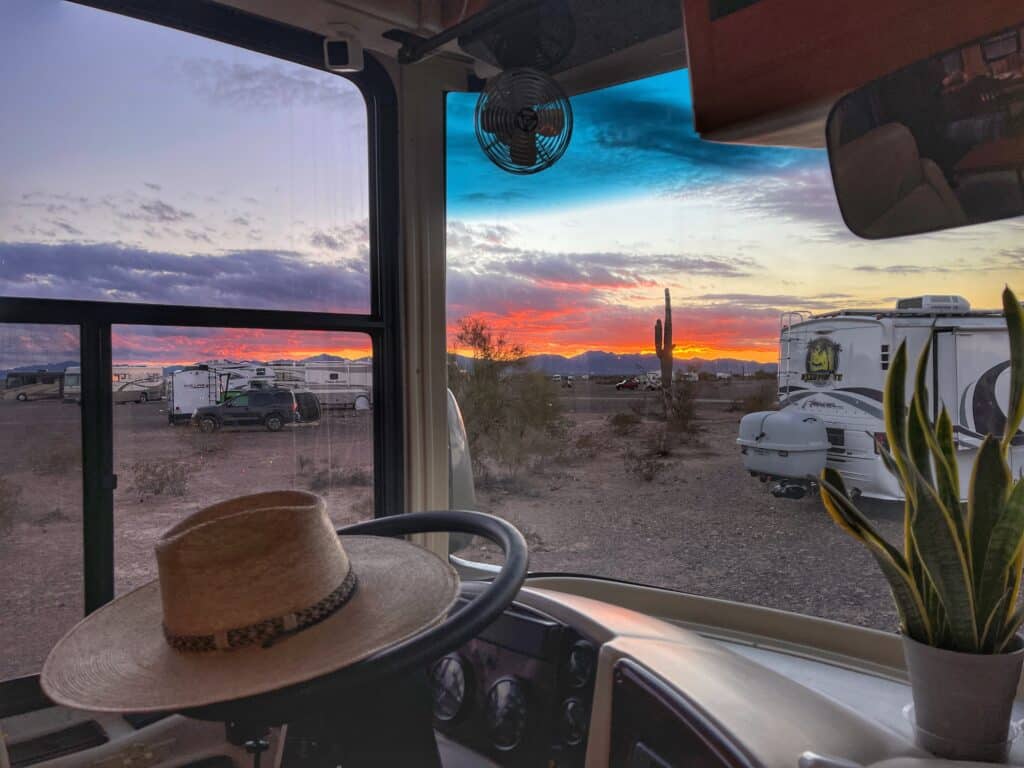 Sedona
Sedona is one of my favorite places in Arizona, whether I'm in the RV or not. The natural beauty of the place is magical.
There are endless options for hiking, biking, walking, shopping, and more. Luckily, there's a big boondocking area called Forest Service Road 525, less than 30 minutes from Sedona's downtown.
In recent years, this boondocking area has become quite popular and even overcrowded. If you have a smaller RV or campervan, you'll be able to go further back and find some more solitude. And the views are amazing!
If you're in a big rig like us, you'll be restricted to camping closer to the road.
The National Forest has recently implemented restrictions by designating dispersed sites, thus limiting the total amount of campers allowed. Search for Surprise Designated Dispersed Camping and Windmill Designated Dispersed Camping, as those are the new names for this area.
You may be hard-pressed to find an available spot with these new limitations, so plan ahead to arrive mid-week and/or early in the day.
Sedona is located at over 4,000 feet elevation, so the winters are a bit cool for RVing, but the summers are also so much cooler than much of Arizona. Sedona can be a great escape year-round.
Come to boondock here in Sedona for the proximity to the very cool and quirky town and its stunning natural surroundings.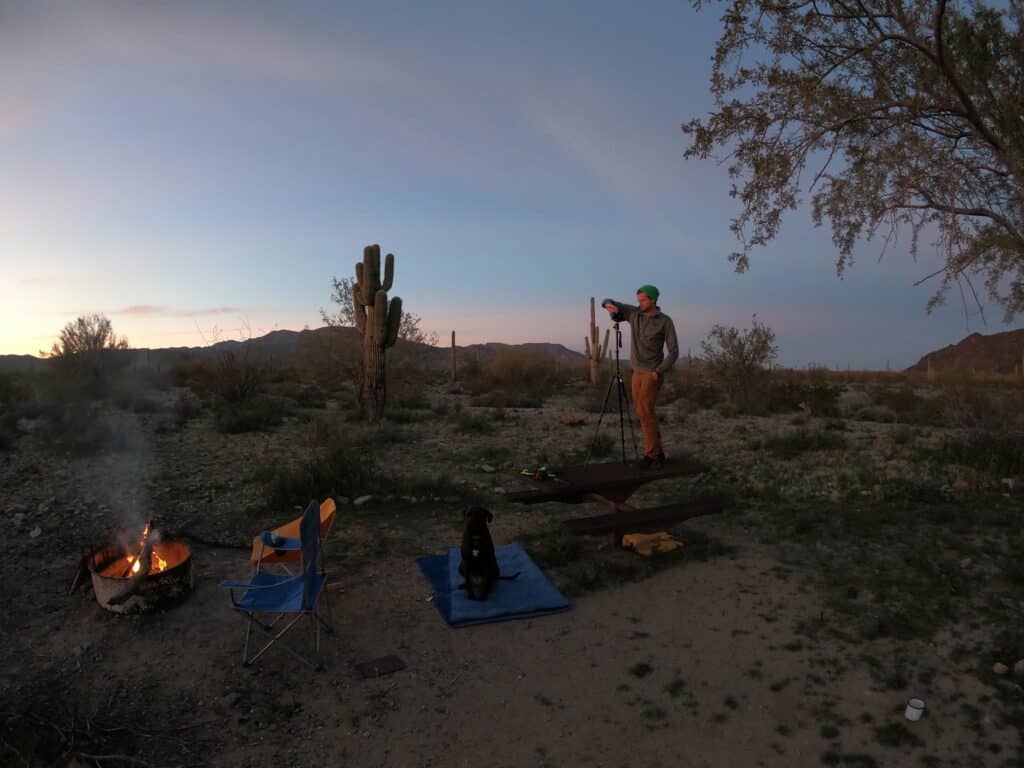 Grand Canyon
Last but not least, no list of where to camp in Arizona would be complete without mention of the Grand Canyon.
I always assumed there wouldn't be free camping near the National Park, but there is. Enter, Coconino Rim Road Dispersed Camping. This is a National Forest free camping area located at 7,471 feet in elevation. Thus, this area is best for camping in the late Spring, Summer, and early Fall.
This dispersed camping site is only 13 miles from Grand Canyon Village, on the South Rim side of Grand Canyon National Park. The location is unbeatable, and the camping area is quite scenic and quiet. (Shhhh, don't tell all your friends. It's just between us.)
Come to Grand Canyon for incredible access to Arizona's most popular National Park and cooler temperatures in the summertime!
Which spots are best for beginners?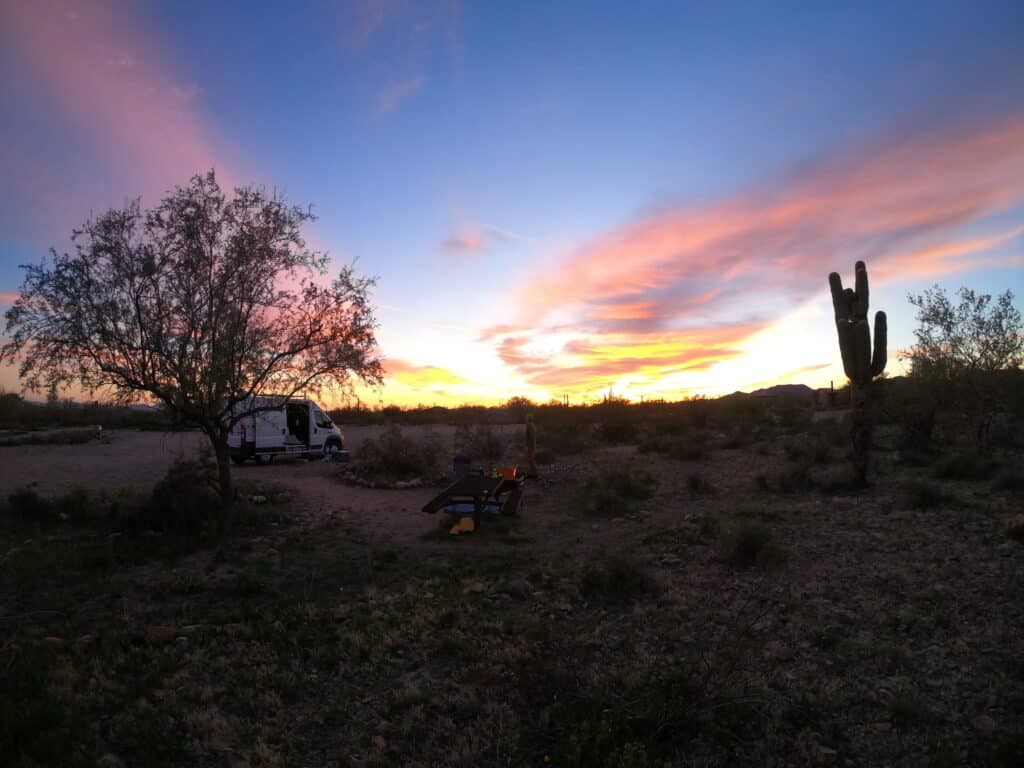 With unlimited supply and easy access for RVs of any size, Yuma or Quartzsite are probably the best areas for beginner boondockers to start with.
Access from the busy main road in Lake Havasu can be challenging. Getting one of the limited spots near Sedona can be difficult, especially if you can't arrive mid-week.
And access to the Grand Canyon dispersed camping area can be arduous with a primitive, seasonally-maintained dirt road that gets quite rutted at times.
You'll learn as you go and gain more confidence to try for more challenging spots over time. Each of these spots has rewards that pay off for the work to get there.
We hope you enjoy boondocking in Arizona as much as we do!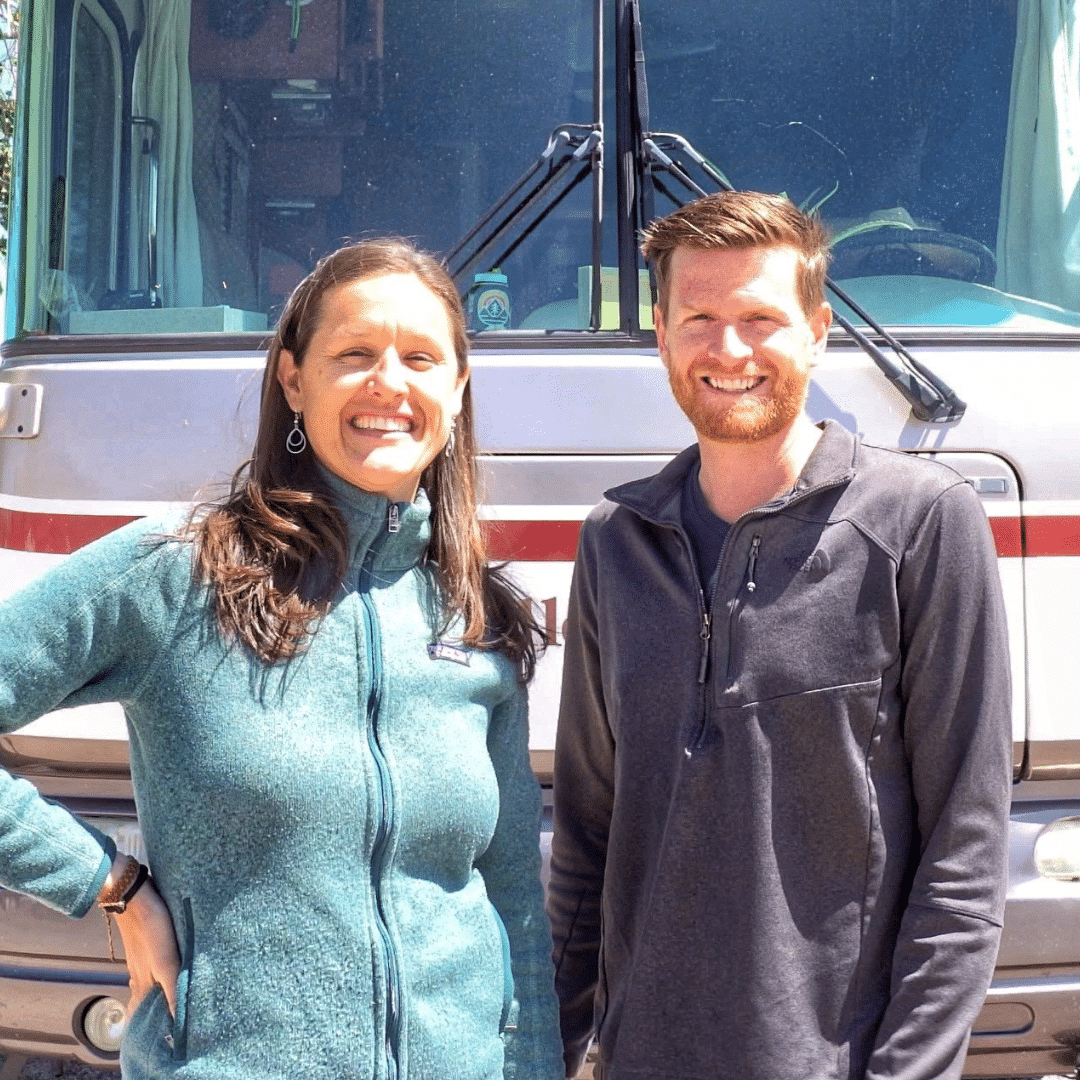 Kristen Bates lives & works from her RV, primarily boondocking off-grid. She owns and operates a women-led travel company, Legit Trips. Kristen loves to explore new places and inspire others to do the same. If she's not typing away on her laptop, she's off on an adventure- hiking, biking, or SUP boarding. You can follow her RV adventures @PerpetualMoves and learn more about her travel company at LegitTrips.com.