RVer's Guide to Quartzsite, Arizona

Quartzsite is a boondocker's dream. If you like free camping, you'll absolutely love it there. If you enjoy feeling like part of a big community of wanderers and nomads, you'll also fit right in.
There are times when living on the road can be lonely, but definitely not when you're in Quartzsite.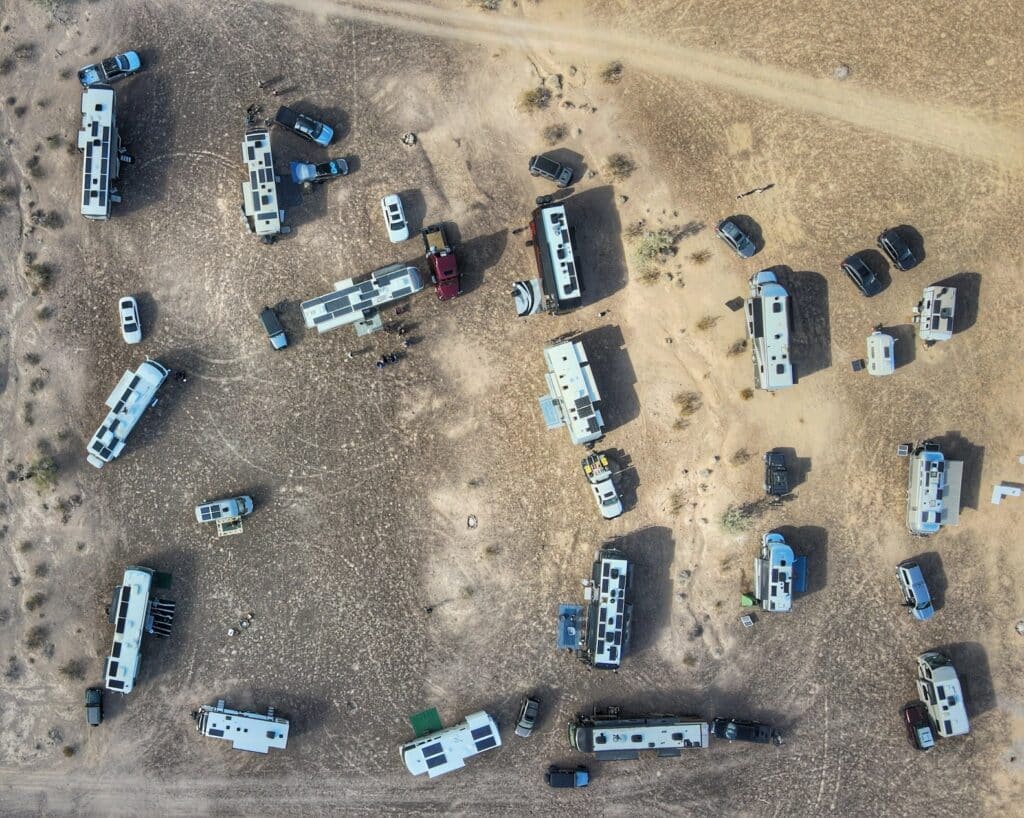 What to Know, Where to Stay in Quartzsite
As I mentioned, one of the best features of Quartzsite is the amazing opportunities it offers to camp for free. In addition to these free areas, however, there are also very inexpensive options you can look at if you want a little more convenience or you want to stay for a longer period (over 2 weeks).
BLM Boondocking Locations
The Bureau of Land Management (BLM) offers an amazing array of locations where you can dry camp around the country, in addition to all kinds of outdoor activities to explore. And in Arizona, there is no shortage of options.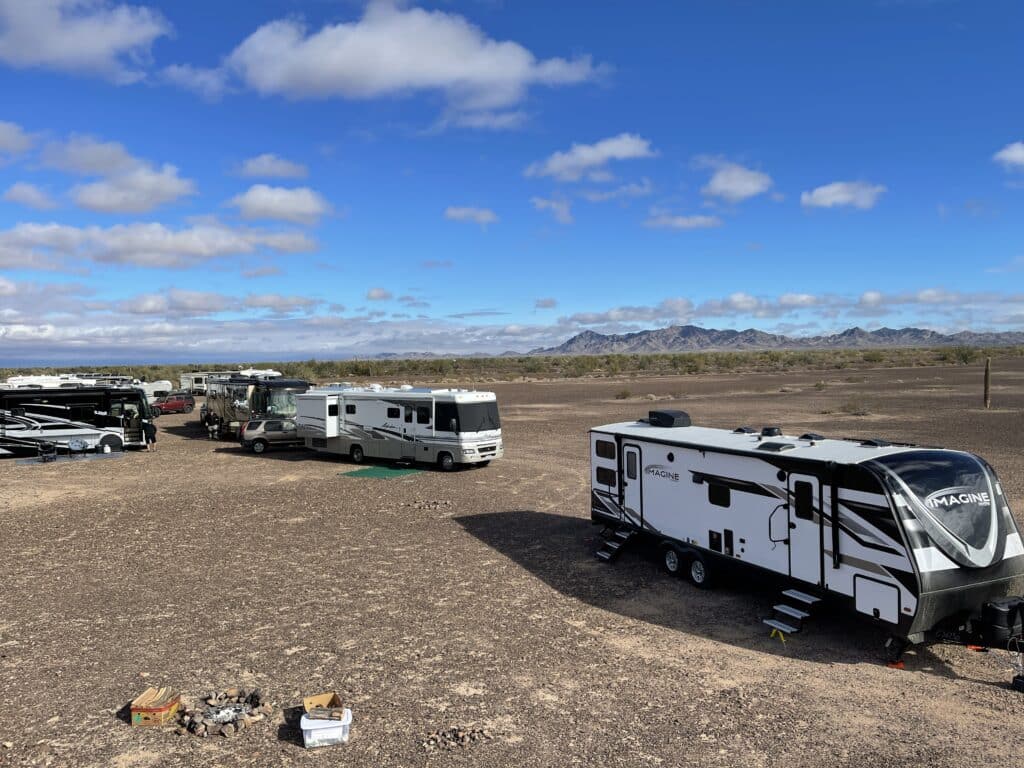 In winter 2022, we stayed for a total of one month in Quartzsite, Arizona. Our first 2-week stint was in January on the north side of town at Plomosa Rd BLM.
The second two weeks were in March on the south side of town at Road Runner BLM. We got a pretty good feel for the differences between the two areas.
There are five total free BLM dry-camping areas in Quartzsite:
Plomosa Road
Road Runner
Dome Rock Mountain
Scadden Wash
Hi-jolly
The above camping areas all have a 14-day stay limit in a 28 day period. Once you've stayed 14 days, you must move at least 25 miles away, for at least 14 days, before returning.
You might think this sounds perfect because you can just bounce around from one to the next consecutively. But even though there are five free camping areas in Quartzsite, they are all within 25 miles of one another.
This means you cannot technically go from one location to the next without a 14-day break in between.
So, if you're looking to stay in the Quartzsite area for more than 14 days, check out one of the Long Term Visitor Areas (LTVA). We will cover these areas down below.
So let's review the five free camping areas and help you get the lay of the land, so you can decide which choice is right for you.
There are two areas to the North of town, one on the south, one on the West, and one on the East. The town of Quartzsite is split by Interstate 10 running right down the middle.
Most of the proper stores are on the north side of the 10. All of the swap meets, tents and the RV show are on the south side of the 10.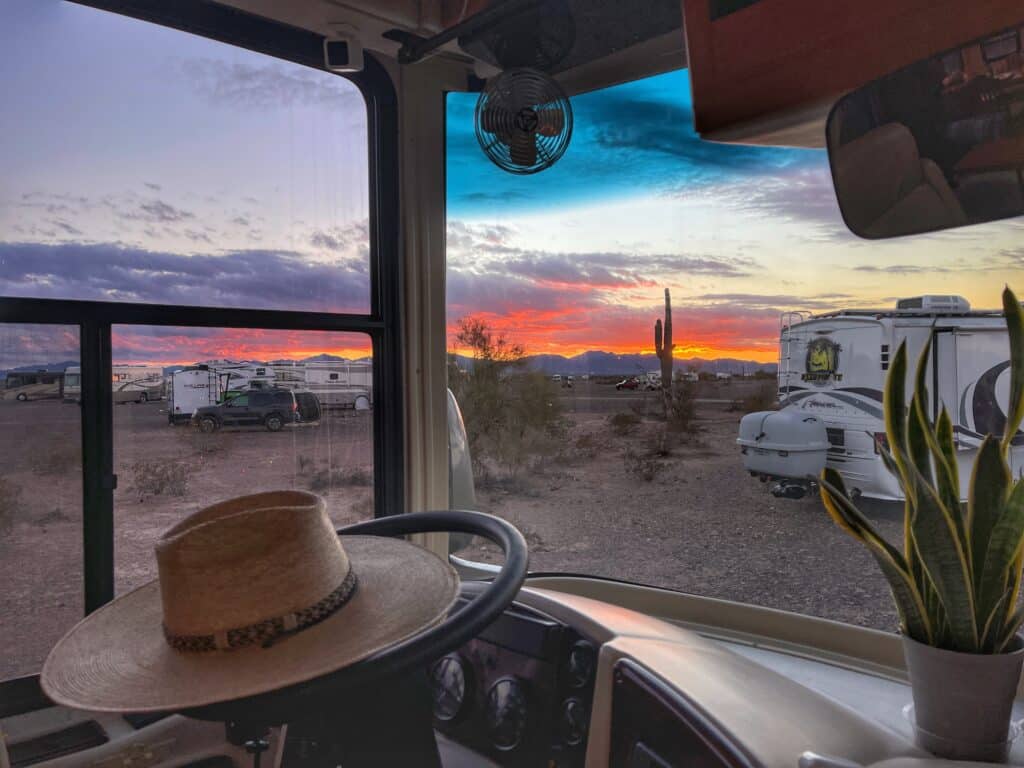 DOME ROCK MOUNTAIN
This BLM camping area is West of town and is the closest free camping to the I-10. If you're only passing through for a night or two, this might be the best option for you.
Easy highway access is its biggest perk. It's also pretty close to town, about four miles to the center where the 95 crosses Main Street.
SCADDEN WASH
This camping area is East of town and is the closest to town. It's only about two miles to the center of town (as described above). If you want to be within walking or biking distance to some services, this is your best bet.
HI-JOLLY
Hi-jolly is three miles north of the center of town. As the town's services continue to sprawl northbound on route 95, this is another popular location if you want to be close to town and amenities.
You will see people biking to town from Hi-jolly, but it's a bit long for a walk.

This location is close to the Quartzsite Transfer Station, which is convenient if you need to toss a lot of trash or recycling while you're there. This is the only free trash disposal in Quartzsite (and most businesses frown upon you stuffing your camping trash in their cans and dumpsters).
PLOMOSA ROAD
Further up route 95 past Hi-jolly is Plomosa Road. We like this camping area because it's usually quieter and spread out. It's the furthest from town, so that's probably why it's less busy.
It's also a paved road all the way to the back-end of the camping area which makes the drive to town go a bit faster (with less dust) than if you are way back at Roadrunner, for example.

It's about 6 miles to the center of town from the turn-in to Plomosa Road, and the camping area goes back another few miles on the paved road. It's convenient to access the Transfer Station on the way in or out of town.
Hi-Jolly and Plomosa Road areas are both off Route 95 heading North toward Parker and Lake Havasu.
If you know you want to make a day trip to one of those nearby towns, you'll save yourself 10-15 miles round trip if you stay on the north side of town.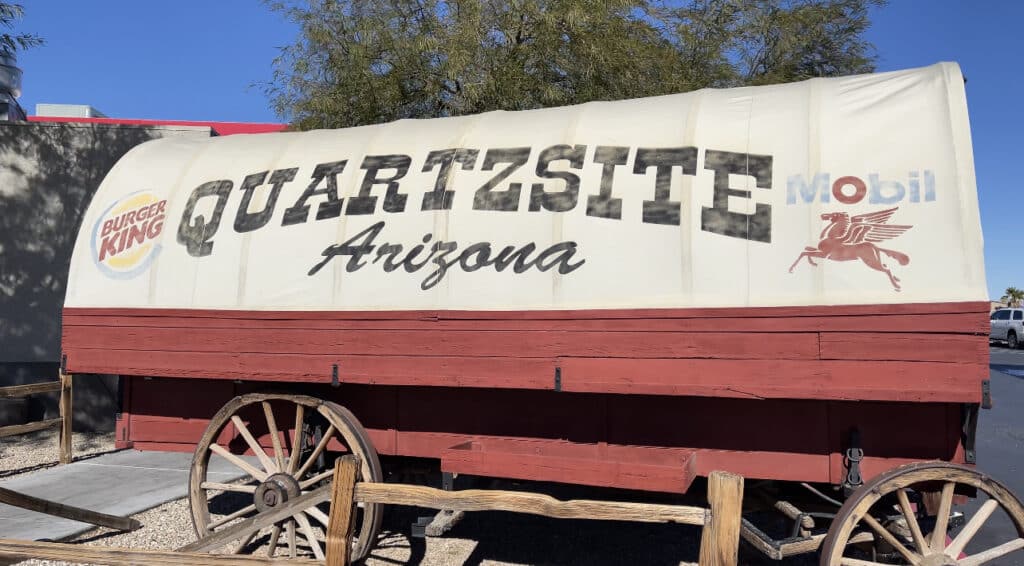 ROAD RUNNER
This was our first year staying at Road Runner and we really enjoyed the change of scenery. There seemed to be a bit more vegetation on the south side than what we were used to on Plomosa Road.
We found it to be spread out and quiet, similar to Plomosa Road. This area is 6 miles south of the center of town.

If the swap meets and RV show are the reason you're visiting Quartzsite, Road Runner might be the best choice for you. Kuehn Street is the first area you hit coming from the South, so you avoid going through town, crossing the highway, etc.
Another pro for Road Runner is the proximity to the LTVAs, which you can use for services if you purchase the short-visit permit.
Long Term Visitor Areas (LTVA)
La Posa North and South offer visitors vault toilets, water faucets, dump stations, and trash services for an extremely reasonable price. The standard LTVA permit is for seven months of continuous use from September 15 to April 15, for only $180.
They also offer a short-visit permit for $40 that is good for 14 days.
Therefore, the LTVAs are a good option for stays longer than 14 days, or if you'd like some services like water, dump, and trash. Remember, the free camping areas have no services; it's completely pack-in, pack-out.
What else do you need from a free camping area? Probably access to laundry, mail services, water, trash, and a dump station. So we'll review these services too after we touch on "real" RV park options.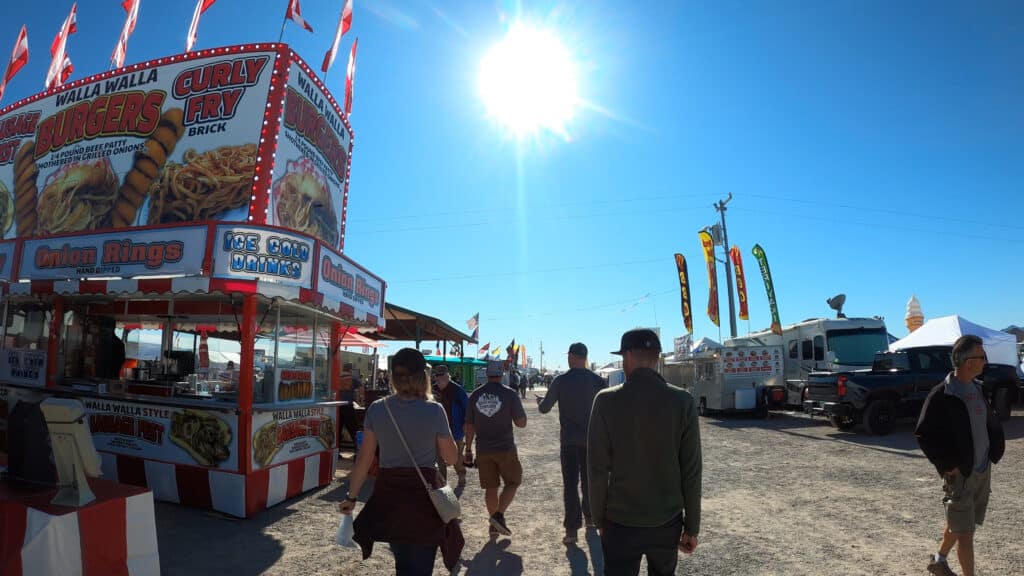 And If You Need a "Real" RV Park?
I understand that some of you may have rigs that really aren't set up for these more "minimalist" settings. Maybe you need a park with full hookups (or onsite dump and fill at least) and a few amenities to make your stay more enjoyable? I've got you covered.
QUARTZSITE RV RESORT
Now, if you are really looking for the full RV resort experience, this highly rated location should definitely not disappoint. Don't get me wrong, I wouldn't call this "luxury" by any means.
I mean, it is simply a paved parking lot. But with their large sites, full hookups and clubhouse, Quartzsite RV Resort ticks many of the boxes.
With its location close to the center of town, you will be near all of the action and conveniences. And speaking of conveniences…
QUAIL RUN RV PARK
A second option conveniently located in Quartzsite is Quail Run RV Park. Full hook-ups, clean restrooms and showers, a clubhouse to relax or entertain in. There's nothing not to like here.
Just realize that it is an urban park, so if you're like for a "getaway into nature", this won't be your best bet.
You can check out their reasonable rates ($35/night summer, $50/night winter) right here.
Conveniences and Extras
So now you've got a place to call "home" for your stay in Quartzsite, but there are still a few other factors that you might be interested in.
PALM PLAZA LAUNDROMAT
This is a small but mighty laundromat, which you will likely need if you are not staying at one of the RV parks in town. It's always busy, but the prices are fair and the space is always clean.
There are only a few small washers if you don't have many clothes to wash. There's plenty of parking, even if you need to bring your RV.

We especially love the "take it or leave" box for laundromat customers only. We consider it our Quartzsite Goodwill and usually drop off a thing or two that we hope someone else will use more than we did.
The laundromat is located on route 95 heading North of town, but it's so close to the center of town that it's almost equidistant from all of the free camping areas.

There's also the Main Street Laundromat and Showers, but we haven't personally visited them yet. We hear the showers come with a towel and a bar of soap (for $10).
MAIL SERVICES
As of this writing, there are two options for receiving mail in Quartzsite that we know of. One is the US Post Office, where you can have mail sent general delivery, or you can rent a PO Box if you're staying longer-term. The other i
s the Quiet Times Cards & Stationery business on Main Street.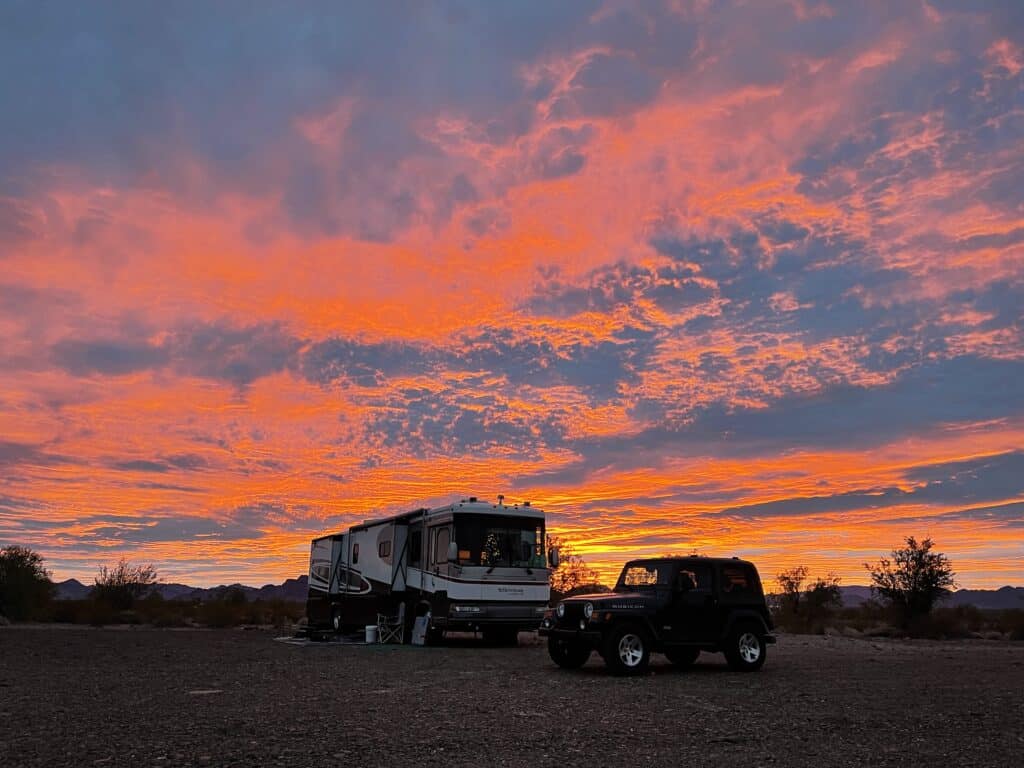 QUARTZSITE POST OFFICE
The post office only distributes general delivery mail from 11am-1pm daily. We've heard horror stories about the line wrapping around the building, and people making it to the front of the line at 1 pm only to be told to come back tomorrow.
Personally, we've always had a great experience at the Quartzsite post office, but it's easy to see how it could get busy with so many nomads to serve.
QUIET TIMES CARDS & STATIONERY
Quiet Times only receives packages from UPS, Fed Ex, and other non-USPS carriers, they do not receive standard USPS mail. It's an easy pick-up process and only costs a few bucks (larger packages cost more).
The woman who owns the shop has been trying to sell for years, so be sure to call to confirm availability before having something shipped there.
We hope Quiet Times remains an option in the future because it sure beats standing in line at the post office!
TANK DUMP STATIONS
If you do choose to go the boondocking route, you will obviously need a spot to empty your tanks every once in a while during your stay. Here are a couple of options to consider:
RV PIT STOP
Oh, how I wish there was an RV Pit Stop in every town we visit. If you're an RVer, this place is a dream. There are lanes for dumping, water fill-ups, and propane.
This place is fast and efficient (we love efficiency). Our only complaint is the prices are getting up there if you have a big rig. To dump, flush, and fill fresh water for our 41-foot motorhome, the cost is $31!
For convenience and ease, you can't beat the RV Pit Stop. But for the price, you definitely can.
TUMBLEWEED RV PARK
Tumbleweed RV Park is on the south side of town on Keuhn Street, heading East from the main swap meet area. They have set up a number of drive-through lanes for water fill and dumping, similar to the RV Pit Stop.
It's $5 to fill water and $10 to dump, so for our motorhome, it was half the cost of the RV Pit Stop.
Ready to Plan Your Visit to Quartzsite, Arizona?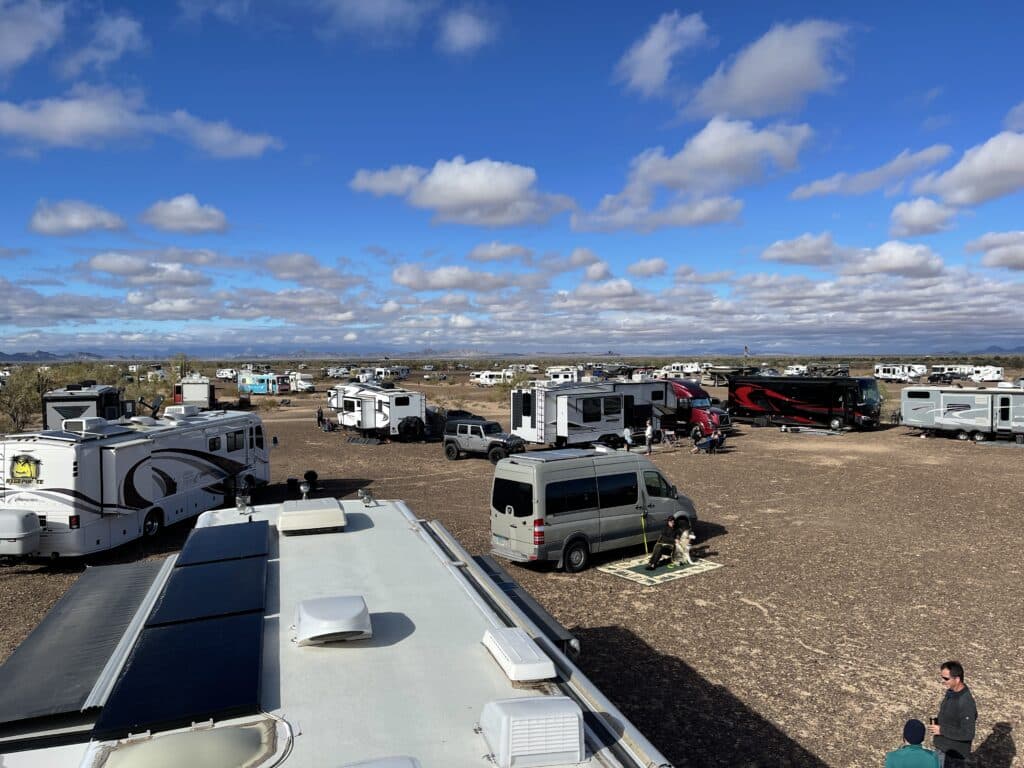 The magic of Quartzsite isn't really about the stunning scenery or the ample nearby activities. It's more about being a gathering place.
If you spend a couple of weeks in Quartzsite, you're bound to bump into friends you haven't seen in a while.
Or if you want to build your network of fellow nomads, head to Quartzsite's Adult Day Care to enjoy some live music on the patio, and you're bound to meet new friends.

We hope this guide helps you prepare for your next trip to Quartzsite and helps you choose the camping area that suits your needs best. Quartzsite is truly a one-of-a-kind place, so get out there and enjoy!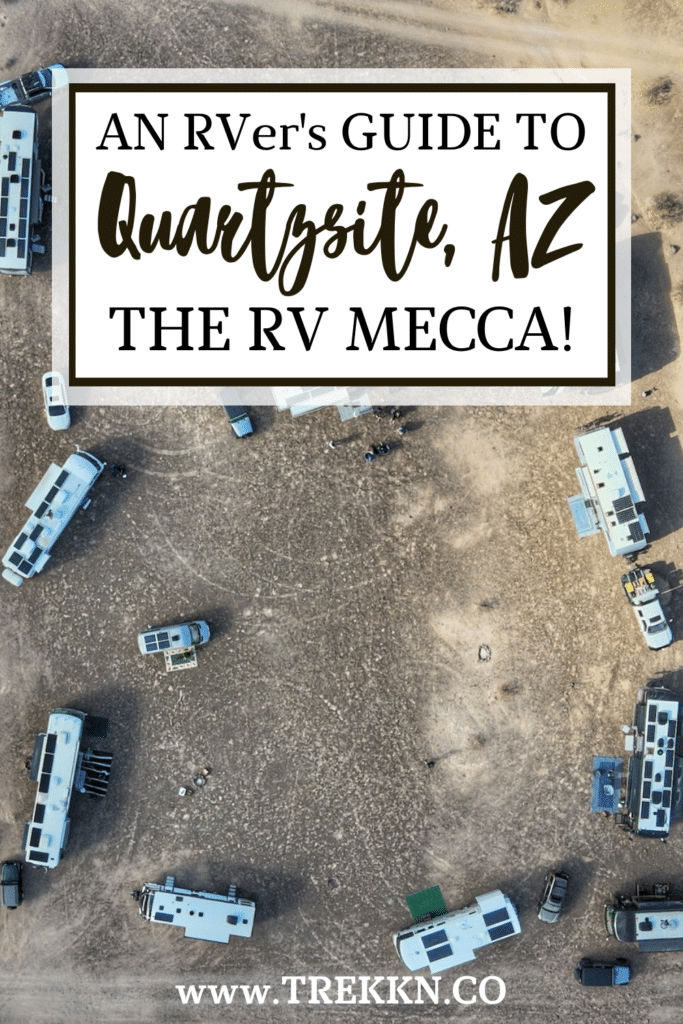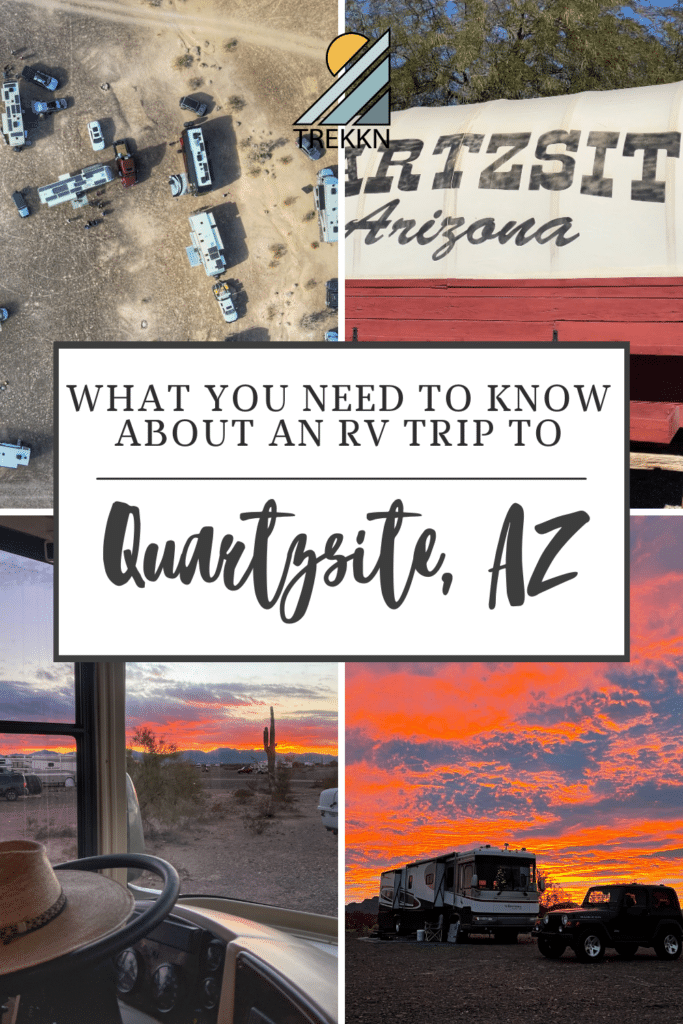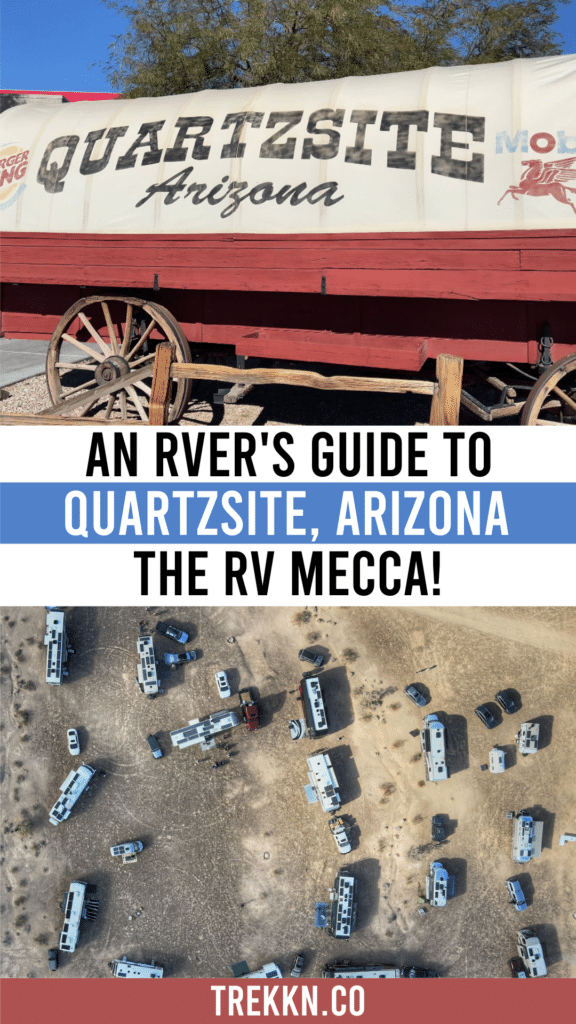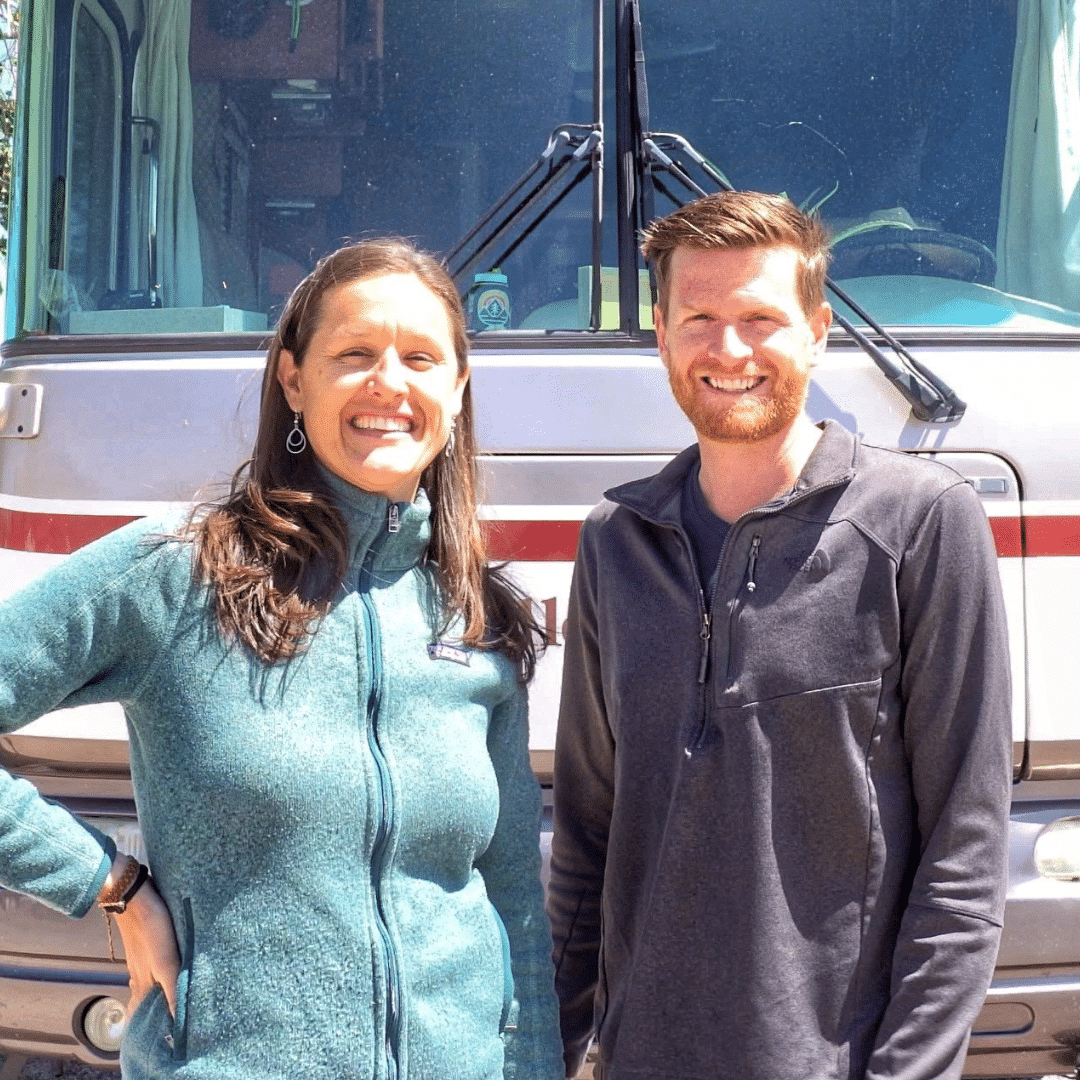 Kristen Bates lives & works from her RV, primarily boondocking off-grid. She owns and operates a women-led travel company, Legit Trips. Kristen loves to explore new places and inspire others to do the same. If she's not typing away on her laptop, she's off on an adventure- hiking, biking, or SUP boarding. You can follow her RV adventures @PerpetualMoves and learn more about her travel company at LegitTrips.com.