7 of the Best Unique RV Parks Near Austin, Texas

According to Hipcamp, the Airbnb of camping, Central Texas has been named the #1 fall camping destination and we couldn't be more excited about this! Why? Well, it's our home and we agree, it's a great place to set up camp and enjoy cooler temperatures.
With fall camping season near, we wanted to round up some of the best unique RV parks near Austin, Texas to give you some fantastic spots to sit back, relax and enjoy the great outdoors.
Side note: Don't have an RV (yet)? No worries! Renting an RV is the perfect way to try before you buy. We've rounded up some of the top RV rentals in Austin, which include campervans, travel trailers and more. Plus, we have a coupon code to say you some money, so go check it out!
Let's Practice RV Life, Shall We?
Back in 2017, we were complete RV newbies. After selling our house and most of our possessions, we moved into our home on wheels with our three kids and hit the road. It was exciting. It was terrifying. It was an adventure we felt we needed in our lives.
Given the fact that we had never RV'd before, we figured it was best to take it a bit slow starting out. So, we stayed close to home and camped at RV parks in Central Texas. You know, in case we had to call my mom and dad to come and rescue us because we did something to our travel trailer. Thankfully, no SOS calls had to be made.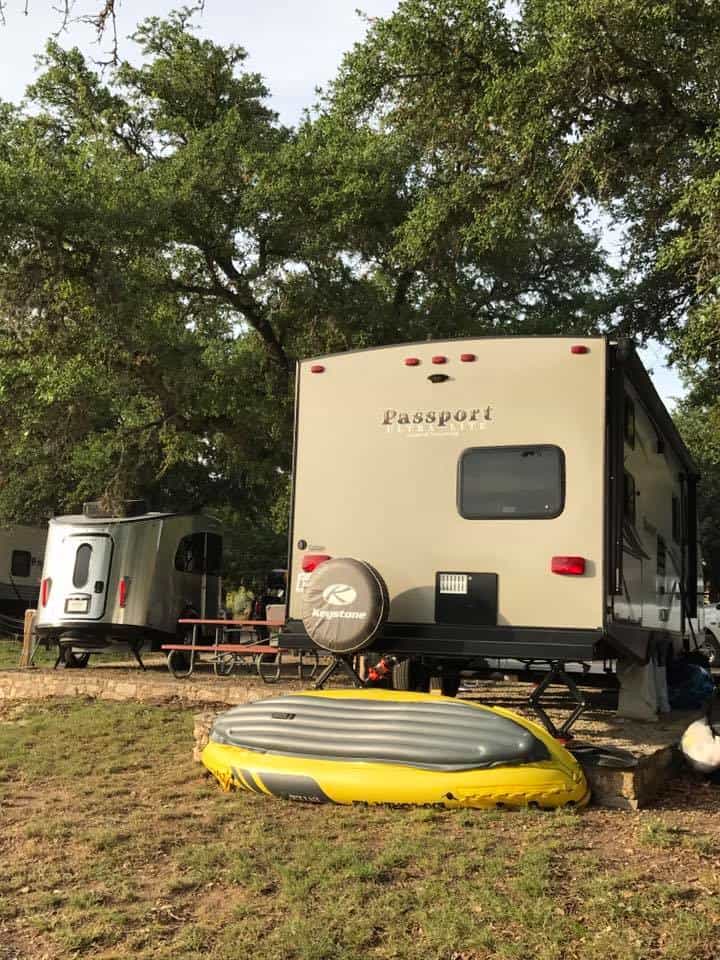 We stayed in places like Leander (my hometown), Georgetown, Burnet and Canyon Lake while we learned the ins and outs of RV life. After about a month of staying in the area, we headed north and RV'd our way through Colorado, Wyoming, Montana, Canada and eventually both the west and east coast.
I have so many fond memories of our time RVing in Central Texas both because it's my home and because we were at the start of an adventure of a lifetime together as a family. I remember many times sitting outside and saying to each other 'we did it, we really, really did it.'
While we're on the hunt for our next RV purchase, we plan on renting from fellow RVers so we can still get out and explore. We recently rented a travel trailer that we had delivered in the Dallas area so we could visit our daughter in college. You can read about our experience here.
So, are you ready to do some fall camping? We sure are!
Booking Your RV Campground Through Hipcamp
We found all of the following Central Texas RV parks through Hipcamp, where campers can book last-minute campsites. If you're looking for a one-of-a-kind camping trip Hipcamp has you covered by offering public and privately-owned properties you won't find anywhere else.
They offer everything from glamping, rustic camping sites, to an RV hookup at low prices making the outdoors accessible to everyone.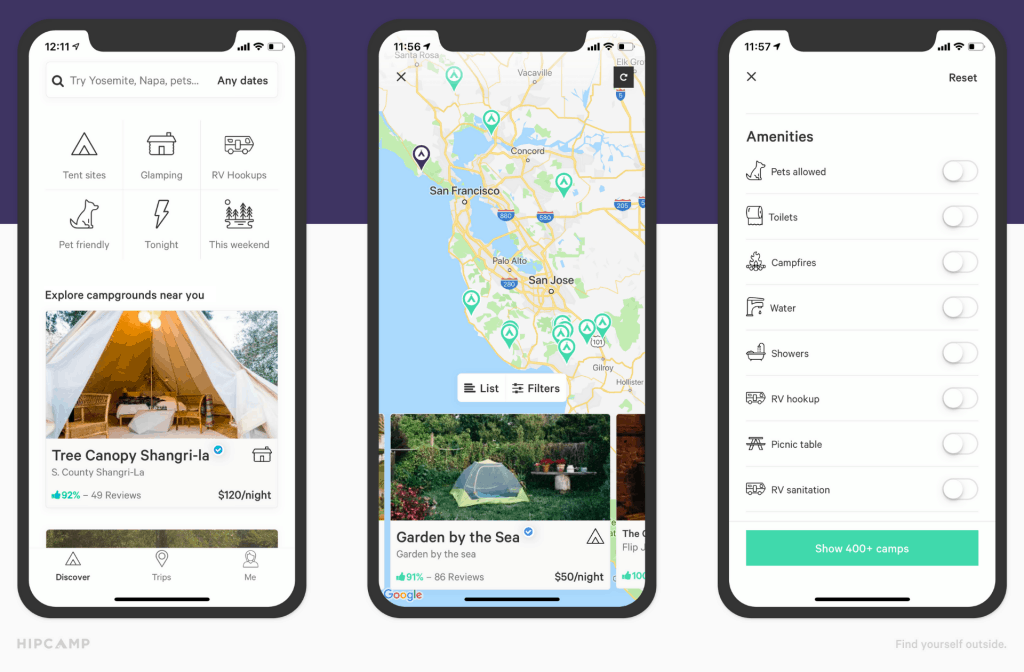 When you visit Hipcamp, you'll see that you can filter your search by campsites, lodging, RVs and even something called Instant Book.
And yes, they do have an app, making it super convenient to search for and book fantastic camping spots from your mobile device.
7 of the Best Unique RV Parks Near Austin, Texas
Friends that come to visit us from out of state are always a little surprised by the beauty of the Texas Hillcountry. Todd and I do our best to Keep Austin Weird, but to also get out and enjoy the beautiful natural surroundings the Austin area has to offer.
I am beyond excited to share the following RV parks we found on Hipcamp. Most of them are unlike any parks we've seen before and offer a unique camping experience. We now have a fantastic list of RV parks to stay at and experience fall in Central Texas.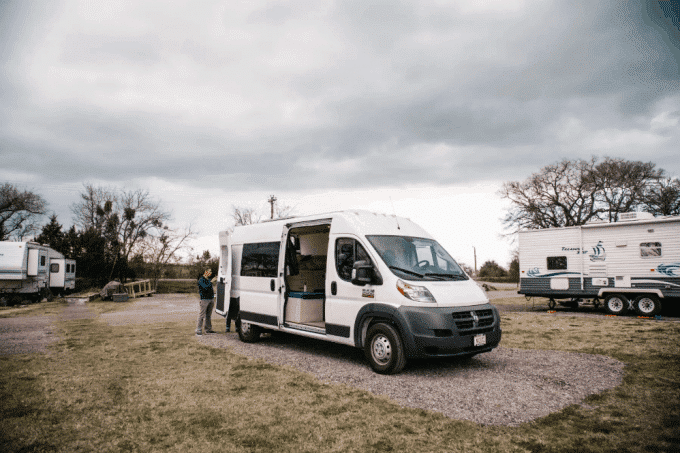 We're keeping Austin weird by bringing the world of RV and Urban Farming together. We have have pull-thru pads and a killer community space for all to share. 50 amp power, water, and septic.
There's one RV park in Austin, Texas which will go unnamed, that is almost impossible to get into. We tried. Our friends have tried. It's just always full! But it's in such a great location to enjoy everything the city has to offer.
I am so excited to have found the Austonia RV & Urban Farm location. It's only 15 minutes from downtown Austin and two miles from Circuit of the Americas. Of course, please note there are only four sites on location and they allow eight people per site.
I found out via their Facebook page and Instagram that they are new and expanding. Sometime in the future, they'll be offering water activities like pedal boats, water bikes, and dock fishing. We'll be keeping an eye on this place!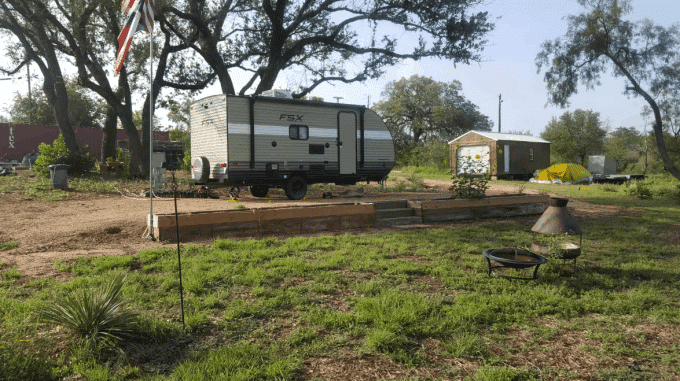 We have over 6 acres near Lake Travis, Marble Falls, Hidden Falls Adventure Park, Balcones Canyonlands Wildlife Refuge. Enjoy Hiking, Biking, Swimming, Sightseeing.
When Todd and I search for RV parks to stay at, we always read the reviews. Now, when it comes to negative reviews you have to be careful how to interpret it because sometimes the reviewer's bad experience has nothing to do with the RV park and everything to do with the RVer. Plus, some people just like to complain.
One quick read through the Orrasis Ranch reviews and I know right away this is a place I want to stay at. Here's a snippet:
We sat down around the fire pit and watched the sun set over the trees. There was plenty of dry wood to burn, and even though we were close to the main road, there was very little noise pollution; after a while we forgot the road was there. This dark sky location would be great for people interested in stargazing.
Campfire and stargazing? Yes, please!
One unique feature this place has to offer is how they are focused on sustainable camping. They are in the process of creating an off-grid experience with solar. They already use rainwater for drinking and watering their plants.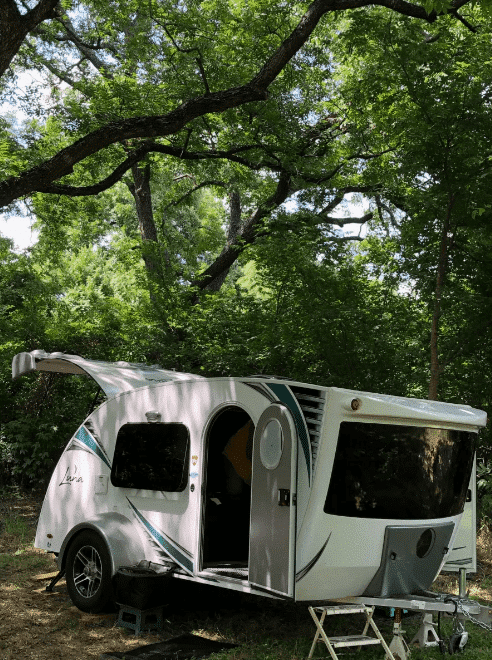 We have 2 RV spots on our farm w/electric hookup. One is easy to access, just off the quiet County Road w/views of the neighboring buffalo herd. Another is creekside under a pecan grove.
During our 17 months of full-time travel, we stayed at wineries and one cidery but never stayed at a farm. We visited one in Vermont, which was some of the most fun I've ever had, but RVing on a farm is still on our travel bucket list.
Both of the RV spots at this organic farm sound like the perfect getaway from the city. They are located close to Lake Buchanan, Longhorn Caverns, Burnet and Marble Falls if you want to take a quick day trip or two.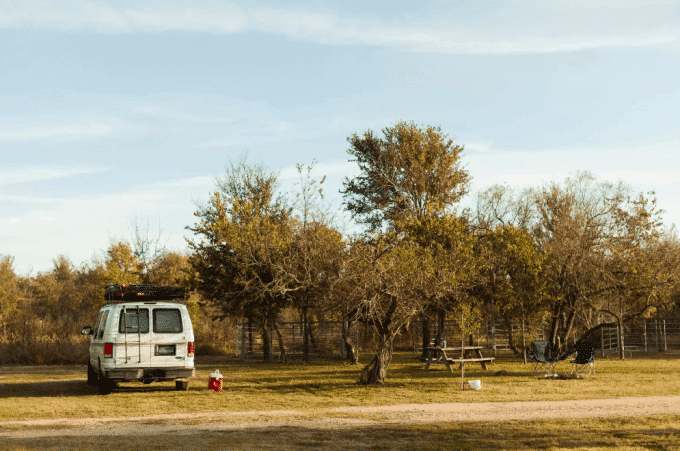 We're a small, quiet privately owned and operated, totally tidy and safe place to spend quality outdoor time alone or with family and friends. In business since 2001, we are located between Austin and Bastrop only 2 miles from LCRA's fabulous McKinney Roughs Nature Park with its 18 miles of glorious river and highland trails open to horses and hikers.
What was once a 'horse people only' campground for 15 years, has now been opened to anyone who wants to camp and enjoy the beautiful Texas hill country. They have 6 RV/tent spots with gravel pads and also offer water and 30 amp hookups.
They're located about 25 miles from Austin and 15 miles from Bastrop, a charming little town that has a lot to offer.
There are plenty of outdoor activities offered nearby such as hiking, kayaking, fishing and wildlife watching.
Also, if you bring a crowd, the Happy Horse Band will play for you!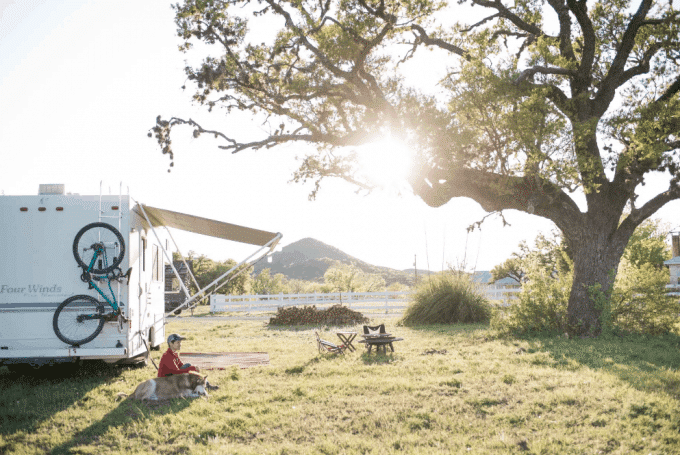 Recreation also plays a huge role on the ranch and host deer hunting, fishing, swimming, butterfly watching, hiking, bicycle riding, fossil hunting, stargazing, plus other activities that can be shared and enjoyed by the entire family.
When we are going to be staying at a location for more than a few days, there are two words that are music to my ears: full hookup. And that's exactly what this location, just west of Medina, offers.
Plus, it features a creek, a cave and a tribe of goats. Be sure to scroll through the beautiful pictures of this camping spot to fully grasp the beauty and serenity it has to offer.
It's nearby Garner State Park and Guadalupe River State Park, which offers great outdoor activities such as hiking and swimming.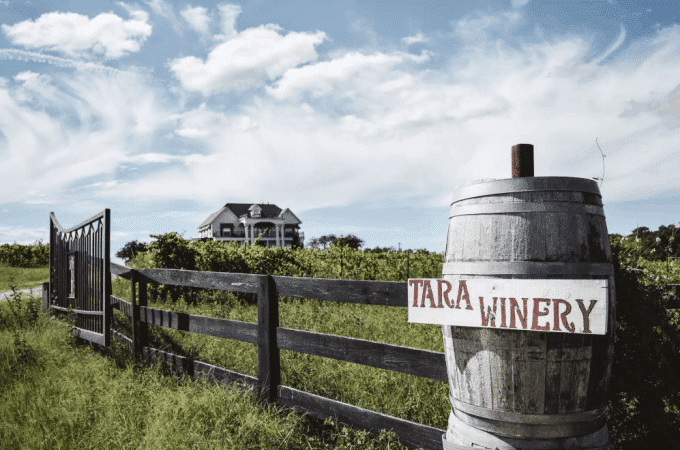 If you would like a beautiful view of the winery property, ground camping throughout the vineyard is available as well! There is quick access to our restaurant if you prefer to sit indoors, or pick up a ribeye from the chef and cook it yourself on the grill outdoors.
They had me at winery and 'pick up a ribeye from the chef.'
This RV camping spot is a little over 3 hours from Austin, making it a great little getaway. It features 8 sites with electricity hookups, has an on-site restaurant and is close to Purtis Creek State Park.
This looks like a beautiful, remote place to stay to get in some serious R&R.
Experience life on a homestead in the country. Surrounded by livestock and farm animals. Bring your own RV and connect.
Located about 2 1/2 hours from Austin, this location is a small farm on 5 acres and offer water and electricity hookups on their two sites. Visitors who reviewed this spot mentioned the community campfires and how fun it was to interact with the farm animals.
They also offer an RV on-site you can rent for $40 a night. It has three bunk beds, a master bedroom, and a foldout couch if needed. So, if you'd like to RV but you're lacking the RV part, a stay at this homestead, away from the city might be just what you're looking for!
---
Did these RV parks near Austin, Texas get you in the mood for some fall camping, nights by the campfire and a marshmallow or three on a stick?! Find a unique camping spot on Hipcamp and have a weekend you and your family will remember.
PIN THIS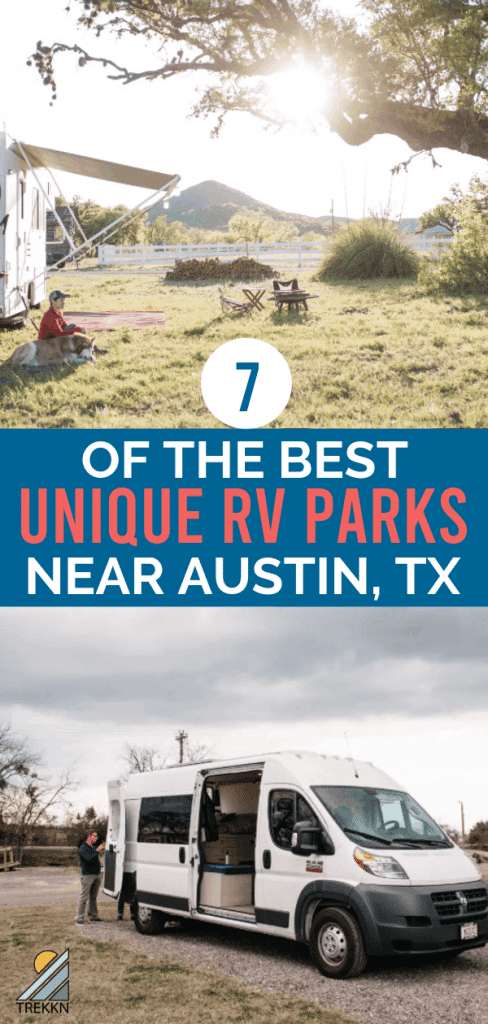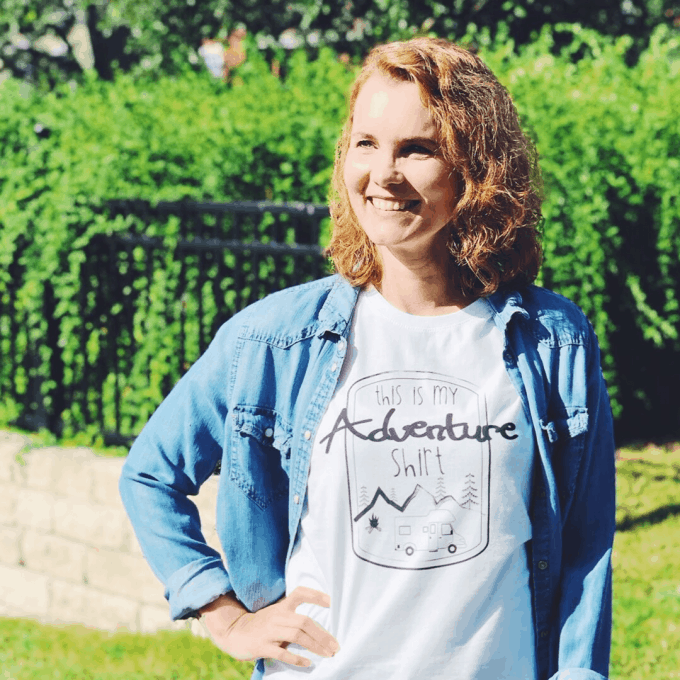 Julie specializes in helping you whip up delicious meals in your tiny RV kitchen, as well as RV organization tips and helping fellow RVers make their RV feel like home. Her favorite RVing spot is in Banff National Park in Canada where yes, the water really is that blue and the people really are that nice.