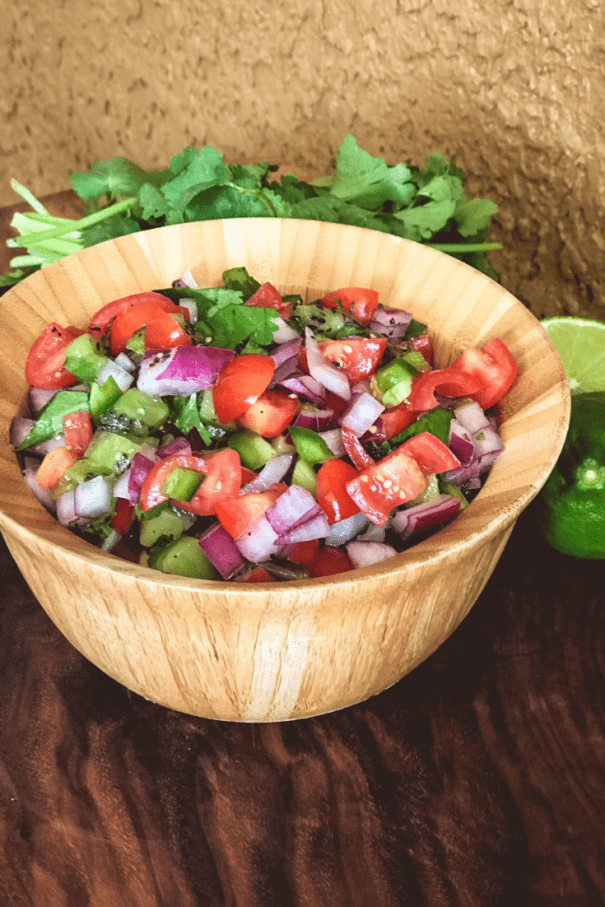 Looking for a pico de gallo recipe that's a little bit sweet and a little bit spicy? This jalapeno-kiwi pico de gallo is for you. Top your favorite fish tacos with it or scoop up a big serving on tortilla chips.
Cooking and RV Life
Although there are a lot of differences between full-time RV life and stationary living, there are also a lot of similarities. For example, we found out quickly that we all developed a routine of sorts on the road. Routines made us feel somewhat normal while living such an abnormal life and gave us a sense of stability.
Another similarity I quickly realized was how easy it is to get in a cooking rut. I found myself making the same things over and over and getting sick of it pretty quickly. I needed recipe ideas and fast. But not just any recipe. Nope. I needed recipes that were easy, could be made in a small space and didn't take an eternity to whip up.
So, because cooking, eating and reading cookbooks from cover to cover are some of my passions, I'm looking forward to sharing RV and camping friendly recipes with you. I've created a handy dandy page where all of the recipes will be nice and organized, making it easy to find exactly what you're looking for. You can see I've done quite a few recipe round-ups and in the early stages of TREKKN, I did some of my own recipes. I'm looking forward to sharing some of my favorites with you.
Without further ado, let's chat Pico de Gallo!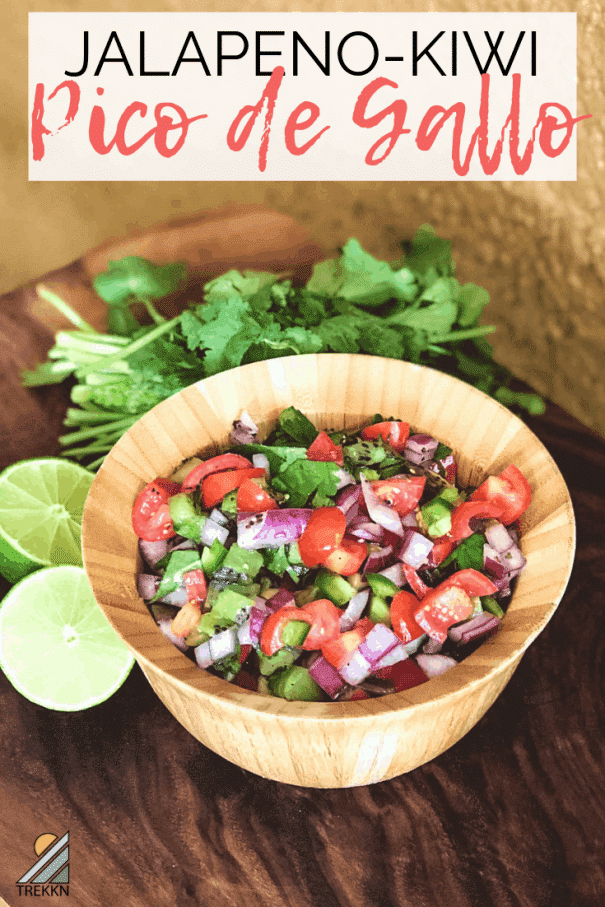 Jalapeno-Kiwi Pico de Gallo Recipe
I'm a Texan and pico de gallo is a necessity. Just like for some, a sandwich isn't a sandwich without mayo or it's a sin to eat french fries without ketchup. Tortilla chips, tacos, heck even eggs, should all be topped with pico de gallo. Who's with me on this?
Whether we're RVing full-time or heading out on the weekend, a container of some sort of pico de gallo makes me one happy gal. And while I love a classic pico, which you'll be seeing on here before too long, I also like to branch out a bit.
Pico de Gallo with kiwi in it? Yes, please!
Jalapeno- Kiwi Pico de Gallo Ingredients
The first time I had pico de gallo with kiwi in it was in one of our Hello Fresh meals. I've always been a big fan of kiwi, but the thought of putting it into salsa never really appealed to me, until I tried it. The Hello Fresh version is much simpler than this one and although I enjoyed it, it needed a little something extra for me.
Their version includes tomatoes, scallion whites, kiwi and lime juice. I wanted to kick it up a notch, so I added a few of my favorite pico ingredients.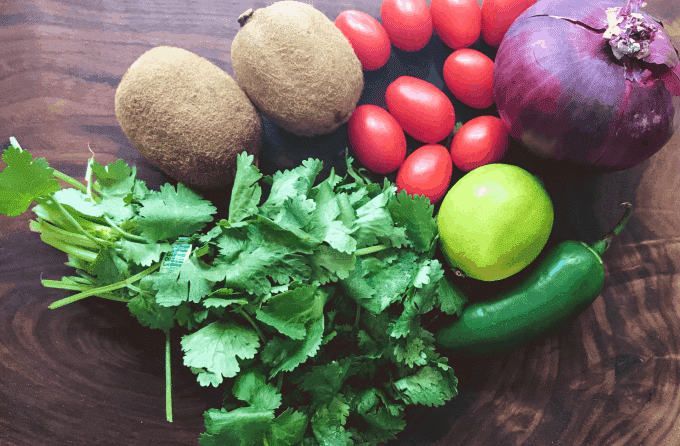 I added jalapeno, red onion and cilantro – three ingredients that added not only a ton of color but also flavor.
Here's a list of all the ingredients:
4 oz. grape tomatoes, diced
1/2 small red onion, diced (if your red onion is large, use about 2 – 3 Tbsp of the onion)
2 kiwis, diced
1 jalapeno, diced
1/4 cup cilantro, roughly chopped
juice of 1 lime
salt and pepper to taste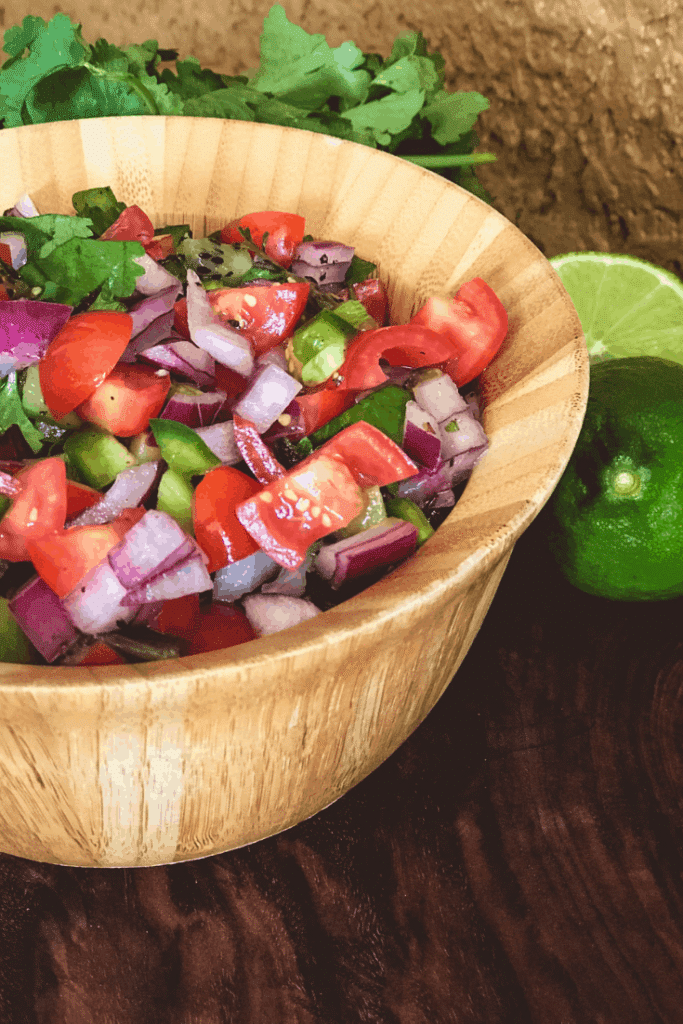 What to Serve This Fruit Pico de Gallo with
As I mentioned above, I like this best served on Spicy Fish Tacos with Lime Crema (recipe coming soon), but I imagine it would taste equally as yummy on pulled pork or chicken tacos. I'll try it and get back to you on that. 😉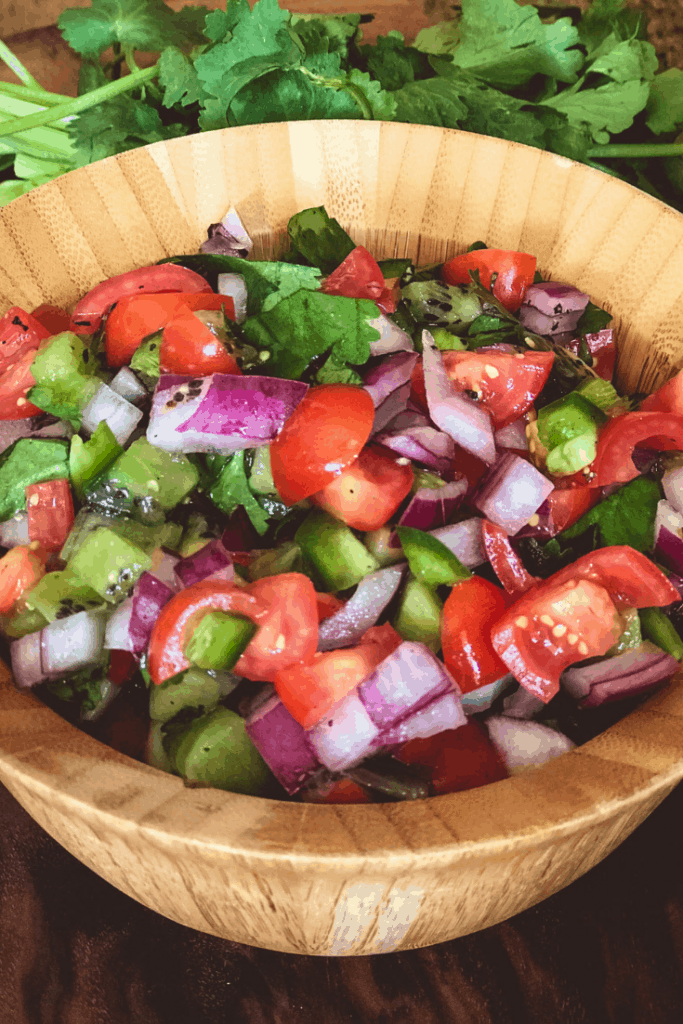 Like with all pico de gallo recipes, it's best to let this sit in the refrigerator for at least a couple of hours so the flavors will have time to really develop. But if you're in a time crunch, I can tell you first-hand that it's still yummy right after whipping it up.
Alternatives to Kiwi
If someone in your family or at your get-together is allergic to kiwi, or maybe just not a fan of the fruit, you can always make it with other fruits like mango or pineapple. There are about a gazillion different pico de gallo variations and I plan on sharing as many as I can with you. So keep checking back for more pico de gallo recipes!
Jalapeno-Kiwi Pico de Gallo Recipe
Here's the pico de gallo recipe. We hope you enjoy this as much as we do!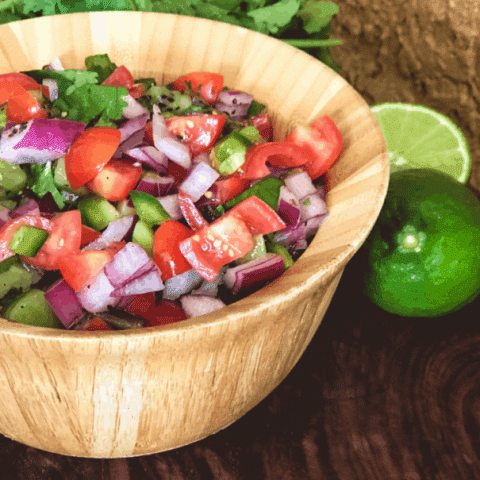 Jalapeno-Kiwi Pico de Gallo
This simple, easy to make pico de gallo recipe features a little sweet from the kiwi and a little spice from the jalapeno. It's the perfect fish taco topping!
Ingredients
4 oz. grape tomatoes, diced
1/2 small red onion, diced
1 jalapeno, diced
2 kiwis, peeled and diced
1/4 cup cilantro, finely chopped
1 lime, the juice
salt and pepper, to taste
Instructions
Dice the tomatoes, red onion, jalapeno and kiwi. Roughly chop the cilantro.
Mix the tomatoes, red onion, jalapeno and kiwi together in a bowl. Mix in the cilantro and the juice from one lime. Season with salt and pepper to taste. Mix and refrigerate for two hours.
Serve as a taco topping or with tortilla chips.
PIN THIS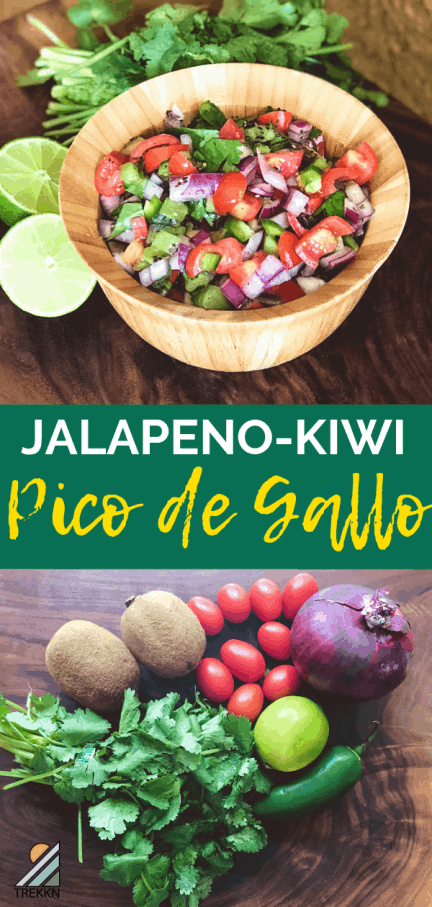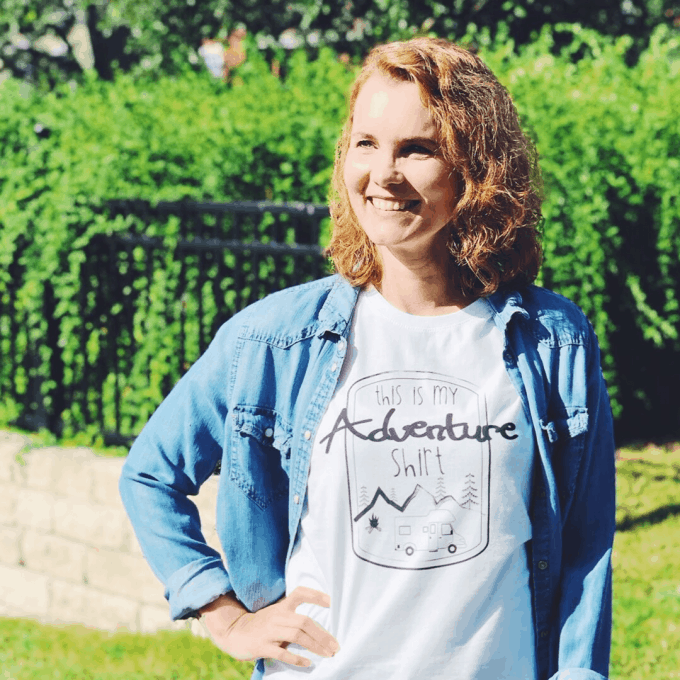 Julie Bonner is one-half of the TREKKN team. She specializes in helping you whip up delicious meals in your tiny RV kitchen, as well as RV organization tips and helping fellow RVers make their RV feel like home. Her favorite RVing spot is in Banff National Park in Canada where yes, the water really is that blue and the people really are that nice.