One of the most stressful things about going on an RV trip can be deciding what to feed your family. These 30 easy RV meals will get you started with meal planning, so you can confidently hit the road.
Have you ever gone on an RV trip or camping and felt like you spent most of your time preparing the food, cleaning up after eating the food, and generally just thinking about food?
Yeah, me too. I've been there and while I have no problem thinking about food the majority of my time (lol) I don't want to spend my entire vacation preparing meals.
During our year and a half of full-time travel, we got into a great rhythm when it came to meals.
Everyone was responsible for their own breakfast and lunch and dinner were either prepared by me or if we were in an area with a great local restaurant, we'd sometimes go out to eat.
I did a lot of cooking in our RV and learned a trick or two when it comes to preparing meals in a tiny kitchen. You can read a few of my tips here.
A few things I kept in mind when meal planning while RVing were, keep it simple, the Instant Pot was my best friend, foil packet meals were also my best friend and not to plan any meals with exotic ingredients.
Why? Because sometimes you find yourself in the mountains, shopping at an itty bitty grocery store and there's a good chance they won't have chipotle peppers in adobo sauce.
I hope the following 30 easy RV meals will help you with your meal planning. Oh, and some of these work well as camping meals too.
30 Easy RV Meals to Whip Up on Your Road Trip
"I loved how tender, light and fresh it was. It became an instant favorite. Now, I make it all the time in our RV because it's easy and healthy." – Campanda
"Just 3 ingredients and an Instant Pot and you're ready to go! We love it like I said, served in flour tortillas but we've served it over rice before too and it's just as good." – The Typical Mom
"Combine chicken breasts, peppers, salsa and more for an easy chicken fajita dinner. This Foil-Pack Chicken Fajita Dinner is easy on the cleanup crew." – My Food and Family
"This cheesy stuffed pepper casserole is a family favorite for sure! Like deconstructed stuffed bell peppers it's an easy casserole topped with lots of cheese you can throw together and even my kids love it!" – The Typical Mom
"This is the recipe I almost didn't discover. It was invented by necessity when we barely had any food left in the RV and were far from the nearest grocery store." – Campanda
"I'm always trying to create easy recipes that are great during the summertime. Especially during outdoor parties, picnics, and family dinners when school starts. That's where this Instant Pot Hawaiian pulled pork comes into play." – The Typical Mom
"You'll love this breakfast scramble! It's an easy, versatile, one-skillet breakfast filled with scrambled eggs, home fries, herbs and cheese." – COOKIE + kate
"And today, I'm bringing you a skillet cinnamon roll cake that is seriously easy, takes very little prep, and is AMAZINGLY delicious." – Chelsea's Messy Apron
"We have enjoyed this easy meal a couple of times in the last month because it is SO easy to make and everyone in the family enjoys the taste!" – Mama Cheaps
"Boring chicken breasts get smothered in a more grown-up version of much-loved honey-mustard sauce in this super healthy and easy one-pot chicken dinner." – Matters of the Belly
"One Pot Southwest Pasta – Dinner in under 30 minutes in one pot! Pasta, black beans, corn, and bell peppers with Rotel and taco seasoning." – The Wholesome Dish
"The bacon wrap is a genius way to secure fresh herbs in the fish, where the season the filets from the inside out." – Bon Appetit
"Instant Pot Beef Stew is such a comforting dish on a cold day. This easy pressure cooker recipe is full of tender meat with carrots, potatoes, sweet potatoes & celery." – Life Made Sweeter
"Paired with a bowl of fresh fruit, a few slices of bacon, and drizzle of maple syrup, and this will be a meal that will fill their spirits as much as their bodies." – Add a Pinch
"After the holidays, we're all looking for something a little quick and easy. These pressure cooker carnitas fit the bill perfectly." – Buns in My Oven
"This Spanish Rice recipe is made with ground beef for a main dish meal! Ready in less than 30 minutes!" – Add a Pinch
"Become the master of the grill this summer with this easy, flavor-packed Barbecue Steak Bites Recipe!" – DIY Thrill
"Looking to add a delicious Italian flair to your dinner this week?? This easy Crockpot Chicken Marinara recipe is such a fun and easy way to jazz up your weeknight menu!" – Never Ending Journeys
"Looking for an easy Teriyaki dinner?? These Crock Pot Teriyaki Chicken Drumsticks are the perfect fit for tonight's dinner!" – Never Ending Journeys
"This recipe couldn't be simpler, and the Sweet Potatoes make such a delicious dinner side!" – The Frugal Girls
"Since many of you have been asking for an Instant Pot version of Mama Robin's Mississippi Roast, here we are. This is for you!" – Amy + Jacky
"Everyone's favorite low country boil can be made so easily and effortlessly right in your pressure cooker in just 6 minutes!" – Damn Delicious
"This chicken filling is so easy to throw together. It uses a few simple ingredients and minimal prep." – Cooking Classy
"Instant Pot Mac and Cheese – made with just 5 real food ingredients." – Pinch of Yum
"Our Favorite Meal Now in the Instant Pot! Only One Dish to Clean and You Have an Easy Dinner Recipe!" – Julie's Eats & Treats
"Plain or with veggies, omelettes are really easy to knock together and super-satisfying. " – Jamie Oliver
"This spicy honey Instant Pot chicken takes just 4 minutes to cook and comes out moist and full of flavor!" – The Typical Mom
"This Avocado and Bacon Chicken Salad recipe is the best chicken salad recipe ever! It's great on rolls, stuffed into an avocado or served over lettuce." – Scattered Thoughts of a Crafty Mom
"I use this a lot in preparation for our travel day, so when we arrive at our destination or if we have a 2-day trip, everyone can be fed quickly even if something goes wrong and time is short." – The Roving Foleys
"They will be fully cooked and ready to eat – BUT – here's one last step that will take the taste from really good to amazing: place your ribs on a baking sheet if going into the oven or directly on your grill." – Mama Cheaps
We hope this roundup of easy RV meals helps you with your meal planning so you can have an epic and tasty RV trip.
Having meals planned that are easy to prepare and require little clean-up can help you enjoy your RV trip that much more!
PIN THIS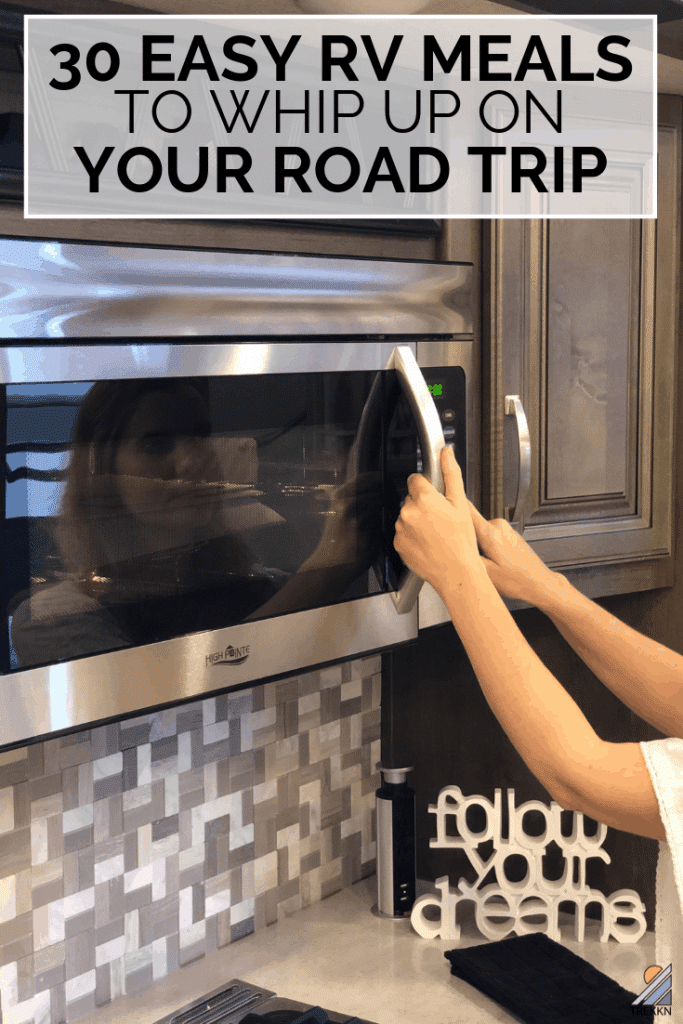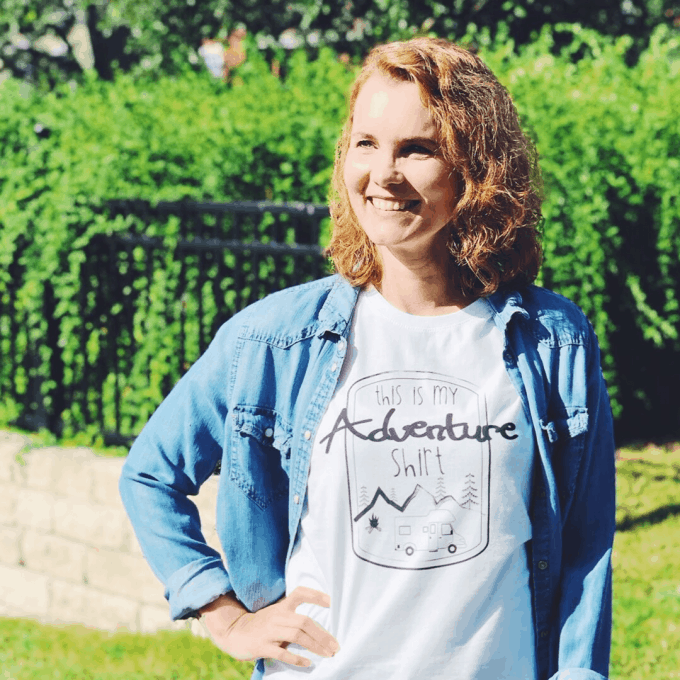 Julie Bonner is one-half of the TREKKN team. She specializes in helping you whip up delicious meals in your tiny RV kitchen, as well as RV organization tips and helping fellow RVers make their RV feel like home. Her favorite RVing spot is in Banff National Park in Canada where yes, the water really is that blue and the people really are that nice.