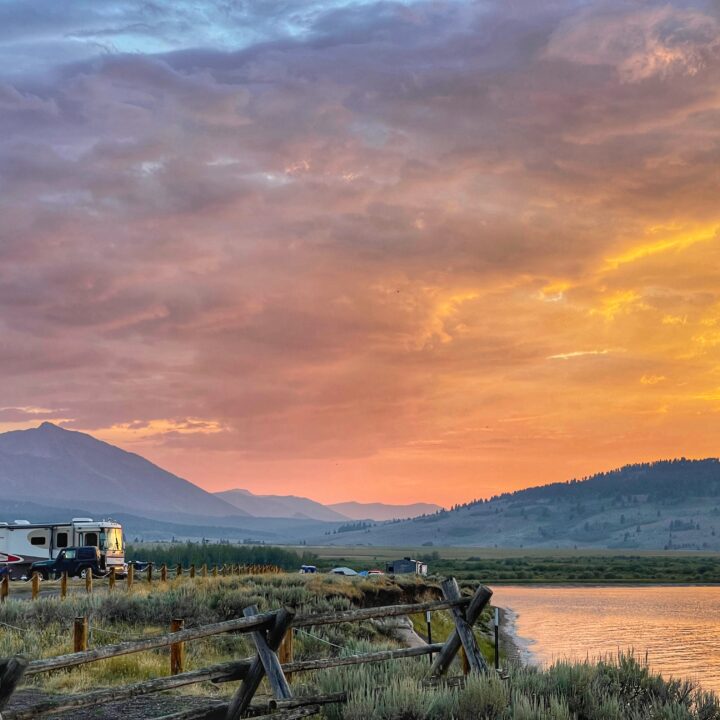 If you're heading out to enjoy our nation's vast public lands, these tips for BLM camping will ensure you are prepared to camp responsibly.
The Bureau of Land Management (BLM) manages one in every ten acres of land in the United States. Their mission is to sustain public lands for present and future generations.
As RVers, we're so grateful for these amazing public lands and for the access granted through the BLM.
There is BLM land in every state, but most of it is concentrated across 12 Western states. For recreational purposes, the BLM allows camping on public lands.
This can be at developed campgrounds or dispersed camping areas. Campgrounds typically require a fee, while dispersed camping is almost always free.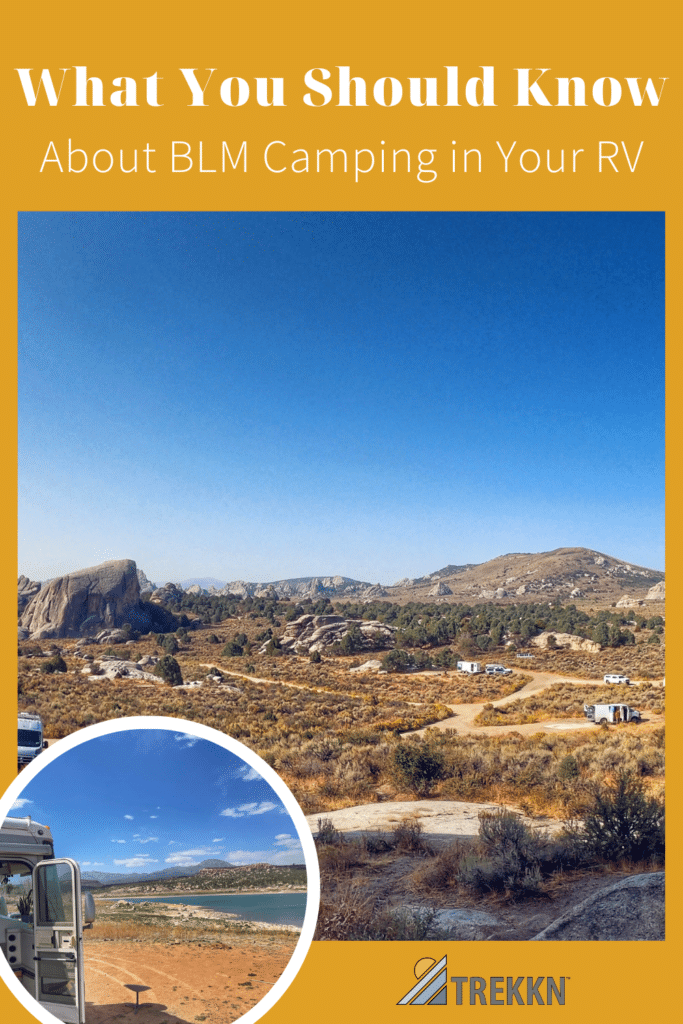 Where Do I Start with BLM Camping?
If you've never camped on BLM public lands before, you may want to start by choosing a destination. If there's a particular area that you'd like to visit, then you can figure out if there's BLM camping nearby.
You'll have the most luck finding BLM sites in Alaska, Arizona, California, Colorado, Idaho, Montana, Nevada, New Mexico, Oregon, Utah, Washington, and Wyoming.
Once you have an area or destination in mind, it's time to locate a spot. Let's start there, and then walk through the rest of our top tips for BLM camping.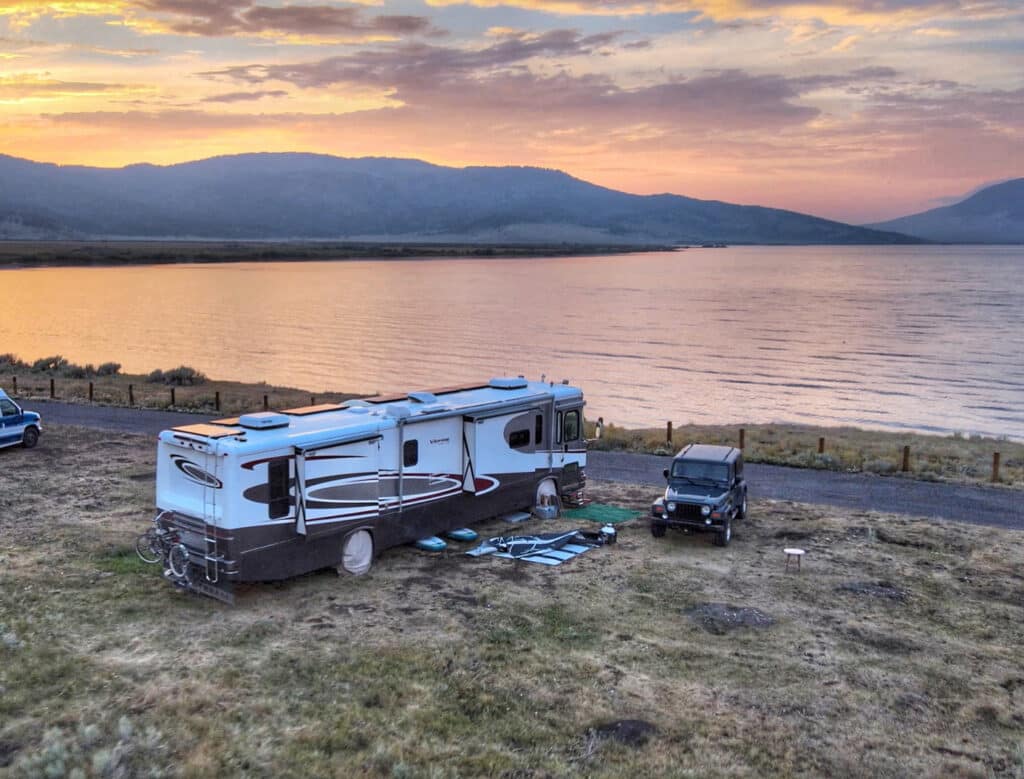 Locating BLM Camping Spots
Most BLM campsites are available on a first-come-first-served basis (so arrive early to get a spot). You can call the local field office or visit the regional webpage for more details and information about camping areas.
For example, this page for BLM Arizona shows all of the regional field offices, and which camping areas are located in each region.
Dispersed camping areas are generally located along secondary roads, and may be a bit harder to locate than a developed campground. Scout ahead in a capable vehicle whenever possible.
Look for fire rings or other obvious disturbances to the natural landscape, and please camp only in the already disturbed areas.
USING APPS
If you're using an app like Campendium or Free Roam to plan your camping trip in advance, there will be a "public" filter option. The public filter will show you all of the public lands available, including BLM, National Forest, National Park, State Park, and county park lands.
This can be a great way to make a plan with backup options (in case the space is full or doesn't accommodate your size or style of RV). Read as many reviews as you can, as other RVers may leave invaluable tips about a low-clearance bridge or other hazards or potential obstacles to consider.
FIND A BLM FIELD OFFICE
In addition, the local BLM field offices provide a wealth of information. They'll know if your RV can fit in a specific spot, or if the road is washed out due to recent rain.
We highly recommend stopping in whenever possible on your travels to ensure you have the best experience possible and ensure you are aware of all guidelines and recommendations for using the land properly.
Safety
In our many years of camping on public lands, we've most often felt safe and have even become friends with many of our camping neighbors.
That being said, there have been a few times when we got a weird vibe or something just felt "off". In those instances, we trusted our gut and continued on to the next available option.
Use good judgment and leave if an area feels unsafe. We hope you don't, but if you have a situation where you suspect a crime, please use follow the instructions below from BLM.gov.
Report crimes to resources including vandalism, dumping, and suspicious activity at 1-800-637-9152.
NATURAL HAZARDS
In addition to watching out for potentially suspicious activity on public lands, be very aware of your wild, natural surroundings.
While camping, you could be threatened by wind, water, or any bad weather. If you're camping near a river, be sure to check the local weather and make sure high volumes of rainfall aren't expected overnight. A rapidly rising river could wash your campsite away.
This is one of the many reasons why we like to stop at the local BLM field offices before we choose a campsite. A little knowledge can go a long way!
Etiquette
There are actual, written guidelines for camping on public lands, and then there are some unwritten rules.
Don't be "that guy" that ruins a beautiful weekend in nature for everyone else. Instead, just be aware of and follow these simple rules.
OFFICIAL BLM GUIDELINES
Unless otherwise posted, quiet hours are from 10pm- 6am
Always build fires in existing fire rings, and never leave your fire unattended
Check current fire conditions to see if fires are permitted, never have a fire during a fire ban
Camp in established sites, do not create new sites
Camp at least 200 feet away from any water source
Pack out all waste
UNWRITTEN RULES AND GUIDELINES
Leave it better than you found it, pick up some litter and take it with you when you leave.
Don't cut branches off a tree because you forgot firewood.
Never carve into tree bark, or scratch markings into rocks. Leave no trace.
Don't park too close to other campers. Give some space. Don't block their view or cramp their style.
Please don't run your generator all day.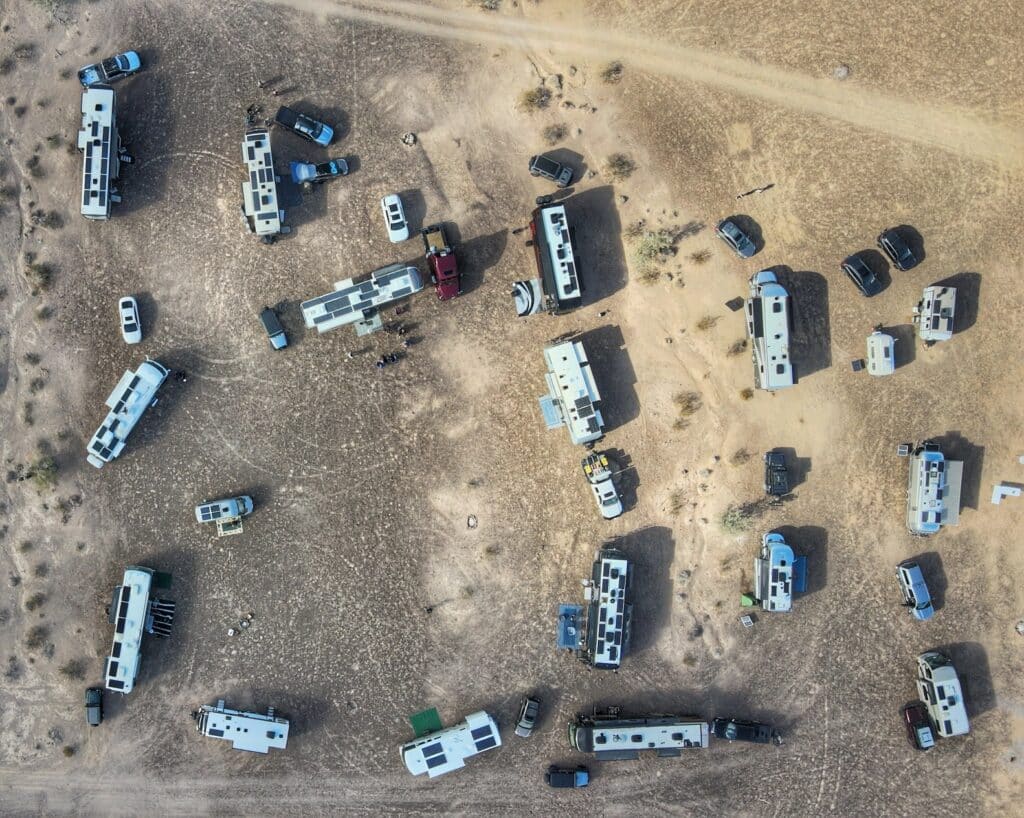 Length of Stay at BLM Camping Spots
Generally speaking, dispersed camping is allowed on BLM lands for up to 14 days in a 28-day period. Always confirm the regional specifics in advance for any camping area you're headed to.
But sticking with the most common stay limit, what does this really mean?
According to BLM.gov:
"The 28-day period begins when you first occupy a specific location on public lands. You can reach the 14-day limit either through a number of separate visits or through 14 days of continuous overnight occupation during the 28-day period. After the 14th day of occupation, you must move outside of a 25-mile radius of the previous location until the 28th day since the initial occupation."

BLM.gov
This usually only becomes a point of concern with full-time RVers, and is not as much of an issue with recreational campers.
The reason for these rules is to prevent damage from continual use of any one area. Basically, once you've stayed for two weeks, it's time to move on.
You don't have to go far, but you need to go at least 25 miles away. It's a simple way to care for the land you are privileged to be able to use.
Setup for BLM Camping
Anyone can camp on BLM land with as little as a tent. Heck, you can even sleep in your car.
However you choose to camp though, BLM camping means you're camping off-grid with no hookups. With this in mind, we've rounded up our top five essentials for a good off-grid camping setup.
SOLAR PANELS
From fully installed RV solar systems to simple, portable suitcases, solar is widely available and quite affordable today.
If you're a camper who needs power, going solar means no more generator noise. And everyone will thank you for that; you'll also thank yourself!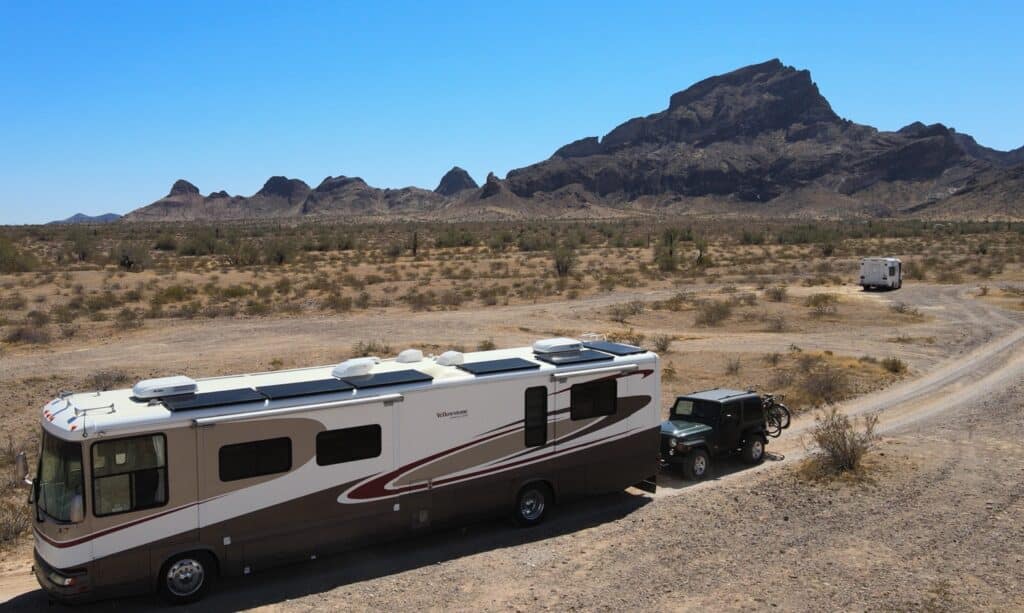 BATTERY OR SOLAR-POWERED GADGETS
Even if you have a battery bank in your RV, it's always nice to have small gadgets that don't drain power when the sun is down.
We love the Luci light by MPOWERD and it's grown up with us from tent camping to car camping to RV camping.
We also have a battery-powered white noise machine which comes in very handy!
OUTSIDE PATIO
We like to have a mat, chairs, and a table for a quick pop-up patio. Especially if you are dispersed camping on BLM land, there won't be a picnic table or any amenities at the site.
We love our CGear sand-free mat and Helinox sunset chairs.
As for a table, really anything will do, we have a plastic folding table from Walmart that we throw a tablecloth on. It works really well in these remote locations.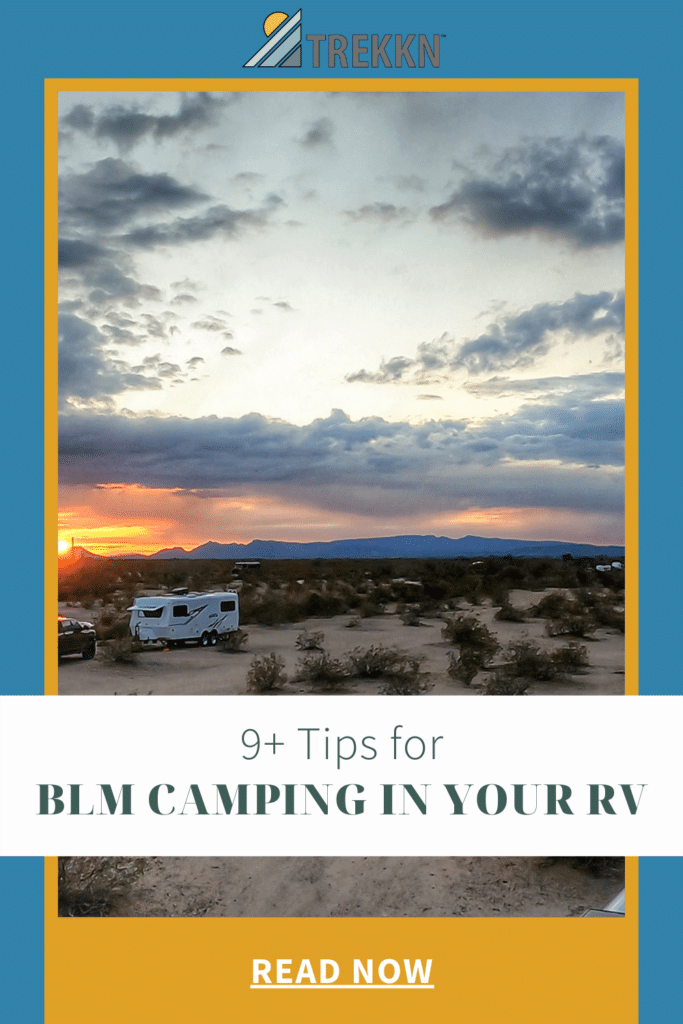 PORTABLE WATER JUGS
If we're heading out for a two-week boondocking trip, we fill our RV fresh water tank and also bring portable jug.
You can reuse a regular gallon jug you might already have in your recycle bin. Or you can buy a bigger water storage container from many locations, such as Amazon who of course has all shapes and sizes.
We like to have the extra water on hand, but also it's easier to go out and fill water bottles than to move the RV if you start to run low.
FIRST AID KIT
While BLM camping, you may be many miles from the nearest town. It's always smart to have a basic first aid kit with you.
This can help with insect bites, minor scrapes or burns, and even cactus quills (all of which are likely and common with off-grid camping).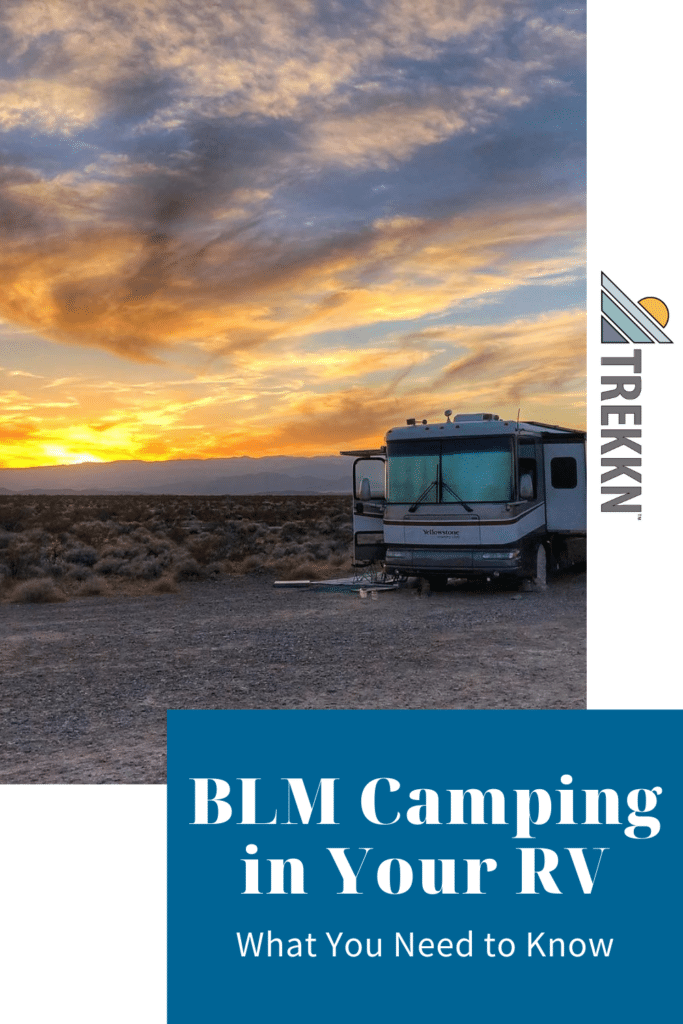 Backup Plans
As mentioned in the "locating spots" section, it's a good idea to have backup options if you're planning to camp on public lands. We typically have 3 options for every area we want to visit.
For example, when we camp near Las Vegas, we start south of the city and work our way north if options don't pan out.
A camping area may be full, or too congested for your liking. You might get a bad vibe for an area. A campsite may be too small, or inaccessible for your particular RV.
There are dozens of reasons you may not be able to camp at your first choice campsite. Our best advice is to stay flexible and always know your backup options in advance.
Is BLM Camping Right For You?
After reviewing all of the ins and out of BLM camping, do you think it's right for you? It may sound like a lot of research and effort, but it can be oh-so-worth-it when you score that epic spot.
Our public lands are incredible and vast, and camping is an intimate way to experience them.
Get out there and enjoy your public lands, just remember to leave it better than you found it!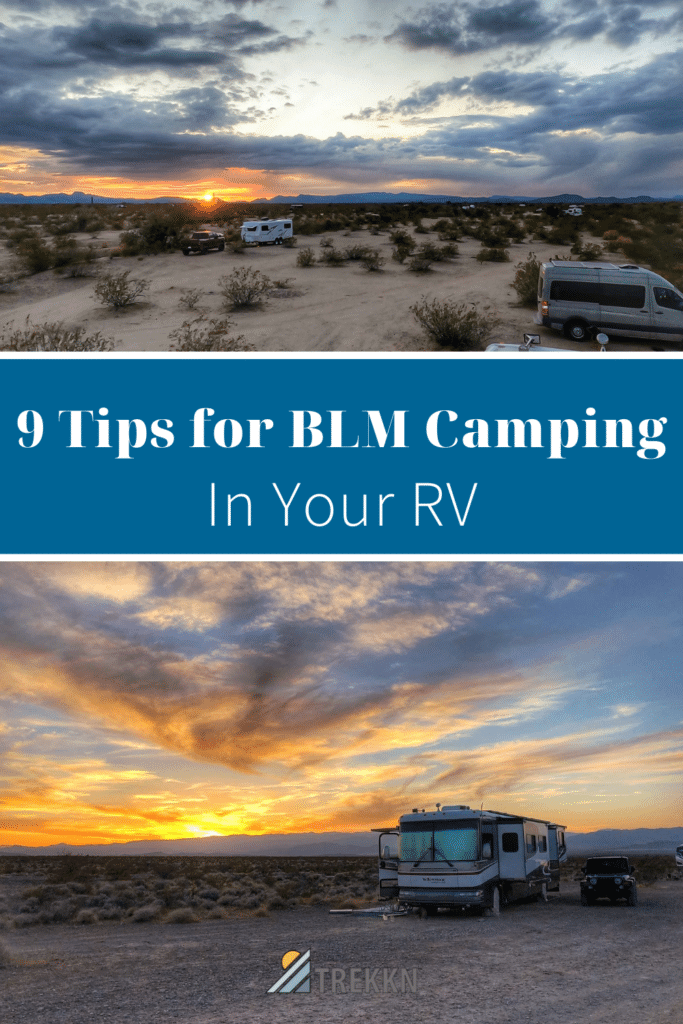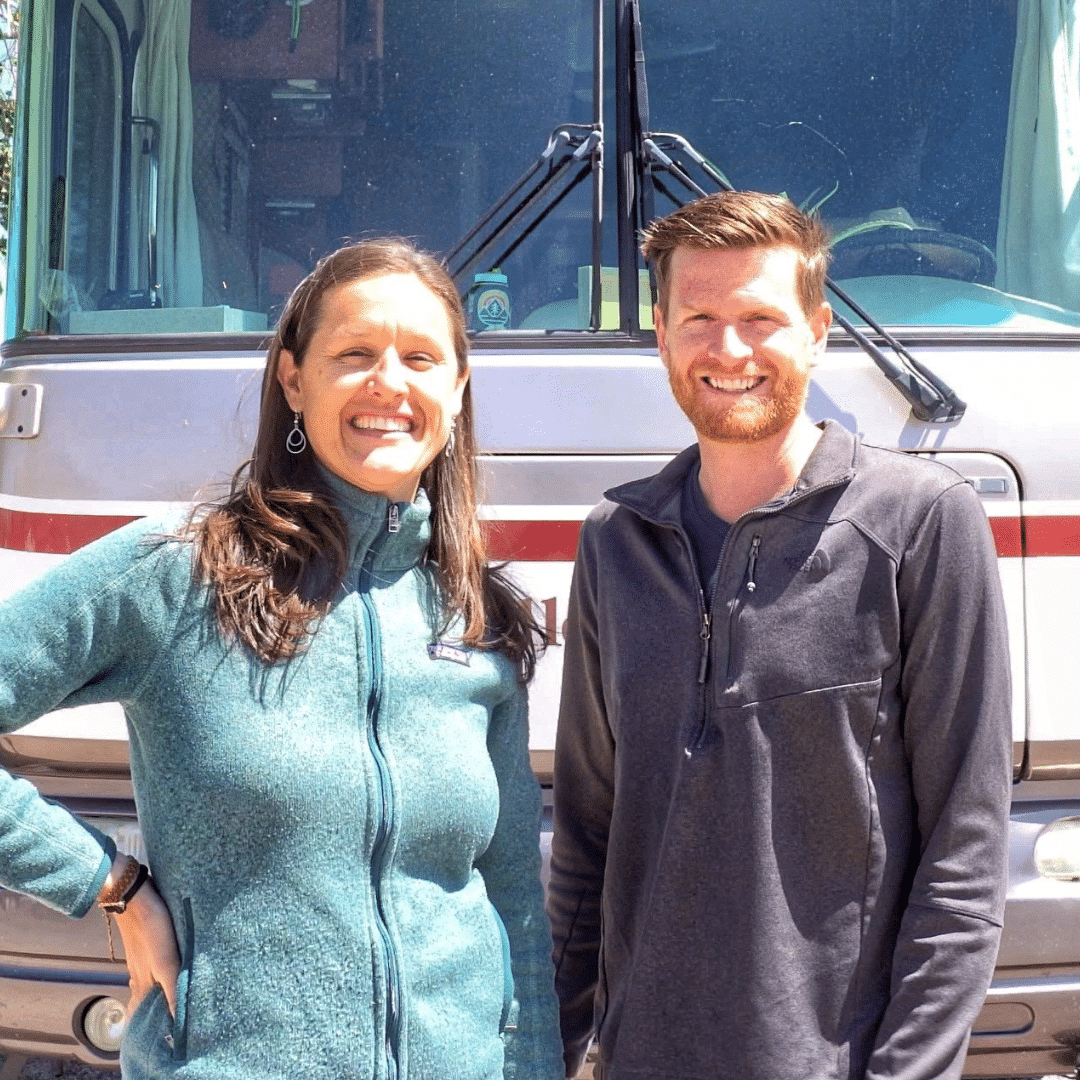 Kristen Sargent lives & works from her RV, primarily boondocking off-grid. She owns and operates a women-led travel company, Legit Trips. Kristen loves to explore new places and inspire others to do the same. If she's not typing away on her laptop, she's off on an adventure- hiking, biking, or SUP boarding. You can follow her RV adventures @PerpetualMoves and learn more about her travel company at LegitTrips.com.