11 Small Campers with Bathrooms: Amazing Pop Ups, Teardrops and Tiny Trailers

Small campers with bathrooms offer the perfect escape combination.
Because sometimes, you just need to get away. Period.
Away from the media. The hustle. The connectivity. Away from the noise.
But…it can be really hard to also be away from the toilet no matter how much you love tiny travel trailers. Let's face it: For some of us, that toilet is an absolute necessity in order to actually enjoy an escape.
Small Campers with Bathrooms: 11 Pop Ups, Teardrops and Tiny Trailers
Luckily, the RV industry has something to offer just about every "escape artist" out there. Whether you feel that you need luxury on the road, or you just need that "ivory throne", it's not incredibly hard to find exactly what works for you.
But we are going to make it even easier for you by pulling together this list of the top 11 Small Campers with Bathrooms. These lightweight escape pods will allow you to detach and recharge without throwing a kink in your "bathroom routine", if you know what I mean. And we will cover pop up campers, teardrop campers and tiny travel trailers so you get a good sampling of your options.
One word of warning: When it comes to these small campers, smaller doesn't always mean cheaper. It's very clear that you pay for innovation and for overall quality as well. So brace your bank account for this deep dive into the world of (not-always-so-cheap) small camping trailers with bathrooms.
Pop Up Campers with Bathrooms
We've got three fantastic pop up campers with bathrooms to start off our list of adventure capsules. All three of these have not only the toilet as an option, but also the shower. You will have all the conveniences you need to keep smelling fresh and clean while you get neck deep in nature. Isn't that what it's all about?
Aliner Family Scout A-Frame Pop Up Camper
There's no better place to start off our list of small campers with bathrooms than with a high quality hero of tiny camping: the Aliner Family Scout.
Born in Bend, Oregon in the early 1970s, this revolutionary design was the brain child of Ralph Tait. Ralph and his two sons worked tirelessly for years, after moving to Pennsylvania, to continue selling these exceptional recreational vehicles. Father and one son would build a unit while the other son would drive the country with the Aliner in tow until he sold it. When they got too tired, they retired in 2007 and the company is now under new ownership that holds to the same founding principles.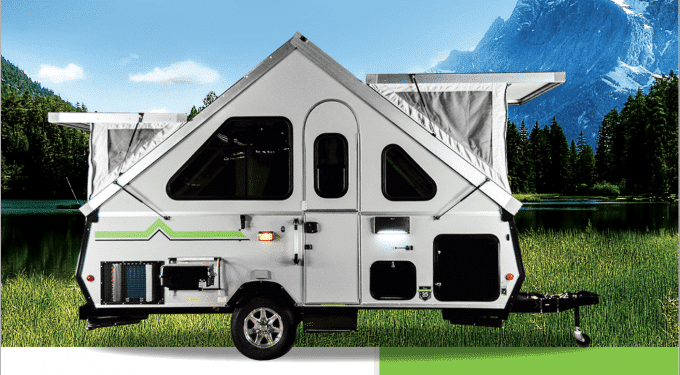 If you love pop up campers with bathrooms, look no further.
The Aliner Family Scout offers plenty of handy features and benefits at a price that is doable for the average adventuring family with a passion for the outdoors. Just take a look at the floor plan of this particular model and all of the amenities it includes: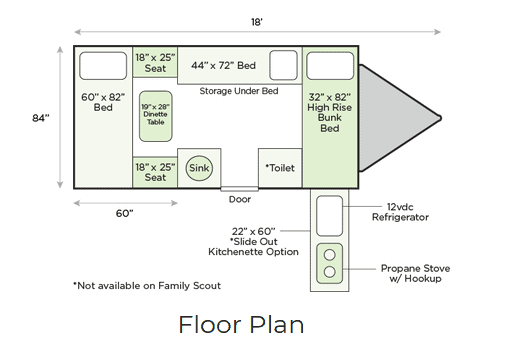 Are you more interested in the "down and dirty" specs of this masterpiece? You can click here to download an Aliner PDF brochure or just refer to the image below for some of the basic specs.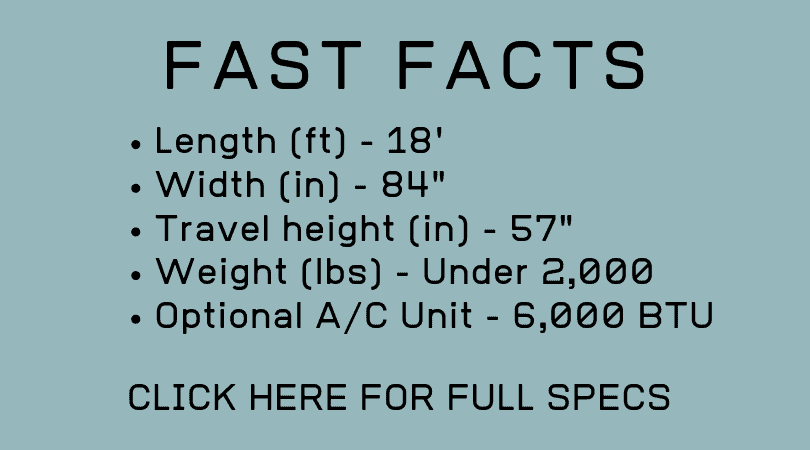 And as with all Aliner small campers, the Family Scout also comes standard with:
PerforMax 500 Flooring
Torsion axle
10″ electric brakes
Diamond plate stone guard
Solar port
35 amp converter
Aluminum wheels
Fan-Tastic Fan
And LOTS more…
If you have to have that toilet on the go and you want to get out there in unquestioned quality and comfort, the Aliner Family Scout deserves your undivided attention.
*Note if you want your escape pod to include a propane connection and a water pump for added convenience, you will need to consider an upgrade to the Aliner LXE model instead.**
Jayco Jay Sport Pop Up Camping Trailer
Next in our lineup of small camping trailers with bathrooms, we go to a proven performer in the RV world.
If you have spent any time at all exploring the world of RVing, then I can be almost certain that you have come across the name Jayco. They are a major player in the RV space and offer everything from camper trailers like the Jay Sport Pop Up Camper all the way up to Class A motorhomes. They hit every major group in between those as well, so it's hard to miss them!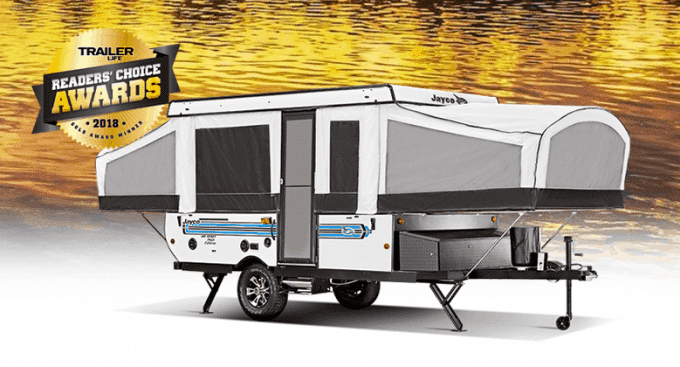 But the Jay Sport Camping Trailer is what we are focused on today, and more specifically on the 12SC floor plan option. It has so much to offer the outdoor adventurer, including the all-important option to add in a bath/shower in lieu of a storage cabinet near the entrance.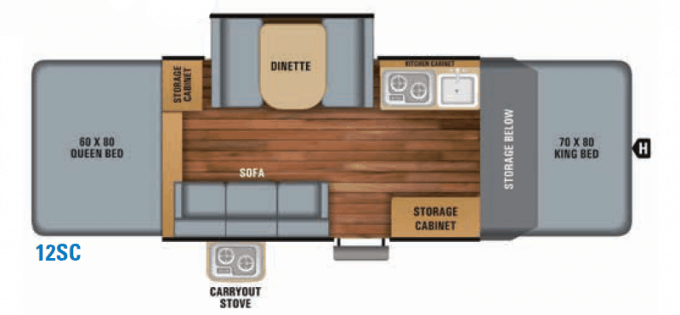 With the large dinette situated in a slide that pops out, your livable space expands and you have the ability to truly enjoy your camping experience with the whole family along for the ride.
With a dry hitch weight of only 235 lbs on this pop up camper, you will be able to tow it with just about any small SUV or crossover. (Always check with vehicle manufacturer to ensure a safe towing experience!)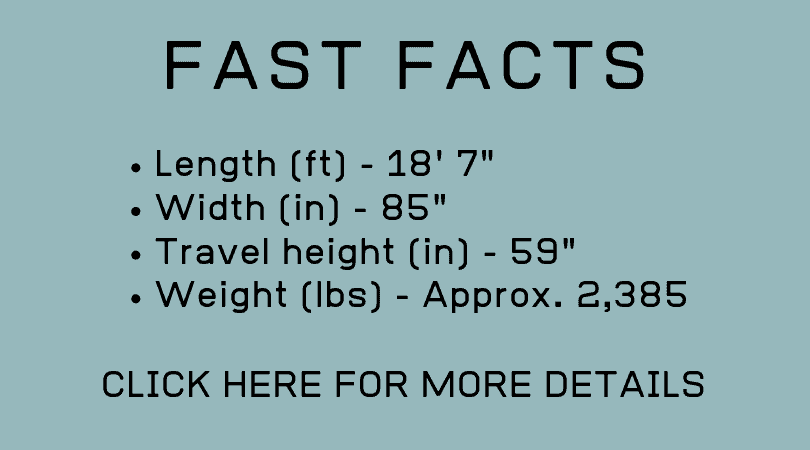 As if that wasn't enough, this Jay Sport floor plan also features:
Jackknife Sofa
American made Dexter axles
5-Year warranty on frame, floor, lifter system, bed platforms, tents & roof
That warranty means you can enjoy your escape with peace of mind, knowing that Jayco stands behind their product and will take care of you.
__________________________________________________________
What About 'Trying Before You Buy' with Small Camper Rentals?
Pardon the interruption, but I think at this point you should be aware of our plan when it comes to finding the next RV that will be perfect for our needs. It might be exactly the idea you're looking for.
You see, we have decided to try renting our way to our next RV purchase, which you can read all about by clicking here.
The worst thing any of us can imagine is making the wrong choice when it comes time to purchase an RV. That is especially true if you plan to live in it full-time! (Our most likely path.) So we are trying several different RVs on for size, from small camper vans to spacious travel trailers to adventurous driveables.
So far, we have used Outdoorsy as our rental platform of choice. And we have been very pleased. Here are a couple of small campers (see images below) in our area that rent for $75-$100 per night. A weekend in one of these will be money well-spent and will give you a much better idea of whether this is a realistic RV option for your particular situation. Not to mention it will be a blast to just get away!
So, maybe it's time for you to try before you buy. At least consider it as one reasonable option on your path to your next small camper purchase!
__________________________________________________________
Aliner Somerset Utah Pop Up Camper
With the history and quality of the Aliner brand that we covered earlier, it really shouldn't come as a shock that we are featuring a second small camper from this brand in our Top 11 lineup.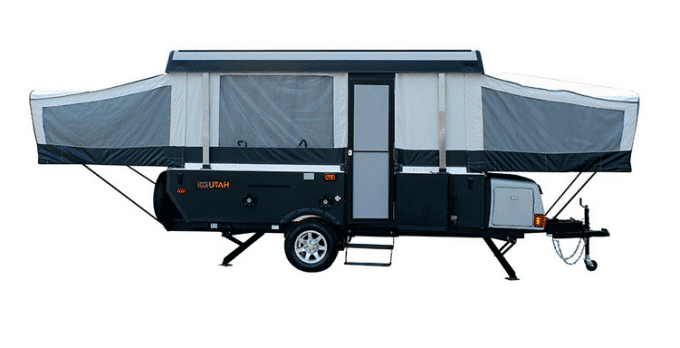 But because this model, the Somerset Utah Camping Trailer, is a more standard pop up camper design, you will find a bit more space to move around. In fact, they refer to the Somerset lineup as "an open floorplan for the open road". And it shows!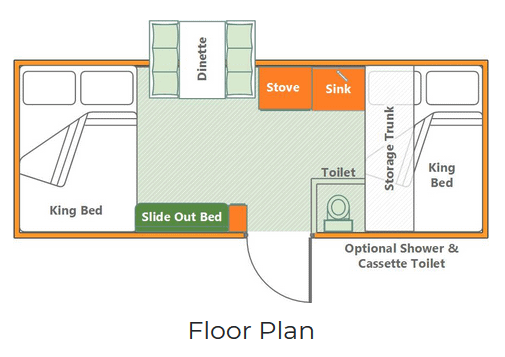 The Utah comes equipped with two king size beds measuring 77″ x 70″. In addition, the dinette converts into an additional bed measuring 71″ x 43″ and a fourth Slide Out Bed is also available right by the entrance.
As you can see in the floor plan, the Utah comes standard with a toilet and also with an outdoor shower. You have the option of upgrading to an indoor shower with cassette toilet.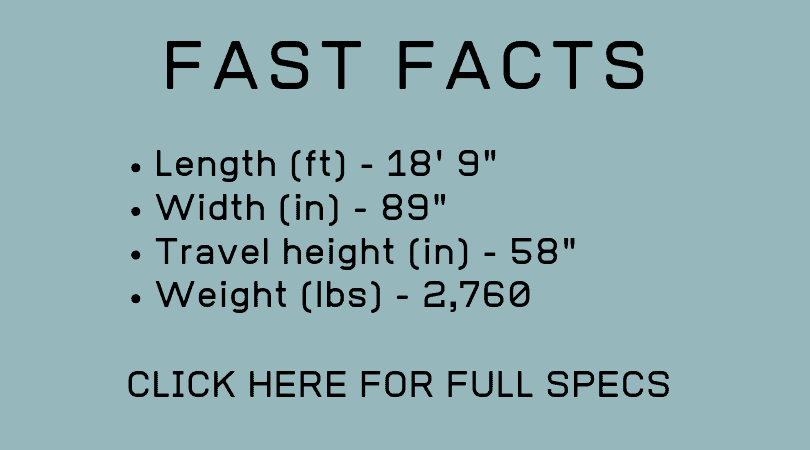 As we mentioned above in the Family Scout small camper section, all Aliner campers come with many standard features. Here are a few more standard features you will find on the Utah:
Air Conditioner prepped roof
Outside Grill
Self-storing back-saver bed supports
Double 20-lb LP tanks with cover
30 cu. ft. waterproof storage bin
You won't find much you can't love on the Aliner Somerset Utah Camping Trailer. As one of our highlights in this list of small campers with bathrooms, it clearly shines in many ways and is a very affordable option. Much more affordable than the teardrop trailers we are about to cover, which can easily double your cash outlay!
And you can click here to see Aliner's full lineup of Somerset camping trailers.
Teardrop Campers with Bathrooms
As I warned you, moving now from pop up campers to teardrop campers, you can expect a sizeable jump in expected cost. While the Alto Safari Condo we will cover below is likely the most expensive option, the others are not too far behind.
But believe me when I say that these are all very high quality recreational vehicles that are absolutely build for the "long haul". Compared to a pop up camper, you can expect them to last years longer because of the more durable components and lower risk of water damage. So let's take a look at the first teardrop camper with bathroom in our lineup!
TAB 400 Teardrop Camper
To start off our list, we've chosen the sleek, stylish and well-appointed TAB 400 Teardrop Camper by nuCamp RV which sleeps up to 3 people. Yes, it does also come equipped with a wet bath, including fold down sink as an added space-saving feature.
nuCamp makes it clear on their website that their goal is to furnish you with the most exceptional recreational trailer on the market:
In building every nüCamp product, our charge is to construct it with the utmost care, employing only the highest grade materials. From the all-aluminum framing to the beautiful, pure birch interiors to each individual component, we take great pride in the construction process and strive for perfection. We want you to enjoy your trailer in every way possible: functionally, practically, and aesthetically.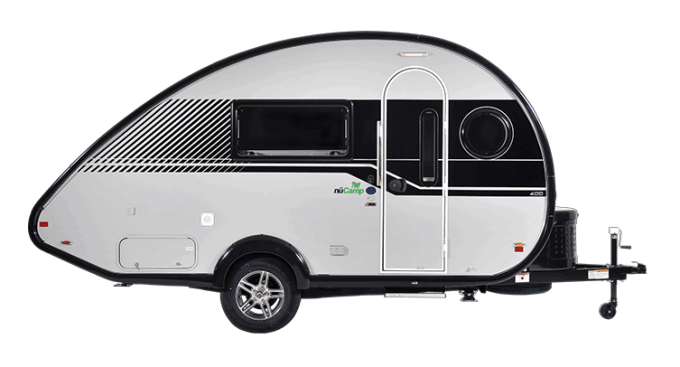 There is just something about that teardrop trailer shape that grabs you, right? It just jumps right out and says, "You must have me. You must have me now, fool." Or maybe it's just me…
Either way, you are going to love the floor plan and the features that this bad boy is loaded with. It is quite impressive, I must say.
Standard Features Galore!
The TAB 400 base package is not light on offerings and includes all of the following:
Central air conditioning
2-way fridge (propane/electric)
Sink/shower/toilet
2-burner stove
3-way Fan-Tastic Fan
24″ TV /DVD/AM/FM/ Bluetooth®
22 gallon fresh water tank
18 gallon gray water tank
12 gallon black water tank
And too much more to list here…
Concerned about your ability to tow this beautiful vehicle with your own vehicle? With a wet tongue weight of only 372 lbs, most SUVs and well-equipped crossovers will be capable! (**Note: Always check manufacturer specs for your vehicle and ensure that you are able to tow safely before attempting. Don't take anyone's word for it.**)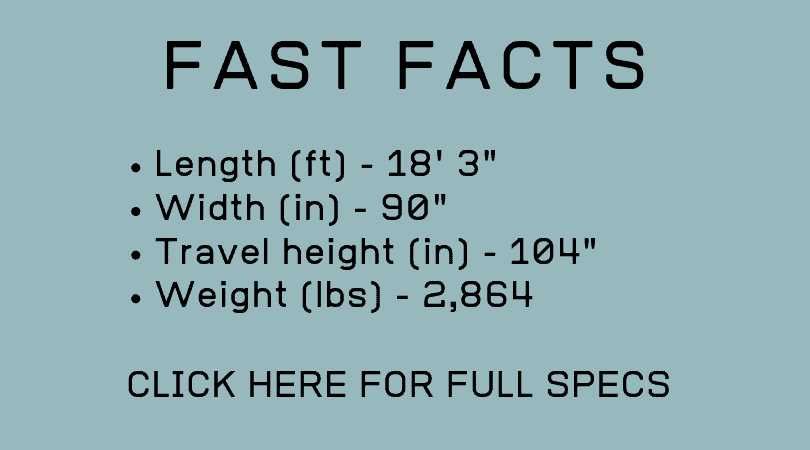 What else can we say about this beauty? If you want all of the details, including accurate pricing for the features you are interested in, head over to the nuCamp website to start your journey toward adventure. They have plenty more to offer besides just the TAB 400, so check them all out!
Alto Teardrop Camper by Safari Condo (Retractable Roof)
Prepare to be blown away by the remarkable and stunning design of this next example of the best small campers we are highlighting. Once you see this one, I guarantee you will never forget it!
When we talk about Safari Condos, we immediately think about "breaking the mold". They have brought innovation to the teardrop trailer space, and it is innovation that almost takes your breath away!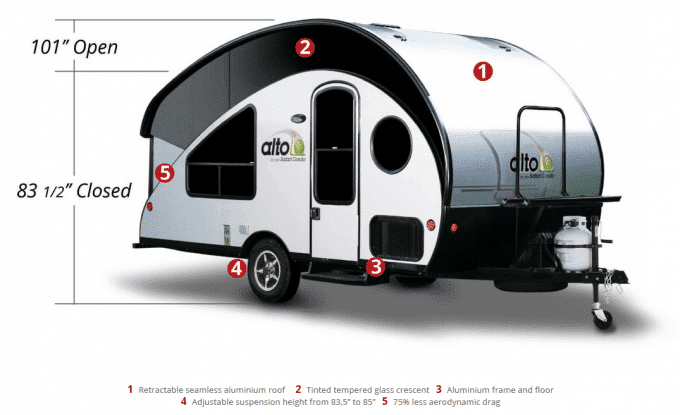 On their website, they highlight the Alto as "A Green Travel Trailer":
Faced with the steady increase in the price of gasoline and the social responsibility we all share to save non-renewable fossil energy, Safari Condo wanted to design ultra-light travel trailers with the lowest possible drag coefficient. Travel trailers meeting these two criteria could then be readily towed by smaller vehicles. Even more environmentally conscious, Safari Condo also wanted its materials selection to be not only lightweight but for the most part recyclable.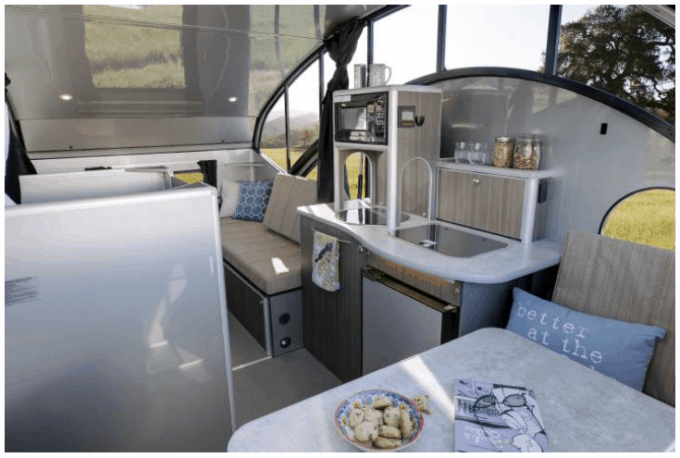 While we were not able to locate a floor plan for the Alto Teardrop Camper, this picture above of the interior speaks volumes! Their use of windows in this space to truly brighten it up and open it up is inspiring and refreshing!
You Must Head North of the Border to See This Beauty!
We have to let you know that they only way we know of that you can get "up close and personal" with one of these beauties is to head up to Canada. Safari Condo is based in Quebec, and all of their dealerships are located in Canada (mostly in Quebec, one in Ontario and one in British Columbia).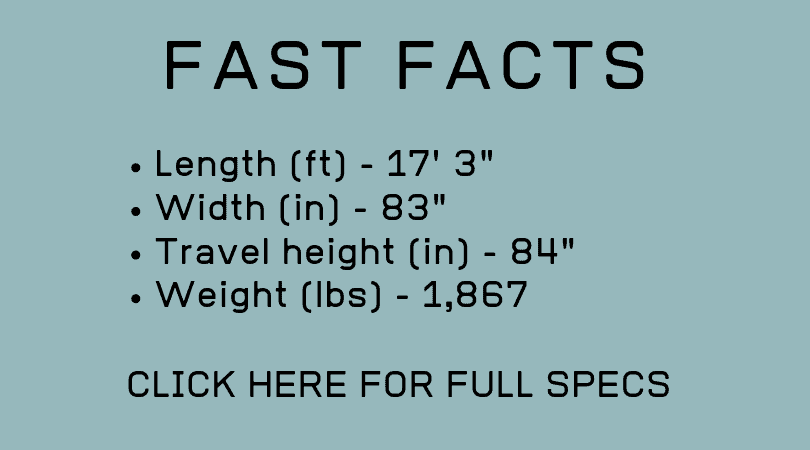 As you can see, this is the lightest small camper we have looked at so far at well under 2,000 lbs dry weight! Quite impressive when you look at all that it has to offer:
Sleeps up to 3
Electric brakes
72″ x 76″ King size bed
Fixed flush toilet
Interior shower with curtain
(Optional) 13-foot removable awning
I'm guessing you're feeling the need to see this wonder in action, right? I know I was…so here's a video tour to help you really understand the unique nature of this rig:
Fair warning: If you don't like attention, steer clear of this small camper! Because I guarantee you that everyone and their dog at every RV park (or gas station!) you stop at will want to get a look inside. Absolutely no doubt about it.
And be prepared for a little sticker shock since prices start at over $38,000!
Little Guy Mini Max Teardrop Camper
Don't let the name fool you at all, friend. This Little Guy camper packs a big punch with its sleek profile and cool tinted windows!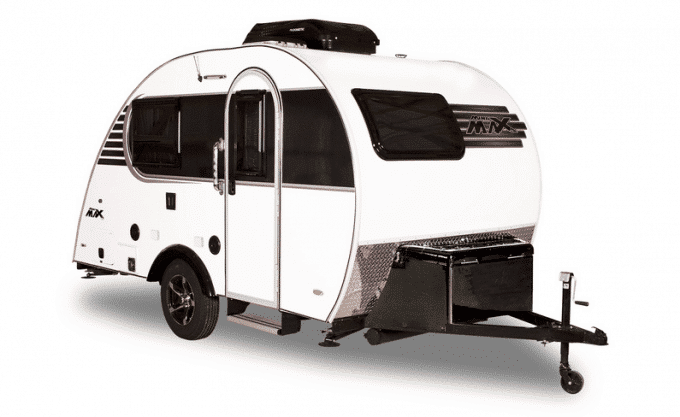 Started in a garage in 2003, Little Guy Trailers has produced 17 different models of tiny trailers over the years. The owning company, Liberty Outdoors, states that:
Little Guy Teardrop Camper Trailers are the most identifiable, economical and modern teardrops on the road today.
Who are we to argue? One look at the Little Guy Mini Max tells you that it's up to nothing but good. And the floor plan will further convince you that you need to take a closer look.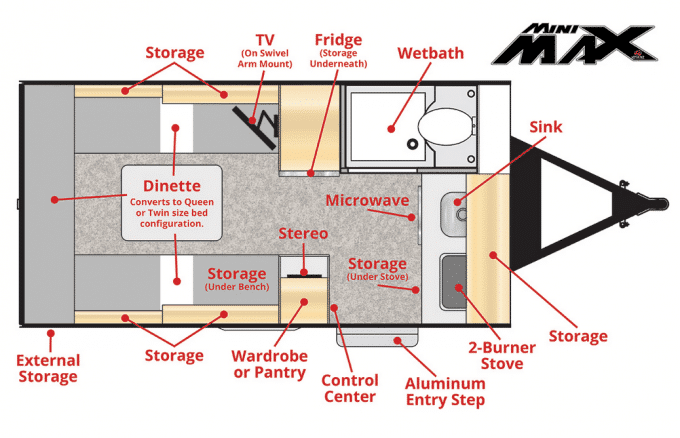 As you can see from the floor plan, it is not short on features and amenities. We'll show some more of those features in just a minute, but first of all take a look at the Fast Facts below, which points out that this bad boy is also under 2,000 lbs! This makes it towable by so many vehicles out there, it's just crazy. (Don't try it with your Prius, please.)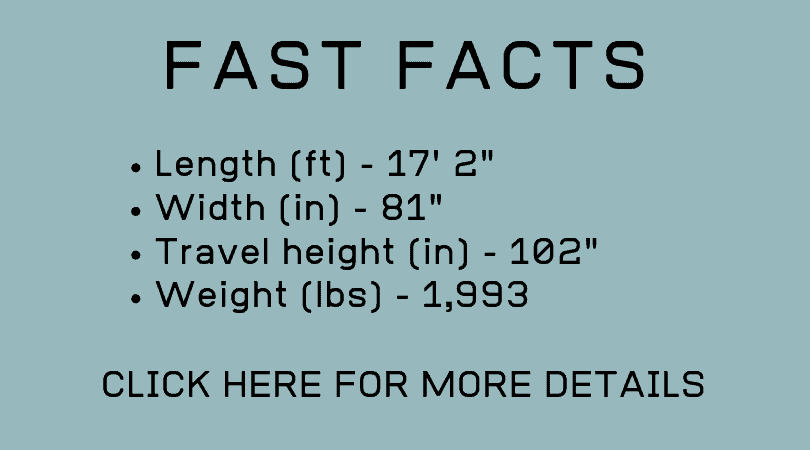 What else does this tiny giant in the teardrop world offer to you as a camping enthusiast?
Tongue weight: 280 lbs
Towable with small or mid-sized SUVs (some well-equipped crossovers)
15″ premium tires
4 insulated dual pane windows
100% maple hardwood cabinetry
13,500 BTU air conditioner
75″ x 70″ full queen size bed (optional)
So what are you waiting for? Get on over to the online home of the Mini Max and get the full scoop on this adventure capsule!
Tiny Camper Trailers with Bathrooms
Alright, we have knocked out two of our three categories of small campers with bathrooms. We've seen the pop up campers and we've gotten a good look at some revolutionary teardrop campers. Now, let's turn our attention to the more traditional travel trailers…of the tiny variety.
Barefoot Caravans Tiny Camper (Turn some heads with this one!)
I was tempted to save this one for last since it is probably the most unique in terms of overall style. But why not just lead off with it instead and get you all fired up!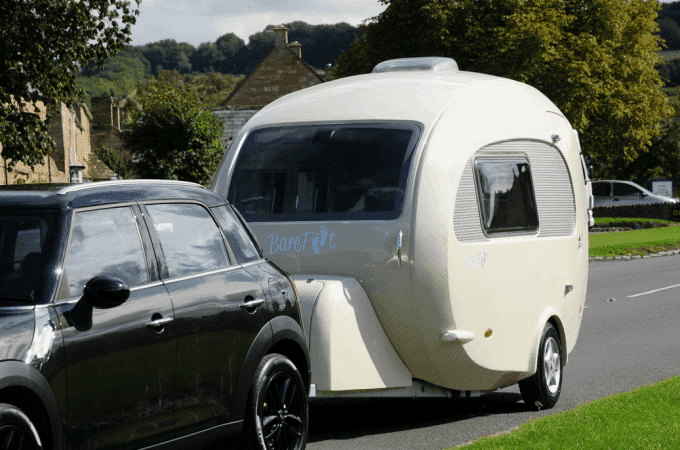 You might be thinking, "Now that is a fresh look! Where did that thing come from?" And the answer is: Great Britain!
That's right, this is not an American innovation here. It is 100% British and they are very proud of that, which they should be.
Up until recently, the only way to get your hands one of these UK marvels was to have it shipped "over the pond". But Barefoot recently announced on Instagram that nuCamp, the makers of the TAB 320 and 400 teardrop trailers, will begin manufacturing Barefoot trailers for the North American market in 2020. Pretty cool!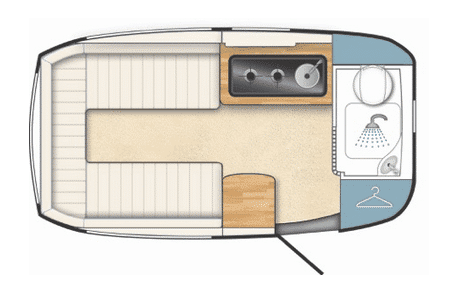 With a full wet bath to take care of your personal hygiene needs, this little wonder is ready to take you just about anywhere for an outdoor adventure you will never forget. It's loaded with features and amenities such as:
Stylish kitchen and wall units with solid oak tops
Onboard water tank 30L and offboard fittings
13-inch steel wheels with gorgeous retro hubcaps, plus spare wheel
Roberts Revival Mini DAB Radio
2 year manufacturer's warranty
And of course, you can look at the Fast Facts below for overall dimensions and weight. (If you check out specs on their site, be aware that you will have to convert from metric…so have fun with that!)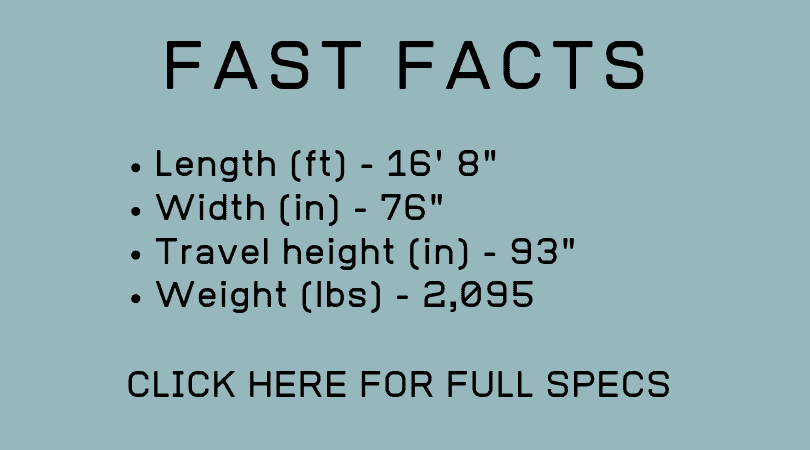 Starting at around $32,000 (which means it is built to your specs), it's not on the cheaper end of the spectrum by any means. But after you watch this video by nuCamp highlighting some of its features, you might not care.
But if this tiny trailer really "floats your boat", be sure to do some research to find out when the first nuCamp builds will be coming off of the assembly line here in North America. Good luck!
Scamp 13 ft Tiny Camper
While the Scamp Tiny Camper is available in 13 ft, 16 ft and 19 ft varieties, we are going to focus here on the little brother of the group: the 13 ft Scamp. And yes, this is the smallest camper with bathroom that we are going to take a look at today.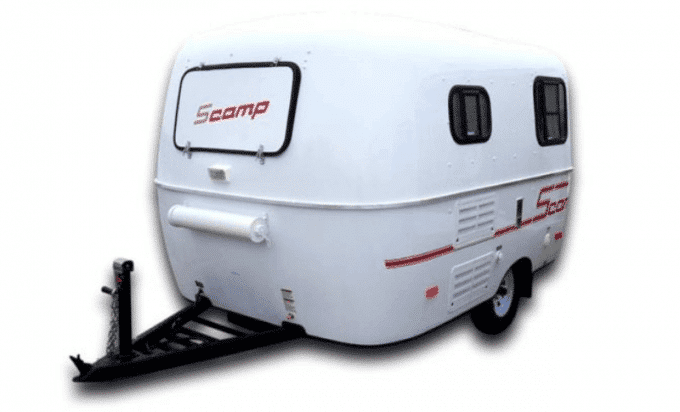 With a long history on American roads, the manufacturer points out their quality and longevity:
Scamp is one of the most dependable trailers on the market. Scamp trailers originally built in the early 1970's are still being used today. Our parts department can supply what you need to maintain your Scamp in perfect condition.
It might be hard to believe looking at the picture above, but yes, there is a bathroom option available in this 13 foot wonder. You give up one of the beds for this convenience, but I don't think that will bother you too much since the toilet is at the top of your priority list.
Now, we've seen some pretty lightweight pop up trailers, teardrop trailers and travel trailers so far…but we haven't seen anything like the Scamp! Believe it or not, this unit has a hitch weight of around 100 pounds! How is that even possible? Ask the manufacturer I guess, but I have to believe that is the lowest hitch weight you will find in a travel trailer anywhere.
At that weight, your tow vehicle options are almost endless, allowing you to escape in just about anything that is equipped with a tow hitch. (**Again, do your own due diligence and check with your vehicle manufacturer to ensure you are towing safely and not endangering the life of your vehicle's engine or transmission.)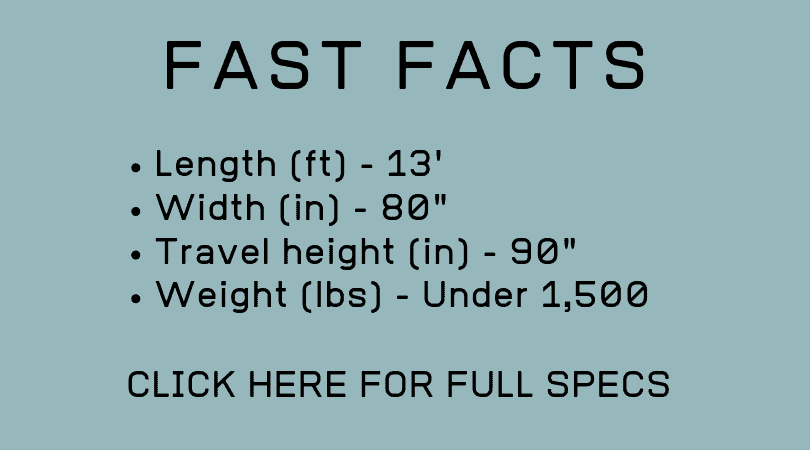 Even at a weight of under 1,500 well-equipped, it packs some very nice features that you might not expect:
R15 insulation
Interior height of 75″
12 gallon fresh water tank
Deluxe wood interior options
Fiberglass construction
30 amp power converter
Clothes closet
You can clearly see that this little dude packs a serious punch for its tiny size. Maybe it's the perfect option for your "minimalist" getaways…only you can know that for sure.
Casita Freedom Lightweight Travel Trailer
If the Scamp travel trailer is an iconic resident of the American roads, then the Casita lightweight travel trailer is the quintessential American escape vehicle. Founded in 1983, Casita Travel Trailers haven't been around quite as long as Scamps, but they are no less recognizable and admired.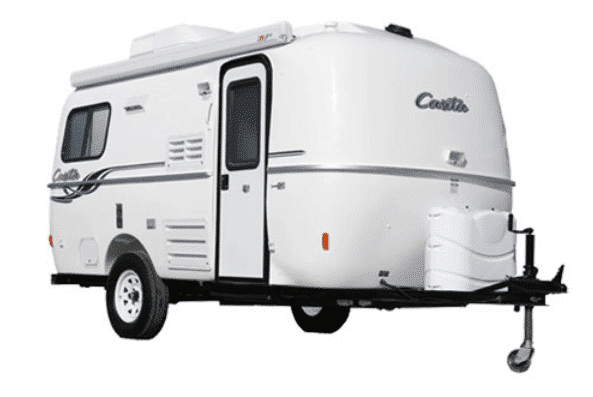 At just 16 feet long (17 feet option available also), the Casita Freedom is full of features you might not expect to find hiding in this little rig. One look at the floor plan will give you a better idea of what it has to offer.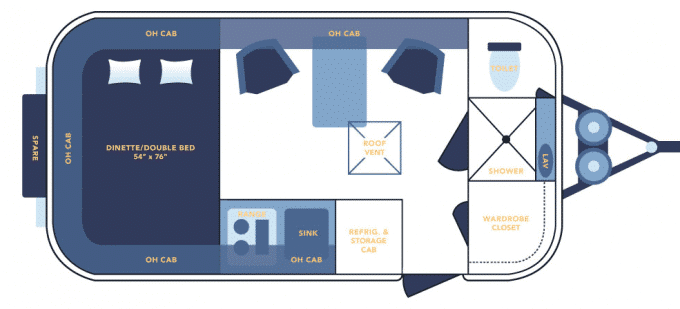 No, your eyes are not deceiving you: Those are two swivel captain's chairs included in this little nugget. A really nice touch, indeed.
Now, I do want to point out that this might not be the idea option for taller folks. The 16 foot model only offers an interior height of 5′ 10″, while the 17 foot model bumps that up to just over 6′ 1″.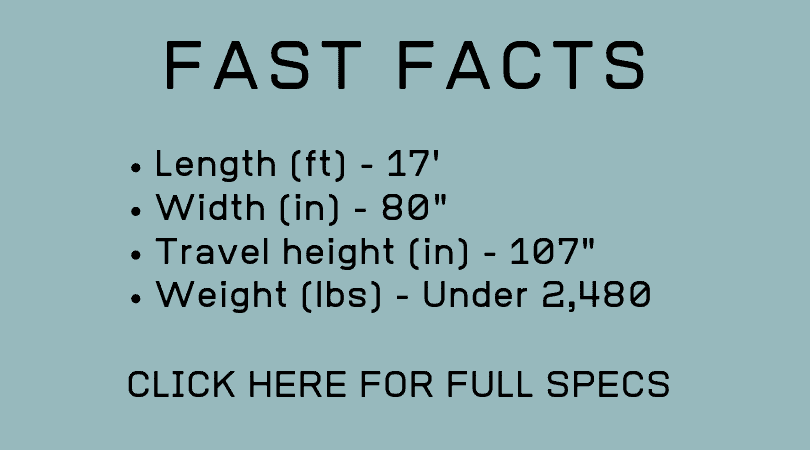 If less is more in your book, then you have indeed found your home on the road with the Casita Freedom! This classic lightweight travel trailer simply will not disappoint.
iCamp Elite Tiny Trailer
It's tiny, it's tough, and it is out to get your attention with its bright and no-nonsense approach to outdoor adventuring. The iCamp Elite deserves a hard look in your search for small campers with bathrooms.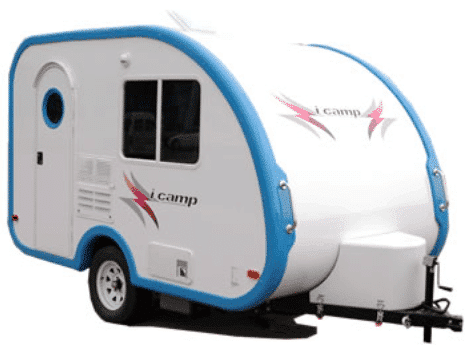 This dynamite option in the tiny trailer world will no doubt surprise you as well, with its spacious interior, full bathroom, refrigerator and wardrobe.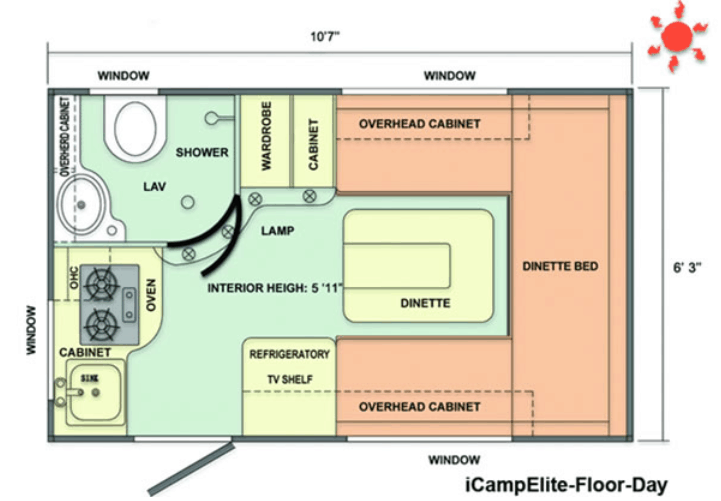 While it may not have the "eurostyling" of some other options, and it may not boast a 100 pound hitch weight like the Scamp trailer, it has plenty to be proud of:
Air conditioning available as added option
Interior height: 5'11"
Hitch weight: 236 lbs
1.9 cu ft refrigerator
Bathroom equipped with shower, washbasin, mirror, cabinet and toilet
To finish up, here are a few of the Fast Facts regarding dimension and weight.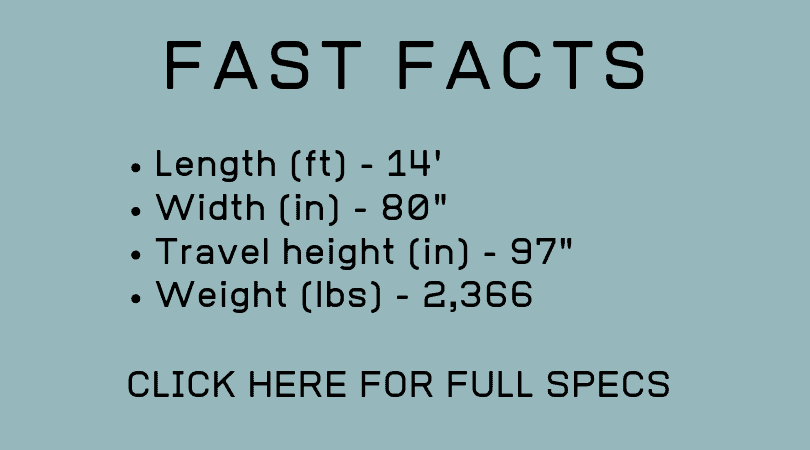 This is not one to be overlooked, that's for sure. You will likely have to contact the manufacturer or an authorized dealer to get a solid idea on pricing for this model.
Airstream Nest Travel Trailer
Last, but certainly not least, is the latest addition (2019) to the RVing landscape by the unmistakable Airstream brand: the Nest Travel Trailer.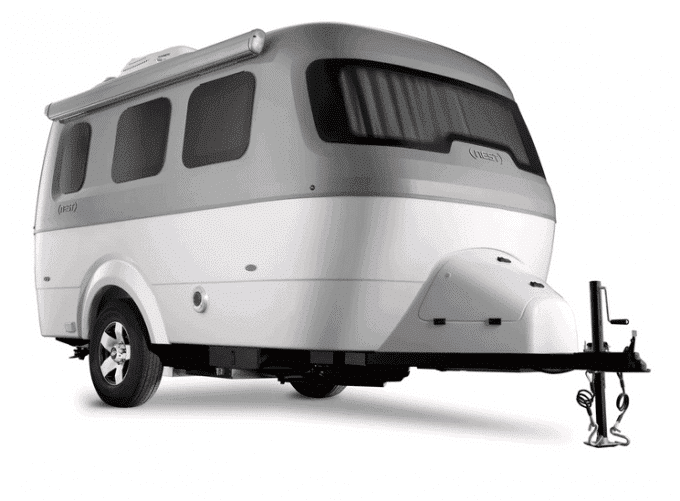 According to Airstream's website,
Even though Nest looks different, it shares the same fundamental qualities that make Airstream such an enduring brand: the true craftsmanship, attention to detail, and the undeniable spirit of adventure.
I can honestly say that this one is a true beauty out on the open road. There is no denying that. Airstream has absolutely delivered with design that both satisfies and excites. The floor plan will point out that you have a unique rear entry on this model, unlike any of the other members of this list.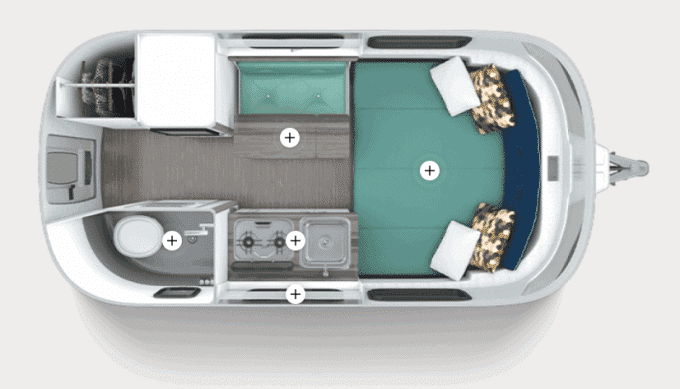 Now, you need to brace yourself for the STARTING (aka base model) sticker price: $45,900. Yup, we saved the richest for last! Since that price is nearly twice as much as I paid for my 26-foot travel trailer a couple of years ago, you can bet that I am not their target market. But plenty of people are! And maybe you're one of them.
You just can't deny Airstream's spot atop the RVing world in terms of both classic style and lasting value, so that helps to soften the blow of the sticker price just a bit.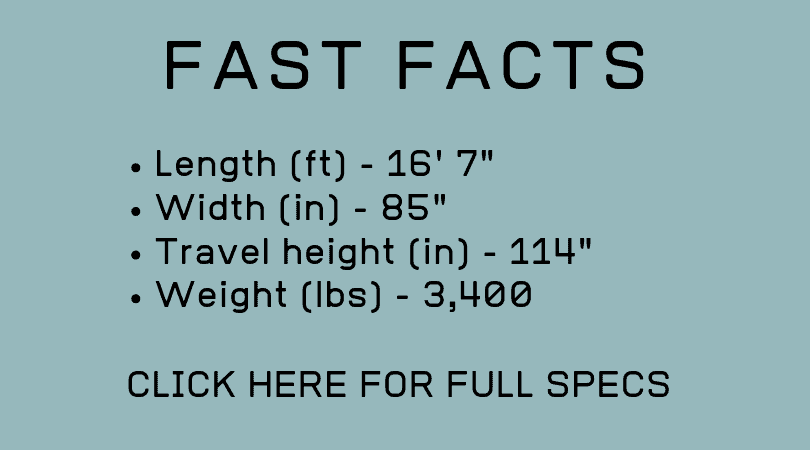 Let's wrap this up with a quick rundown of additional features and amenities of the Nest by Airstream:
Interior height: 6′ 6″
24 gallon fresh water tank capacity
30 gallon black/gray water tank capacity
Queen size bed (58″ x 80″)
2 Deep Cycle Group 24 Batteries with Multi-Stage Converter
Dedicated waste hose storage
Nev-R-Adjust Brakes®
Nev-R-Lube Bearings®
Our discussion of the Nest just wouldn't be complete without a video that allows you to get a true feel for this dreamy capsule-on-the-go:
Judging from its parents in the Airstream family, it's not too hard to imagine the Nest becoming a legend in the RV market in the coming years. Maybe you can be part of making it a legend by owning one of these little gems. (If you get one, I want a ride!)
Which of these small campers with bathrooms is right for you?
And there you have it, friend. More information than you can possibly absorb about the top 11 choices in our book if properly "going on the go" is uber important to you.
I hope this will be a very helpful resource for you as you continue to consider your options in this small travel trailer space. Here's to many happy nights in the small camper that's right for you!
Popular RV Vacation Destinations
Here are a few of the most popular RV destinations, with the top rentals in each city.
Alaska
California
Colorado
Texas
Pin This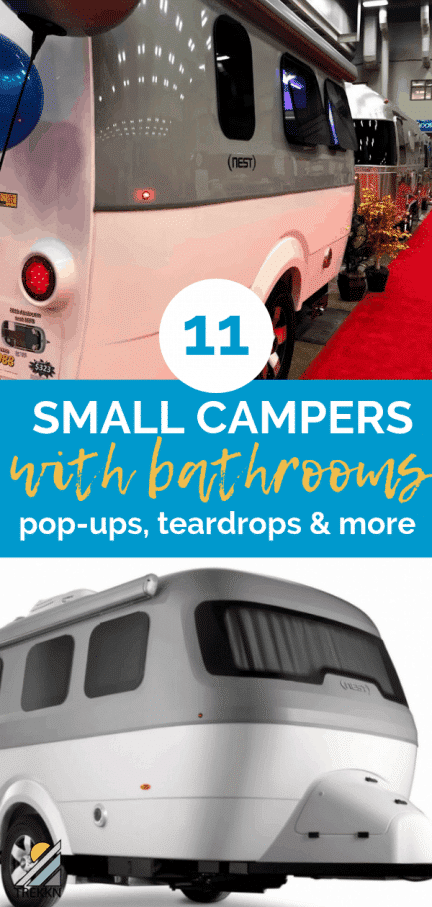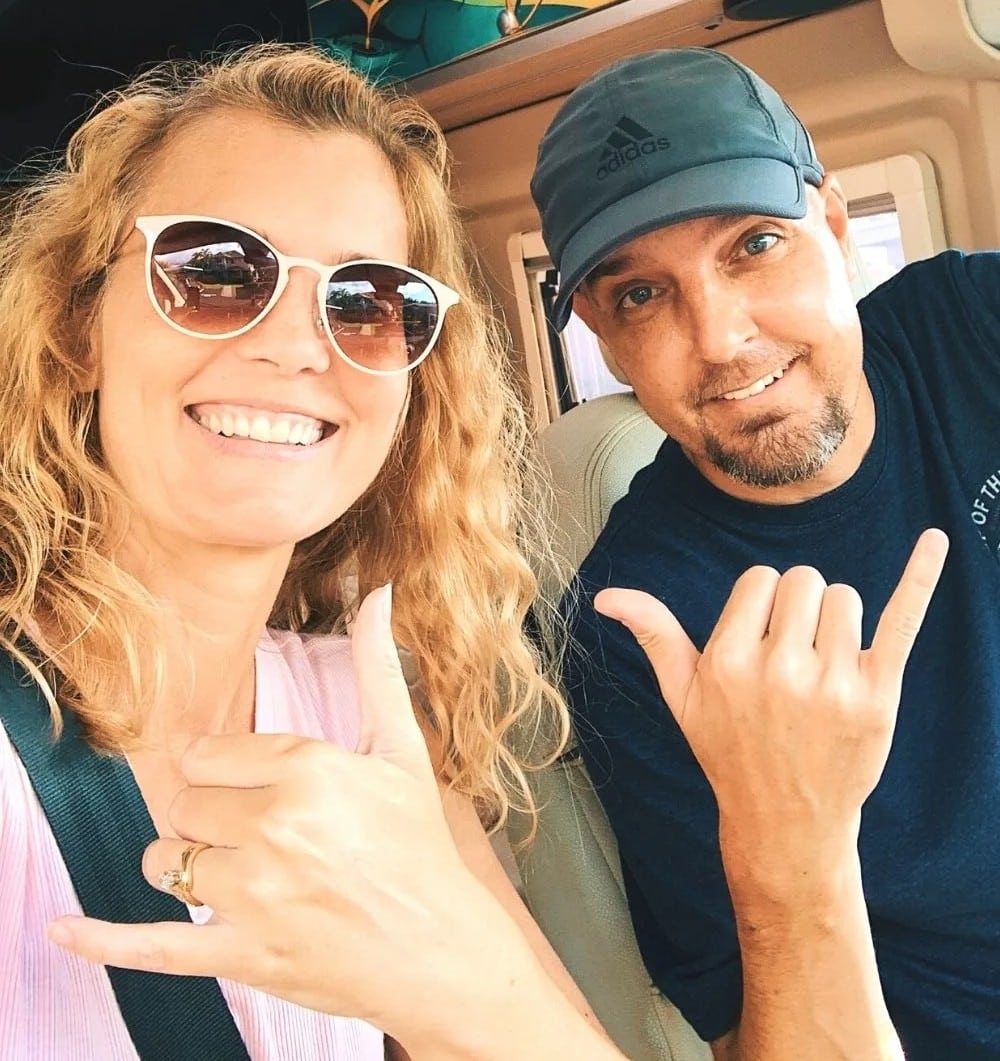 Todd loves a competitive game of table tennis, a breathtaking hike, and exploring new places. He lived and traveled in an RV with his family as they traveled throughout much of the US and parts of Canada. Todd has extensive knowledge about RV travel, safety, and accessories and has shared many of his stories here on TREKKN. When he's not busy launching and building small businesses, you may find him staring at pictures of Glacier National Park (probably his favorite spot on earth).