15 National Park Gifts for the Fanatic On Your List [2023 Edition]

There is literally nothing on this planet that gets me as excited as our National Parks. And after visiting 15 of them, I am 100% hooked…especially on Glacier, Yosemite and Acadia!
Do you have a friend or family member who is a fanatic for US National Parks? Then look no further (ok, look down this post), because we have curated a list of our favorite gift ideas for outdoor enthusiasts.
Eventually, I would like to visit every single National Park in the US and buy one of every National Park gift in each gift shop. Okay, at least the first part of that is true.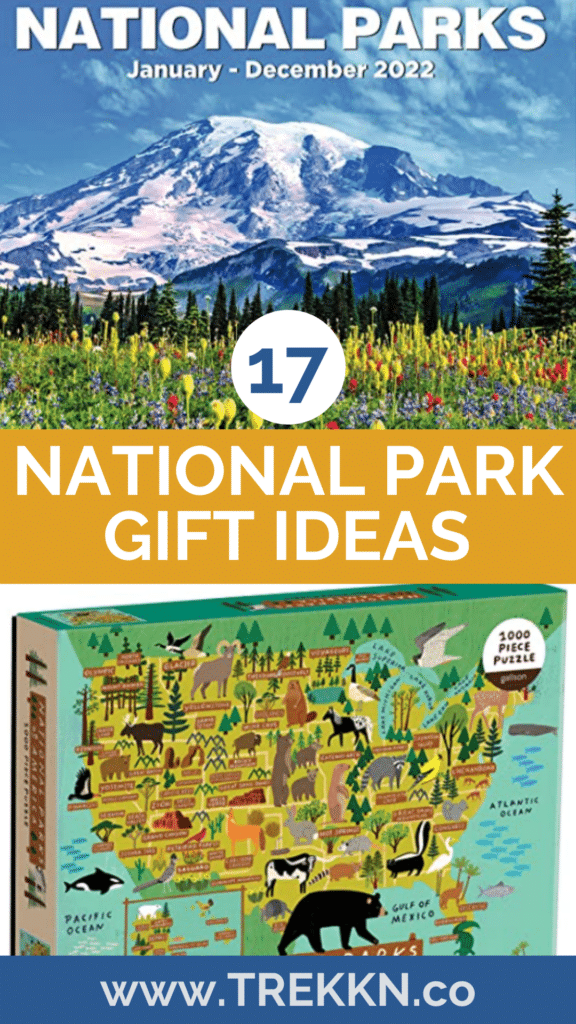 Maybe you know some folks on your gift list that are just as crazy about those National Parks as I am, but you're not quite sure how to track down the perfect gift that will really "wow" them. Well, it's a good thing I'm here to help you out!
I am always keeping an eye out for great National Park gifts, and I have even created some of my own that you can take a look at below. Maybe I'm biased, but I really think you're going to like what you see.
You've got things to do, so let's jump straight into my list of Top Gifts for National Park Fanatics!
2023 National Park Gifts for the Fanatic On Your List
Photo Credit: https://rei.com
Let me just say this from the beginning: There's no better gift you could give to one of us "Park Nuts" than the gift of ADVENTURE! The best part of this gift is the ease of ordering and gifting. REI offers its AMERICA the Beautiful Annual Pass, a ticket to more than 2,000 recreation sites, including all 63 National parks!
If your friend or loved one doesn't already have a pass like this, then you just can't get a gift that is a better fit than this one. Not only will it get them into every national park for free, it will also allow access to more than 2,000 different federal recreation sites across the country.
Now, you should know that this is not the only pass available to you. If your gift recipient is age 62 or over, they are eligible for a LIFETIME pass for the same price as the annual pass above! Yeah, wow. (The catch is that you would not be able to directly purchase for them, as far as I know...but you could gift them the money to buy that Senior Pass.)
Be sure to look into all of your options on this page before making your purchase. But whatever you do, definitely consider this your first option for a National Park Gift.
Photo Credit: www.amazon.com
Now, before you get upset, they do offer a pack of women's National Park socks as well! Equal opportunity here, folks. These socks are simply awesome! I can tell you that I will absolutely be adding them to my Christmas wish list this year, because there is nothing like flashing the National Park colors.
And with the top notch quality and warmth that the Pendleton brand offers, you really can't go wrong with this as a gift for any "sock jocks" out there. Grab 'em before they're gone.
Photo Credit: www.amazon.com
"The Definitive Scratch Off Travel Print for National Park Adventurers." That's how they describe this very nice display piece that will allow your loved one to show off their National Park travels. Visit a park, scratch off the gold cover to reveal a picturesque image representing each park.
It's the perfect way to help them highlight their passion for the parks! (And yes, I see this on my growing wish list as well.)
Photo Credit: www.amazon.com
I don't know of any National Park enthusiasts who are "elitists" and not interested in any other public lands, monuments and historic sites. It's pretty much one big ball of wax for us, and we are interested in visiting (and protecting) all of our public lands.
This great resource gives you a look at over 400 different locations of natural and historic significance around the country. It will provide very useful and interesting facts about each spot in addition to details pertinent to a visit. Extremely useful and interesting all around!
Photo Credit: www.amazon.com
Well, they do say that a picture is worth a thousand words. So when you couple the awesome info in that previous book with the images in this calendar, you've got a match made in heaven. The perfect 1-2 punch for that special person in your life who just can't get enough of our National Parks.
But I will say that this gift will stand on its own just fine as well and is sure to get a great reaction from any recipient as they flip through the images.
Photo Credit: www.amazon.com
Everybody loves a puzzle! I have some pretty vivid memories of holidays where the entire family chipped away at a puzzle together...but nothing as cool as this one! For me, this puzzle really captures the essence of the National Park experience and I am certain I would have a blast putting it all together.
At 1,000 pieces, it should provide several hours of fun and reminiscing about parks visited and memories made. I love it!
Photo Credit: www.amazon.com
Listen, you can't get out there a visit a National Park without a solid backpack to carry your gear and keep you out of trouble out on the trails. For most of us, a daypack like this, at 35 liters, is just about the perfect size to hold all of the necessities for a good day hike.
This one is ultra-lightweight and able to be packed up into a small pouch when not in use. Looks to me like it has all of the features I would be looking for in an "adventure pack" for the parks!
Photo Credit: www.amazon.com
You should know: There are actually 63 National Parks. New River Gorge (W. Virginia) was recently added to the list of National Parks. This pack of beautiful postcards contains 62 of the 63 total parks.
But that doesn't take anything away from this set. Why? Because the pictures are amazing, and it's so much fun to use these as mini journals as you visit a new park and because they're also great as inexpensive decor for the tiny RV kitchen, a dorm room, or apartment. Who knows, you may even want to use them as an actual postcard and send a note to a friend!
Photo Credit: www.amazon.com
If you've read much at all on this site, you probably have some clue that I am a HUGE fan of Glacier National Park. I love all of the parks for one reason or another, but Glacier is it. Whether your loved one has visited this park or not, this is the perfect gift. If they haven't visited yet, it's the perfect reminder that they HAVE to visit this park as soon as possible.
Glacier is the gold standard in National Parks. Period. Give them the shirt that will pull them in that direction.
Photo Credit: www.amazon.com
If your intended recipient is most likely to find plenty of parks to keep them occupied in the Western portion of the US, this may be the ideal option for you. Especially if they live in the West, they may have little desire to drive to see the parks in the East just yet. Because believe me, there is PLENTY to see in the West. No doubt.
So give them a gift that goes more in depth on the parks that they are most likely to visit in the near future. They will be wowed for sure!
Photo Credit: www.amazon.com
Filled with helpful travel tips and beautiful National Geographic photography, this expert guide showcases the best experiences in the top national, state, and city parks throughout North America.
In the sequel to the best-selling 50 States, 5,000 ideas, National Geographic turns to the United States' and Canada's most pristine--and adventure-filled--national, state, and city parks with 5,000 ideas for the ultimate vacation.
Photo Credit: www.amazon.com
Ah, the classic red push pins. That's what you've got with this higher end gift option that allows your loved one to place a red push pin on every National Park that they are able to visit, while also keeping their eye on the next "targets" on their list.
It's like a pictorial bucket list that will serve them for many years to come! Be the best gift giver ever with this beautiful and thoughtful gift option.
Photo Credit: www.amazon.com
Ok, so this isn't EXACTLY related to the National Parks...but it's an awesome set of 50 stickers for the "Outdoor Enthusiast". These are perfect for decking out a laptop, a water bottle, a car window, or anything else where they can express their love for the outdoors.
It's priced nice and low so this could just be a simple "add on" gift to one of these other options on the list. A super fun addition to give them a creative outlet!
Photo Credit: www.amazon.com
I have one of these stainless steel Contigo water bottles sitting on my desk as I write this. I've used it extensively for about 5 years now and it's covered with National Park stickers. It's beat up. It's battered. It's perfect. I can't bear to part with it.
Give them a canvas for those stickers we just talked about, and all of the National Park stickers they will accumulate in the years to come. This is a SUPER useful gift for any trail lover and I guarantee it will serve them well on their adventures for years to come.
Which of these National Park Gifts will be the Perfect Option for Your Park Lover?
You've got quite a list to choose from right there, my friend. I hope that you'll be able to find the right gift, or combination of gifts, to let that special someone know that you care. I promise that your effort to help them indulge their desire for exploration and adventure will mean the world to them.
If you've found any other awesome National Park gifts, let us know about them in the comments below and we just might add them to our list!
PIN THIS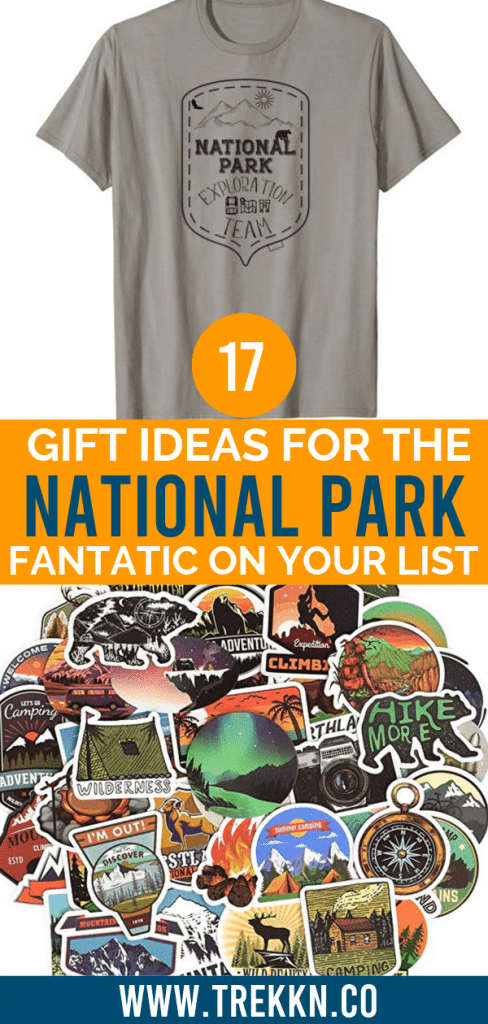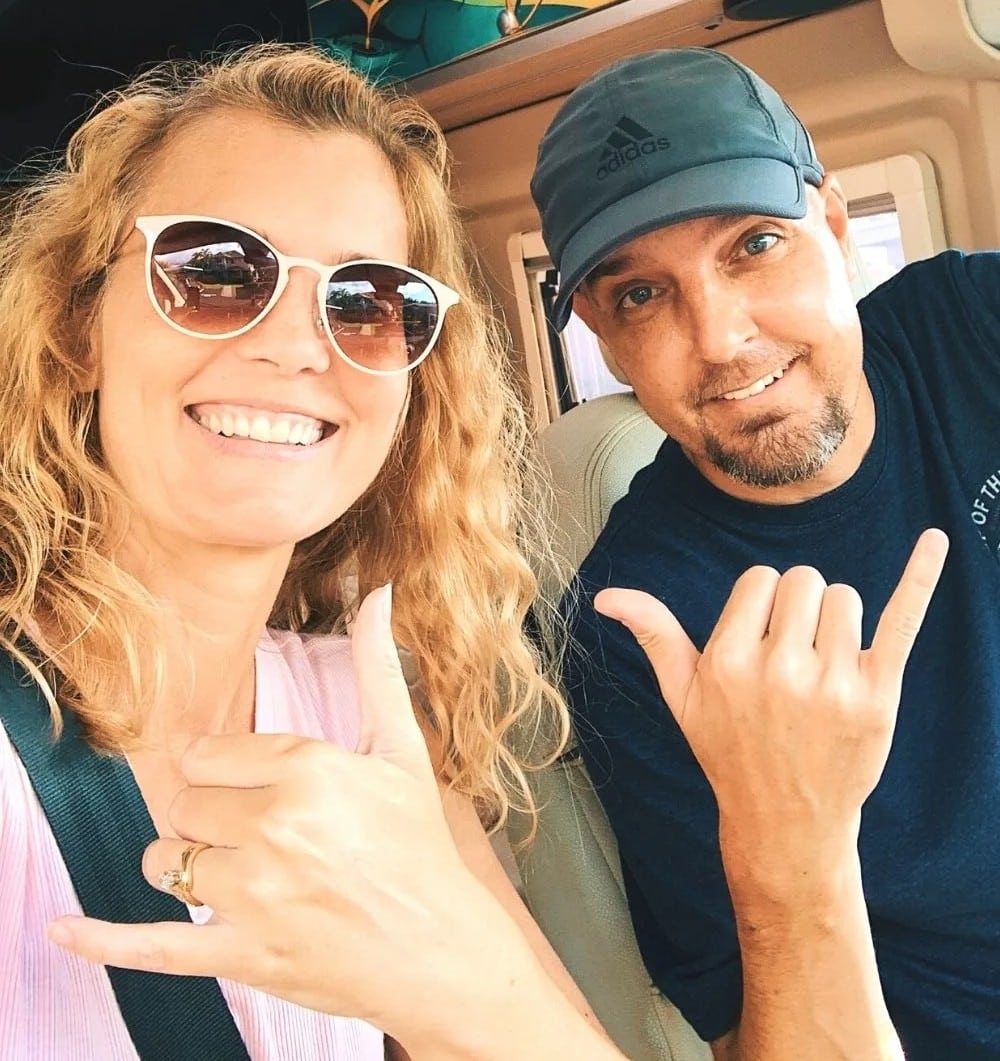 Todd loves a competitive game of table tennis, a breathtaking hike, and exploring new places. He lived and traveled in an RV with his family as they traveled throughout much of the US and parts of Canada. Todd has extensive knowledge about RV travel, safety, and accessories and has shared many of his stories here on TREKKN. When he's not busy launching and building small businesses, you may find him staring at pictures of Glacier National Park (probably his favorite spot on earth).