This is Part 2 of a series we are doing which chronicles the path to our first campervan. In this series, we hope to lay out all of the "dirty details" of the process we went through to get into our first campervan and the fixes and repairs we tackled right off the bat.
We will provide helpful info on the campervan options available, potential pitfalls, the costs to prepare for, the hoops you may have to jump through, and everything in between. We hope you enjoy journeying through this with us…and learning something valuable along the way as you consider your own purchase!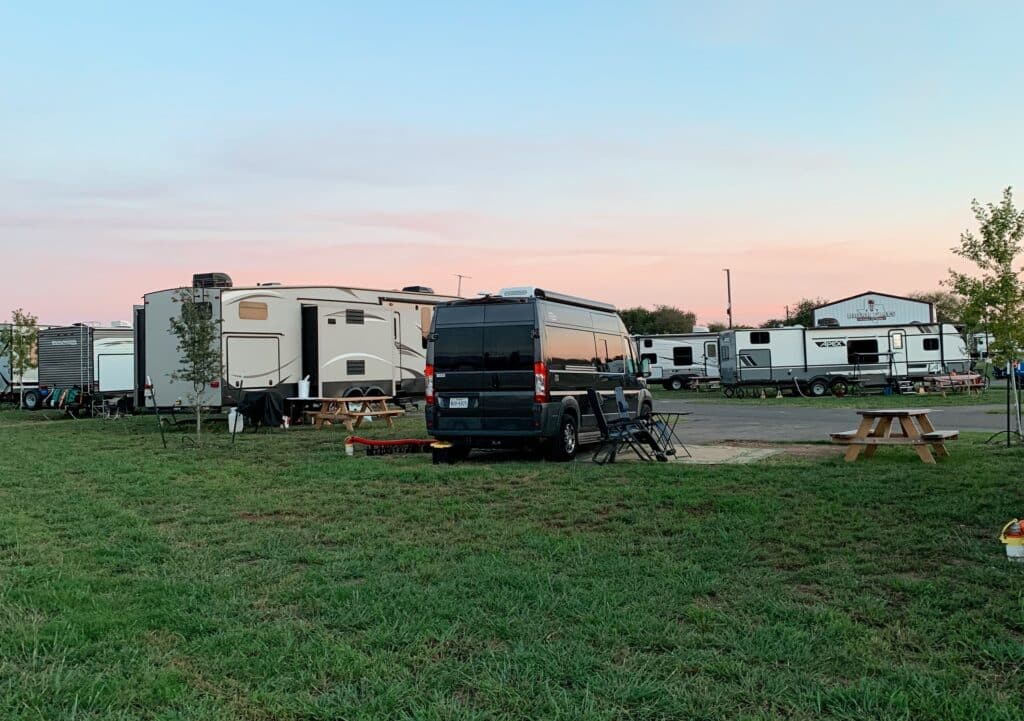 As you might expect, I can't start a post like this, with that title, without a clear caveat. Buying a campervan is going to look very different for people in different types of situations (finances, credit, local market conditions, tolerance for risk, etc.).
As you'll see, our campervan purchase process went very smoothly. And very quickly. In fact, from the time we started even looking for a campervan to the time the purchase was finalized was only about 10 days.
Yes, I said 10 days.
Is something seriously wrong with us?
Some people will take 10 weeks or 10 months (or much longer) just in the "research and planning" phase of the purchase process. For whatever reason, that is not how we are wired when it comes to life-altering purchases like this.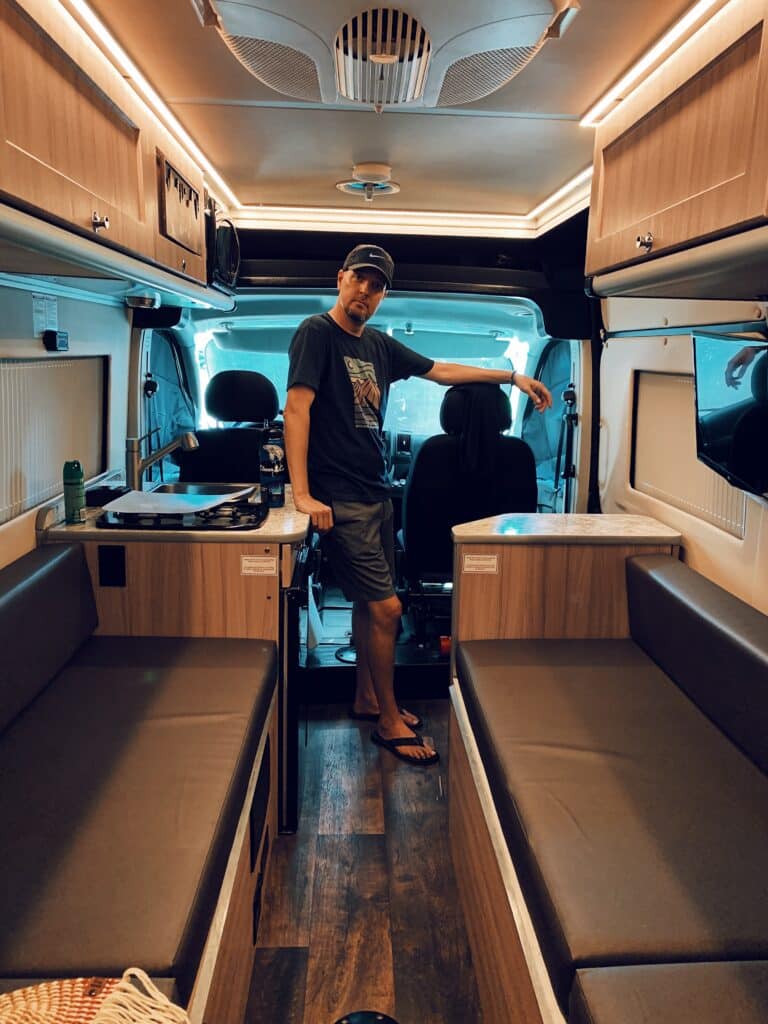 When we see the right option, we know it. And we move fast…mostly without fear (Julie drags me along when I do occasionally become paralyzed):
The first house we ever bought back in 2005? First house we walked through. Done.
The time from deciding to explore the possibility of full-time RVing (we had NO RV experience) to the time we moved into the RV? 100 days. Stupid fast.
Our first RV purchase back in 2017? Two visits to the RV dealership to choose the right travel trailer. Done. (But also a couple of weeks of online research prior to our first visit.)
The rental house we are living in now? First house we walked through. Done.
And this campervan? The first one we looked at, just a few miles from our house, only a few days into the search phase. Done.
I could probably give you a dozen other examples, but you get the idea.
Have we ended up regretting any of those rapid decisions? Nope. Not yet.
Why does this approach work for us?
I think we have developed a trust over the years with our gut reaction to large purchases. We've developed a tolerance for operating with unknowns still in the mix. We've learned to accept the reality that other options are indeed out there that we have definitely not even considered.
What makes this possible? On top of years of "practice", I think we are simply a couple of very adaptable people who can make things work without much fuss.
We made this decision quickly, not in pursuit of perfection, but in pursuit of adventure. That was our top priority.
All of that to say: We may be quite abnormal.
Take that into consideration as you read the rest of this post about our experience. This is not an encouragement for you to do it the way we did it or an endorsement for our approach. It is just to share what the experience looked like for us.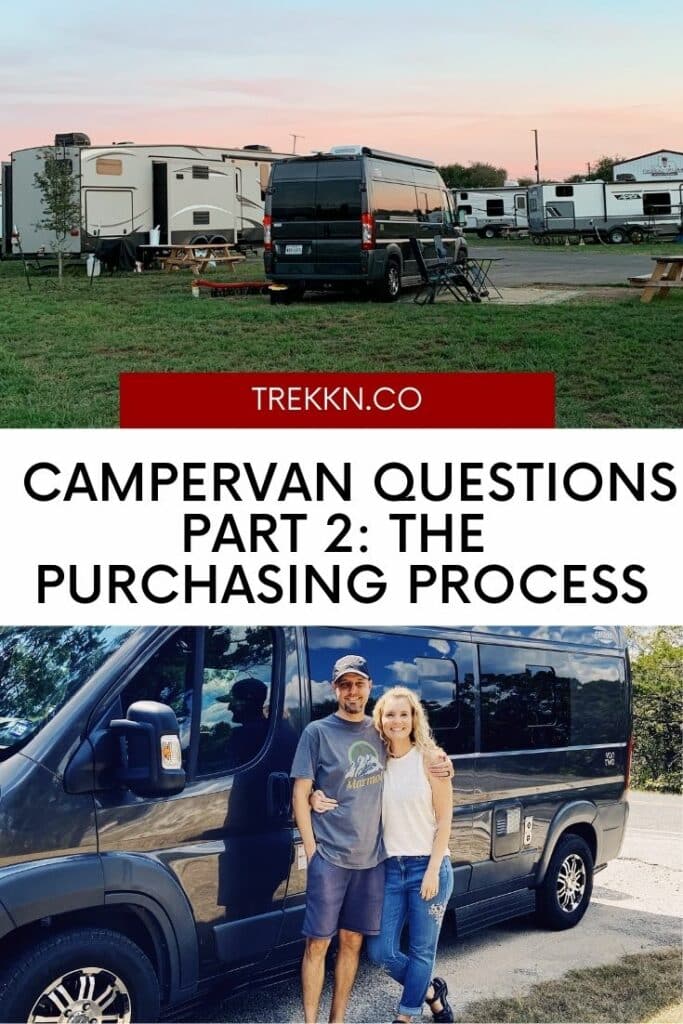 What Did Buying a Campervan Look Like For Us?
If you have spent any time at all in the past several months looking at the RV market, you know it's nuts! Like, completely and utterly nuts.
So let me just say upfront if you are just taking your first steps: Brace yourself.
One particular conversation I had with an RV salesperson here in Texas put everything in perspective for me. I had contacted him about one particular new campervan (2021 Entegra Ethos 20T) we had been eyeing online. Since the dealership was about two hours away from us, I just wanted to make sure it was still available and on the lot for us to tour.
Yeah, not so much.
The State of the RV Market
This sales rep let me know that he did not have a single Class B or campervan on the lot for us to look at at that point. Now, you're probably thinking this was just some rinky-dink dealership with relatively low volume on a regular basis.
But you would be wrong. Dreadfully wrong.
As a matter of fact, this RV dealership located south of Dallas/Ft Worth, Texas claims to be "the #1 Volume Selling Motor Home Dealer in the World". Yes, the WORLD!
And yet, they didn't have a single Class B or campervan on their lot. Simply unbelievable…and incredible.
The sales rep, who has 30 years of industry experience, went on to share with me that the dealership normally has around 1,200 different motor coaches on the lot at any given time.
The day I spoke with him? They had a total of only 50 motorcoaches (Class A, B, C, C+) available to view.
They had 2,000 motor coaches on order from different manufacturers, but absolutely no solid idea of when those orders would be delivered to them.
On top of that, they already had 450 non-refundable deposits of $5,000 from customers wanting to purchase a motorcoach. Meaning many of the RVs arriving in the next year were already spoken for!
Even with all of this information, we could have chosen to head down this "buy new at a dealership" route. We would have needed to put down our own $5,000 non-refundable deposit to get into a new Class B/campervan around the $100,000 price point. But we would also have been completely at the mercy of the market.
We would have been left just hoping that we MIGHT get into an RV by Spring 2022. That was the best case scenario for us in the new RV market. Talk about a reality check.
WHEN WILL THINGS START RETURNING TO NORMAL IN THE RV INDUSTRY?
As if my mind were not already blown enough from all of this data and information, he added one other prediction to put things in perspective:
He had no expectation that their dealership's inventory levels, and the RV market as a whole, would return to anything close to "normal" for another three years.
Nope, this is not a short blip on the radar, my friend. This is the new normal for new drivable RVs (motor coaches) for the foreseeable future. It's not pretty, but now at least you know what to expect if you have "RV visions" dancing in your head.
Time for a Pivot into the Used RV Market
Not surprisingly, this convinced us that a new Class B or campervan was not in the cards for us. We were simply not willing to wait that long without any guarantees on the timeframe at all.
No problem! We had already been poking into used Class Bs on the private party side of the equation as well (Craigslist and Facebook Marketplace primarily). And we had seen a couple of options nearby that really got our interest. One, in particular, had an almost identical layout to the new unit we had been interested in at the dealership.
Time to take our first tour! I contacted the seller of a 2018 Carado/Hymer Sunlight Van One with 40,000 miles and we agreed to meet at a local shopping center just about 3 miles from our house on a Friday evening. Super convenient start.
The seller gave us a rundown of the features of the van, its history with him (the only owner), and a very straightforward and honest overview of what was wrong with the van that would need some attention. The primary issue was just an interior cosmetic issue that we will have to address, and we will cover that fix in an upcoming post.
Overall, we really liked everything about the van (and worked hard not to salivate over it as we toured). We felt very confident that we were dealing with an honest seller we could trust, and we just got along well from the start.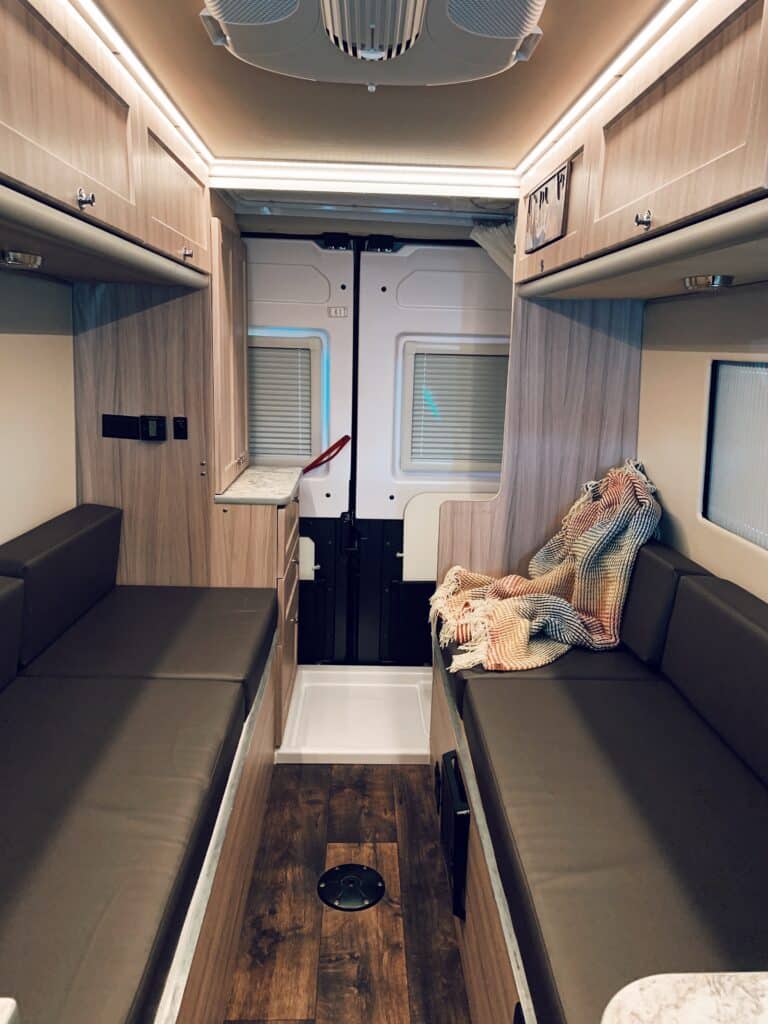 ARE WE READY TO PUT DOWN A DEPOSIT?
We told the seller we were definitely interested. We both agreed that we would need to put down a $1,000 non-refundable deposit by the next day to move forward. He would then give us nearly three weeks (to the end of September) to arrange financing and finalize the deal.
These were far better terms than I was expecting going into this purchase process. Even though we did not know for sure what the financing process and terms (interest rate, length of repayment, monthly payment) would look like, we felt like this was a relatively small risk to take in this competitive RV market. We liked the van, felt like it was a perfect fit for us and felt good about the seller.
After tossing it around a bit more on Friday night, we decided to pull the trigger. I handed the seller $1,000 in cash on Saturday morning, and we were off to the financing races!
Wakeup Call: Tighter RV Financing Limits
Based on our first (and only) RV purchase experience back in 2017, I felt like I had a good grasp of what to expect going into this campervan purchase at this price point ($68,000 sale price):
15-20% down payment required ($10k-13k)
Finance for 15-20 years
Monthly payment somewhere under $600
If this was simply a "pleasure purchase" for us, I would NOT have been willing to work with those numbers and move forward.
But you might have noticed that we have businesses (this website as well as physical products) that revolve around the RV industry. This is what we eat, sleep and breathe; it puts food on the table.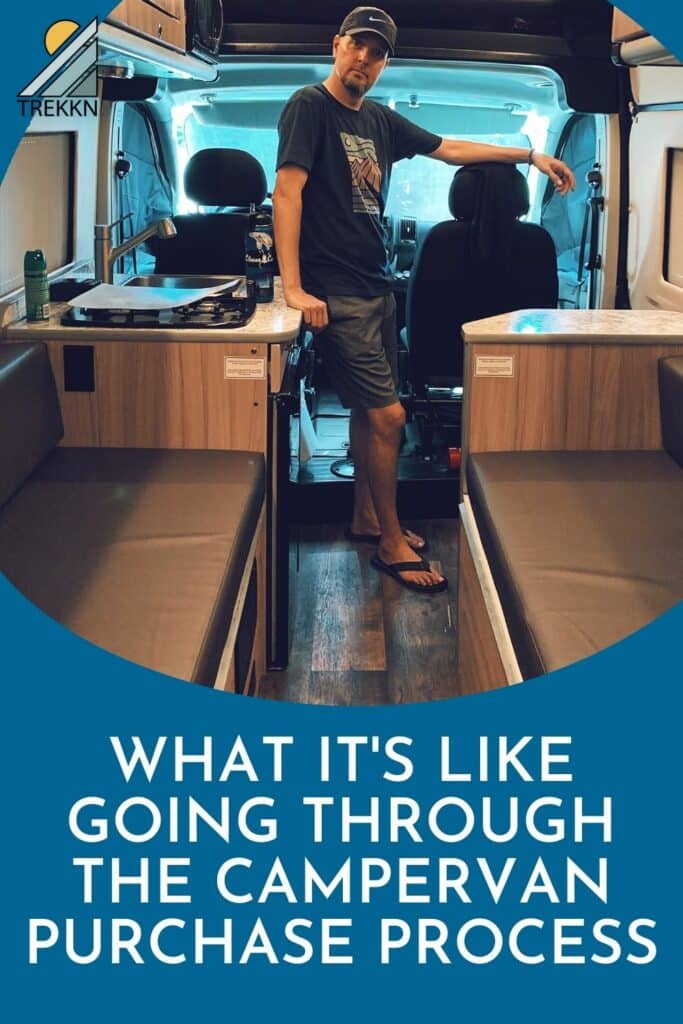 Of course, we would get a ton of pleasure and personal satisfaction out of this purchase; but that only "moved the needle" in the end because the purchase would also allow us to create more helpful content and develop physical products for our people (you) living the RV lifestyle.
Buying a campervan was a calculated business decision that we truly felt would move our businesses forward in the months and years to come. Case closed. (I had to remind myself of this many times as I choked on the numbers and broke out in a cold sweat. My wife, Julie, is always there to pull me through those "crisis moments" and keep us moving forward.)
FIRST SHOCKER: USAA CAPPED RV LOANS AT $35K. PERIOD.
Since I am an Air Force veteran and we have a vehicle already financed through USAA, this was the logical place for us to start. And what a start…
I was completely blown away to find out that USAA would only loan a maximum of $35,000 on ANY RV, regardless of age, condition, or your personal credit. No exceptions.
I'm not sure when they implemented this policy, but it just struck me as completely out of step with the current market conditions. I understand they are working to minimize risk, but it seems they are missing out on so much business with this policy in place.
Regardless, since I wasn't able or willing to put $33,000+ down to purchase this campervan, USAA was no longer an option for financing. Next.
SECOND SHOCKER: FINANCING TERMS (LENGTH) MORE STRINGENT
Randolph-Brooks Federal Credit Union (RBFCU) is another military-affiliated banking institution that I first used back in 1998 when I joined the Air Force. With a branch just up the road from me, they seemed like the next logical choice.
When I checked out their website to try and get some initial information about what to expect with the loan process, I was pleasantly surprised. Under RV loans, it was showing ranges for interest rates and "payment per $1,000 financed" for loans up to 180 months (15 years). Perfect!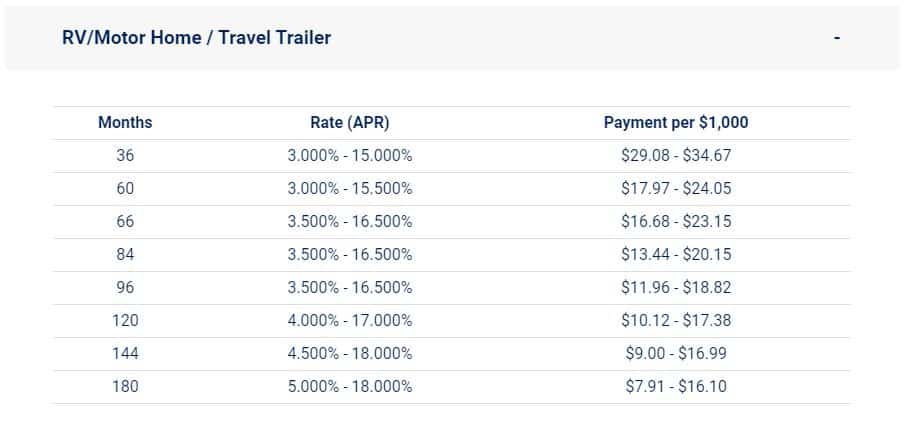 With a $68,000 sale price, I felt pretty confident that if we moved forward with applying for financing at RBFCU we should be able to get a 10-15 year term pretty easily. So we jumped right in and applied online, requesting a 180 month loan. What a rush!!
Within hours, we had a response from the credit union. I did not expect that. Unfortunately, the response was not exactly what we were hoping for.
The good news was that we were approved for the loan amount we requested at the lowest rate available (3.5%). Yay!
The bad news was that they countered our request for a 180 month financing term with…84 months. 7 years? That's all? That makes a mighty big difference in monthly payment! (Just see table above.)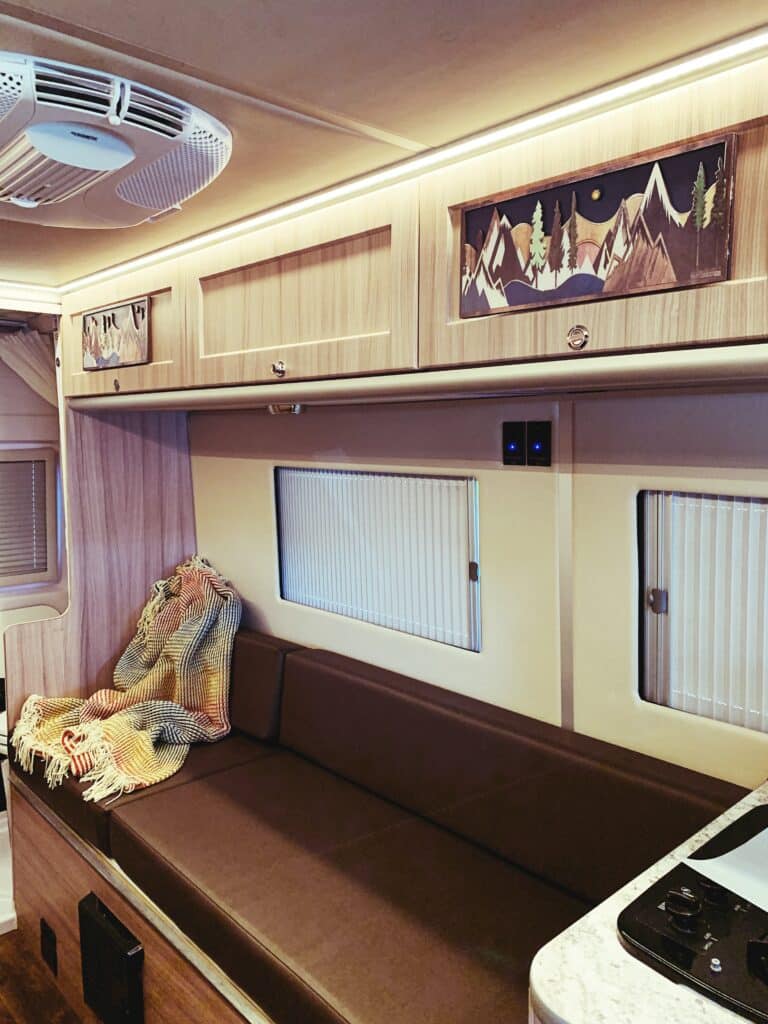 TIME FOR A PHONE CALL
I'll be honest with you: I wasn't sure what the heck to do with this new information and new numbers that scared me. Part of me just wanted to walk away, feeling like the market was just noT right for a purchase.
But we got on the phone with RBFCU to discuss the details of their financing offer. Long story short, at that financing amount of around $68,000, 84 months was the maximum term they could offer us.
I was honestly floored. I thought surely digging into the issue a bit more would open up other options. But I was wrong.
Time for some deep breathing.
On the bright side, we found out that we would most likely only need to bring about $2,000 to the table to close the deal, not counting tax, title and license we would pay later.) This was MUCH less than we were anticipating (I was bracing for a $10-13K down payment).
Decision Time
All in all, this is how it stacked up with the RBFCU loan option:
84 month financing (much shorter than expected)
3.5% interest rate (much better than expected)
About $2,000 down payment required, plus state sales tax (around $4,250) when we transferred title (about half of what we expected out of pocket)
Approximately $899 monthly payment (gasp…that's a whopper!)
Ability to close the loan in 1-2 days (no risk of missing out on this van)
Good and bad, pros and cons, like anything else in life, right?
We just had to decide if it truly made sense for our current business situation, setting the inevitable emotions aside for a few minutes.
When we stopped to look at it objectively, we realized we just needed to reframe some things and shift our perspective:
Shorter financing term will help to keep us out of a negative equity position.
Lower interest rate helps to offset the shorter financing term.
Lower down payment meant we could set aside some business profit now ($6000-8000), in a separate account, to help make that larger payment each month; reduces monthly stress considerably.
In this tight market, getting into a campervan this quickly was completely unexpected. This would allow us to more quickly start moving the business forward with great content for TREKKN and more product ideas for Clever Camper Company, likely resulting in increased revenue within the next 4-6 months.
Last but not least, we knew that the ability to adventure again would light a fire in us and renew our passion for RVing that had been dimmed a bit after 2.5 years without an RV. This would easily result in business growth and additional revenue as the RV market continued to explode.
So, despite my "sticker shock" with the higher-than-expected monthly payment, we made the decision to move forward with the RBFCU financing in front of us and try to seal this deal quickly.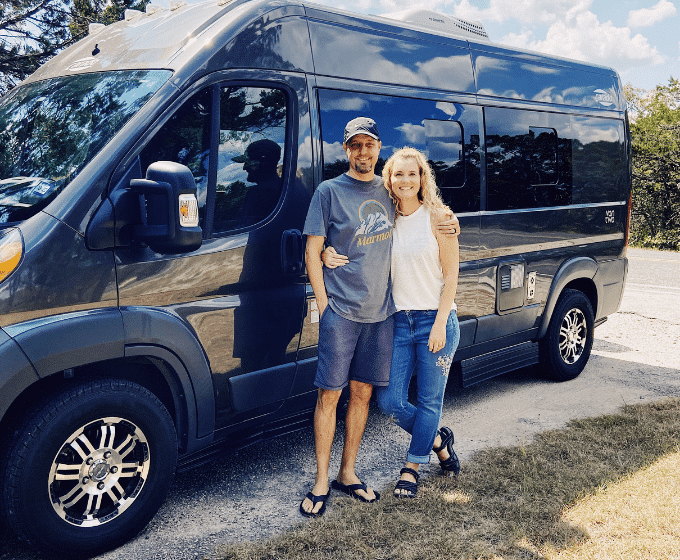 Bringing the Campervan Home!
Just to recap very quickly: We started "getting serious" about the campervan search the week of September 6th, looked at this campervan the evening of September 10th, put a $1,000 deposit down on September 11th, applied for financing with RBFCU on September 13th, got questions answered by the credit union on September 14th and decided to move forward, and then received checks from the credit union to close the deal on September 16th.
Once we picked up the checks at the credit union, we headed right over to the seller's house to get all of the paperwork taken care of and finalize the sale. And I drove away in this perfect (for us) campervan with my head spinning at the speed of this whole ordeal. I mean, wow! Could this really be happening?
SHE FITS IN THE DRIVEWAY…SO NICE
One nice little added bonus of having such a compact RV? She can easily fit into our driveway and live there instead of having to be stored at an RV storage lot.
This saved us $100/month or so and a lot of hassle and headache of having to go back and forth to the lot to work on her, prep her or bring her back to our house before an excursion.
In these first few weeks that she has been home with us, she has seen a lot of me. I mean, a lot.
My wife says that I have officially become a "tinkerer" now, always finding something to adjust or diagnose or repair or clean or….you get the idea.
With her sitting right there, so easy to access, why wouldn't I get to know every nook and cranny and nuance so that I can take the best possible care of her, ensuring we can have the best adventures ever?
(**Side Note: Speaking of taking care of her, we highly recommend you do some research before choosing an insurer for your campervan or RV. There couldn't be anything much more stressful than getting in a major RV accident and then finding out that your insurance carrier is NOT going to take care of you or your RV! Don't let this happen to you. And the newest "kid on the insurance block" that you'll want to check out? Roamly. It's an insurance company built by RVers for RVers, to take care of many of the headaches you can potentially face with an RV insurance claim. Get your quote today!**)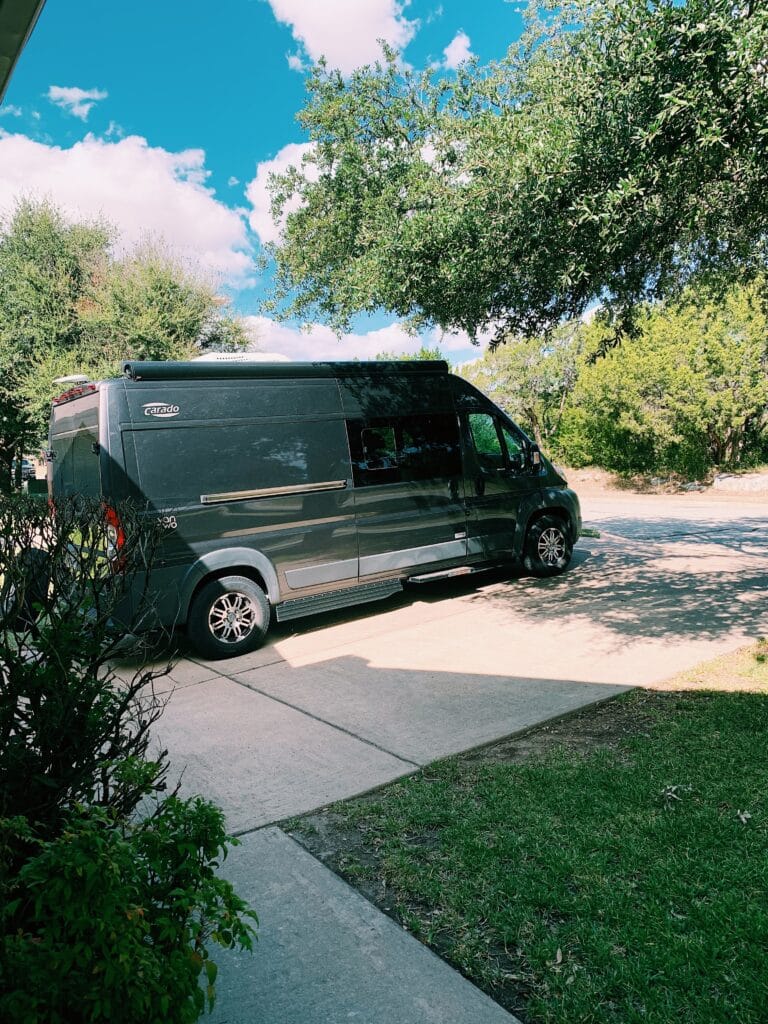 THE LEARNING CURVE HAS BEEN….WET
If there was one thing that stood out with my experiences maintaining that first travel trailer we bought in 2017, it was this: Water is the enemy!
In the trailer, we experienced several crisis moments related to water (leaking roof, frozen and cracked water pump, etc.), and I quickly realized that managing water was a huge part of the game with RV maintenance and repair.
Well, things started off in much the same way with the campervan: WET.
I won't go into all of the details, but suffice it to say that seeing a river of water flowing down the aisle of my campervan is not how I hoped things would start off.
But several towels and lots of hair dryer blowing took care of that mess fairly quickly and the issue was diagnosed and corrected within a couple of days.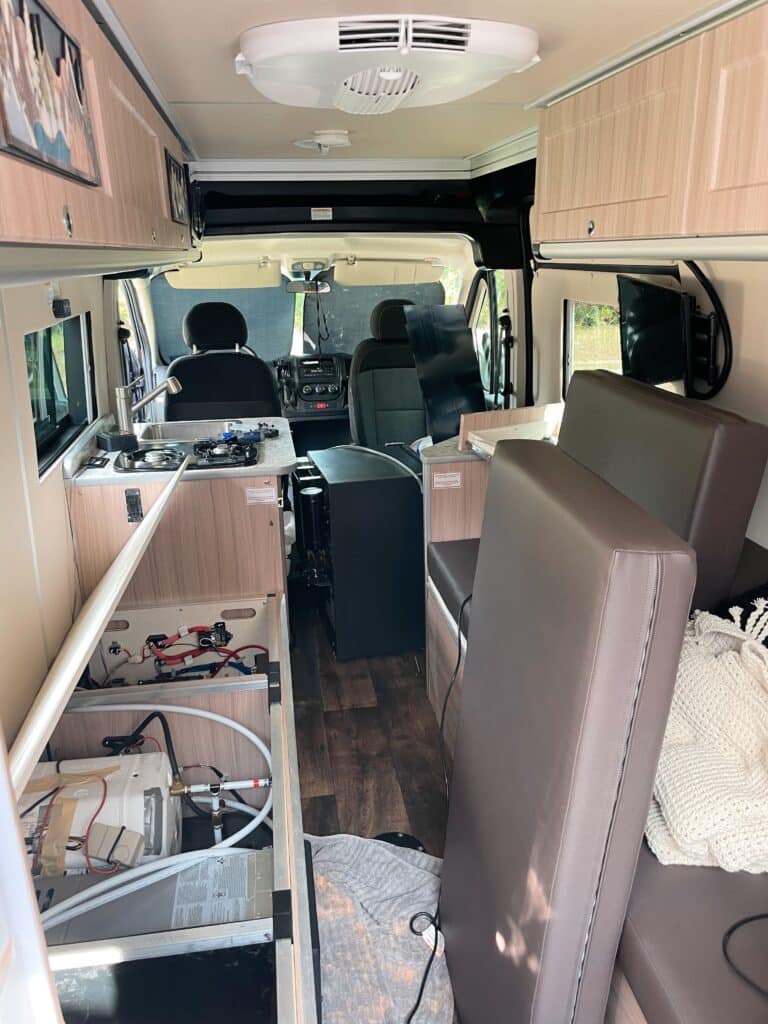 OUR MAIDEN VOYAGE (AKA "SHAKE DOWN" TRIP)
Since then, we were able to get her out for three nights at a couple of nearby locations, just about an hour or so from our home in the Austin, TX area. We really got to her know her better and made sure we had worked out all of the kinks….and controlled all of the water sources.
Everything went very smoothly on our maiden voyage. We feel now, more than ever, that this campervan is the perfect "couple's getaway capsule" that we were hoping for.
At only 19.5 feet long, we have no doubt that she will be able to safely and conveniently take us anywhere and everywhere we want to go. In the months and years to come, we will be adventuring together across the continent.
We will continue to share all of the details about "Kona the Campervan" with you in the weeks to come, including lessons learned. (Where did we come up with the name? Well, we lived in Kona, Hawaii for 8 months recently, and while we were there we rented a campervan very similar to this one that we fell in love with. So, pretty self-explanatory.)
We are so excited to share all of it with you! Stick around as we put together upcoming travel plans in the next couple of months. Maybe we will be able to cross paths with you in our travels.
Until then, keep on TREKKN!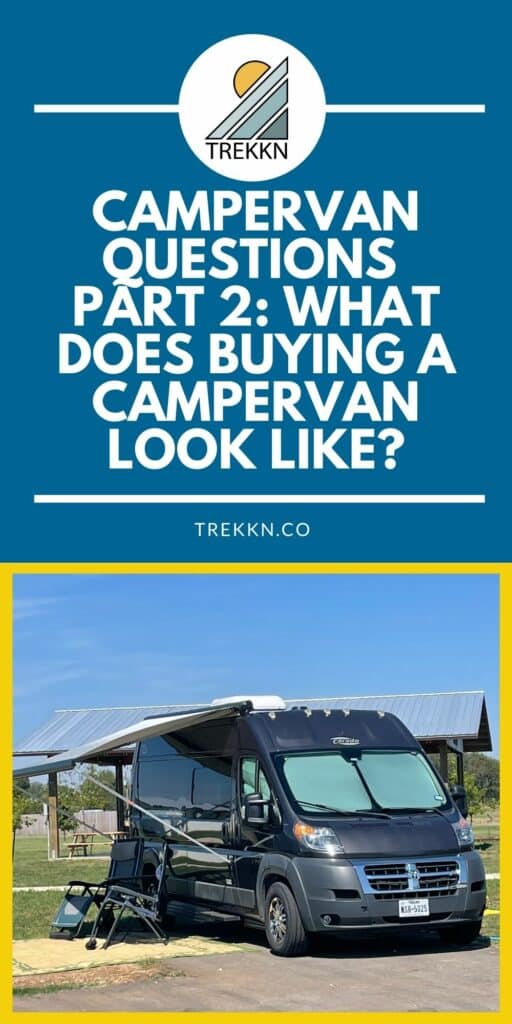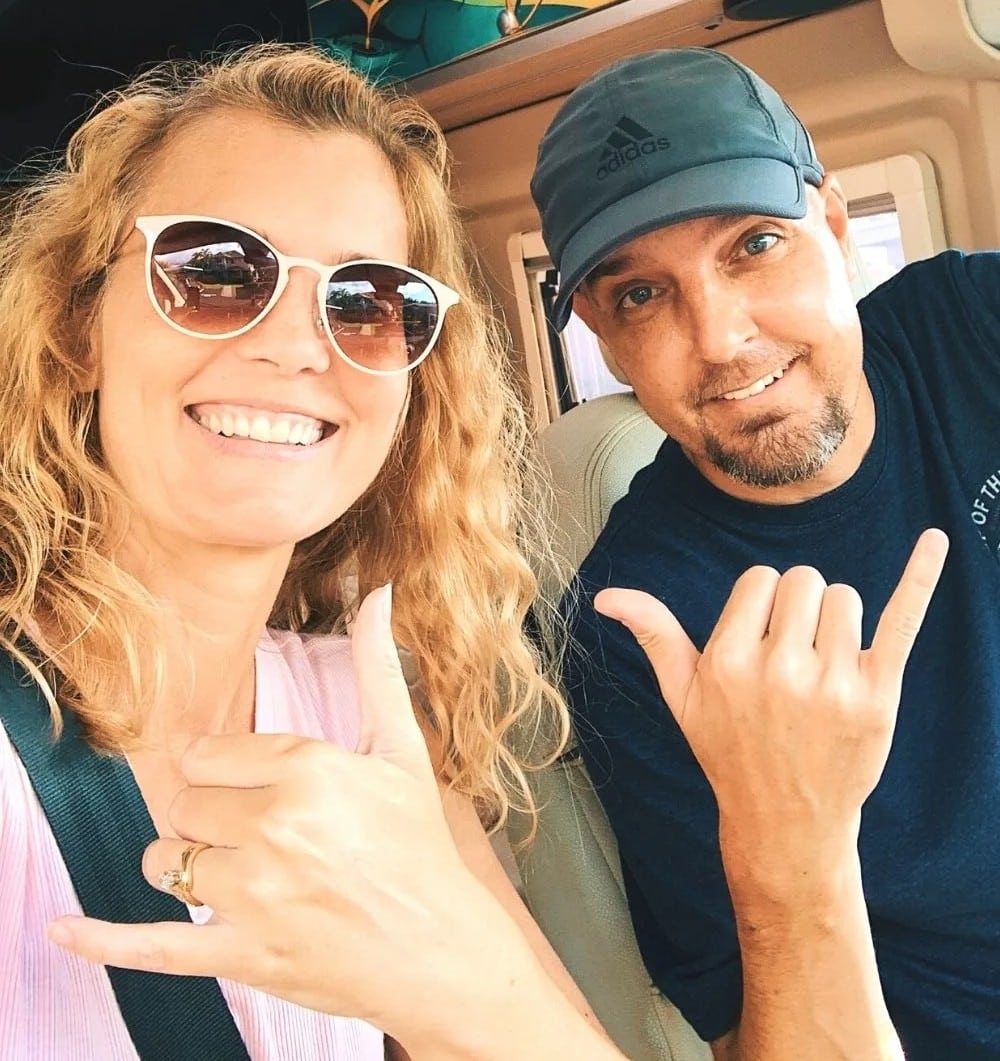 Todd Bonner loves a competitive game of table tennis, a breathtaking hike and simply exploring new places. He spends most of his time sharing information about RV travel and safety, RV accessories and tips, and the National Parks he has visited and still desperately craves. When he's not busy working on TREKKN, you will often find him staring at pictures of Glacier National Park (probably his favorite spot on earth) or creating new products for Clever Camper Company.