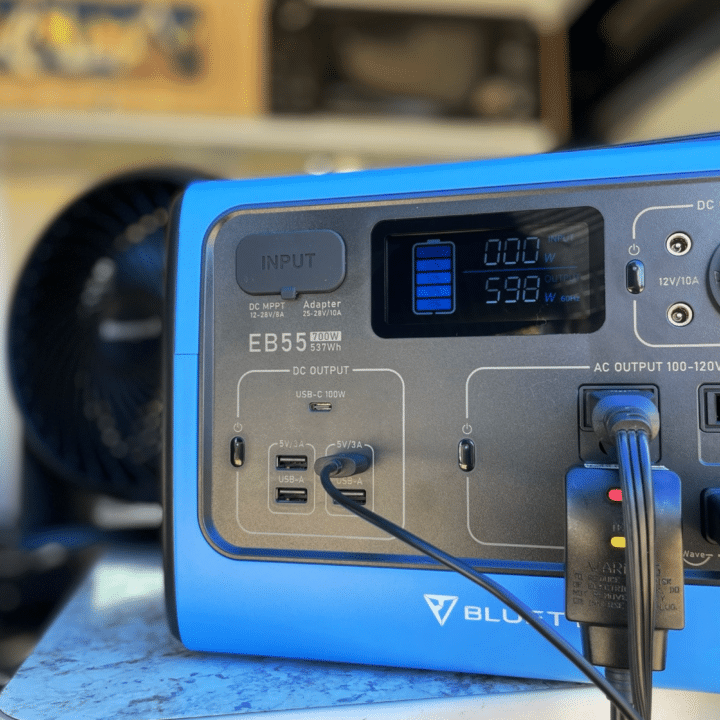 Disclosure: Bluetti provided us with a unit of this Bluetti EB55 portable power station as compensation for this review and post. Our opinions and conclusions are 100% our own. We would never recommend a product we didn't believe in.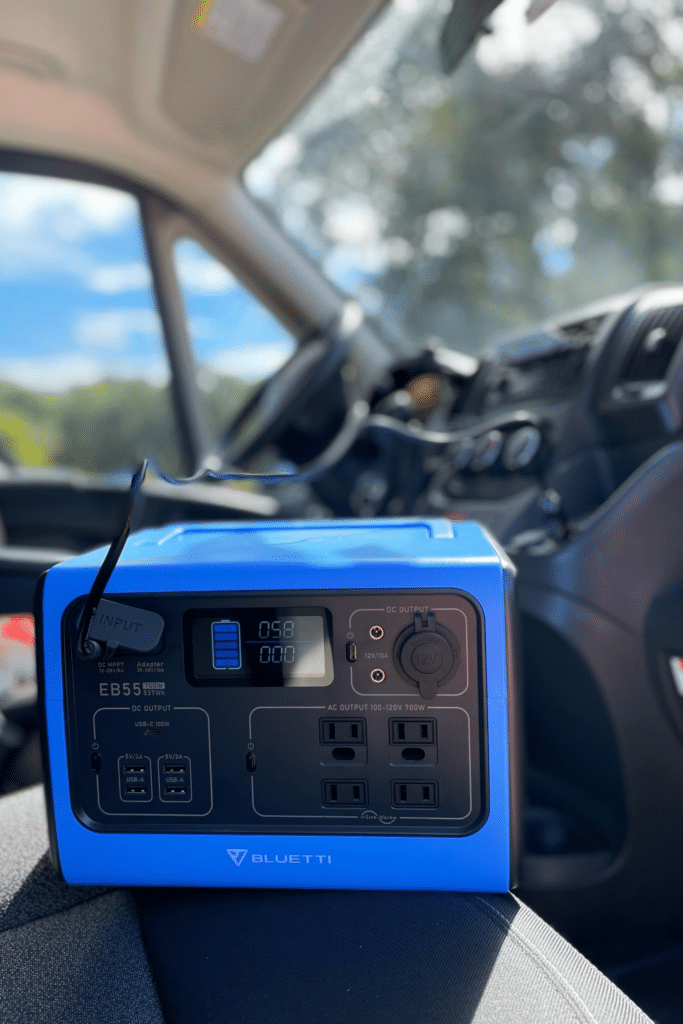 Every RVer values different aspects of their RVing experience. This lifestyle is not a "one size fits all" type of gig.
Instead, we each have the freedom to craft a lifestyle within RVing that fits us best. That's one of the many things I love about this lifestyle and the RVing community as a whole.
But in my case, after RVing full-time for about 1.5 years, I know that one thing I value more than anything is the ability to go off-grid and do some boondocking.
Whether that means finding some remote (and free) locations on federal lands, a stranger's land or driveway via Boondockers Welcome or a tasty getaway to a Harvest Hosts location, it will all be a part of our RV plans moving forward.
And when you couple our new "fit it anywhere" campervan with this Bluetti portable power station to keep our devices and small appliances powered up, the options are now endless.
Boondocking Bliss with the Bluetti EB55 Portable Power Station
When we were first full-time RVing back in 2017-18, the only "portable power" that we had along for the ride was a cheap ($99) power station we bought from Walmart.
No beefy house batteries (only a couple of standard lead acid), no classy portable generator, no solar panels. Nope, just a cheap and "lightweight" power station.
Honestly, I don't know the exact specs of that first power station now. But I know it was nothing to brag about. It was just the bare minimum to charge a few cell phones and maybe run a laptop for a couple of hours or so.
And yet, it was bulkier and about the same weight as this new portable power station from Bluetti (which is just over 16 pounds and less than a cubic foot)!
So, what makes this Bluetti EB55 such a great choice for those RVers with "boondocking dreams" like us? Let's talk about that…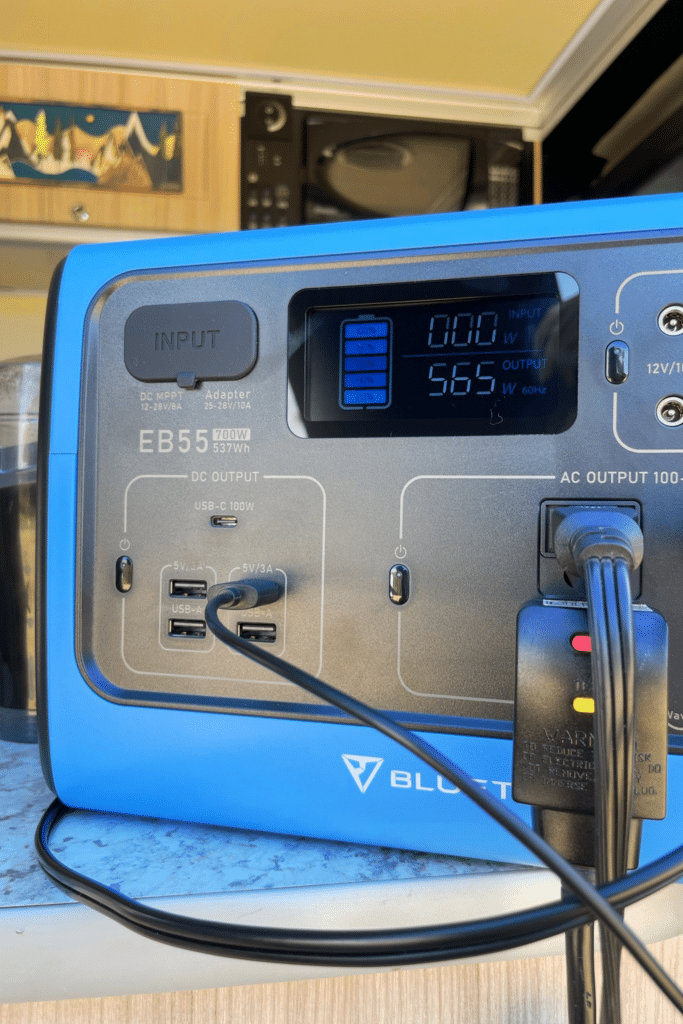 Ultimate Portability
If you're traveling the continent in a beefy fifth wheel or Class A setup, the size and weight of this unit may not be of ultimate importance.
But after having traveled about 40,000 miles in a 26-foot travel trailer with five folks along for the ride, and now traveling with just the two of us in a campervan under 20 feet, it definitely matters to me.
Sure, I would love to have a dual-fuel, 2000W portable power generator along for the ride in the campervan for the added power it would provide. But this type of power solution normally weighs at least 2.5 times as much as the Bluetti EB55 and takes up about twice as much space!
I need something that can tuck away easily into my interior storage compartments without dominating far too much of that valuable space. That's why this option seems like the perfect solution to power our boondocking adventures in the future.
And since we already have a decent battery bank and a second alternator in the campervan to recharge those batteries while we drive, a dual fuel generator is really overkill for us. The Bluetti power station can supplement our battery power to potentially keep us off-grid and powered up for several days at a time.
That's a win for this campervan owner!
Ultimate Power Output Options
To be completely honest, I could hardly believe the number of charging ports on the Bluetti EB55 when I opened the box. I can tell you that I had never seen such a small unit with so many charging options before.
You can actually power up to 13 different devices or appliances simultaneously. Yup, I had a hard time believing it as well.
This Bluetti portable power station boasts the following:
4*PURE SINE WAVE AC outlets (for TV, drone batteries, small kitchen appliances, etc.)
1*PD 100W USB-C port (for laptop, tablet, phone, etc.)
1*Regulated 12V/10A car port (for mini fridge, hot plate, etc.)
4*5V/3A USB-A ports (for camera batteries, phone, headphones, etc.)
2*12V/3A DC ports (for LED light strip, security camera, etc.)
1*15W Wireless charging pad on top (for smart phones with wireless charging capability)
See? 13 devices simultaneously! Of course, there might be very few scenarios when you would use all 13 charging options at the same time. But if you had to in a pinch, it's nice to know you could.
Not to mention that this unit also has a powerful floodlight on the back that can light up just about any space as well. So its overall functionality is really impressive.
Want to know how this power station will perform in charging your devices or appliances? Just use the following calculation for an estimate: 537Wh * 0.85 / operating power (in W) of your device(s)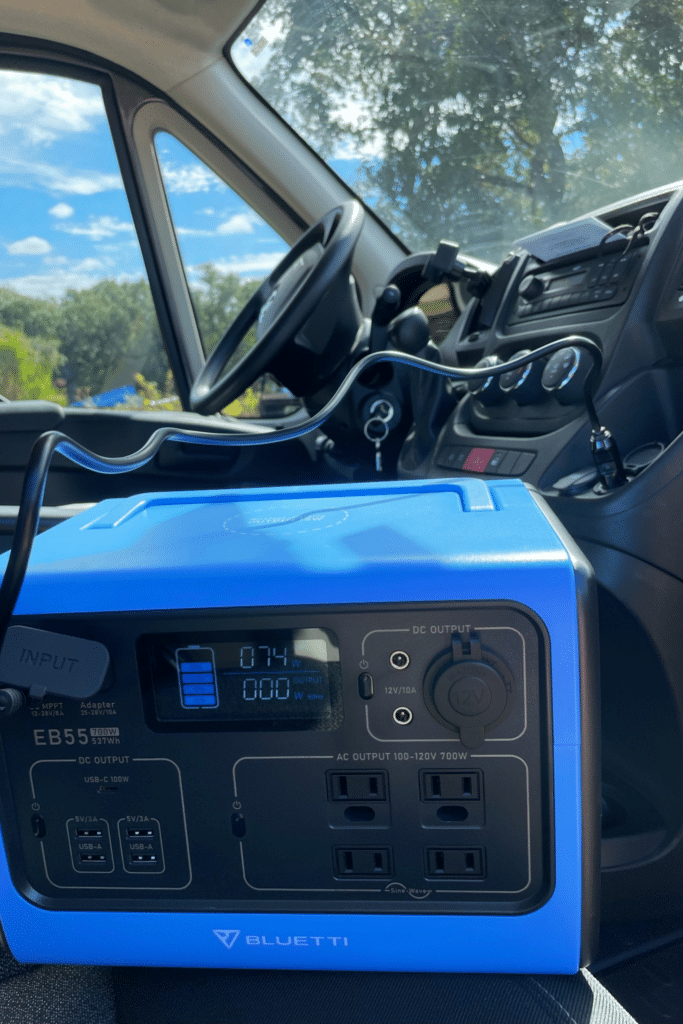 Ultimate Recharging Options
For me, one of the most annoying things about electronic devices is when you have to purchase extra equipment or cables in order to have multiple charging options.
I seriously love that the Bluetti EB55 comes out of the box capable of charging up in two easy ways, with a cable included for a third option.
Included in the box are the following pieces of charging equipment:
200W AC Adapter (Home Charging): Allows you to charge to 100%, at home or with a generator, in just over 3 hrs.
Car Charging (DC) cable: With 12V port in your car, about 6 hrs to charge; with 24V, about 3 hrs.
Solar Charging cable (panel not included): Fully charge within 4.5 hrs.
**Note: You can purchase Bluetti's 120W solar panel or 200W solar panel separately, or you can choose to purchase a bundle that includes the power station and the solar panel.
Do you want to know the best thing about the recharging situation? You can plug in multiple sources of power simultaneously to recharge faster!
If you're getting ready to head out boondocking for the weekend in your truck camper, for instance, you can plug the 200W AC adapter into an extension cord running from a home outlet; at the same time, you can use the solar charging cable to connect up to 200W of solar power input as well.
Total charge time required with both AC and solar panel inputs (400W total)? Between 60 and 90 minutes! Um, yes please.
LiFePo4 BATTERY WITH 2,500 CHARGING CYCLES LIFESPAN
Oh, did I mention this bad boy sports a 537Wh Lithium Ion (LiFePo4) battery inside? What does that mean for you?
Durable battery chemistry for long life (2,500 charging cycles, compared to 500-800 cycles with other battery types)
Lighter weight, smaller size
More efficient use of power (power more of your stuff)
Recharges faster
**Note: if you only need to charge from 50% back up to 100%? That's only a half cycle to count against that 2,500 total. Very nice.
In addition, the EB55 has a built-in Battery Management System (BMS) which serves as the brain of the battery pack. The BMS is responsible for:
Protecting battery cells from damage (due to being over- or under-charged)
Monitoring battery temperature and health
Balancing charge across cells for maximum efficiency
Ultimately protecting the power station, the devices plugged into it, and the people using it
Basically, we are dealing with state-of-the-art components in this little beauty that should not be ignored or taken for granted.
Putting the Bluetti EB55 Through Its Paces
When we took the EB55 out with us in the campervan recently, we decided to really test this thing out. We wanted to push it to its limits in a few different ways and see how it responded in "real world" conditions.
We had seen videos of other folks able to power a small, standard coffee maker (and produce 14.5 pots of coffee on one power station charge!).
Others were able to charge two laptops, camera batteries, two phones and multiple other devices simultaneously.
So we wanted to really see how well she would perform and pair with our campervan and the boondocking dreams that have come along with it.
LET'S TRY POWERING ALL THE THINGS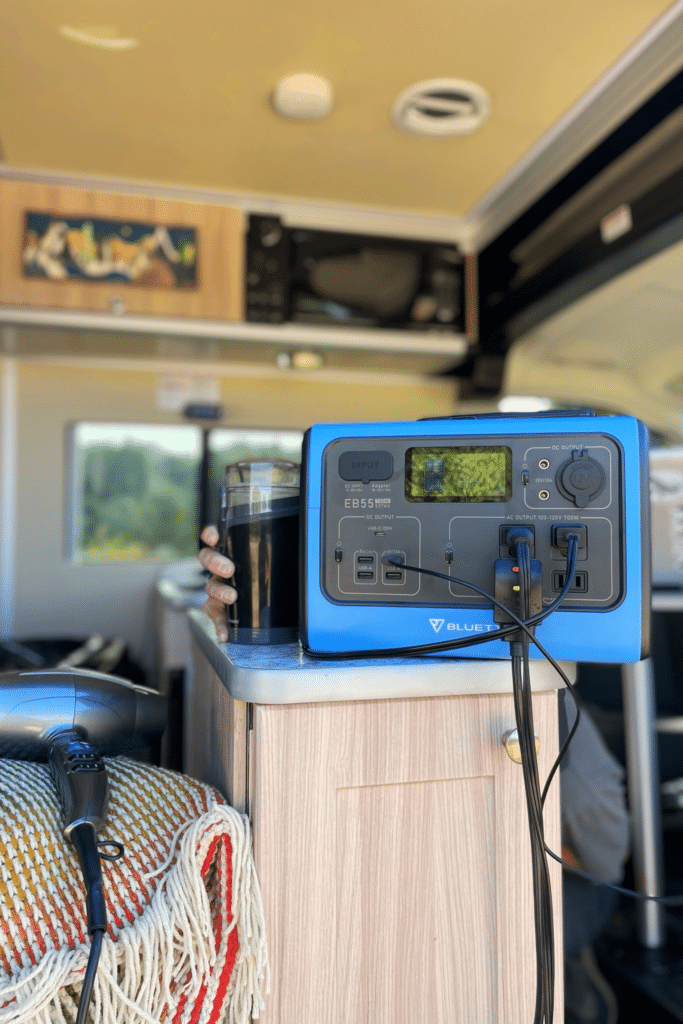 We tried coming up with a nice range of common devices and appliances we would likely be using in the campervan while boondocking:
Laptop
Cell phone
Hair dryer
Coffee grinder
Small fan
Keurig Mini coffee maker (not normally with us in the van…but had to try)
First, we tried plugging in the cell phone, laptop, hair dryer (medium heat, high speed), and the coffee grinder (with grinder engaged).
All of those devices combined were pulling 649W of power. Since the Bluetti has an output of 700W (1400W peak, short bursts), she had no problem keeping up with this arrangement.
We also swapped the coffee grinder out for the small fan, with the rest of the setup remaining the same. Again, no issues at all powering all five devices simultaneously, with around 600W of power output.
Pretty impressive results so far!
But…heat makes all the difference in power consumption.
CAN THE EB55 POWER A KEURIG MINI COFFEE MAKER?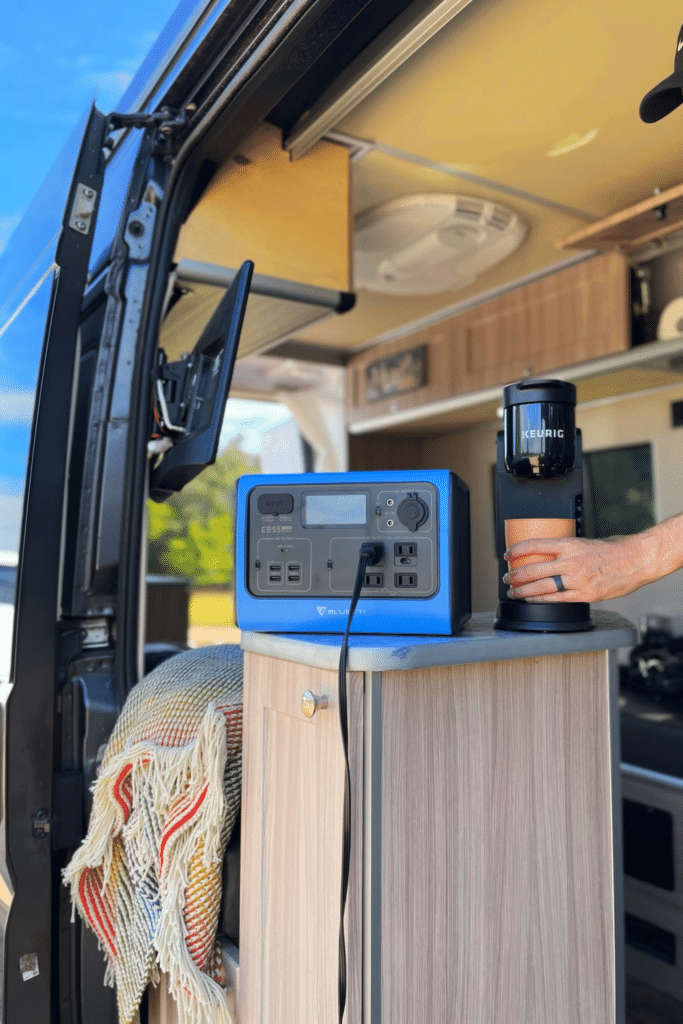 This was the test I was most interested in conducting. Knowing that any appliance with heat involved requires significantly more wattage than those without, I did not have high hopes.
Sure, it tested well with the hair dryer blowing hot air, but a coffee maker is a different animal.
As I mentioned above, I had seen another reviewer able to power a small Mr. Coffee 6-cup coffee maker and produce 14.5 pots of coffee on one charge. But I felt like the Keurig was definitely going to be more of a challenge.
So we unplugged everything else and plugged that Keurig Mini into the Bluetti EB55 to brew a nice cup o' joe for the road.
Alas, the EB55's safety features kicked in and cut off the power supply to the Keurig almost immediately, displaying "overload" on the digital screen. We could also hear the internal cooling fan kick in at this point. No joe for the road. Sigh…
**Note: After overloading like this, you need to hold down any two of the power buttons on the front of the power station to reset the unit and turn off the digital display.
Don't worry, you're not going to damage the unit by overloading it. The EB55's battery management system (BMS) that we discussed earlier makes sure of that with its smart technology.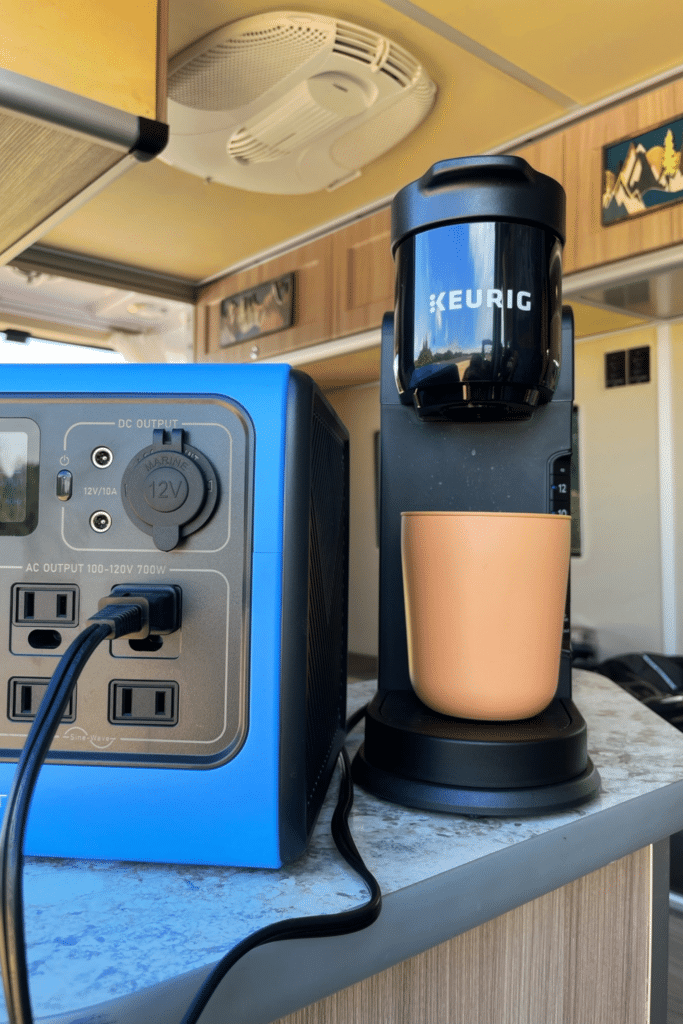 HOW LONG WILL IT POWER MY LAPTOP?
After bringing the power station back home, I charged it back up to full capacity (about 1.5 hrs with the AC wall adapter). I wanted to run one last test to see how long it could power my laptop with a full charge.
I plugged my laptop into the power station and kept it "active" even when I wasn't using it. (No sleep mode.) And do you know how long it continued to power my laptop with a power output of about 7-14W?
Oh, about 24 hours! Pretty handy if you've got a major work deadline hanging over you while out adventuring.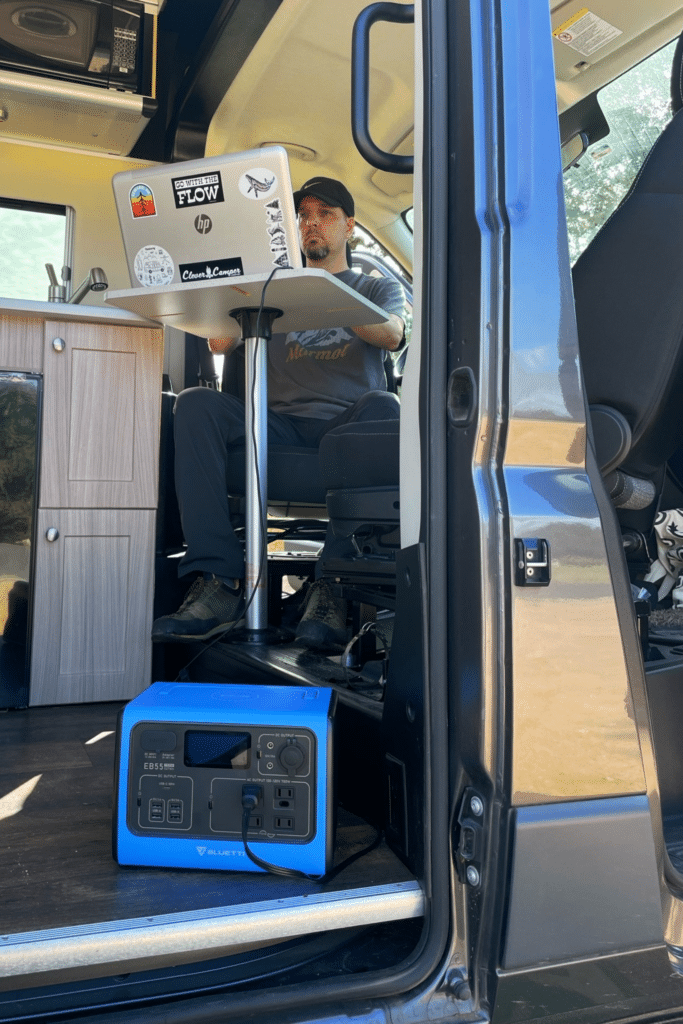 Honestly, I was pretty shocked and impressed by this. Yes, I could have used their calculation above to get an estimate of this outcome. But come on, we both know there's nothing like seeing it with your own eyes.
And with that, I concluded my power station testing, satisfied and excited to have this product in my "boondocking arsenal".
Are You Ready to Load Up a Bluetti EB55 Portable Power Station and Boondock This Weekend?
With all of this information staring you in the face, I'll bet you're craving some boondocking action!
I know I am at this point, and there is no doubt I will have my Bluetti EB55 powered up and ready to roll on our next boondocking adventure in our campervan.
No, she's not going to power our air conditioner and keep us cool in a heat wave. We would need a "fueled" generator option to make that happen…but that's definitely not my first choice. Personally, I like to stay as simple, lightweight and "off the radar" as possible. A loud generator running on gas or propane doesn't really match with that desire.
Instead, our first choice will be to follow the comfortable temps, pack up this 16 pound power wonder to keep the essential devices going and keep us out of trouble. And then let the winds of wanderlust carry us wherever they choose.
Yep, that sounds like a fantastic plan. Thanks for powering that plan, Bluetti!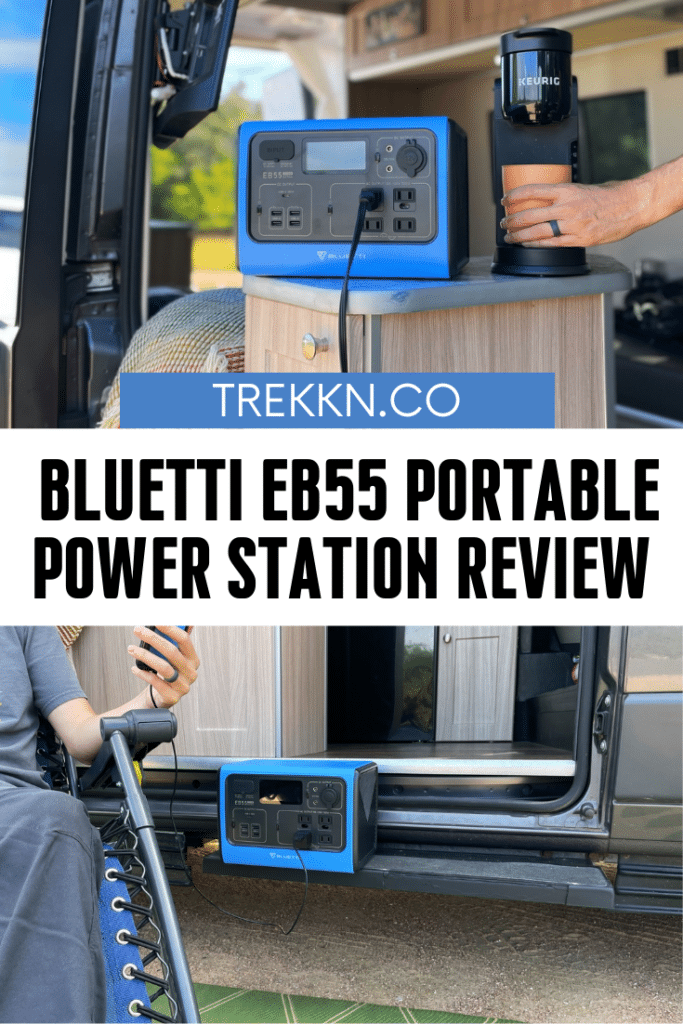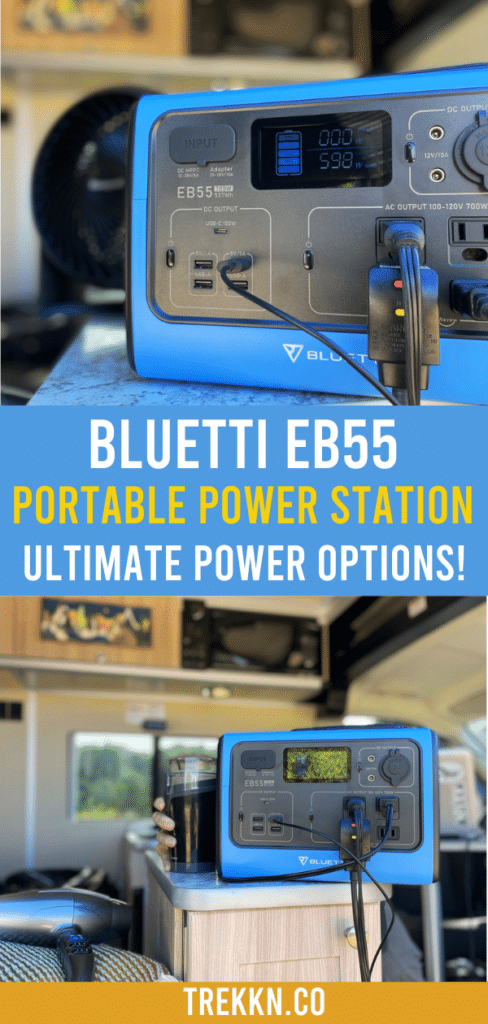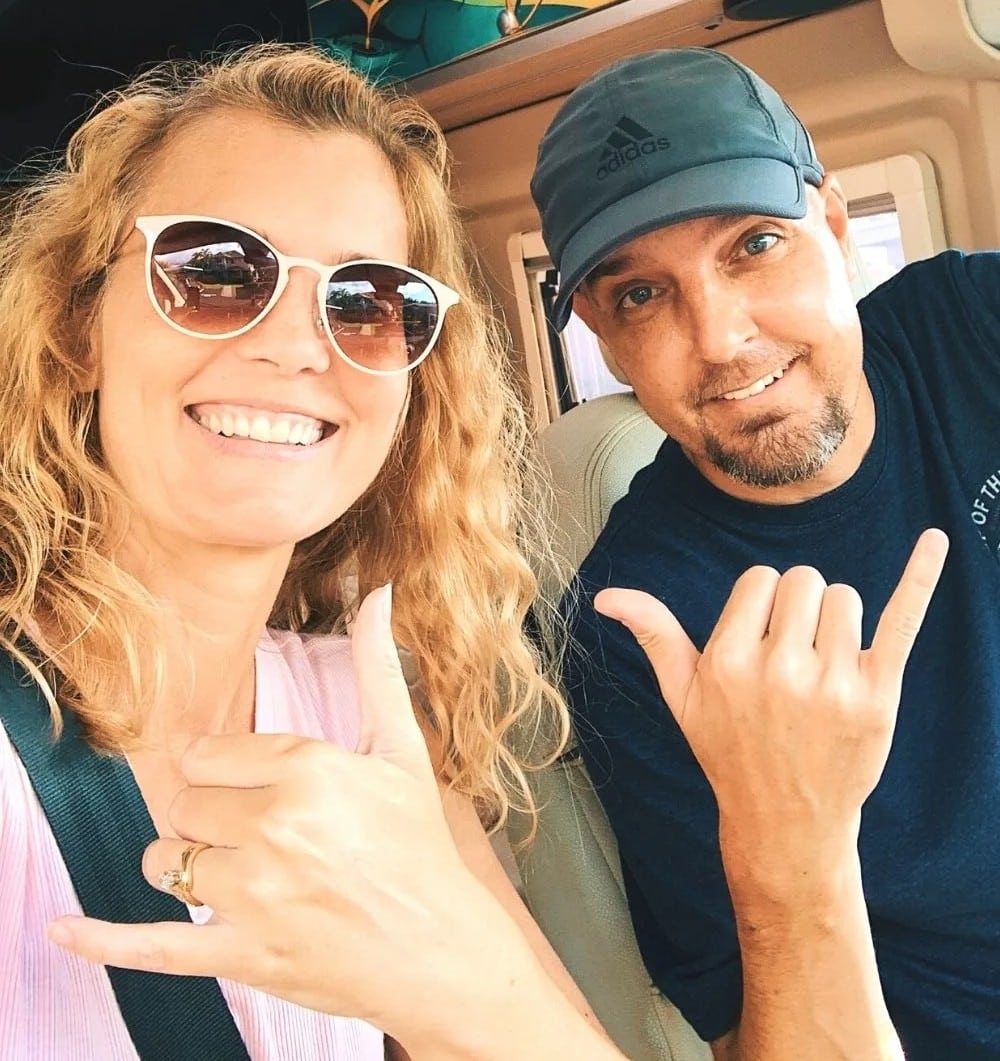 Todd Bonner loves a competitive game of table tennis, a breathtaking hike and simply exploring new places. He spends most of his time sharing information about RV travel and safety, RV accessories and tips, and the National Parks he has visited and still desperately craves. When he's not busy working on TREKKN, you will often find him staring at pictures of Glacier National Park (probably his favorite spot on earth) or creating new products for Clever Camper Company.