15 of the Best Tiny Living Hacks for RV Life

Moving into an RV or other small space can be intimidating. The obvious solution to tiny living is to have less stuff.
But, that's not very helpful for this article, is it? Let's focus on real solutions that help organize RV living.
You don't need to toss your stuff out! Read on and find clever ideas for how to improve the available space in your RV, no matter how small the space.
This, my friend, is how tiny living hacks can actually make more room in your RV.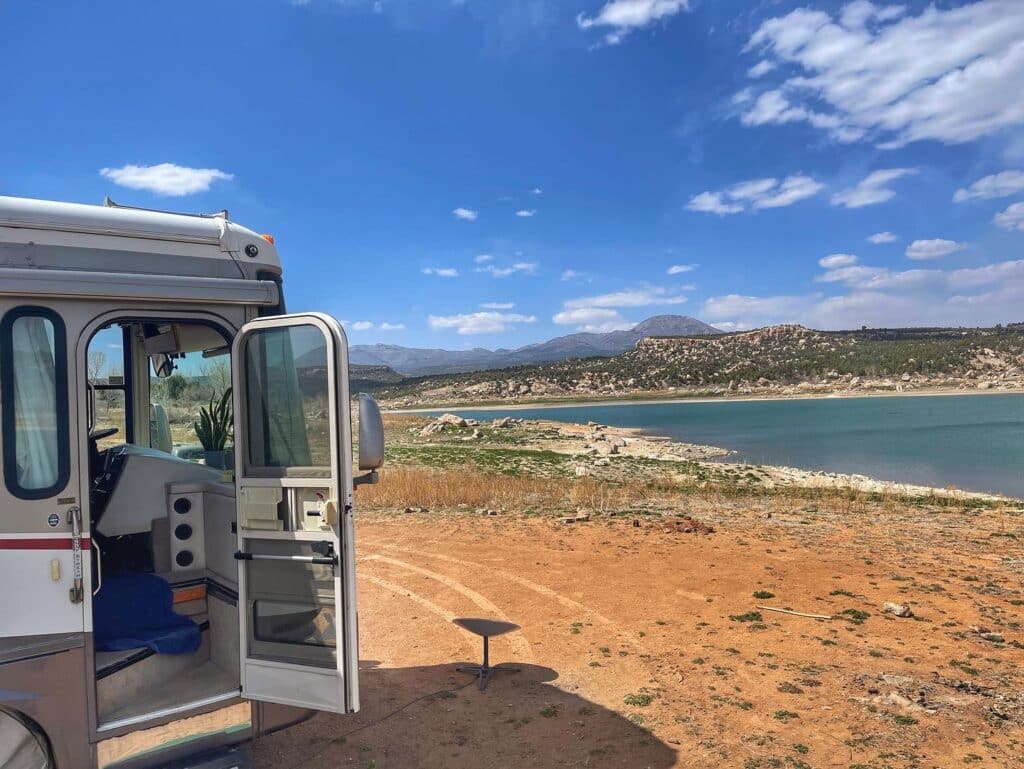 My Experience Living in Tiny Spaces
Having lived for years in an RV, I have first-hand experience organizing small spaces, and smaller spaces. We're talking tiny living.
I have lived in a camper van, a 23-foot travel trailer, and now a 40-foot motorhome. No matter the living area, we seem to fill it up.
Then we always find ways to improve on how we organize our living area.
So no matter your floor plan, I'm confident some of our best tiny living tips will help you make the most of your RV living.
And if you're like us, working on the road, you may also be interested to find inspiration for designing a great RV office space.
How You Can Save Space in Your RV
PURGE DUPLICATE ITEMS
Now I know that I started this article by saying we're not focused on tossing things out. But, please allow me to make one quick suggestion. Purge duplicate items.
Many RVers have a "one in, one out" policy. This allows them to manage the total amount of stuff they own and keep in their RV.
It not only helps reduce clutter, but also keeps your total RV weight under control. Trust me, weight creep is real!
So go ahead and treat yourself to that shiny new espresso maker. (Ahh, there's nothing quite like enjoying fresh brew on a brisk morning outdoors.) But, before you depart on your next road trip, remove the other coffee makers in your RV (be honest, how many do you keep in there?).
Beyond limiting and managing your accumulation, you can work smarter, not harder. The following space-saving ideas will help you utilize your available space as efficiently as possible.
NESTING
Anything and everything that can nest, should nest. From plates,dishes and cups, to storage containers. You can store five bowls in the same space it takes for one, if they nest well.
This will create amazing space savings. Check out this smart storage container set that will suit a tiny lifestyle.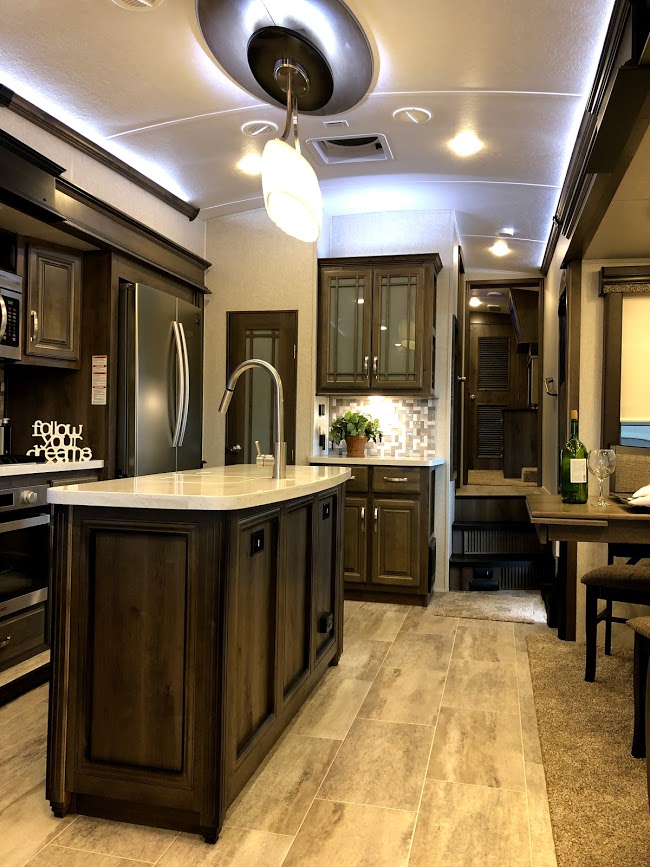 VACUUM SEAL and COMPRESSION BAGS
Vacuum seal bags are especially helpful if you have bulky stuff you don't use often. Vacuum bags, sometimes called "space bags" save space by removing the air out of both the bag and its contents.
I prefer these simple compression travel bags that don't actually require a vacuum. You just roll the bag and the air comes out a one-way seal.
We keep extra blankets, winter coats, and ski gear in these compression bags. This stuff usually only comes out during the cold of winter, but we really like to have it when we need it.
It's easier to justify keeping these items that we don't use often, thanks to the space savings of compression bags.
SHELVES
Any time you cannot make efficient use of the amount of vertical space you have, add a shelf.
We use free-standing, moveable shelves in our kitchen cabinets and under the kitchen sink. This way, we can stack dinner plates on the shelf, and store all of our cups below.
By using the shelf, we effectively double the amount of storage space. We have something very similar to these simple wire shelves.
UNDER BED STORAGE
Whether you have empty space under your bed or not, these under-bed storage boxes can help maximize storage space.
Perhaps you have a gap of space under your couch or under a chair where these would fit perfectly.
These stylish, fabric-sided boxes look nice and create organized use of otherwise unusable space.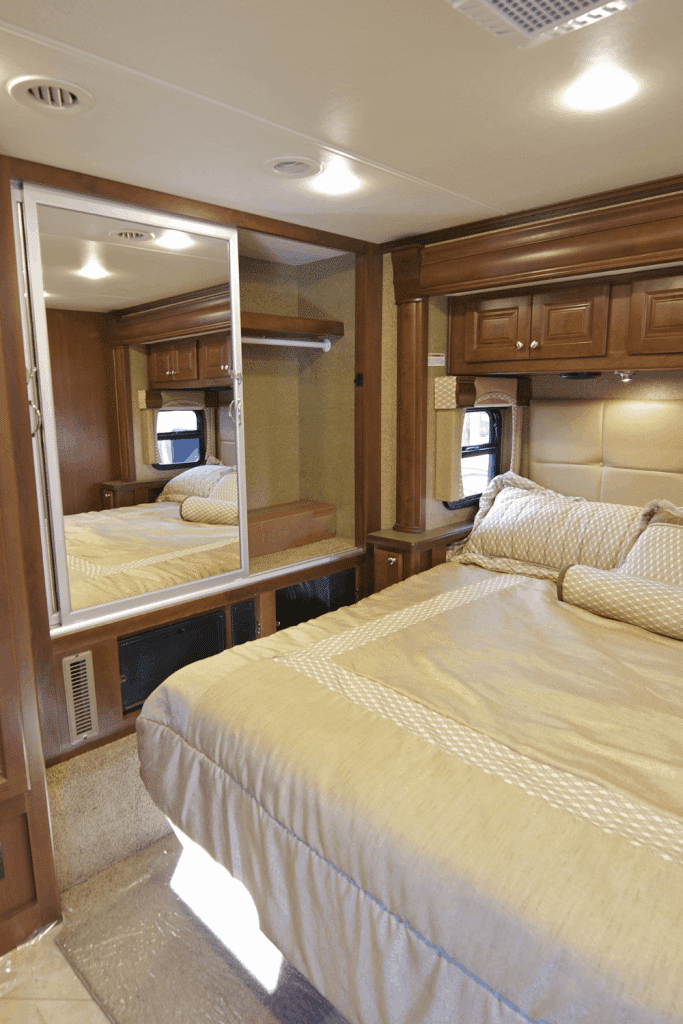 HOOKS
We use hooks for everything! And we have all kinds of hooks for different applications throughout the motorhome. For general use, we like the Command brand hooks so we can remove them cleanly without damaging our RV walls.
A more specialty item, we found these custom hooks for hats that work so well the hats even stay put during bumpy drive days.
And over-the-door hooks like these from Umbra can create space on the inside of cabinets, or make a coat rack on the back of a door.
One note: Be sure you pay close attention to the weight rating for the hooks your purchase. If you have a 5 pound purse and a 3 pound rated hook, nothing good can happen!
STORAGE OTTOMANS
A collapsible storage ottoman can double as a seat, a footrest, a coffee table, and a good storage space. This is a real game changer in many tiny spaces.
In small spaces, the goal is to recapture any blank space you can, like under a dinette bench seat. We even have a full-time RV friend who has a couch with storage inside. Basically, leave no blank space empty.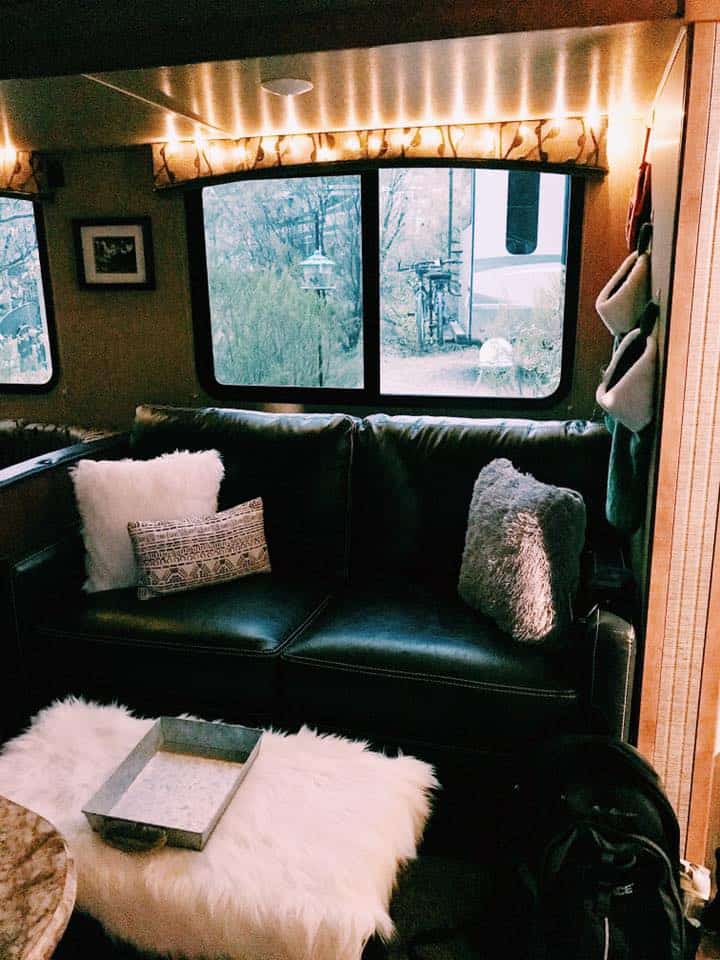 RV Organization
Space-saving strategies may be the first hero of tiny living, but they're nothing without organization. Everything must have a place.
Without extreme organization, you will go crazy searching for the simplest of things in your small space. Below are some of our favorite tried-and-true organization strategies and products.
CLEAR PLASTIC CONTAINERS
Clear plastic containers in various shapes and sizes can help keep similar things together, while also making it easy to see what's in the bin. We keep cleaning supplies in one, office supplies in another, and all our spices in a small one.
We've had these containers from the Container Store for a while now and are not disappointed. They'll help you subdivide the larger storage spaces to maximize what you can fit in, without losing efficiency.
DRAWER SEPARATORS
These ingenious little pieces of plastic make it easy to find what you need, and they also allow you to pack the spaces a little fuller than without them.
We use them in our drawers to separate socks, undies, swimsuits, etc. They're cheap and easy to install, so what are you waiting for?
This set of two is extremely affordable on Amazon and is what we've been using for years now.
DRAWER ORGANIZERS
If your tiny space also has tiny storage spaces, something like these drawer organizers can be beneficial to better organize a cabinet or drawer.
We use drawer organizers in our bathroom medicine cabinet. They help organize items so it's easy to find what we're looking for, and as a bonus, they also keep things from shifting during travel.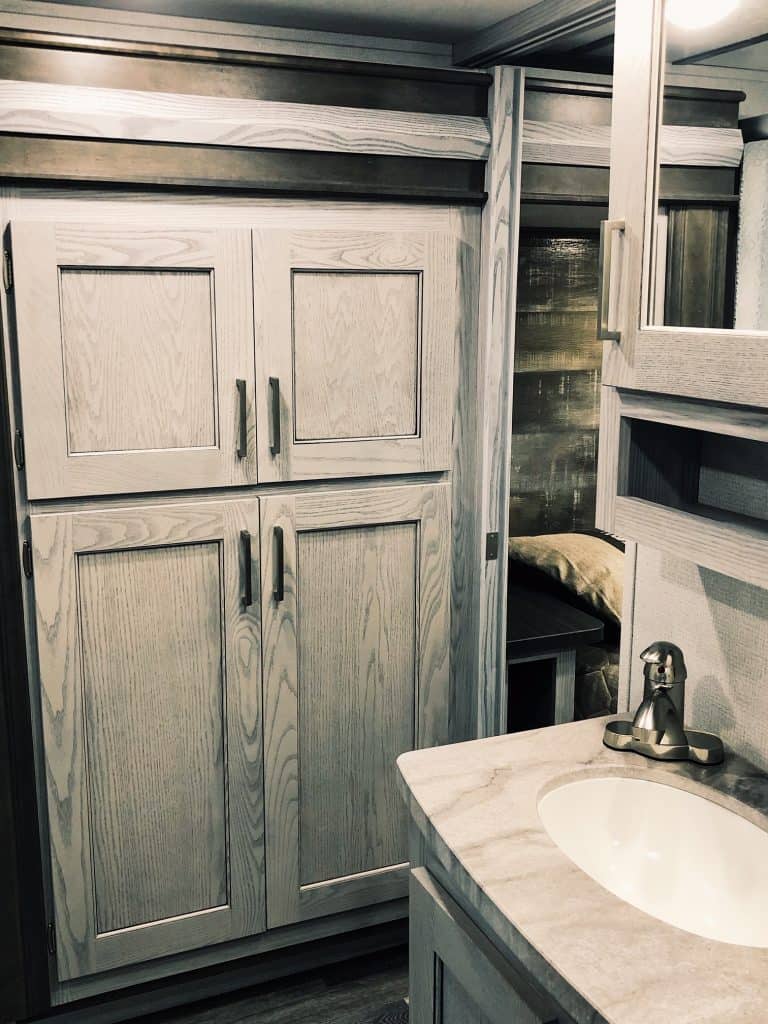 STACKING STORAGE CRATES
If you're lucky enough to have a larger space for storage of bulkier items, check out these basic storage crates from Target. Whatever crates you choose, select something that can stack sturdily for good use of vertical space.
Also, we prefer square shapes with straight-edge walls for maximum utilization of the space. Beware of round storage containers, rounded edges, or angled side walls, they all eat up your storage space.
Additional Recommendations for Tiny Living
Last but not least, here are a few less common tiny living hacks I've personally witnessed other RVers doing.
Once you start spending time with all your stuff in your small space, you'll bump up against the pain points and maybe come up with some unique hacks of your own.
Know that it's okay to feel into your space and what rises as important to you. You don't have to get it perfect before you even move in. We all have different priorities and unique ways of accommodating them.
I hope you enjoy this grab bag of ideas to help get you started with creative solutions of your own.
FRUIT HAMMOCK
We don't have this yet, but many of our full-time RV friends have a hanging fruit basket, like this one available on Amazon.
Similar models come as a true fruit hammock. Either way, this is a great use of vacant wall space or under-cabinet space. Plus, no one needs oranges rolling all over the countertop causing chaos.
LAZY SUSAN
We met one RVer who uses a lazy susan inside her fridge. This portable little food carousel allows her to utilize the full depth of her fridge. We typically just forget about the stuff in the back until it rots.
But her idea is much better, so try a lazy susan in your fridge, like this one from Copco on Amazon.
May the cheese in the back of your fridge never be forgotten again.
LAUNDRY BAG
Swap your laundry basket for a laundry bag. We're always looking for things that collapse and store away small when not in use. This KeepJoy laundry bag is a win-win because it can also hang on the back of a door, another space-saving strategy.
And don't stop at the laundry bin, look for soft-sided collapsible options for anything you can, from coolers to storage crates.
SHAMPOO BARS
A shampoo bar is about the same size as a regular bar of body soap. One bar lasts for approximately 80 shampoos. That's equivalent to using nearly three bottles of liquid shampoo.
Needless to say, using shampoo bars are not only a great space-saving idea, but also good for the planet.
My colleague uses these Viori rice-based shampoo and conditioner bars. Although it takes a bit of time getting used to using bars instead of liquid, this is an amazing brand. It smells incredible.
And, there is essentially zero waste. Check the packaging in the picture below. Both shampoo and conditioner are wrapped in paper instead of a large plastic bottle.
Learn more about Viori here.
One suggestion I have for you is to shut off the shower while combining the conditioner through your hair. So while you're saving space in your RV, you're also saving water. Win-win.
Byrdie compares a list of other shampoo bar brands. You may want to try one of their recommendations.
TURKISH TOWELS
This is another swap we haven't made yet, but so many RVers swear by Turkish towels instead of traditional bath towels. Not only do Turkish towels dry much faster than regular bath towels, they also take up much less space.
Whether they're hanging on a hook or being stored in a cabinet, they're less bulky. If you have a lot of people in your small space, the savings across many towels could really add up.
Try this option by Cacala on Amazon.
They are a great value.
Are You Ready to Unleash Tiny Living Hacks on Your Cozy Space?
We hope these tiny living hacks have you feeling armed and ready to tackle your tiny space. A little bit of strategy and organization will go a long way toward creating a peaceful experience in a small space.
We tried not to buy more stuff to move into an RV, but truthfully some of these storage and organization tools improved our ability to utilize space more efficiently.
Best wishes for your tiny lifestyle adventure with these helpful hacks to get you on track!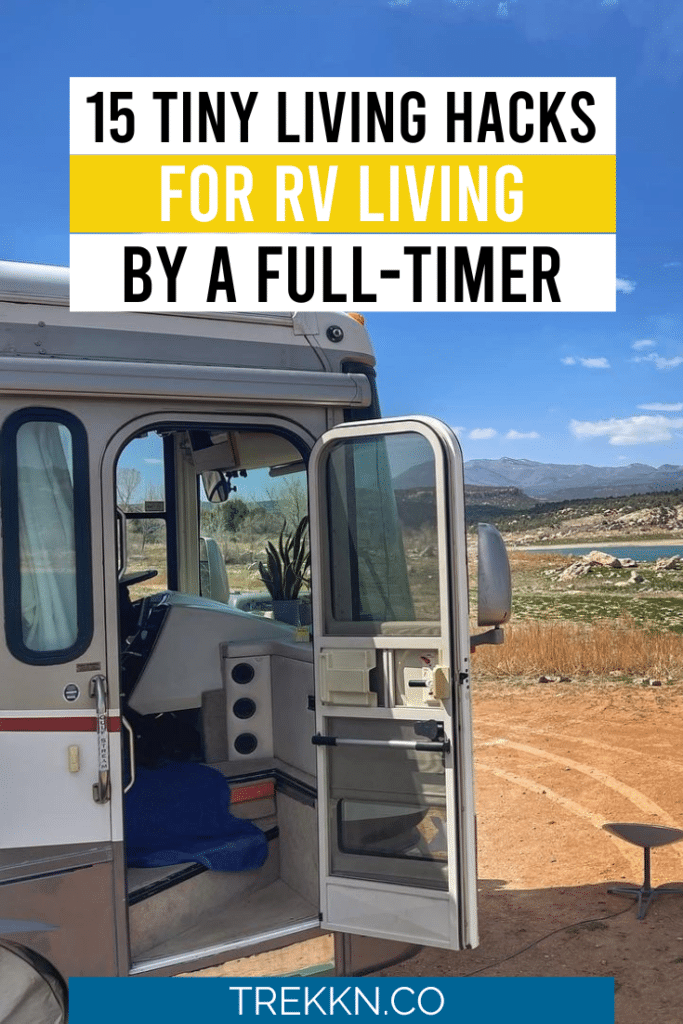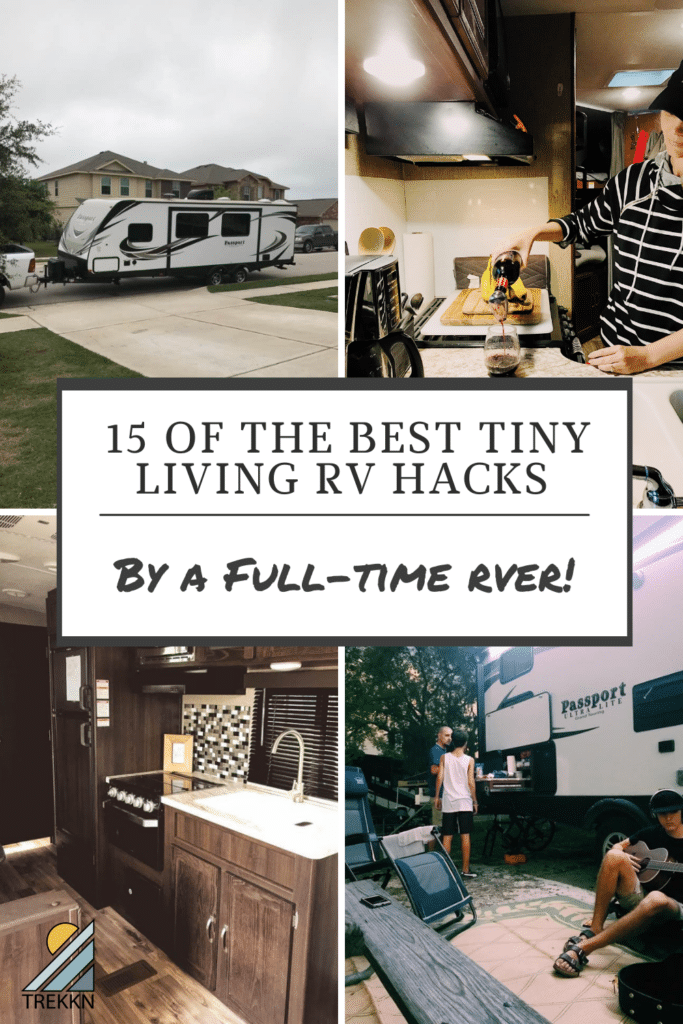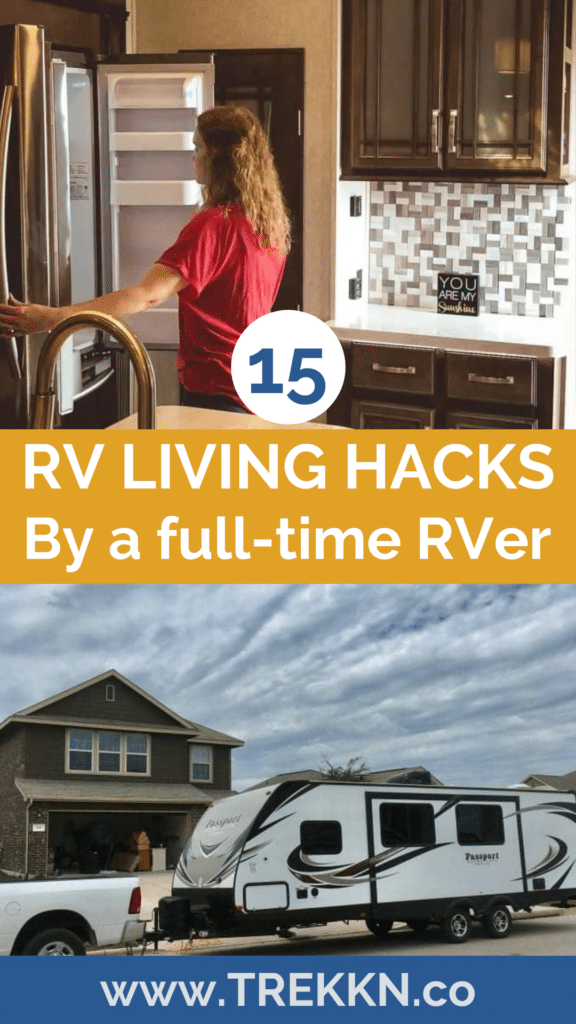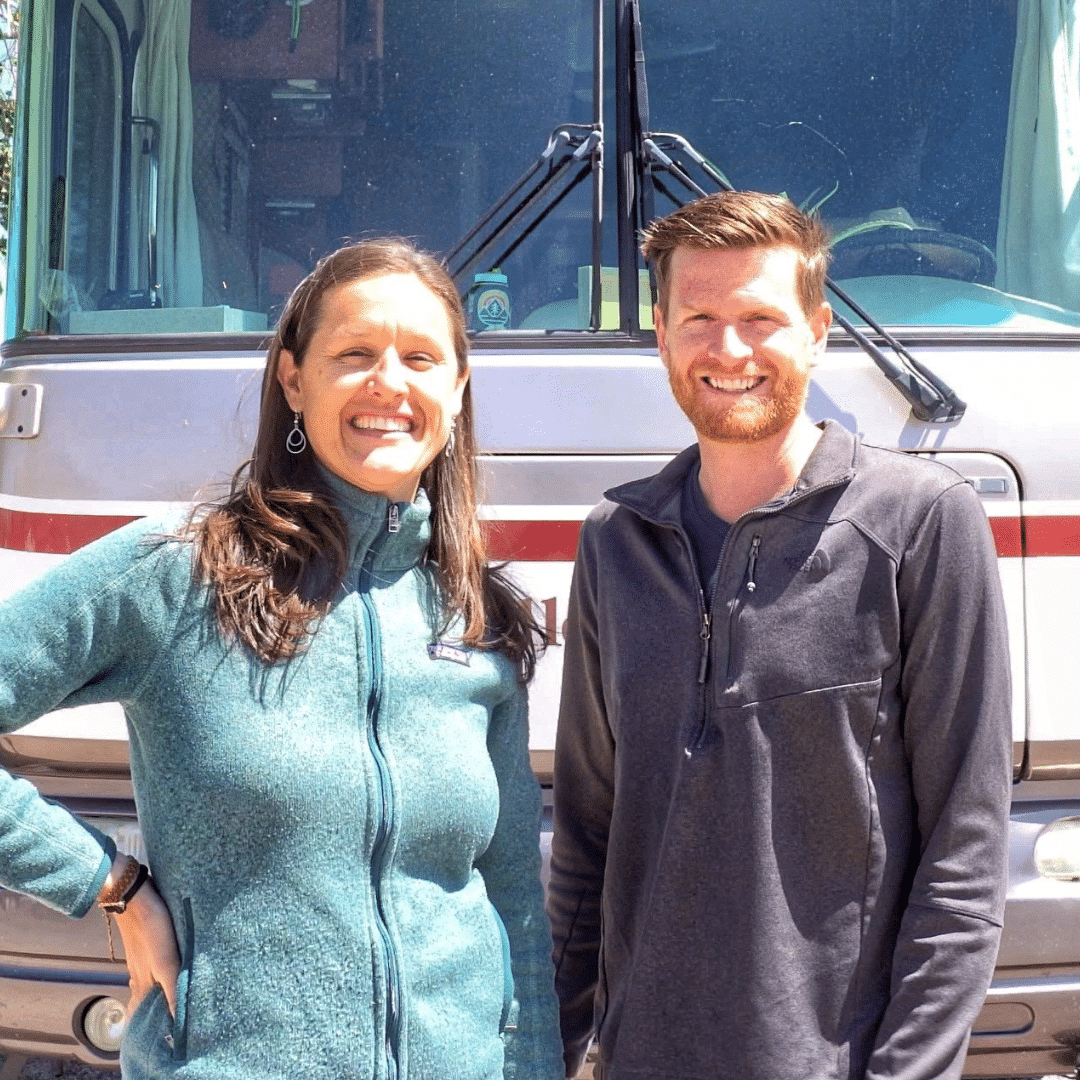 Kristen Bates lives & works from her RV, primarily boondocking off-grid. She owns and operates a women-led travel company, Legit Trips. Kristen loves to explore new places and inspire others to do the same. If she's not typing away on her laptop, she's off on an adventure- hiking, biking, or SUP boarding. You can follow her RV adventures @PerpetualMoves and learn more about her travel company at LegitTrips.com.