This quick and easy spicy fish tacos recipe is so simple to throw together and full of flavor. You can get dinner on the table quickly, not to mention have a house, er, RV full of happy tummies.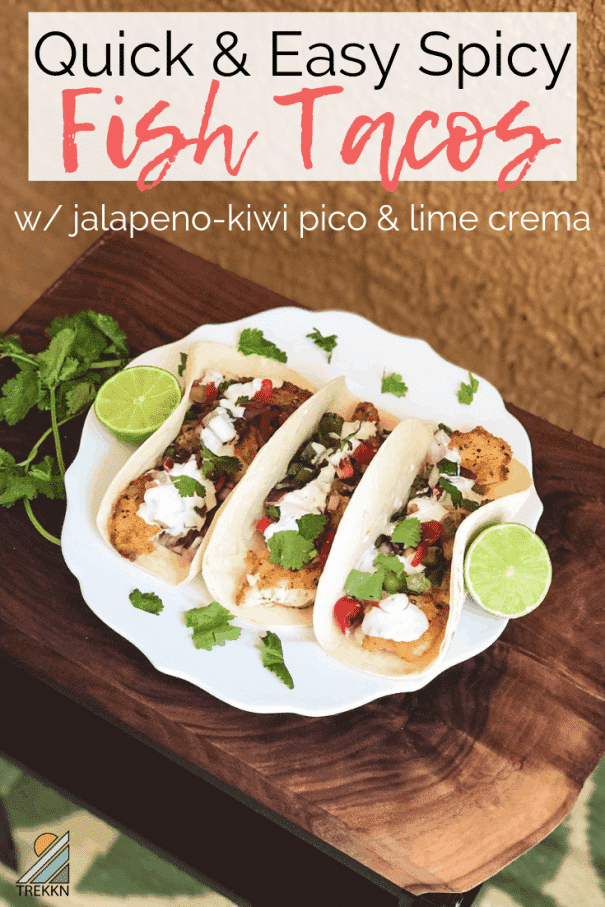 There are two things I can think of off the bat that I won't cook in our RV and that's fish and cauliflower. Fish because, well, that smell sticks forever and cauliflower because it smells like dirty feet. Healthy, but stinky.
If you cook a lot in your RV then you know that whatever you cook, everything smells like it for a while. I do cook bacon in the RV sometimes because I don't know about you, but I'm ok with having my clothes smell like bacon. Because…bacon. Just don't go hiking anytime soon. You don't want to smell like a tasty snack.
So, my amazing tip on cooking fish in your RV is…don't do it. I know, mind-blowing tip. Thankfully, if you love fish as much as I do, there are a few ways to cook it outside the RV.
Tips on Cooking Fish While RVing
Use your outdoor kitchen
We loved our outdoor kitchen and used it quite a bit. Here's my son and I whipping up something amazing I'm sure. (Hint: it's a quesadilla, his specialty.)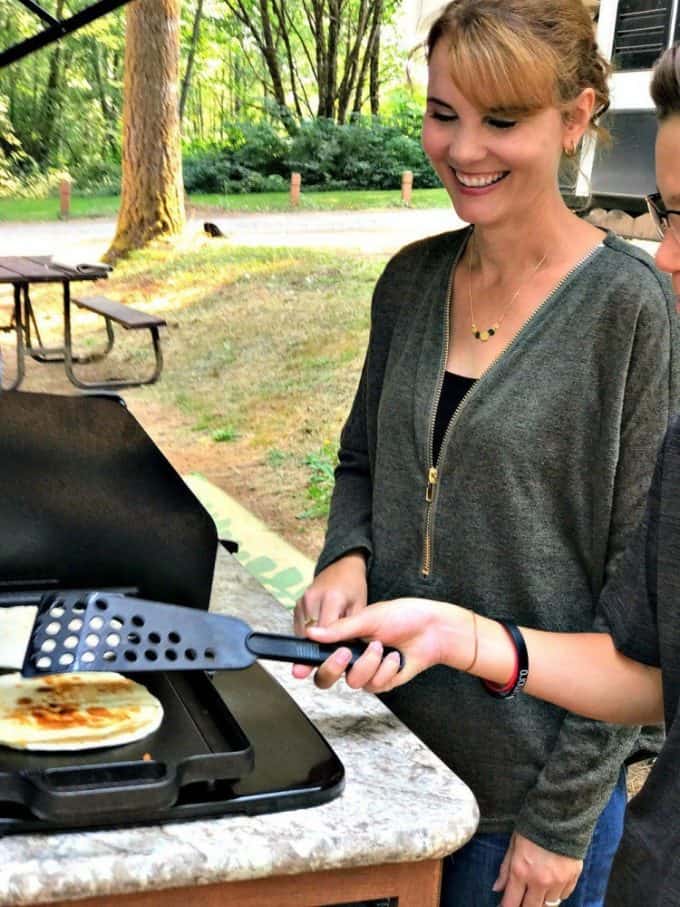 We used our outdoor kitchen a number of ways:
When cooking something strong smelling, like fish
When we needed to tag team for dinner; I would use one kitchen and Todd would use the other
When it was so incredibly hot in the RV that even using the burners would heat it up and make it even more uncomfortable
When cooking something that would splash hot oil
Our outdoor kitchen had two burners and almost as much counter space as the inside kitchen. It also had a small refrigerator we used for things like drinks. One kitchen item we used quite a bit in the outdoor kitchen and that's pictured above, was a cast iron griddle/grill combo like this one. It was so incredibly useful!
If we end up buying another travel trailer, an outdoor kitchen will be at the top of my list. We've noticed that some of the newer models are replacing the burners on the outdoor kitchens with a grill. So if you're shopping for a new rig, be sure to open the outdoor kitchen to see what it includes.
Grill It
I love grilled fish. It turns out so flaky and delicious, but grilling it can be tricky without the right tools.
Use a grill basket, like these two options, to cook your fish.
WolfWise Stainless Steel Portable BBQ Grilling Basket
The topper pan can be used for vegetables, shrimp and other meats.
Cook It In Foil, aka Foil Packet Meal
Another way to cook fish while camping and RVing, is in a foil packet. I love foil packet meals because they are so incredibly easy to not only make but to cleanup as well.
We rounded up 11 foil packet meals – some are baked and some are over the grill. Plus, here are some other recipes and tips that might help:
All three of these ways to cook fish while camping and RVing will keep you from stinking up your home on wheels. Now, let's get to the recipe, shall we?
Quick and Easy Spicy Fish Tacos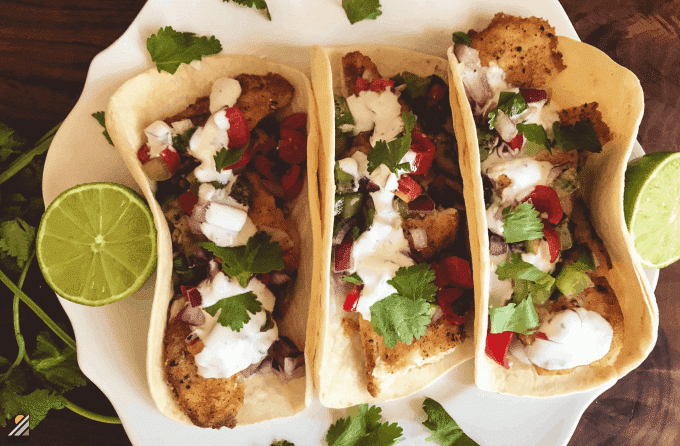 For some reason, cooking fish used to always intimidate me. I had this idea that a) it was only for special occasions (I mean, who has fish tacos on…let's say a Thursday?) and b) it was hard to work with and cook just right.
Boy was I wrong.
Fish tacos, this recipe anyway, is so fast and so simple, that it's made it into my weeknight – I need something to cook and fast – meal rotation.
What Makes This Recipe So Fast and Easy?
For this recipe, I've used tilapia. I like the way it tastes, it's easy to cook and I have vacuumed sealed bags of tilapia in my freezer at home all the time.
When I'm short on time or just didn't think ahead on what we're having for dinner, I can thaw these vacuumed sealed tilapia in 15-minutes in a bowl of cold water. While they're thawing, I'll whip up the jalapeno-kiwi pico de gallo or some other topping, like shredded purple cabbage, as well as the lime cream I like to serve with it.
What also makes this recipe come together so quickly, is the easy mix I coat the fish in. It only requires a few ingredients, which is always nice when you're in a rush. Plus, you only have to cook the fish 3 to 4 minutes per side.
Easy peasy.
How to Make These Easy Spicy Fish Tacos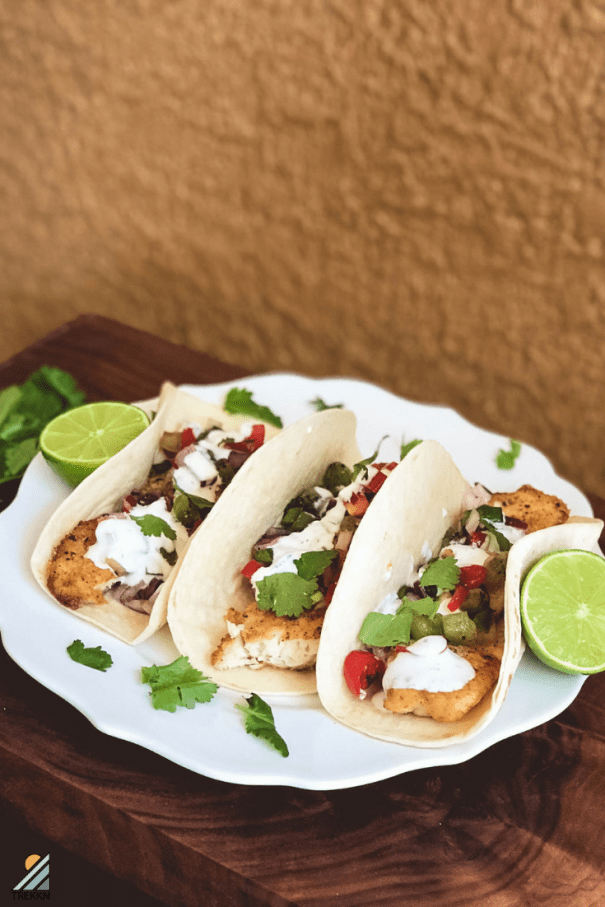 Here are the ingredients and the steps to make these yummy fish tacos.
Ingredients:
1 tsp smoked paprika
1/2 tsp chili powder
1/2 tsp of lime zest
2 Tbsp. corn starch
salt and pepper
4 Tilapia fillets
cooking oil
6 – 8 flour tortillas
Cilantro, roughly chopped (if desired)
Instructions:
Pat the fish dry with paper towels and season both sides with salt and pepper.
Mix the smoked paprika, chili powder, lime zest and corn starch in a bowl.
Sprinkle the fish fillets with the corn starch mixture, gently rubbing it into fillets for an even coat
Heat cooking oil in a large nonstick skillet over medium-high heat. (To make sure oil is hot enough to add the fish, sprinkle a little of the cornstarch mixture in the oil. If it sizzles, it's ready.)
Add Tilapia and cook 3 – 4 minutes per side, until browned and lightly crisp.
After it's done, set it on a paper-towel-lined plate.
Heat flour tortillas in the microwave
To serve, break tilapia into small chunks, top with pico de gallo, lime crema and cilantro
*Tip: If you do make this recipe while RVing or in your house, to keep the oil from making a mess all over my stove and myself, I use one of these grease splatter screens. I don't know why I lived without one of these for so many years. It keeps my cooking space cleaner and myself protected from splattering grease.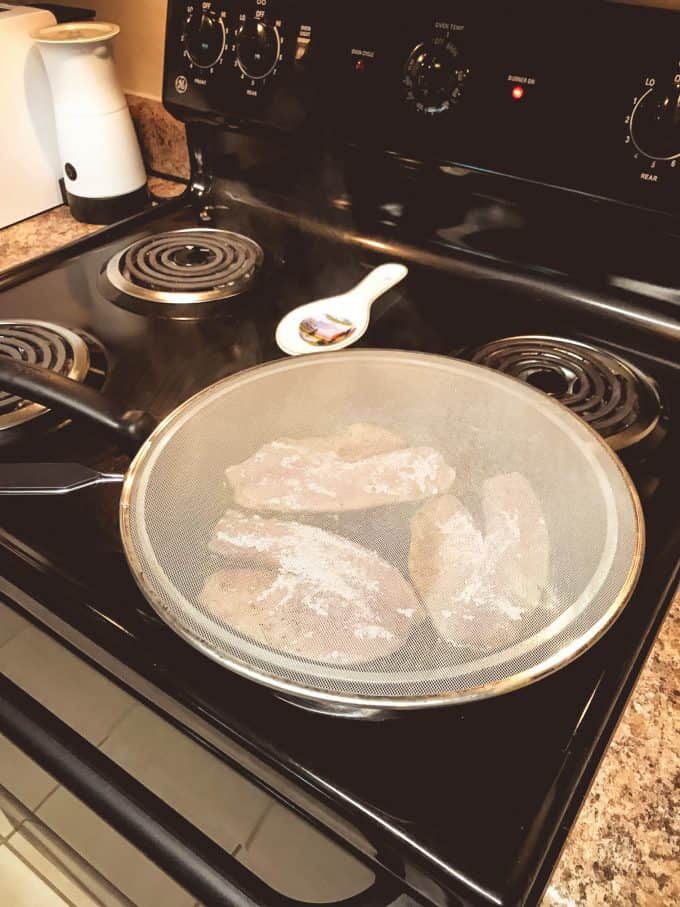 What to Serve as Toppings for Spicy Fish Tacos
As I mentioned, I like to serve a fruit salsa, like this Jalapeno-Kiwi Pico de Gallo, as well as with lime crema with these spicy fish tacos.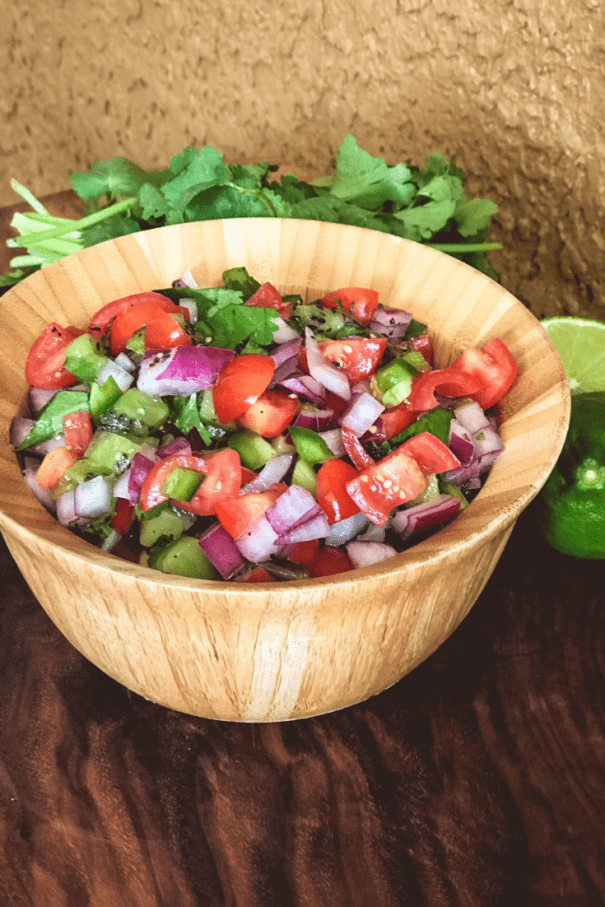 You could also serve fish tacos with:
Cabbage slaw
Chipotle crema
Thinly sliced radishes
Sliced scallions
Are you ready to make these yourself? Here's your printable recipe. Enjoy!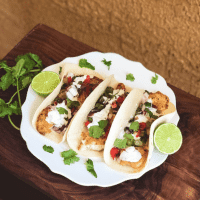 Easy Spicy Fish Tacos
This quick and easy spicy fish tacos recipe is so simple to throw together and full of flavor. You can get dinner on the table quickly, not to mention have a house full of happy tummies.
Ingredients
1 tsp smoked paprika
1/2 tsp chili powder
1/2 tsp lime zest
2 tbsp corn starch
salt and pepper
4 Tilapia fillets
cooking oil
6-8  flour tortillas
Cilantro, roughly chopped
Instructions
Pat the fish dry with paper towels and season both sides with salt and pepper.
Mix the smoked paprika, chili powder, lime zest and corn starch in a bowl.
Sprinkle the fish fillets with the corn starch mixture, gently rubbing it into fillets for an even coat
Heat cooking oil in a large nonstick skillet over medium-high heat. (To make sure oil is hot enough to add the fish, sprinkle a little of the cornstarch mixture in the oil. If it sizzles, it's ready.)
Add Tilapia and cook 3 – 4 minutes per side, until browned and lightly crisp.
After it's done, set it on a paper-towel-lined plate.
Heat flour tortillas in the microwave
To serve, break tilapia into small chunks, top with pico de gallo, lime crema and cilantro
PIN THIS