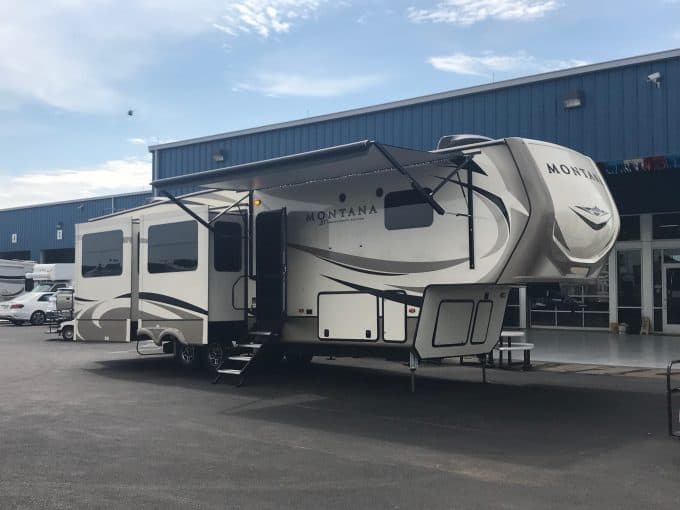 Yes, it's finally here! It's time for June's RV Tour of the Month at Crestview RV, and this month we got inside the 20th Anniversary Edition of the 2019 Keystone RV Montana 3561RL Fifth Wheel…and boy were we impressed. We have all of the juicy details for you, including the full RV Tour Video below, so let's not waste any time!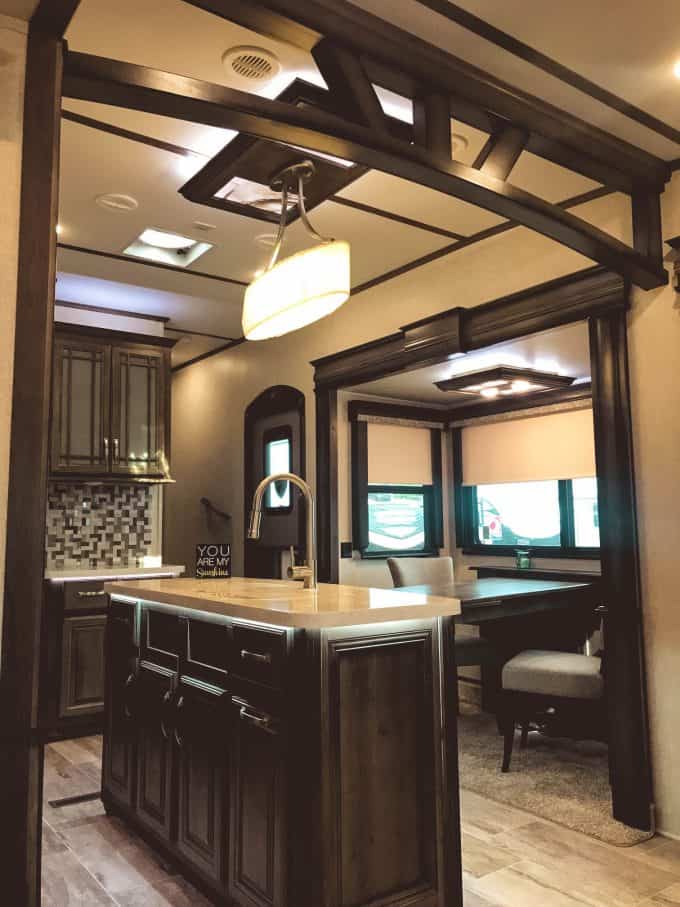 In case you missed it, we started off our RV Tours in May in partnership with Crestview RV in Georgetown, TX . We took a close look at the lightweight 2020 Keystone Springdale 260BH Travel Trailer. (Video tour is embedded in that post if that will be helpful for you.) If you are more in the market for an "entry-level" rig that will allow you to bring the whole family along comfortably for a grand adventure, and at a price point that can work for just about anyone, that's a great place to start.
(HINT: Crestview RV's current sale price on the 2020 Keystone Springdale is actually considerably lower than what we featured in that May post, so now's the time to take a closer look.)
And if you're interested in seeing how we started out our adventures in full-time RVing with a family of five, you can also take a peek at the full tour of our Keystone Passport 2670BH travel trailer (aka Adventure Capsule, affectionately known as Haully).
RV Tour of the Month for June: 2019 Keystone Montana 3561RL Fifth Wheel
But right now, it's time to get focused on the "big boy" of that group: the beautiful 2019 Keystone Montana 3561RL 20th Anniversary Edition.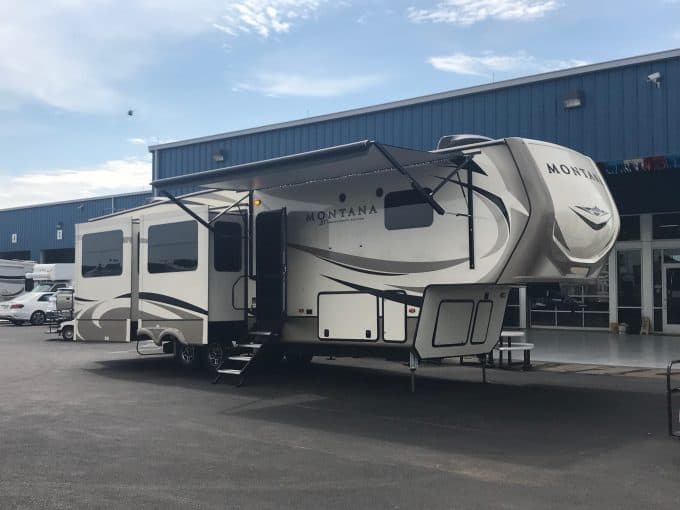 In an effort to show you a nice variety of the travel trailer choices and fifth wheel choices available to you, we are stepping up our RVing game several notches this month. After starting off with a lightweight travel trailer in May as an option to get your RVing adventures started, this month we are exploring a virtual "apartment on wheels"! That is not an exaggeration.
Here are the answers to questions you most likely have rolling through your mind at this point about this popular fifth wheel model.
How many people does this fifth wheel sleep?
While there is only one actual bed (a king in the master bedroom) in this rear living configuration rig, it also includes a queen sized hide-a-bed option in the living room sofa that will accommodate an additional two sleepers.
So in total, you can comfortably sleep four adults in this beautiful rig. But if you've got kids along for the ride that are able to sleep just about anywhere, you've also got two power recliners (with heat and massage) and tons of floor space to throw down an air mattress and call it a sleep over!

How many slides are included in this model?
We were surprised to find out, after doing a full walk-through of this fifth wheel, that it actually has five slide-outs. No wonder it felt so incredibly spacious!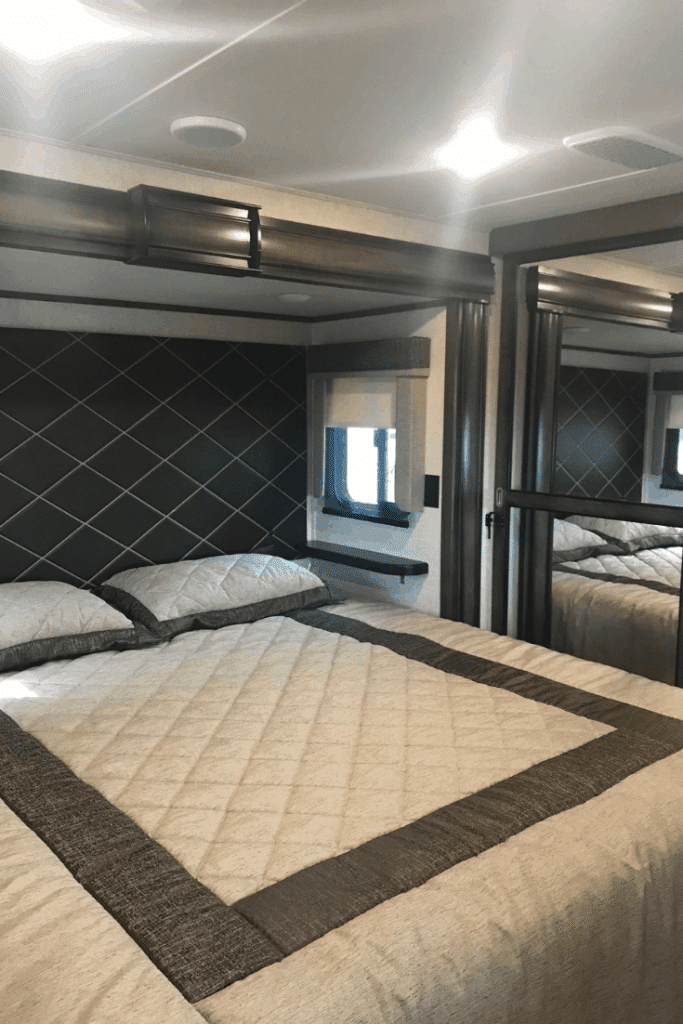 You will find two slides in the living area, one in the kitchen, one in the dining area and the last slide in the master bedroom. This type of expansion made this rig feel like a proper home in our book, and we were definitely drooling over all that space after our 17 months in a 26-foot travel trailer with five people and only ONE slide. (No regrets on my end, though.)
I should note also that these slides were made with Keystone's Tru-Fit slide construction, ensuring the smoothest and most reliable slide operation on the market. (If you've ever had an issue with your slides, you will greatly appreciate that detail.)
How many people can sit comfortably in the rear living area?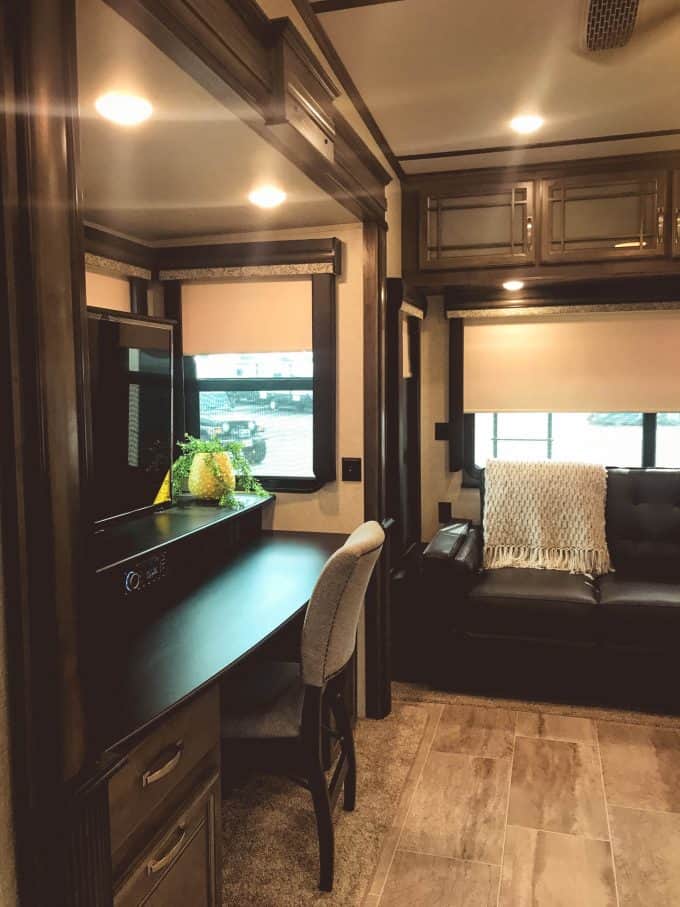 With two power recliners that are equipped with both heat and massage, you've got a great start for your living area! In addition, you also have a full size couch that seats three adults comfortably, giving you plenty of space for five adults to kick back, relax and enjoy a blockbuster movie on the beautiful 50-inch HD LED TV included in the living area.
If you've got a real crowd coming in, you also have four dining chairs (two of them foldable) that can easily be moved into the living area for added entertainment seating capacity.
Does it have an additional bathroom?
Since this is a rear living model, specifically designed more for the RVing couple (not the RVing family), it includes only the full bath that features a 48″ x 30″ shower with seat. There is no additional half bath.
The bathroom does have a surprising amount of storage space, with an additional storage cabinet located in the wall in the toilet nook.
In addition, the average human will not find themselves crouching down in order to fit into the shower. There appears to be ample headroom, a feature we were specifically interested in when we were shopping for our rig.
Can you tell me about the leveling system?
Sure, I'd be glad to because I personally get a little excited when talking about making leveling your rig as simple as possible. While we were in our travel trailer, I came to truly love the Andersen Levelers that made setup go so smoothly and quickly. But the Montana 3561RL takes leveling simplicity and ease to another level completely.
This rig is equipped with a 6-point hydraulic auto-leveling system that is truly "push button simple". No guessing, no stressing, no messing. Just hit the button, step back and let the magic happen. How beautiful is that! As a travel trailer owner, I will say it is beyond beautiful.
Is this model equipped for four season camping?
Not afraid of a little wind chill and frozen precipitation during your RV adventures? Perfect…this Montana is going to quickly become your best friend because she definitely doesn't shy away from the chilly temps.
She comes equipped with the Montana Four Season Living Package to keep you comfortable and your RV components protected while enjoying your favorite wintry wonderland locations around the continent. No worries, no troubles. You can kick back and relax a nice, hot cup of coffee in your heated recliner with complete peace of mind.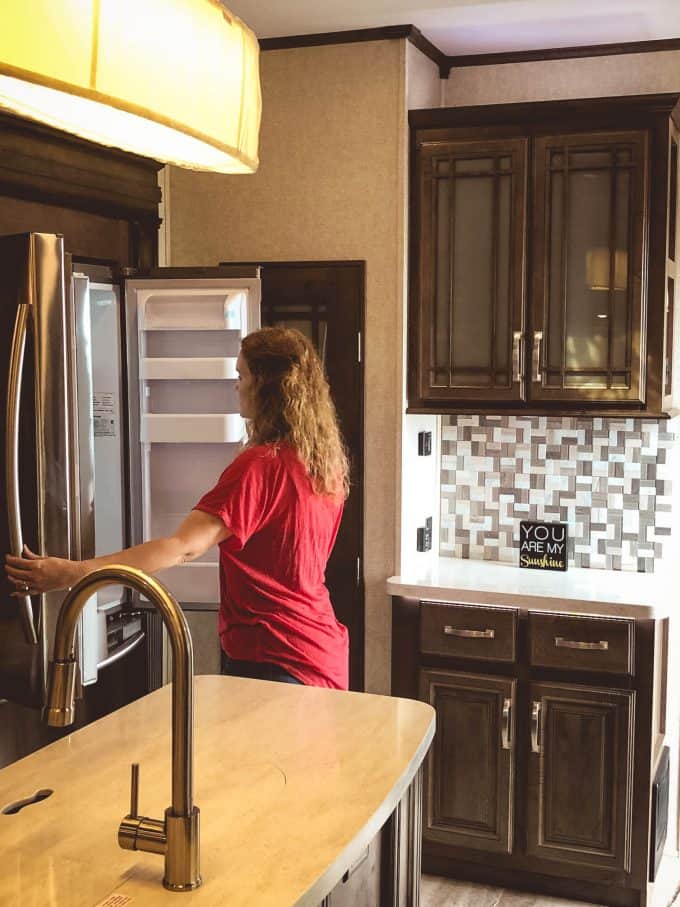 What about tank capacities though? Can I enjoy some boondocking in this rig?
Ah, you read my mind. When I'm (constantly) looking around at different RV models, one of the first questions I need answered is whether I can take that RV out into the wild! After being very limited with our options during our first RV adventure, I know this factor makes a huge difference in your RVing experience.
The great news is that tank capacities are absolutely fantastic, allowing an RVing couple to stay out and soak in the wilderness for days on end if desired. Now that's adventure!
Fresh Water Capacity – 66 gallons
Grey Water Capacity – 88 gallons (nice!)
Black Water Capacity – 49 gallons
LP Tank Capacity – 60 pounds (two 30 pound tanks)
There's plenty more to love…here's the full set of specs for this gorgeous vehicle:
That's all great…but what about the KITCHEN? That's what really matters.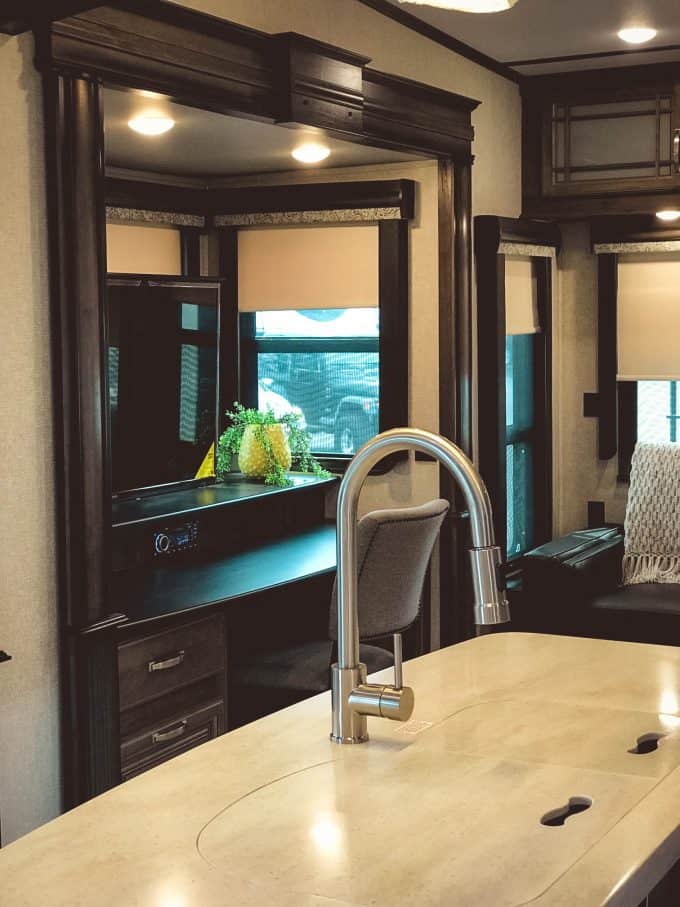 Excellent point. I probably shouldn't have waited so long to bring up all of the fantastic features included in your kitchen, because there is no shortage of highlights here.
Here's an overview of what this kitchen offers:
18 cubit foot Residential Refrigerator with French Doors and Ice Maker
3 Burner LP Stove
Convection Oven
Large Kitchen Island
Generous Kitchen Sink with Sprayer-equipped Faucet
Large Pantry
Coffee Bar
Wine Rack (Julie's favorite feature) above Convection Oven
Free-standing Dinette with Four Chairs (two foldable)
Need I say more? All the comforts of home when you hit the road. Let the gourmet meal prep begin!
Okay, can we talk about laundry?
Oh boy, I am glad you asked! One completely unexpected feature that we stumbled onto in the Master Bedroom closet was connections for a washer/dryer unit.
I've got to say that this would have been a game changer for us. Next to grocery shopping, dealing with laundry for five people while on the road was our biggest weekly hurdle to clear. Having our own unit in our rig would have freed up quite a bit of time…not to mention saved us plenty of cash! Doing laundry at public locations is not cheap, people.
What other features should I know about that haven't been discussed yet?
One additional feature of this model impressed us quite a bit, and we had not seen it in any other models up to this point:
A full-size executive desk in the living area!
Maybe this doesn't really float your boat, but since we were making a living online while traveling around the continent, this would have been a highly coveted feature to enjoy. Julie's "office" was our queen size bed and mine was our small couch…so you can see why this got us so excited.
If you need (or love) to have some work time while on the road, this feature is an absolutely perfect fit for you.
And finally, this unit also included:
LTE WiFi Router capable (router sold separately)
Solar-ready wiring installed and ready for your solar power solutions
Cargo weight capacity of 3,429 pounds (that is a healthy load right there)
With these additional features, we have now rounded out our overview of the Keystone Montana 3561RL Fifth Wheel.
Do you have any questions about the 2019 Keystone Montana 3561RL?
Even though we've gone into quite a bit of detail about this exceptional RV, you may still have some questions. Feel free to leave a comment below with your questions and we will be glad to find the right answer and get back to you ASAP!
And if you happen to own this particular rig, definitely let us know how you like it and what your experience has been like hitting the road in this load of luxury.
Until next time…keep on TREKKN!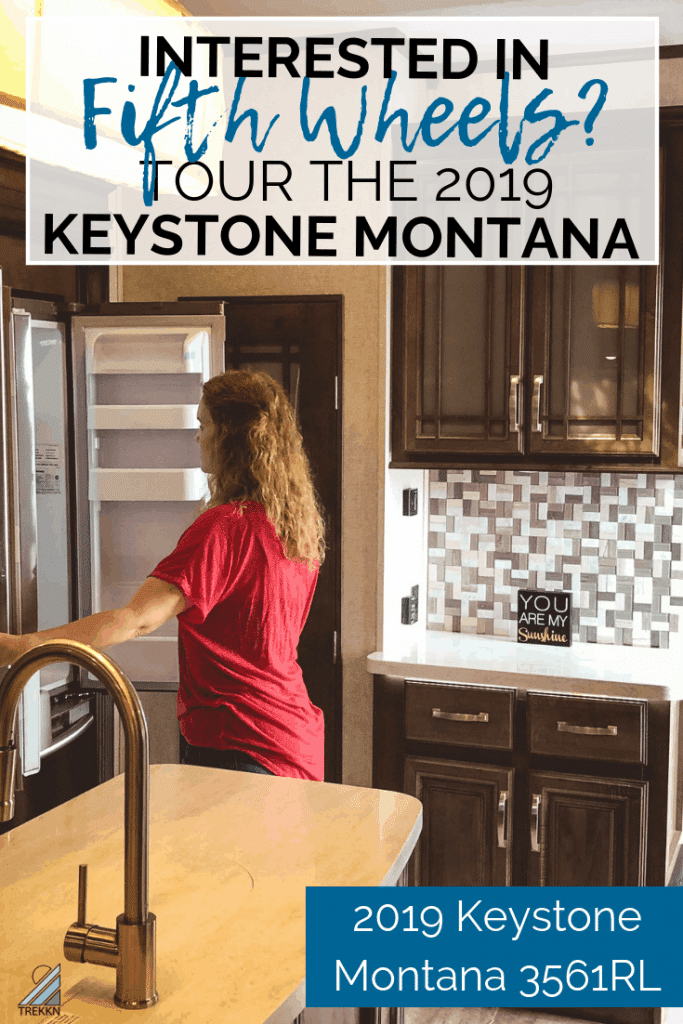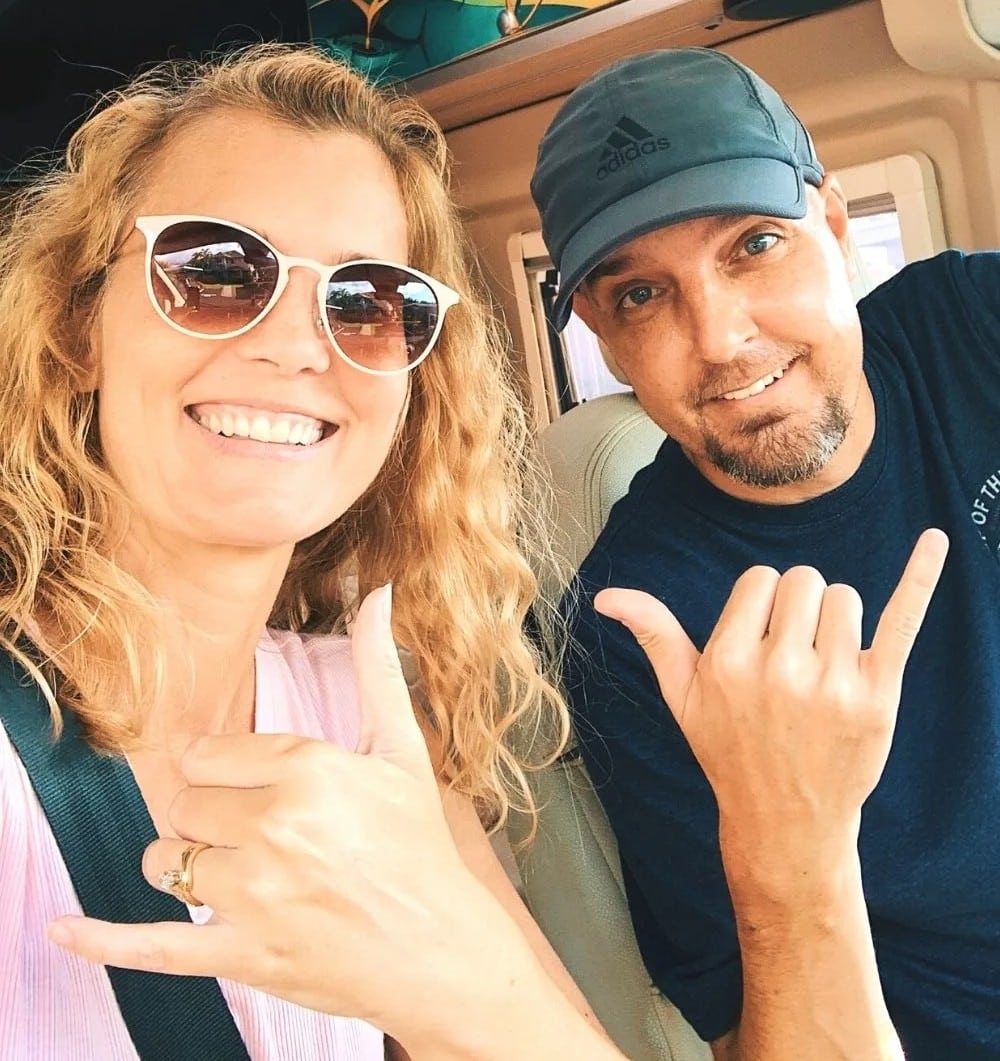 Todd Bonner loves a competitive game of table tennis, a breathtaking hike and simply exploring new places. He spends most of his time sharing information about RV travel and safety, RV accessories and tips, and the National Parks he has visited and still desperately craves. When he's not busy working on TREKKN, you will often find him staring at pictures of Glacier National Park (probably his favorite spot on earth) or creating new products for Clever Camper Company.