7 Stunning Retro Campers You Can't Ignore

In case you haven't noticed, around here we are just a tiny bit obsessed with campers, trailers and just RVs in general. It's kind of our thing, and our OCD (Obsessive Camper Disorder) ramps up another notch when we start looking at and talking about Retro Campers.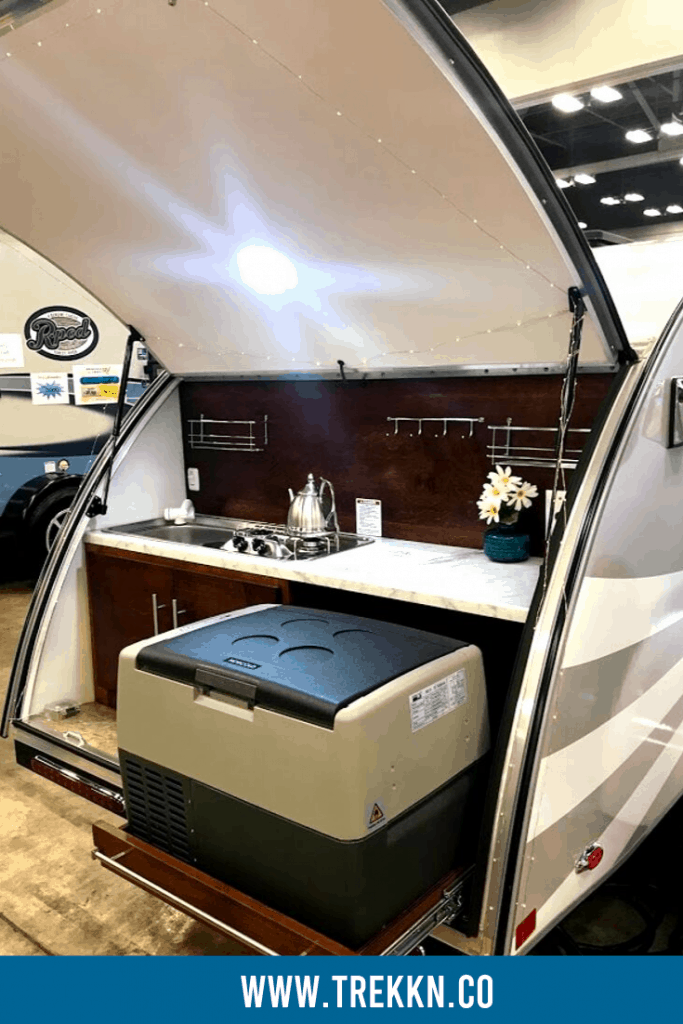 Because these…well, these campers hold a simple and fascinating beauty all their own. Yup, you know just what I'm talking about.
I've talked plenty about other categories of campers, including small campers with bathrooms and ultra lightweight travel trailers under 2,000 pounds. But this is the first time I've really gone deep into the "retro" side of the campers and travel trailers market.
I can see you're getting that crazy look in your eye, so let's just dive in head first and take a look at the most spell-binding Retro Campers on the market today that have made the "old" new and exciting (and addictive) again.
7 Retro Campers You Can't Ignore
The first camper we will cover is actually one that I had not taken a close look at prior to writing this post. It's hard to believe, but true.
Gulf Stream Coach Capri Camper
Interested at all in traveling in style, not just comfort? Hey, there's no shame in that at all. Comfort is great, and it's pretty essential when you're talking about a living space like a vintage camper. But none of the RVs we will cover here are short on style, and that's very clear as we start off with the Gulf Stream Coach Capri.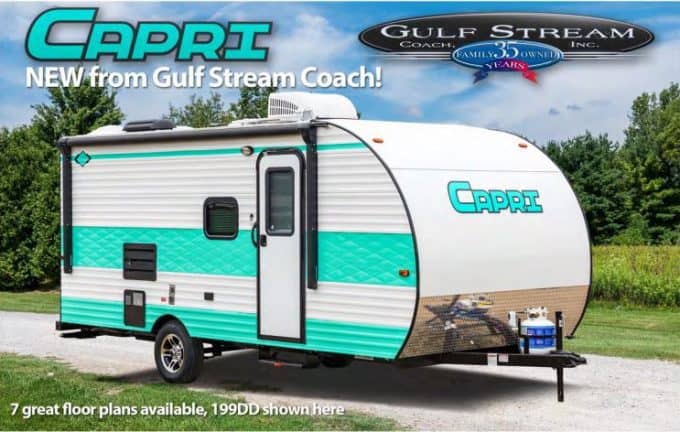 With seven different floor plans available in this classic travel trailer, you won't have a hard time finding one that works for your circumstances and preferences.
Starting at under 3,000 lbs on the 17 ft and 18 ft models, these units are easily towable by a wide range of trucks and SUVs. Even the largest unit in this line weighs in at just over 4,000 lbs on a 24-foot model.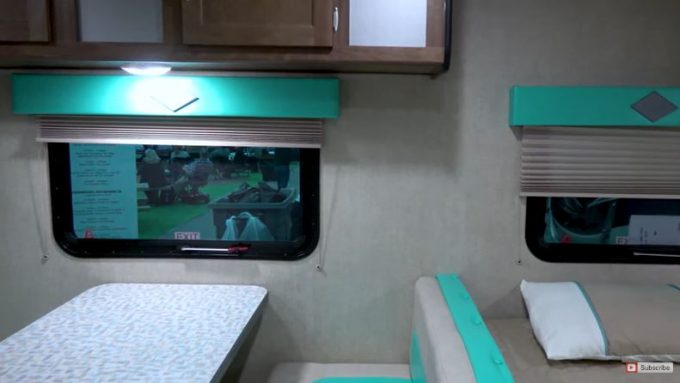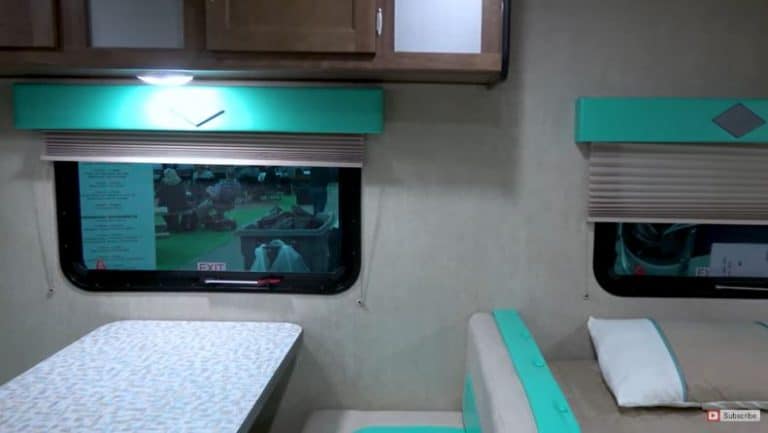 Yup, those retro colors continue right on into the interior of the camper as well. You get a full dose of vintage flair and creature comforts that will please a wide range of consumers.
Riverside Retro Camper
I gotta say that every time I look at this Retro White Water camper, I immediately have memories of my childhood flood back in.
No, I didn't grow up camping in one of these beauties, but they have done such a great job of capturing that retro feel that I just remember sitting and watching reruns of Happy Days. Doesn't it have that "Happy Days" feel to it? Yeah, I thought you'd agree.
Now, the Fonz might not have been up for a boys' trip in one of these, but I guarantee you that Richie, Ralph and Potsy would have hit the road in this ride in a heartbeat for an outing they'd never forget.
You can find a model that fits you perfectly since the available models range from the tiny Retro Junior (pictured below) up to the full-blown 27-foot toy hauler option.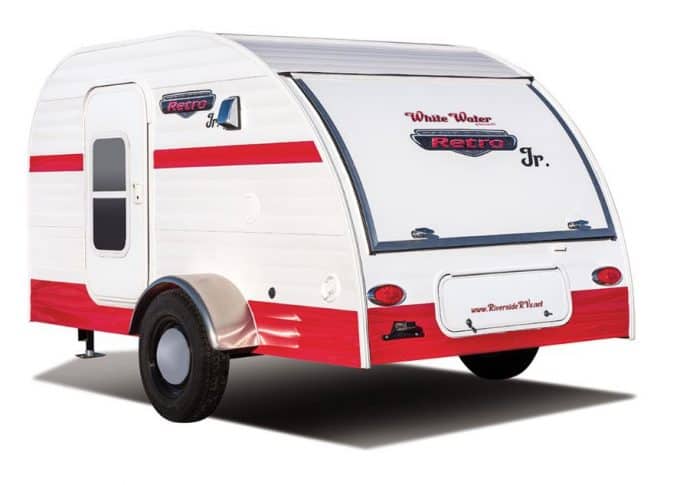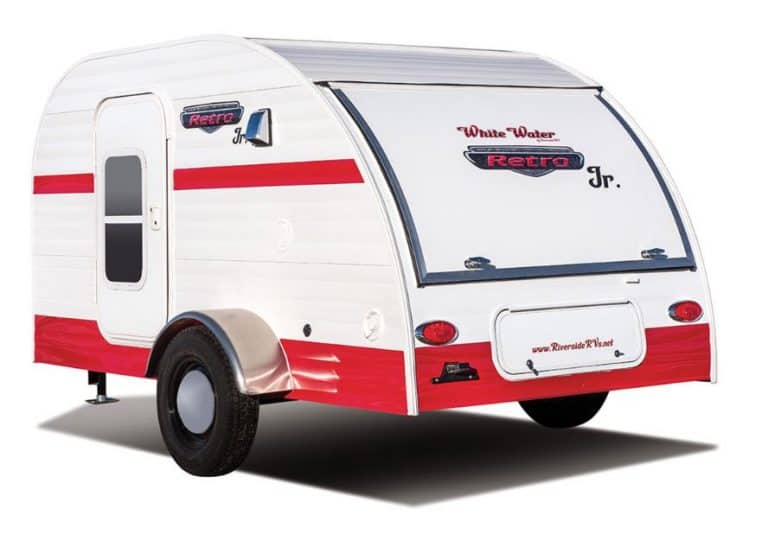 Fair warning: If you're not really a "people person", this Riverside Retro option may not be right for you. Why? Because I guarantee that you will constantly have folks approaching you to take a closer look, get a picture, ask for a tour…you get the idea. You've been warned!
__________________________________________________________
What About 'Trying Before You Buy' with Retro Camper Rentals?
Pardon the interruption, but I think at this point you should be aware of our plan when it comes to finding the next RV that will be perfect for our needs. It might be exactly the idea you're looking for.
You see, we have decided to try renting our way to our next RV purchase, which you can read all about by clicking here.
The worst thing any of us can imagine is making the wrong choice when it comes time to purchase an RV. That is especially true if you plan to live in it full-time! (Our most likely path.) So we are trying several different RVs on for size, from small camper vans to spacious travel trailers to adventurous driveables.
So far, we have used Outdoorsy as our rental platform of choice. And we have been very pleased. Here are a couple of retro campers (see images below) in our area that rent for $125-$150 per night. A weekend in one of these will be money well-spent and will give you a much better idea of whether this is a realistic RV option for your particular situation. Not to mention it will be a blast to just get away!
So, maybe it's time for you to try before you buy. At least consider it as one reasonable option on your path to your next retro camper purchase!
Gulf Stream Coach Vintage Cruiser
Now, if you enjoyed that first Gulf Stream option that we covered above, I'm pretty sure this one is going to light your fire as well. This Vintage Cruiser from Gulf Stream Coach just seems to have it all going on.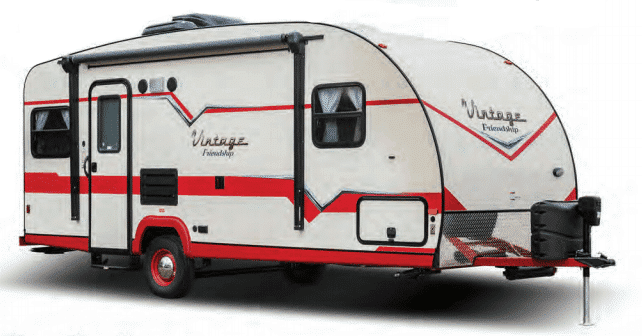 They've nailed the look and the colors, they've nailed the features and comfort. It's pretty much a dream on wheels for the vintage RV shopper like yourself.
With Vintage Cruiser models ranging from 17-feet and about 2,500 lbs all the way up to 23-feet and almost 4,500 lbs, you shouldn't have a hard time finding the right one to suit your needs and "float your boat", so to speak.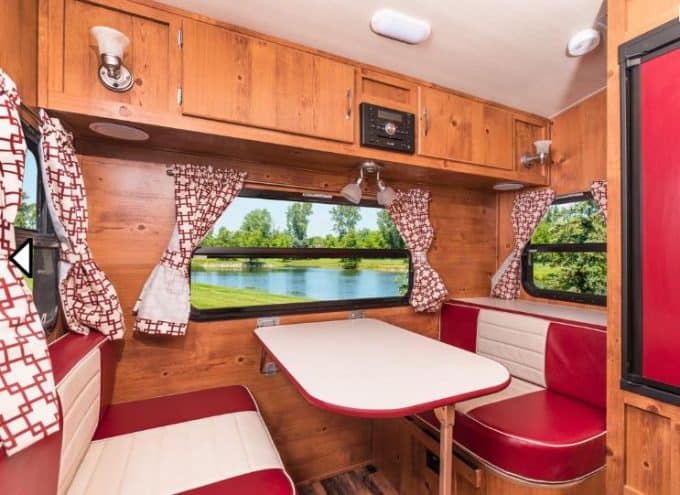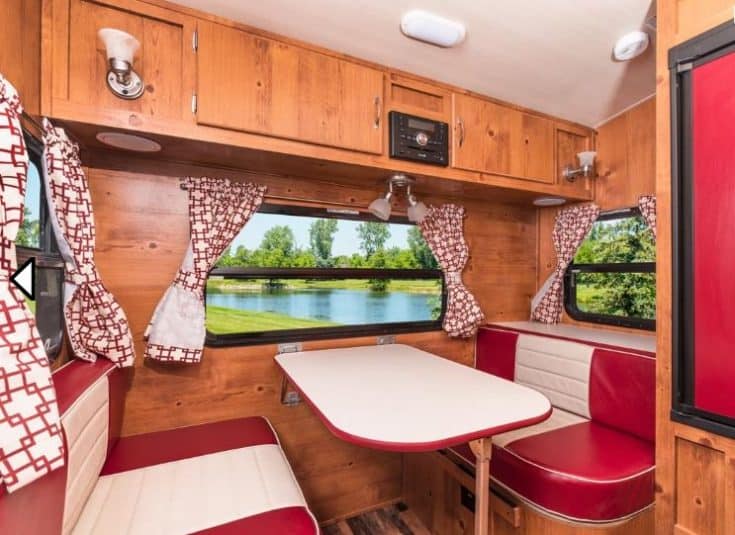 And with an interior like this that says, "Welcome back to the '60s", well you just can't go wrong.
Serro Scotty Camper
I've got to start this one off with a disclaimer: I am honestly not sure if you can still buy the Serro Scotty Camper new, or if it is only available on the resale market. I was not able to track down the manufacturer's website, but this one seems to have such a "cult following" that I just couldn't leave it out.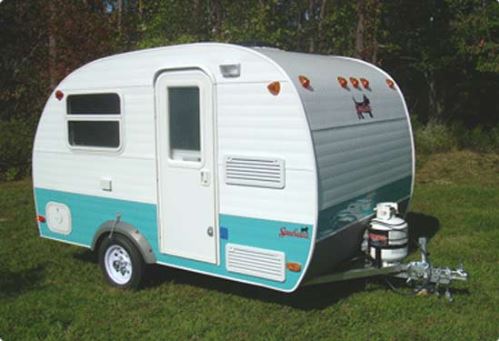 Weighing in at a scant 1,350 lbs, you can tow this tiny wonder with a very wide range of vehicles. (Please be sure to factor in your cargo weight before hitting the road with any RV in tow. This one can carry cargo weighing up to 650 lbs.)
If you happen to be the owner of a Scottish Terrier and are in the market for a small travel trailer? Well, then you're probably sold already with that Scottie image front and center on this unit.
Happier Camper HC1
Haven't seen anything yet to get you really fired up and ready to hit the dealer lot? Yeah, not likely. But if that is the case, maybe this shiny nugget called the Happier Camper HC1 will get you up off the couch.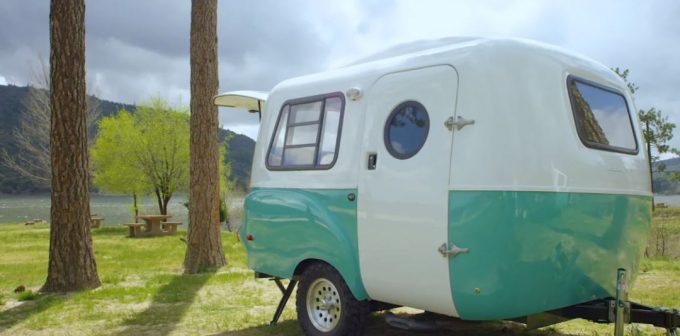 So simple, so versatile, so towable! With the base model weighing in at only 1,100 lbs (options can add another 700 lbs, FYI), you really can be ready to tow in a hurry. Your next adventure may be closer than you think!


Not quite sure about that color in the picture? Not to worry! Happier Camper offers seven different color options, including that "Happy Days" red we were just talking about above.
This fiberglass capsule deserves a good hard look if you are looking to all in on the "tiny camping" lifestyle that it offers. But once again, be prepared for lots of conversations and photo opps because this one will NOT go unnoticed out there on the open road.
TAB Teardrop (Sofitel Model) by nuCamp
I've got to tell you that I have been really impressed with the offerings that nuCamp is putting out into the RV world. From everything that I have seen, they absolutely bring their "A Game" to every RV they develop. And one of these days, I can absolutely see myself ending up in one…such as the TAB Teardrop Sofitel.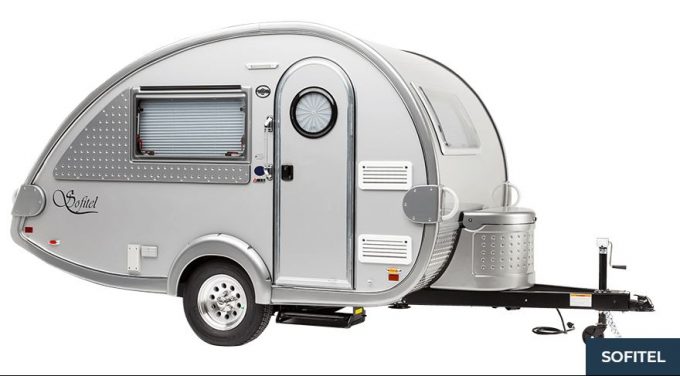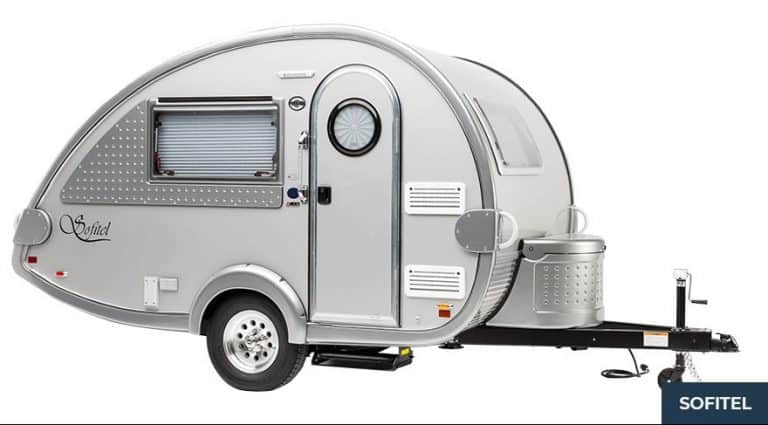 This small silver bullet got my attention right away because of that polished aluminum finish that screams, "Take me home!" All I can picture is a week (or four) in the Yosemite Valley in this beautiful ride. But honestly, I'd gladly take it to any valley, anywhere, anytime.
With dry weights under or very close to 2,000 lbs on all TAB S and U models, your options are endless for towing.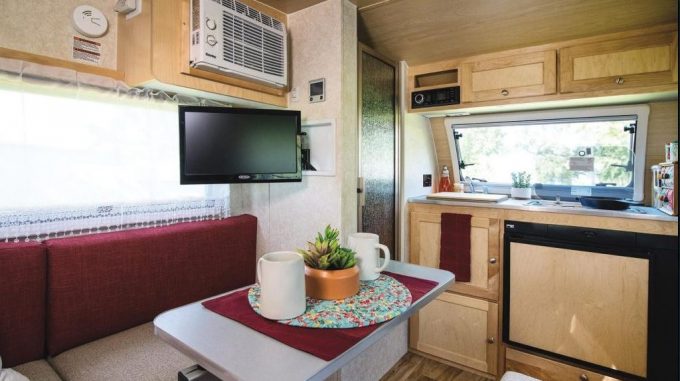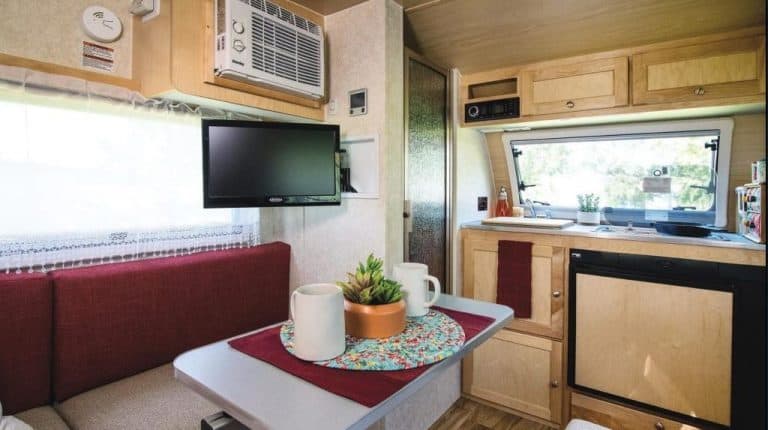 Worried about facilities available in something this small? Don't be. The TAB S model comes equipped with a wet bath that will keep you smelling like a daisy with minimal effort on your next adventure.
Winnebago Brave
I know, I know. This post has been all about Retro Campers so far…so how they heck did this yellow wonder bus makes its way on here?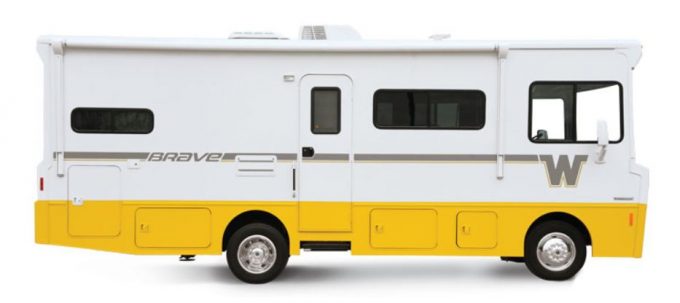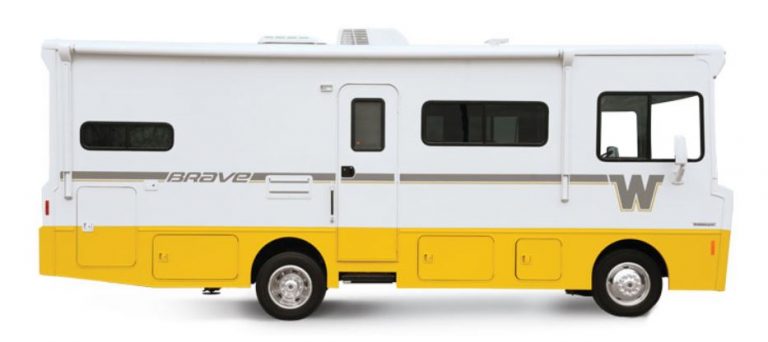 Well, the truth is that when I looked into its loving retro headlights, I just melted. I couldn't resist that look, and I'm pretty sure you won't mind. This, my friend, is the Winnebago Brave.
Before we go too far, I do need to point out that the Winnebago website indicates that this model is "no longer in production". Sad. But that doesn't mean you couldn't track one down in the resale market.
(No, I haven't checked on going rates yet. You should probably brace yourself if you do go on the hunt.)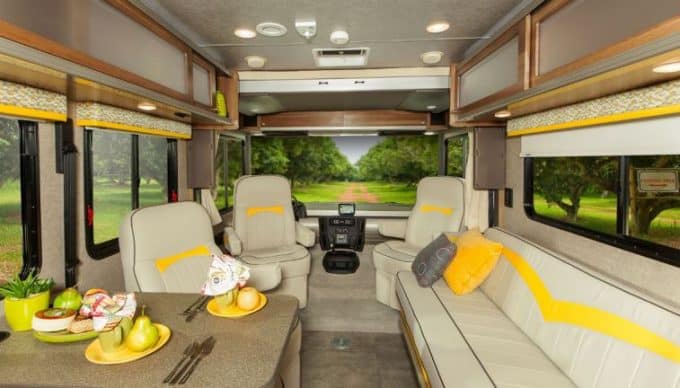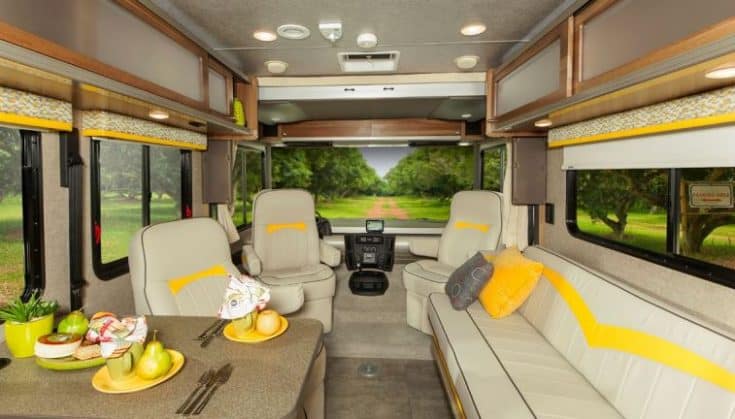 With an interior like this, I'm pretty sure it would be impossible to be sad. I mean, just look at it! That sunshine yellow would drive away any clouds, as far as I'm concerned.
And this bad boy is built on the Ford F53 chassis and sports the 362-hp 6.8L 3-valve Triton® V10 SEFI engine. Yup, that's a mouthful, but it will get you where you're going! There's no doubt about that.
With 26-foot, 27-foot and 31-foot models, you'll find one that fits like a glove and gets you on your way to sunny adventures in amazing locations. She is ready for a road trip!
So, camper or not, this one deserved to make this list of Retro Campers that you simply can't ignore.
Which of These Retro Campers Gets You Up Off the Couch?
There you have our world-class lineup of retro campers. If these beauties don't get you pumped up and ready to hit the RV lots for some in-person time in these timeless rigs, then there's not much more I can offer you. These are the gems of Retro Campers…but maybe I missed some?
If you want to add your own suggestion to the mix, just comment below and give us a link to the camper option that has you chomping at the bit.
And wherever you are at in the RV buying process, I hope that you can get out there soon and keep on TREKKN!
PIN THIS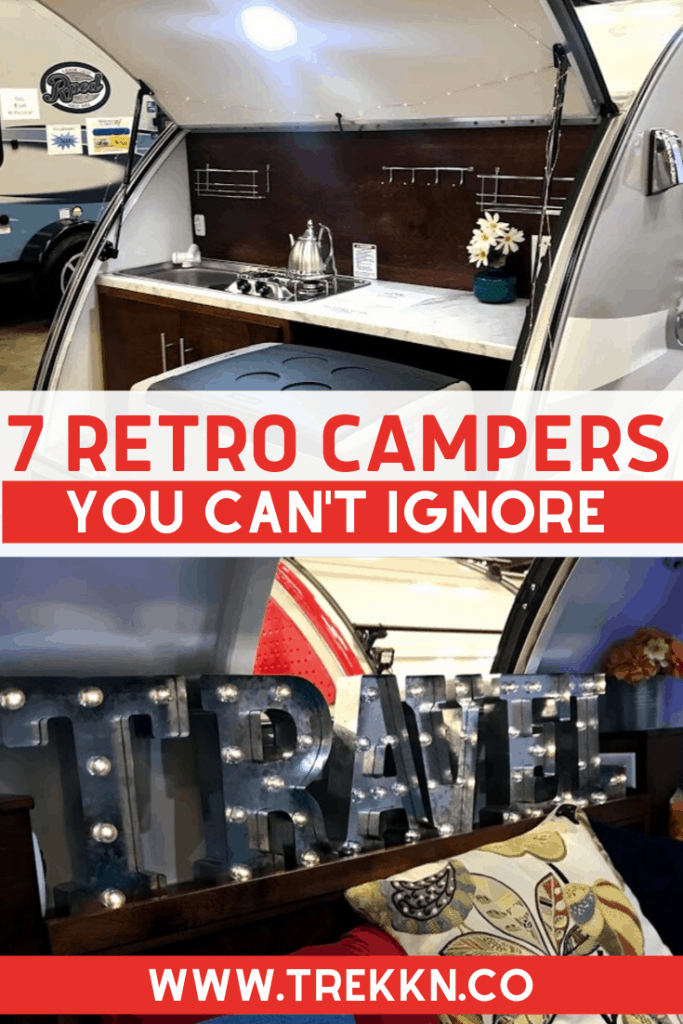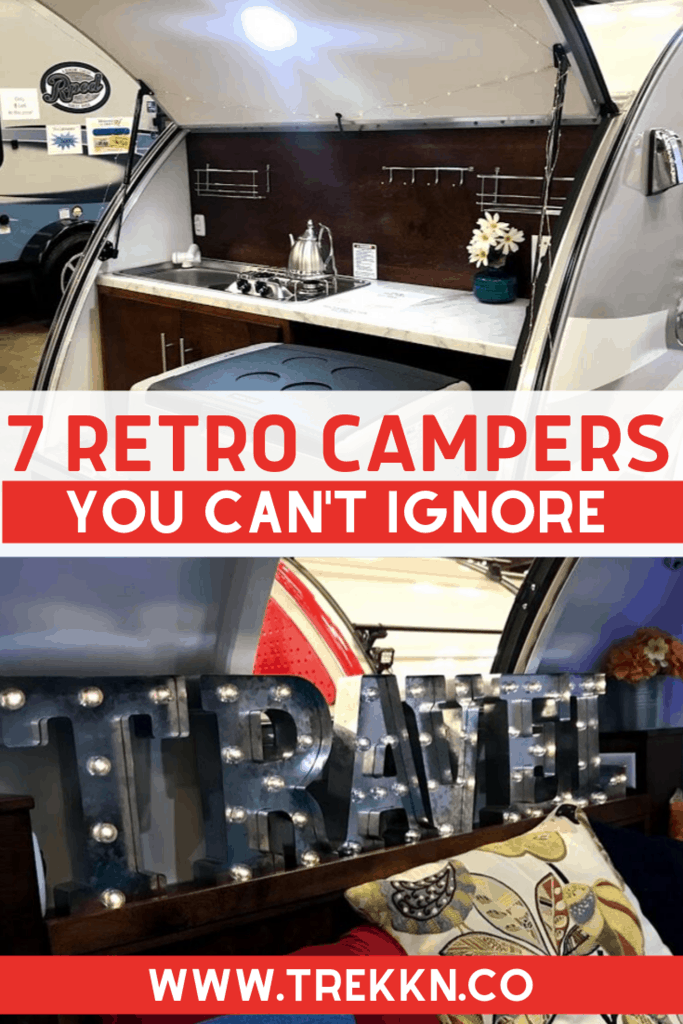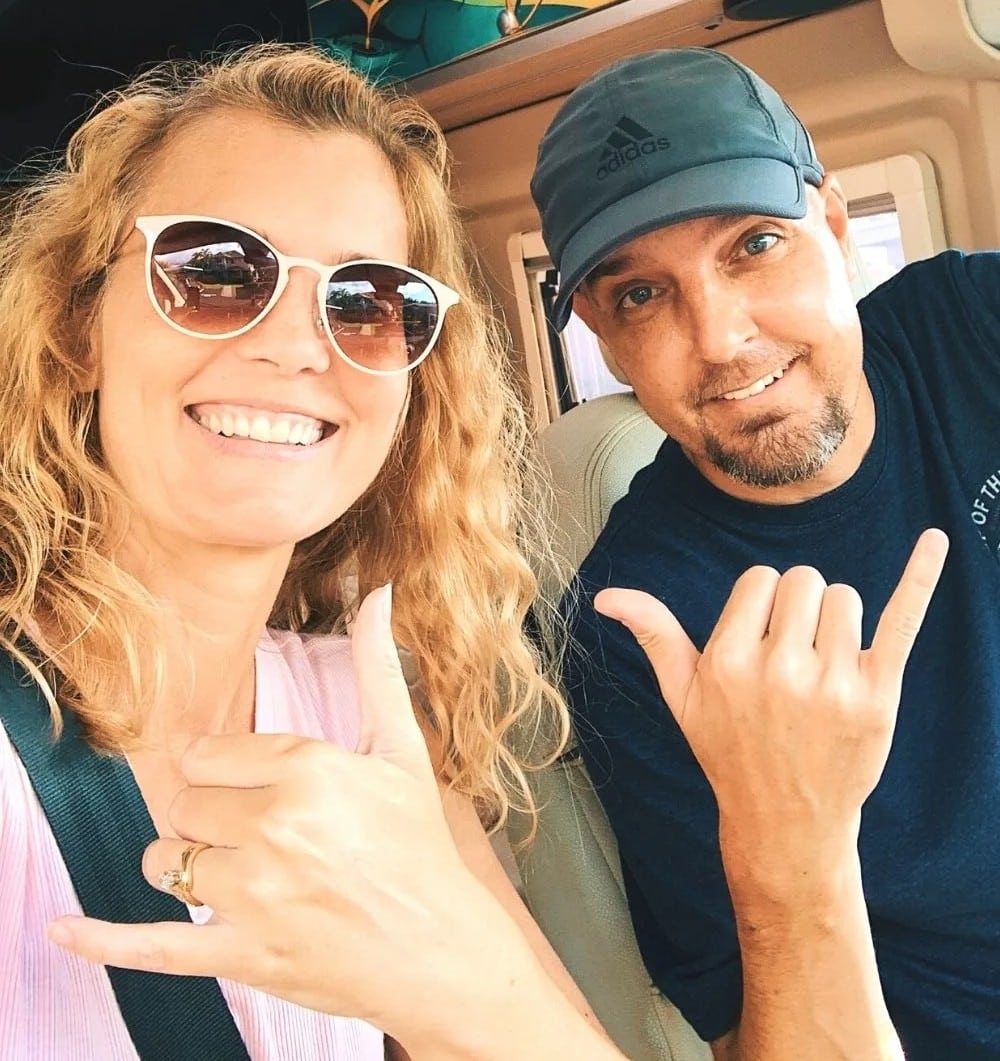 Todd loves a competitive game of table tennis, a breathtaking hike, and exploring new places. He lived and traveled in an RV with his family as they traveled throughout much of the US and parts of Canada. Todd has extensive knowledge about RV travel, safety, and accessories and has shared many of his stories here on TREKKN. When he's not busy launching and building small businesses, you may find him staring at pictures of Glacier National Park (probably his favorite spot on earth).