Since we first started shopping for an RV in 2017, the small 5th wheel trailers have always been one of the designs that immediately caught my eye when we walked on an RV lot.
When I first spotted one of these rigs, I was honestly a bit confused by it. It looked so different from anything I had seen before from the outside…but I knew that I liked it as well. Sure, it had the same 5th wheel hitch design, as usual, but at a size that didn't completely dwarf me!
Immediately, I felt like it could have a lot of the benefits of a 5th wheel trailer without the tough-to-manage and intimidating-to-tow size that I had seen with so many others.
(Note: If you're not dead set on a fifth wheel yet, but interested in a smaller rig, be sure to check out our post on best Class C RVs under 25 feet also. I think you'll like what you see!)
I think you are really going to like this lineup of small 5th wheels we've got for you here, and of course, our hope is that it will help you get out there on the open road as soon as possible for some RVing adventures!
Top 7 Small 5th Wheel Trailers for Your RV Adventures
Before we jump straight into a close look at our top 5th wheel trailer picks, I want to point out a few things that you must be aware of going into this. After all, knowledge is power, right?
The Smallest 5th Wheel Trailers Still Far Outweigh Comparable Travel Trailers
If the overall length and maneuverability of your RV is the top priority in your search, then every one of these trailers we cover will likely hold your attention and get you pretty excited.
However, if weight is also a major factor you should know right away that there is simply no comparison between even the smallest 5th wheel trailers and comparable length travel trailers. Let's take our full-time RVing travel trailer as an example.
Our Keystone Passport Ultra Lite 2670BH travel trailer was 26 feet long (just over 30 feet with tongue) and weighed in just over 5,000 lbs empty. It had a gross vehicle weight rating (GVWR) of 7,000 lbs, meaning I could (supposedly) safely carry almost 2,000 lbs of cargo. (See my post about travel trailer tires for a full discussion of weight ratings on trailers vs. tires. Your safety could absolutely depend on it.)
Now, if you compare that 26-foot travel trailer weight to the weight of the 27-foot 5th wheel trailer we will cover first below, you will quickly see that there is a 5,000 lb difference in GVWR between these two rigs (12,000 lbs GVWR on 5th wheel). Despite the fact that their living space length is only a difference of one foot, the 5th wheel trailer clearly requires far more truck to tow it.
We towed our travel trailer with a RAM 2500 Long Bed w/5.7L Hemi engine. And we had no issues at all across 35,000+ miles. That truck would not come close to towing the 27-foot 5th wheel.
The takeaway is that as you shop for small 5th wheel trailers, be aware that it will require far more truck to safely tow many of these options (1-ton truck, most likely diesel). Know that going in and be prepared upfront for that additional cost if you don't already own a 1-ton truck. Smaller and lighter 5th wheels are out there, and we will cover some, but for larger living areas the above guidance holds very true.
Small 5th Wheel Trailers Will Likely Be Much Taller and Require Additional Time and Attention for Route Planning
If you will be doing most of your traveling in the western portion of the US, this may not be quite as much of a concern for you. Clearance issues didn't seem to be a major factor in that region during our travels.
But we quickly discovered when we started exploring the eastern half of the US that clearance issues did become a major factor, specifically as we moved farther toward the Northeast.
Essentially, you should expect a small 5th wheel trailer to add approximately two feet to your overall height compared to comparable travel trailers. Our travel trailer stood about 10 feet 5 inches high, while our first option below has an exterior height of 12 feet 4 inches. Huge difference, and I guarantee you will feel it in your route planning, especially in the northeastern portion of the U.S.
Don't be scared…
Please understand that none of this information is meant to dissuade you from purchasing a small 5th wheel trailer. Not at all, because I believe they offer some major advantages you should be aware of in terms of comfort, maneuverability, and convenience.
But if you are wired anything like me, the weight and height factors covered above will definitely make you stop and at least seriously consider the pros and cons. I crave simplicity, and I also desire to control costs as much as possible. So I naturally lean toward the travel trailer side of the equation for my travels. But these factors may be very minor concerns for you, in which case a 5th wheel trailer could be exactly what you want and need.
And with that, we will move on to our first pick for small 5th wheel trailers! These picks are in no particular order; we are offering all of them to you as equally viable options.
Coachmen is synonymous with RVing. They have been putting quality RV products on the US road since 1964, and even though they are now a brand under the Forest River, Inc. umbrella, they don't seem to have lost a step.
A very lightweight 5th wheel option, the 25MKS can boast the following specs:
GVWR: 9,800 lbs
Empty Weight (UVW): 7,549 lbs
Cargo Capacity: 2,251 lbs
Hitch Weight: 1,307 lbs
Exterior Length: 29′ 3″
Exterior Height: 11′ 10″
Fresh water capacity: 40 gal
Gray water capacity: 33 gal
Black water capacity: 33 gal
I have to say I was a little surprised by the smaller capacities on the holding tanks. I guess I naturally expect any 5th wheel to outdo travel trailers on their tank capacities, but this model actually has a smaller gray tank than my 26-foot travel trailer had with the other two tanks very close in size. May not be ideal for everybody.
If you don't plan on doing any extensive boondocking, then this may be no issue for you at all. Obviously, this is really only a factor when you do not have full hookups for your rig. So if you are more of a "RV resorts and full hookups every night" type of traveler, then there is no cause for concern here.
The Chaparral Lite lineup actually offers 8 different floorplans from 25 feet up to 30 feet in length, with the heaviest model (30 BHS) coming in with a GVWR of 11,500 lbs, a full 1,700 lbs over the 25MKS mark.
This option deserves a solid look, in my opinion, with floorplans to suit just about every situation and preference.
If Coachmen is synonymous with RVing, you certainly can't say anything less about this trusted household name: Winnebago.
And I was absolutely shocked to see all of the details of this "tiny wonder", the Winnebago Micro Minnie. Let me show you what I'm talking about using the 2405BH floorplan as our example (although all floorplans have very similar specs that are identical in many categories):
GVWR: 7,700 lbs
Dry Weight: 5,740 lbs
Hitch Weight (Dry): 1,140 lbs
Exterior Length: 26′ 9″
Exterior Height: 11′ 5″
Fresh water capacity: 31 gal
Gray water capacity: 25 gal
Black water capacity: 25 gal
Two things shocked me about these specs: The very low dry weight (only about 700 lbs more than my travel trailer, which I think is awesome), and the small holding tank capacities (again…all of them smaller than my travel trailer).
I'm not faulting the manufacturer for the tank capacities, because the reality is that there may not be a market demand for higher capacities. I just know that these tanks would not work for me, because when we hit the road again I will be fully prepared to boondock until my heart is content, hitting every single Harvest Hosts location I can possibly find.
Note: They do have other floorplans in this series with 50 gal gray water capacities…and that could possibly make this a contender for me, all things considered.
But I really do love the super lightweight options that Winnebago offers with this lineup. And with their solid name backing it up, the Micro Minnie should not be ruled out lightly (no pun intended).
__________________________________________________________
What About 'Trying Before You Buy' with Fifth Wheel Rentals?
Pardon the interruption, but I think at this point you should be aware of our plan when it comes to finding the next RV that will be perfect for our needs. It might be exactly the idea you're looking for.
You see, we have decided to try renting our way to our next RV purchase, which you can read all about by clicking here.
The worst thing any of us can imagine is making the wrong choice when it comes time to purchase an RV. That is especially true if you plan to live in it full-time! (Our most likely path.) So we are trying several different RVs on for size, from small camper vans to spacious travel trailers to adventurous driveables.
So far, we have used Outdoorsy as our rental platform of choice. And we have been very pleased. Here are a couple of small fifth wheels (see images below) in our area that rent for $150-$200 per night. A weekend in one of these will be money well-spent and will give you a much better idea of whether this is a realistic RV option for your particular situation. Not to mention it will be a blast to just get away!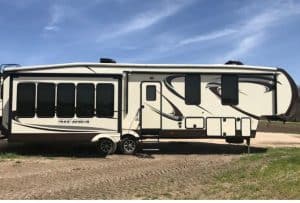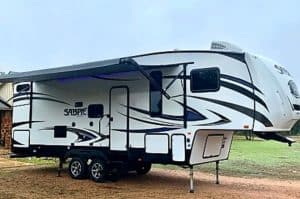 So, maybe it's time for you to try before you buy. At least consider it as one reasonable option on your path to your next small fifth wheel purchase!
__________________________________________________________
It's time to leave the "mainstream" RV pack and head north of the border for the next option in our rundown of small 5th wheel trailers: The Escape 5.0TA Fifth Wheel takes small to a whole new level.
You can tell immediately that this is a trailer of a different sort. From the fiberglass shell to the reduced height, it's obvious we are heading into a different realm altogether here. Let's take a closer look at this tiny beauty from Canadian manufacturer Escape Trailer Industries.
GVWR: 5,500 lbs
Dry Weight: 3,810 lbs
Cargo Capacity: 1,690 lbs
Hitch Weight (Dry): 630 lbs
Exterior Length: 21′ 2″
Exterior Height: 9′ 7″
Fresh water capacity: 28 gal
Gray Water Capacity: 28 gal
Black Water Capacity: 30 gal
While this small 5th wheel trailer might not be ideal for many folks who are interested in the full-time RV lifestyle, it would certainly be an ideal escape pod for a couple looking to get away and soak in more of the natural world for a weekend or a week.
I do find it pretty odd, because it defies practical use, that they made the black tank capacity higher than the gray tank capacity. But hey, maybe there is a logical explanation for it that you can determine with additional digging if this one ticks all of the other boxes for you.
Ladies and gentlemen, this one really has my attention. I'm seeing quite a few things to love about this unique rig, including the tank capacities and rear storage rack!
There are several key points in the specs below that really make this a contender in my book…and one puzzling number. Let's see if you can spot the one that's throwing me off:
GVWR: 7,000 lbs
Dry Weight: 6,100 lbs
Cargo Capacity: 900 lbs
Hitch Weight (Dry): 840 lbs
Exterior Length: 25′ 3″
Exterior Height: 11′ 11″
Fresh water capacity: 38 gal
Gray Water Capacity: 93 gal
Black Water Capacity: 53 gal
While I love the fact that it has about the same GVWR as my 26-foot travel trailer did and a surprisingly low hitch weight, it's very curious that they only equipped it to carry 900 lbs in cargo.
For a full-timing couple, that is going to be pretty tough to manage, based on our experience. I'm sure it is doable, but it could give you some headaches along the way since most rigs this size have cargo capacities at or near 2,000 lbs (like my travel trailer did).
Having said that, I LOVE the tank capacities they have equipped her with! The 38 gal freshwater capacity is respectable, but 93 gal and 53 gal respectively for gray and black water capacities are among the highest I have come across for this size rig. A couple could probably boondock pretty comfortably with those numbers for a decent amount of time. Yes, please!
And clearance? Another big plus here at just under 12 feet, because some comparable models from competing brands will rise to 13 feet (like our next option below in the lineup). Of course, you should be aware that what you gain on the exterior in terms of manageable height you also give up on the interior height. Always give and take…
Overall, I see plenty to love and plenty of reasons to dive deeper into this small 5th wheel trailer option. And I should mention that they have 25-foot and 26-foot floorplans available to explore on the site as well, so go take a closer look before you rule this one out.
Forest River Inc. boasts one of the broadest lineups of RVs in the industry, with a total of 7 RV brands under its corporate umbrella (including Coachmen that we covered above). They know the game well and their Rockwood designs seem to reflect that.
Let's examine the specs on this solid option so that we can compare apples to apples in this quest for the "perfect" small 5th wheel trailer:
GVWR: 9,165 lbs
Dry Weight: 7,149 lbs
Cargo Capacity: 2,016 lbs
Hitch Weight (Dry): 1,165 lbs
Exterior Length: 28′ 5″
Exterior Height: 13′ 0″
Fresh water capacity: 60 gal
Gray Water Capacity: 45 gal
Black Water Capacity: 45 gal
As you can see, this rig starts out about 1,000 lbs heavier than the KZ Sportsmen we just looked at…but it also has a more reasonable cargo capacity of just over 2,000 lbs. So full-timing seems to definitely be a viable possibility for this rig.
I mentioned above that you have to really decide what is more important to you in terms of vehicle height: Exterior height or interior height.
If you are exceptionally tall, you will probably have to give more weight to interior height (so you have livable space) and then deal with the added exterior height and the potential stresses it can introduce to your route planning and overall driving experience.
But overall, I feel like this 24-foot RV offers a very livable space for a couple, with additional convertible bed options for others along for the ride. That 18-foot awning and exterior gas grill they included doesn't hurt either, because we all know it's really nice to have an enjoyable outdoor space while living the RV lifestyle.
Here's something interesting: Even though I owned a Keystone travel trailer and looked pretty extensively at their lineup before purchasing, I did not know until very recently that they offered a small fifth-wheel trailer in this series!
We even conducted a video tour recently of a smaller Springdale travel trailer, but somehow I never realized that fifth wheels were also an option here.
At 25 feet in length (well, almost 33 feet total length), the Springdale 253FWRE may be a bit beefier than you would expect. Given the lightweight options that Keystone offers in the travel trailer category, I guess I was hoping to see something close to 7,000 lbs GVWR in the fifth wheels. But that is not in the cards. Here are the specs you desire:
GVWR: 10,300 lbs
Dry Weight: 8,615 lbs
Cargo Capacity: 1,685 lbs
Hitch Weight (Dry): 1,500 lbs
Exterior Length: 32′ 10″
Exterior Height: 12′ 4″
Fresh water capacity: 52 gal
Gray Water Capacity: 39 gal
Black Water Capacity: 39 gal
So as you can see, after moving to the lighter end of the spectrum with our previous picks, this option does take us back to where we started in the 10,000 lb GVWR range (like the Coachmen). This is definitely still considered small by fifth wheel standards, but it's nothing like the Winnebago or KZ options we covered above.
Having said that, it does have a respectable cargo capacity and a lower profile than the Rockwood (by about 8 inches), so it might be a great fit for your needs.
On tank capacities, it clearly doesn't WOW me like the KZ, but it has definitely still got the Winnebago and Escape options beat. And for a couple, these capacities are still very doable for extensive boondocking options (with some reasonable measures in place to minimize tank usage).
Last but not least, for our final slot in this fine group of small 5th wheel trailers, let's take a look at another industry leader: Jayco. With a GVWR staying just a hair under 10,000 lbs, this option has plenty to get your attention.
Let's be honest: This option isn't likely to win any awards for style or colors. Nope, this one is built to kind of blend in with the grasslands of the Midwest. But my guess is this is not your first concern as you shop for a fifth wheel. So let's see what those all-important specs look like on this well-equipped rig:
GVWR: 9,995 lbs
Dry Weight: 7,775 lbs
Cargo Capacity: 2,220 lbs
Hitch Weight (Dry): 1,405 lbs
Exterior Length: 28′ 8″
Exterior Height: 12′ 8″
Fresh Water Capacity: 42 gal
Gray Water Capacity: 32.5 + 32.5 gal
Black Water Capacity: 32.5 gal
A couple of things really jump out with this floorplan that we can take a closer look at.
First, this model is the only one to offer a secondary gray tank of 32.5 gal, giving it a total capacity of 65 gal. While this still doesn't outdo the KZ Sportsmen at 93 gal, it comes in a very respectable second and gets high marks from me for opening up boondocking options.
Second, be advised also that this is the second tallest option in our lineup at 12′ 8″, coming in second only to the Forest River Rockwood. I'll say it again: this would be a factor for this simple-loving guy to consider before making a purchase, but it may not even make you bat an eyelash.
Either way, it's best to be completely aware of it ahead of time and prepared to handle it appropriately.
**Shout out to TREKKN reader, Blake, for turning me on to this small fifth wheel option. He suggested that it should be part of this list after I published the post several months ago, and I agreed that it needed to be added. If you have other suggested models, let me know in the comments below.**
If you don't know Grand Design, you are missing out. When I first purchased my travel trailer in 2017, it was parked right next to a Grand Design travel trailer in the storage lot for a few months. I got to know the owner and he invited me inside to take a look at what it offered, and I have to say I was impressed.
But when I was introduced to these small fifth wheel options in the Reflection 150 Series, I was even more impressed with the brand. Let's take a look at the important specs this particular model has to offer:
GVWR: 9,495 lbs
Dry Weight: 7,691 lbs
Cargo Capacity: 1,804 lbs
Hitch Weight: 1,272 lbs
Exterior Length: 29′ 11″
Exterior Height: 12′
Fresh Water Capacity: 52 gal
Grey Water Capacity: 71 gal
Black Water Capacity: 39 gal
As you can see, our hitch weight (1,272 lbs) on this option has dropped over 130 lbs from our previous offering, keeping it in what I consider a comfortable and manageable range.
Cargo capacity (1,804 lbs) on the other hand is a nice healthy number near the top end of our range of options here. This makes it an equally reasonable option for the full-time RVer looking for that ideal home on wheels.
In addition, it has a relatively low exterior height (12′) compared to the rest of the lineup, making route planning not quite as much of a challenge.
With the rear living layout, similar to the majority of the options we have highlighted, this would make the perfect "getaway vehicle" for any couple looking for comfort and class. With Grand Design's claim that it is "half-ton towable" (do your own due diligence here) and offers "90-degree turning radius without a slider hitch in a 5.5 ft truck bed", this one certainly deserves a long, hard look!
**Shout out to TREKKN reader, Pam, who owns one of these small 5th wheel trailers and is apparently completely in love with it.
Here she is in her own words: "This model makes great use of space, has plenty of storage, feels roomy, efficient and cozy all at once. Her maiden voyage was over 10,000 miles and 4 months long and she had NO issues at all." Thanks for pointing this one out, Pam!**
Our full-time rig in 2017-18 was a Keystone travel trailer, so we do have a special place in our hearts for this brand, no doubt about it. But on a more practical level, this 5th wheel ticks all of the boxes for me: compact, simple, relatively lightweight, and just all-around functional and comfortable. So let's take a closer look…
Get ready, here come the specs (do you love them as much as I do?):
GVWR: 10,000 lbs
Dry Weight: 7,107 lbs
Cargo Capacity: 2,893 lbs
Hitch Weight: 1,335 lbs
Exterior Length: 26′ 10″
Exterior Height: 12′
Fresh Water Capacity: 60 gal
Grey Water Capacity: 60 gal
Black Water Capacity: 30 gal
This model is part of Keystone RV's "Half-Ton Towable" lineup. It should go without saying, but I'm going to say it (again): Don't take their word for it. Check your towing capacity and payload numbers. Then check them again. Then get your buddy to check them. Before you BUY. Please. And after you buy? Check those tires and make sure they are really up for the job.
Now, back to those numbers. This model has a very impressive cargo capacity at nearly 3,000 lbs. And that overall length of less than 27 feet makes me salivate a little bit, to be honest. (Did I mention I like small and simple?)
I'm slightly underwhelmed with the Black Water Capacity at 30 gal (2nd smallest on our list), but it's not a deal breaker in my book. At least that Grey Water tank is pretty beefy at 60 gal and will allow an RVing couple quite a few days "off the grid" with a little bit of caution on water usage.
Overall, even though it is quite a bit heavier than a few options on our list, it still is manageable with many half-ton trucks and would be a fairly easy tow even for a relative newbie to the towing game. That keeps it close to the top of my mental list if we end up going the small 5th wheel trailer route with our next RV purchase.
Which of these Small 5th Wheel Trailers Is Going to Get You On the Road?
We've pretty much seen it all here, friend. With options ranging from 3,810 lbs to 8,615 lbs in dry weight, from 9′ 7″ to 13′ 0″ in height and from 21′ 2″ and 32′ 10″ in total length, it's now up to you to decide which factors are the most important to you and which ones you can just live with.
Of course, one major factor that we haven't gone into here is the price of each option. With so many features potentially available on each one that could cause the price to vary widely, we figured it would be best to leave the sticker prices to you as you really get out there and start doing your research.
As we've said before, there is no perfect RV out there; it's always a game of give and take, pros and cons. My goal is to help you most effectively and efficiently weigh those pros and cons, comparing apples to apples, so that you can locate and purchase the rig that is best for you and your family.
At the end of the day, you can make fantastic memories in any of these small 5th wheel trailers…and we truly hope that you do! But let us know which one of these is the right fit for you, or if you've found another option that you can share with us and add to the list.
Now enough reading. Let's go RVing!
PIN THIS