Campfire Cooking: Get the Best Campsite Gear and Recipes

Cooking is one of my favorite activities while camping. And I'm excited to help you prepare for the trip by ensuring you have the best gear and recipes for a memorable campfire experience.
Having limited tools, techniques, and ingredients forces you to think outside the box. For me, that is always fun.
When you have the best cooking gear and a list of amazing recipes, the experience becomes that much better.
Classic campsite cooking usually involves a campfire, so that's what we'll focus on in this article.
Unless you're camping alone, there's usually an element of community around the campsite.
In fact, the campfire, which is conducive to multiple cooks working at the same time, is perhaps a more perfect layout than our home kitchen.
Cooking dinner on an open grill brings people together to share in the creation and consumption of a meal.
As always, please be mindful of any fire restrictions and adhere to all guidelines posted at the campgrounds.
Campers are often disappointed when they can't have a campfire, but it's more important that we all do our part to help prevent wildfires.
Plan ahead and pack a propane stove or cooktop just in case your open-fire dreams get snuffed.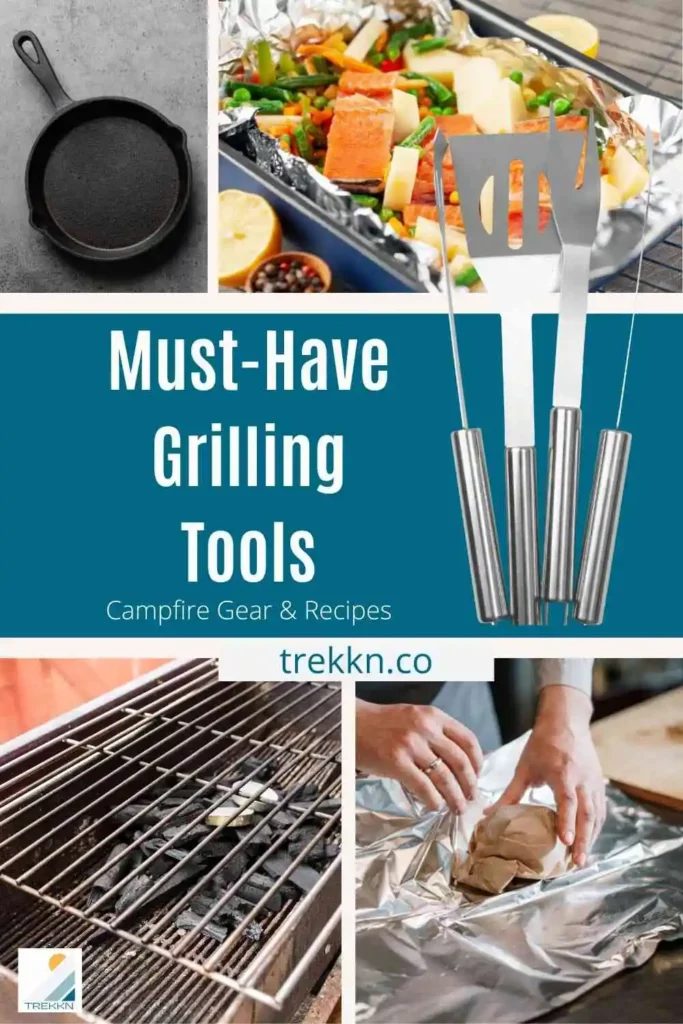 What is the Best Gear for Campfire Cooking?
Before we dive into all the delicious recipes, let's start with the basics. A little preparation before your next camping trip will ensure that you have a successful outdoor dining experience.
So let's take a look at the gear you will need for your campfire kitchen setup.
GRILL GRATE
Unless you know that where you're going has clean grill grates, it's always good to pack a grill grate that you can use over an open fire or over a fire pit.
Personally, I don't like to put my food on a grill grate without knowing what was on it before I arrived. So, I always use my own, even if the fire pit has one.
This portable outdoor campfire grate is a nice option because it has angled legs for stability. I like that the legs fold in for easy storage and transport.
Note, however that this grill grate is intended to be used when cooking with pans, foil packets, or a nice cast iron skillet.
When you want direct grill cooking, we recommend a stake & grill option. Pick one that can be staked into the ground. Also look for a design with an adjustable locking handle like the one shown below.
That will allow you to adjust the height (and thus the heat) between your dinner and the coals.
CAST IRON SKILLET
A cast iron skillet allows you to expand your cooking techniques beyond just grilling. The cast iron surface allow you to fry, griddle, bake, and more.
This is my favorite campfire cooking tool!
LONG-HANDLED UTENSILS
These can be easy to forget, but it only takes not having them once or twice before this packing list item is etched into your memory. It's no fun to burn your fingers trying to cook over an open fire with regular utensils.
Bring whatever you have for grilling at home, or buy some specially-made campfire utensils at an outdoor store like REI.
If you prefer to buy a full set of grill tools, we like this package from GRILLART. It includes a spatula, fork, basting brush, and tongs. At 18″, these are perfect for campfire cooking. We especially like the serrated edge and bottle opener on the spatula, and the solid "teeth" design on the tongs.
This set also makes a great gift for RVers.
Maybe you would like an even longer handle (especially if you're going to cook up some great foil packet meals straight on the coals). If so, check out the 24″ heavy-duty tongs from the Grille Perfect Store.
FIREPROOF GLOVES
Fireproof gloves will come in handy if you forget the aforementioned long-handled utensils.
In addition, you'll also be happy to have these for handling the grill grate, the cast iron skillet, picking up skewers, or handling tin foil packets.
These are just an all-around good idea for any camping trip. The Fireside Outdoor brand available at REI and designed for campers, are flame and heat resistant up to 932 degrees Fahrenheit!
Moreover, the gloves are machine washable.
SKEWERS
Skewers open up the world of kabob recipes for your next camping trip. I personally like to use the telescoping skewers made from stainless steel. They're reusable, won't burn on the grill, and there is no need to worry about splinters in your food.
Remember to use your thermal resistant gloves!
These can double as a roasting stick for the marshmallows in your s'mores. I like the Rolla Roaster set from REI (currently only $17).
Another good option is GRILLART's metal skewers with a slider that makes it easy to push the food onto the plate.
HEAVY-DUTY TIN FOIL
For campfire cooking, I recommend the heavy-duty strength of tin foil. Use heavy-duty and you can throw your tin foil packets on the grill grate, or even right in the fire, and you won't have a blowout.
I love cooking tin foil packet recipes because of the minimal clean up after meal time (hooray, no dishes!). Also, whatever you're cooking stays juicy and tender.
FIRE-STARTING MATERIALS
Even if you know that firewood will be available at your destination, it's always a good idea to pack a little fire starting kit.
Pro Tip: Save household dryer lint to pack in your fire starter kit.
At a minimum, always pack a tin with matches (or a lighter) and a separate container or bag with scrap paper. Skip the glossy junk mail as that stuff creates more smoke than flame.
Here's a quick tip: pack lint from the clothes dryer. It's made of small bits of cotton and is highly flammable, lightweight and easily stuffed into small containers.
If you've got the space, I like to recommend adding small pieces of wood kindling or twigs.
Remember, when you're at the campgrounds gather firewood from the ground, if permitted. Don't break branches and twigs off the trees.
Shop Recommended RV Cooking Tools
Your Tools are Ready, It's Time to Get the Campfire Started
Alright, you've arrived at your campsite and everyone is hungry for their first campfire dinner. You packed all the necessary tools. You printed out recipes (that can also be used as a fire starter in a pinch).
What's next?
Build a small teepee of paper and kindling to start your fire. As you add logs, try to build evenly across the fire ring, rather than with a big peak in the middle.
As your fire heats up and you're ready to start cooking, you can always move things around as needed.
If you need different heat zones for your campfire meal, you can push the coals to one side of the pit. Also, you can cook directly above the coals for high heat, or off to the side for lower heat.
Some campers even like to cook on stones that can be taken in and out of the fire to modulate temperature.
Remember, patience is key with campfire cooking. Your recipe may take longer to cook over the fire than you are used to at home.
Enjoy the campfire conversation and good company, it's all part of the experience.
Make sure your campfire is "dead out" when you're getting ready to retire for the night. Never leave a campfire unattended while it's still smoldering.
If you don't have access to unlimited water, you can also put your fire out with dirt or sand.
OK, it seems you're ready! You have all the campfire cooking gear, you waited patiently, stoked the fire, and have a ring of coals at the perfect temperature.
It's time to cook up a delicious campfire meal!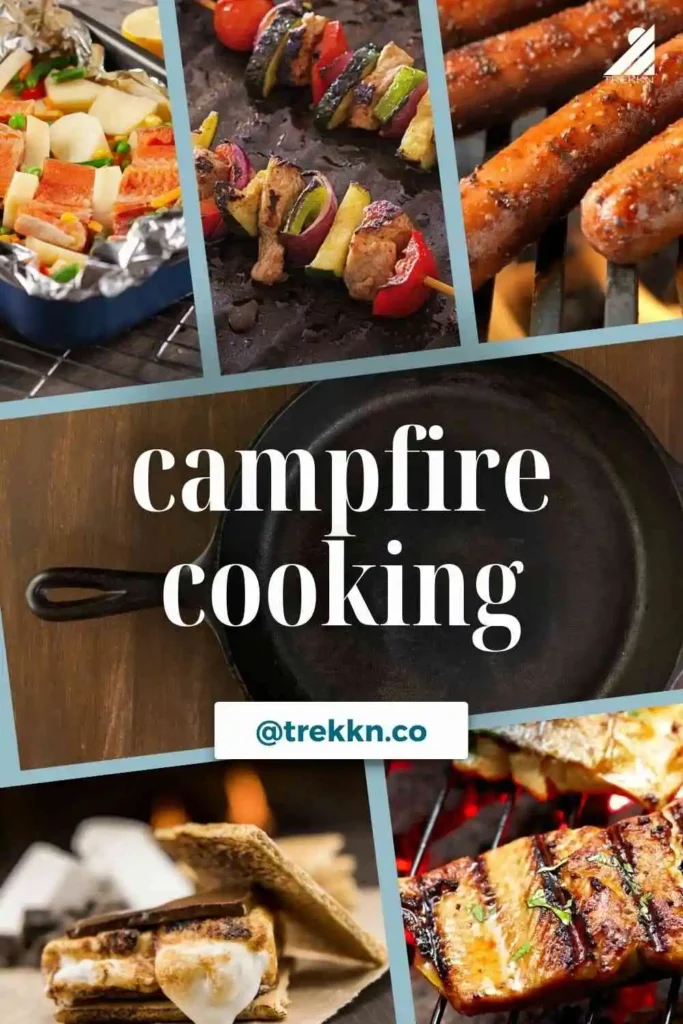 Our Go-To Classic Campfire Recipes
Let's get started with some classic campfire recipes. Sometimes, you don't need to mess with a good thing.
BACON & EGGS HASH
This classic breakfast serves up to four campers and is hearty enough to fuel a big day of outdoor adventures.
You'll need your cast iron skillet, and either a lid or some heavy-duty foil. I like this recipe because it only requires a few ingredients and minimal tools. Plus it's technically a one-dish meal which means there's minimal cleanup required.
What's more classic than bacon and eggs?
*If there is a brand of frozen shredded hash brown potatoes you like, that's a nice option. It makes things simple when preparing breakfast at the campsite. Otherwise, simply use a cheese grater and shred the potatoes at home before you leave. Freeze or store in cold water (to prevent browning) until ready to use.
See the full campfire recipe from ROAMLAB.
PIE IRON GRILLED CHEESE SANDWICHES
This recipe offers grilled cheese, two ways. They recommend getting the fire hot, but then cooking over coals, not flame.
This is about as simple and delicious as it gets. There are only three ingredients. All you need is bread, cheese, and butter.
So if you enjoy spending more of your time stoking a hot flame and resting by the campfire than on meal prep, this is the perfect recipe for you.
Their preferred cooking method is in a pie iron, but it's okay if you don't have one.
Alternative grilling options include: straight on the grill grate, in a tin foil pouch, or in the cast iron skillet.
See the entire recipe from Let's Camp S'more.
CHEESY CAMPFIRE POTATOES
Foil potatoes (or any vegetable, really) make a great side dish for your campfire meal. This cheesy potato recipe is sure to be a crowd-pleaser.
While the full recipe calls for eight ingredients, it can be pared down to just the basics, if preferred (or rather, if needed when camping).
Use baby potatoes to save on prep and cook time.
That said, I think the extra effort with garlic, onions, and parsley is worth the outcome. It's nice to really savor your dinner after a long hike.
*The recipe calls for chicken broth. Personally, I think these containers add too much weight to RV travel. Another option is Better Than Bouillon, a paste that is easily made into broth using only hot water.
One small jar takes up very little space in the cupboard and makes 35+ servings. We use it for broth as well as seasoning rice, stews, soups, etc. It's great for adding to Instant Pot recipes.
See the entire recipe from Savory Nothings.
GRILLED CHICKEN & VEGGIE SKEWERS
Chicken and veggie skewers can be prepped before you leave on your RV or car camping adventure.
This is the type of recipe we love because it means more time exploring and less time cooking.
The marinade in this recipe includes a mixture of basil, parsley, garlic and lemon. In addition to gaining more time for camping, the advance prep to marinate the chicken results in a delicious and flavorful meal.
You can use any veggies you have on hand. The best way to cook these skewers is right over the open flame of your campfire.
Cook protein separate from veggies to avoid under/over cooking.
See the entire recipe from Fresh Off the Grid.
4 More Recipes for Delicious and Creative Campfire Cooking
Now that you're warmed up, let's tackle some more creative campfire recipes.
These recipes may require some extra tools or ingredients, but I think they're all worth it!
BREAKFAST BURRITOS
Make Ahead Breakfast Burrito
You had me at breakfast burritos! This recipe is perfect for you RVers and Campers who want to wake up the morning after a long day of driving and have a hearty meal. Something that will give you the right energy for your morning hike.
Make ahead camping breakfast burritos are simple and can be frozen or kept in the frige for up to 3 days.
Once everything is cooked, fill your tortilla and wrap it closed. Fold the breakfast burrito into a tin foil packet and put it in the refrigerator. Don't forget to pack them them so you have a delicious, pre-made breakfast at camp the next morning!
See the entire recipe and instructions.
Prep At Home and Cook at Camp Breakfast Burrito
This is a separate breakfast burrito recipe we thought you might enjoy. You can prep before you depart, which makes the campfire cooking very easy the next day.
At home, you'll roast a few ingredients – potatoes, pepper, and sausage – on a baking sheet. After about 25 minutes, allow everything to cool, then put them in the refrigerator for a few hours, or overnight.
Store the ingredients in sealable plastic bags so you can toss them in the cooler with no worries of cross-contamination. You will also need to pack a mason jar or similar container for scrambling the eggs.
Lastly, this recipe encourages you to improve your tin foil folding skills. Specifically, it calls for you to create a foil bowl for each individual serving.
Once everything is cooked, fill your tortilla, add toppings and enjoy!
See the entire recipe from The Food Network.
HOT DOGS AND CAST IRON BEANS
We'd like to start off with a big 'Thank You' to Country Living for this two-part recipe. You will start by making beans in your cast iron skillet.
Once complete, you'll grill hot dogs (and the buns!) over direct heat on the campfire.
Note that the recipe for the beans includes some ingredients you may not typically stock in your camp kitchen such as Worcestershire Sauce and Molasses.
Plan ahead and bring only the small amount you need in a mini food-safe container to avoid lugging the glass containers from the store.
This will help you save weight in your RV. I know it seems small, but the extra weight adds up quickly when packing the camper.
When there's time, we label each cup for both the contents and the planned recipe. This helps to make campfire cooking time much more efficient.
You probably have all of these ingredients in your pantry at home anyway, so pack them to level up your next campfire meal.
Pro Tip: Transfer certain ingredients (molasses, vinegar, sauces) into reusable mini food storage containers to save weight and space in your RV.
See the entire recipe from Country Living.
FOIL PACK SALMON & POTATOES
You'll feel like you're glamping with this recipe from Vikalinka. While cooking in foil is a classic camping technique, this salmon recipe is fancy enough for Christmas dinner.
Julia recommends cooking the salmon and potatoes separately so they both come out right.
Plus, she suggests cooking over coals, not flame, to ensure nothing burns.
See the entire recipe from Vikalinka.
If you enjoyed this salmon and potatoes dish, you may also want to check this longer list of easy foil packet camping meals.
DARK CHOCOLATE SKILLET S'MORES DIP
A creative take on a classic camping dessert is last but certainly not least on our list. This recipe from Dash of Jazz will put your cast iron skillet to work, again. Didn't we tell you, this skillet is amazing for campfire cooking?!
Get ready because this is both a fun recipe to make and a delicious dessert to enjoy by the campfire.
You will bake your marshmallows in the skillet, drizzled with dark chocolate sauce. Then, use graham crackers to scoop the perfectly toasted and sweetened marshmallows.
Enjoy!
See the entire recipe by Dash of Jazz.
Is Your Mouth Watering For Some Campfire Cooking?
Food always tastes better when cooked on a campfire, right? We hope this article has inspired you to get outside and try some campfire recipes.
Go slow, enjoy the process and your company, and you're sure to have an incredible outdoor dining experience.
Don't forget to check local fire restrictions, and if campfires are allowed, always make sure they are dead out when you're done cooking.
Bon appetite!
Pro Tip: Double check that the campfire is out and completely cool before leaving it unattended. Then please check again.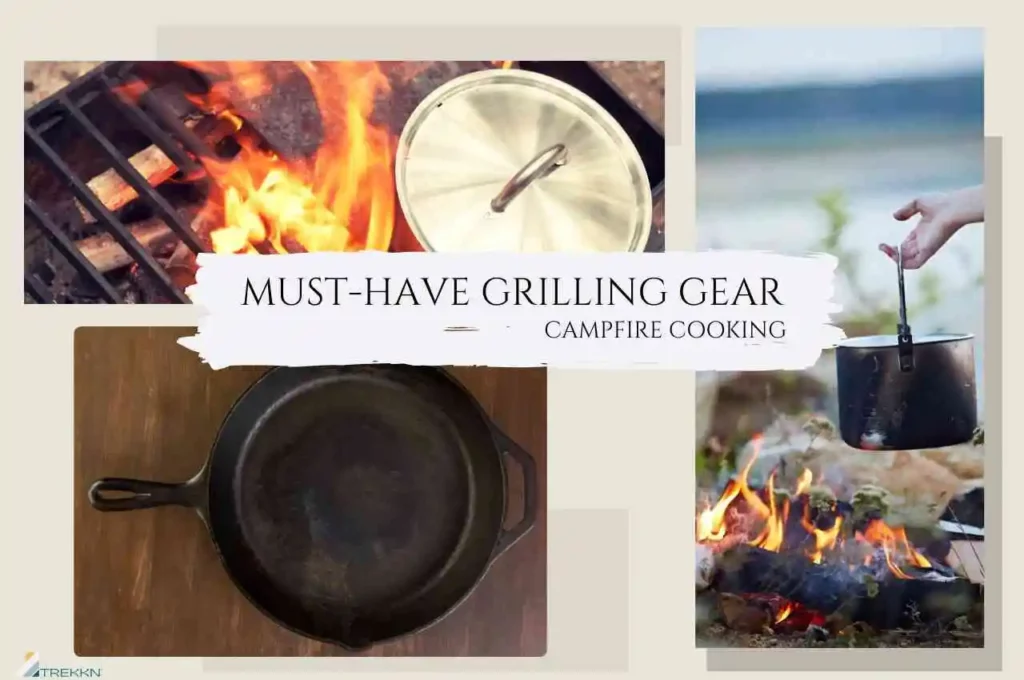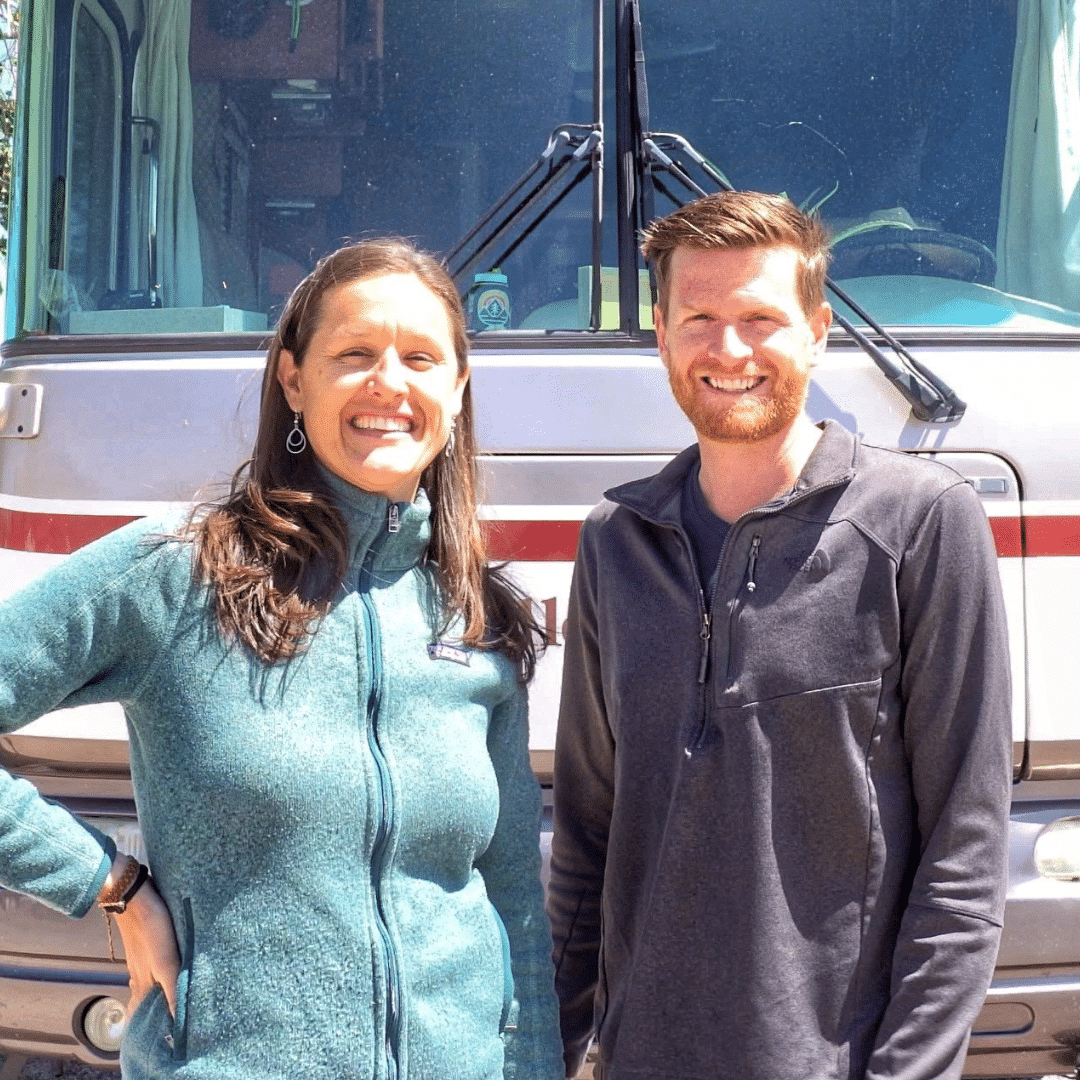 Kristen Bates lives & works from her RV, primarily boondocking off-grid. She owns and operates a women-led travel company, Legit Trips. Kristen loves to explore new places and inspire others to do the same. If she's not typing away on her laptop, she's off on an adventure- hiking, biking, or SUP boarding. You can follow her RV adventures @PerpetualMoves and learn more about her travel company at LegitTrips.com.