When it comes to RV cooking in the summer, the less you use the oven and stove the better. Both can heat up your space in a heartbeat making it uncomfortable and it puts stress on your air conditioner to keep up. That's why I love foil packet meals.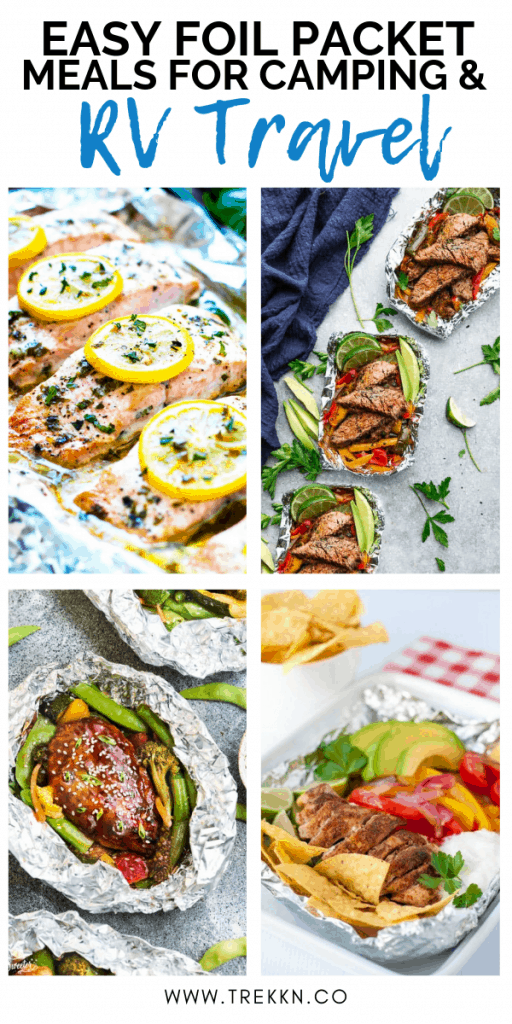 Foil Packet Meals Mean Less Clean Up
Foil packet meals over the campfire or grill mean less clean up and cooler temps inside your RV. You don't have to dirty up pans or plates for that matter. Just open up your foil packet on your plate or heck, the picnic table, and dig in. Plus, they just taste amazing and are so quick to whip up!
Foil Packet Dinners are Perfect for Different Diets
And for those of us who have to cook for both meat lovers and vegetarians, there is little that's easier meal-prep wise than foil packet dinners. Each family member gets their own personalized packet and they're good to go. Todd and I get a little chicken or sausage in ours and our kids get veggies galore. Everyone is happy and well fed.
If you're on the hunt for foil packet meals for your next camping or RV trip, enjoy these 11 I rounded up!
11 Foil Packet Meals for RV Cooking
Vegetarian Foil Packet Recipes
Grilled Cilantro Vegetables in Foil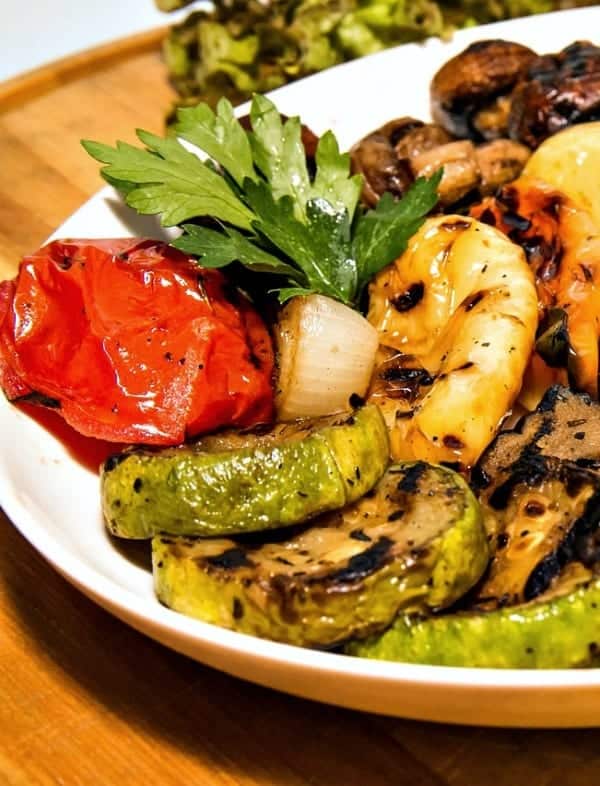 "This Grilled Cilantro Vegetables in Foil recipe is one of my favorite ways to cook vegetables in the summer. One of my favorite things about summer is that we can use the grill more. That means less cleanup at the end of the day. And, since my husband is in charge of grilling in our house, it's much less work for me." – Confessions of an Overworked Mom
Foil Packet Grilled Vegetables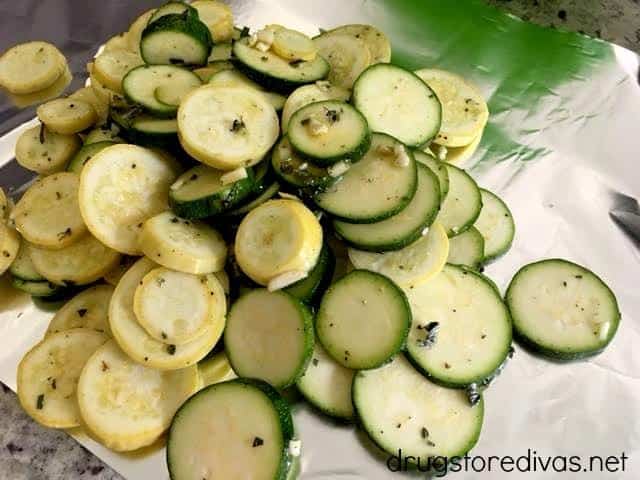 "On July 4th, though, my parents were out of town, so I had to make sure to make a healthy side dish. I decided to make foil-packet grilled vegetables. They are so great and really easy to make, especially if you already have the grill going." – Drugstore Divas
Here's another easy vegetarian meal with little clean up: Instant Pot Quinoa Tacos. This recipe is requested over and over by my family. It's definitely a winner!
Foil Packet Meals with Fish
Garlic Salmon and Summer Vegetables in Foil Packets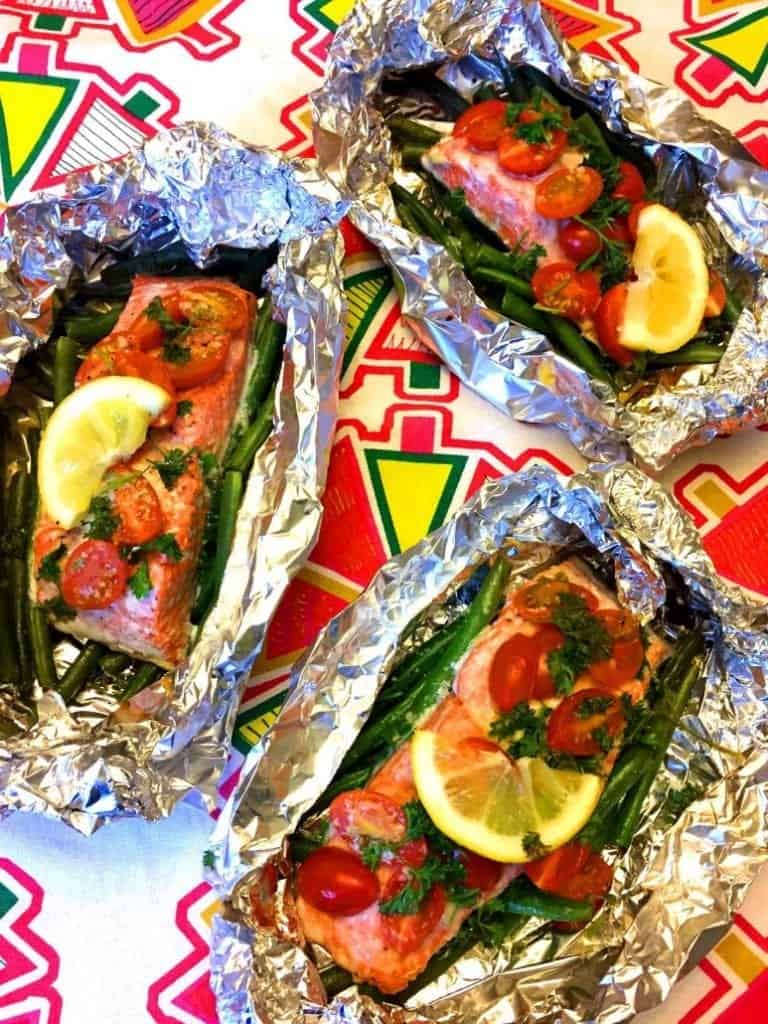 "This garlic Parmesan salmon and vegetables in foil will be your most favorite summer meal ever! Open the foil packet and your complete seafood dinner is served! Best of all, no cleanup!" – Melanie Cooks
Salmon in Foil with Carmalized Onions, Lemon, Dill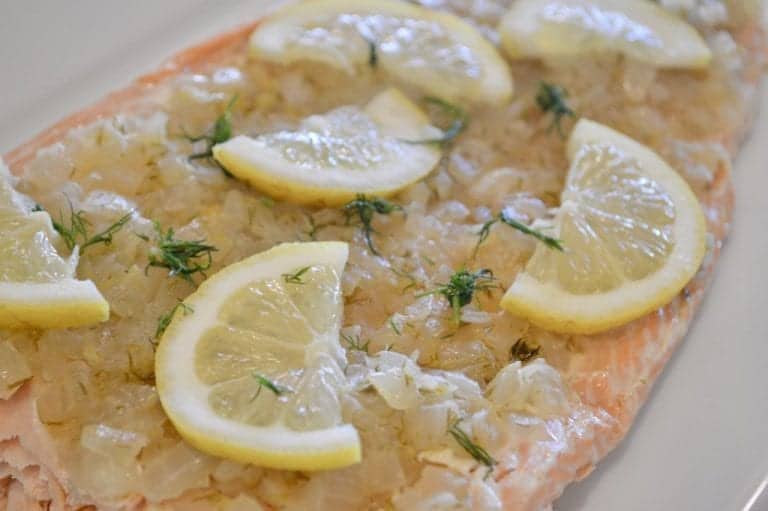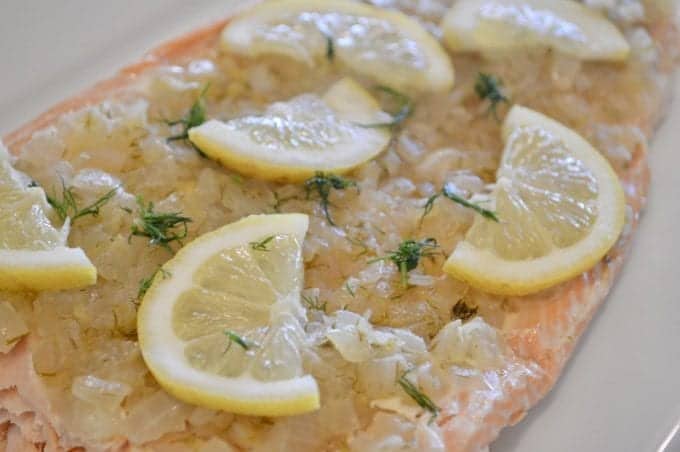 "Easy and delicious Salmon in Foil is a quick and tasty fish recipe baked with caramelized onions, lemon, and dill. Moist and flavorful, this is a super healthy dish that your family and friends will love!" – This Delicious House
Easy Baked Shrimp Scampi Foil Packets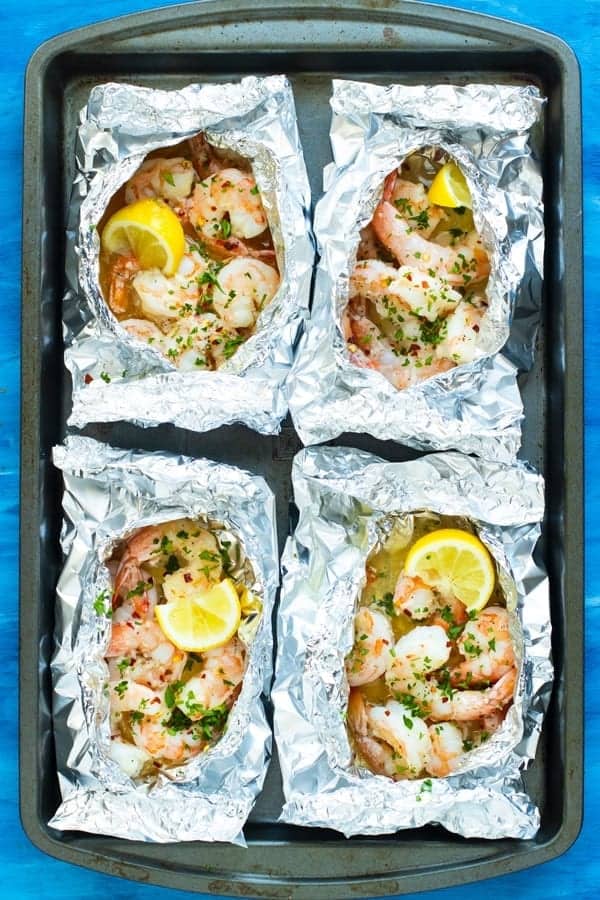 "Baked Shrimp Scampi is tossed in a delicious garlic and butter white wine sauce, made in convenient foil packets, and is healthy, low-carb, gluten-free, and can be made Paleo and Whole30. This easy weeknight dinner recipe comes together in under 20 minutes, too!" – Evolving Table
Basil & Lemon Baked Salmon in Foil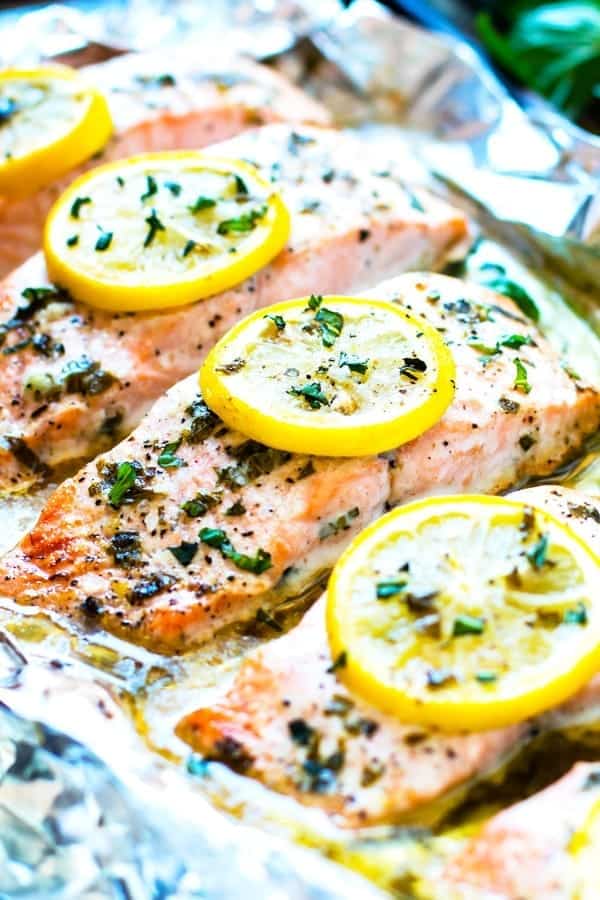 "Basil & lemon baked salmon in foil is a healthy salmon recipe and an easy way to make a low-carb, Paleo and gluten-free dinner the whole family will love!" – Evolving Table
Chicken Foil Packets
Easy Chicken Fajitas in Foil Packets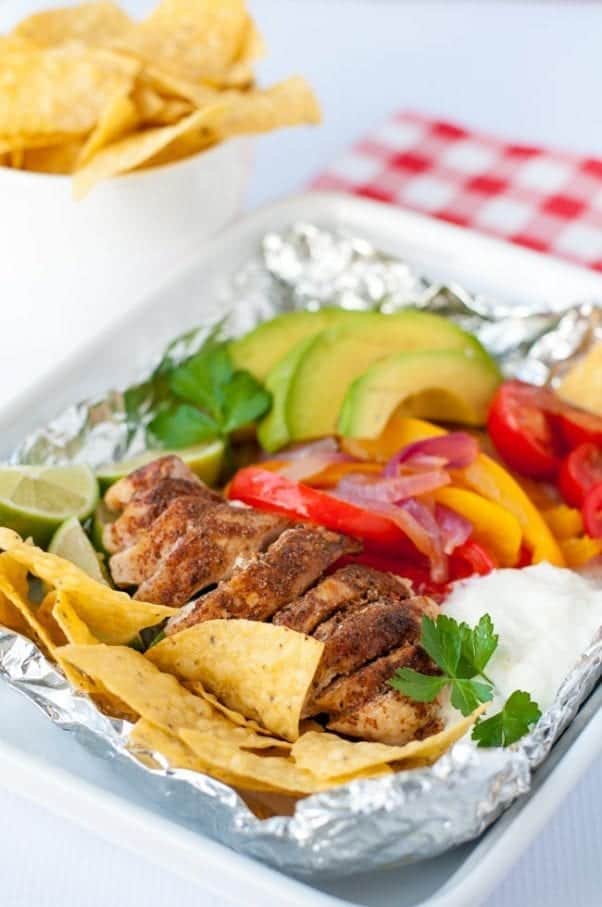 "Relax and enjoy summer weather with these easy make-ahead meals of juicy chicken fajitas in foil packets." – Flavour & Savour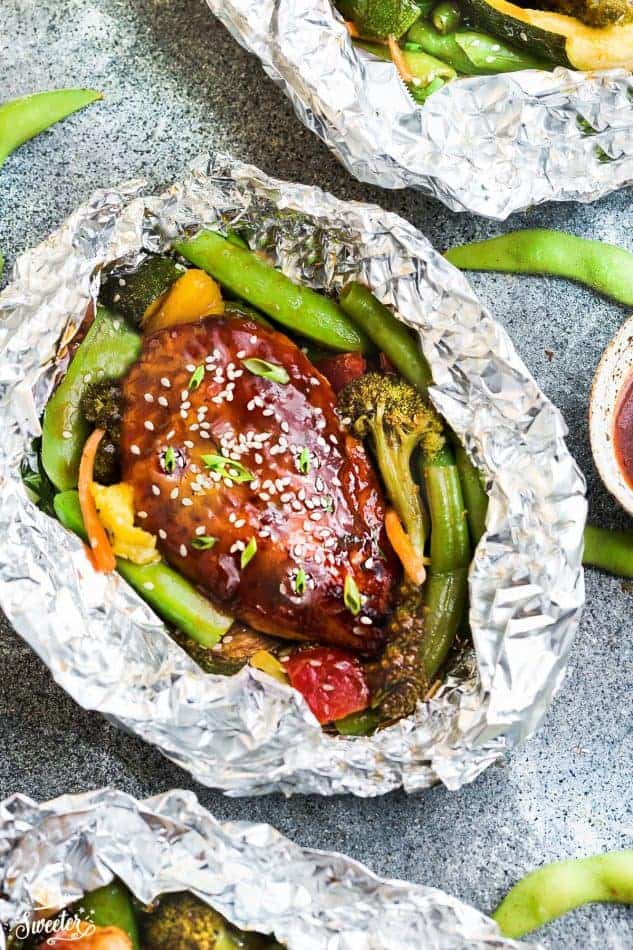 "These Teriyaki Chicken Foil Packets are the perfect easy campfire or weeknight meal. Best of all, they are filled with a sweet and savory Asian glazed chicken, broccoli, edamame, green beans, pineapple and bell peppers. Throw them on the grill or in the oven to cook and serve with some rice or your favorite side dish." – Life Made Sweeter
Foil Packet Meals with Beef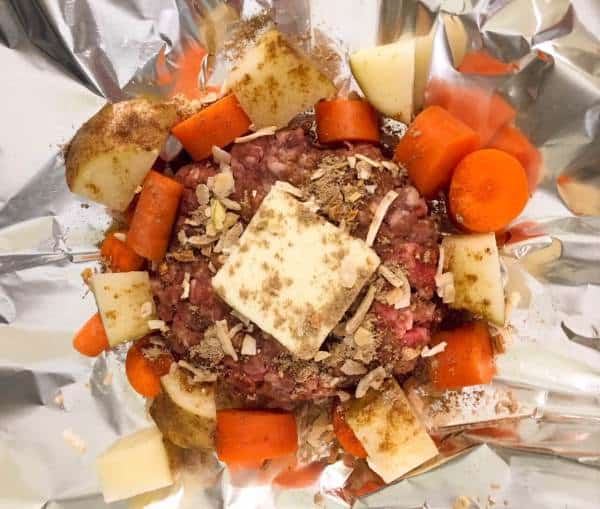 "These mini pot roast pockets are easy and delicious. And my favorite part…they require very little cleanup! Can be done in the oven, on the grill, or over the campfire on camping trips." – Diary of a SoCal Mama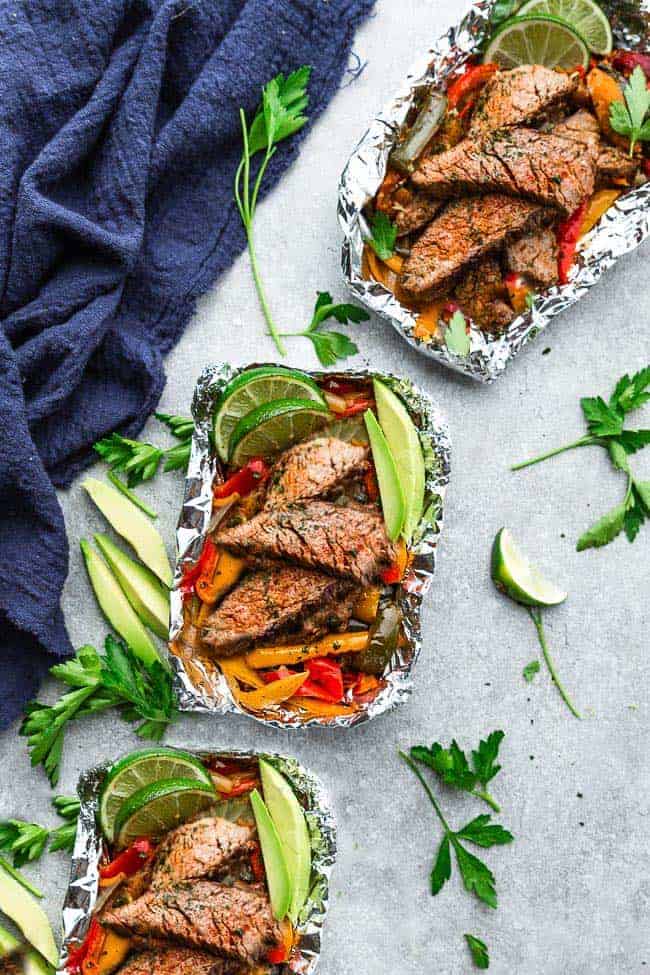 "Steak Fajita Foil Packets are the perfect easy & low carb meal for summer grilling, camping and cookouts. Best of all, they're loaded with all your favorite Tex Mex flavors. Paleo, whole 30, gluten free & keto friendly meal." – Life Made Sweeter
Foil Packet Desserts
Campfire Granola & Banana Boats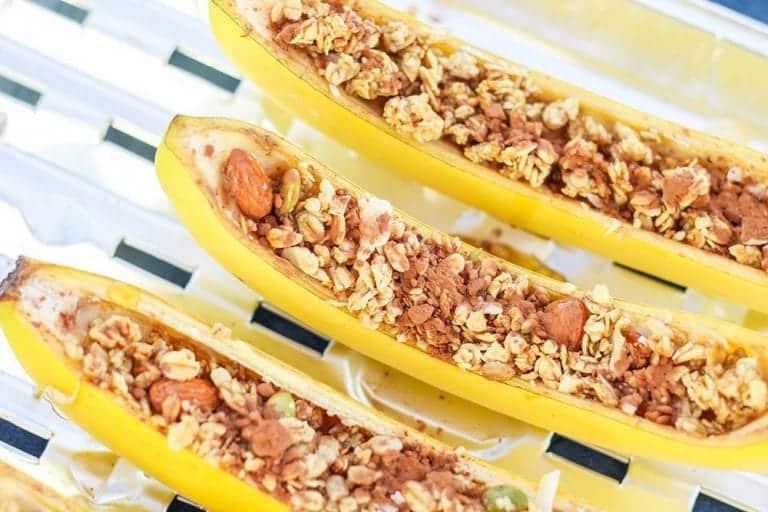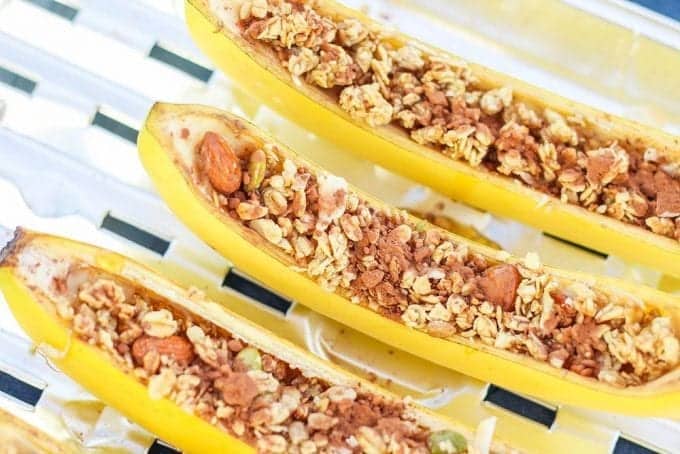 "All ingredients for this campfire dessert recipe are conveniently easy to transport on a camping trip or day out. These boats also make a great snack to cook on your fire pit at home." – Meraki Mother
Did you find a recipe you'd like to try? Those Steak Fajita Packets have my name written all over them. As I find more delicious foil packet meals, I'll add them here, so keep checking back.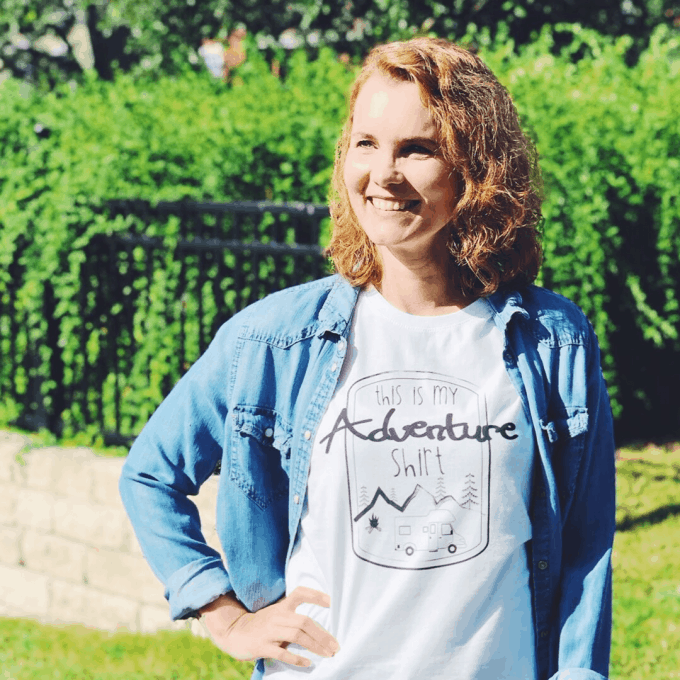 Julie Bonner is one-half of the TREKKN team. She specializes in helping you whip up delicious meals in your tiny RV kitchen, as well as RV organization tips and helping fellow RVers make their RV feel like home. Her favorite RVing spot is in Banff National Park in Canada where yes, the water really is that blue and the people really are that nice.
Last Updated on