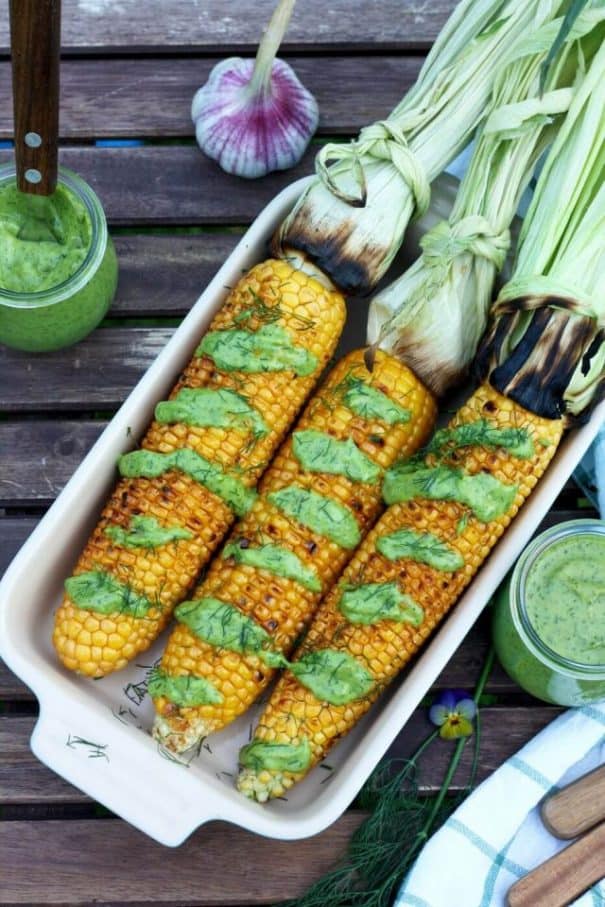 Are you stuck when it comes to your camping trip menu and having problems coming up with ideas? Let us help you get un-stuck starting off with this incredible list of gluten-free camping food ideas.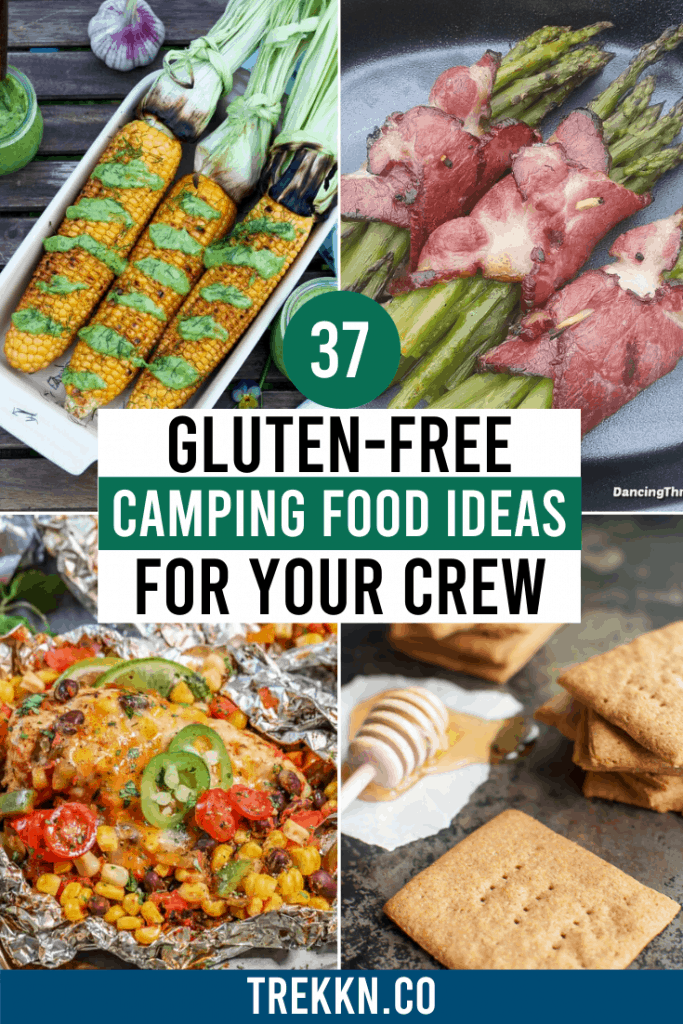 If you're feeding a crowd on your camping trip or even just your immediate family, most likely there will be someone with diet restrictions either for health or personal reasons.
For our family, we have one vegetarian so I make sure every meal can be adapted. If burgers are on the menu one night, he gets a veggie burger. Stir fry? I cook up the meat separately.
Coming up with camping meal ideas can be hard enough and when you throw in preferences and diets, it can become down-right overwhelming. That's why planning is key and having an arsenal of fantastic recipes is a great place to start.
Have no fear gluten-free eaters, here are over thirty camping food ideas for you!
37 Gluten-Free Camping Food Ideas
Breakfast Gluten-Free Camping Food
Let's start with the first meal of the day – breakfast.
Lemon Poppy Seed Granola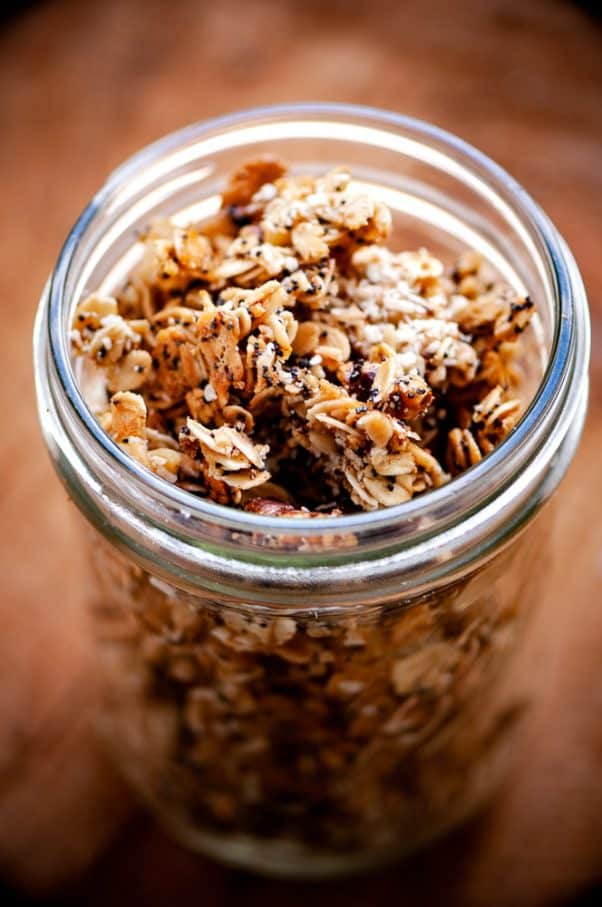 When it comes to planning a camping menu, there are two words that are music to my ears: Make-Ahead.
For me personally, the more prepping I can do ahead, the more I (and everyone else because if mama ain't happy…you know how the saying goes) enjoy the camping trip.
Granola is something you'll make ahead and enjoy for not only breakfast but snacks as well.
This lemon poppy seed granola is gluten-free, dairy-free, vegan, easy to make, healthy and nutritious. If you love lemon poppy seed muffins as much as I do, this recipe is for you.
Get the recipe here.
---
Speaking of make-ahead meals, be sure to check out our list of 17 Make-Ahead Camping Meals.
Click here to pin it to save for later.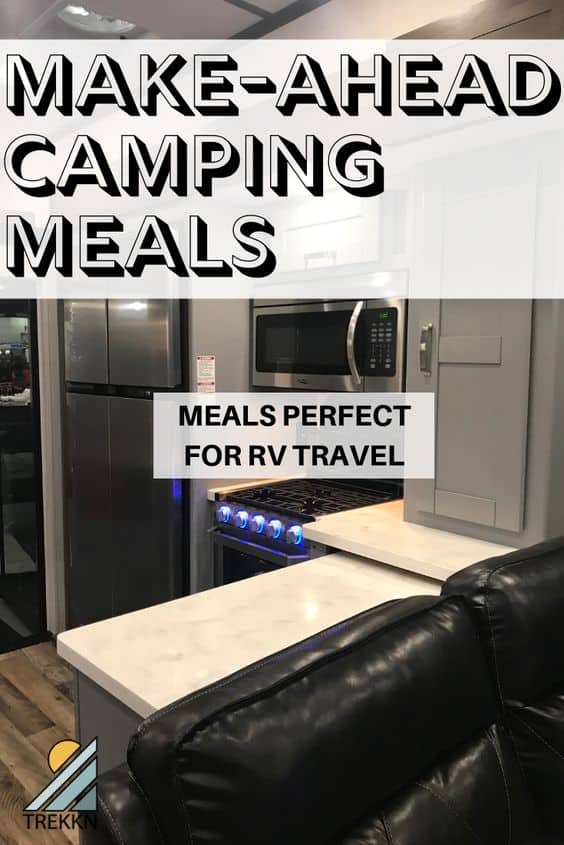 ---
Maple Walnut Goji Berry Granola
Here's another incredible gluten-free granola recipe featuring goji berries, walnuts, and maple flavor. This recipe is not only gluten-free, but vegan, dairy-free and refined sugar-free.
It's full of flavor, quick to make and is an easy grab and go breakfast. If you're waking up early on your camping trip to hit the trail, grabbing a bag of this to snack on will keep you fueled and your taste buds happy.
Get the recipe here.
Instant Pot Steel Cut Oatmeal with Bob's Red Mill Steel Cut Oats
If you've read many of the other camping and RV cooking articles here, then you're probably aware that I love using my Instant Pot while RVing, especially on long trips. Todd also eats oatmeal every morning, so this breakfast recipe is perfect for him. And by using Bob's Red Mill Steel Cut Oats, it's gluten-free.
Add ingredients like brown sugar or apples and cinnamon for a delicious start to your morning.
Get the recipe here.
More GF Camping Breakfast Ideas:
Gluten-Free Lunch or Dinner Camping Food
From meals cooked in foil making clean-up a breeze to great ideas for meals on the grill, these gluten-free recipes and ideas are a fantastic choice for lunch or dinner while enjoying the great outdoors.
Cabbage and Sausage Foil Packs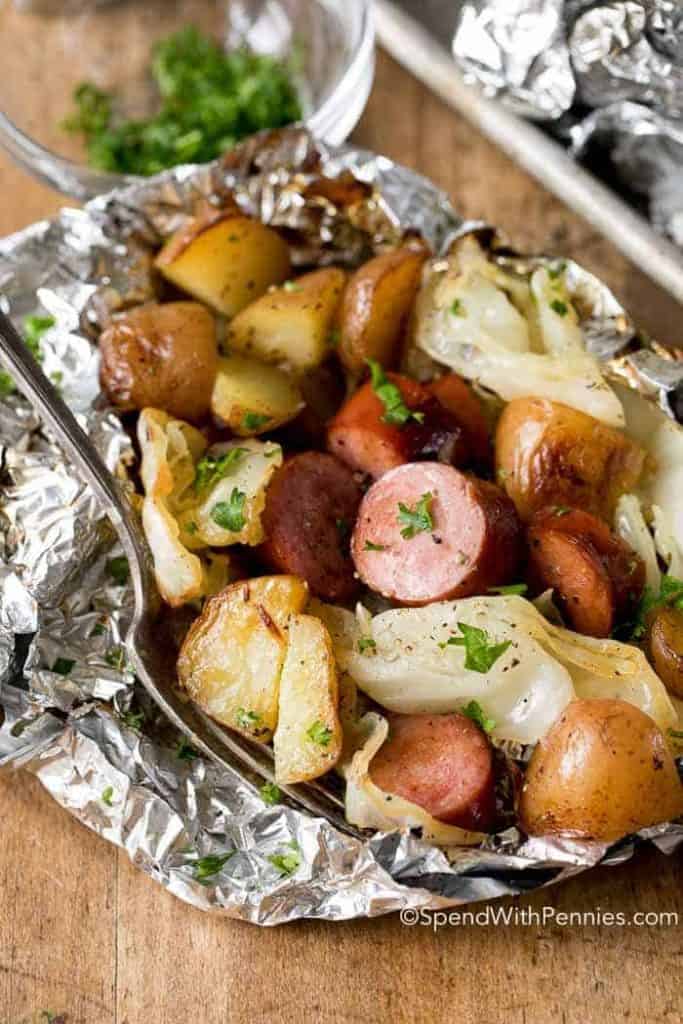 What do you get when you mix potatoes, smoky sausage, onions, sweet cabbage, and garlic butter together in foil? A delicious, easy to clean up gluten-free camping meal.
My mouth is watering, is yours?
This effortless meal is all cooked up on the grill in a tidy little foil packet. You can even prep is ahead of your trip to make meal prep even easier.
Get the recipe here.
Santa Fe Chicken Foil Packs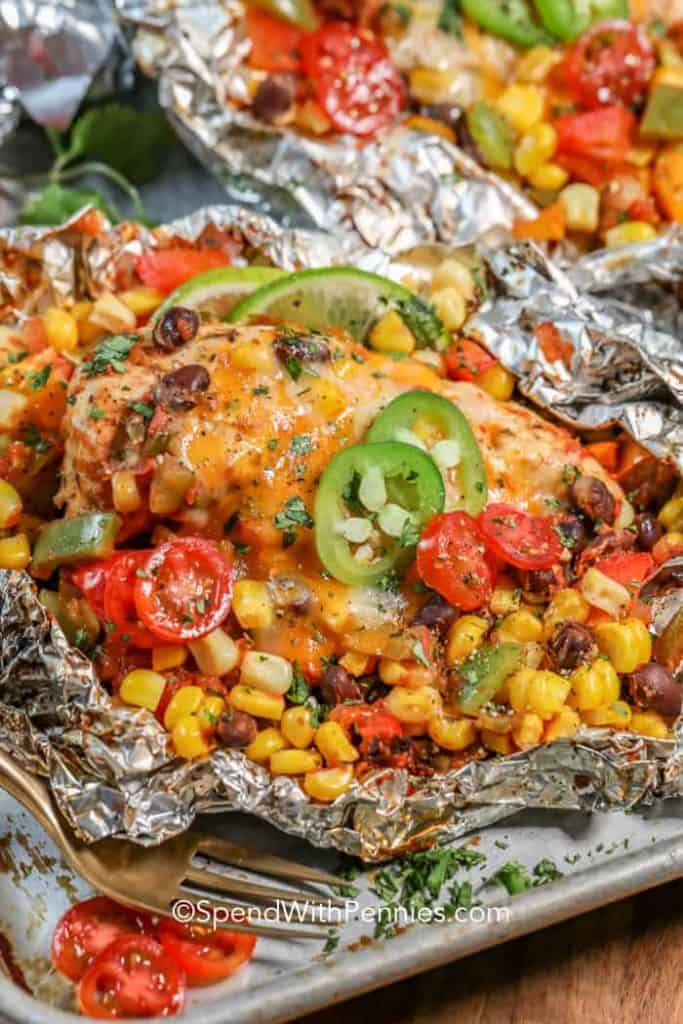 Here's another foil pack meal that's gluten-free and bursting with flavor and gorgeous color.
This recipe consist of chicken, beans, veggies like corn and tomatoes and tasty zesty seasoning. Mix it all together and throw it on the grill for about 20 minutes and you have a winner of a dinner. Serve this Santa Fe chicken dish with corn tortillas and guacamole or over a bed of cilantro lime rice.
Get the recipe here.
Sausage Foil Packets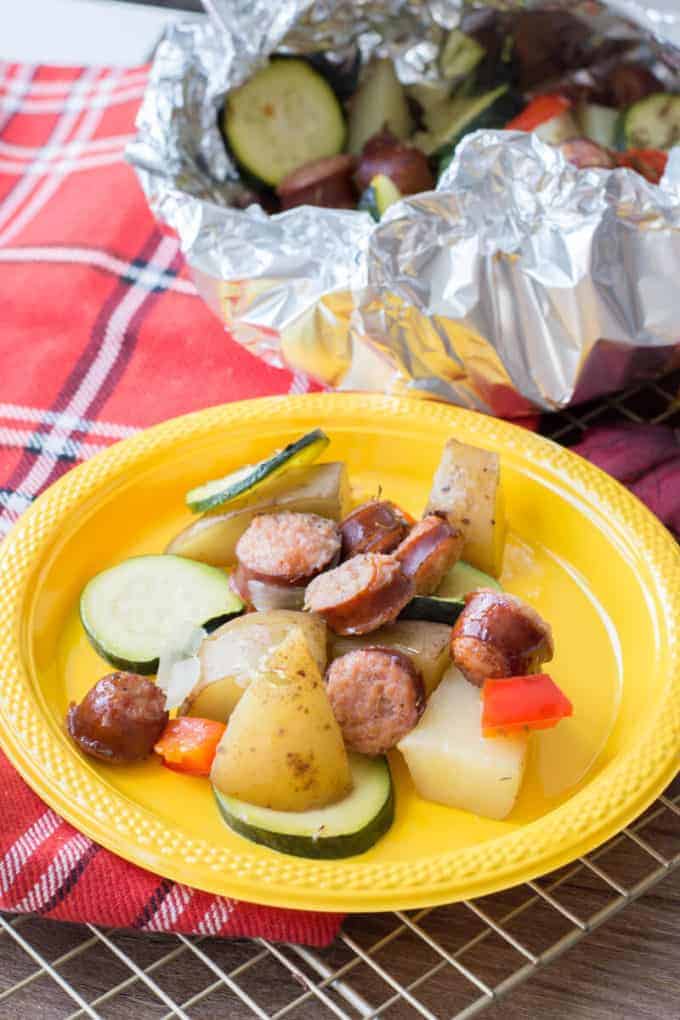 Here's another easy foil packet meal for camping which features sausage, potatoes and veggies. With a little seasoning and about 15 minutes on the grill, you'll end up with a crowd-pleasing dinner.
Foil packet meals like this can be easily adapted for different preferences. Offer a variety of vegetables and let everyone assemble their own. Easy peasy!
Get the recipe here.
Kalbi Short Ribs – Korean Recipe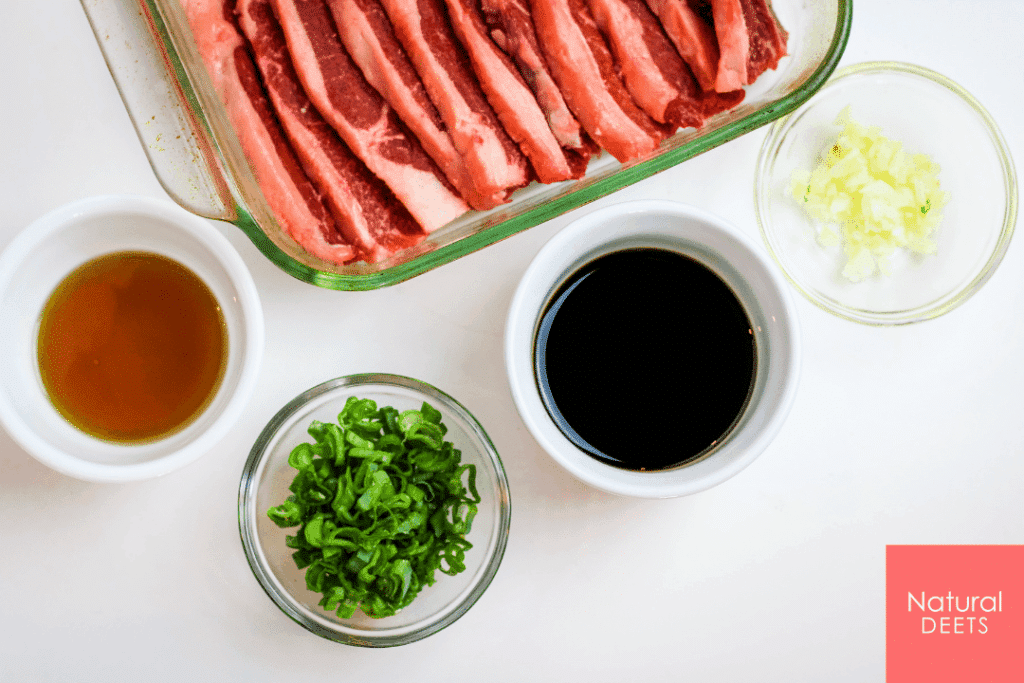 If you're looking to step away from classic camping food like burgers and hot dogs and whip up something incredible on the grill, this kalbi short ribs recipe might be just perfect.
For camping, marinate the meat in a Ziploc bag then freeze it and use it as an ice pack. When camping just cook it on the grill! To make this gluten-free, be sure to use a gluten-free soy sauce option like this.
Get the recipe here.
Foil Packet Grilled Coho Salmon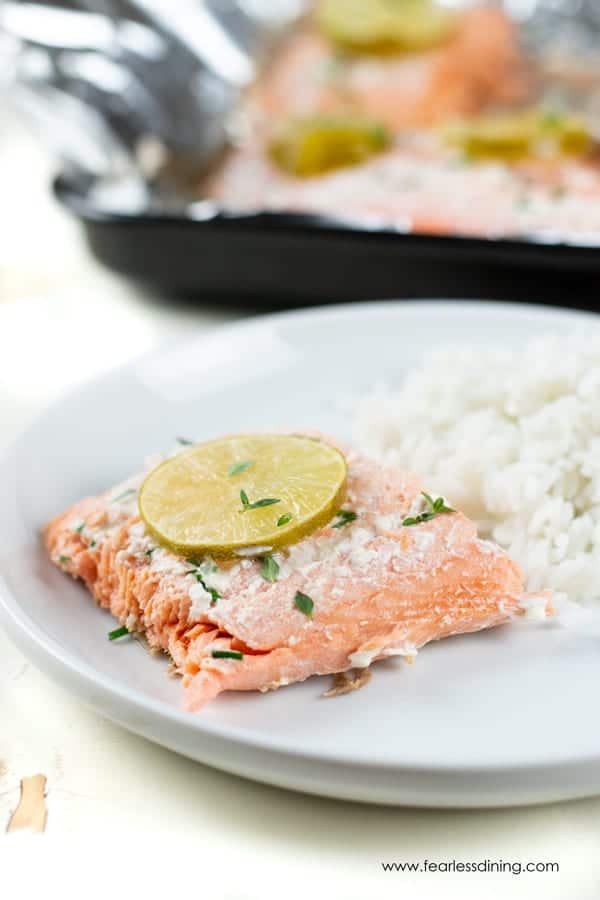 This Alaska foil packet grilled coho salmon sounds absolutely delicious. (Fun fact: Todd and I used to live in Alaska and our middle son was born there, so we have quite the connection to this beautiful place.)
The best salmon and halibut I've ever had were definitely in Alaska, so this recipe caught my eye for good reason.
This cooks up in a foil packet on the grill in 8 to 10 minutes, depending on the thickness of the salmon.
Get the recipe and some fantastic sounding side dish recommendations here.
Shrimp Foil Packets with Zucchini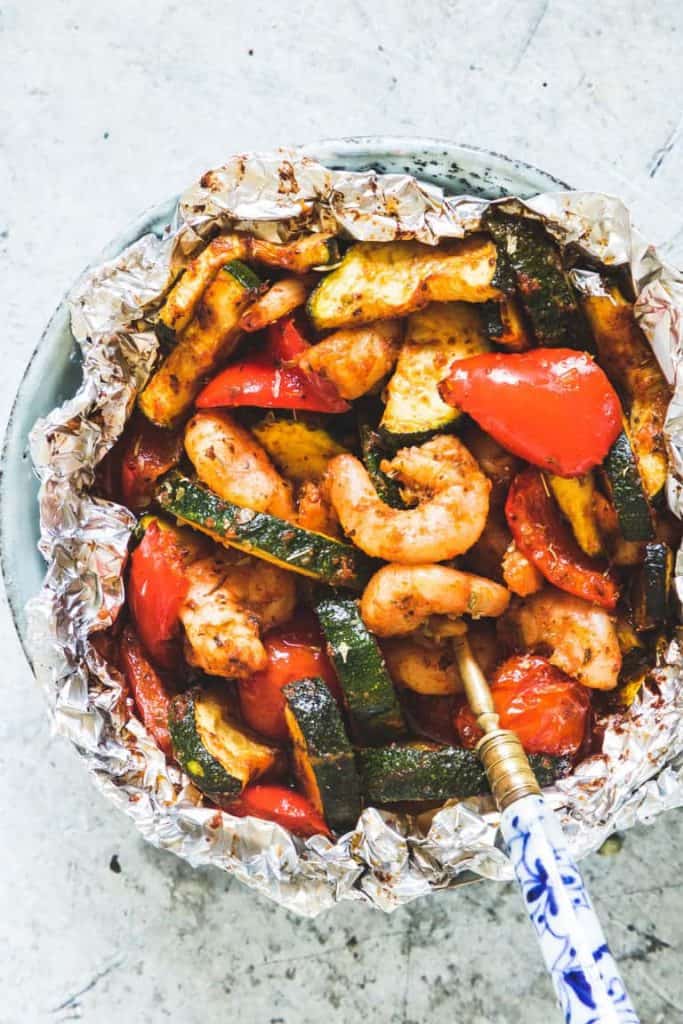 This recipe is not only gluten-free but also keto, paleo and low-carb. Plus, it's a foil packet meal which means…easy peasy clean-up.
To make this place the shrimp, quick-cook veggies and seasonings in foil, fold up the foil in a packet and place on the grill for a total of 15 minutes.
Get the recipe here.
Garlicky Grilled Shrimp Kabobs
These grilled shrimp kabobs are bursting with flavor because of the delicious marinade made from olive oil, pineapple juice and of course…garlic. Thread the ingredients on some skewers and throw them on the grill or campfire for a super quick camping meal idea.
Get the recipe here.
The Best Grilled Greek Chicken Recipe
This yummy grilled chicken recipe features a Greek marinade with ingredients such as freshly squeezed lemon juice, olive oil, garlic, and dried Greek oregano. Grill it up for about 6 minutes per side and serve it with some grilled vegetables.
Get the recipe here.
Pinchos Puerto Rican Marinated Grilled Chicken Kebabs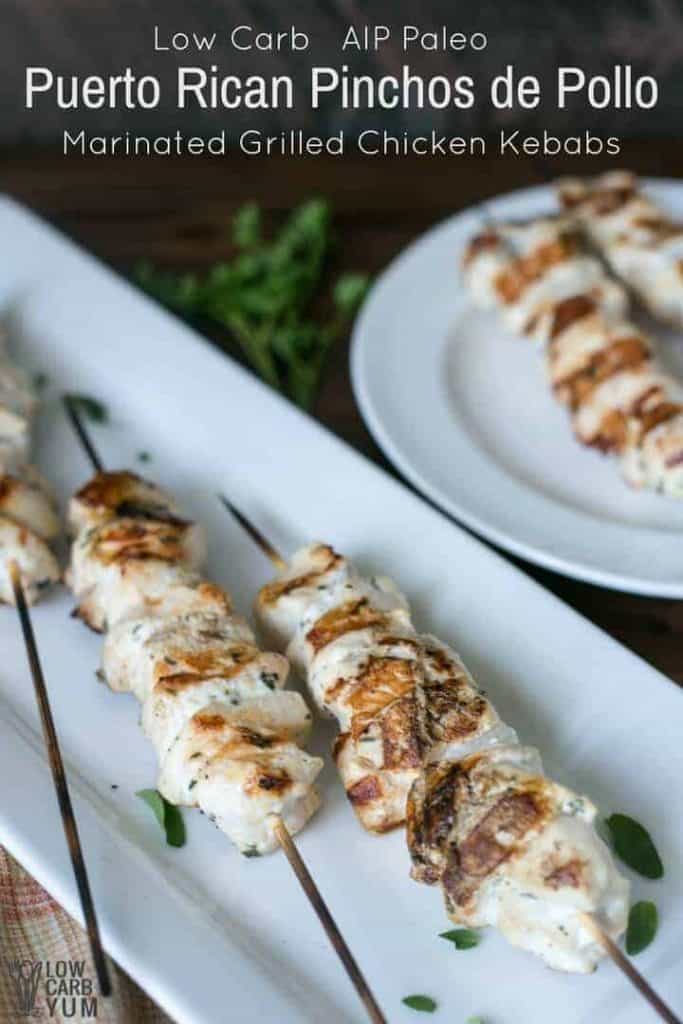 What are pinchos you ask? It is traditional street food in Puerto Rico and can be made from pork or chicken. It features a tangy sauce made from garlic, lime juice, olive oil, oregano, salt, and pepper.
What a fantastic spin on traditional grilled chicken kebabs!
Get the recipe here.
More GF Lunch or Dinner Camping Recipes:
Gluten-Free Side Dishes for Camping
Do you need some ideas on what to serve along-side grilled chicken or fish? Here are some delicious gluten-free side dishes perfect for camping.
Bacon-Wrapped Asparagus on the Grill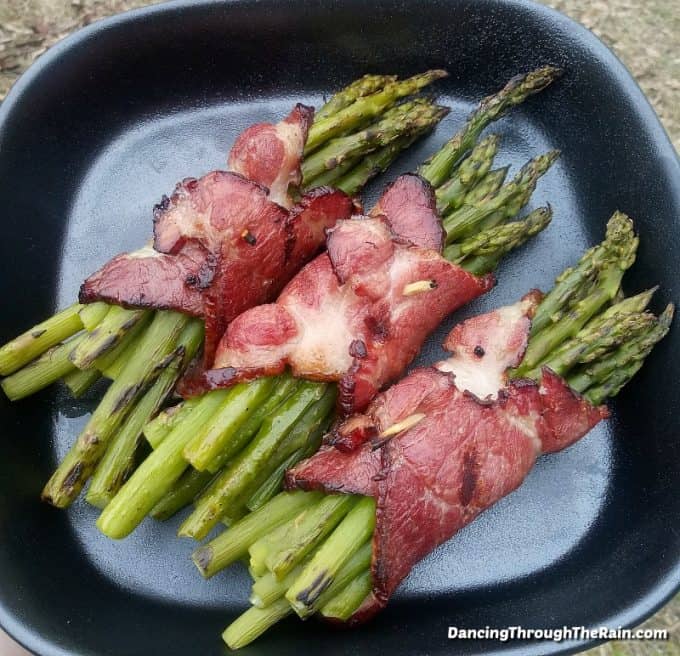 Vegetables wrapped in bacon? Yes, please!
Not only will your side dish be the envy of the campground because of the lovely bacon aroma, but your asparagus will be cooked to perfection and have loads of flavor. And, it's just two ingredients!
Get the recipe here.
Grilled Corn on the Cob with Creamy Avocado Dill Dressing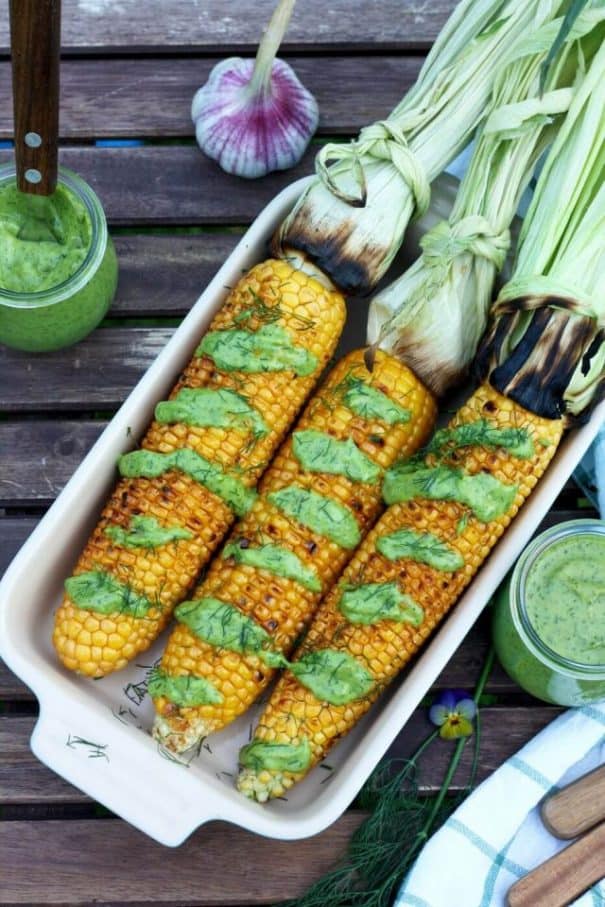 Grilled corn is always a winner while camping, but adding this creamy avocado dressing kicks it up a few notches. Plus, it just looks cool with that green drizzle.
Get the recipe here.
More GF Camping Side Dishes:
Gluten-Free Camping Snacks
Whether you're packing up and hitting the trail or lounging in your camping chair enjoying the great outdoors, snacks are a camping must-have.
Paleo Granola Bars Recipe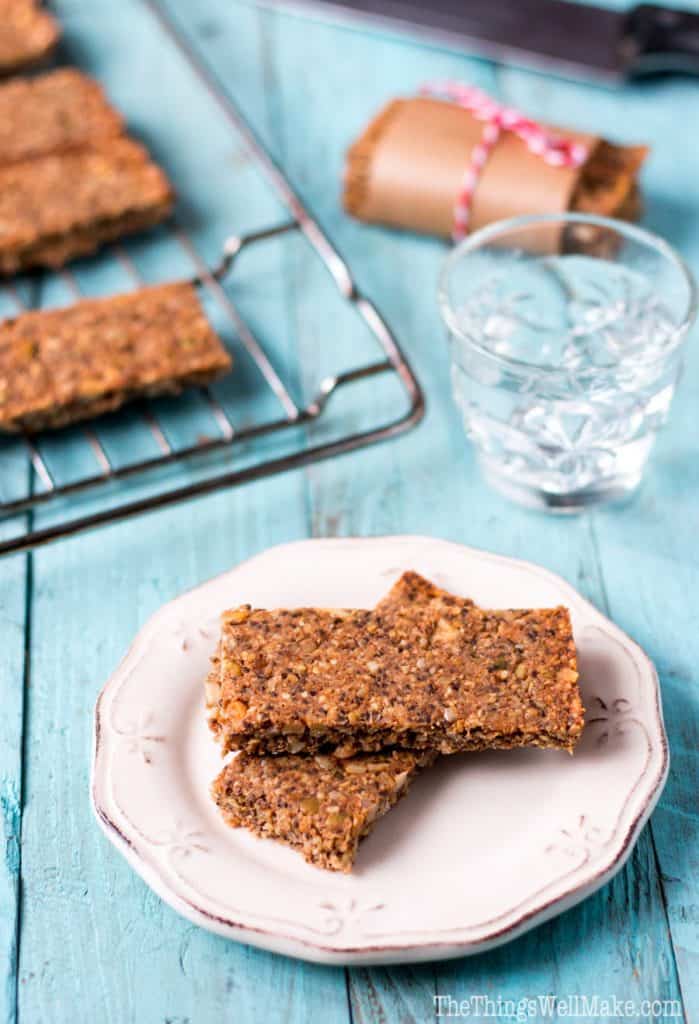 Whip up these granola bars before you head out to your campsite for a snack that not only tastes great but will give you the fuel you need for hiking, camping or other outdoor activities.
These bars are easy to make, store well and are perfectly packable.
Get the recipe here.
No-Bake Granola Bars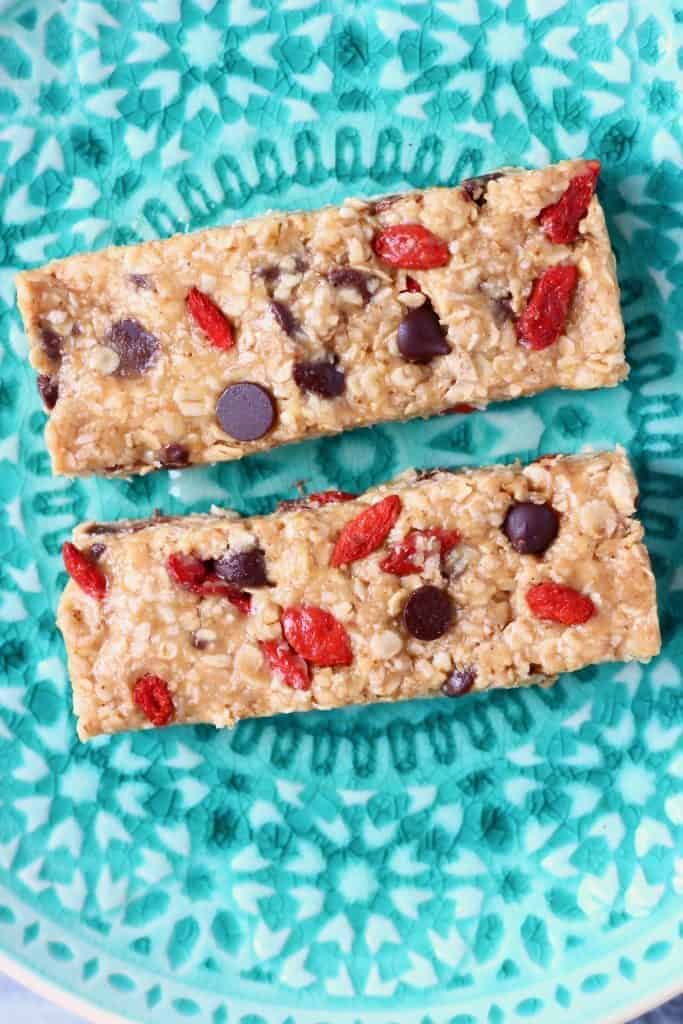 These no-bake granola bars are soft and chewy, easy to make (only 15 minutes!) and can be customized according to your preferences. Plus, you mix everything up in one bowl. That's my kind of recipe!
Get the recipe here.
S' mores Muddy Buddies
You will have to find some gluten-free graham crackers for this recipe, but I think the hunt will be worth it. (Or, you could make your own…recipe under the desserts section below!)
This recipe is vegan-ish, but if you're not vegan and all you care about is the gluten-free part of this snack, the rest of the ingredients are easy to come by. This would be such a yummy snack for the trail.
Get the recipe here.
More GF Camping Snacks:
Gluten-Free Camping Desserts
This list features both make ahead and desserts cooked on the grill at your campsite and all are gluten-free and tasty.
Gluten-Free Graham Crackers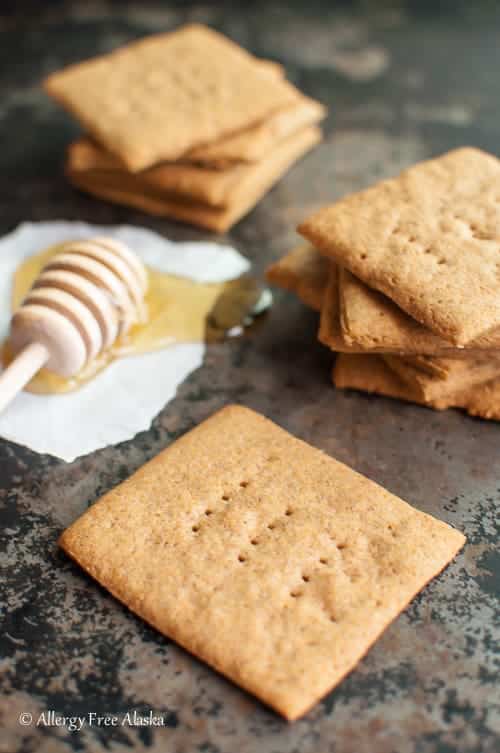 Enjoying a s' more by the campfire can be super frustrating for those who react badly to gluten. Unless you have some gluten-free graham crackers on hand. You can purchase store-bought ones, but why not try your hand at making them yourself?
Get the recipe here.
Pumpkin Peanut Butter Cookies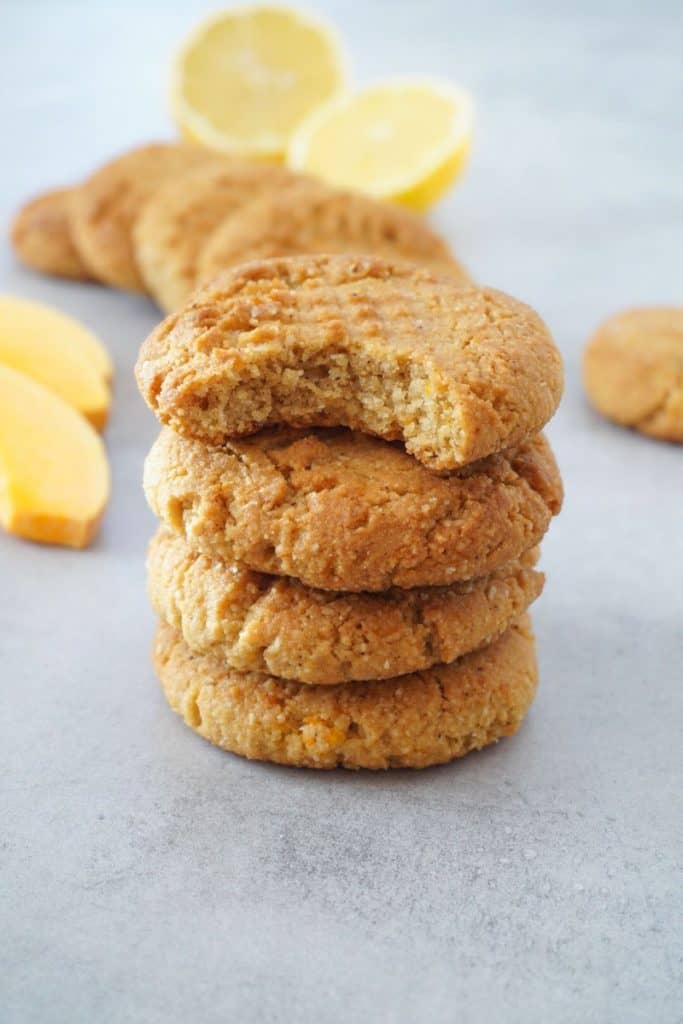 Whip these bad boys up before your camping trip for a dessert or snack option. Since these are made with almond flour, they are gluten-free. Add in a combination of pumpkin and peanut butter and these become simply irresistible.
Get the recipe here.
Campfire Apple Crisp Foil Packets
What's better than a dessert featuring apples, cinnamon, and oats while camping? One that's made in foil for easy clean-up. Apple crisp is a family favorite for us and believe me when I tell you it tastes even better while camping.
P.S. These can also be made in a cast-iron skillet over the campfire.
Get the recipe here.
Ooey Gooey S'mores Cookies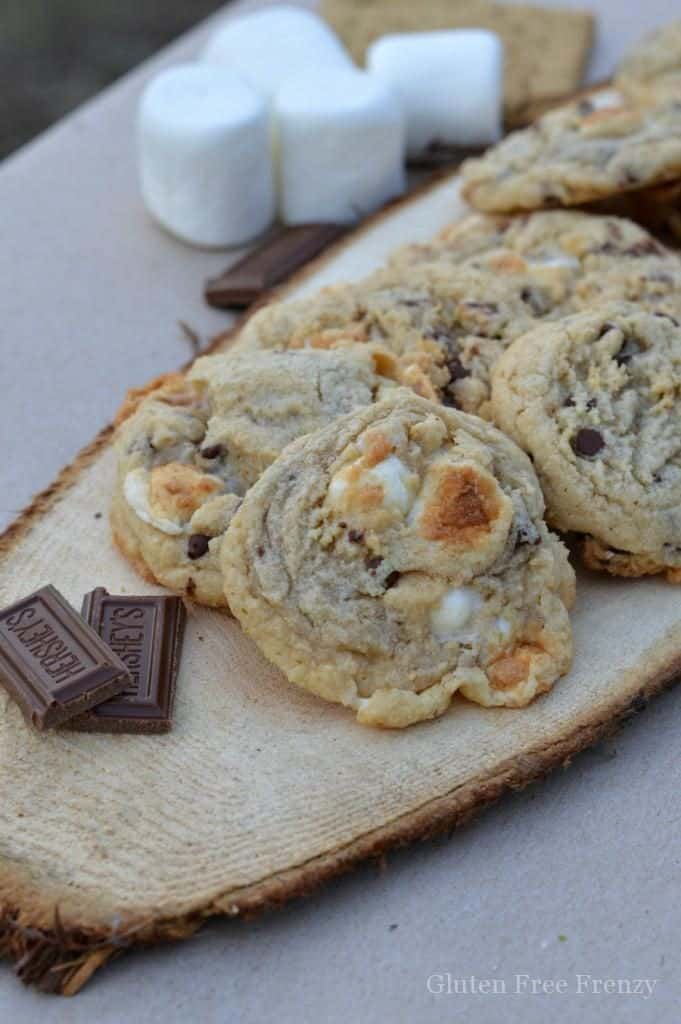 Put a twist on the classic camping s' more and turn it into a gluten-free cookie. Sounds good to me!
Bake these up with some gluten-free flour and gluten-free graham crackers for a treat everyone will love.
Get the recipe here.
More GF Camping Desserts:
We hope you found a gluten-free recipe or two to serve your crew on your upcoming camping trip.
If you'd like a free printable to help you keep your meal plan nice and organize, you'll find some helpful meal planning sheets in our RV Travel Binder, which you can grab using the form below.
Happy camping!
PIN THIS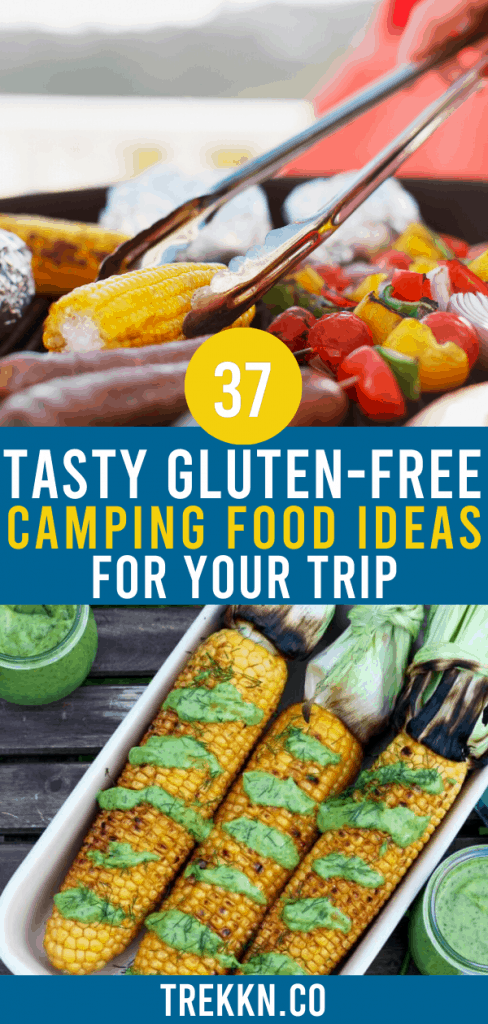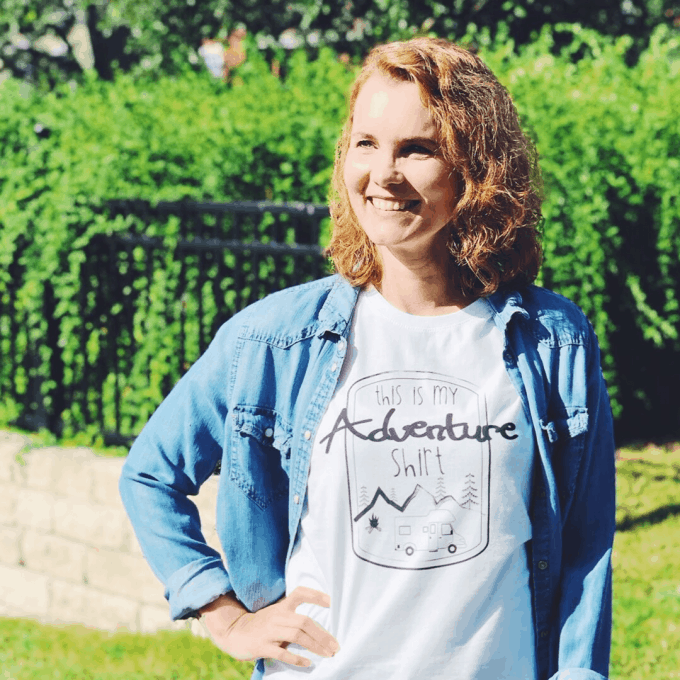 Julie Bonner is one-half of the TREKKN team. She specializes in helping you whip up delicious meals in your tiny RV kitchen, as well as RV organization tips and helping fellow RVers make their RV feel like home. Her favorite RVing spot is in Banff National Park in Canada where yes, the water really is that blue and the people really are that nice.