Meals on Wheels: Easy Recipes for RV Travel Days

There's nothing worse than being hangry on an RV travel day. You dig through the cupboards and there's nothing that you can quickly grab and eat before heading out.
So we're giving you our recommended list of easy recipes to ensure that doesn't happen on your next road trip.
After all, when you have a long drive day, there may be plenty of stress inducing responsibilities. You need to pay close attention to the route, traffic, overhang heights, tire pressure, fuel level, and roadside hazards. Not to mention stiff muscles and joints from a sedentary day.
You don't need any additional challenges due to an empty stomach.
We're here to help!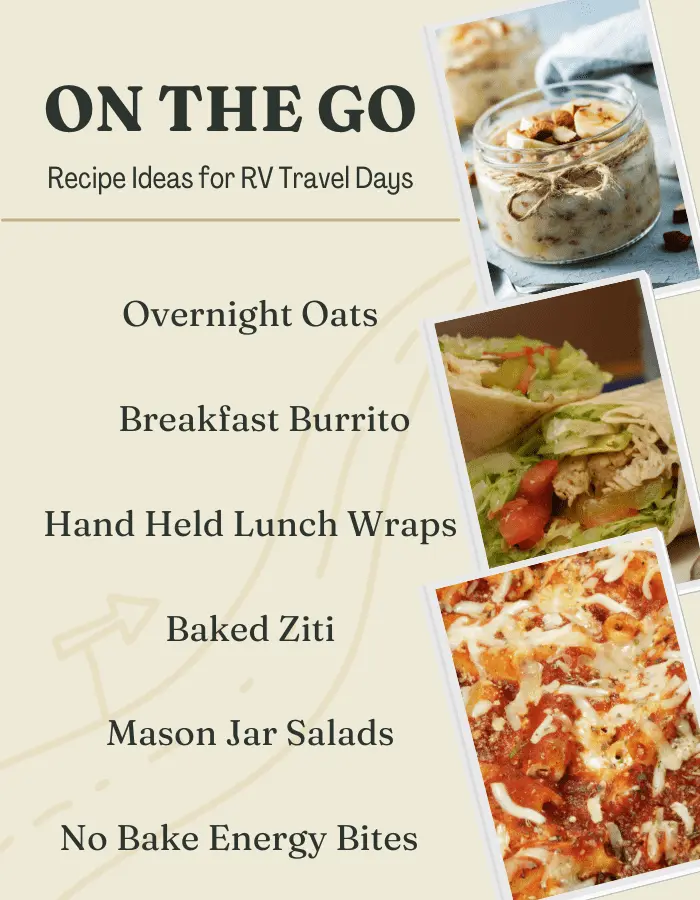 Maintain a Healthy Diet on the Road
Traditions around food while traveling can be fun. I used to head straight to Sbarro for an order of garlic knots whenever I had time at the airport.
But when you live in your RV or travel full-time, it's important to maintain your normal dietary habits. This is true even when traveling.
It may, in fact, be even more important given the added stress we often feel when on the road.
Breaking the mentality that traveling equals a food vacation can be hard, but it is essential to keep you feeling your best.
I hope these easy recipes below help you feel inspired to plan ahead and enjoy tasty food on travel days.
Simple, Make-Ahead, and Packable Recipes for RV Travel Days
Easy Recipes for RV Travel Days
Food doesn't have to be something that causes stress on travel days. With a little preparation, you may even start to look forward to a quick and healthy meal on the road.
Personally, I have some dietary restrictions that make it especially difficult to eat at truck stops. This has forced me to figure out this piece of the RV travel puzzle.
I've rounded up a list of recommended recipes that are not only convenient, but also delicious. Many of these I've personally tested and can attest to the road-worthiness of these recipes.
So let's dive in and check out some easy recipes for each RV meal. I've even included some tasty snacks!

Breakfast Recipes for RV Travel
Ah, breakfast. A filling, healthy breakfast is the best way to start a long travel day. It sets you up early on for success throughout the day.
Don't skip breakfast simply because it seems complicated while on the road. You may do that thinking lunch is going to be better or easier, but it's not.
Have a real meal before you hit the road, or eat something substantial at the beginning of your travel day.
Overnight oats or a pre-made fruit parfait are my favorites for eating while going down the road. The first two travel breakfast recipes are better if you have time to eat before you get the rig moving.
BREAKFAST BURRITOS OR BOWLS
Breakfast burritos or bowls are hearty and customizable, perfect to keep everyone in your traveling party happy. Scrambled eggs are a quick and easy cook, and can be combined with rice or potatoes for a base, if you choose.
The best part of making burritos is choosing your filling. Use whatever you have on hand from this list of favorites: black beans, tomatoes, avocado, cheese, salsa, sour cream, or bacon.
TREKKN's very own make-ahead breakfast burrito recipe is a simple, tasty treat.
We also like the recipe from Girl Carnivore. It's filled with potatoes, eggs, beans, peppers, and sausage. And, it's quite delicious.
GRILLED BREAKFAST PANNINI
Grilled breakfast sandwiches were our go-to breakfast when we lived in our campervan. They're quick, easy, filling, and don't make a big mess. Meaning, little to no clean up! Another reason they are oh, so good.
Perfect for a meal on the go! We carry a cast iron griddle just for this purpose (and for pancakes, of course). All you need is bread, your preferred meat, and maybe some cheese.
With those few ingredients and a little time on the griddle, you'll have a hot breakfast that will fuel your day ahead.
Try this camping breakfast sandwich recipe from One Sweet Appetite for a twist on a traditional sandwich. It's served on a croissant!
Main Ingredients
OVERNIGHT OATS
This one is my personal favorite and regular go-to on drive days. I like to recommend you make these at least a day in advance.
That way, you will have zero prep during or at the end of an already busy day of travel.
Also, my personal preference and recommendation is to use mason jars, but any container with a secure lid will work.
Fill your container with oats, milk, or yogurt (I use coconut milk), and any toppings you like. You can use fruit, nuts, or seeds to add some variety and texture to your oats. Store in the refrigerator overnight.
I like to add the toppings just before eating so I can enjoy the smoother oats with a crunchy topping.
Plus, nutritious dried fruits such as apricot or toasted coconut tend to maintain a fresher taste when added later rather than soaking up moisture from the yogurt or refrigerator.
For a boost of inspiration, check out this overnight oats no-cook camping breakfast recipe from The Hedgecombers.
YOGURT PARFAIT
A yogurt and fruit parfait is another breakfast you can prepare in advance and eat from the passenger seat.
Layer yogurt (the thicker the better) with sliced fruit or berries, and granola or nuts, in your favorite travel container.
Thanks to the Feel Good Foodie for this fruit and yogurt parfait with granola recipe. The prep time includes about 30 minutes to macerate the strawberries (simply put, softening the strawberries by combining with sugar) in the refrigerator.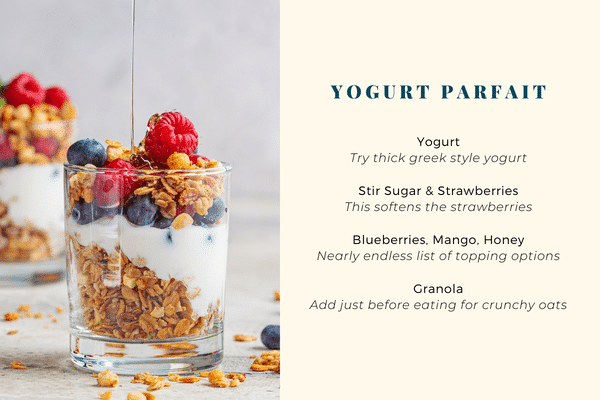 I prefer to store the granola separately, in small containers, and top the parfait when I'm ready to eat. Otherwise, if the granola is added when making the rest of the parfait, the oats become too soft for my taste.
Lunch Recipes for RV Travel
Below are some surefire ways to avoid the gas station hot dog. I can skip lunch and make do with snacks if I have to on a long drive day.
But it's usually wise to stop and eat something so you're not pulling in to camp after dark and on an empty stomach.
WRAPS
Much like the breakfast burrito, lunch wraps are hearty and customizable, to keep everyone in your crew happy.
Start with a large tortilla, add any spread you choose (hummus, sauce, etc), and pile on your favorite meats, cheese, and veggies.
Roll it up and eat as-is, or chop it into bite-sized pieces that are easier to eat underway.
Check out The Spruce Eats for 19 Easy Wrap ideas.
MASON JAR SALADS
Mason jar salads are my personal favorite for lunch on the road. They're easy to make and more nutritious than anything you're going to find at a truck stop.
Over the years, I've learned a few tricks.
It's best to put the dressing on the bottom, with sturdy vegetables or proteins in next. Then add your cheese and nuts, with your salad greens last but not least.
Don't be afraid to squish the greens to ensure you have enough in there. When it comes time to eat the salad, I usually shake it in the mason jar to mix the salad and dressing, then pour it onto a regular dish.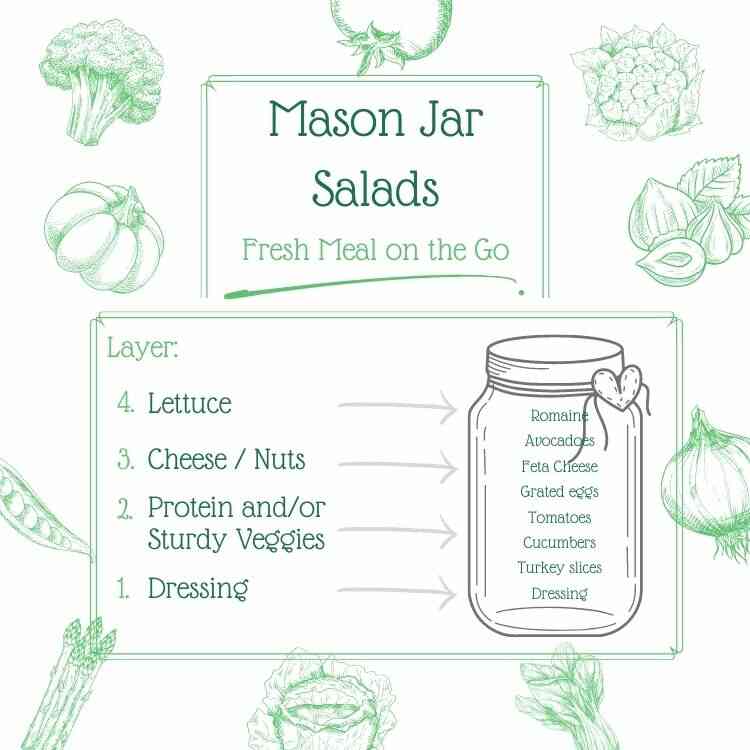 Check out The Girl on Bloor for 5 mix and match mason jar salad recipes.
Snack Recipes for RV Travel
Snacks are my favorite part of drive days. I love snacks. The best travel snacks are finger foods. Anything you can eat with your hands.
Fruit is great and provides loads of essential vitamins that are so beneficial while on the road. Since I don't enjoy carrying around a peel, core, or pit, I like to slice fruit in advance and store in single serving containers.
Nuts and trail mix make great snacks, too.
If you crave meat or a saltier snack, jerky or meat sticks are ideal. MEAT AND PEPPER makes bacon jerky in a variety of flavors, from sweet n' mild to BBQ to Habanero.
NO BAKE ENERGY BITES
Energy bites are portable and bite-sized, making them great snacks for your next RV travel day.
To make your first energy bites, combine oats, a nut butter of your choice, honey, and some mix-ins in a bowl. You can stir in dried fruit, nuts, chocolate chips, coconut flakes, and more. Mix well.
Shape the mixture into small balls and refrigerate.
I especially love this no-bake energy bite recipe from Gimme Some Oven.

Dinner Recipes for RV Travel
We try not to arrive anywhere after dark. Inevitably, it is bound to happen one day. Even if we're arriving by 3:00 or 4:00 in the afternoon, dinner time seems to arrive quickly after we're finished setting up camp.
I always try to have a simple dinner in the fridge for travel days. Pre-cooking all or some portion seems to be the secret to having a healthy, hearty dinner ready when you need it.
PASTA CASSEROLE
Casseroles are a great dish to make in advance because they keep well and sometimes even taste better on day two or three. One-dish pasta is a classic RV meal for us.
Travel day or not, we love a good one-dish meal that minimizes cleanup. Thanks to Natasha's Kitchen for this baked ziti recipe.
All you really need is pasta, sauce, and cheese. Add ground beef or another meat, if you would like a heartier dinner.
I like to garnish with fresh basil or Parmesan cheese for serving.
STIR FRY
Stir fry is another one that came from our van-life days. We would cook meat, usually chicken, and rice in advance. Then, store in separate food prep containers and in a fridge, if available, or a cooler.
So when we pull in to camp, it's as simple as chopping some veggies and throwing them in the wok. Add the protein and rice, then stir.
It's a warm, hearty meal in a minute. This has become one of our travel day traditions that we really look forward to.
Of course, you can also prep the vegetables at home, which makes cooking at the campsite very simple. I enjoy a little bit of meal prep as a way to wind down after a day of road travel.
Try this easy chicken stir fry recipe from Mom on Timeout.
LOADED BAKED POTATOES
We like to bake our potatoes in advance, and then just reheat them when we're ready for dinner. This also offers that "twice-baked" kind of finish and flavor.
Delicious!
For a twist on the traditional baked potato, try a baked sweet potato. Either way, stuff them with your favorite fillings from veggies to beans and cheese to bacon.
We love any meal that offers a build-your-own component so that everyone can have what they want.
For inspiration, check out these fully-loaded baked potatoes from Ricardo Cuisine.

Are You Ready for Your Next RV Travel Day?
We hope these ideas for meals on wheels will help your travel days be more enjoyable and convenient. A little bit of advanced planning will fuel your crew with healthy and tasty food that will keep everyone happy.
May your travel days be smooth, and the adventures exciting.
Happy trails!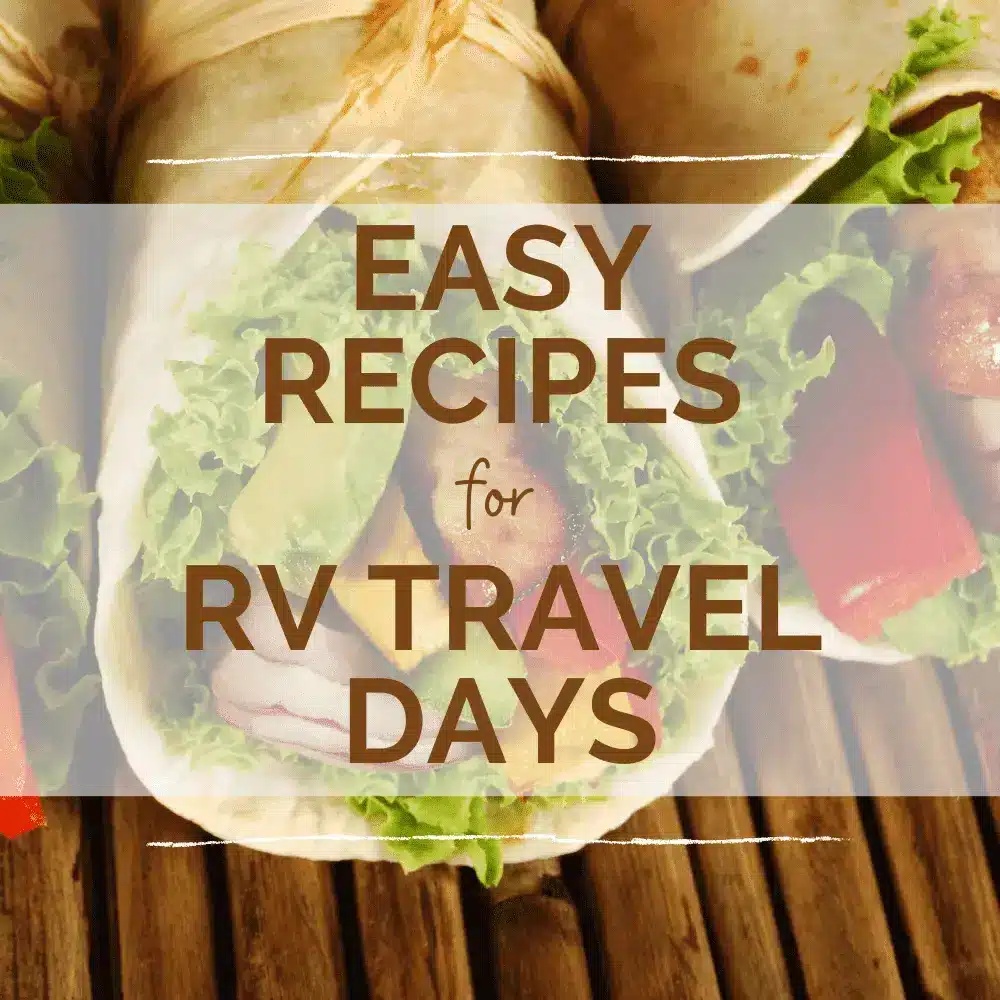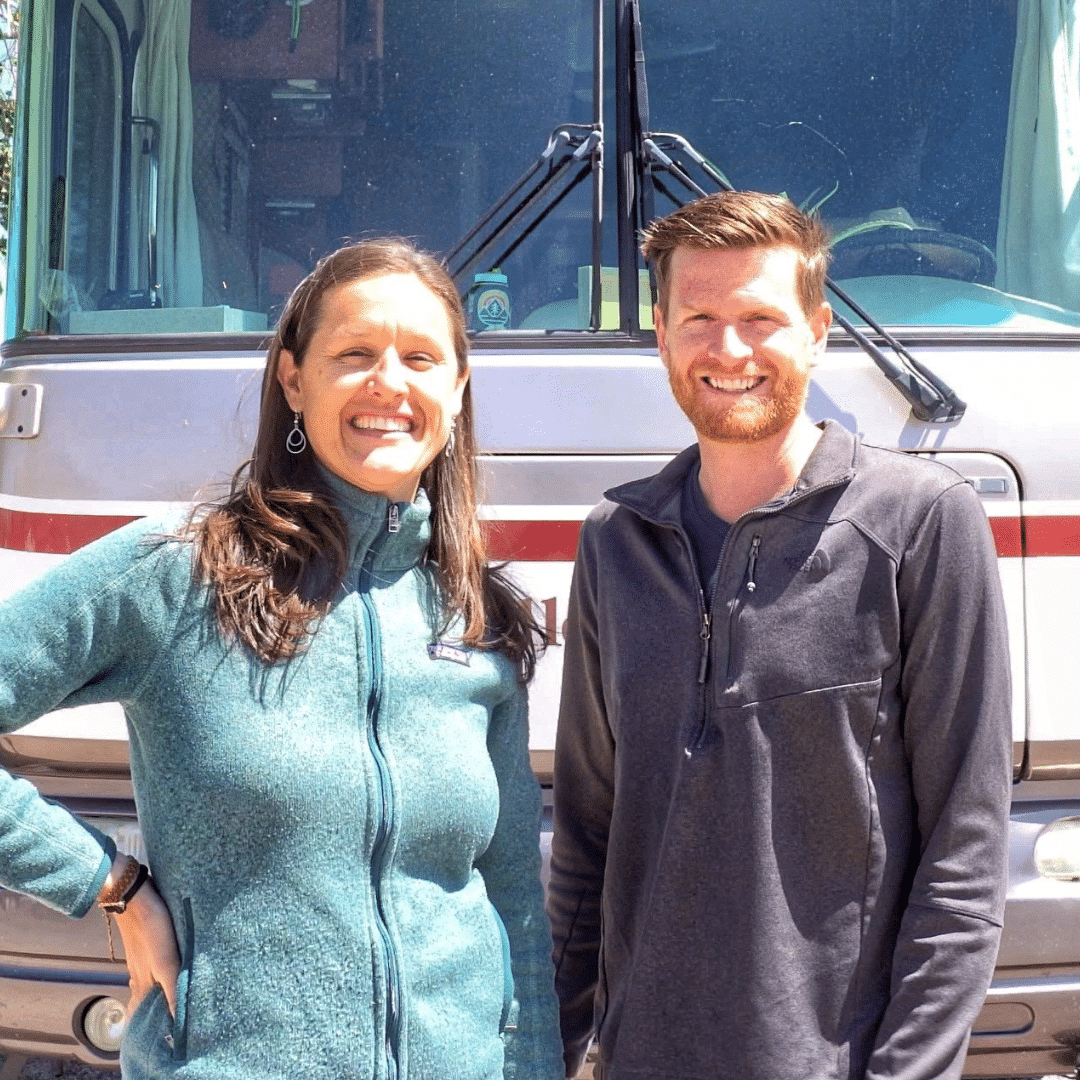 Kristen Bates lives & works from her RV, primarily boondocking off-grid. She owns and operates a women-led travel company, Legit Trips. Kristen loves to explore new places and inspire others to do the same. If she's not typing away on her laptop, she's off on an adventure- hiking, biking, or SUP boarding. You can follow her RV adventures @PerpetualMoves and learn more about her travel company at LegitTrips.com.