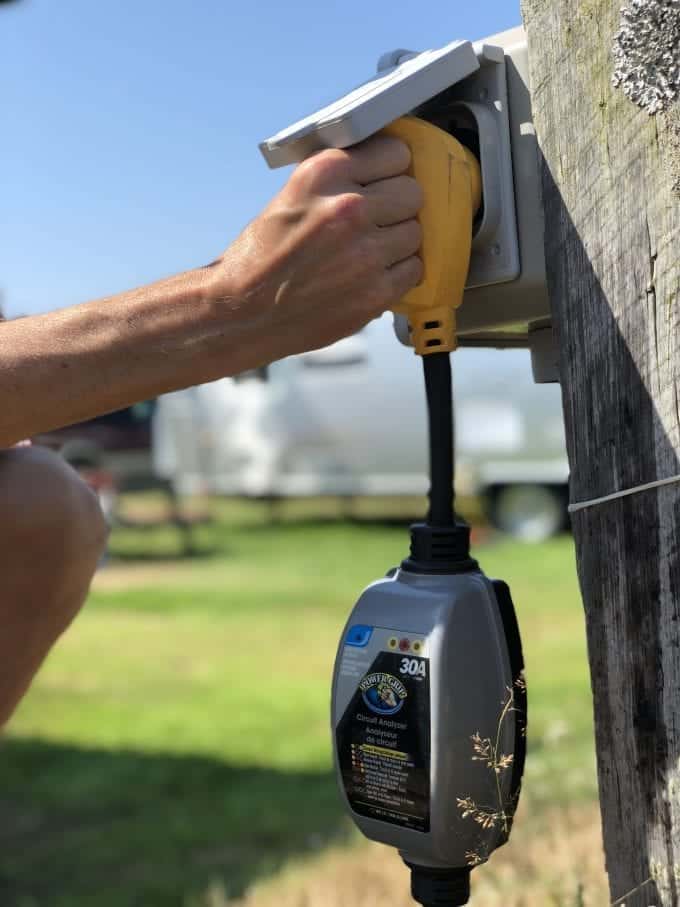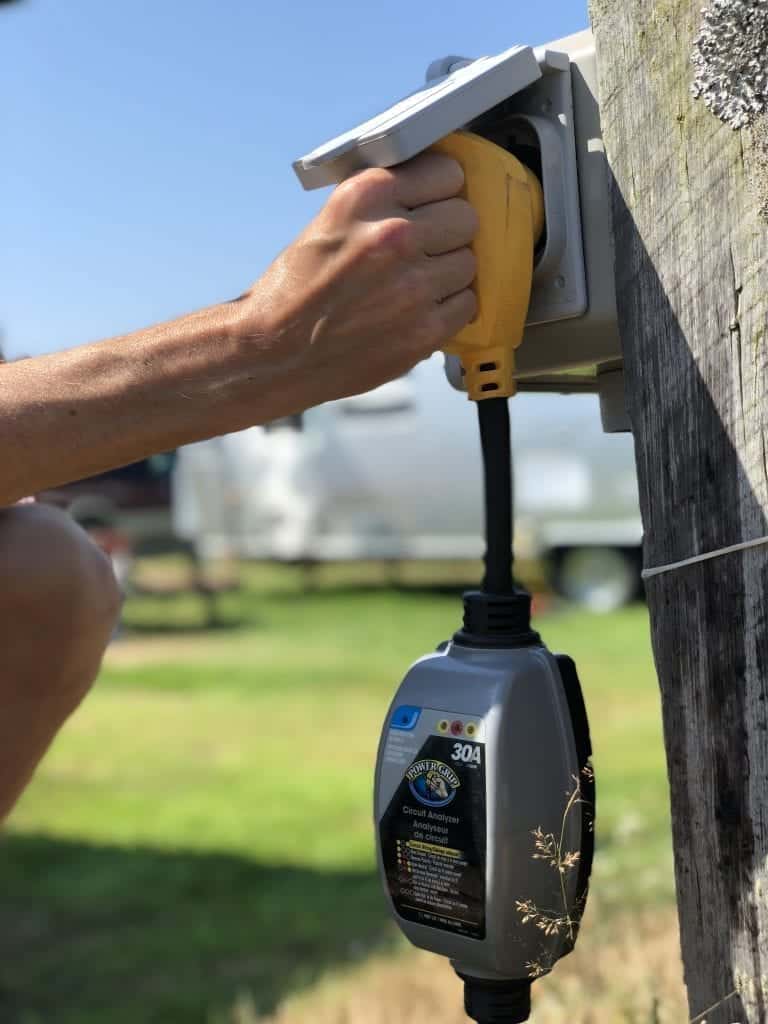 So, you just bought a travel trailer, 5th wheel, or motorhome and now you're asking yourself: what do I need so we can travel?
RV gadgets and gizmos are probably one of our favorite topics to talk about because we love to share what we actually used during our 17 months on the road.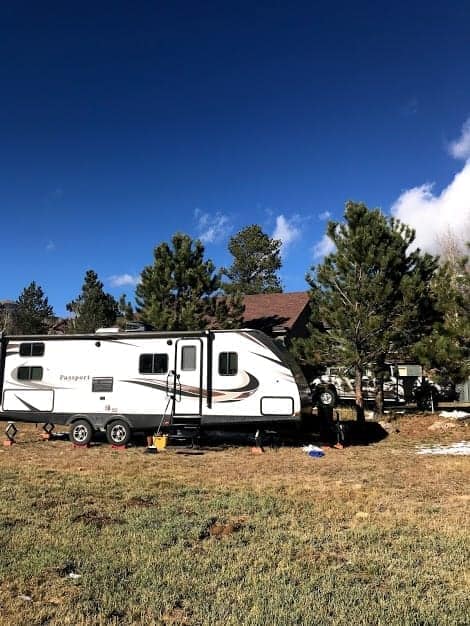 There are a lot of RV accessories and cool RV gadgets to consider when getting yourself set up and ready to hit the road. But it can be a little overwhelming to know exactly what you need.
We're here to help. RV must-haves for newbies is a topic Todd researched the heck out of before we left.
Grab a cup of your favorite drink and get comfortable, because we're going to go in-depth covering the best RV gadgets we actually used, some RV camping accessories we consider comfort items, RV kitchen gadgets that helped Julie whip up meals on the road, and some cool RV gadgets that make great gifts.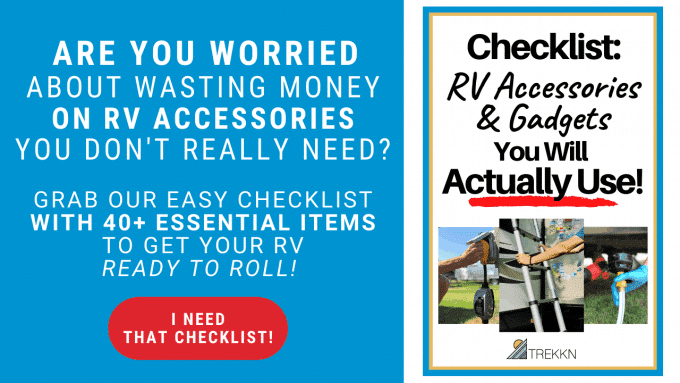 Are you ready? Awesome. Here we go…Let's dig into the best RV gadgets, 2021 edition.
51 Awesome RV Gadgets and Gizmos for 2023
Best RV Accessories for Your Connections: Sewer, Water & Electric
If you purchase your RV brand new, off the lot, it's definitely not ready for you to hit the road.
We had never been RVing before, so as soon as we picked up our new home on wheels, we realized there were quite a few things we needed to buy before we could begin our grand adventure.
Todd did a lot of research on what RV must-haves we needed. In fact, he wrote an in-depth article about the best RV accessories we know you'll find useful titled '15 Must Have RV Accessories for Sewer, Water, and Electric Connections.'
If you're just starting out on your RVing journey, we highly recommend you head over there and read up on the details of each gadget.
These are the items we used daily and would buy all over again with our new-found knowledge about RVing.
Here's a round-up of the must-have RV gadgets he recommends for those important connections:
For Sewer
Includes Swivel Fitting and Translucent Elbow with 4-In-1 Dump Station Fitting
Storage Caps Included
---
Rinses main sewer drain pipe out
Allows you to see when the tank is flushed clean
---
Power jet cleaning action
Shut-off valve
---
Made from sturdy lightweight plastic
Won't creep closed
---
Grips in wet and dry conditions
Heavy duty
---
Odor-free – no chemical smell
Biodegradable and environmentally friendly
---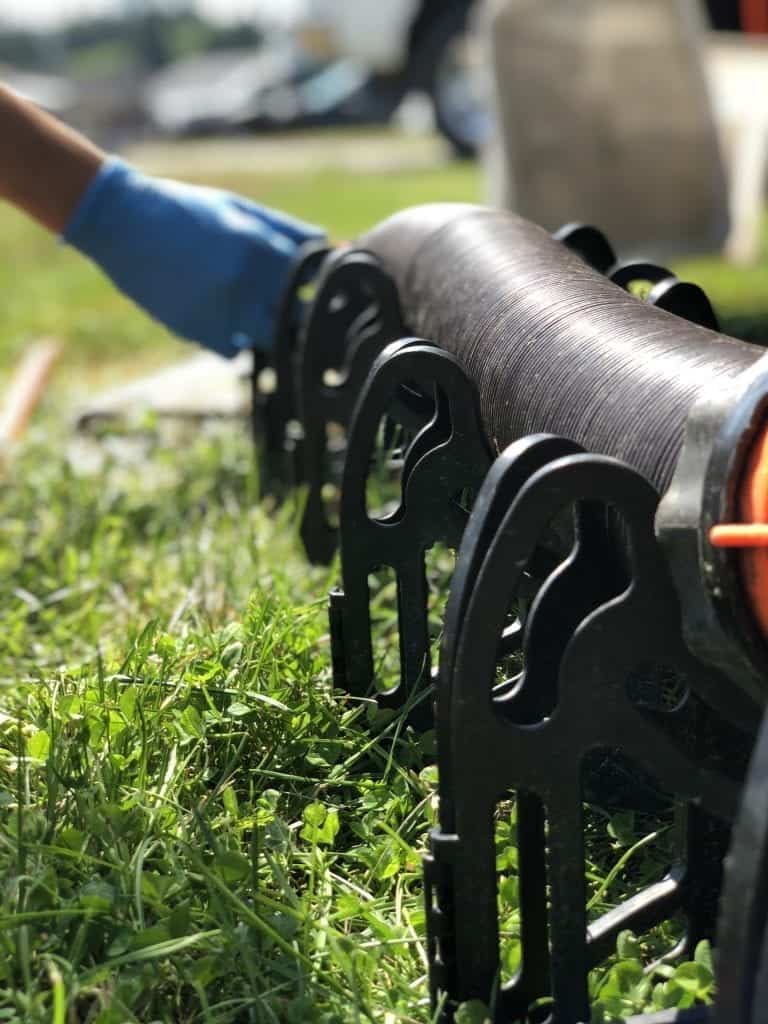 For a more in-depth article on sewer hoses, be sure to check out our guide titled 'Ultimate Guide for Buying the Best RV Sewer Hose and Sewer Accessories'.
Watch this fantastic how-to video for newbies on hooking up your RV – RV sewer hookups included.
For Water
The heavy-duty nickel-plated brass machined fittings made all the difference for us
20% thicker than standard hose
---
Separate Tank Rinsing Hose – you don't want to use the same hose for drinking as you do for rinsing the sewer hoses, for obvious reasons.
Basic garden hose that is lightweight and durable
Features lay-flat technology
---
Ensures you are not placing unnecessary pressure on that RV water connection
Solid brass
Easy grip connector
---
Allows you to see the pressure on the gauge
Attaches easily
---
This was one of the new RV gadgets (new to us anyway) we hadn't considered until someone recommended it after we dealt with a freeze
We used this hose in Utah and Colorado when the temps got down to 10 degrees

Self-regulating heating cable ideal for water line freeze protection down to -40° F/C
Another option for a heated hose is to do-it-yourself. Our heated hose froze one time (you can read why this happened here) and we didn't want to spend another $100+ on a heated hose.
So, Todd watched this video below and made his own. It worked really well.
---
Electrical Connection
Our Camco Surge Protector was well worth the investment! The model we owned is no longer available, but this one is similar.

Helps protect your electrical equipment from improperly wired electrical boxes and power surges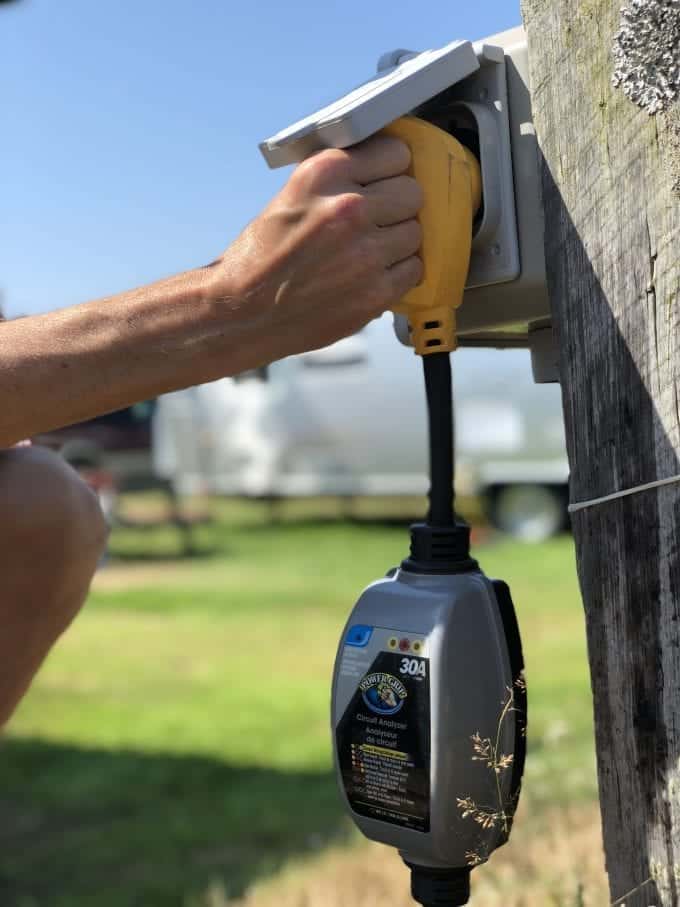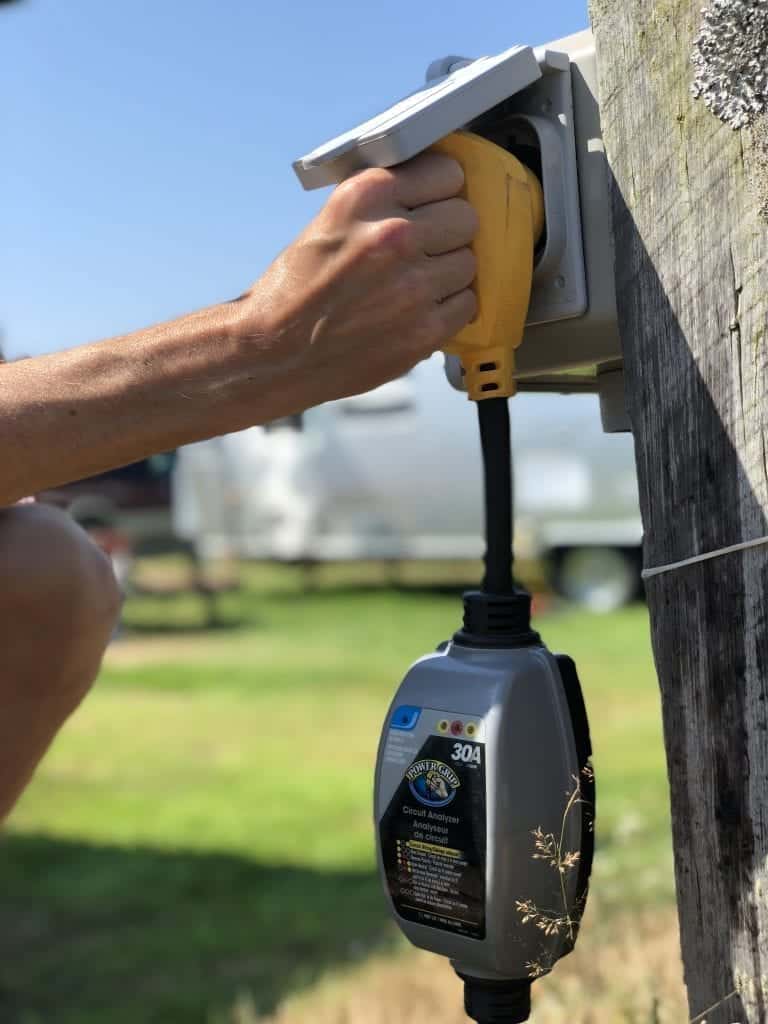 The RV surge protector and circuit analyzer we covered above is similar to one of the first items that Todd purchased (pictured) when we bought our travel trailer home
---
This product is essential if you run into a situation where the only shore power available at an RV park is 50 amp

Handles make unplugging easier
---
Allows you to connect to a standard household 15 amp power supply in order to run the basics on your RV
Hassle Free PowerGrip Plug
---
RV Gadgets for Setting Up Your Campsite
During our time of full-time RVing, we set up and tore down a lot. Probably too much because we went at a pace we wouldn't recommend to others considering this lifestyle.
But, one perk of us moving every few days to a week was we got really, really good at setting up and tearing down.
The products listed below helped make this process go a lot easier.
Todd considers this the king of travel trailer gadgets and it saved our sanity. It's also one of the coolest RV gadgets, in our opinion anyway!
We'd also put this under the unique RV accessories category because we haven't seen another product that levels a travel trailer as well as this does.
Level your RV, trailer or camper on the first try – for real!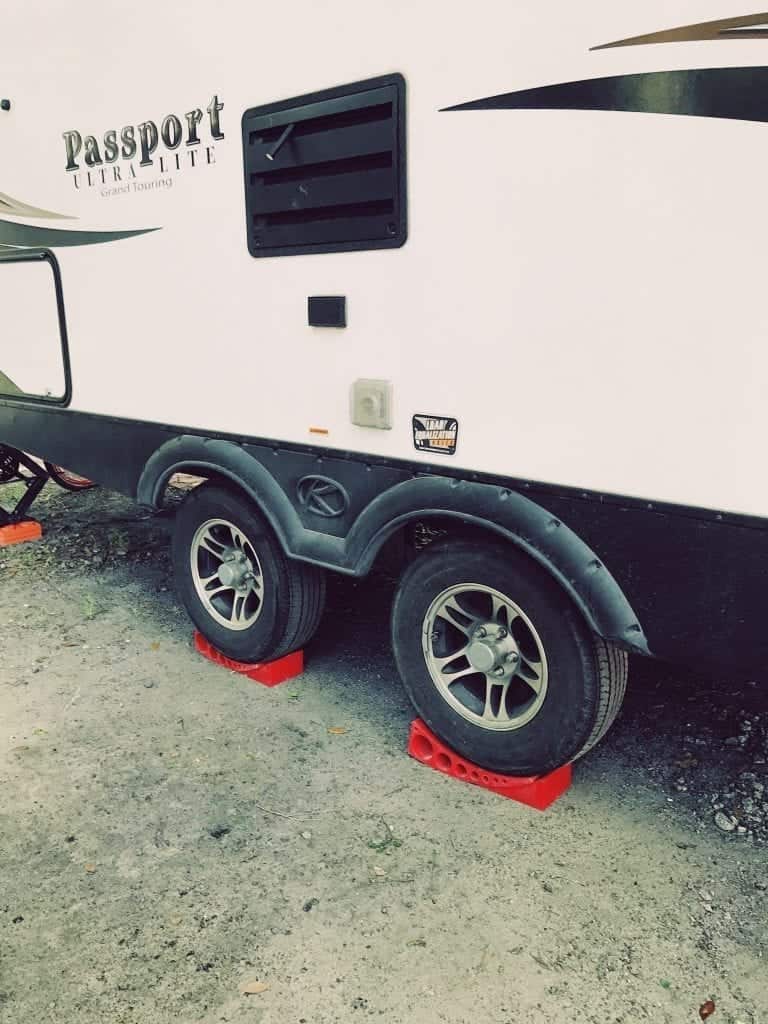 The king of RV gadgets – in our opinion anyway
Watch this video from Anderson Hitches if you're curious how these RV levelers work.
---
We used Lynx Levelers in two different ways:
As a stable pad for the trailer tongue jack (normally 3-4 blocks)
As a solid platform to support our four stabilizer jacks (normally 3-4 blocks per jack)
These are lightweight and very durable.
For more details about the Andersen RV levelers and the Lynx levelers, read Todd's post titled 'Top RV Camping Accessories for Hard-Core RVers' where he goes more in-depth on why we like these products so much.
---
If you have a travel trailer and have to manually lower your stabilizer jacks, a drill comes in handy.
It helps the setup and tear down process go quicker, not to mention makes it easier than doing it the good old-fashioned way by cranking by hand.
When our drill battery was dead, I could hear the guys groaning as soon as they realized they'd have to lower the jacks with their own elbow grease. It's the little things, right?
---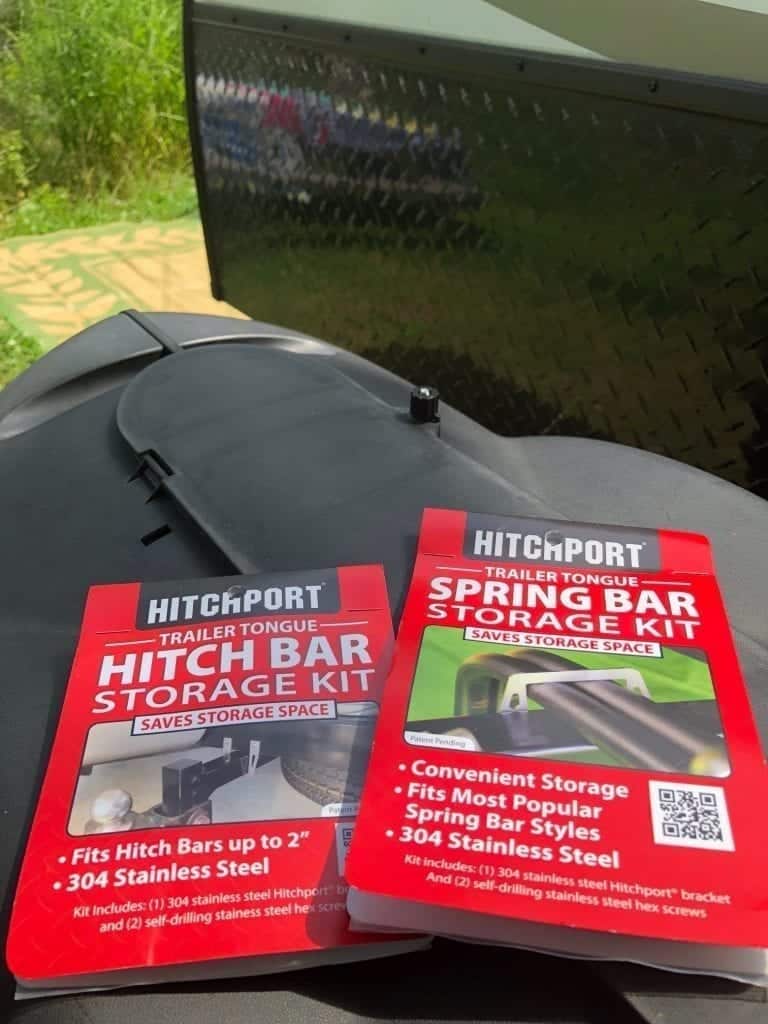 Before these handy little gadgets came into our lives, both the weight distribution hitch and the spring bars were simply stored on the ground under our travel trailer.
This required Todd to lift these heavy items from the ground with each move and place them back on the ground when we arrived at a new location.
If you're looking for travel trailer accessories to save your back, this is it.
Watch this video Todd put together explaining the product and the easy install.
---
We both heard about and watched YouTube videos on the horrors of tire blowouts on travel trailers. Yikes and no thank you.
So the first thing Todd did was purchase a brand new set of tires for our brand new travel trailer. Yes, it had new tires on it already, but they weren't made for the amount of weight we would be carrying around.
You can read in-depth about his decision to do this in his post titled "The Best $600 I Spent Right Away On My New Travel Trailer."
In order to protect our brand new tires and to hopefully add one more preventative measure from getting a blow-out, Todd purchased tire covers.
We used them quite frequently when we were in a warm location with the sun beating down on us and the tires.
We also use them when the travel trailer is in storage to protect the tires from the hot Texas sun.
---

TV & RV Internet Gadgets
Working remotely is what allowed us to RV full-time. It's a freedom we've enjoyed having for several years and feel very thankful for the choices it's given us.
If you're curious about what we do for work that allows us to travel, check out these two posts where we explain it:
As Todd mentioned in this post titled '5 RV Internet Solutions to Keep You Productive and Entertained on the Road', we are not by any means RV internet experts. All we can do is share what worked for us and helped us to continue working from the road, in sometimes remote locations.
If you'd like to dig a little deeper into the world of RV internet solutions, be sure to check out RV Mobile Internet.
Here the RV internet gadgets we used almost daily on our travels:
For most of our internet connection, we used our mobile hotspot connections through our Verizon wireless plan. For our plan, we each had 15 GB of 4G LTE hotspot data per device, per month included.
Since we often ran out of that 15 GB data per phone, we needed a little something else to get us through the month. That's where the Verizon Jetpack Mobile Hotspot came into play.
It gave us an extra 15 GB of high-speed hotspot data per month.
It was really nice having this device as a backup when we needed it, which was often.
---
After leaving on our RV trip, we quickly figured out that there were spots along the way where our cell signal was very weak. Which meant our internet signal was very weak.
Which meant it was hard or even impossible to get work done.
So we purchased this weBoost Signal Booster, which boosts a cell tower signal up to 32x when you find yourself in a spot with a weak (but existing) signal.
Now, this booster only works for one phone at a time and you have to place your phone in the cradle for it to work.
We used this device for the first six months of our trip but realized we needed something with a little extra oomph and something that would boost more than just one cell signal at a time.
This is where the next product came to save the day…
---
This device was perfect for our 26-foot travel trailer and it definitely helped boost our phone signals when we were in locations with poor service.
It boosted the signal for more than one device, which is good when you have several people needing to get work done.
Todd went more in-depth on these two weBoost products here.
It often seems like RV parks are in this weird dead zone. You can get a decent signal right outside the park, but then when you pull in, it would go away.
We also ran into situations where our spot would have a weak signal, but the one right next to us was fine. Eventually, we learned to drive around and find a spot with the best signal. At parks that let you choose your spot that is.
---
While this product doesn't fall under necessities, it sure was nice having it!
Since we had an unlimited Verizon data plan, we could stream Netflix and other services with no problems all month long, as long as we had a good signal.
When we wanted to have a movie night or I wanted to watch PBS Masterpiece shows on the bigger screen (I'm talking about you Poldark), we just connected one of our phones to this device, which was connected to our TV, and voila, we could stream shows and movies to our TV.
---
A lot of RV parks have cable, but you need your own coaxial cable to hook up to it. Make sure you get a long one, like this 25ft. one so you can reach the cable connection.
---
RV Kitchen Accessories and Gadgets
Gadgets and gizmos for your RV kitchen is a topic I (Julie) could talk your ear off about. Figuring out how to whip up meals in a tiny kitchen was definitely an adjustment, but I had a lot of fun figuring out what worked and what didn't.
Things like a total lack of counter space, an oven that took some practice to get the hang of and learning which appliances I couldn't have plugged in at the same time or they'd trip the breaker, was a learning curve.
But when 5 o'clock rolled around, just like in my very large house kitchen, I would pour myself a glass of wine, sometimes put on some music and enjoy preparing dinner for my family. It
was my favorite time of the day while RVing full-time and it's still my favorite time of the day now that we're in an apartment.
Now, as I said in this post titled '57+ Useful RV Kitchen Accessories', a lot of what you need for your kitchen depends on you. It depends on things like your cooking style, the amount of space in your kitchen and what appliances you have built-in your rig.
Since I've gone pretty in-depth on two other posts on this topic, I decided to narrow it down to just my 9 favorite kitchen accessories:
This small table ended up being one of the best purchases for our RV to date. Since it folded up, it was stored behind our couch.
Whenever it was time to start cooking dinner, I pulled it out to use as extra counter space. Just that one added flat surface, although it wasn't much, made a world of difference for my sanity.
When I wasn't using it in the kitchen, we sometimes set it up outside as an end table between our chairs. It holds a glass of wine or a plate with s'more fixings quite nicely.
---
This was another item that a) saved my sanity and b) served more than one purpose.
I used this large cutting board probably more than any other item in my kitchen. Did I mention the lack of counter space? Oh, I did?
When I wasn't using the stovetop, the cutting board sat on top of the burners and served as extra counter space. It also fits perfectly over the kitchen sink, which created another flat space to place things when I was using the stovetop.
And yes, I even used it as a cutting board, it's intended purpose. It was the perfect size to slide a pizza out of the oven onto and slice it up.
Mmmmm…homemade pizzas taste so good while traveling in an RV. There's just something about it.
---
This is such a basic item but it was used every single day as an alarm and as, well, a coffee maker.
Every night Todd would get the coffee ready and set it for a few minutes before we wanted to wake up. The coffee maker would beep when the coffee was ready, which meant it was time to crawl out of bed.
We loved those first sips of coffee and if we were in a warmer climate, we would sometimes enjoy the first cup of the day outside.
If it was freakin' cold, I would stick my head outside to take a peek and then go back inside and enjoy my cup of joe from the warm RV.
---
While in places like Utah, Montana, and Colorado when it was quite chilly, some soup in the Instant Pot was magical.
I prefer the Instant Pot to the Crock Pot because of the short amount of time it takes to cook something. A crock pot just didn't make sense for us and our schedule, but it might work for you.
I also didn't use a crockpot because I didn't trust the electrical at most RV parks.
I could just imagine us out hiking only to come back and see that the electric was shut off sometime during the day which turned the crockpot off. That would have been a disaster.
---
Our RV didn't have a dishwasher. Well, actually it did. It was us.
So with my limited counter space, I had to figure out a way to be able to wash and dry the dishes. Remember the large cutting board I mentioned above?
When it was time to wash dishes I just put that over the stove top and the dish rack/drying mat on top of that and that's where our dishes dried.
It ended up being the perfect set up.
---
You don't realize how much room items take up in your kitchen until you try to squeeze them in an RV kitchen. Things like measuring cups, measuring spoons and a colander tend to take up a lot of space.
Which is why these collapsible items are an incredible invention.
---
When your RV is on the move, things shift and move like crazy.
And if you've ever opened your refrigerator after a move and had things fall out and splatter everywhere (this happened to us with pesto…at least is smelled yummy), you know just how important securing things before you move is.
This Camco Double RV Refrigerator Bar helped keep things in place. It literally takes 5 seconds to install and saves you from a mess no one wants to deal with.
---
I mean, what's a camping trip without a cast iron skillet? In all seriousness, this is an important RV gadget for the kitchen, both inside and outside.
I use our cast iron skillet on the stove top inside to sear meats and crisp up bacon, it can also go in the oven, it can also be used on the stove top of our outdoor kitchen…plus, we use it to cook over the open fire.
Needless to say, it gets used a lot!
---
If your RV sink doesn't come with one of these, it's an add-on gadget you'll be glad you have. It helps you keep your sink clean and also goes from single stream to a powerful jet.
---
Fun RV Accessories & Gadgets
We've covered what you need for sewer, water, and electrical connections. We've covered a few cool RV gadgets needed for your RV set up process and we've talked about RV kitchen accessories that are my favorites and get used daily.
Now it's time to chat about those fun RV accessories and gadgets that aren't really a necessity but help make RVing a lot more fun and relaxing. This is the RV fun stuff!
One thing we were all looking forward to when we made the decision to full-time RV was how much more we would be outside.
I think we all had visions of sitting by the campfire every night, with our favorite drink in hand, looking up at the stars, soaking in the silence of the night.
Now, while this scenario did happen, it didn't happen as much as I expected.
One reason was how many places we ended up staying where there was a burn ban. Or there was no fire pit. Or we didn't feel like smelling like a campfire for three days.
One solution to this problem was a propane fire pit. Some of the places that didn't allow a campfire, did allow you to use your propane fire pit.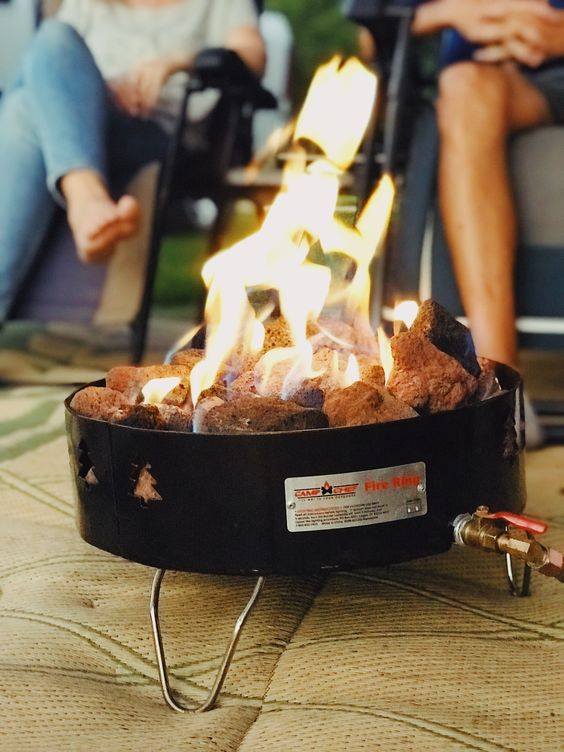 While staying with our friends in San Diego, they gifted us this Camp Chef fire pit and it was the gift that kept on giving. We used it a lot.
This is just one of those cool RV accessories we think RVers will be glad they have.
Tip: A good way to meet other RVing friends on the road is to invite them over to your campfire. We both invited people over and were invited over, making some lifelong friends in the process.
---
If you want to up your outdoor living game, this pop-up portable gazebo by Gazelle is a very smart purchase.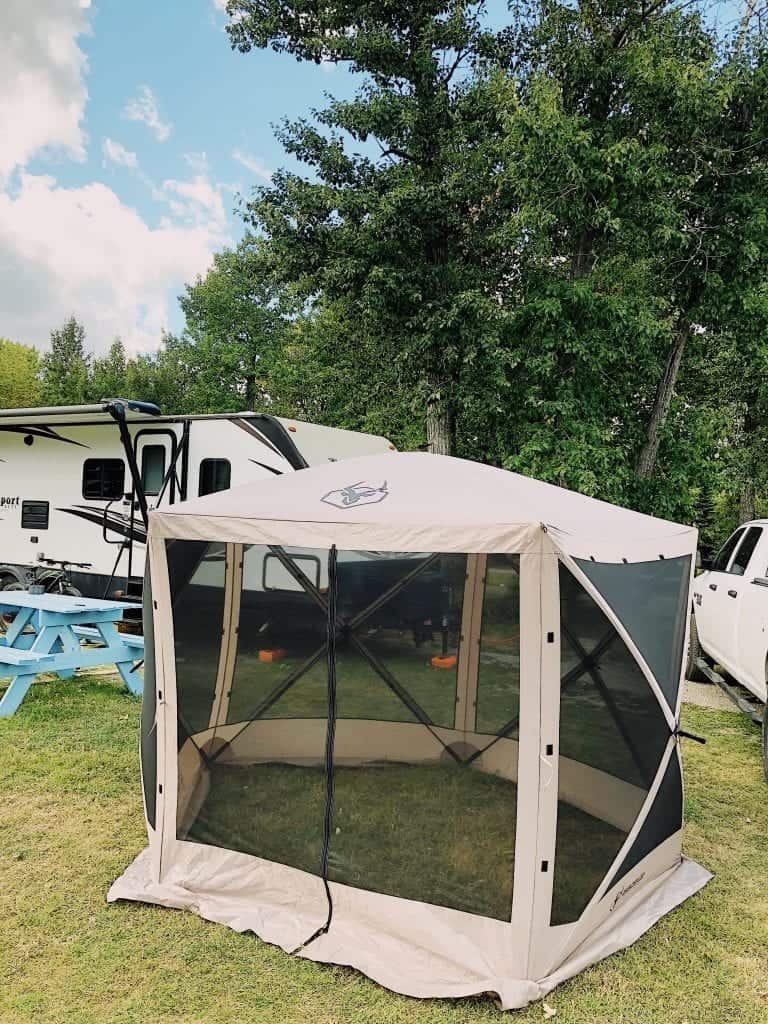 We wanted something that would expand our living space, while also protecting us from insects, but were hesitant to purchase it at first because storage space is so minimal.
It actually packed up small enough for us to store in the pass-through of our travel trailer, so it worked out perfectly.
This is definitely one of the best RV gadgets we added while on the road. It has allowed us to spend countless hours soaking up the outdoors.
---
We realized pretty quickly into RVing that having easy access to our travel trailer roof was incredibly important.
Since travel trailers don't have a built-in ladder like motorhomes or a place to store a ladder on the back of our rig, this telescopic ladder was exactly what we needed and it ended up being a perfect size.
Todd used this ladder over and over to check on the roof, brush off the slide out before pulling it in, repairs and more.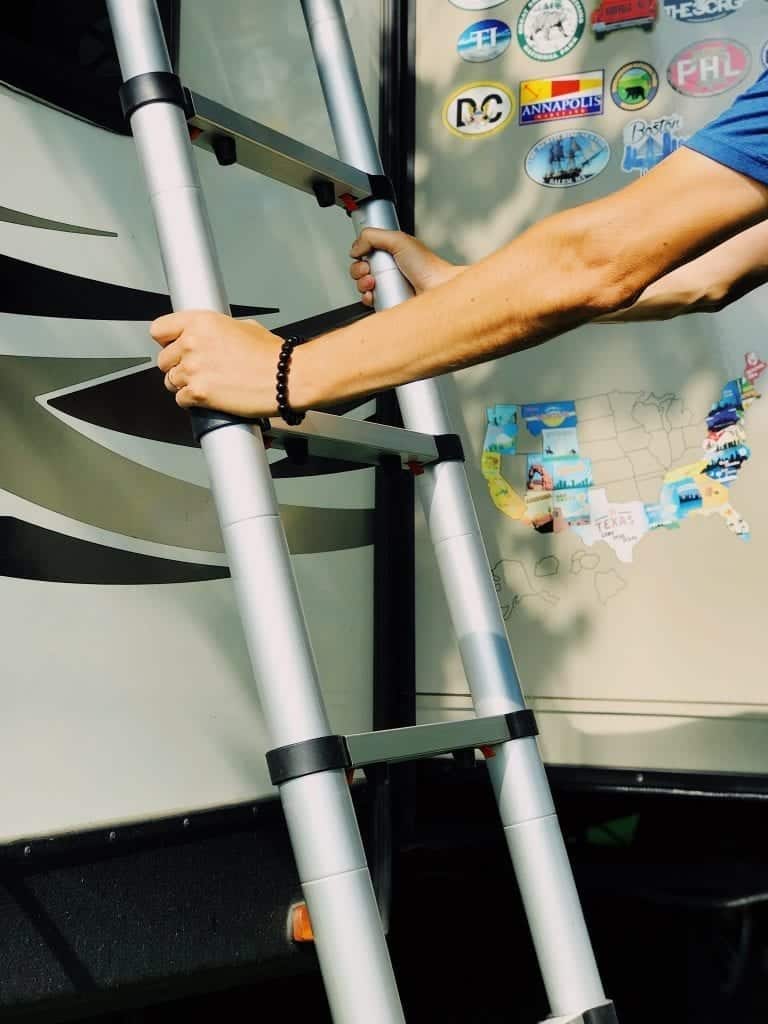 It's lightweight and stored easily in our pass-through.
---
The boys immediately set up the outdoor area as soon as we arrived at the RV park and got all of the connections taken care of, which included an outdoor camping rug.
It helped make the space look cozy, plus it's practical for keeping dirt, dust, and rocks outside and not inside.
---
After the outdoor rug went down, our Zero Gravity camping chairs were next.
Right before we left on our trip, Todd injured his back. He purchased this chair, which is a step up from the one above and it helped take off the pressure on his lower back.
As you can see in the picture below, he kinda liked it. 🙂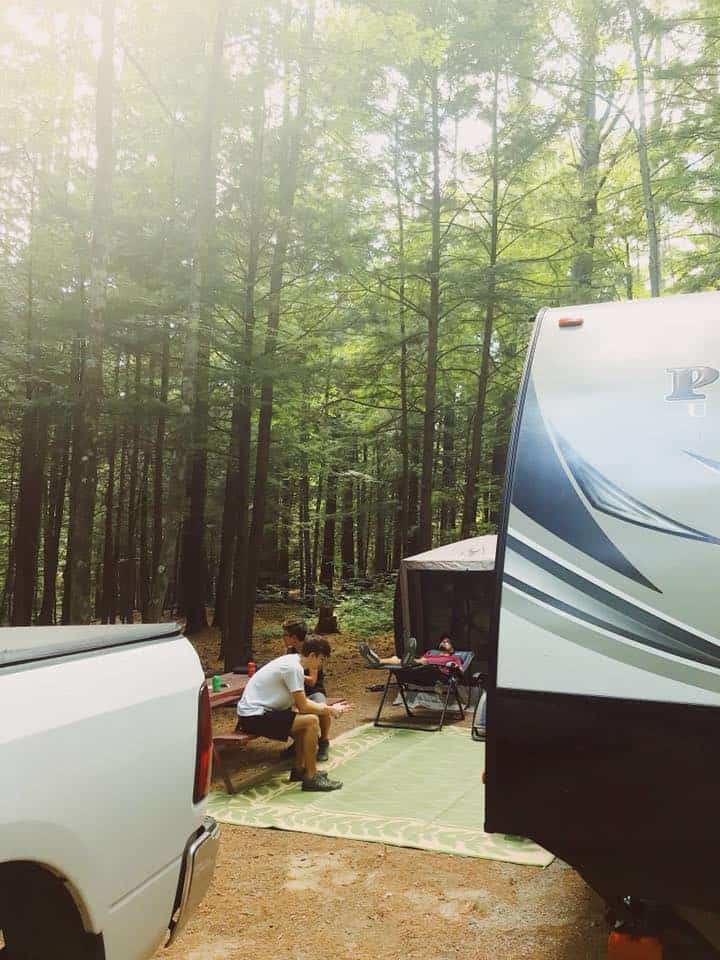 ---
Not all RV parks will allow you to attach a hammock or anything to their trees, so be sure to ask before you do so. But the ones who do, we took full advantage of it and set up a nice little lounging area.
Our daughter (who's 21) set up her own little space in Vermont and spent hours in there reading and sleeping.
---
RV Must Haves 2022 for Safety and Care of Rig
Here are a few RV must-haves that fall under the safety and care of you and your rig category:
Electric Mini Dehumidifier – RVs hold a lot of moisture, which can cause all kinds of unwanted things to happen. Use a dehumidifier to prevent costly repairs.
Headlamp – Todd used a headlamp quite a bit for looking outside the RV after dark to inside the RV when we had a power failure. It's also great if you do any camping or night hiking.
RV Gadgets for Decorating Your Rig
Whether you're a full-time RVer or a weekend warrior, decorating your rig and making it feel like a home is important. Here are a few of my favorite accessories for sprucing up your space.
Peel and Stick Tiles – Our friends who we traveled with to PEI and Nova Scotia introduced me to these. They are perfect for brightening up and modernizing the kitchen and bathrooms in your RV
Collapsible Ottoman – This collapsible ottoman is used every single day. It adds extra storage, gives us a place to kick up our feet and makes the place look and feel like a home
Over the door hook – Having a place to hang towels or coats helps make your space less cluttered looking. We hung our winter coats on ours in the winter and lightweight jackets in the summer and spring
Large Command Hooks – These hooks came in handy and stayed put to hang our towels in the bathroom
Battery Operated Fairy Lights – I hung these on our curtain valances and had them programmed to come on at around 4 o'clock every afternoon. Ours were on a 6-hour timer, so they went off at the perfect time every night. Once I added these, it really stepped up the cozy factor of our travel trailer at night.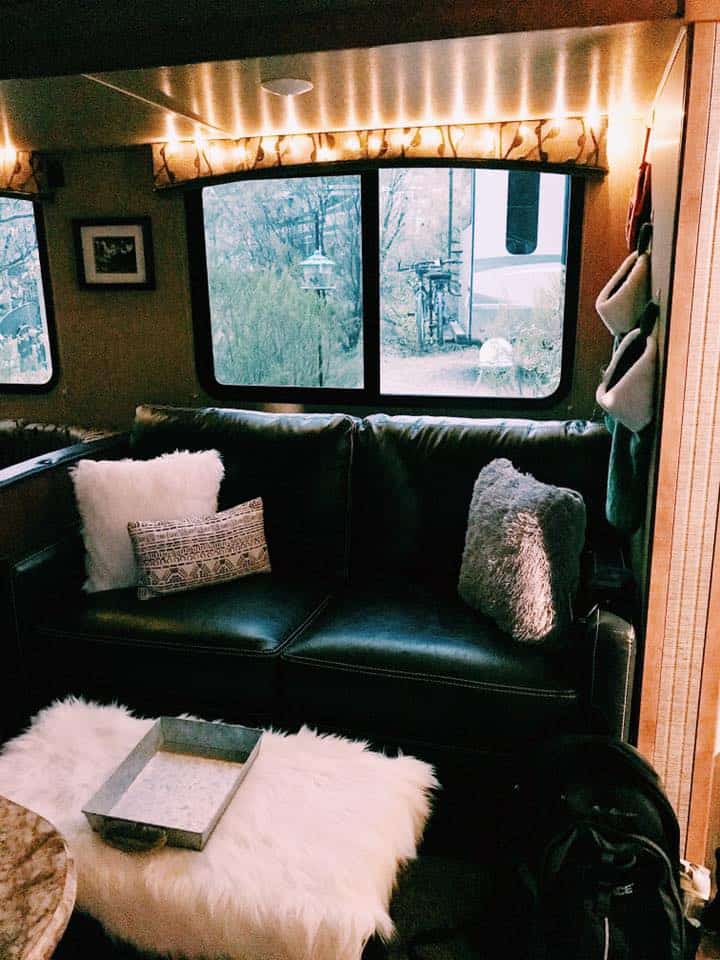 ---
RVer Gift Ideas
If you're looking for some fun RV gadget gifts, here are two your RVing friends would love to get:
State Sticker Map – A fun way to track and show all the states you've visited
Portable Gas Grill – This is the perfect grill for RVers because it can go on the table or on the ground thanks to the telescoping stand. A lot of RV parks do not allow you to set your grill on their picnic tables.
And that's a wrap for our round-up of RV Gadgets and Gizmos you'll love and actually use! We truly hope this list and the explanations helped you prepare for your RVing adventure. If you have any questions, hit us up in the comments below.
PIN THIS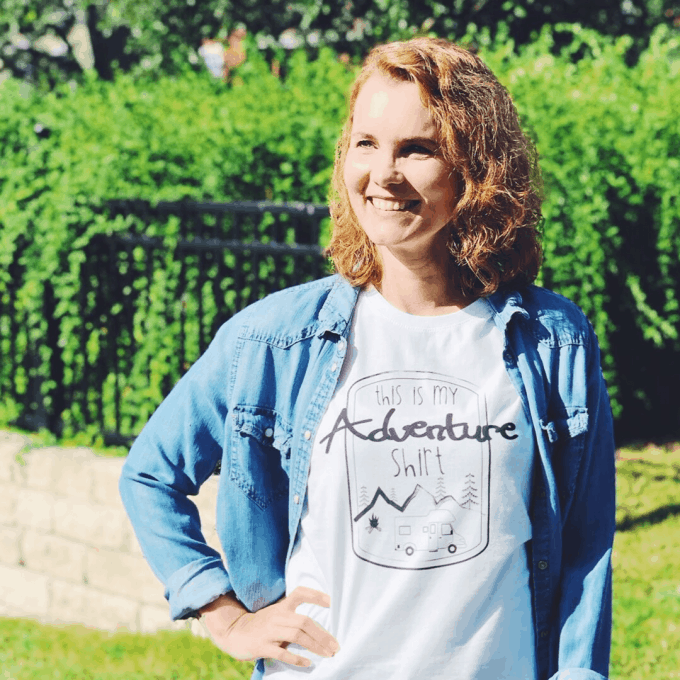 Julie Bonner is one-half of the TREKKN team. She specializes in helping you whip up delicious meals in your tiny RV kitchen, as well as RV organization tips and helping fellow RVers make their RV feel like home. Her favorite RVing spot is in Banff National Park in Canada where yes, the water really is that blue and the people really are that nice.