Best RV Projects to Tackle in the Off-Season

For seasonal RVers, the winter months can be a time to reminisce on the year's camping experiences, look back on great times and plan for the RV adventures ahead.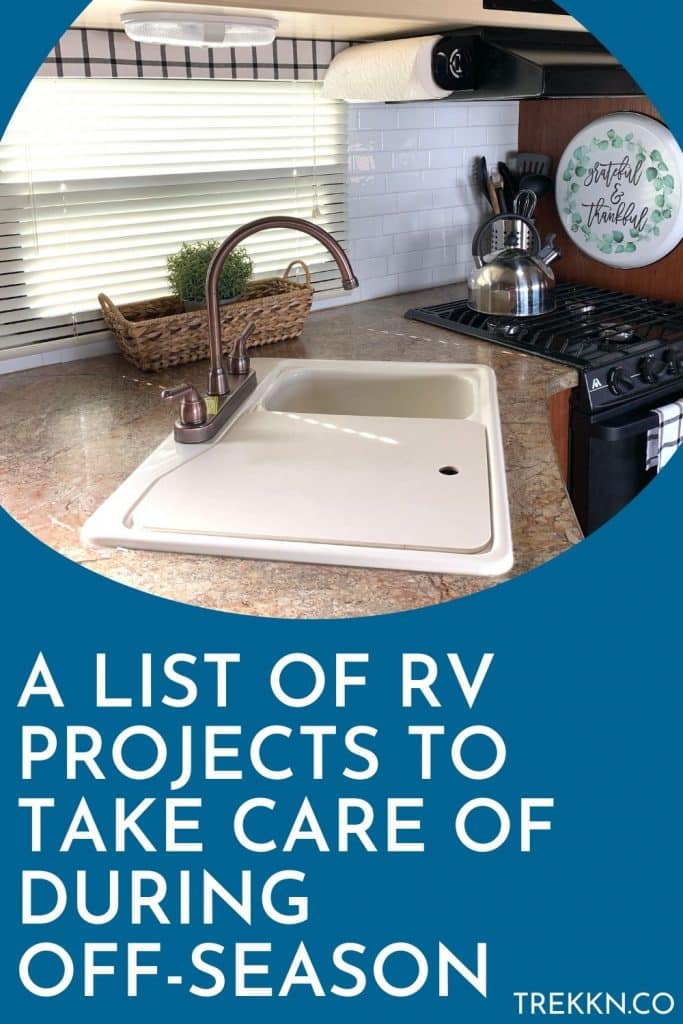 It can also be a great time to begin those much-needed projects and repairs that you put off during the camping season.
Hopefully, you have kept a running list of those repairs and upgrades and are ready to tackle them this off-season.
Today, we'll cover those RV projects that we think are great for the off-season including maintenance, repairs, and upgrades.
RV Maintenance
RV Maintenance is one of the winter projects we all dread, but it can be the most important to help keep your RV in top condition.
These are the maintenance items we look at once we begin winterizing our RV.
Seals
Seals are what keep all of the elements out of your RV. Your RV is designed to flex as it moves down the road and seals take the brunt of that movement.
Checking your seals monthly is best, but winter maintenance is definitely the time to give them a thorough check.
Start with your RV roof — it's your first line of defense when it comes to water. Check all the corner seals on the RV as well as the window seals. The sealant material you use will vary depending on where you are sealing and what brand and type of RV you own.
Be sure to check with your RV manufacturer for the appropriate sealant for the right location.
A well sealed RV can prevent water damage for years to come and protect the value that you definitely don't want to lose.
Deep Clean
If you are like us, a light cleaning of the RV takes a few minutes and is done quite often. But when was the last time you did a real deep clean of your RV?
We will spend 3-4 hours in the off season deep (I mean DEEP) cleaning our RV. Cabinets are scrubbed, the fridge and microwave are wiped out and sanitized, floors, showers, sinks, and toilets get scrubbed; basically every surface gets some attention.
I also vacuum and wipe the storage bays and treat any exposed plastic materials with a sprayable protectant.
You'll find a good deep clean pays dividends throughout the camping season by making those light cleanings easier, allowing more time to enjoy your favorite camping trips.
Deep cleaning will also keep any unwanted critters from entering your RV in search of an easy meal during its winter slumber.
Air Conditioner Maintenance
We live in the deep South where an air conditioner on an RV is required. This project can be a bit more in depth, but for those that want to tackle it, servicing the A/C unit can help keep it running smoothly and efficiently for years to come.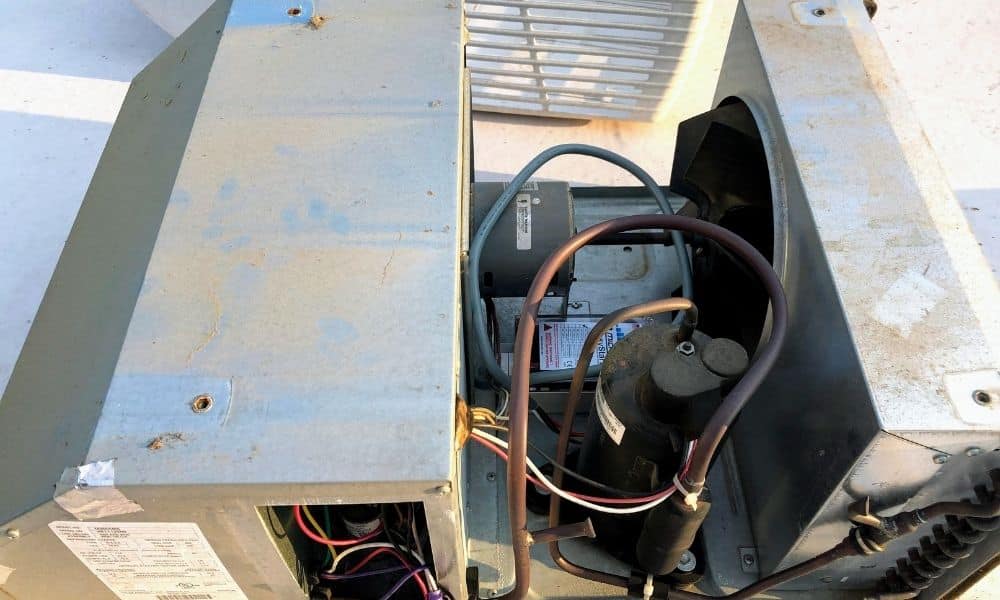 We start by unplugging the RV from shore power and removing the rooftop cover, looking for any unwanted guests who have taken up residence in the last year.
Remove these nests (don't let them sting you!). Use compressed air to remove any of the loose dirt that may be left from these unwanted visitors.
Depending on your skill level, you may tackle cleaning the air conditioning condensing and evaporator coils.
This requires opening the A/C components even more. If you are not comfortable with this, call an RV service and they will be happy to help you.
For those willing to trudge on, I recommend following Ray from Love Your RV for an excellent explanation of the cleaning process.
Just remember to go slow and take your time; patience is key in this project.
RV Repairs
The word "repair" and RV can bring about scary thoughts and anxious feelings. But the off-season is a great time to have repairs done, especially those you have been putting off.
For DIY'ers, this is the time to really get to know your RV, tackling repairs one at a time. If you're not a DIY'er, the winter time is a bit slower for repairs at most RV dealers.
Dropping your RV off with a trusted dealer or repair shop can help get those lists of repairs done in a shorter period of time.
If you feel you need to have your RV close at hand, a mobile RV technician is going to be the most reasonable option for you.
Although you will pay a bit more for the extra convenience, mobile technicians have a wealth of knowledge and are almost always worth the money.
Obviously, you should pay close attention to their service reviews or get recommendations from others who have used mobile services.
Don't put off those repairs, as they can lead to bigger issues. In addition, they can often come at a time that is disruptive and inconvenient at best.
RV Upgrades
If you have been keeping a list of must haves or wants throughout the year, the off- season is the time to make those upgrades. The winter time offers the time to complete these projects, even if it takes a few days or weeks.
We've done some pretty extensive upgrades over the years during this period of the year: upgrading our solar system, adding a wifi-hotspot, installing a kitchen backsplash, and adding hooks and bins for organization. They are always worth it!
Spending a little time on upgrades in the off-season has paid dividends during camping season. Here are a few upgrades you might consider tackling this off-season.
Water Filtration
Only a century ago, quality drinkable water was still a bit hard to come by. If you are lucky enough to have traveled the world, you most likely realized that our access to drinkable water in America is a luxury.
However, that drinkable water still has its faults here in the United States depending on where you go.
A good quality water filter can help create a better overall experience and prevent unwanted stomach issues while on the road.
There are a wide range of options and price points to evaluate based on your needs, preferences and budget.
A good entry into the space is what I call the standard RV Inline water filter. It provides the first line of defense in having better water quality at a palatable price point.
This won't stop all the sediments or all the bacteria, but it's a great first step into water filtration, easy to store, and won't grow bacteria when not in use.
A step further can bring the filtration to another level. Clear Source has developed a two filter process that will remove particles down to hospital grade water.
A significant step up in price, this filter guarantees better quality water for you and your family.
ACUVA
If you are willing to go all out, Acuva provides a water system that not only filters the water for taste, but also passes UV light through the water, killing any bacteria and unwanted friends that may exist in the water.
While a bit pricey for the pocket book, this will ensure clean, healthy, drinkable water no matter where you travel.
Batteries
If you are planning a lengthy road trip, want to camp offgrid, or even just want to make sure you always have enough juice to operate your slides, a battery upgrade could be essential.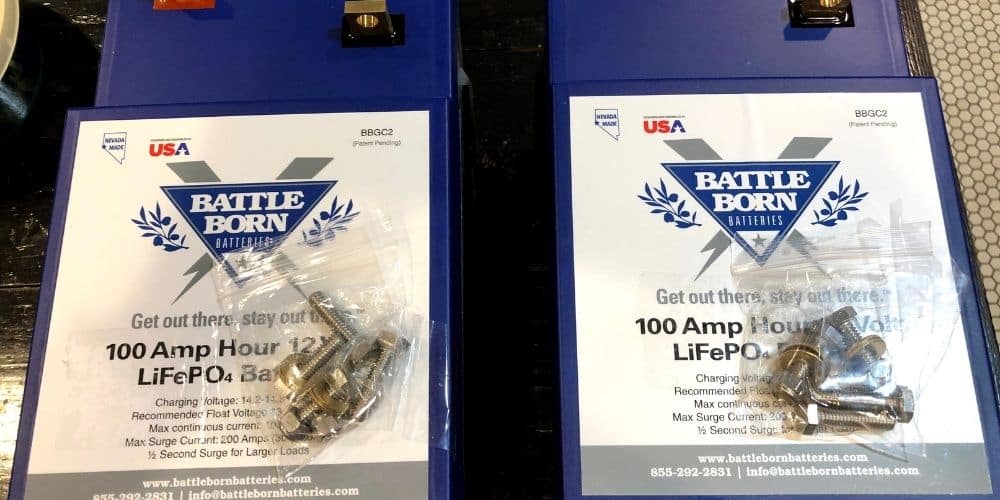 We have upgraded our batteries in each trailer we have owned to help with "dry" overnight stays on long routes and to help facilitate our ever-growing desire to boondock in some awesome locations.
This article we wrote about RV batteries is a good start on determining which way to go.
The options are endless, so determining your camping style will go a long way in finding out what your needs and wants are.
A battery upgrade can be pricey, but could open the doors to even greater experiences beyond your current level of camping.
For instance, if you really want to be able to enjoy a Harvest Hosts membership, which allows you to visit and sleep at wineries, breweries, farms and many other amazing locations around the U.S. in your RV travels, you will absolutely need some solid batteries that allow you to boondock.
Solar Power
If your RV adventures are beginning to take you off the beaten path, solar could be right for you.
If you are like me before upgrading, solar can be an overwhelming project to consider, especially when you see these massive installs that make it look like you never need to plug into a power outlet again.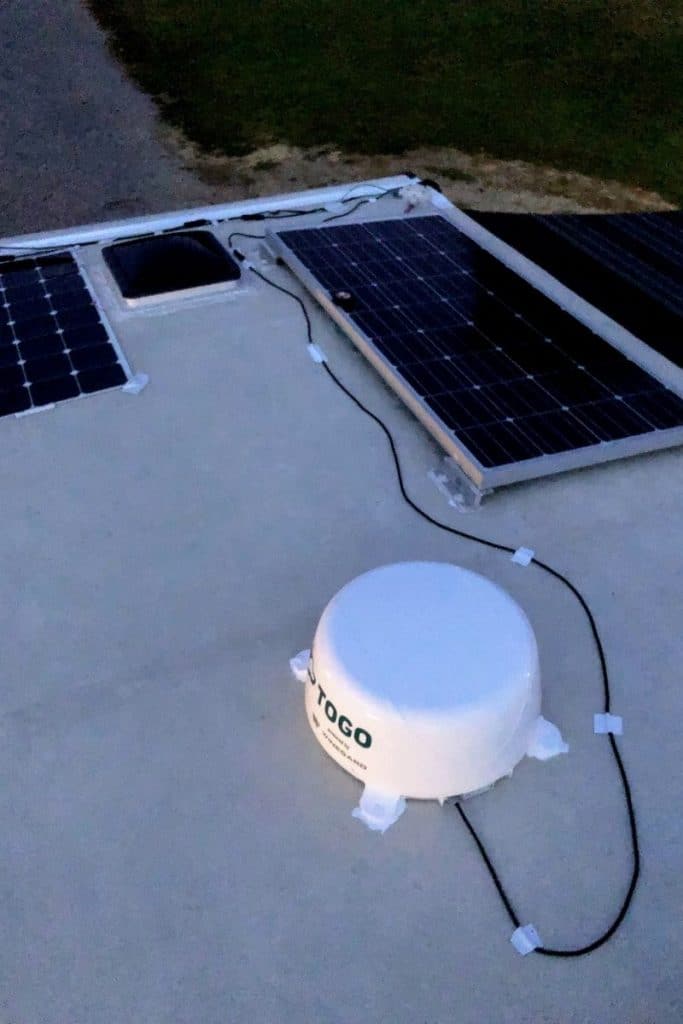 But we are a big proponent of starting with what you have or starting small to get you where you want to be.
Our first RV had zero solar and that was ok, but with our second RV we wanted to be able to disconnect a bit more.
Our initial goal was to be able to overnight at Walmart and stay in National Parks for 2-3 days without hook-ups.
After researching what we needed based on those desires, I discovered we only needed a few solar panels and two 6 volt batteries. The finished product got us 3 nights at the Grand Canyon at Mather Campground.
We had a cigarette lighter already built-in to the RV, which allowed my wife to use her flat iron to fix her hair with an inexpensive inverter we had bought at a local outlet store.
Our goal was achieved and our setup served us well in our RV adventures for two years.
Here's the bottom line with solar: Start where you are and determine what you need. You may find it's not as overwhelming as you first thought. Go Power provides a great suite of products to get you started.
For more advanced DIY'ers, Victron Energy offers a suite of products to help size your solar system and recommend what you need.
Interior Refresh
RV interiors are notorious for being dark and impersonal. Making an RV light and bright can make all the difference. A refresh can start with something as simple as adhesive tile in the kitchen.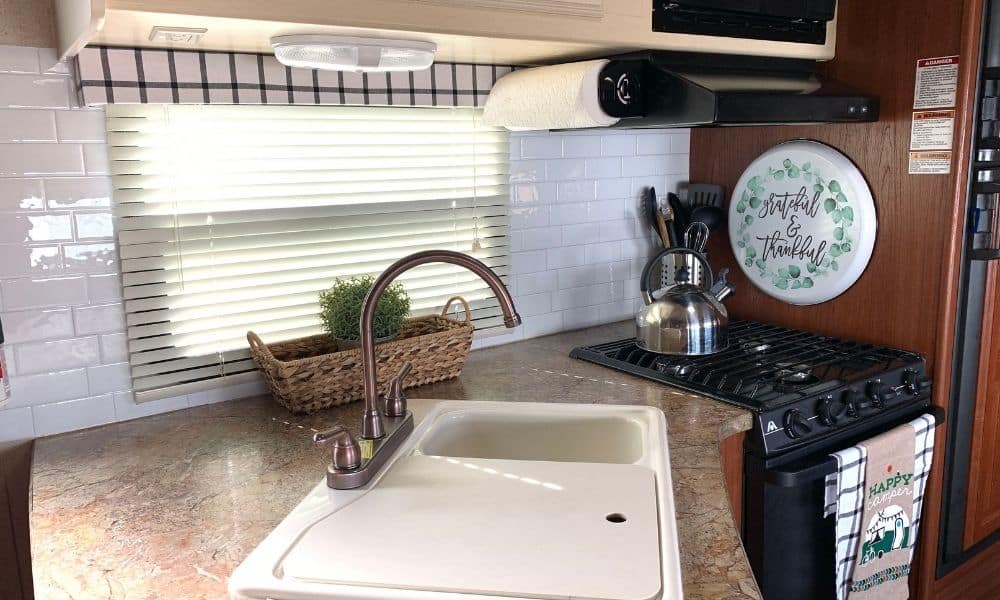 RV renovations can be vastly different than a house. For our kitchen, we selected a peel-and-stick white subway tile.
Cleaning and preparing the surface is key, wiping with warm soapy water to remove any dirt or grime that could interfere with the tile sticking to the RV wall.
We dry fit our adhesive tiles first, establishing both a horizontal line to set the tiles off of and making sure the pattern matched from tile section to tile section across the kitchen.
The finished product makes the space bright and homey.
Curtains
Curtains can also personalize the inside of the RV.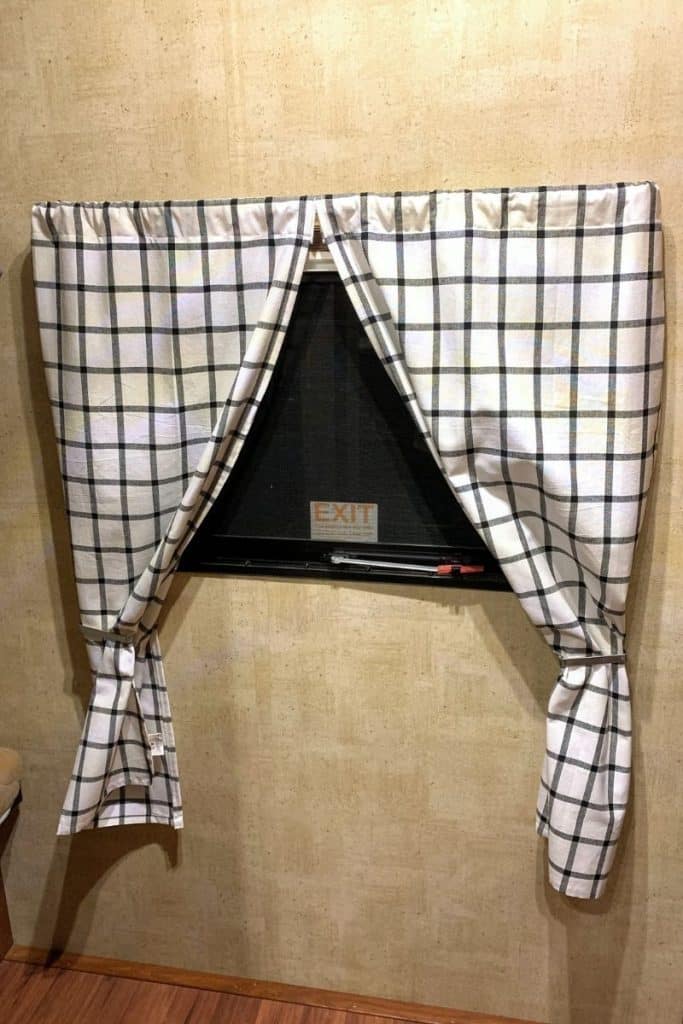 Removing the old and installing new can refresh the space, allow more light in and give that comfortable homey feeling we are all looking for.
Using the old curtains as templates, we sewed curtains for each window of the RV, even covering the header over the closet slide in the master bedroom.
They add a personal touch that we immediately see and feel when we walk into the RV. It was time and dollars very well spent!
Which Upgrade or Repair Will You Start with This Off-Season?
The off-season is a wonderful time to enjoy friends and family, and to get those much needed tasks done before the new camping season is upon us.
We hope the new year brings with it new excitement for better things to come. And we hope to see you on the road!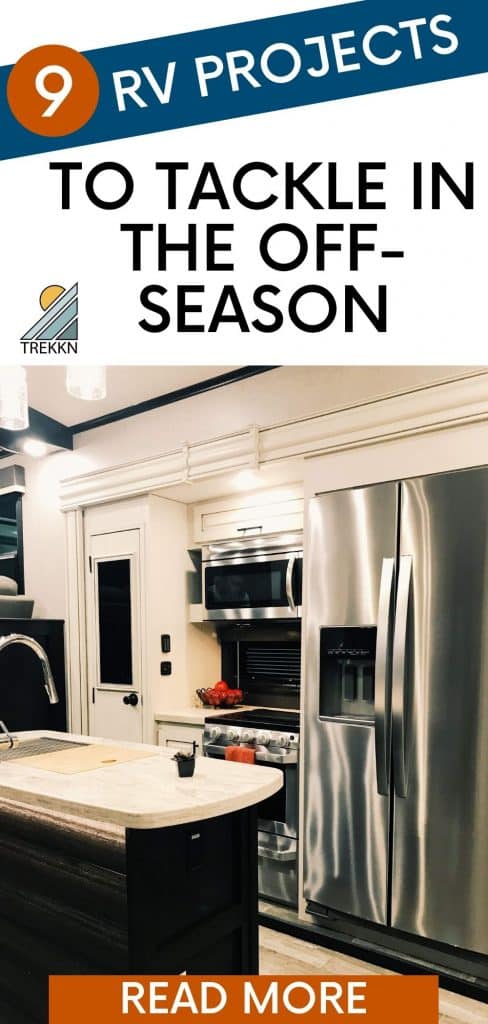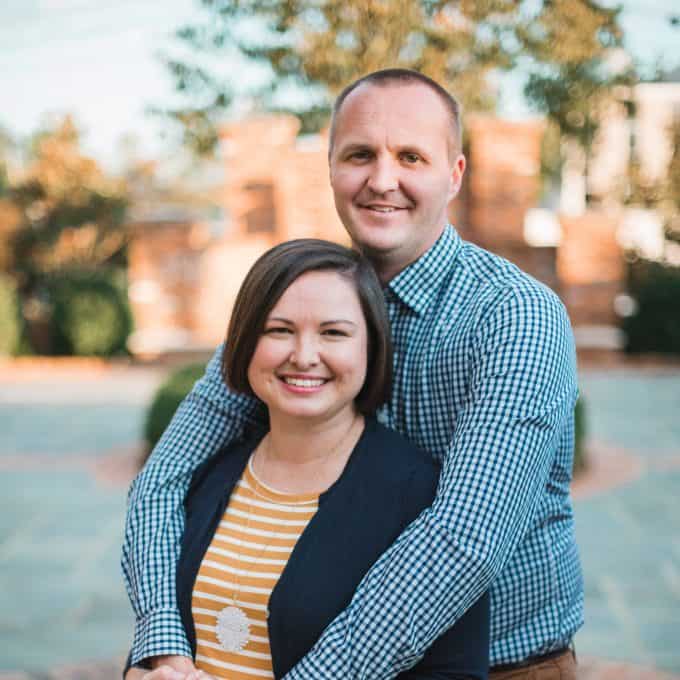 Nick and Kelsey Hensley are part-time RVers and full time adventure seekers. Nick is a Rocket Scientist by day and a Certified RV Technician by night. Kelsey works as a freelancer, photographer and digital ninja. With their two kids, the Hensleys road trip across the country every summer on their quest to see all 62 National Parks. On the weekends you can find this nerdy crew at a campground, historic site, or checking out the newest restaurant in town.