Could You Live Full-Time In A Campervan?

Could you live in a campervan full-time? Is it something you even see as a remote possibility? Let's talk through the lessons learned from our campervan rental experience to help you find out.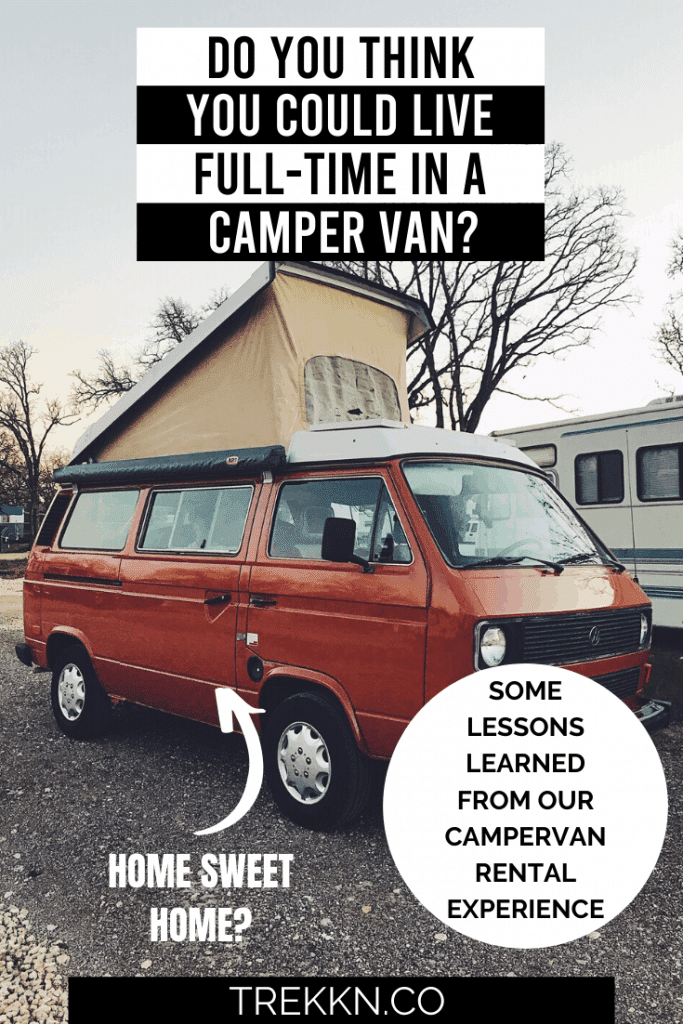 Look, I'm a pretty simple guy. Or at least I think so.
I don't feel like I need much to be happy or content. In fact, I seem to thrive in environments of simplicity instead of those cluttered and over-complicated with stuff.
But when I ask myself whether I could live full-time in a minimalist campervan for months on end, after having rented one for the weekend recently, my simplistic self isn't quite so sure.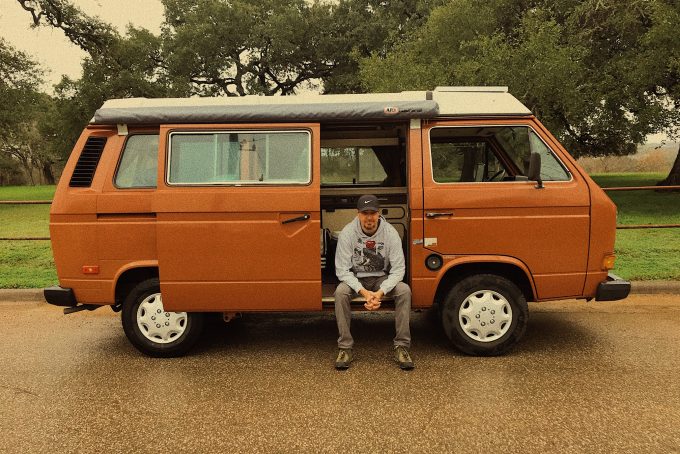 Maybe you're trying to answer this question for yourself, wondering how little you can get by with in order to adventure on the open road. Let's talk through some of the details together, based on our rental experience, and maybe we can both arrive at the right answer.
This campervan rental is our first of many RV rentals planned for 2020, as we rent our way through the "lineup" of RVs to decide which one is right for our next purchase in 2021! Be sure to follow along on our rental journey to see what we discover and decide.
Below are a few of our detailed posts about RV rentals to help you start down the rental path with some useful knowledge under your belt:
Why You Should Rent an RV – We cover six reasons we believe it makes sense for you to rent an RV.
How Much Does it Cost to Rent an RV? – We dissect all the different RV rental types and approximately how much each might cost, so you can prepare financially.
Our Outdoorsy Review – Details of our first rental experience through the Outdoorsy RV rental platform. We share some some valuable info you need to understand before renting an RV.
You can dive head first into all of our RV rental posts right here.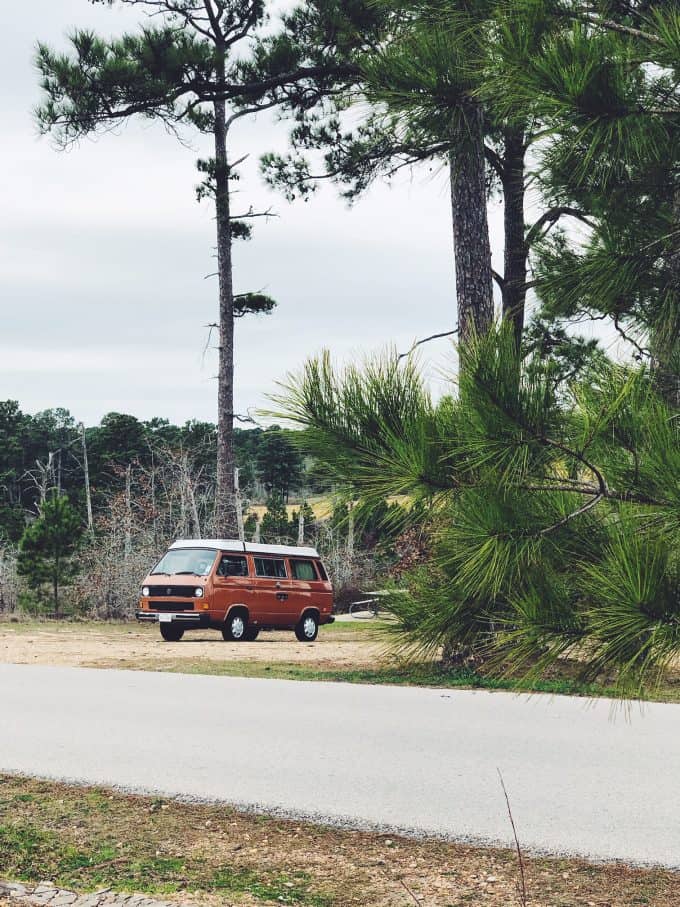 Could You Live Full-Time In A Campervan?
I mean the awesome Instagram shots alone are worth living full-time in a van, right? Van life is one of the trendiest topics out there, especially in the RV rental space.
Believe it or not, there are about 6.6 million #vanlife posts on Instagram as I write this. It is a massive trend right now, but is it a trend you should be a part of?
That's the first thing I think we need to do here: change the primary question slightly. Because I can tell you right now that you could live in a campervan. It would absolutely not mean certain death for you.
The real question is should you live in a campervan? Because I also know that it can mean certain misery for the wrong folks. No doubt.
In order to find the answer to that very important question, I think we need to back up and ask several other crucial questions which will lead us in the right direction.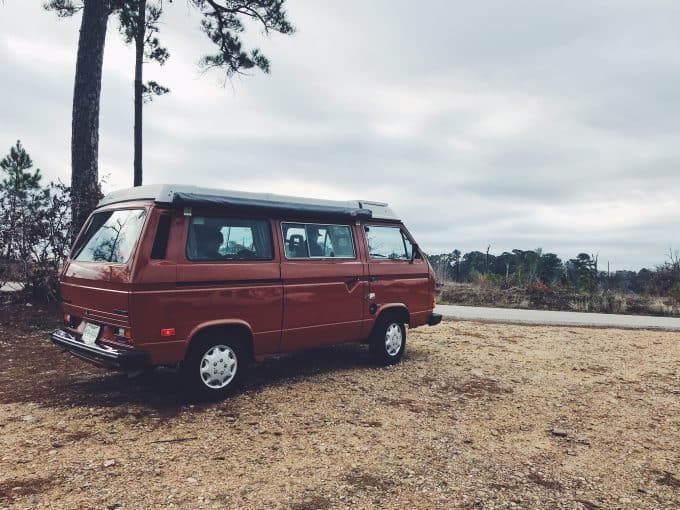 Can You Live Without a "Real" Toilet and Without a Shower?
Let me start by saying that Julie and I have officially entered "mid-life" at this point. And that comes with certain (relatively) inevitable changes to a person's anatomy.
Chief among those changes seems to be in the bladder department, as our lives have begun to orbit around porcelain thrones. (TMI? Sorry.)
So when we rented that awesome campervan for the weekend, sans toilet, we quickly realized around 3 am that a hike to the facilities in the cold and dead of night is not ideal. It can make a person (okay, Julie) grumpy.
I mean, let's be honest: All of the campervan and #vanlife stuff you see all over social media features those youthful 20-somethings. That is by design, in my opinion, because they truly are the ones best cut out for that type of minimalist lifestyle on the road. Some of us need at least a few of the creature comforts. Like a toilet. Or hot shower.
Think long and hard before falling in love with those "vanlife" pics and purchasing one for yourself, especially if you don't happen to be a 20-something. Because if you're not, life could get uncomfortable in a hurry with an extended campervan adventure.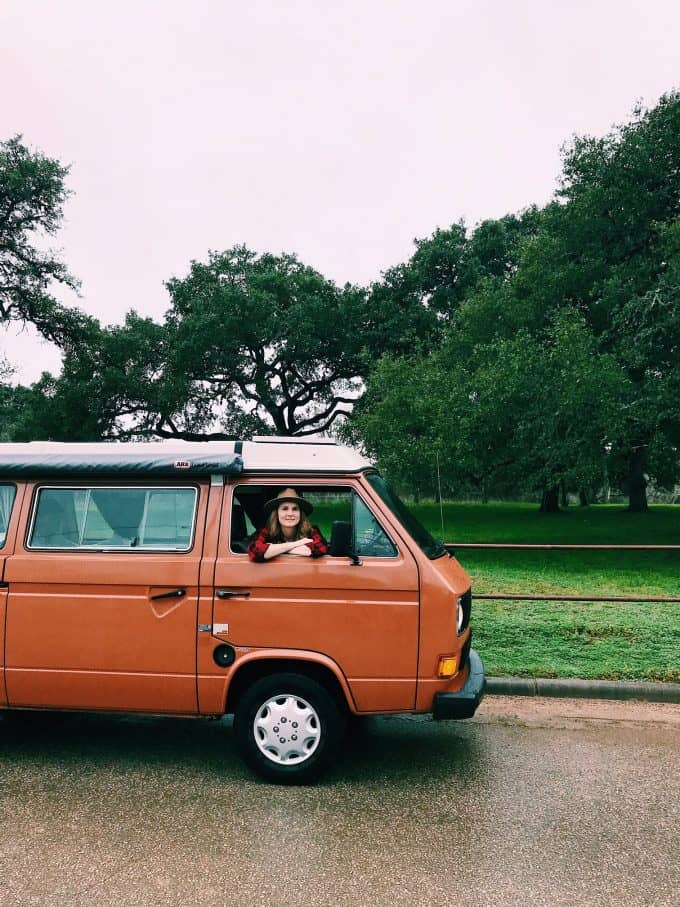 How Much of Your Stuff Can You Truly Live Without?
Saying goodbye to our stuff can be a monumental challenge for some folks. When we chose to hit the road full-time in 2017, the downsizing process itself wasn't necessarily that much of a challenge for us. The fact that we did it all in 100 days was most definitely a challenge, however.
Maybe you are not wired quite the same way we are. If you do tend to keep your things close to you and the thought of parting with them, even temporarily, brings on anxiety, a tiny campervan certainly might not be the best path for you to take for a full-time RV adventure.
Now again, I know that those "vanlife" pics make it look so dreamy and irresistible. Really, I get it. But there is reality lurking behind those impossibly perfect photos, my friend. That reality is a life with very, very little in the way of possessions. Obviously, not much is going to fit in a campervan.
If all you really need is a good book and some toilet paper, then go for it! Otherwise, it's best to explore some larger RV options at this point.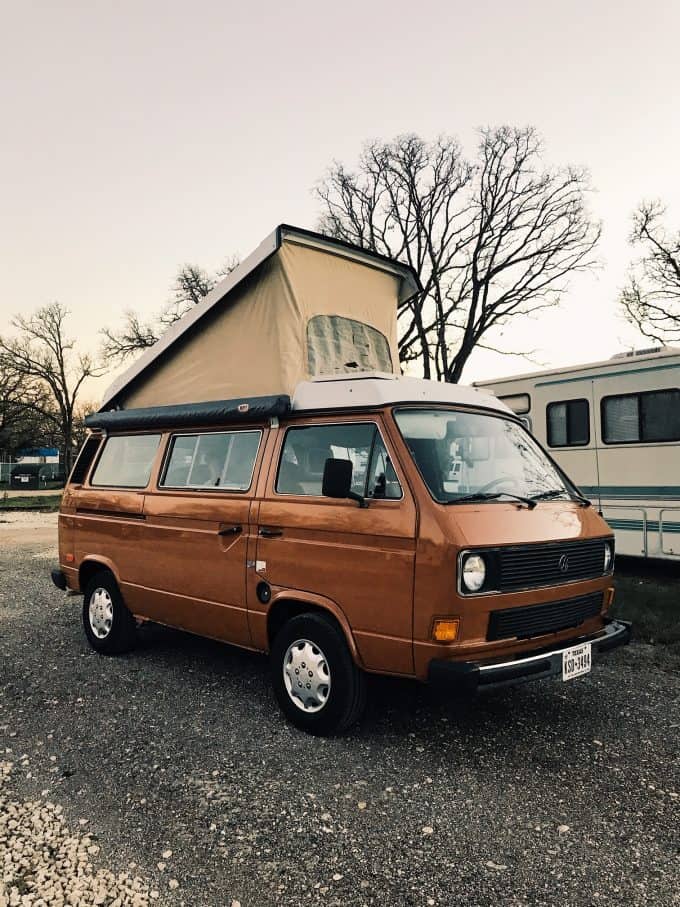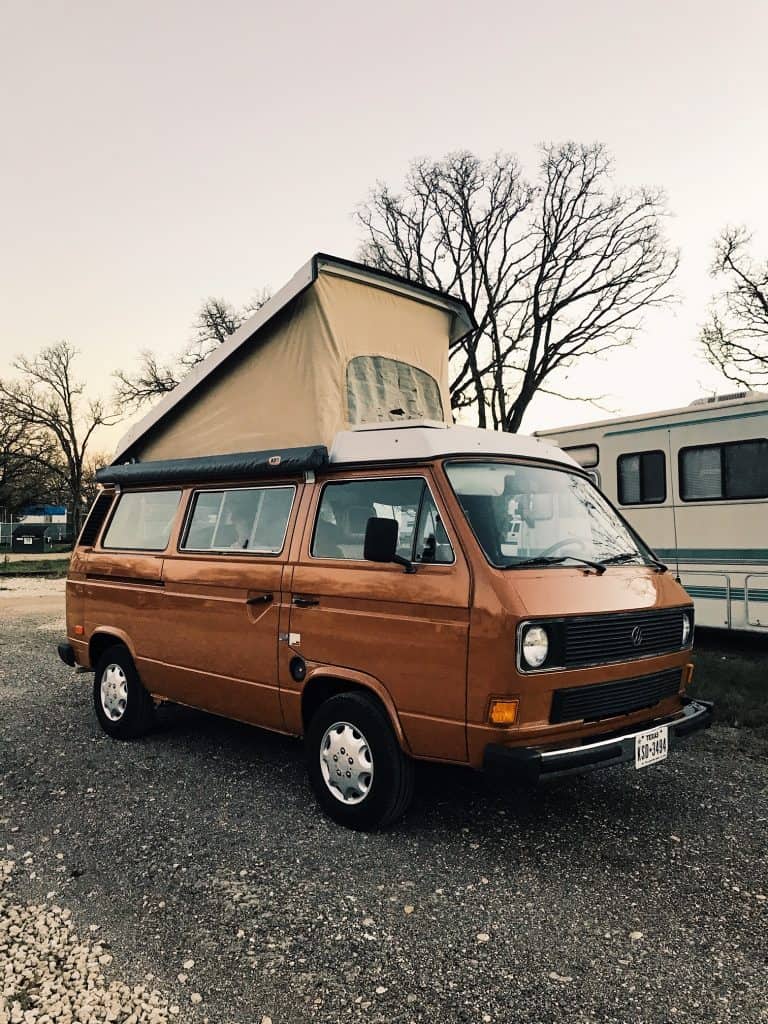 Is Affordability Your Number One Concern for Your Travels?
I understand the value of a dollar…even as it drops. We know what it's like not to have two nickels to rub together, because that was absolutely our reality as newlyweds a few years ago (24ish to be exact).
(By the way, be sure to check out my post about 5 ways to cut costs while full-time RVing, also.)
And the truth is that if we had still been in that newlywed stage, eating baked potatoes multiple times per month and getting excited at the Burger King BOGO Whopper nights (aka night out on the town), we wouldn't have been able to hit the road at all. Not even in a smaller and less expensive campervan.
Each Vehicle Comes With Its Own Inherent Expenses
But if you still find yourself in the neighborhood of that penny-pinching stage of life and are determined to make this happen somehow, there are several good reasons why a campervan might be the best option for you despite its lack of conveniences:
Fuel – With a campervan, fuel could very likely end up costing you half of what we spent with a 3/4 ton truck and 6,500 pound travel trailer. We averaged 8-9 mpg while towing; most campervans should get you at least close to 20 mpg. That's not chump change, since fuel was our second largest expense on the road.
Maintenance – Generally speaking, a smaller and lighterweight vehicle is going to cost you less overall in maintenance and repair. For instance, a 1-ton diesel truck would require an expensive oil change regularly ($120-160) plus regular refills of diesel exhaust fluid (DEF), among other things. And diesel repairs? Always high. A gas campervan will help you avoid many of those expenses (think $40 oil change instead) if you treat it well and don't overload it.
Campground and RV Park fees – If you're not familiar with the concept of boondocking, start with my post about it and keep going from there. Being prepared for boondocking is one of the best options at your disposal for keeping your expenses low by avoiding those campground and RV park fees. (Note: These fees were our largest expense during our full-time travels. I know what I speak of.) Getting a small campervan prepared to boondock would require a relatively small upfront expense that would help you avoid the ongoing expenses. In addition, it opens up a whole new world of opportunities when you are not tied to those water and electric connections! Refer back to that boondocking post above for more details there.

Are You Prepared to Constantly Be Converting Your Living and Sleeping Space?
Allow me to state the obvious: A campervan is a small space. A very small space. And small spaces require that each space is used for multiple purposes, otherwise nothing really works at all.
We quickly realized during our campervan rental experience that it was a bit of a hassle having to convert back and forth between a "living area" with couch and our bed. Each time we wanted to lay down, all of the cargo we were keeping in the back of the van had to be moved up to the front seats so that we could lay down on the bed, and vice versa.
How long did this conversion take? Probably less than five minutes each time. I know, you think I'm a whiner. But doing that multiple times per day (hey, we've got to nap) could really start wearing on some people. That may be no issue at all for you, but it is definitely something that each person should at least consider before making a purchase decision as major is this.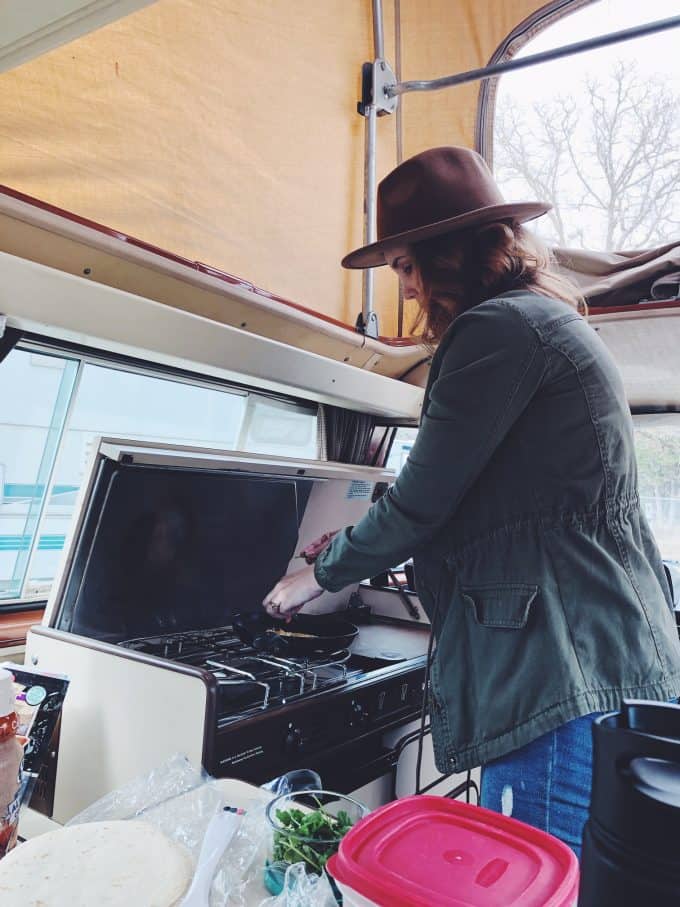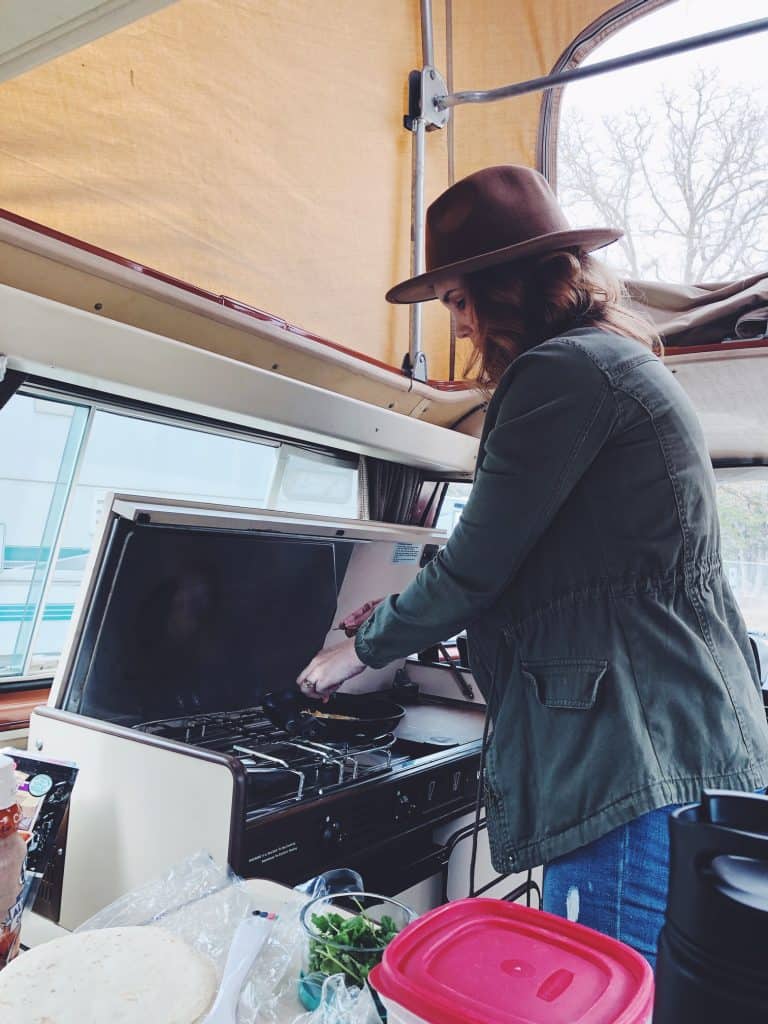 Is Cooking One of Your Primary Passions?
If I've got enough kitchen space to boil water for coffee and oatmeal, cook up a cheesy quesadilla and store a few granola bars? Well, I'm good to go. Because a chef I am not.
Julie, on the other hand, derives true joy from cooking meals for others. She thrives on trying new things in the kitchen and continually branching out in her culinary quests.
Now, which one of us are you most like? If you tend to be more like me, a campervan could probably stay on the list of possible RVs. If you are more like Julie, however, you have to consider whether you are willing to make the ultimate culinary sacrifice by existing with two propane burners and two square feet of prep space.
Your Particular Passions Do Play A Role In This Decision
One thing you know by now is that the full-time RV life is going to involve sacrifices of various shapes and sizes. I know you're good with that. But making sure you are prepared for the specific sacrifices each vehicle requires is very important. If choosing a campervan feels like "culinary suicide" to you, it's best to start looking toward an RV that will allow your culinary self to live on.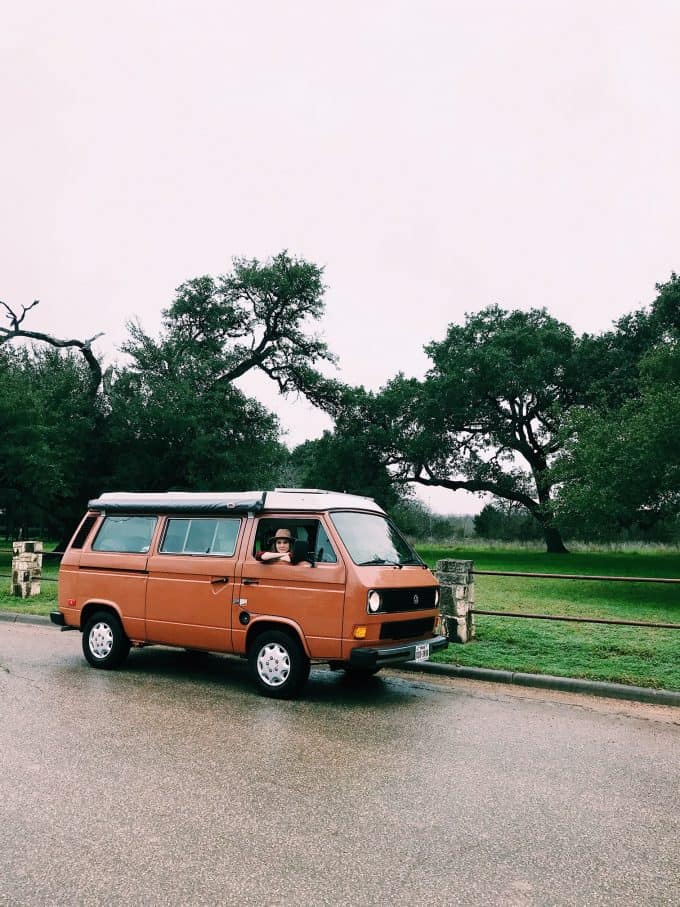 Does Mingling with the Current #vanlife Community Feel Like a Good Fit?
Last but not least, we need to take a minute here to think about an important aspect of the RV life: Community.
Earlier I mentioned the close connection that seems to exist online between the van life and the 20-somethings. Maybe that caught your attention as a middle aged(ish) human. If not, let's flesh that out a bit.
You see, community is one of the remarkable parts of RV life that you will begin to understand once you experience it. And believe it or not, community groups tend to form around the type of RV that you are living in. And no, I don't mean this in a "snobbish" or "snooty" sort of way, like Class A people don't associate with van life people.
Just think about it: If you are living the van life and are more likely to be sleeping in rest areas or parking lots or on BLM land instead of in RV parks and campgrounds, you will naturally find more folks like yourself in those locations. The Class As and fifth wheels will be spending most of their time in the RV parks and resorts, most likely, so you won't rub shoulders with them nearly as much.
Therefore, you will not be nearly as likely to build a community with that subgroup of RVers. No, you will find yourself primarily interacting with the younger generation in the more light and nimble rigs, like vans and Sprinters and maybe even Skoolies.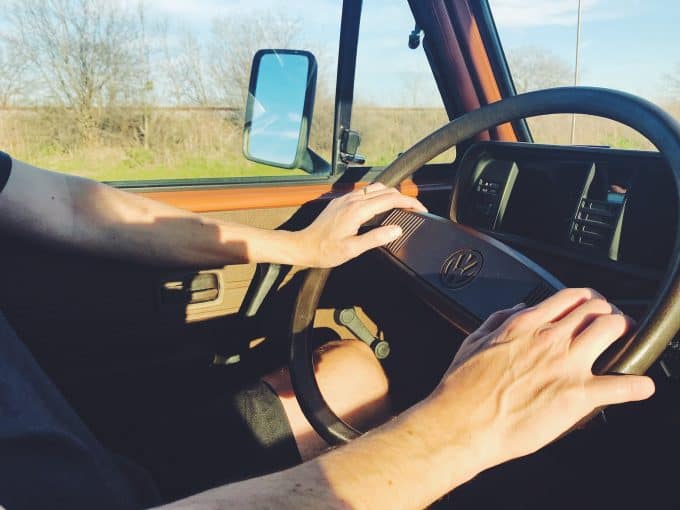 Think Through the Likelihood of Building Community, Because It Matters
If thinking through that makes you feel uncertain about trying to fit in and forge connections with that younger crowd, it might be time to look more closely at other RV options that will make community building a more natural exercise instead of a concerted and strained effort.
I'm not trying to encourage you to "stick with your own kind", not at all. In fact, we really treasured the wide variety of folks that we got to mingle with on the road. We benefited a great deal from hearing different perspectives across the generations, and we loved it. But when I picture us trying to fit in with the van crowd or the Skoolie crowd as our primary source of community, it's a stretch.
You just have to ask yourself what comes to mind when you try and picture yourself there, regardless of your age. The answer is important.
Which RV Feels Like the Best Fit For You At This Point?
After thinking through all of those details, it might have shifted your thinking about #vanlife. I haven't been trying to shift it; I've just been trying to get you to think your way through all of this.
So, if you're flirting with the full-time RV idea and are trying to make a decision, let us know in the comments which type of RV feels like the best fit for you at this point and why. And if you still have questions? Well, drop those in the comments as well and we will get back to you ASAP.
Wherever you land with this decision, we wish you happy travels and grand adventures!
PIN THIS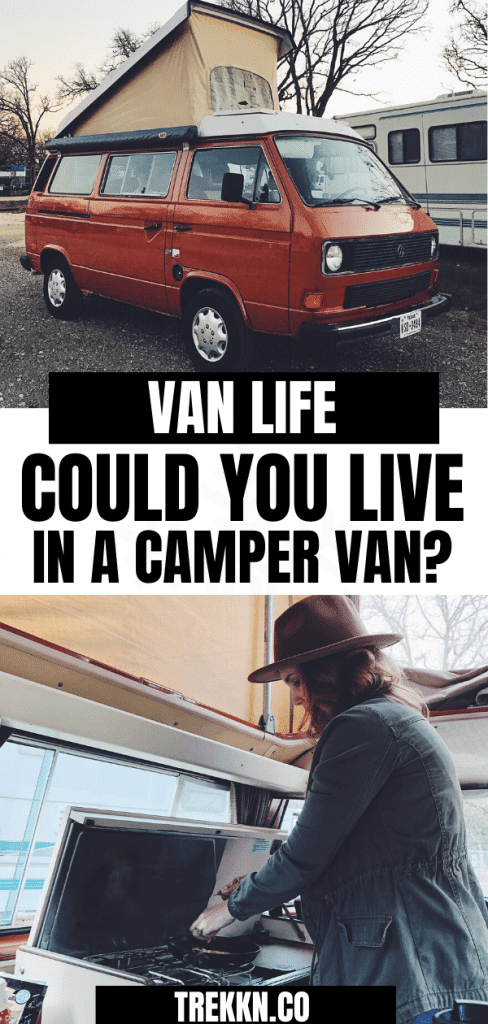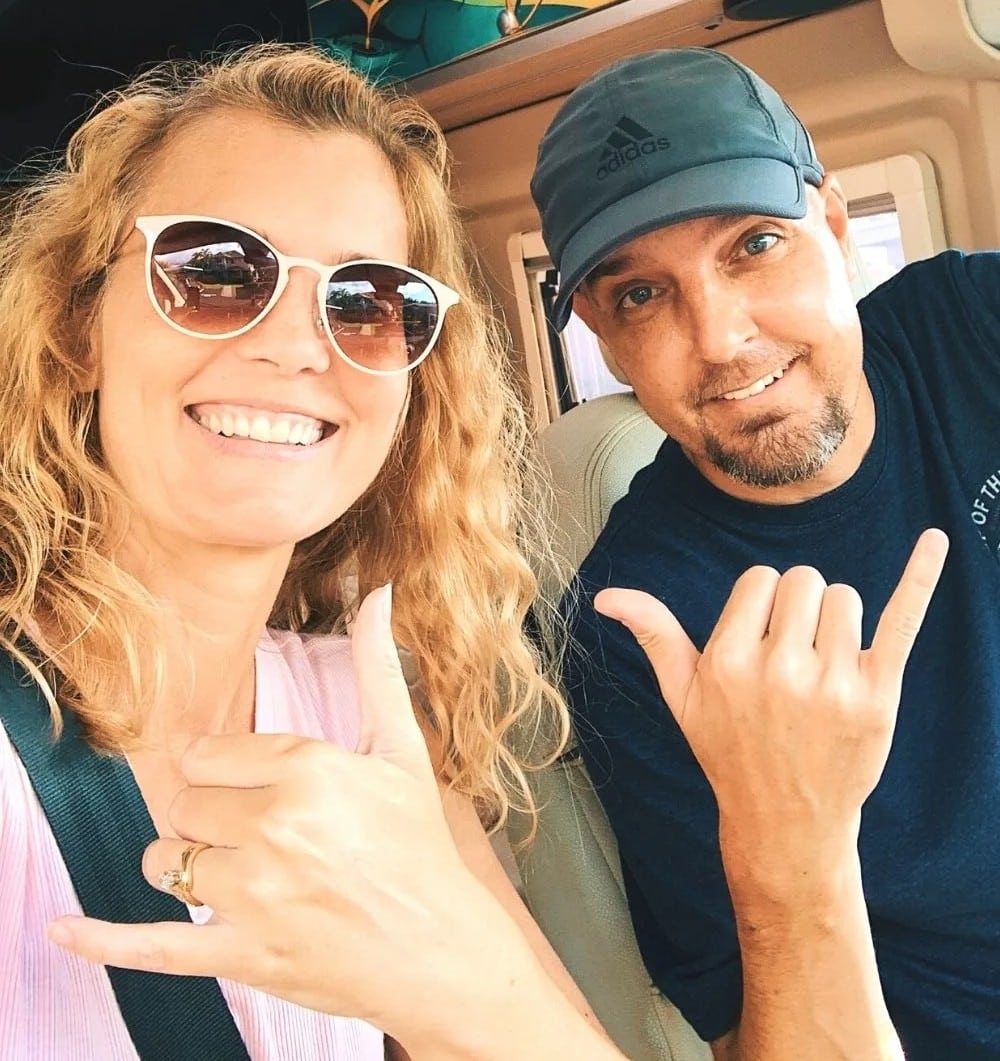 Todd loves a competitive game of table tennis, a breathtaking hike, and exploring new places. He lived and traveled in an RV with his family as they traveled throughout much of the US and parts of Canada. Todd has extensive knowledge about RV travel, safety, and accessories and has shared many of his stories here on TREKKN. When he's not busy launching and building small businesses, you may find him staring at pictures of Glacier National Park (probably his favorite spot on earth).